Joshua trees are weird spiky trees, somewhat reminiscent of palm trees, found in the Mojave Desert in California. Why would you want to visit a desert just to see some weird trees? Because the trees are just the beginning of the fascinating landscapes and experiences available year round in Joshua Tree National Park!
---
This post may contain affiliate links. As an Amazon Associate, I earn from qualifying purchases. This means if you click a link and make a purchase, I may earn a small commission at no extra cost to you.
---
Is Joshua Tree Worth Visiting? What's so Cool about the Desert?
This national park abuts the San Andreas Fault (and several other faults), creating unique rock formations for both viewing and climbing.
As the Mojave Desert transitions into the Colorado Desert, watch the landscape change.
Have you ever wanted to walk around a sci-fi movie set? Joshua Tree National Park can give you that experience. You will feel like you've stumbled onto another planet.
Visit in the spring to witness the sudden explosion of wildflowers!
Fewer and smaller towns means less light pollution. The night sky will put on a show for you if you stay the night in the park. Capture amazing photographs of the Milky Way!
Don't skip the desert because you think there's nothing to see! It's absolutely worth your time to visit this unique park.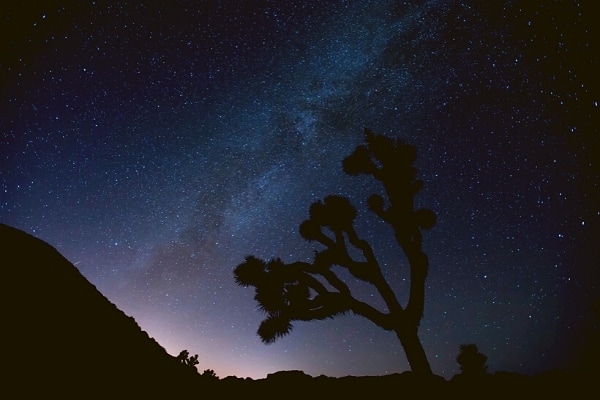 Visiting all the National Parks is on my bucket list, so when I had to be in Pasadena, California for work one February, I flew in early.
Pasadena is perfectly between two national parks: Channel Islands and Joshua Tree.
Double win for the bucket list! Also, two completely different ecosystems: deserts in Joshua Tree and marine islands in Channel Islands.
>> Check out this post for How to Spend a Day in Channel Islands National Park. <<
---

---
How to get to Joshua Tree National Park
No matter which direction you're coming from, you have to drive.
There are a few tours that'll pick you up from the Palm Springs area but driving gives you more control of your itinerary.
There are 3 entrances to the park, each with its own visitor center. Coming from Pasadena, the Joshua Tree Visitor Center in Joshua Tree, CA was the closest entrance and about a 2hr drive.
Another 20 minutes straight east from Joshua Tree, CA is the Oasis Visitor Center in Twentynine Palms, CA. This center is located at the Oasis of Mara, the original Native American settlement. Worth a stop on your way in or out of the park if you have time.
The third entrance is on the south side of the park and hosts Cottonwood Visitor Center. This is your closest entrance if you're coming from Phoenix (3.5hr drive) or other points east of the park.
Grab some cash to cover the $30 per vehicle entrance fee, check the Joshua Tree National Park website for current conditions or warnings, and then head out for a day full of sun and fun!
Pro Tip: An America the Beautiful Annual Park Pass is well-worth your money if you visit as little as 3 parks throughout the year.
What to Bring to the Desert
1. Water: Never go into the desert without water!
Nature in general is an unforgiving place, but humans are particularly ill-suited for life in the desert. Do you know where to find water in a desert? Maybe one person raised their hand and wasn't lying.
Don't chance it. Bring extra water, and actually drink it. Recommendation is a gallon of water per person per day. Planning an all-day long hike? Bring two gallons per person.
2. Closed-toed shoes
This is not the place for flip flops or even hiking sandals. Jumping cholla cacti will make you rue the day you forgot your close-toed shoes.
3. Sun protection
Desert = no shade. Slather on the sunscreen, wear a hat and sunglasses, and consider light-colored, loose long-sleeves and/or pants if you'll be out in the open all day.
4. Camera
Shutterbugs like me: make sure you bring your mobile setup. It can be dusty, so bring cleaning equipment just in case.
Don't forget a tripod for optimal night photography.
Fair warning: little to no cell service in the park. Put your phone in airplane mode. Otherwise, the battery will die quickly searching for service. If you're depending on Google maps to get you home, download the offline map or directions beforehand.
What to See and Do in Joshua Tree
Joshua Tree National Park is full of things to see and do. It's possible, but difficult, to do all of these in one day. I suggest picking your favorites first and adding activities later if there's time.
Start at the Visitor Center
Grab a map and some souvenirs and learn how to avoid the jumping cholla cacti.
Next, ask a ranger what their favorite spot in the park is and how to get there. Every park ranger I've ever talked to genuinely loves their park and always has recommendations and advice.
Admire the Joshua Trees
We pulled over for the first Joshua tree that I saw. We were barely a mile into the park, but I couldn't help myself. These trees are some of the coolest and weirdest trees on the planet.
The northern/western half of the park is covered with Joshua trees. If you're entering from the south, you'll have to drive north a ways into the park before you'll start to see these trees.
Our favorites, the largest ones we saw, were near the Jumbo Rocks Campground and Skull Rock.
Photo op at Skull Rock
Skull Rock is aptly named: a giant rounded rock with two holes eroded away that look like eye sockets.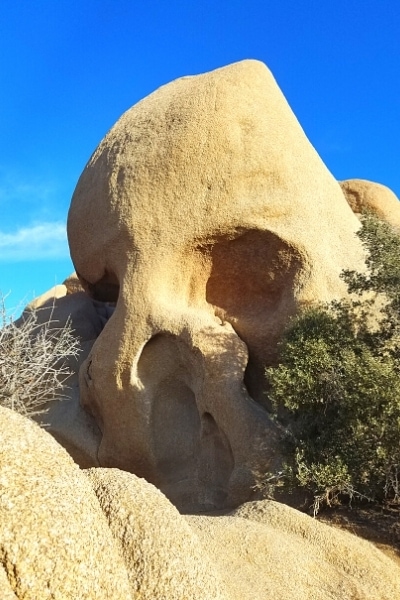 Just past the Jumbo Rocks Campground, Skull Rock is usually surrounded by tourists taking turns to climb up next to it to get their picture taken.
The other rock formations in this area are smooth and easy to climb. One in the back looked like a dinosaur, something you'd expect to see in a Flintstones episode.
Stretch your legs and hike around the area and the other rocks before moving on to the next stop.
Take a hike
There are hikes for everyone, whether you want to see rock formations, desert oases, or the sunset behind the mountains.
Several abandoned mines can still be found across the park. But be smart and do not enter an abandoned mine.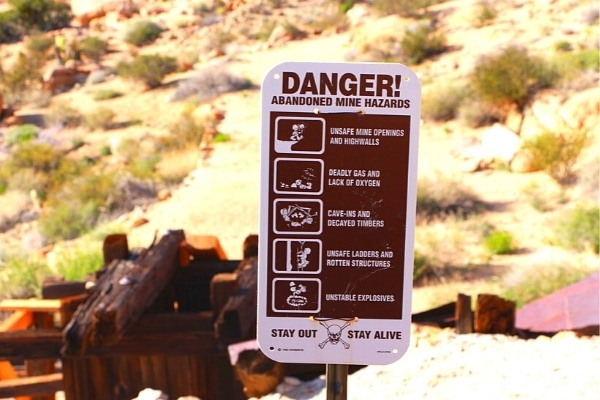 Use that map and ranger recommendation you got at the visitor center and explore the park! Remember your water and close-toed shoes.
Check out Arch Rock
Another impressive rock formation, similar but on a smaller scale to what you would see in Utah.
We pulled over where the maps and signs told us to and wandered through some campsites before we finally found the trailhead. Just keep walking towards the rocks and you'll find it.
The Arch formation itself was pretty cool, and the other formations in the area were great for re-enacting some movie scenes.
Climb some rocks
Those faults come in handy for all you rock climbers out there. Joshua Tree has thousands of climbing opportunities: climbing, rappelling (abseiling), bouldering, and slacklining are all here.
Be sure to read up on the rules, safety, and best practices before you go. Know your limits.
No cell service means emergency crews can take hours to find you. Bring a first aid kit and extra clothes and water.
Watch the sun set from Keys View
It will be busy for sunset, but the views are worth it! This viewpoint overlooks the Coachella Valley (yes, that Coachella) and the Salton Sea.
Get there early, or be patient and circle the lot like everyone else until a parking spot opens up.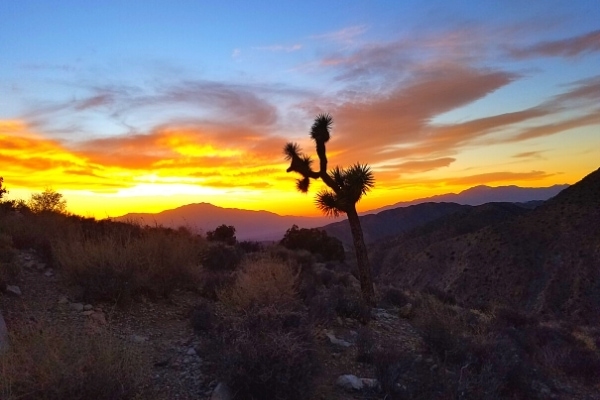 Pro Tip: Deserts can be cold at night. The wind will pick up and the temperature will drop noticeably once the sun goes down. Bring a light jacket and some pants to throw on over your hiking clothes, just in case.
See the Milky Way
As the sun sets, enjoy the early evening sounds as the desert comes alive at night. Find a convenient roadside spot, or pull into a parking lot, and get ready for some stargazing!
Turn off all lights and face away from the road to avoid headlights so your eyes can adjust to the dark.
Use red light flashlights for visibility as needed. Set up a camera tripod and capture the stars in all their finery.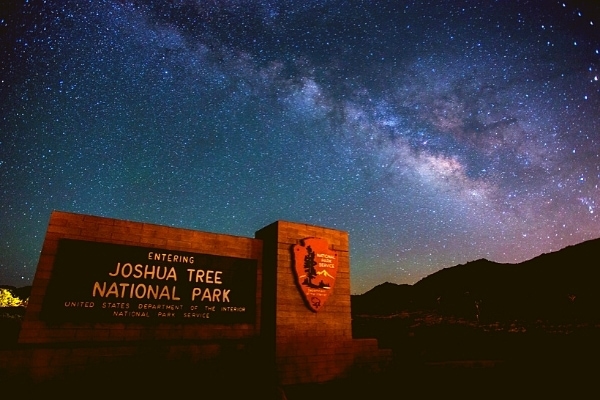 Once you've had your fill of the night sky, pack it up and head for the exit.
Take it slow as you drive out of the park. Watch for nocturnal animals and enjoy the dark skies a little longer before heading back to civilization.
---

---
Have you been to Joshua Tree National Park?
There's a good chance you drove here from either LA, Phoenix, or Las Vegas. Here's some more ideas for things to do in those areas.
Exploring Death Valley National Park
Happy Travels!
Save it!