Hidden just outside of Charlotte near the North Carolina-South Carolina state line, is a tribute to America's 7th president. Andrew Jackson State Park commemorates South Carolina as Andrew Jackson's birthplace and boyhood home.
Come explore this park and learn more about pre-Revolution life in backcountry South Carolina, and how it shaped Andrew Jackson into the man that would become America's 7th President.
---
This post may contain affiliate links. As an Amazon Associate and associate of other programs, I earn from qualifying purchases. This means if you click a link and make a purchase, I may earn a small commission at no extra cost to you.
---
Top 5 Know Before you Go Tips for Visiting Andrew Jackson State Park
Small entry fee: $3 per adult, half-price seniors, $1 kids ages 6-15, age 5 and under free
The park's playground is at the campground near the lake.
Get on the water at the lake, but leave your motors at home! Rent a boat from the park office, or bring your own non-motorized boat.
Celebrates Andrew Jackson's boyhood home. Don't miss The Boy of the Waxhaws statue by Anna Hyatt Huntington, near the museum.
Museum hours vary, usually only open on weekend afternoons, but worth the visit to learn about Jackson's early life and how it shaped his Presidency and our country.
How to Get to Andrew Jackson State Park
Andrew Jackson State Park is just 10 minutes north of Lancaster, SC and only 40 minutes south of downtown Charlotte, NC. The park itself is less than a mile from the state line.
Most visitors will arrive via I-77 and a short jaunt on State Route 5 before hitting US Route 521. Unless you intend to camp, you don't need much more than a couple of hours here.
If you're coming from further afield, like upstate South Carolina, the Lowcountry, or even just from Columbia, we recommend combining this park with a few others for a full day trip.
If you're also working your way through every South Carolina State Park, the following are within an hour's drive of Andrew Jackson State Park in South Carolina's Midlands region:
Landsford Canal State Park, 20 minutes
Lake Wateree State Park, 45 minutes
Chester State Park, 45 minutes
Kings Mountain State Park, 1 hour
Goodale State Park, 1 hour
Sesquicentennial State Park, 1 hour 12 minutes
How much does it cost to visit Andrew Jackson State Park? Do I need a permit?
Andrew Jackson State Park has a minimal $3 per adult entry fee. Seniors are half price at $1.50 and kids ages 6-15 are $1. Kids age 5 and under are free!
Fishing is allowed in the park's lake. A South Carolina freshwater fishing license is required.
Prices vary for a fishing license based on residency. Learn more from the South Carolina DNR.
Brief History of Andrew Jackson State Park
Andrew Jackson was born and raised in the Waxhaws, a region that straddles both North Carolina and South Carolina today.
We still don't know for sure exactly where Andrew Jackson was born, whether on a farm in South Carolina or in a cabin in North Carolina.
There was no state line to check against, at the time. Both states have since claimed to be the birthplace of Andrew Jackson.
Andrew Jackson State Park was opened in South Carolina in 1952 in honor of "South Carolina's only President."
It's 360 acres includes the area that was once the Crawford Farm, where Andrew Jackson himself later claimed as his birthplace.
In 1962, famous sculptor and South Carolina snowbird Anna Hyatt Huntington was approached about creating a statue of Andrew Jackson for the park.
The Huntington statue, The Boy of the Waxhaws, was dedicated on Andrew Jackson's 200th birthday in March 1967.
Today, Andrew Jackson State Park contains a museum, replica schoolhouse and meetinghouse, and 3 memorials dedicated to the history of Andrew Jackson's boyhood in South Carolina.
It also includes a lake, hiking trails, campground, and an amphitheater.
What to do at Andrew Jackson State Park
This park does a wonderful job of commemorating young Andrew Jackson and what his life would have been like, growing up in this area in the late 1700s.
>> There are plenty of outdoor things to do at this park, but the real gem is the Andrew Jackson Museum.
Visit the Museum
This was an unexpected surprise! The Museum at Andrew Jackson State Park does a good job of not only telling but showing what life was like in this area before and during the American Revolution.
The museum shows what a typical backcountry home would have been like, how residents would farm and make textiles, and how life changed when the British troops showed up.
In particular, it relates it all to Andrew Jackson: how he would have sat at a table like this one, helped his family farm crops like this, and discusses how the Revolutionary War impacted his family and his political views for the remainder of his life.
Don't skip the museum! It was our favorite part of the park.
See the Schoolhouse
Peek inside a replica South Carolina backcountry schoolhouse from the late 1700s.
Teachers were hard to find in the backcountry. Schooling was usually nothing beyond learning to read and basic arithmetic for running a farm or business.
Andrew Jackson's mother paid for a special school teacher to provide more advanced coursework, like Latin or Greek, to prepare him for a future career in law.
Admire the Statues and Memorials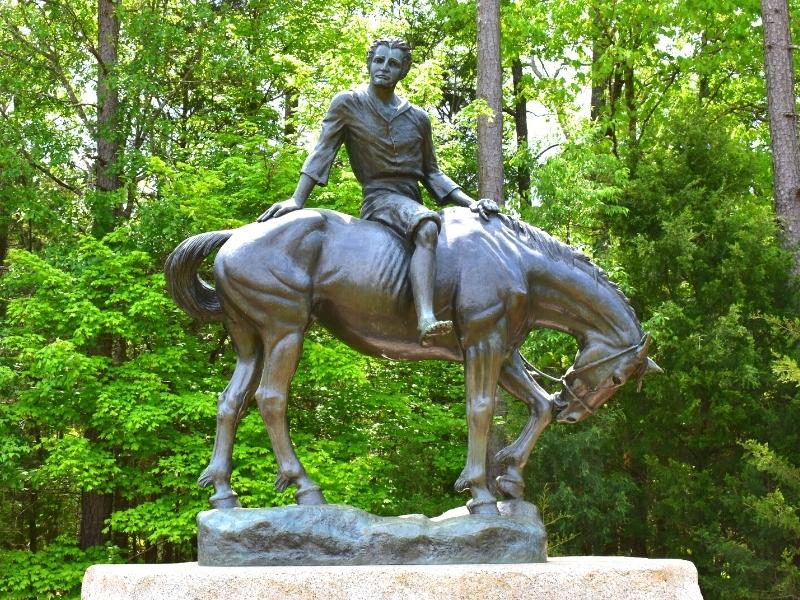 The most famous statue on the property is Anna Hyatt Huntington's bronze piece, The Boy of the Waxhaws.
Her statue features a teenage Andrew Jackson riding carefree and bareback on a horse, what was surely an everyday scene from his boyhood here in the Waxhaw region of the Carolinas.
Fun Fact: Anna Hyatt Huntington was a noted sculptor that wintered on South Carolina's coast with her philanthropist husband, Archer. Their beachfront home, Atalaya, is preserved at Huntington Beach State Park.
Nearby is a plain stone monolith with a paragraph etched into the face, stating its assertion that Andrew Jackson was born on a farm here and grew up in the South Carolina portion of the Waxhaws.
Last but not least is a memorial marker to Andrew Jackson's mother, Elizabeth Jackson, who raised her boys alone after her husband died. She was an ardent supporter of the American Revolution, doing her part where she could and taking care of sick soldiers.
All three memorials are in a row, near the Museum and Park Office. Be sure to check them out!
Host a Group Outing
Reserve the historic Meetinghouse, Amphitheater, or one of the park's three picnic shelters for your next event!
Picnic shelters are first come, first served unless you book a reservation in advance.
Both the Meetinghouse and the Amphitheater can be booked for larger events, with some supplies like tables and chairs provided by the park.
Contact the park for more information.
Take a Hike
There are two hiking trails at Andrew Jackson State Park: the Crawford Nature Trail and the Garden of the Waxhaws Trail. Both are one mile loops and easy to navigate.
The Crawford Nature Trail is, honestly, uneventful. It begins at the main parking area by the Meetinghouse, crosses Old Church Road, and circles out and back through the forest before returning to the start.
We went in late April so the forest and everything in it was green, but there wasn't anything noteworthy about the trail.
It's possible something flowers at a different time of year, but otherwise this is just a quick walk through the woods.
The Garden of the Waxhaws trail circles the park lake. This trail is shaded by the forest which comes right up to the lake's shores, except for one section near the pier.
The park map lists this as a moderately difficult trail, but we don't think that's really warranted.
The trail is always just steps from the lake edge and there are several spots to stop, sit, and enjoy the view. Watch for roots sticking up on the dirt trail. That's it.
If you start this trail from the parking lot by the Museum and Amphitheater, take the gravel steps to the right of the Amphitheater to walk down the hill to the lake.
You could also take the wooden stairs at the back of the amphitheater if you preferred that to the larger gravel stairs.
Perhaps this is why the trail is rated moderate, but this is a very short section that can be avoided entirely if you park at the lake trailhead instead.
Camping
Andrew Jackson State Park has one campground that can accommodate both tents and RVs. All 25 campsites have water and electric hookups, although only 5 can hold RVs longer than 30ft.
Restrooms and showers are in the center of the campground loop, and a dump station is available.
A minimum 2-night stay is usually required. Weekends often book up a few weeks ahead, especially around holidays. Reserve your campsite ahead.
Pro Tip: The park's only playground is located near the campground by the lake.
Fishing
Fishing is allowed at Andrew Jackson State Park. The on-site lake is home to bass, bream, catfish, and crappie, according to the park's website. Bream are catch and release only.
The lake has an accessible fishing pier, or you can set up shop anywhere along the bank.
Prefer to fish from the water? Rental boats are available, or you can bring your own non-motorized boat.
Rentals boats are currently $3/hour or $15 for the day from the park office.
Boating/Kayaking/Canoeing
This park lake is not big, but it could be a good workout for those that want to paddle for an hour or two. There is a small island in the middle, usually occupied by geese or other waterfowl.
Bring your own kayak or canoe, or rent a fishing boat from the office, and paddle around to your heart's content.
Enjoy Visiting Andrew Jackson State Park!
Enjoy your brief getaway in the natural landscape of the South Carolina Midlands at Andrew Jackson State Park, just minutes from Charlotte, NC!
For a full day, we recommend some state park-hopping! Andrew Jackson State Park, Landsford Canal State Park, and Lake Wateree State Park are all close to each other.
Visit all three for a full day outside, more worth your time than day tripping to just one of these.
If you're looking for more things to do in the area, here are some ideas:
More SC State Parks We've Visited
Battle of Rivers Bridge
Croft
Goodale
Hunting Island
Kings Mountain
Lake Greenwood
Lee
Poinsett
Is an Annual South Carolina State Park Pass Worth It? In most cases, yes, but check out the full cost breakdown to find out if it's right for you!
Happy Travels!
Share it!