There's no denying that 2020 was a rough year, but I think we're all tired of reliving just how awful it was. A new year has started and, buddy, the bar could not be lower! Rather than dwelling on the disappointments and cancelled trips, let's look at the silver linings and remember the good times of 2020! I did a surprising amount of exploring in 2020, so I've compiled my Top 11 Favorite Travel Photos of 2020. I hope you enjoy these photos and they inspire you to explore your own backyard.
---
This post may contain affiliate links. As an Amazon Associate and affiliate of other programs, I earn from qualifying purchases. This means if you click a link and make a purchase, I may earn a small commission at no extra cost to you.
---
Means to Explore's Top 11 Travel Photos of 2020
1. Diana Statue at the Biltmore Estate
Asheville is wonderful any time of year, and I have an annual pass to the Biltmore Estate. I love the history and grandeur of the House and the Estate, and the gardens are ever-changing with the seasons so there is always something new to discover.
On this quick day trip in June, I got to spend some time with the goddess Diana (and a few dozen of her close wasp friends buzzing around the arbor).
2. Stormfront from Tybee Island
For our 10-year wedding anniversary my husband and I found an Airbnb tucked away on a private beach in Tybee Island, GA and spent a long weekend reading on a deserted beach and ordering ALL the seafood.
That is a tricky food group to order as take out, but we made it work.
We were treated to a stunning display of nature as rainstorms rolled out to sea and up the coast. The local dolphins in the bay loved it, too!
3. Colonial Dorchester Ruins
My first excursion from home, post-shutdown, was to Colonial Dorchester State Park in the suburbs of Charleston, SC. I decided to start exploring locally so I could appease my cabin fever but still do it safely.
This spot was a busy trading village on the Ashley River that didn't recover after the Revolutionary War. The only buildings that remain are the tabby-walled fort and these church tower ruins.
4. Biltmore South Terrace
I said it before; I'll say it again. Asheville is wonderful any time of year, and I have an annual pass to the Biltmore Estate. This shot is from a day trip in October when the Biltmore gardens and grounds were in full fall color. The estate is gorgeous during the golden hour.
5. Middleton Place Mill Pond Reflection
This lovely October day was perfect for exploring a historic plantation outside of Charleston, SC. The grounds are big and beautiful, and we had them basically to ourselves on a weekday afternoon.
6. Antietam Battlefield Memorials at Sunset
Sunsets are my favorite for photographs! I finished the auto tour of the Antietam battlefield right as the sun dipped beneath the tree line and captured this awesome moment. The Civil War memorials with their soldiers frozen in time as the sun sets, slowly darkening. It was a cool experience.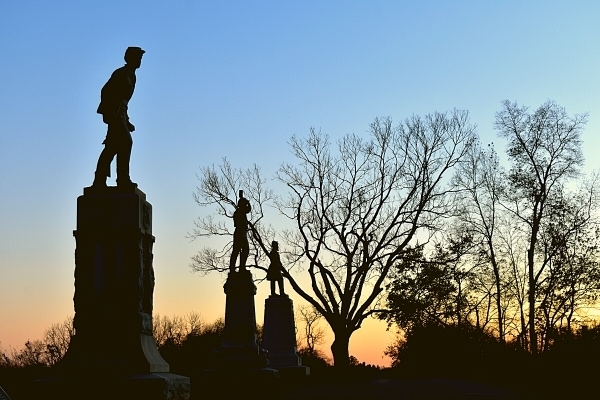 7. Gettysburg Battlefield
Gettysburg is an ENORMOUS site. As you follow the auto tour around the battlefield in the order of events, it's easy to imagine two armies fighting over this field or that field, smoke everywhere, thundering cannons, terrified cavalry horses, and sniper bullets whizzing through the air.
The juxtaposition when you wander back into the modern side of town is enough to make your head spin.
8. Random Lake in Fall in the Mountains
Cruising down Blue Ridge Parkway in North Carolina, we detoured off the parkway and onto some winding state route that would eventually deposit us at Mt Mitchell State Park. Along the way we stumbled upon this random lake by the roadside and pulled over for pictures. Turned out to be some of my favorite photos from this travel day!
9. Sunset Riverview in Atchison, KS
In a bid to check Kansas off my 50 states bucket list, I popped across the Missouri state line to Atchison, KS. The birthplace of Amelia Earhart and the Benedictine College are just two of the many small town attractions in this little corner of the world.
Another stunning sunset view, looking across the Missouri River from the bluffs in Kansas.
10. Pony Express Mural in St Joseph, MO
St Joseph, Missouri has more museums per capita than anywhere else in the country. While that may be a skewed fact because there aren't a lot of people that live here, there are a lot of museums here.
St Joseph was the birthplace and eastern hub of the Pony Express, the precursor to the US mail service. This mural proudly marks the parking lot for the adjacent Pony Express Museum.
Not pictured: the railroad chasing them out of town and into oblivion.
11. Sinkhole Pond at Santee State Park
My last South Carolina state park adventure of 2020 was to Santee State Park on the banks of Lake Marion. I hiked two trails and braved about two-thirds of a bike trail that I was massively unprepared for.
Another beautiful reflection photo in the Sinkhole Pond. Fall comes a bit late to the Lowcountry, compared to the rest of the country, so I finally had those fiery red and orange fall colors show up in December.
Did you explore somewhere new in 2020, even something as simple as a local park? Let me know in the comments!
Share it!