Switzerland is, in a word, picturesque. Verdant green hills, aqua blue lakes, and white snow-capped mountains are commonplace in this stunning country. See all three with a day trip to Lucerne and Mt Pilatus!
---
This post may contain affiliate links. As an Amazon Associate I earn from qualifying purchases. This means if you click a link and make a purchase, I may earn a small commission at no extra cost to you.
---
Why Visit Lucerne and Mt Pilatus?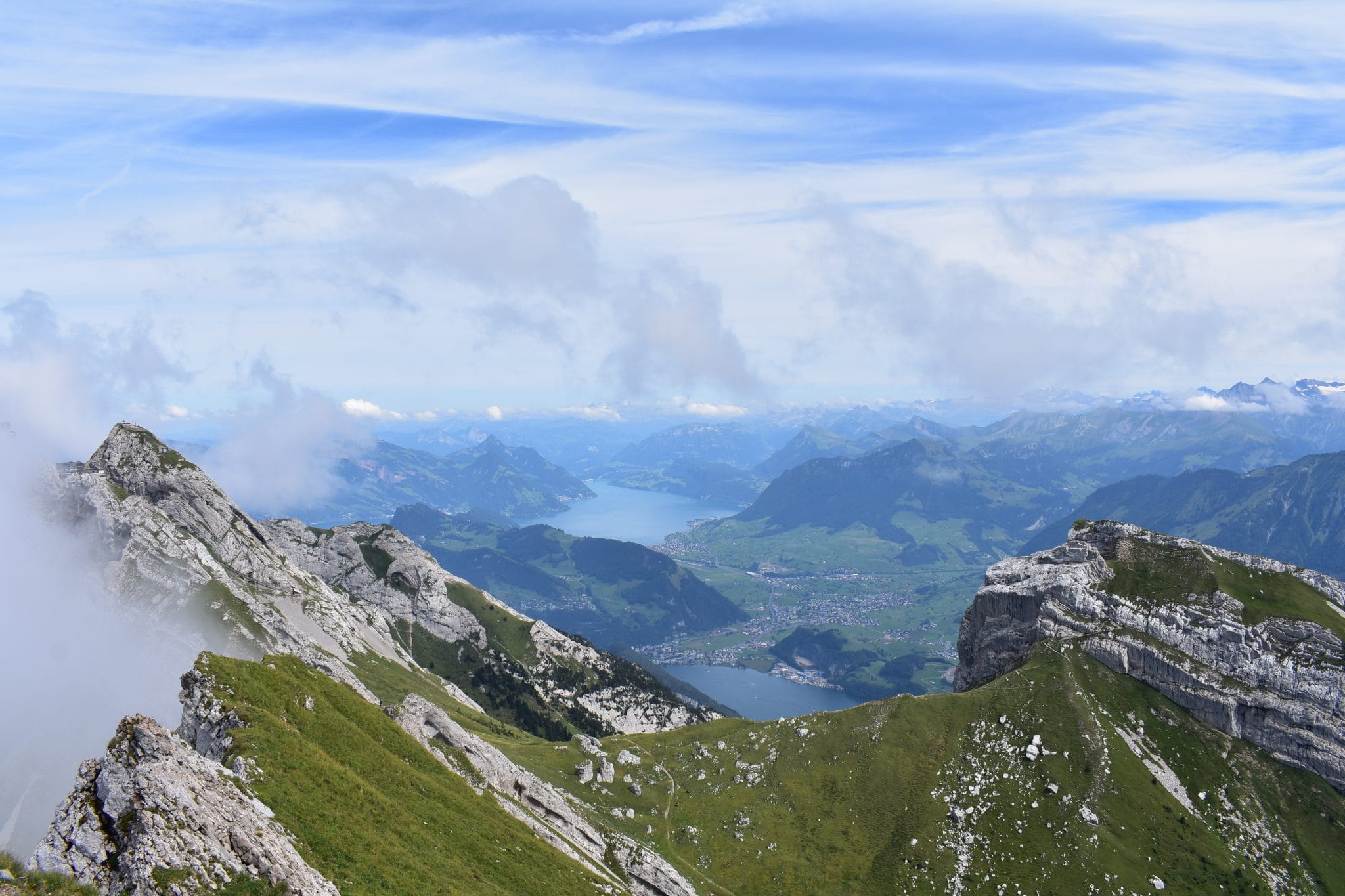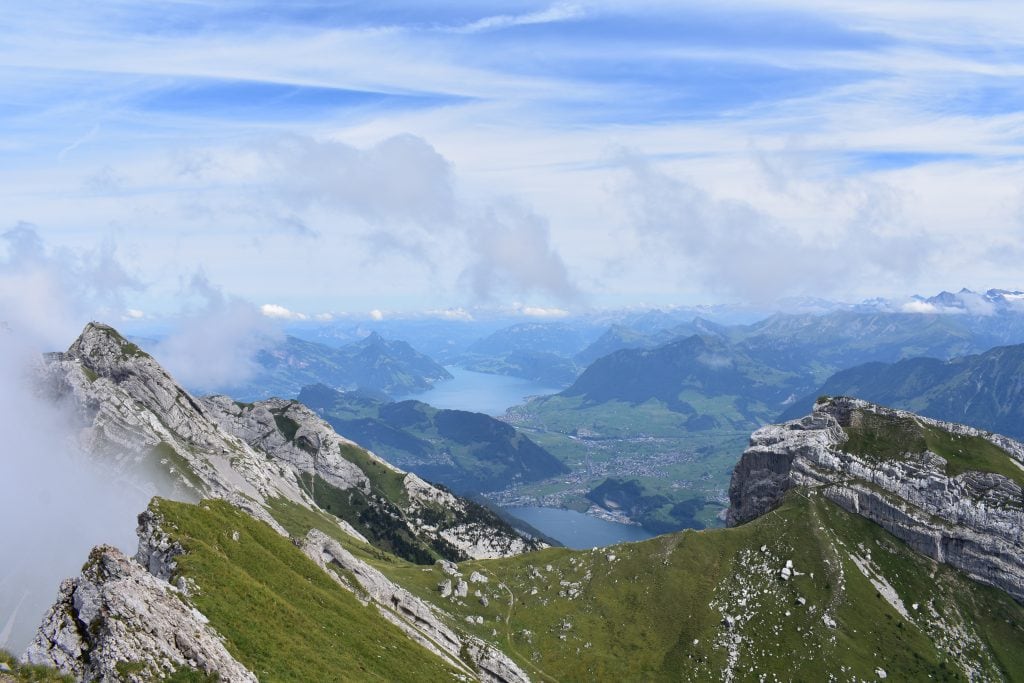 Lucerne is a charming mountain town tucked away in the German-speaking northern third of Switzerland. Zurich is bigger but is missing real mountains. Not that I dislike Zurich! We used Zurich as our Swiss home base on our epic 4 countries in 12 days trip in 2019.
Lucerne's old town is compact and easily walkable, but has a good bus system for reaching the further corners or when you want to give your feet a rest.
The lake is another amazing feature of this charming Swiss city. Watch boats and swans glide past an idyllic mountain backdrop, or get out on the water and experience it yourself.
If you're going to Switzerland, you MUST see the Swiss Alps! The mountains should be at the top of your Swiss bucket list, and Lucerne beats out Zurich in the mountains category.
Mounts Rigi, Stanserhorn, Burgenstock, and Pilatus, as well as many others, are all within easy reach from Lucerne.
If you're working with a strict budget for your Switzerland adventure, transportation up to both Rigi and Stanserhorn summits are included in the Swiss Travel Pass. Most mountain transportation is not included in the pass and requires an upcharge.
Mt Pilatus is totally worth the upcharge to see the mountains by lake, train, and gondola. I wrote an entire post for the Mt Pilatus Golden Tour if you need further convincing.
How Do I Get to Lucerne and Mt Pilatus?
Short answer: by train.
Switzerland is famously efficient and punctual, and that's just as true for their country-wide train system as anything else. You can reach Lucerne easily by train from any of the following Swiss cities:
Zurich – 45min
Basel – 1hr
Interlaken – 2hr
Bern – 1hr 15min
Lausanne – 2hr 30min
Geneva – 3hr
Lugano – 2hr
If flying to Switzerland from points abroad, you'll likely arrive via Zurich, Bern, or Geneva. Each of these international airports are connected to the Swiss train system and are easy jumping off points for travel onward to Lucerne.
I recommend purchasing a Swiss Travel Pass for the duration of your stay.
Unless you're planning to stay in one city for 3 or more consecutive days, the Swiss Travel Pass is your most cost-efficient transportation option. The pass includes not only trains but also ferries, buses, and some (but not all) mountainside transportation.
What to Do in Lucerne and Mt Pilatus
Your perfect day begins in a train station. I know that seems odd, but arriving by train will drop you into the heart of Lucerne and right by the lake.
Ferry across the Lake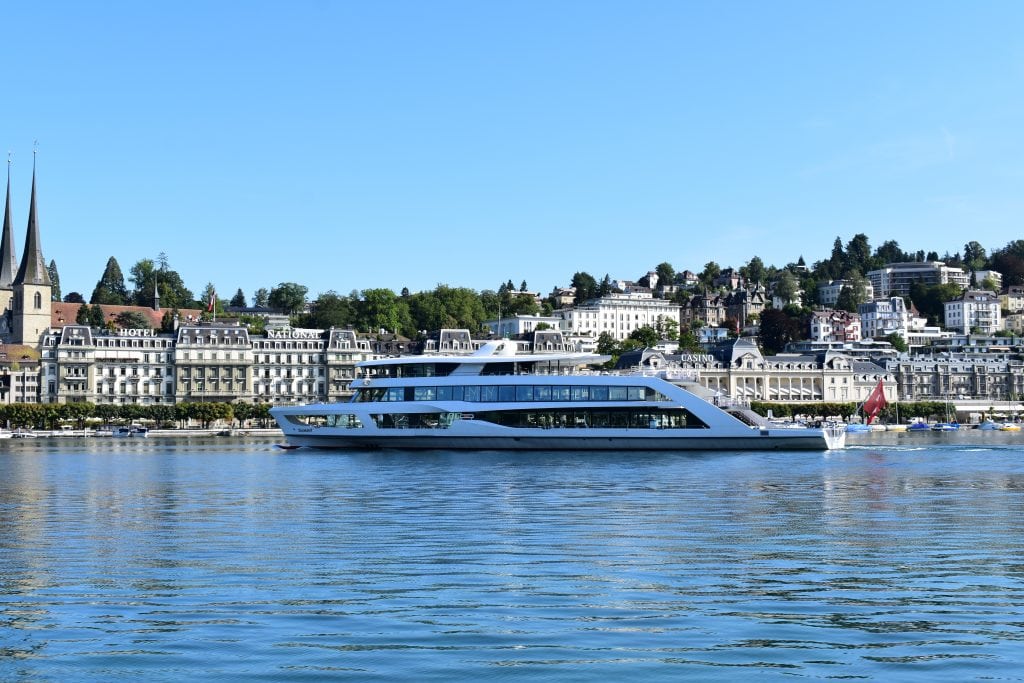 Start your day with the mountain! Cross to the lake dock, purchase your round trip Golden Tour ticket, and hop on the next ferry to Alpnachstad.
Enjoy a peaceful cruise across the lake as you see Mt Pilatus from several angles.
You'll see both the gondola cable cars ascending from Kriens and the cogwheel train chugging up the mountain before you dock in Alpnachstad.
The photography opportunities are endless in good (and sometimes poor!) weather.
Mt Pilatus
Once back on land, wait your turn to ride the world's steepest cogwheel train. There's really no bad view so choose any seat and have your camera ready for the ride.
Amazing views of the lake and the mountain are waiting for you, and don't forget the Swiss cows! Their charming bells echo across the mountainside.
At the top (Pilatus Kulm), you have a decision to make: eat first or hike first. If you're hungry there are options from easy take-away kiosks to more elegant hotel restaurants. If you want to hike, you have more decisions to make.
Take a Hike
Several easy to moderate hikes are easily accessible from the main Pilatus Kulm area.
There are much longer and more strenuous hikes up and down the Pilatus mountainside, but there won't be time for these if you have only one day to visit Mt Pilatus and Lucerne.
Esel is nearest the gondolas/train station. Mostly earthen stairs, so take your time as you adjust to altitude. No shame if you need to catch your breath. Just take out your camera and snap some photos!
Drachenweg (Dragon's Path) wraps around the back side of the yellow hotel (Hotel Pilatus-Kulm). It's possible to loop back around through the Dragon Cave and back to the "front" of the mountain. This route involves metal stairs, so be careful and hold the handrails if needed. Clouds hold moisture and can make the stairs slippery, even if it's not raining.

If you're up for more of a hike, continue through the gate and down the switchbacks to the Klimsenkapelle (church) perched high on the mountain.

Tomlishorn (past the hotels; opposite of the gondolas/train) is a semi-paved path until the end, where you finish the climb to the Mt Pilatus summit with earthen and rock stairs. This hike is more substantial. It takes approximately 30 minutes each way and has THE BEST VIEWS on Mt Pilatus. Bring your zoom lens for your camera. You'll thank me.
Gondola Cable Cars down to Kriens
Once you're done marveling at the stunning mountain views, take the gondola cable cars down to Kriens to complete your Golden Tour of Mt Pilatus.
The first gondola is standing room and has the best views.
You'll switch to a different system of cable cars at Fräkmüntegg, and climb into the compact 4-person cars for the rest of the ride down the mountain.
Once back on the ground, it's a 5-10 minute walk to the bus stop to hitch a ride back to Lucerne's train station, the main transportation hub for the city.
Exploring Lucerne's Old Town
Right next door to the train station is the Kunstmuseum Luzern with 500 years of Swiss art on display. This collection includes everything from Renaissance to present day.
A few blocks in the opposite direction is the Sammlung Rosengart for primarily Picasso works.
Chapel Bridge (Kapellbrücke) is easily the most famous site in Lucerne.
This centuries-old bridge almost burned down in 1995 but has been excellently restored and is conveniently located diagonally across the street from the main train station.
Some of the charred cross beams were even kept in place as a piece of the bridge's history.
A little further down the Reuss River is another wooden medieval-age bridge: Spreuer Bridge. Cross the river here and head over to Museggmauer, the old city wall. Several towers are open to the public and provide amazing aerial views of the city!
Follow Museggstrasse (street) northeast to Route 4 and turn north towards Lowenplatz. This area is home to lots of shopping and many fine monuments and museums.
Outside of the Lucerne City Center
Try the Swiss Museum of Transport for a quirky visit. The building is sheathed in old roadway signs. There's also a nearby planetarium for double the fun. These are located east across the lake from the main train station, but still on the lake, and are best reached via a 10min bus ride.
Classical music and opera fans will be interested in the Richard Wagner Museum. The famous German composer's country home, now museum, is located on the lakeside about 15-20 minutes by bus from the main Lucerne train station.
Enjoy Lake Lucerne
Looking for a low key activity that doesn't involve more walking? Stop at one of the many outdoor cafes and sit back and people watch for a while. Get a lakeside seat and enjoy the swans and boats. Or rent one of the paddleboats and enjoy being a tourist!
When you (or your feet) are ready to end your day in Lucerne, either walk back to the main train station (about 15-20min) or hop a bus back (about 10 min, depending on traffic).
Trains to Zurich are pretty constant throughout the day, but always check the schedule in the morning so you ensure you make it back for the last train.
Pro Tip: The last train of the day (no matter which city you're traveling back to) is always one of the busiest, so leave some extra time to get there early and ensure you get a seat.
---
What is your favorite thing to do in Lucerne?
Happy Travels!
---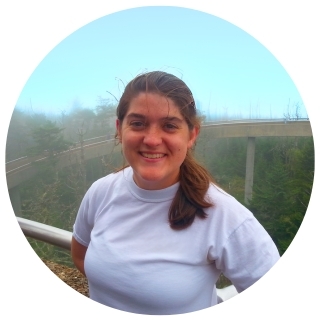 About the Author: Rachel Means
With six-figure student loan debt and only 10 PTO days per year, Rachel started traveling the world. A decade later, she's paid off her loans, changed careers, and been to 36 US states and 14 countries. She's an expert at planning and budgeting for travel and loves to help others do it, too! Read her full story here.
---
Share it!