I admit, I have a bad case of FOMO when it comes to traveling abroad. My bucket list is huge, and revisiting a country for a second time doesn't let me fill in or scratch off another country on my map.
Subsequently, I frequently pack my itinerary to the gills to experience as much as I can while I'm in a new place. This epic 4 countries in 12 days (Germany, Austria, Switzerland, & Liechtenstein) itinerary was a product of that.
---
This post may contain affiliate links. As an Amazon Associate and associate of other programs, I earn from qualifying purchases. This means if you click a link and make a purchase, I may earn a small commission at no extra cost to you.
---
A Word on FOMO and Packed Itineraries
I know that FOMO is irrational, but it's a remnant from being young and broke. Plenty of you can relate to that sentiment.
When my husband and I first started traveling we were still in six-figure student loan debt and I had limited vacation time. Long story short: my first job sucked and I had only 5 days of vacation time per year. I wasn't going to waste it!
Now that I'm older and wiser, and more importantly at a different job with actual benefits, I don't have to be quite as efficient with my vacation time. But old habits die hard.
I particularly struggle with this in Europe because everything is so close.
It's tempting to just keep adding cities and/or countries that are only 2 hours away to the itinerary. In the US, I can drive 2 hours and not leave my home state…
But it's not always better to see 10 cities in 12 days. Is it doable? Sure! But you're not getting an in-depth look. Go-go-go itineraries are great for getting a taste and feel for an area so you can plan to come back later for an in-depth trip.
Even if you are still young and broke, don't travel like it's the last vacation you'll ever have.
Use your time and resources wisely. Have faith that one day you won't be young and broke anymore, and you'll be able to go on multiple vacations per year.
---

---
Germany, Austria, Switzerland, and Liechtenstein in 12 Days
Coming from the US, or really anywhere other than Europe or Northern Africa, you will lose 2 of the 12 days to airports. Unfortunate but unavoidable.
Travel Day
Arrive in Munich AM; Salzburg PM
Salzburg AM; Munich PM
Munich
Füssen
Travel from Munich to Zurich AM; Sightseeing Zurich PM
Liechtenstein & St Gallens
Travel Day
How to See 10 Cities in 12 Days (Without Going Crazy)
This itinerary is definitely a go-go-go schedule to see a lot of places and sights, but it does allow some down time. We typically leave around 8 or 9AM every morning and get back to home base city by 5 or 6PM. The evenings provide down time to do whatever we want.
Some of you are early birds and want to watch the sunrise every day. Great! It's beautiful, and I highly recommend sunrise views on beaches and in the mountains.
Some of you are night owls and want to see the city lit up at night. Great! Also beautiful, and also highly recommend you visit a sky deck or observation tower for stunning night skylines.
Do what makes you happy on vacation! Get up early, or stay up late. It's your choice!
Learn from My Mistakes
However, learn from my mistakes and take note of the following points concerning schedules in Germany, Austria, Switzerland, and Liechtenstein:
Most tours and attractions don't start/open until 8 or 9AM and close around 5PM, with last entry around 4 or 4:30PM. However, most museums are open late at least one night per week.
Punctuality and efficiency are highly important here. Don't expect sympathy if you miss last entry by 3 minutes.

This happened to us at the Munich Residence Treasury.

Conversely, don't underestimate how long it can take to get your bill at a restaurant. German servers don't hang around. Once you get your food, you're unlikely to see them again until you finally flag them down for your check at the end of your meal.

We missed our Neuschwanstein Castle tour entry time because we couldn't find our lunch waiter to pay our bill.

Train schedules can vary from weekday to weekend and around holidays. Always check the schedule first!

We wasted 1.5 hours and missed an opportunity to see another sight in Nuremberg because of a train schedule mix up.
4 Countries. 12 Days. 1 Epic Europe Itinerary.
I know planning is super stressful for some people, so steal this itinerary and take the guess work out of trip planning! Book your flights and accommodations and just go!
Day 1: Travel Day
Depends on origin city, but most US travelers will fly to an east coast hub and catch an overnight flight across the Atlantic, arriving in Germany the morning of Day 2.
Day 2: Arrival in Munich, Germany AM; Salzburg, Austria PM
Fly into Munich and immediately take the train to Salzburg, Austria. We found this cheaper than flying into any of the other surrounding international airports. Get to know classical music composer Wolfgang Amadeus Mozart's hometown!
Afternoon sightseeing!

See the DomQuartier: the Prince-Archbishop Residence, State Rooms, Gallery, and into the Cathedral

Ride the Festungbahn (funicular) up the hill to Hohensalzburg Fortress

For wonderful sunset views over the city, eat dinner at the biergarten on top of the cliffs at Hohensalzburg Fortress.
Overnight in Salzburg at the NH Collection Salzburg City. This hotel is an easy walk to both the Old Town and the central train station, and near the bus lines if you prefer.
Day 3: Day Trip to Berchtesgaden, Germany
I know it seems odd to travel to Austria and then turn around and take a day trip back to Germany the next day. Trust me, it's faster and easier to day trip to Berchtesgaden from Salzburg, Austria than it is from Munich, Germany.
As early as you are willing, catch Bus 840 to Berchtesgaden and arrive in Berchtesgaden 45min later. The later you wait, the longer the ticket lines will be.
See this complete guide for what to do in Berchtesgaden but must-see sights include:

The Eagle's Nest (Kehlsteinhaus), aka Hitler's mountaintop chateau which is now a restaurant at the top of the German Alps. Recommend eating lunch here!

Documentation Center (if short on time, skip to the underground bunker/tunnels)

King's Lake (Konigssee), part of Berchtesgaden National Park, and ferry out to St Bartholoma's (Bartholomew's) Church

Rainy day alternative: Berchtesgaden Salt Mine Tour
Do not miss the last Bus 840 back to Salzburg! The last bus will be busy and most will have to stand, so jump up quick when it arrives if you need a seat.
Attend an evening classical music concert in Salzburg, if you're in the mood.
Overnight in Salzburg at the NH Collection Salzburg City.
Day 4: Salzburg AM; Munich PM
Another split day. We went with roughly half and half, but feel free to divide your time however you want. Check the train schedules the night before and know when you have to leave to catch your train to Munich.
Check out of hotel and store luggage. Head out for breakfast and some morning sightseeing!

Café Tomaselli for breakfast (once Mozart's favorite breakfast place)

Wander Mirabell Gardens & Palace. Don't miss the Dwarf Garden!

Popular picture spot with Hohensalzburg Fortress in background and Mirabell Gardens in the foreground. (always busy here)

Retrieve your luggage and hop a train to Munich.
Arrive in Munich 2hr later (early afternoon). Check in to accommodation. Head out for some late afternoon sightseeing!

Start in Marienplatz and walk around the heart of Munich's Old Town.

Take the elevator up the New Town Hall's tower for city views! St Peter's, diagonally across Marienplatz, also has a sightseeing deck in the clock tower if you prefer to get pictures of the New Town Hall.

Visit any or all of the amazing churches within easy walking distance: St Peter's, Frauenkirche, St Michael's.

Enjoy some shopping and dinner in the area.
Overnight in Munich at the Holiday Inn Express Munich City West. Super convenient to the S-bahn and includes breakfast!
Day 5: Day Trip to Nuremberg
Again you may ask, "Why are you leaving Munich when you just arrived?"
In our case, we wanted to visit Nuremberg on a Sunday so we were guaranteed Courtroom 600 would be open for visitors. However, in 2021 they stopped using this courtroom for normal service, and it's open for tours every day now.
If you're not into history, move this day trip to Nuremberg to whatever day suits you best.
Take a train to Nuremberg. DB ICE trains are faster, but RE trains are cheaper.
Visit the Imperial Castle of Nuremberg (Kaiserberg) on a hill above the city.
Stop in Albrecht Durer's House for some art history.
Walk through the Old Town and see everything:

Church of our Lady (Frauenkirche)

Schöner Brunnen (gold fountain)

Numerous statues and memorials along the way
Hop Bus 36 to the Documentation Center and Old Rally Grounds and Zepplin Fields on the outskirts of town. This Documentation Center emphasizes the propaganda machine of the Nazis and is built into the side of the abandoned and unfinished Congress Hall for the Nazi party. It is satisfying to see it in ruins but also chilling to see the scale of the building.
Back in town, visit the Nuremberg Palace of Justice and see the small museum and Courtroom 600 where the Nuremberg Trials were held at the end of World War II.
Catch the last train back to Munich, but beware: it will be packed. Get there before it arrives so you can snag a seat.
Overnight in Munich at the Holiday Inn Express Munich City West.
Day 6: Munich
A simple day in Munich.
Morning Sightseeing: Nymphenburg Palace. You can spend all day here, but try to limit to just the morning. Save time for the park!

The Marstallmuseum, displaying gold carriages in the stables and famous Nymphenburg porcelain

The Park: paths, trees, flowers, and fountains, in true French imitation

The Park Palaces: mini palaces within the gardens (the Park)

Amalienburg: the Electress's private retreat, showcasing a mini Hall of Mirrors and beautifully tiled kitchen

Badenburg: the Elector's bathing house; think Roman baths

Pagodenburg: a petite spot decorated from head to toe with Chinese imagery, wallpaper, and tiling

Magdalenenklause: Magdalene Hermitage, built to look as if it's falling apart on the outside but beautifully, if austerely, decorated on the inside, with odd furnishings including altarpieces made from a narwhal tusk.

Take the tram back downtown and grab some lunch along the way.
Afternoon sightseeing: Munich Residence. Beware of last entry time 30 minutes before close.

Residence Museum: learn of the Wittelsbach family and how they lived

Treasury: see the Wittelsbach family crowns, jewels, and other precious pieces collected over centuries

Cuvilliés Theatre: destroyed in World War II, the theater was rebuilt in 1956. The wood carvings were all saved and are originals, but everything else is a stunning reproduction of the original 1700's building.

End the day with a stroll through the English Garden or the Haus der Kunst art museum.
Overnight in Munich at the Holiday Inn Express Munich City West.
Day 7: Dachau AM; Munich PM
The Munich suburb of Dachau is recognized all over the world for its horrifying work camp from the Second World War. The Dachau Concentration Camp Memorial Site is a somber and draining experience, but you should absolutely visit.
Warning: The Dachau Concentration Camp Memorial Site is not suitable for young kids. Swap Dachau for the Deutsches Museum (science and tech exhibits) or the Children's Museum (Kindermuseum) in Munich.
We spent 5 hours at the memorial site, but then ventured back into the older part of town to get a sense of life in Dachau before its name became infamous. We then finished the afternoon back in Munich.
Take the S-bahn to Dachau and catch the bus to Dachau Concentration Camp Memorial site. Spend the morning here. The museum has a lot of information, and it takes a while to take it all in. See our full guide for what to expect if you're unsure.
Head back into the town of Dachau and grab lunch at a local spot.
Catch the bus up the hill to the old town area, to Dachau Palace. See the beautifully preserved wooden ceiling that is centuries old, and walk the gardens in the back. The terrace is great for skyline views of Munich in the distance.
Head back to Munich and stop at the Sendlinger Tor.
Continue up the street to the Asamkirche: the most over-decorated chapel you've ever seen.
Walk over to the Viktualienmarkt (outdoor food stalls). If you prefer, continue on to the famous Hofbräuhaus beer hall for dinner.
Pro Tip: For a quieter evening at Hofbräuhaus, eat upstairs in the restaurant instead of the first floor beer hall.
Overnight in Munich at the Holiday Inn Express Munich City West.
Day 8: Day Trip to Füssen
You've probably never heard of the town of Füssen, but you probably have heard of Neuschwanstein Castle. Some of you may know it simply as the inspiration for the Disney castle.
Important: Preorder tickets for Neuschwanstein Castle tours online several weeks before your trip! This is a hugely popular attraction and it sells out every day in the busy summer months.
Recommend the combo ticket to see Hohenschwangau Castle, too!
Catch the earliest train you can to Füssen. Transfer to the awaiting bus and arrive in the town of Hohenschwangau no later than mid-morning. This is the easiest way to get to Neuschwanstein from Munich, but here's a guide for every way to get there.
Pick up tickets at will call before heading to either castle. When you see the other line, you'll be so relieved that you preordered and don't have to wait and pray for tickets in that other line.
Combo ticketholders: timed entry for Hohenschwangau Castle tour is first. There's a 2 hour gap and then your timed entry for Neuschwanstein Castle tour.
Discover Neuschwanstein's many amazing views. Head over to Mary's Bridge (Marienbrücke) to get your very own iconic photo of Neuschwanstein Castle.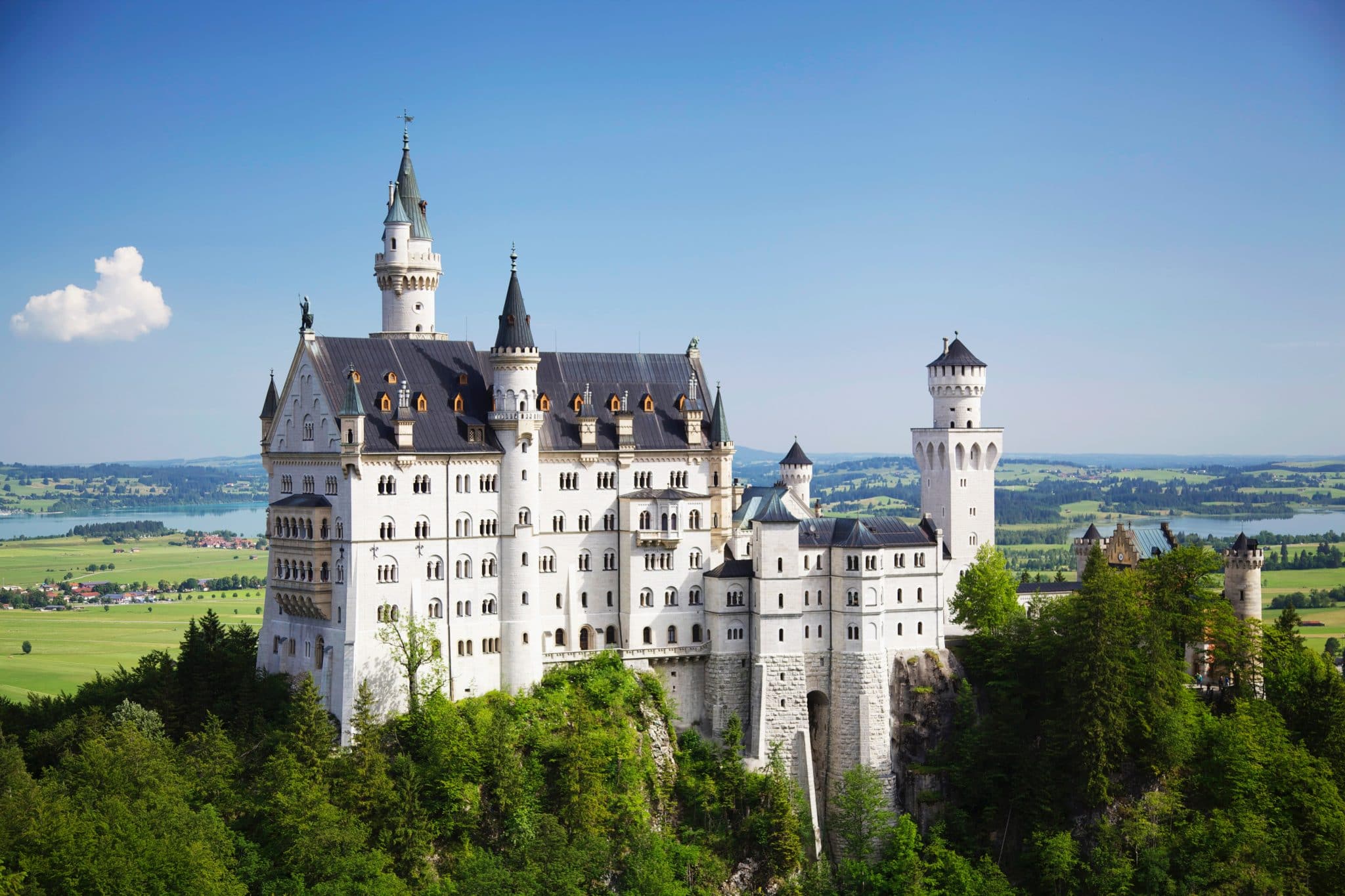 Continue to the other side of the bridge and do some more hiking. Or return back towards Neuschwanstein and take the Pöllat Gorge Walk back to town for waterfall and river views instead of the shuttle bus or walking down the way you came up.
End up right next to bus stop in Hohenschwangau. Take next bus back to Füssen and next train back to Munich.
A good evening to sit and mellow in a restaurant or the English Garden after a long day of walking.
Last night in Munich, still at the Holiday Inn Express Munich City West, which is close to the central bus station, too, which will come in handy tomorrow.
Day 9: Zurich, Switzerland
We did a lot of research when we planned this trip and believe it or not, taking the DB Bus is the fastest and cheapest way to travel from Munich to Zurich. (Yes, it's faster than taking trains, as there's no direct route from Munich to Zurich.)
Board the DB IC Bus to Zurich and enjoy the 4 hour stress-free ride. Arrive in Zurich around noon.
Check into your accommodations, and head out for afternoon sightseeing!

Walk along Bahnhofstrasse and admire obscenely expensive things

See Frauenkirche and Grossmunster churches.

Climb the Grossmunster tower for wonderful views of town and the lake!

Get some ice cream and stroll towards the lake. See the Operahaus and spend some time chilling by the lake.
Find a fondue place for dinner!
Stroll back through the old town at night for brilliantly lit up buildings and streets.
Overnight at the Motel One Zurich. Don't let the "motel" deceive you; it's not a motel like you'd see in the US.
It's a very nice hotel in the city, convenient walking distance to the high-end shopping district and several of the city's biggest landmarks, like the Grossmunster and the lake.
Day 10: Day Trip to Mt Pilatus and Lucerne
You cannot go to Switzerland without seeing the Alps! This was our mountain day. There are so many mountains to choose from, but we recommend Mt Pilatus for the "cool route" factor.
Hop a train to Lucerne. Arrive in an hour.
Experience the Mt Pilatus Golden Tour: see the mountain by ferry, cogwheel train, and cable car/gondola.

Recommend the ferry, train, gondola route, but can be done in reverse.

Eat lunch at one of the restaurants at Pilatus Kulm, the top of the mountain.

Several short hikes from Pilatus Kulm. Save time for the Tomlishorn hike, the highest peak on Mt Pilatus. About 30min each way with amazing views from 7000ft.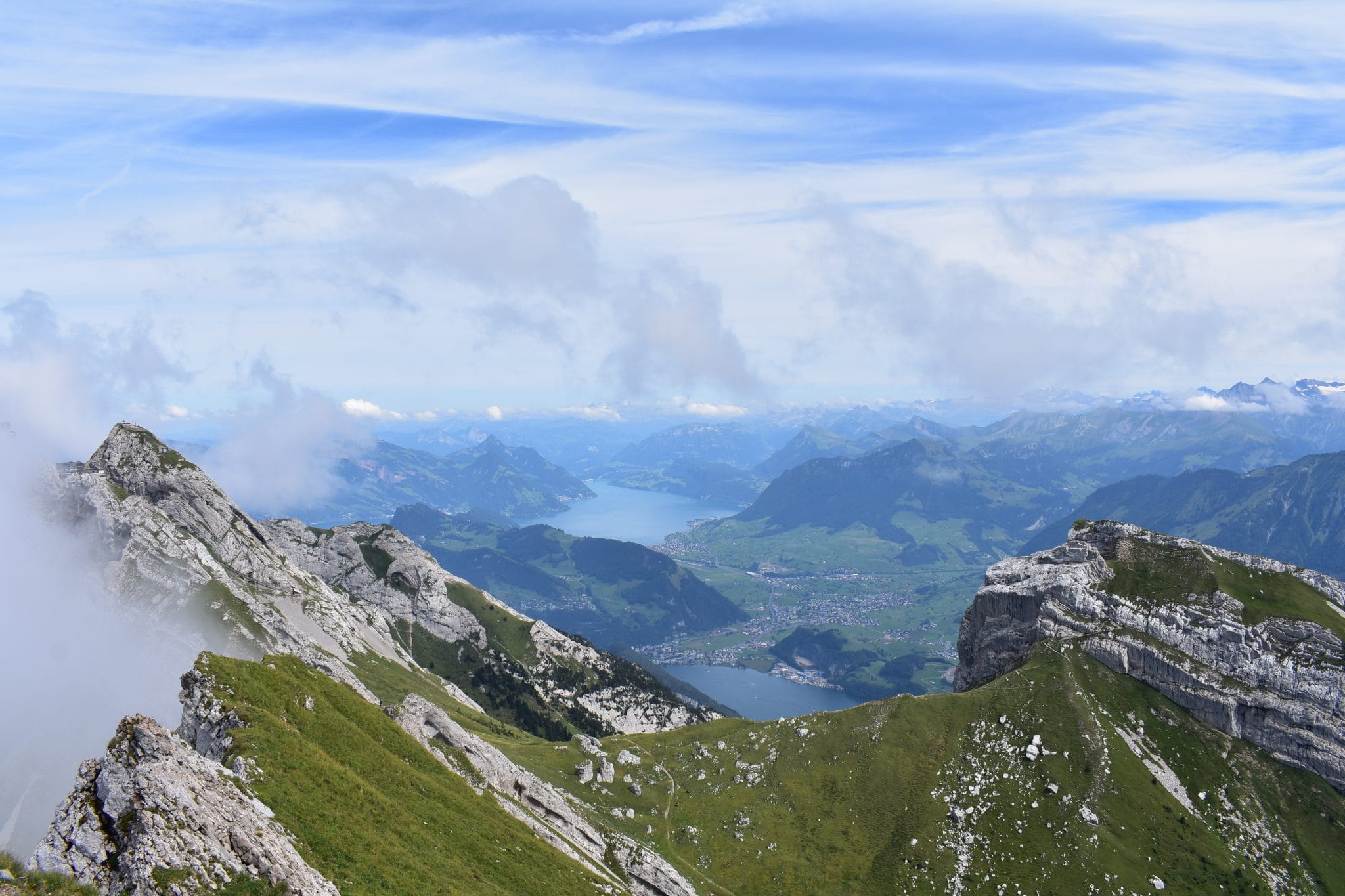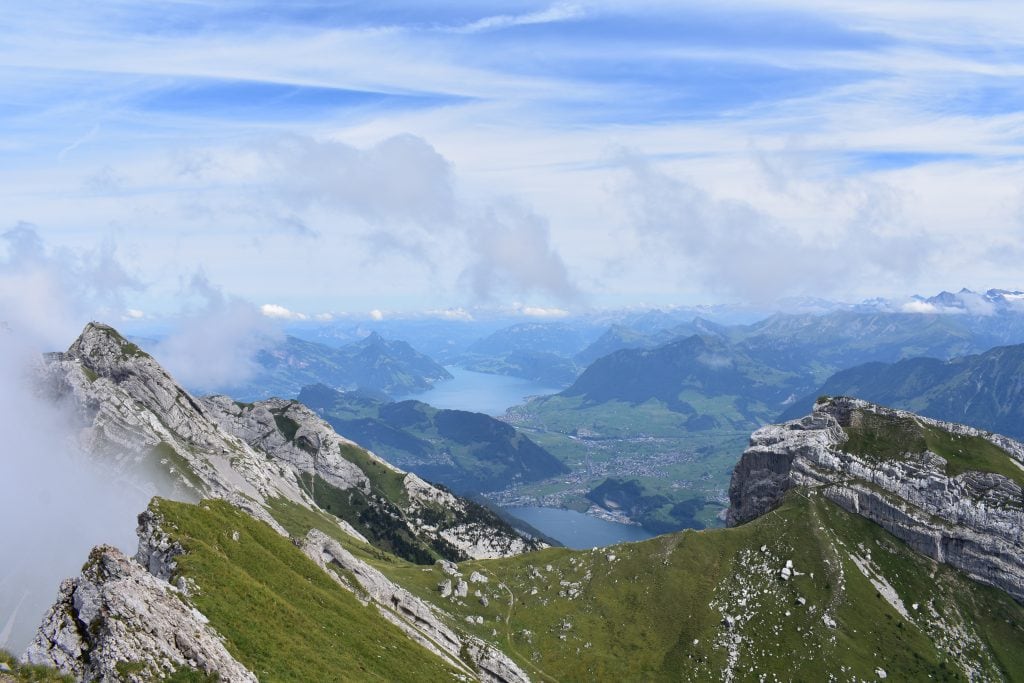 Explore Lucerne in the afternoon!

Stroll across the Chapel Bridge (Kapellbrücke) and spot one of the charred cross beams from the 1995 fire.

Not much further down the river, find the equally impressive Spreuer Bridge.

Visit the Lion Monument (Löwendenkmal).

Tour the Glacier Garden (Gletschergarten).

Do some shopping and buy some genuine Swiss chocolate!

Sit and admire the lake and its perfect views of the Alps.

Eat dinner in Lucerne or Zurich, whichever is convenient. Trains are pretty constant between the cities, but as always check the schedule the night before to ensure you don't miss your last train back to Zurich and your hotel.
Overnight back in Zurich at the Motel One Zurich.
Day 11: Day Trip to Liechtenstein and St Gallens
Another country checked off the list! And an absolutely jaw-dropping medieval library at the UNESCO World Heritage site St Gallens Abbey, for all my fellow bibliophiles out there.
Pro Tip: Swiss Rail passes include transportation in Liechtenstein. You don't have to buy separate tickets for trains or buses in Liechtenstein!
This tiny neighbor accepts Swiss Francs as well as Euros.
Leaving Liechtenstein, take a bus to Schaan Hbf, a connector bus to Buchs Hbf, back across the river in Switzerland, and catch a train to St Gallens. Arrive in an hour.
St Gallens, Switzerland afternoon sightseeing!

Take a bus or walk over to the UNESCO World Heritage site St Gallens Abbey! The Library is from the 8th century, gorgeously Baroque decorated, and displays illuminated manuscripts!

The basement has more information about the architecture, history, and St Gall, the abbey's namesake monk from Ireland. Who knew monks were so mobile in the 8th century?

Walk across the yard to the Exhibition Space to see the famously old map of the Abbey grounds. Watch a short film about what the map has shared with historians, and then the map will rise out of a table, in its protective case, for you to gander at for maybe 30 seconds before it shrinks back into concealment beneath the table.

If you have time, take the train to Schaffhausen to see Europe's largest waterfall: the Rhine Falls. (The weather was not cooperating for us, so we headed back to Zurich.)
Once back in Zurich, eat another delicious dinner and get ice cream for the 3rd day in a row! Enjoy one last Swiss evening by the lake or relaxing in a restaurant before heading back to the hotel to pack.
Overnight in Zurich at the Motel One Zurich.
Day 12: Travel Day
Long day in airports. Our flights had us awake for 21 hours before we finally made it home to our comfortable bed.
---

---
An Epic 4 Countries in 12 Days Europe Itinerary!
Do you like go-go-go vacations or prefer to take it slow? Would you try this itinerary?
Happy Travels!
Share it!