Salzburg, Austria is an affordable and easy day trip from Munich, Germany. This beautiful and musical city is split by the aqua blue Salzach River and has a lot of culture, nature, and history to offer tourists. Explore Wolfgang Amadeus Mozart's hometown, see a fortress stronghold on a hill above town, or tour The Sound of Music filming locations with one day in Salzburg!
---
This post may contain affiliate links. As an Amazon Associate and associate of other programs, I earn from qualifying purchases. This means if you click a link and make a purchase, I may earn a small commission at no extra cost to you.
---
How to Day Trip to Salzburg from Munich
One of the many beautiful things about Europe is how easy it is to get around, despite the multitude of international borders.
The Schengen Area makes this so easy, and Germany has made it even easier by including Salzburg in their regional Bayern Train Ticket.
---

---
Understanding the Schengen Area
The Schengen Area in Europe is a group of 26 countries that all agreed to relax their internal borders, to make it easier for people to travel from one country to another.
They don't stop every single person at land borders and check passports and visas. It has significantly reduced paperwork and bureaucratic red tape.
International visitors are still processed through immigration and customs upon first arrival in the Schengen Area, usually through an airport.
Once in the Schengen Area, though, moving around within the various countries' borders via train or car is much easier.
This DOES NOT mean you don't need your passport, and this also DOES NOT mean that you will never get stopped at a border.
Always carry your passport when crossing an international border. Border guards still have the right to stop anyone, and you must be able to provide identification.
It DOES mean travel is generally quicker and easier today than it was once upon a time. A quick day trip to Salzburg from Munich is a piece of cake!
Traveling from Munich to Salzburg with a Bayern Ticket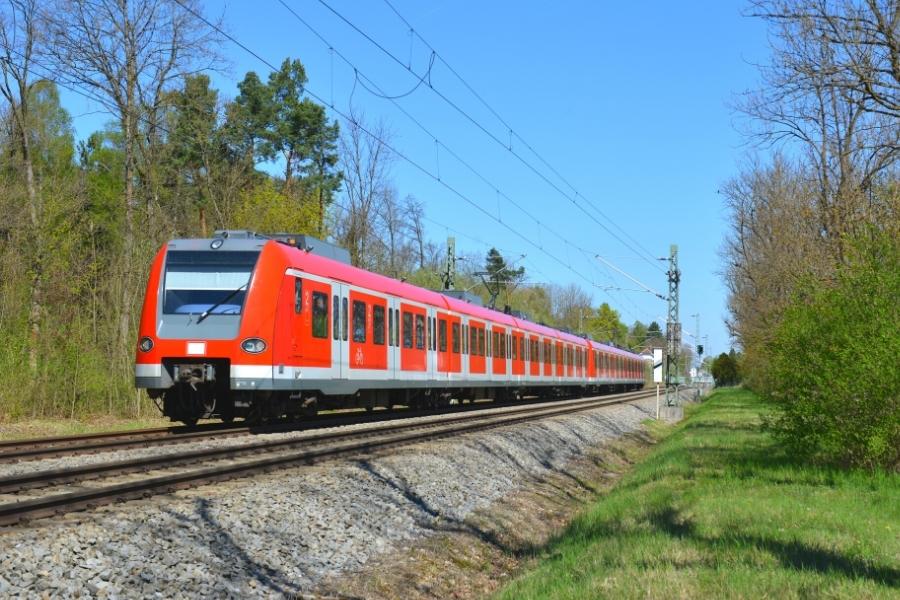 The southeast corner of Germany is known as the state of Bavaria, and their regional Bayern train tickets allow up to 5 adults to travel around the region on one ticket for a very reasonable price.
Purchase a Bayern ticket in Munich, list each adult in your group on the ticket, and hop aboard the train to Salzburg. They will check tickets after the train is under way. Be prepared to show ID for each adult listed on the ticket.
Salzburg is only 1.5 hours from Munich by train, and a Bayern ticket will get you there with no need to switch trains when you cross the Germany/Austria border.
Once in Salzburg, use the local bus system to get around town. Walking around the Old Town (AltStadt) is also one of the easiest (and best!) ways to see the city.
Other Ways to Get to Salzburg from Munich
Driving from Munich to Salzburg is possible, too, of course, but it's a bit more of a hassle. While you still won't be stopped at a border for a passport check, there are different requirements for driving in the two countries.
A couple of important items to note if you drive:
First, rental car companies will charge an additional fee if a rental car is taken out of the country of origin.
It's not discouraged, necessarily, but it's better if they know ahead of time when booking. They can accommodate you at the time of pick up, but some companies use that as an excuse to charge more for the privilege.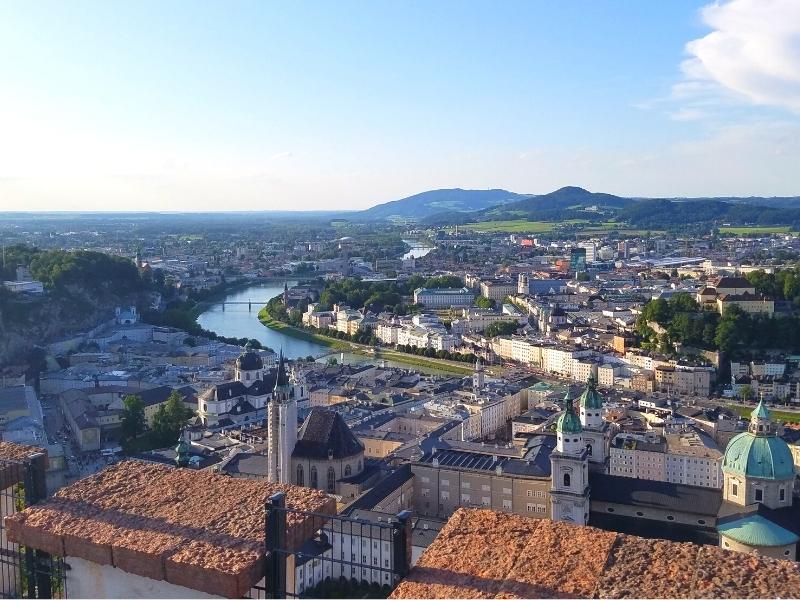 Second, driving rules and tolls differ between the two countries. Germany has no tolls and no speed limit on its highways. Austria requires a toll vignette sticker on all cars and has a speed limit of 80mph.
The rental car company can provide a vignette sticker at time of pick up if you warn them ahead of time. Alternatively, these vignettes can be purchased online or at gas stations (petrol stations) near the border.
In our opinion, finding and paying for parking for a day is pretty pointless when the trains and buses are convenient, efficient, and more economical. We recommend not bothering with a rental car if you're only spending a day, or even a weekend, in Salzburg.
5 Important Tips for Visiting Salzburg
1. Bring your passport, just in case.
Salzburg is in Austria, and if you're day tripping from Munich you are crossing an international border. The wonderful Schengen Area makes that significantly easier, but you are still responsible for having proper identification if asked for it.
2. Bring your walking shoes.
There's a lot to see here in one day, so bring comfortable shoes. Be prepared to walk and stand for long stretches as you explore the museums, cathedrals, and fortresses.
3. The locals don't know/care about The Sound of Music as much as you do.
The Sound of Music was not a blockbuster movie hit in Austria like it was in the US. Many locals have never seen it, and likely have only heard of it because of the hordes of tourists that show up for it every year.
4. You don't have to care about The Sound of Music to enjoy Salzburg.
If you had no idea that The Sound of Music was filmed here, and don't care now that you know it, that's totally fine! There's plenty to see in Salzburg that has nothing to do with The Sound of Music.
5. Get a Salzburg Card for convenience.
The Salzburg City Tourist Information (TI) office is conveniently located in the main train station. Hop off your train from Munich and stop at the TI to pick up a Salzburg Card before venturing out into the city.
The Salzburg Card includes:
Transportation

: take any bus for free to get around the city, also includes a river cruise!

Sightseeing

: all the major sights and museums in town are included, like both Mozart Residences and Hohensalzburg Fortress.

Fast-pass Entry

: some museums also have a fast-pass entrance, where you show your card, they quickly scan it, and let you through. This was a huge time-saver at Mozart's Birthplace!
One day in Salzburg, Austria: The Must-See Sights
There are so many things to do in Salzburg that you can't do it all in one day. But a day trip from Munich is plenty of time to see the top sights in Salzburg and get a better appreciation for this music-loving, historic city.
If you don't extend your stay on the spot, you'll probably be planning a long weekend or return trip on the train ride back to Munich at the end of the day.
Here are our recommended top, can't-miss sights in Salzburg.
Mirabell Palace Gardens
A beautiful spot for a quick stroll and an iconic photo, and no, I'm not just talking about The Sound of Music.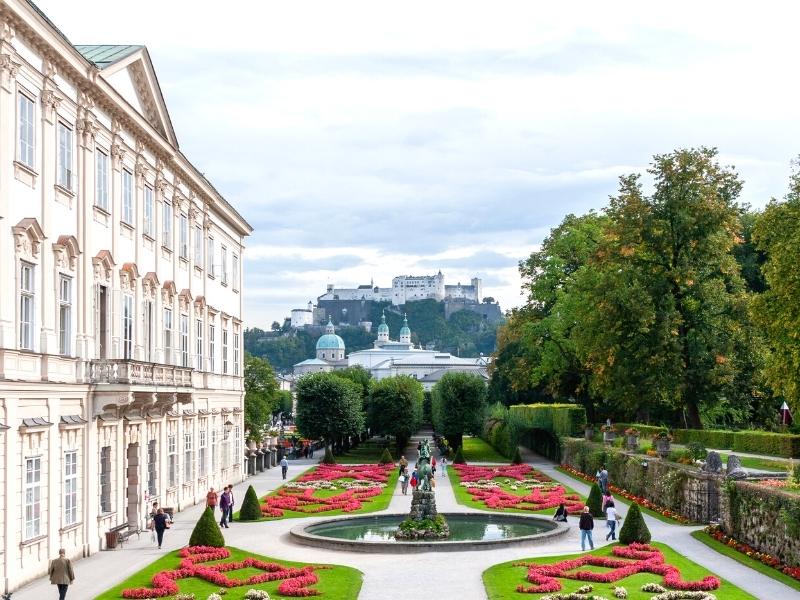 >> Do you also recognize that fountain in the middle? Yes, that's that fountain from The Sound of Music. <<
Mirabell Palace is on the east side of the river, not too far from the central train station. We recommend starting here as it's sort of on your way to the Old Town, where the majority of the must-see sights in Salzburg are located.
Everyone will crowd the gate to get the gorgeous shot shown above of Salzburg with the blooming gardens in the foreground and Hohensalzburg Fortress atop the cliffs in the background.
Don't miss the Dwarf Garden while you're here! These were an unexpected yet hilariously delightful find while we were exploring Mirabell.
Continue through the garden for roses, green tunnels of love, and more fountains. Benches are pretty much everywhere, if you need a spot to rest and take in the beautiful surroundings.
Once you've walked the length of the gardens, you'll find yourself opposite of the Mozart Residence. We recommend skipping the Residence and heading for Mozart's Birthplace, a short walk across the river.
Views of the Salzach River
Bright aqua blue water is the signature of the Salzach River. The minerals in the mountains create the beautiful color.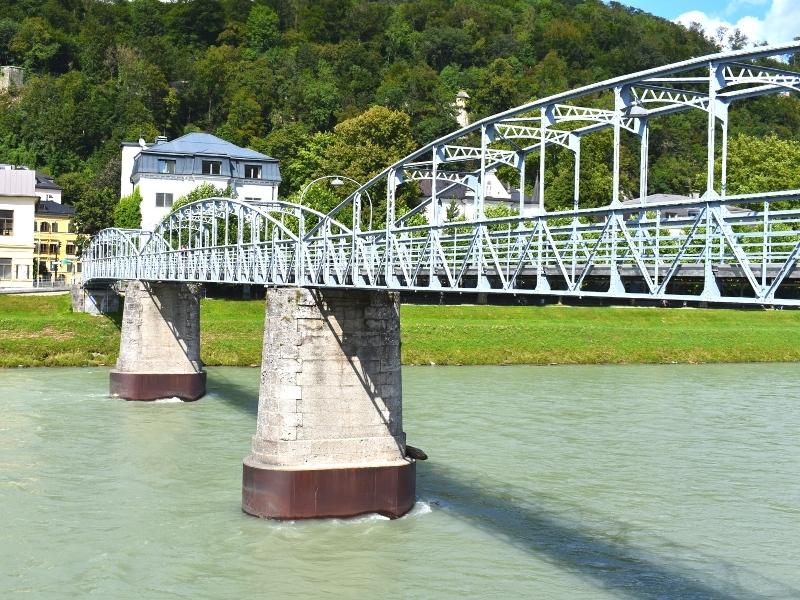 Take a stroll along the river and walk across it on one of the beautiful bridges that connect the two sides of the city.
If you're following our directions, cross at the Staatsbrücke for easy access to the Mozart Birthplace.
Pro Tip: A river cruise is included with the Salzburg Card! If you have time, include a Tour 1 float down and back from the Old Town.
Mozart's Birthplace (Geburtshaus)
One of the most popular tourist sites in the entire city, Wolfgang Amadeus Mozart's Birthplace. Salzburg's favorite claim to fame is as Mozart's hometown, and they certainly embrace it.
Mozart was a classical music child prodigy born in the mid-1700's. Even non-musical people know his name. He performed his first public concert at age 5 and had a career composing and performing until his death.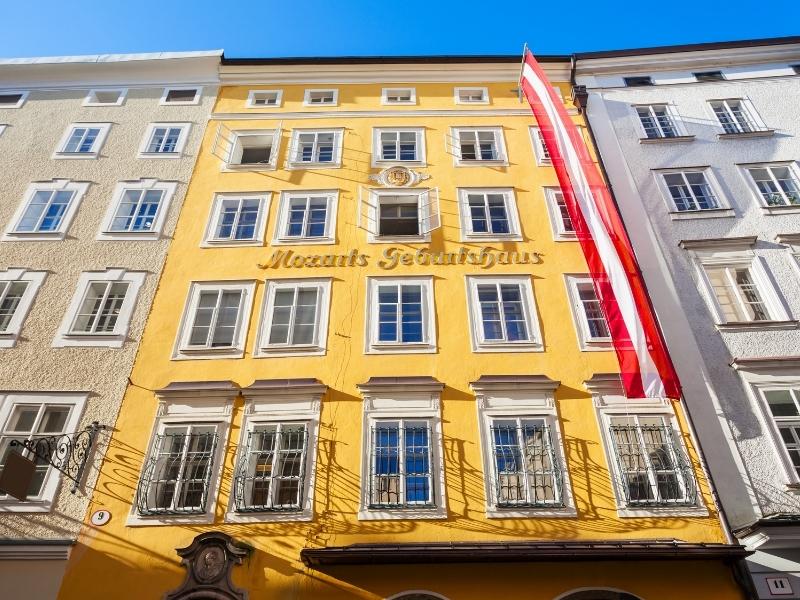 Mozart's entire family was musical, and his father often took the family around Europe to perform concerts to pay the bills. The Mozart Birthplace is like the family's first apartment before they made it big.
The family then moved across the river, and you can tour that house as well: The Mozart Residence.
Both the Residence and the Birthplace have similar information and historic artifacts from the famous composer.
With only one day in Salzburg, there's not enough time to tour both. We recommend the Birthplace because the beginning is a very good place to start. (See what we did there, SOM fans? 😁)
>> Don't forget to pick up some Mozart Balls, Mozartkugel, in the gift shop or nearby grocery store. Mozart's favorite chocolate candies are pistachio-flavored but also come in other flavors. <<
Eat at Café Tomaselli, Mozart's favorite café
Hometown boy Mozart used to eat breakfast here every morning when he lived here. Salzburg's first celebrity-endorsed café, maybe? 🤔
The restaurant is still classically and elegantly decorated, and the chocolate cake will leave you wanting seconds.
Leaving the Mozart Birthplace House, you'll walk right past Café Tomaselli on the way to the DomQuartier.
Pop in for a quick dessert, or, if you arrive early enough, pop in for a quick brunch before touring Mozart's Birthplace.
Salzburg DomQuartier: the Residenz & Salzburg Cathedral
Salzburg was once ruled by Prince-Archbishops, an odd combination of clergy-royalty during the Holy Roman Empire.
The church ruled the town and the Prince-Archbishops lived like kings in the Residenz, complete with a series of increasingly opulent receiving rooms, ballrooms, and private quarters.
They also enjoyed a special bridge walkway across to Salzburg Cathedral, so they didn't have to walk among the dirty commoners on their way to church. 🙄
The Salzburg Cathedral is a stunning masterpiece! The architectural details are beautiful, and this is also where Mozart performed his first concert.
If you visit during the Salzburg Festival in July/August, we highly recommend you get tickets for a concert here.
We weren't fortunate enough to get concert tickets, but we did happen to be touring the cathedral as one of the organists was warming up before the evening concert, and it was magnificent! The acoustics are perfect.
Hohensalzburg Fortress
Raise your hand if you love a good castle? 🙋‍♀️
Hohensalzburg Fortress is Europe's largest preserved medieval fortress and it sits atop the cliffs overlooking the city, a giant sentinel still keeping watch.
To get here, ride the funicular up the cliffside from the Old Town.
Pro Tip: The Salzburg Card includes one roundtrip journey on the funicular, the cable car tram that makes it significantly easier to get up and down the cliffs to the fortress.
This fortress is old and massive. See all the layers, some dating back to the 1100's, and then explore the main museum.
The rooms and halls were decorated with painted ceilings and columns and even tiled in some spaces. And don't forget the medieval armor and weapons on display!
Climb the tower for amazing 360° views over the city! The morning probably has the best light, so if that matters you could reverse this one day itinerary and start here at the fortress.
If you're here during a meal time, stop at the biergarten for a peaceful lunch or dinner with a view.
Walk around the AltStadt, a UNESCO World Heritage Site
Salzburg's AltStadt (Old Town) area is a UNESCO World Heritage Site, and has so many amazing historical buildings within easy walking distance. Just pick a direction and start walking a circle from one beautiful building to the next.
Rick Steves has a great self-guided walking tour route if you need flexibility, or find a guided local walking tour.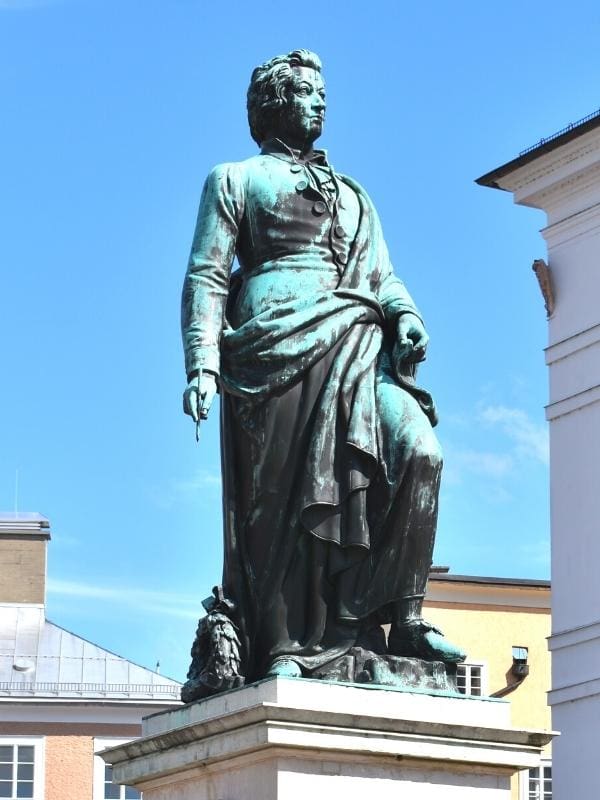 Other Things to Do for a Weekend in Salzburg
One day in Salzburg is a good introduction to the city, but there is more to see here if you have extra time.
Or, perhaps you're a die-hard Sound of Music fan, and there's no way you're skipping a SOM tour while you're here. That's cool, too!
Mix and match these extra sights with the must-sees from the above suggested one day itinerary and craft your unique perfect day or weekend in Salzburg!
If you've got a couple more days to spare, the itinerary above and all the items below can be done over a long, albeit busy, weekend.
Sound of Music Tour
We recommend a guided bus tour for this. The Sound of Music filming sites are scattered about town, and it's just more fun to let a local do the driving while you and your tour group sing your hearts out in between sites.
Full disclosure: I haven't actually been on one of these tours yet, but I can only assume that at some point, there will be singing. I mean, how could it not?
Scenic River Cruise to Hellbrunn Palace
Catch a short cruise down the Salzach River, Tour Route 1 included with the Salzburg Card! Tour 1 cruises south on the Salzach River, showcasing the town and its nicest neighborhoods before turning around and returning to your point of origin in the Old Town.
If you prefer to take the river boat rather than the bus, Tour 2 transports you down the river and transfers you via a double decker shuttle bus to Hellbrunn Palace.
Note that Tour 2 is not included with the Salzburg Card but entry to Hellbrunn Palace is, so this is an extra expense. But it may be worth it to you for the experience!
Hellbrunn Palace
Get out of the city center and be tricked by fountains that are over 400 years old!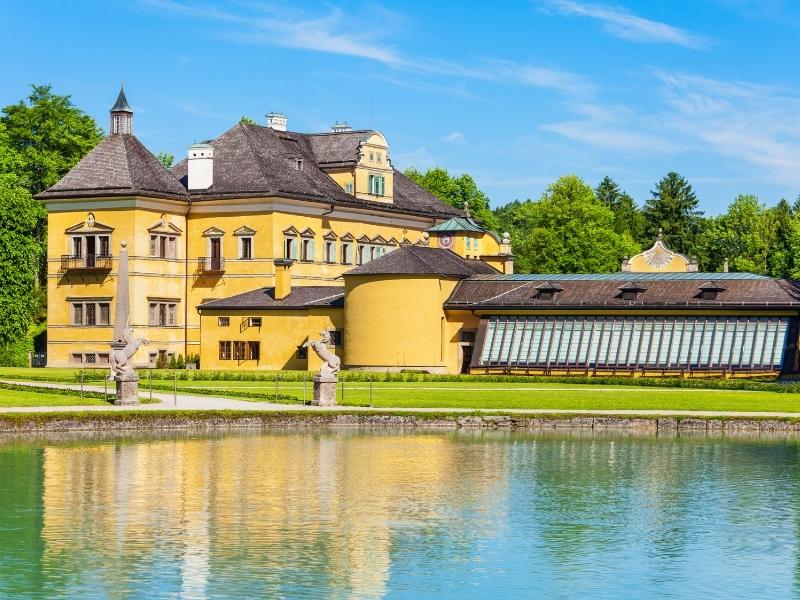 Hellbrunn Palace was built for the Prince-Archbishop in 1615, a place for him to relax and unwind. Today, the fountains continue to trick visitors (and cool them in the summer).
Learn more about the construction of the building as well as take the new audio tour to learn more about the fountains.
Entry is included with the Salzburg Card, and you can get there via a 30 minute bus ride from the downtown area.
Attend a Musical Concert
Visit in July/August for the Salzburg Festival every year. There are so many concerts in so many different venues, indoors and outdoors, that you're guaranteed to have a good time.
Salzburg Cathedral and Mirabell Palace are favorites, but many concerts are also held outdoors! A wonderful way to enjoy an evening in Salzburg.
Day in Berchtesgaden, Germany
Wait a minute. Weren't we day tripping to Salzburg from Munich, Germany? Why are we suggesting you day trip to a different town in Germany from Salzburg?
Because it's easier to get to Berchtesgaden from Salzburg than from Munich, and Berchtesgaden is worth the day trip!
We recommend spending a full day or two exploring Salzburg, staying the night in town, day-tripping to Berchtesgaden, stay the night in Salzburg again, and return to Munich the following day.
You don't need a car to do this. Bus 840 travels between Salzburg and Berchtesgaden, and the local buses in Berchtesgaden can get you around town. Trust us, we've done it.
Berchtesgaden, Germany is home to Berchtesgaden National Park and features the gorgeous Königssee (King's Lake). Take an electric ferry out on the aqua blue lake to St Bartholoma's Cathedral, protected for centuries by the surrounding mountains.
History buffs will also love Berchtesgaden for its World War II history. The Eagle's Nest, Hitler's former mountaintop chateau, is now a public restaurant and popular tourist destination.
Take his gold elevator to the mountaintop, and then take a short hike atop the Bavarian Alps for some fantastic views of the mountains and the Königssee from above.
Hitler's other home, the Berghof, also once stood here, further down the mountain with a Nazi administration complex. Hitler spent most of his time here while Führer, second only to his time spent at his Wolf's Lair complex in present day Poland.
The Berchtesgaden Documentation Center provides access to the underground bunkers and tunnels that once connected these buildings.
Mozart's Residence
Mentioned briefly above, the Mozart Residence is the second home of the Mozart family, after they gained a bit of notoriety for their musical talents and were able to increase their income.
The Residence and the Birthplace showcase similar information. If you're a big Mozart fan, then by all means, visit both!
---

---
One Day in Salzburg is an Easy Day Trip from Munich
Enjoy a day in Salzburg, immersed in musical history, churches, and castles. Munich is just a short train ride away!
Happy travels!
Share it!