The gorgeous aqua blue waters of Lake Superior highlight the beautiful and varied colors of the sandstone cliffs of Pictured Rocks National Lakeshore in Michigan's Upper Peninsula. The highlight of a trip here is a boat tour along the coast to see all the colors, rock formations, and waterfalls for yourself. But there are more things to do in Pictured Rocks than just a boat tour. This is waterfall country! Come hike and explore this very colorful corner of Michigan!
---
This post may contain affiliate links. As an Amazon Associate and associate of other programs, I earn from qualifying purchases. This means if you click a link and make a purchase, I may earn a small commission at no extra cost to you.
---
Where is Pictured Rocks National Lakeshore?
If you haven't heard of Pictured Rocks National Lakeshore, it's ok. It's one of the national park system's hidden gems, mostly because it's a national lakeshore and not a national park.
But that doesn't mean this area is any less amazing. In fact, the smaller crowds are a plus for most people.
Pictured Rocks National Lakeshore extends between Munising and Grand Marais, Michigan on the southeastern shore of Lake Superior. There are no big cities in the Upper Peninsula, which again, is a big draw for some people.
To get here, most visitors will fly to a regional city and then drive the rest of the way. There is no way to fly directly here, and you will need a car to get around the park.
We stayed in Sault Ste Marie on our first trip to the UP, taking day trips to explore. Munising is 2 hours from Sault Ste Marie.
---
---
Pictured Rocks National Lakeshore: Practical Info & FAQs
Entry Fee: $10 per vehicle (good for 7 days) or free with an America the Beautiful pass
No cell service: You'll get a few bars in Munising, but it drops quickly as you drive into the park.
Lake Superior is always cold. It's the coldest of the Great Lakes, and the water temperature doesn't get much higher than 60°F at the height of summer.
This is bear country. The lakes don't have sharks, but the UP does have black bears. Know how to respond if you happen upon one on a hiking trail.
>> Can I Swim at Pictured Rocks?
Yes, but remember the lake water temperature is never warm. Also, there are no lifeguards.
You're free to get in the water at one of Pictured Rocks' beaches and enjoy a dip, but most visitors keep close to shore. Lake Superior acts more like an ocean than a lake.
Plus, boat tours are constantly zipping up and down the shoreline. If you do go out, make yourself visible to boats.
>> Can I Take Rocks from Pictured Rocks?
No, follow leave no trace principles. Take all the pictures you want, but leave the rocks and flowers undisturbed. They're an important part of the ecosystem.
And before you say, "It's just one rock…" realize that over a million people visit Pictured Rocks National Lakeshore every year. If everyone took "just one rock" the rocks would disappear and no one could enjoy them.
>> How Far Apart are Tahquamenon Falls and Pictured Rocks?
Pictured Rocks spans between the towns of Munising and Grand Marais. Both towns are a 1.5 hours' drive from Tahquamenon Falls State Park.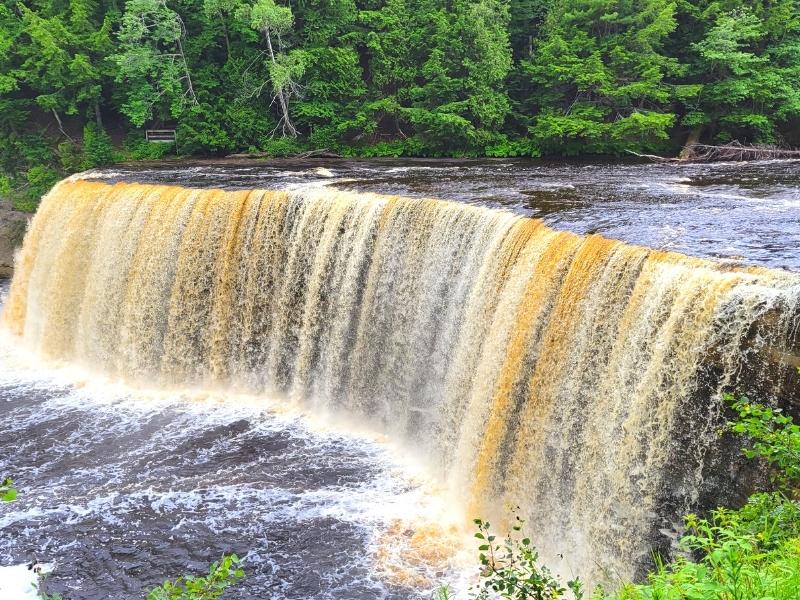 15 Best Things to Do in Pictured Rocks
When you think of Pictured Rocks, if you're even familiar with it in the first place, you think of the colorful cliffs first and probably waterfalls second. Those are the most popular things to see in Pictured Rocks.
But this park stretches over 40 miles along the coast of Lake Superior, including inland lakes and forests. There are plenty more things to do in Pictured Rocks, like hiking, fishing, camping, kayaking, or just relaxing on the beach.
And don't forget winter! The park doesn't close for snow; instead, it embraces the snow like any local Michigander would do. Snowshoeing, skiing, and ice climbing are all favorite wintertime things to do in Pictured Rocks.
Here's our list of everything you can do when visiting Pictured Rocks National Lakeshore, no matter the time of year!
Take a Boat Tour
If it's your first time at Pictured Rocks, and it's summer, you absolutely must take a boat tour! It's the best way to experience Pictured Rocks and its namesake attractions.
See the cliffs along the lakeshore and really appreciate the colors, the rock formations, and the waterfalls that cascade directly into the lake.
If you're only moderately uncomfortable on boats, load up on Dramamine and get on the boat. Your camera won't regret it!
The National Park Service doesn't run the boat tours. They contract out to a concessionaire. Pictured Rocks Cruises runs the authorized tours. Check their website for schedule and pricing.
Boat tours leave from Munising, slowly glide along the lakeshore cliffs as guides point out the famous formations and fill you in on some Pictured Rocks history, and then they turn around and cruise back to Munising.
Pictured Rocks Views from the Water
Miners Castle
Painted Coves
Caves of All Colors
Lover's Leap Arch
Rainbow Cave
Indian Head
Grand Portal Arch
Battleship Rocks
Flower Vase
Indian Drum
Chapel Cove
Chapel Rock
Spray Falls
Views are best on the right side on the open-air top deck. Seating is not assigned, so if you want a good spot, get in line early.
If you're on the left or stuck somewhere in no man's land in the middle, don't worry. You can always snap some pictures on the way back as you cruise past.
The best time for photos is a sunset cruise on a clear day. The cliffs absolutely glow with that golden hour lighting! But it's dark the entire cruise back to the dock.
We've taken a mid-morning tour, and it was actually very cool to see the foggy cliffs in the beginning and then see the colors pop as the clouds dissipated and the sun came out.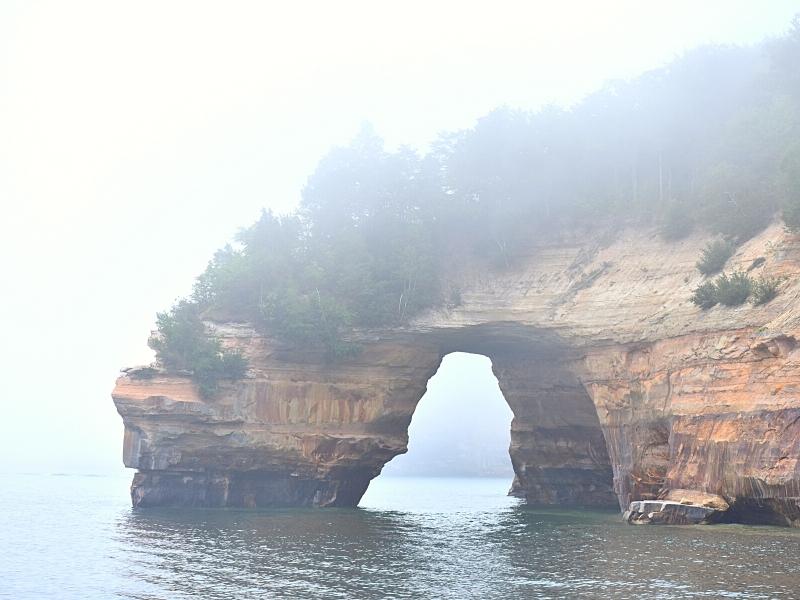 I was still able to photograph the first few formations we missed because of fog on the way back when the sun was out.
Take a Kayak Tour
Another amazing way to experience the Pictured Rocks cliffs is kayaking along them!
The park has a list of authorized tour companies but we think the best option is this tour that combines a boat with kayaking.
The boat zips you out to popular spots and guides plop you in the water in your sea kayak right there. No tiring yourself out paddling all the way out from Munising!
If you choose to do this without a guide, you should have prior experience with sea kayaking. It is NOT the same as kayaking on a river. It's even a different shaped kayak. If you don't know which is which, then you need a guide.
Check Out the View
Lake Superior is drop-dead gorgeous, whether frozen and sparkling in winter or shining and blue in summer. Several overlooks make it easy for visitors to admire the views of the lake and the Pictured Rocks landscape, all just a short walk from your car.
Miners Castle Overlook near Munising is the most popular spot in the entire park. Three different views showcase the Miners Castle rock formation and Lake Superior at its best.
The water shows off with several shades of blue and green and contrasts perfectly with the orange and tans of the cliff. Even in foggy conditions, this is a must-see spot.
Lake Superior Overlook is between the Twelvemile Beach and Hurricane River campgrounds on the eastern end of the park.
This accessible viewpoint is a gorgeous aerial view of the beauty that is Lake Superior. It's a quick stop, perfect for stretching your legs and taking some photos before moving on.
The Log Slide Overlook on the eastern end of the park is the best way to see the Grand Sable Dunes. The views of the lake are great, but the views of the dune system are stunning from this angle.
Back in the logging days, there was a wooden chute to slide timber down the cliffs to waiting ships. Supposedly, the logs flew so fast down the chute, they'd set it on fire. The chute is no longer there, but the views are pretty awesome.
Hike Pictured Rocks
Hiking is our preferred method of exploring national parks, and Pictured Rocks doesn't disappoint. There's a decent mix of easy and difficult hikes, so no matter your skill level, you'll find something.
The Sand Point Marsh Trail is an accessible 0.5mi boardwalk loop that explores a unique wetland area near the beach.
Enjoy short, easy hikes to Sable Falls or Munising Falls, both under 0.5mi roundtrip for waterfall views.
Slightly longer hikes (1-3 miles roundtrip) will bring you to Au Sable Light Station or Miners Falls.
Long but popular day hikes include Chapel Rock Trail and Mosquito Beach Trail.
Areas like the Chapel & Mosquito Basin and Beaver Basin Wilderness have several interconnecting trails which allow you to build your own adventure. Choose your path by connecting several trails to make a distance manageable for you, and see some cool things along the way.
Backpackers will love the North Country Trail which passes through Pictured Rocks National Lakeshore.
The North Country National Scenic Trail is a national park property in its own right. It's still being created/built in some places but it will connect 8 states when it's finished, stretching from Vermont to North Dakota!
The North Country Trail is a backcountry trail, not meant for novices. You could do an out-and-back portion if you want to get a feel for it before committing to a multi-day trip, which is what we recommend.
Hiking to Admire Chapel Rock & Beach
One of the most popular rock formations along the Pictured Rocks Lakeshore is Chapel Rock. Boat tours provide good views of this from the water, but you can get up close if you're willing to hike.
This tree is amazing. There used to be a rock bridge across, but it fell, leaving the tree's roots exposed but still anchored into the soil on land. This is what keeps this tree alive! There's no soil for it on the sea stack.
The hike out here is 3.1 miles (6.2mi roundtrip) and passes Chapel Falls before reaching Chapel Rock on the cliff edge. From there, you can go down to Chapel Beach and see where Chapel Creek flows into Lake Superior.
A waterfall on the beach! Very à la Dunn's River Falls in Jamaica! Most people come to this beach specifically to see that confluence and then relax for a bit in the water before hiking back to their cars at the trailhead.
Venture to Little Beaver Lake
One of the least visited areas in Pictured Rocks is the Beaver Basin Wilderness in the middle of the park.
Access to the Little Beaver Lake and Campground is via a 3mi steep, narrow road not suitable for all vehicles, but your reward is no crowds.
Boats with electric motors only are allowed on Little Beaver Lake, and the area has its own network of hiking trails. See the forest that lives above Lake Superior with some trees dating to 300 years old!
Fishing in Pictured Rocks
Fishing is allowed in Pictured Rocks with a Michigan fishing license. Lake Superior and the many inland lakes and streams are all good options for a day of fishing.
Note, though, that for the National Park Service this applies only to fishes, not crustaceans or any other types which are classified as wildlife and are protected within park boundaries.
You're spoiled for choice in this area when deciding where you want to fish. The park recommends asking a ranger at a visitor center before setting out for the day, so you don't end up crowded out when you were expecting peaceful seclusion.
Most inland lakes only allow canoes or kayaks. The exceptions are Grand Sable Lake, Beaver Lake, and Little Beaver Lake. The two Beaver lakes allow electric motors only. Grand Sable Lake allows motors up to 50hp.
If you intend to eat your day's catch, be aware of the consumption warnings from Michigan MDHHS. Certain types of fish have known hazardous levels of chemicals, like mercury, that can be dangerous for humans to consume.
Admire the Grand Sable Dunes
Rising 300ft above Lake Superior, the Grand Sable Dunes are what's left behind from receding glaciers.
Views of the dunes are best enjoyed from a distance at an overlook, but there are a couple of hiking trails that skim the edge of these massive dunes.
The Grand Sable Forest Trail connects the Grand Sable Visitor Center to the Sable Falls parking lot and passes through the forest that abuts the dunes.
The Grand Sable Dunes Trail starts at the Sable Falls parking lot and heads 0.25mi into the dunes. Be prepared for hiking in sand!
Chase Waterfalls
This is waterfall country! The rock escarpment that makes up much of the Upper Peninsula is the perfect environment for creating waterfalls.
If you want to see a lot of falls in a short amount of time, this is the area to do it!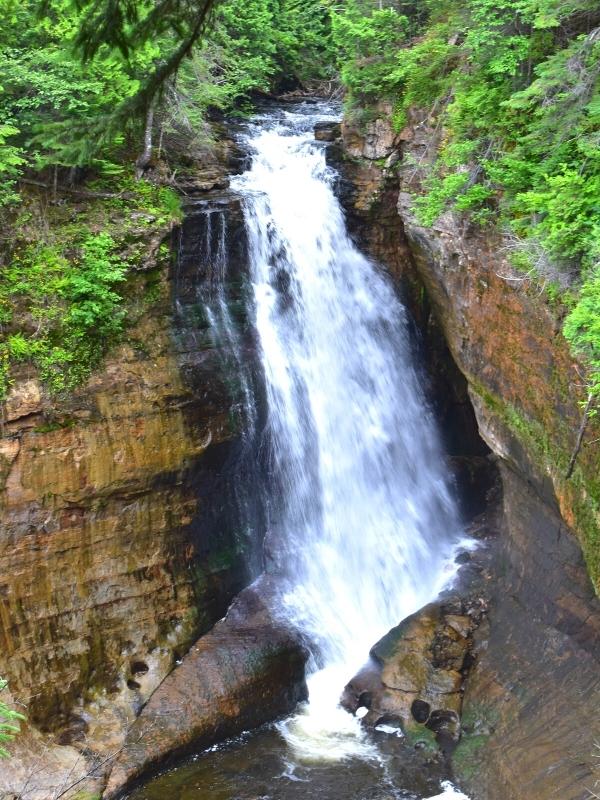 Some waterfalls are easier to reach than others. A few are within easy walking distance of a parking lot; others require several miles' long hikes, like Chapel Falls or Mosquito Falls; and a few can only be seen from the lake.
And that's not to mention the many waterfalls that are in the area but not within the park boundaries.
We have a detailed guide on all the Pictured Rocks waterfalls, in and out of the park, but here's a quick list to get you started.
Easy-to-Reach Waterfalls in Pictured Rocks
Munising Falls, 0.3mi roundtrip, paved path
Miners Falls, 1.2mi roundtrip, dirt path
Sable Falls, short trail & wooden staircase
Tour the Au Sable Light Station
This stretch of the Lake Superior shoreline is known as the Shipwreck Coast for good reason. Lighthouses were desperately needed by the mid-1800s, and several were finally approved and built, including Au Sable in 1874.
A lightkeeper's house and fog signal building were added, and eventually a new keeper's house while the original was converted into housing for assistant keepers.
Today, the lighthouse has been automated and the buildings are all on the National Register of Historic Places. Visiting the Au Sable Light Station is one of the best things to do in Pictured Rocks on the eastern end of the park.
The grounds around the Au Sable Light Station (AAH SAW-buhl) are open all year and are free to wander. Park at the Hurricane River Campground and walk 1.5 miles out to the light station (3 miles roundtrip).
Ranger-led tours of the lighthouse and keeper's quarters are available in the summer only ($5 per person, cash only, exact amount required).
Snorkel or Scuba the Wrecks
The Shipwreck Coast has left behind many a wreck within Pictured Rocks National Lakeshore boundaries. Hidden shoals and bad weather make for treacherous conditions for mariners, and the lake has claimed hundreds of ships.
Today, snorkelers and divers can enjoy some very cool sights as they dive to old wooden wrecks in shallow waters. Pictured Rocks has some of the best diving in the Great Lakes!
Remember that tour boats and personal vessels are also moving up and down the shoreline, so always use a dive flag when you go out. This means snorkelers, too!
It's gonna be cold, too, remember? We recommend a dry suit if you've got one, but wet suits are helpful, too. Try not to get hypothermia in the summer. It's such a downer.
If you don't want to get in the cold water but still want to see a shipwreck, head to Hurricane River Beach. Remnants of an old beached wreck can be seen and explored from the shore.
Relax on a Beach
Enjoy a day at the beach, whether you go for the day or just to enjoy a stroll and the sunset, a favorite thing to do in Pictured Rocks!
Pictured Rocks National Lakeshore has several beaches along its 40+ mile coastline, some easier to get to than others. Spend the day relaxing on a beautiful beach, a great way to soak up some sun while reading a good book.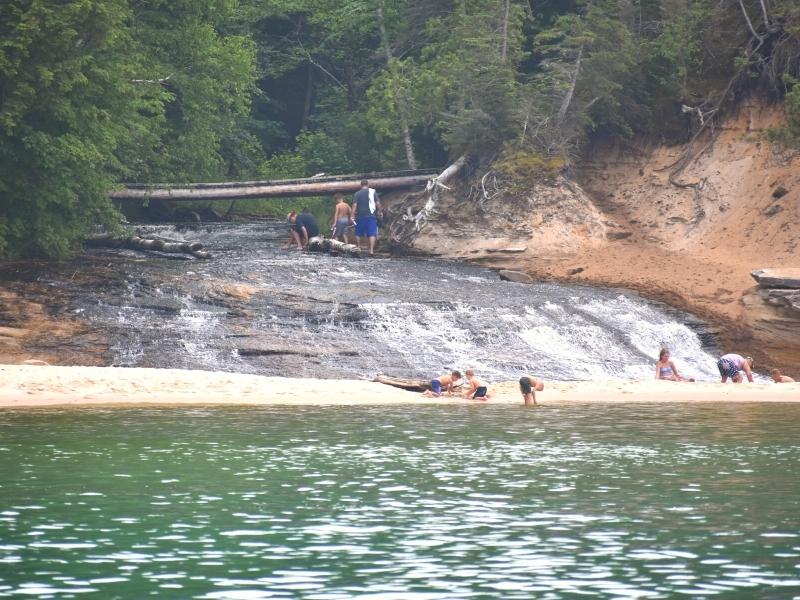 Remember, Lake Superior is cold, even in the summer! Sand Point Beach is usually the warmest option.
A few key things to know about the Pictured Rocks beaches:
No lifeguards. Be aware of rip currents in the lake.
No cliff jumping. Do not climb a rock or cliff and jump back into the lake.
No glass containers.
No fires.
Beaches near Munising are mostly sandy and include Sand Point Beach, Miners Beach, Mosquito Beach, and Chapel Beach.
Beaches near Grand Marais tend to be rockier, with one big exception, and include Twelvemile Beach, Lake Superior Overlook Beach, Hurricane River Beach, and Sable Falls Beach. (Twelvemile Beach is the big sandy exception.)
Visit Munising
The larger of the two bookend towns for Pictured Rocks, Munising has some interesting sights of its own as well as amenities like lodging, restaurants, and gas stations.
There are a few bigger name hotels here, if you want to use those loyalty points to offset trip costs, or check out one of the local boutique options.
The Interagency Visitor Center is a short walk from the dock and has lots of helpful information for the NPS and US Forest Service sites in the surrounding area. The building also used to be a bank; step inside the vault to learn the building's history!
Munising also has its own lighthouse and a couple of waterfalls, literally on the side of the road, just south of town.
Visit Grand Marais
The eastern end of Pictured Rocks is capped by the tiny town of Grand Marais (pronounced muh-RAY).
There are several lodging options, so long as you don't require a chain hotel, a few restaurants, and a single gas station. This is not a big place, but it's a beautiful spot in the UP.
Grand Marais is on the protected shores of West Bay. A small strip of land is enough to create a safe harbor for ships during storms. The Lightkeeper's House Museum is on the very end of that strip of land, where the bay meets the lake.
The town also has its own public beach that bumps up against the eastern boundary of Pictured Rocks National Lakeshore and the Grand Sable Dunes.
Hunting in Pictured Rocks
Something we were surprised to learn: hunting is allowed in Pictured Rocks during designated hunting seasons with appropriate hunting licenses.
Safety should always be your first concern. The park doesn't close to backpackers or hikers, so there are regulations on when and where you're allowed to hunt.
We recommend you familiarize yourself with all the park's guidance and state and federal regulations before you go out.
---
---
5 Outdoor Things to Do in Pictured Rocks in the Winter
Michiganders know how to play in the snow! Pictured Rocks is open all year round so visitors can enjoy the (average) 140 inches of snowfall that accumulates each year! However, they don't plow any roads except Sand Point Road.
Boat tours can't run in the winter because Lake Superior freezes over. The waterfalls do, too!
Viewing the waterfalls in the winter is a stunning sight, and the area sandstone seeps water and creates ice curtains in unexpected places, too.
They turn into gorgeous ice formations that reflect sunlight with beautiful colors. Viewing the ice curtains that form around the park is a popular wintertime activity at Pictured Rocks.
Ice climbing is also popular, and it's just like it sounds. You use ropes, a climbing harness, and ice picks to climb your way up or down a curtain of ice. This requires experience to be done safely, so if you're new we highly recommend you book a guide.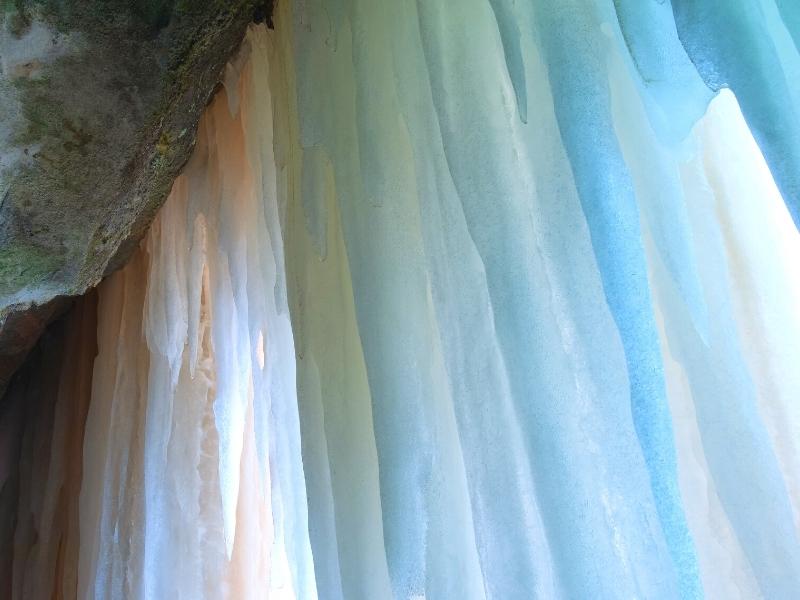 Snowshoeing and cross country skiing are the winter equivalents to hiking. The park grooms and maintains several ski trails that are off limits to snowshoes, snowmobiles, etc. They are free to use but consider contributing a small donation to help offset the cost of maintaining them.
One snowshoe-only trail is marked in the same area as the ski trails, but you're also welcome to snowshoe the trail out to Munising Falls or the Sand Point Marsh trail.
Snowmobiling is another favorite wintertime activity in Pictured Rocks. Most roads within the park are not plowed and perfect for snowmobiles to adventure to a less-accessible portion of the park.
Snowmobiles are also allowed to cross to Grand Island, but note that the park will never certify the ice as safe. You are responsible for your own safety.
Ice fishing is a staple of the northern US, and while the park will never guarantee that ice is safe on Lake Superior, locals especially can always be seen out on the lake with their ice shacks. You are responsible for your own safety and ensuring the ice is thick enough and stable before you set up shop to ice fish.
One Day in Pictured Rocks from Munising
Most visitors to Pictured Rocks start their adventure in Munising. The town has some restaurants and hotels, and importantly, is the base for the Pictured Rocks concessionaire boat tours.
Whether you stay the night here or drive here in the morning, here's how we'd spend a day in Pictured Rocks starting from Munising.
Tour the Interagency Visitor Center. This VC is less than a block away from the Munising docks, and we recommend you start here to give the sun some time to burn off the fog.
Take a Boat Tour. See these epic cliffs in all their colorful glory! Shoot for late morning to midday so the fog can lift and the water can shine under the sun.
Eat lunch in Munising. Or take a pack lunch into the park with you.
Quick Stop at Munising Falls. Won't take more than 30 minutes.
Hike to Miner's Falls. A short, easy hike to another beautiful waterfall.
Stop at Miner's Castle Overlook. One of the few spots where you can really appreciate the beauty of the Pictured Rocks cliffs from land. We spent 45 minutes here, reading the exhibits and taking tons of pictures at the two viewpoints.
Drive to Miner's Beach or Sand Point Beach. Enjoy the rest of the day relaxing on the beach. Stay until sunset for some amazing views across the lake as the light fades!
3 Other Things to Do near Pictured Rocks
There are several other area attractions around Pictured Rocks that are not part of Pictured Rocks National Lakeshore but are good additions to your itinerary.
Grand Island National Recreation Area
Take a ferry from Munising across to Grand Island and spend a day exploring this unique spot. All the same beauty as Pictured Rocks but with fewer people!
Grand Island boasts beautiful and secluded beaches, perfect for relaxing on shore and reading away the day. Consider camping on the island, too, whether in a traditional tent campsite or renting a cabin.
Miles of hiking and biking trails provide the perfect way to explore the island. Just keep in mind the ferry schedule so you make it back to Williams Landing in time!
Several trail options make it easy to choose a path difficulty and distance that works best for you and your group.
Don't have a bike with you? No problem. The Grand Island Ferry service also rents bikes. Check their website for schedules and fees.
The island is a national recreation area maintained by the Forest Service, so a $5 day-use fee applies in addition to the cost of your ferry ticket.
Tahquamenon Falls State Park
The second-largest waterfall east of the Mississippi River, visiting Tahquamenon Falls should be on your Upper Peninsula itinerary.
There are actually two falls here, Upper and Lower Tahquamenon Falls.
Upper Tahquamenon is like a mini-Niagara Falls. Lower Tahquamenon is a series of five smaller falls that flow around an island in the river.
Both are included in the state park admission, and both are worth your time. While you're there, go for a hike or choose to camp for a few days, taking in the tranquility of the UP.
Oswald's Bear Ranch
Black bears are a part of the natural order of things in Michigan's Upper Peninsula, but sometimes nature can be unforgiving.
Oswald's steps in when a bear is injured or abused or a cub is abandoned, giving them a second chance at life while providing an opportunity for the public to better understand and respect these wild animals.
It may not look like much at first but it's surprisingly big for a small town operation and is a federally certified and inspected zoo. The ranch houses cubs, yearlings, and adults in four enclosures, all with viewing platforms for you to see and photograph the bears.
---
---
Enjoy Your Day in Pictured Rocks National Lakeshore!
There's plenty of things to do in Pictured Rocks National Lakeshore and in the surrounding area. It's well worth your time to come visit this amazing part of Michigan's Upper Peninsula!
Other Things to Do in the Michigan Upper Peninsula
Happy travels!
Share it!