Visiting the spectacular Horseshoe Bend in Arizona is the dream of many a scrolling Instagrammer, and it's not hard to understand why once you see the photos, too. The Colorado River painstakingly carved this canyon out of the rock over millions of years, and it captured the 270° river bend perfectly.
Today, the multi-colored canyon walls stretch up to the sky for a 1000 feet and sunlight reflects off the deep blues and greens of the river below. Whether you want to just do the Horseshoe Bend Hike and snap a few photos or take a more adventurous route like a helicopter ride or boating, Horseshoe Bend is worth a visit.
Here's everything you need to know beforehand and what to expect at Horseshoe Bend.
---
This post may contain affiliate links. As an Amazon Associate and associate of other programs, I earn from qualifying purchases. This means if you click a link and make a purchase, I may earn a small commission at no extra cost to you.
---
Where is Horseshoe Bend?
This photogenic river bend is located in Arizona, on the outskirts of the city of Page, in the center of the northern edge of the state. The Horseshoe Bend trailhead is located off of US Route 89, about 5 miles south of the town.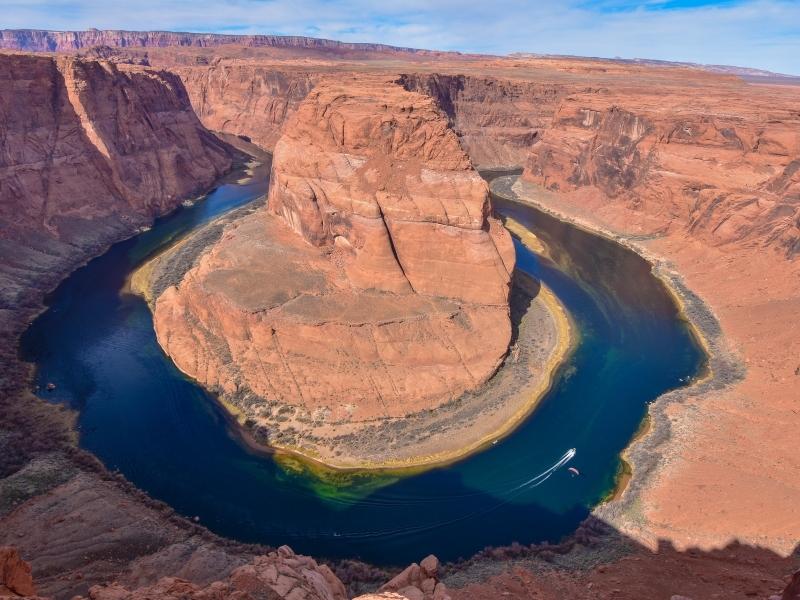 Distances from Other Nearby Attractions:
Kanab, 1.25 hours
Monument Valley, 2 hours
Flagstaff, 2 hours
Grand Canyon South Rim Visitor Center, 2.25 hours
Grand Canyon North Rim Visitor Center, 2.5 hours
Horseshoe Bend is a popular stop on most Arizona road trips and Grand Circle Tours, but there was surprisingly little information about what to expect here when we were researching for our trip.
Horseshoe Bend used to be an Arizona hidden gem.
Tourism exploded in the 2010s, thanks to Instagram users showing off this beautiful natural feature, and the site has been scrambling to keep up ever since.
Parking became a significant safety concern, with visitors parking along the busy highway. That's no longer allowed.
A new, larger parking lot built by the City of Page is now the official gateway to Horseshoe Bend.
>> While Horseshoe Bend and the trail out to the canyon edge are on public land, a part of Glen Canyon National Recreation Area maintained by the National Park Service, the parking lot off of US Route 89 to access the NPS trail is owned by the City of Page. <<
The city of Page is not a big place. It didn't even exist until 1957 when it was originally founded as a community for workers who were building the nearby Glen Canyon Dam.
Today, Page, AZ is the perfect home base for exploring the area's many natural attractions.
Horseshoe Bend, Antelope Canyon, Lake Powell, and Glen Canyon National Recreation Area, including the dam, are all just minutes away from the town.
Many more attractions are within a few hours' drive, like Grand Canyon National Park, Monument Valley, and the Big 5 Utah National Parks.
Parking at Horseshoe Bend
The City of Page built a good-sized parking lot to help mitigate the safety concerns as visitor numbers grew.
Fees vary by vehicle type, but most visitors will pay $10 per car. See the FAQ below for detailed fee information.
Horseshoe Bend is one of the most popular things to do in the region, so note that the parking lot may fill up at peak times during peak season.
Your only option is to leave and try again another time.
Parking is not allowed along the side of US Route 89. Don't try it; you will be towed.
Rideshares are no longer allowed to drop off at the entrance, either.
If you find one willing to park and wait for you, realize that they are subject to the $35 commercial vehicle parking fee rather than personal vehicle fee of $10.
---

---
Horseshoe Bend Hike: What to Expect on the Trail
Visiting Horseshoe Bend is actually very easy.
The City has built a well-maintained parking lot with restrooms, and the Horseshoe Bend Hike itself is a short, ADA-accessible walk from the parking lot.
We hesitate to classify this as a hike, because the terrain isn't strenuous, but the heat can certainly make it feel difficult.
Most people don't spend more than an hour total here, walking out to the overlook, snapping some photos, and walking back to the car to leave.
The biggest issue is the heat; it is Arizona after all.
Temperatures soar in the summer, and the trail out to the Horseshoe Bend Overlook is completely exposed.
Even in winter, the direct sun bearing down on you as you walk can be a bit much at midday.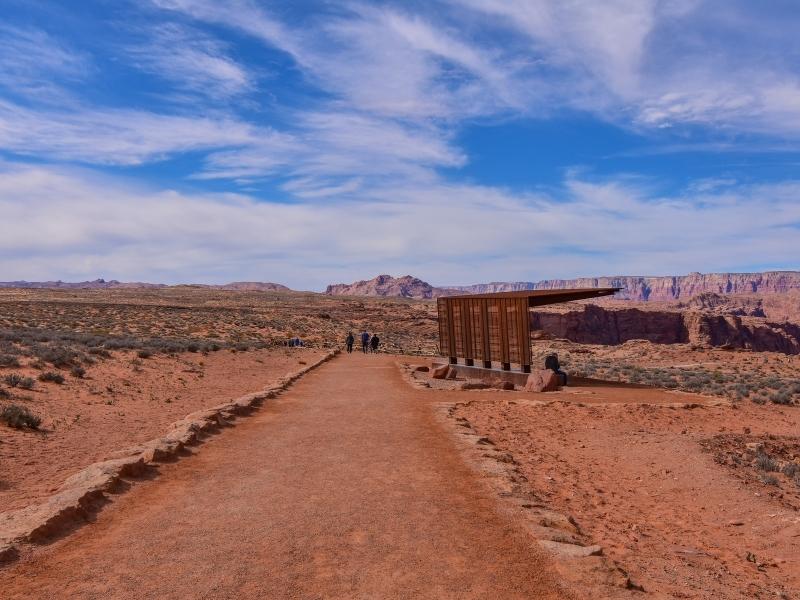 There are two shade structures along the trail for those that need the break, but it is still imperative that you bring a hat, water, sunglasses, and weather-appropriate clothes and shoes.
The Horseshoe Bend trail is a well-maintained dirt path from the new parking lot out to the canyon edge.
This is mostly packed earth, with some loose sand/dirt but no gravel.
As an accessible trail, slopes are minimal and wheelchairs or scooters can navigate it safely.
It seems pretty flat at first glance, but it is downhill on the way out and uphill on the way back to the parking lot.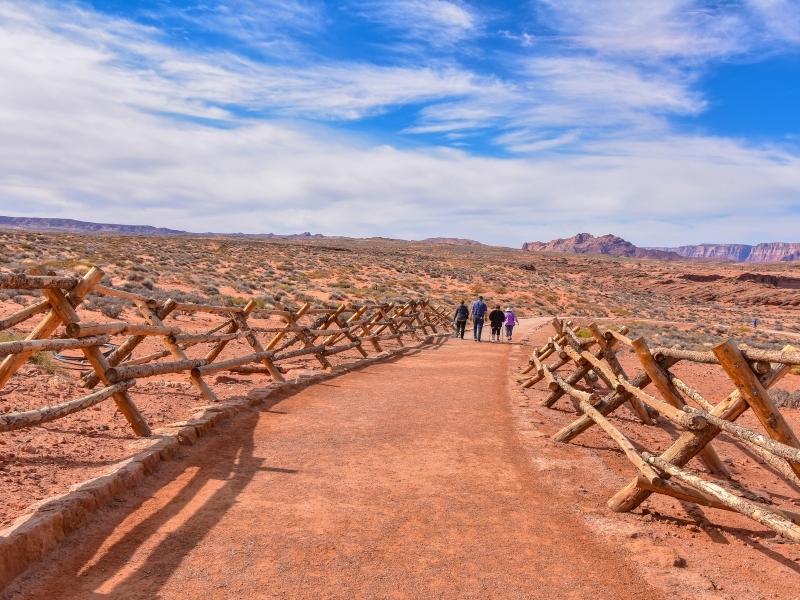 It's wide enough for two groups to pass in opposite directions, but it frequently gets busy.
Be considerate of others and don't take up the entire path with your group.
The Horseshoe Bend Overlook
That iconic view that you see all over the internet when you google Horseshoe Bend is always taken from the same area: the Horseshoe Bend Overlook.
The overlook is now somewhat safer than it used to be. Not so long ago it was just the unprotected edge of a canyon.
Now, the National Park Service added a guardrail/fence at the center where the path ends, and this is easily the best spot for a centered photo of Horseshoe Bend.
The surrounding canyon edge is still open for visitors looking for a unique shot.
This is one area where, at least for now, the NPS is allowing visitors to climb around off-trail, so long as they do it safely.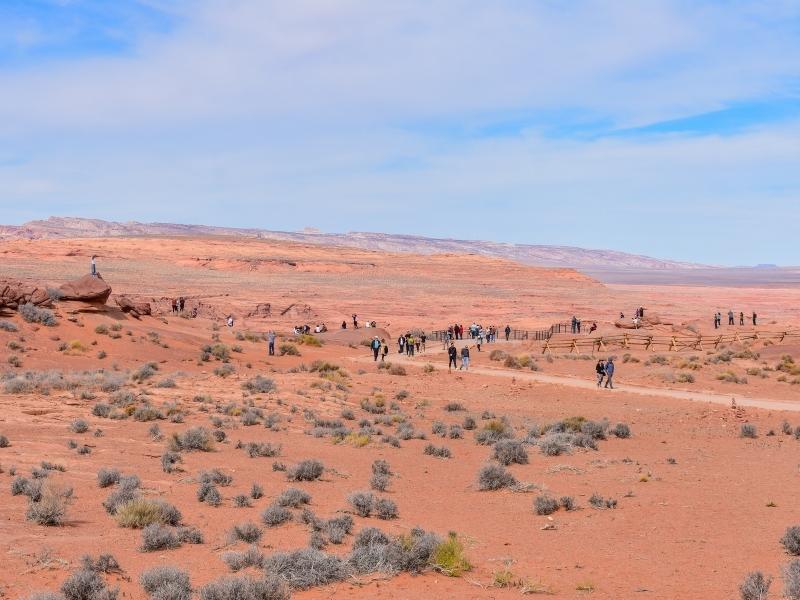 Always be careful near edges. The rock out here is like flaky biscuit layers.
The top part you're walking out on is less and less supported the closer to the edge you get.
If you want a dangling leg picture, use forced perspective from a safer spot, like one of the boulders you can climb nearby.
Do not actually climb to the edge of the canyon and dangle your legs.
That will certainly earn you a talking-to from the park rangers, who are always present and walking around the overlook.
In general, we found the rangers are pretty relaxed and love to answer your Horseshoe Bend questions.
9 FAQs to Know Before Visiting Horseshoe Bend
1. Is There an Entry Fee at Horseshoe Bend?
No. There is no National Park Service entry fee for Horseshoe Bend.
However, please note that the NPS does not own the parking lot at the trailhead. See below for information on parking fees.
2. Is There Parking and/or a Parking Fee at Horseshoe Bend?
Yes. The City of Page owns the parking lot and charges flat fees based on type of vehicle.
Most passenger vehicles (including RVs) are $10. Motorcycles are $5. Check the City of Page's official website for current parking fees.
Pro Tip: America the Beautiful National Park passes do not apply here. The passes don't cover non-NPS fees, like the City of Page parking fee.
3. Are there Amenities at Horseshoe Bend?
No, not really. The parking lot has bare-bones restrooms. That's it.
There is no gift shop, nowhere to buy water, and nowhere to fill up a water bottle.
Bring plenty of water with you. Page is 10 minutes away with plenty of convenience stores to buy water.
4. How Long is the Horseshoe Bend Trail?
The trail from the parking lot to the overlook is 1.3 miles roundtrip. That equates to about a 15 minute walk out and a 15 minute walk back.
5. The Heat is No Joke Here
There is basically no shade along the trail. This is a completely exposed piece of land, and temperatures consistently hit over 100°F in the summer.
Flip flops can melt on the trail, and that's not even an exaggeration. Even if yours don't melt, you'll likely get super hot sand under your feet. Closed toed shoes highly recommended.
Two shade structures provide a small respite on the Horseshoe Bend hike for those that really need it, but you'll have to be patient for a spot to open up in the busy season.
Always bring plenty of water with you. This is not the time to share a water bottle. Everybody needs their own water.
Yes, even though you only plan to be out here for an hour or less.
6. Is it Crowded at Horseshoe Bend?
Yes. Horseshoe Bend is a popular tourist spot all year round, but in peak season it gets so busy that the parking lot fills up. You have no option but to leave and try again another time.
Generally, the earlier you go, the smaller the crowd will be, but you will never have it to yourself in high season.
Low season is still steady traffic, but not overwhelmingly so.
It's always worth an hour of your time, no matter what time of year you visit.
People are pretty good about taking turns at the center rail to get a photo and then moving away so the next person can get their shot.
Plus, there's a very wide edge so people are able to spread out.
7. How to Get to Horseshoe Bend
Driving yourself is the easiest and cheapest option. The parking lot is located south of Page on US Route 89.
Rideshares are no longer allowed to drop off at the entrance.
They would have to enter and pay for parking, which is charged at the $35 commercial rate rather than the $10 personal vehicle rate.
Some tour companies make stops at Horseshoe Bend via tour bus. This is a good way to let others plan your day for you.
If you're interested in a more adventurous experience, book a unique tour to horseback ride out to Horseshoe Bend or take a helicopter tour over it.
Maybe you want to kayak the Colorado River through Horseshoe Bend for an entirely different perspective.
There are plenty of tour options out there.
8. Best Time of Day to Visit Horseshoe Bend
Sunrise and sunset are great times to visit Horseshoe Bend for photography. The heat is somewhat less and there's nothing like golden hour photography.
However, please realize that this means the canyon interior will be in shade.
If you want to capture the vibrant colors of the canyon walls and the river below then visit in late morning or early afternoon for minimal shadows in the canyon.
Unfortunately, this is also one of the hottest times of day to be at Horseshoe Bend, so bring plenty of water and sun protection.
During peak season, Horseshoe Bend is busy pretty much all day. The City of Page says 9AM to 6PM is their busiest time.
9. Are Pets Allowed at Horseshoe Bend?
Yes, leashed pets are welcome. Please pack out their waste and protect your pet like you would yourself: bring plenty of water and sun protection, including protecting their feet.
The ground gets incredibly hot and can burn your pet's paws. If they just can't handle hiking shoes, then they shouldn't go on this hike in hot temperatures.
Pro Tip: Get your pet used to its hiking shoes well before your trip. It may take a few tries for them to get used to shoes. We've all seen the hilarious videos!
Do not leave your pet in your car. This should go without saying, but people continue to do it.
City of Page Police monitor the parking lot, and they will perform life-saving measures (i.e. break your car window) if they see a pet locked in a hot car. You'll have an animal cruelty charge and a broken window waiting for you when you get back.
Horseshoe Bend Packing List
Even though this is a short stop on your otherwise busy Arizona trip, there are still some essentials you need to bring with you when you hike out to the Horseshoe Bend overlook.
Water: Bring a minimum of a full water bottle per person.
Hat: The wider the brim the better; Ball caps will leave your neck burned.
Sunglasses: No shade or shadows anywhere; Protect your eyes!
Sunscreen: Apply before leaving the parking lot.
Closed toed shoes: Hiking sandals don't protect against the hot sand, and thinner flip flops can even melt on the trail in the summer. Wear sturdy, closed toed shoes.
Wide angle lens: Standard camera lenses cannot fit the entirety of Horseshoe Bend in the frame. This is the wide-angle lens I use.
Pro Tip: Some newer cell phones can actually fit all of Horseshoe Bend in a shot because they use the ridiculous full-screen ratios which are larger than even a 9:16. It'll look good on your phone, but be aware it'll get cropped a lot if you print it.
Tours of Horseshoe Bend
If you just want that iconic photograph of Horseshoe Bend, you do not need a tour. Please don't waste your money.
Don't Recommend This as a Day Trip from Las Vegas
We also strongly caution against trying to do this as a day trip from Las Vegas. It's a 4.5 hour drive, one way, from Vegas to Horseshoe Bend. You will spend the majority of your day driving.
Sometimes, though, you just don't have a lot of time and you want to see a lot of stuff. If you are determined to try a guided day trip from Vegas, be prepared for a steep price tag and a very long day.
Example: One tour from Vegas stops at Horseshoe Bend, Antelope Canyon, and the Grand Canyon all in one day (makes a big loop). They leave Vegas at 3AM and get back at 11PM.
All told, you spend about 5 hours sightseeing, 30 minutes per meal, and the remaining 13.5 hours driving between locations.
Cost varies by time of year but that breaks down to about $110 per location per person, ok for Antelope Canyon but highway robbery for Horseshoe Bend and Grand Canyon.
Adventurous Ways to See Horseshoe Bend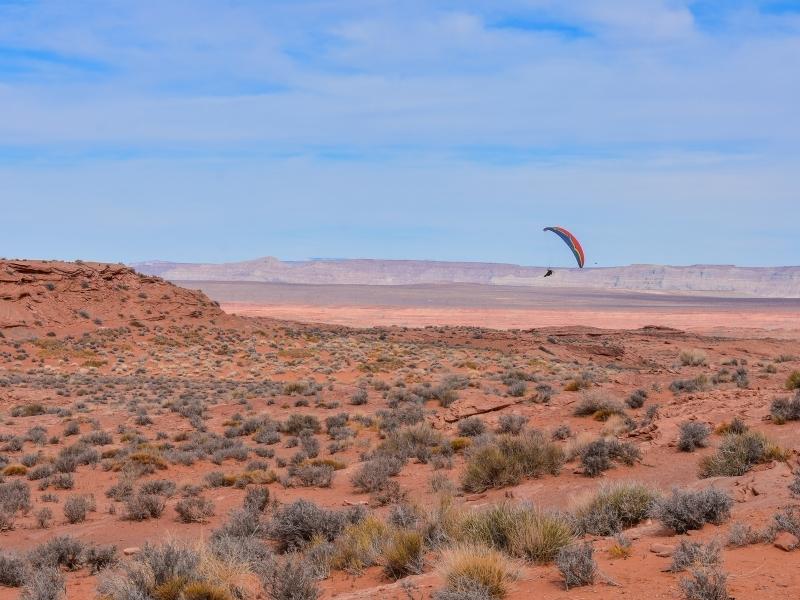 If you want to do something epic at Horseshoe Bend, like a helicopter ride over the canyon or take a float down the river inside the canyon, then here are some options.
We haven't done these ourselves yet, but they have good reviews.
Is there a less crowded alternative to Horseshoe Bend?
There are, of course, other river bends in canyons similar to Horseshoe Bend, but we would argue that most of the alternatives are just not quite as stunning.
Goosenecks State Park in Mexican Hat, UT has a reasonable $5 day entry fee and an overlook you can basically drive right up to.
But even during peak season crowds, Horseshoe Bend is the better view and worth an hour of your time.
Where to Stay near Horseshoe Bend
Page, AZ is the most obvious place to stay near Horseshoe Bend. The town and its many hotels are a mere 10 minutes from the Horseshoe Bend parking lot off of US Route 89.
We stayed at the Page Holiday Inn Express, which is 5 minutes from basically every restaurant in town.
We also recommend the Hampton Inn & Suites Page-Lake Powell, also close to all the food.
Honestly, Page is not a big place, so most hotels will be easy access to food, gas stations, and the grocery store.
Note that this is an incredibly popular waypoint for road trippers and a good home base for many staying in the area a few days.
Expect high prices and sold out accommodations in peak season. Book as far in advance as you can if you're coming in peak season.
Pro Tip: Page is not a good place to stay if you want to explore Grand Canyon National Park.

We recommend staying in the park at one of the lodges or campgrounds, or for the South Rim, there are more convenient, closer towns like Tusayan or Williams.

Visiting Horseshoe Bend is a worthwhile stop on your next Arizona road trip!
Incorporating the Horseshoe Bend Hike into your next Arizona road trip? Here are some more resources to help you get planning!
More Southwest USA Ideas
Happy travels!
Share it!