Why would you want to visit a desert just to see some weird-looking trees? Because the Joshua trees are just the beginning of the fascinating landscapes, history, and experiences available all year round in Joshua Tree National Park!
Come discover the beauty of the desert as you witness the cholla cacti glowing at sunrise or the sun sinking behind the mountains at sunset.
Marvel at (or climb!) the many rock formations, and discover abandoned homesteads and mines. Learn about the people and creatures that called this isolated area home.
Despite being a desert, Joshua Tree is surrounded by local towns offering creature comforts and is within easy driving distance from several big cities. One day in Joshua Tree is enough to hit the highlights of this park.
Whether you've got a few hours or all day to spend in the park, let's talk about how to day trip to Joshua Tree National Park!
---
This post may contain affiliate links. As an Amazon Associate and associate of other programs, I earn from qualifying purchases. This means if you click a link and make a purchase, I may earn a small commission at no extra cost to you.
---
Is Joshua Tree Worth Visiting?
Joshua Tree National Park is worth a visit, whether you've got a few hours on a road trip, a full day trip from LA or Palm Springs, or several days to explore.
There are plenty of short and easy hikes, beautiful vistas, and unique geological and historical features to marvel at in Joshua Tree.
Not to mention the park's namesake, the Joshua trees, which look like trees but are actually enormous succulents!
This desert park abuts the San Andreas Fault (and several other faults), creating unique rock formations for both viewing and climbing.
Then, as the Mojave Desert transitions into the Colorado Desert, watch the landscape change!
Exploring Joshua Tree National Park feels like visiting a sci-fi film set or an old western set, with abandoned homesteads and mines and isolated, rocky terrain. You'll feel like you've stumbled onto another planet.
Don't miss this park in the spring if it was a good winter for snow. You might be lucky enough to witness a wildflower superbloom!
Fewer and smaller towns means less light pollution. The night sky will put on a show for you if you stay the night in this International Dark Sky Park. Capture amazing views of the Milky Way!
Don't skip the desert because you think there's nothing to see! It's absolutely worth your time to visit this unique park.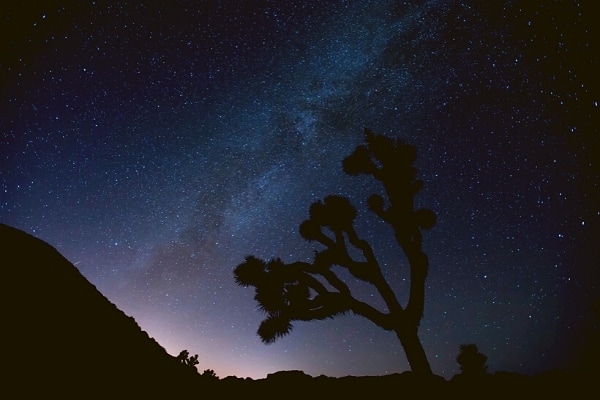 Visiting all the US National Parks is on my bucket list, so when I had to be in Pasadena, California for work one February, I flew in early.
Pro Tip: Piggybacking personal travel off of work travel is a great way to incorporate more fun travel into your year!
Pasadena is perfectly between two national parks: Channel Islands and Joshua Tree.
Double win for the bucket list! Also, two completely different ecosystems: deserts in Joshua Tree and marine islands in Channel Islands.
>> Check out this post for How to Spend a Day in Channel Islands National Park. <<
---

---
Top 5 Need-to-Know Tips for Joshua Tree National Park
1. Bring Water & Sun Protection. It's the Desert.
Even when visiting Joshua Tree in the winter, you need to bring a lot of water and good sun protection. In summer, this is extremely important!
There are no services or amenities inside the park. That means you can't buy water, snacks, sunscreen, or a hat because you forgot it.
There are stores in Joshua Tree and Twentynine Palms, outside of the park, but it's always cheaper/easier to bring it with you rather than buy it when you get here.
2. Joshua Tree Charges an Entry Fee.
Joshua Tree is a very popular park and charges a $30 per vehicle entry fee, good for 7 days, to help maintain the park's infrastructure.
We highly recommend getting an America the Beautiful Annual Pass instead, also known as the national park annual pass. Go to two more parks over the next year, anywhere in the country, and the pass pays for itself.
Alternatively, visit on an NPS Fee-Free Day for free entry but realize it will be even more crowded than usual.
3. No Cell Service in the Park, or Near It.
There's absolutely no cell signal inside the park, and you'll probably lose it before you even get to the park. Download offline maps before you leave your hotel.
Coming from Los Angeles, we headed for the west entrance in Joshua Tree, CA, and we lost cell signal on CA-62 as we passed through the gap in the mountains.
We got it back briefly in town and promptly lost signal again once we entered the park.
4. Joshua Tree is Always Open.
The park gates never close; it's open 24/7. Take advantage of this if you want to beat the heat and the crowds!
Before you think this also means you'll skip the entry fee, think again. You should pay ahead online (or have your annual pass hang tag). If you don't, they'll stop you at the gate on your way out and collect the entry fee before you leave.
5. Bring Layers if Coming Before Sunrise or Staying After Sunset.
It doesn't matter if it's summer or winter, the desert gets chilly fast when the sun isn't out. Temperatures drop, the wind picks up, and it gets cold.
If you're coming before sunrise or staying for sunset, bring layers! We're talking pants and jacket at a minimum.
We were walking around in tanks and shorts during the day in February, which was fine, but met people in parkas at Keys View at sunset, and I wish I'd had one, too.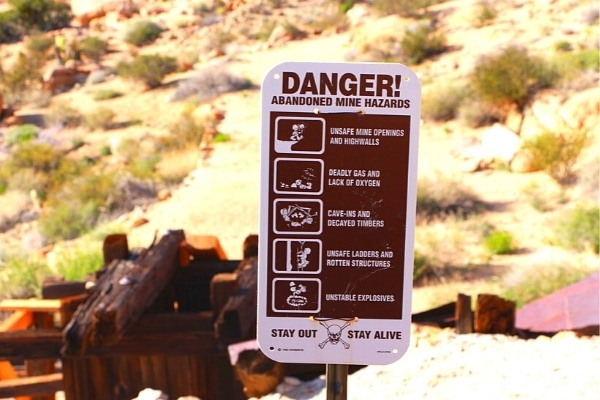 How to Get to Joshua Tree National Park
No matter which direction you're coming to Joshua Tree from, you have to drive.
Where you're coming from will dictate how much time you have in the park and which activities we recommend.
There are a few tours that'll pick you up from the Palm Springs area, but they're mostly half day or less options.
Driving yourself gives you more control over your day trip itinerary in Joshua Tree and ensures you'll get to everything you want to see.
There are 3 entrances to Joshua Tree National Park, each with its own visitor center.
West Entrance, Joshua Tree Visitor Center in Joshua Tree
North Entrance, Oasis Visitor Center in Twentynine Palms
South Entrance, Cottonwood Visitor Center (inside the park)
The west entrance station is the busiest as its closest to Palm Springs and LA and to the major attractions in the park. It often backs up in peak season (October through May), and you could wait as much an hour or more to enter.
The Joshua Tree Visitor Center is just off the main road in the town of Joshua Tree, CA, before you get to the park's west entrance. It's worth a stop to get to know the park's wildlife and plant life before you're out hiking in it.
The south entrance is the least used, but could be your sneaky back door to avoid the crowds during peak season. It's also the closest if you're coming from Phoenix, AZ or other points east of the park.
The north entrance is a good alternative to the west entrance. It's closest for visitors coming from Las Vegas, NV, but it's only 20 minutes or so from the west entrance. Skip the long wait and, bonus, end up much closer to Arch Rock and Skull Rock to start.
Pro Tip: Check the Joshua Tree National Park website for current conditions or warnings before you leave, and then head out for a day full of sun and fun!
How to Get to Joshua Tree from Palm Springs
It's a short, 1hr drive to the west entrance from Palm Springs, making it one of the most popular jumping off points for a day trip to Joshua Tree.
Leave early if you want to go this route. This is the most popular entrance to the park, and it backs up during peak season.
Coming from Palm Springs, you have the best shot at getting in the west entrance before the crowds, if you arrive by 9AM.
Alternatively, it only takes about 10 minutes longer to drive to Joshua Tree's southern entrance.
If you're visiting during peak season and know you're not an early riser, consider using the southern entrance and driving the extra 30 minutes through the park to get to the main attractions.
There's a good chance the time it takes you to drive through the park will be a wash compared to how long you'd wait in line to get into the park via the west entrance.
And bonus: you'll be driving on the side of the road with less traffic once you reach the popular trails and sights.
How to Get to Joshua Tree from Los Angeles
Los Angeles is huge, and its traffic is notoriously awful. The earlier you leave, the better off you'll be.
We left from Pasadena, skirting the worst of the traffic, and it took about 2 hours to get to Joshua Tree's west entrance.
Depending where you leave from in the greater LA area, you might not be as lucky. No matter where your starting point is, leave early.
Alternatively, both the southern entrance and the northern entrance to Joshua Tree are only an extra 20-30 minutes of travel time.
If you're not an early riser and leaving from LA, consider a different entrance to save time by not waiting in line at the west entrance.
Most Efficient Joshua Tree Itinerary
Using Joshua Tree Entrances to Avoid Backtracking
Depending on what you want to do in the park and when you want to do it, there will inevitably be some backtracking in your day trip to Joshua Tree.
The Oasis of Mara, Keys View, and the Cholla Cactus Garden are all in areas that require backtracking.
Not to mention if you get to a popular spot, like the Barker Dam Trail or Skull Rock, and the parking lot is full.
It's possible to enter via one gate and exit by a different gate and not have to backtrack through the park, but you will miss certain spots if you do this.
The most common route for efficiency is:
Enter via the southern gate.
Catch the Cholla Cactus Garden for sunrise
Arch Rock
Skull Rock
Hall of Horrors
Hidden Valley Hike
Barker Dam Hike
Keys View for sunset
Exit via the west gate.
Some choose to reverse this route, get to the popular spots before the crowds, and stop at Cholla Cactus Garden for sunset instead. They may or may not stop at Keys View during the day.
Both are valid options, but we don't recommend writing off a spot completely just because the parking lot is full, for example.
Go in with a plan, but stay flexible. Backtracking doesn't take too much time in this park, unless you're trying to cross the whole park.
Joshua Tree Day Trip Itinerary Must-See Spots
This park is full of things to see and do, but it's possible to do it all in one day in Joshua Tree!
We already discussed the most driving-efficient route, but here's our list of what to do in Joshua Tree for your first visit.
Check in at a visitor center
Barker Dam Hike
Hidden Valley Hike
Skull Rock photo and climbing
Arch Rock hike and photo
Cholla Cactus Garden
Keys View
Start at a Joshua Tree Visitor Center
We always start at the visitor center. Grab a map and some souvenirs and learn how to avoid the jumping cholla cacti.
Familiarize yourself with Joshua Tree's wildlife, both for where to look to snap a pic and to identify the snakes to watch out for.
Next, ask a park ranger what their favorite spot in the park is and how to get there.
Every park ranger we've ever talked to genuinely loves their park and always has recommendations and advice. They can also direct you to less busy areas, which is always appreciated if you're visiting in peak season.
Admire the Joshua Trees
We pulled over for the first Joshua tree that I saw. We were barely a mile into the park, but I couldn't help myself.
(You'll have ample opportunities to see these in the park.)
These trees are some of the coolest and weirdest trees on the planet. (Not actually trees; they're succulents!) They look like they jumped right off the page of a Dr. Seuss book!
The northern/western half of the park is covered with Joshua trees. It's not as thick and close as an honest-to-goodness forest back east, but it's a forest of Joshua trees nonetheless.
If you're entering from the south, you'll have to drive north a ways into the park before you'll start to see these trees.
Our favorites, the largest ones we saw, were near the Jumbo Rocks Campground and Skull Rock.
Hike Hidden Valley Trail (Easy 1mi Loop)
Wander around a cattle rustlers' hideout! The legend goes that two brothers used to hide stolen cattle here. There are signs to tell the story as you walk the easy loop around the area.
While you're here, look up. Hidden Valley is a popular climbing spot. You'll see many people up top if you come at the right time of day.
Hike Barker Dam (Easy 1.1mi Loop)
Get to know the landscape and history of Joshua Tree National Park with this easy hike showcasing the Mojave Desert.
Check out the big boulders, desert plant and wildlife, and, of course, Barker Dam. Don't expect there to be water unless it's rained recently. You might spot some bighorn sheep, though!
This is a popular spot in Joshua Tree, so there's a good chance the parking lot will be full. You'll have to come back later and try again. (Happened to us.)
Photo op at Skull Rock + Low-Key Climb Some Rocks
Skull Rock is an icon of the park and a must-see roadside spot for your scrapbook and day trip to Joshua Tree.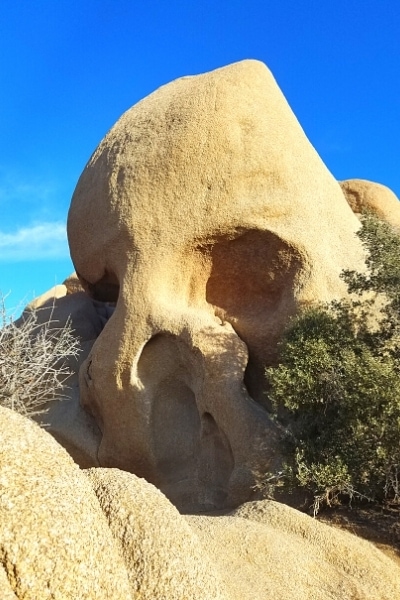 Just past the Jumbo Rocks Campground, Skull Rock is usually surrounded by tourists taking turns to climb up next to it to get their picture taken.
The other rock formations in this area are smooth and easy to climb. One in the back looked like a dinosaur, something you'd expect to see in a Flintstones episode.
Stretch your legs and climb around the area and the other rocks before moving on to your next stop.
Alternatively, there's a trail that loops around the area if you'd rather stay off the rocks and on the ground.
Check out Arch Rock
Another impressive rock formation, similar but on a smaller scale to what you would see in Utah's Arches National Park.
We pulled over where the maps and signs told us to and wandered through some campsites before we finally found the trailhead. We had a convoy of 3-4 different groups all trying to find the trail at one point.
It's not well-marked on the maps, but it's easy to wander around once you find the trail. Just keep walking towards the rocks and you'll find it. You won't be the only one looking!
The Arch formation itself was pretty cool, and the other formations in the area were great for re-enacting some movie scenes. It's a popular photography spot!
Visit the Cholla Cactus Garden
Take a short stroll through the Cholla Cactus Garden to admire these beautiful plants. They almost look fluffy or fuzzy, hence their nickname: teddy bear cholla, but keep a safe distance. They're sharp!
When the lighting is right, these yellow plants glow. It's a popular spot for sunrise but can also work at sunset.
Keep in mind that the sun will set here well before it "officially" sets as the mountains will block the light.
Also, if you're planning to catch Keys View for sunset, you have about a 45min drive to get there from here. You'll have to choose. You can't do both for sunset.
If you want to be here for sunrise and you're coming from LA or Palm Springs, it doesn't matter which entrance you choose. It'll be about the same amount of time to reach this spot in the park.
If you don't want to backtrack, use the southern entrance, drive to Cholla Cactus Garden for sunrise, and then follow the day trip itinerary prior to this in reverse. (It'll actually put you in better driving distance for Keys View at sunset.)
Watch the Sunset at Keys View
It'll be busy for sunset, but the views are worth it! This easy access viewpoint overlooks the Coachella Valley (yes, that Coachella) and the Salton Sea.
Watch the sun slowly sink behind the mountains, gradually casting the valley into shade and then darkness.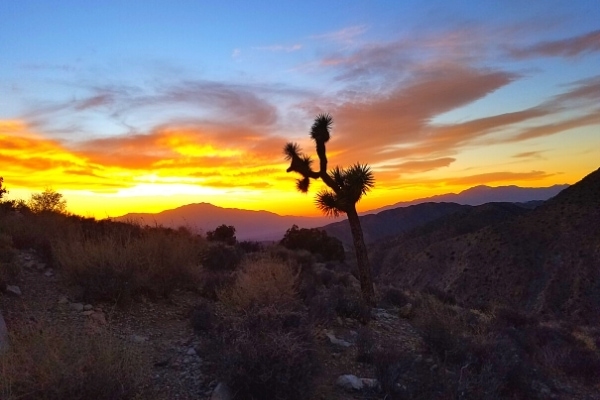 Get there early, or be patient and circle the lot like everyone else until a parking spot opens up. But don't miss sunset because you're circling!
Pro Tip: Deserts can be cold at night. The wind will pick up and the temperature will drop noticeably once the sun goes down. Bring a light jacket and some pants to throw on over your hiking clothes, just in case.
Stand in Awe of the Milky Way
As the sun sets, enjoy the early evening sounds as the desert comes alive at night. Find a convenient roadside spot, or pull into a parking lot, and get ready for some stargazing!
Turn off all lights and face away from the road to avoid headlights so your eyes can adjust to the dark.
Use red light flashlights for visibility as needed. Set up a camera tripod and your GoPro's timelapse feature, and capture the stars in all their finery.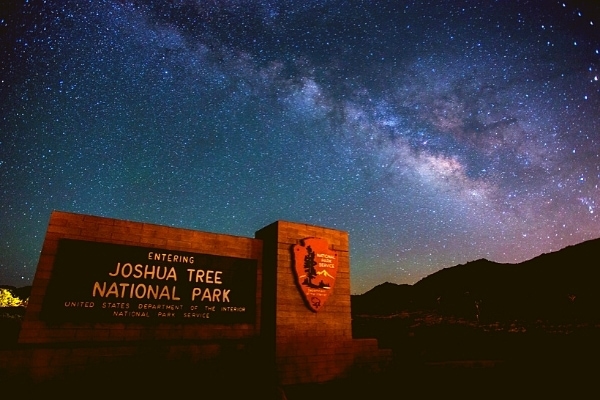 Once you've had your fill of the night sky, pack it up and head for the exit.
Take it slow as you drive out of the park. Watch for nocturnal animals and enjoy the dark skies a little longer before heading back to civilization.
More Things to Do in Joshua Tree National Park
Looking to mix up your itinerary for your day trip to Joshua Tree? No worries!
We'd recommend any of the following be added to or used as alternates for your day trip to Joshua Tree.
Just keep in mind some of these activities are not available or strongly not recommended during the summer due to the extreme desert heat. We've noted each where this is the case.
Go Rock Climbing
Those faults come in handy for all you rock climbers out there, creating tons of exposed rocky outcroppings perfect for climbing.
Joshua Tree has plenty of climbing opportunities: climbing, rappelling (abseiling), bouldering, and slacklining are all here.
Rock climbing is a lot of fun and a lot of physical exertion, so this isn't recommended in the heat of the day.
It'll also take up a good chunk of your day, but maybe you prefer this one intense activity over several easy (erm, boring?) activities. Up to you!
Be sure to read up on the rules, safety, and best practices before you go. Know your limits.
No cell service means emergency crews can take hours to find you. Bring a first aid kit, extra clothes/layers, and extra water.
Permits aren't required for climbing, although the park is working on tightening up rules and regulations as this activity has exploded in popularity over the past few decades.
Bring your gear, and go have responsible fun.
If you'd rather have a guide, here are a couple well-rated tours.
Guided Tour of Keys Ranch (Oct – May)
Advanced reservations are required for this ranger-led tour of the historic Keys Ranch homestead, one of the best things to do in Joshua Tree National Park, but it's only available October through May.
The tour lasts 1.5 hours, plus you have to arrive 15 minutes before your tour time and then drive a short distance to and from the site, so all told this is about 2 hours of your day.
The story behind this eclectic homestead is one of the wild west and perseverance.
People scratched out a living in this isolated and unforgiving landscape long before we had modern conveniences. Glad I was born a century later!
Hike Ryan Mountain (Moderate/Strenuous 3mi out and back)
Do it for the views! Normally, a 3 mile hike wouldn't qualify as strenuous, but this one absolutely does because of the heat and exposure level in Joshua Tree.
You'll gain 1,050ft in elevation over a mile and a half to get stellar views from one of the highest points in the park!
Bring A LOT of water for this one, and take your time.
Make it a morning hike to avoid the worst of the heat, but it could also be done for sunset if you're comfortable/prepared to hike back down the mountain in the dark with a headlamp.
This hike is closed/highly discouraged in the summer because of the dangerous exposure level and threat of dehydration. Be overprepared if you choose to do this hike.
---
What to Pack for Joshua Tree
1. Water
Never go into the desert without water, even in the winter. Don't chance it. Bring extra water, and actually drink it.
The park's recommendation is a gallon of water per person per day. If you're planning a lot of physical exertion, like rock climbing or hiking, bring even more.
2. Closed-toed shoes
This is not the place for flip flops or even hiking sandals. Jumping cholla cacti will make you chose open footwear for the desert.
Closed-toed shoes are also a good safety precaution against wildlife bites, on the off-chance you surprise a snake.
3. Sun protection
Desert = no shade. Even if the daytime temperature is pleasant in the winter, you're still being exposed to UV rays all day.
Slather on the sunscreen, wear a wide-brimmed hat and sunglasses, and consider light-colored, loose long-sleeves and/or pants if you'll be out in the open all day.
See all our hiking gear recommendations here.
4. Camera
There's so much to see here. The lighting around sunrise and sunset is phenomenal, and you'll get some amazing shots of the Milky Way if you stay after dark.
Don't forget a tripod and your GoPro for optimal nighttime photography or astrophotography timelapses.
It can be dusty, so bring cleaning equipment and maybe even your camera's raincoat, just in case.
5. Offline Maps/Physical Atlas
Fair warning: there's little to no cell service in the park. Put your phone in airplane mode so it doesn't die searching for service.
If you're depending on Google maps to get you home, download the offline map or directions beforehand.
Your cell signal likely won't return until you make it to a town or interstate away from the park.
The park map has basic roads to help you navigate around the park, but it's not a replacement for a real atlas/map.
6. Snacks
Joshua Tree has no amenities or services inside the park. You can't buy a midafternoon snack anywhere. Bring your own!
Salty snacks are a good idea, to help replenish the salt you lose while sweating.
And it should go without saying that cold snacks won't stay cold long even in a really well-insulated cooler. That ice will melt fast, so make sure your snacks are in waterproof bags!
7. Car Care Items
On that same note, you want to be prepared to care for your car in case of an emergency.
Fill up your tank before you enter the park.
Bring extra coolant and fluids in case your car overheats.
Have the equipment and know-how to change a tire if need be.
The park is often busy enough that if you have a vehicle problem, someone will come along and either offer to help or offer to send a ranger your way.
---
Joshua Tree National Park FAQs
Is there an entry fee for Joshua Tree National Park?
Yes, there's a $30 entry fee for personal vehicles, good for 7 days in Joshua Tree National Park. Motorcycles are $25, and individuals on foot or vehicles with 16+ passengers are charged $15 per person.
Is one day in Joshua Tree National Park enough?
Yes, you can see all the major attractions and get a good feel for the area with just one day in Joshua Tree. We recommend a day trip to Joshua Tree from either Palm Springs or LA, including either sunrise or sunset, or both!
When's the best time of year to visit Joshua Tree National Park?
Fall, Spring, and Winter are the best times to visit Joshua Tree National Park. Daytime temperatures cool off, making it easier to enjoy the park all day long. Spring is the busiest time to visit, and most crowded. Winter nighttime lows can drop below freezing, and it can snow in the desert. Summer daytime highs hover around 100°F.
When's the best time of day to visit Joshua Tree National Park?
Mornings and later afternoons are the best times to explore Joshua Tree. You'll avoid the worst of the crowds if you arrive for sunrise, and you'll avoid the worst of the heat if you arrive late afternoon. Sunset is a busy time, though. Keep in mind the sun will disappear behind the mountain ridge well before the official sunset time.
Where's the Joshua tree featured on the U2 album cover?
The Joshua tree featured on the cover of the U2 album "The Joshua Tree" was actually just outside of Death Valley National Park's western border on CA-190, but that specific Joshua tree is no longer standing.
---

---
Enjoy Your Day Trip to Joshua Tree National Park!
If you day tripped to Joshua Tree from LA, Phoenix, or Las Vegas, here are some more ideas for things to do in those areas.
Happy Travels!
Save it!