The United States is such a beautiful and vast country. It's home to some of North America's most varied landscapes, and the US National Parks and other federal recreation sites do a fantastic job of preserving these gorgeous and unique habitats and making them accessible for visitors.
Most people have heard of the national parks, but there are thousands of national monuments, forests, lakeshores, military park battlefields, seashores, and historical parks to discover. Not all of these charge an entry fee, but if you go to several sites within a year, it can start to add up.
How to make exploring more affordable? Easy: purchase an America the Beautiful pass and enjoy free entry to 2,000+ federal recreation sites!
Let's break down the details of what a pass covers, which pass type you should get, and help you decide once and for all if an America the Beautiful pass is worth it for you.
---
This post may contain affiliate links. As an Amazon Associate and associate of other programs, I earn from qualifying purchases. This means if you click a link and make a purchase, I may earn a small commission at no extra cost to you.
---
What is an America the Beautiful Pass?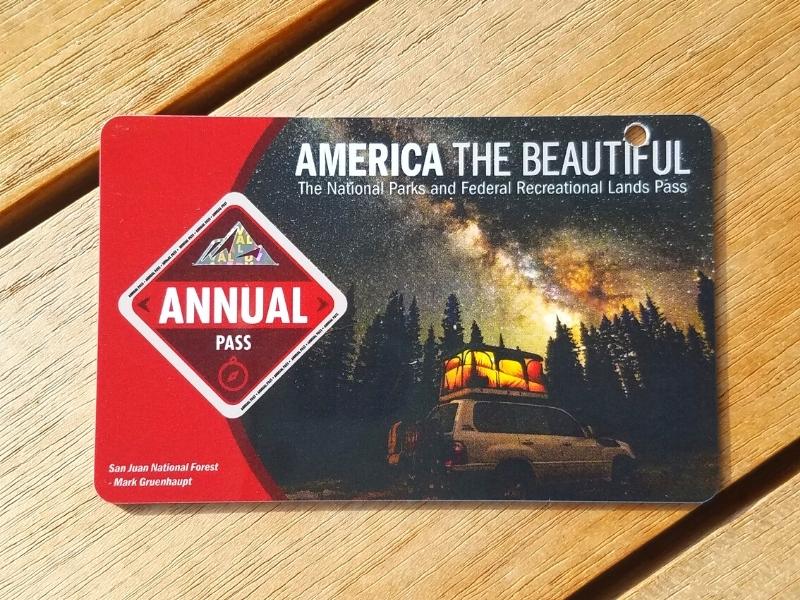 An America the Beautiful pass is your ticket to explore 2,000+ federal lands and sites for one low annual fee, rather than paying individual entry fees at each site.
Six federal land management agencies got together to offer a discount pass to make it easier for the public to explore federal lands.
Bureau of Land Management
Bureau of Reclamation
Fish & Wildlife Service
USDA Forest Service
National Park Service
US Army Corps of Engineers
Everyone will recognize the National Park Service, but the others may be new to you. That's ok, and kind of the point.
There are a TON of amazing places that are federally protected and maintained, and this pass makes it easier for you to explore new places without busting your budget.
Don't forget your family and friends, either!
The pass covers anyone in the vehicle at parks that charge per-vehicle entry fees, or it covers the passholder plus an additional 3 adults at parks that charge per-person entry fees. Kids under 16 are free!
Pro Tip: The America the Beautiful pass goes by many names: interagency pass, national park pass, and annual parks pass, to name the most common ones.

They all refer to the same thing. The official name, however, is the America the Beautiful pass.
If you love the outdoors and seeing cool places, then get yourself an America the Beautiful Annual Park Pass and go nuts!
Why Get an America the Beautiful Pass?
It will save you so much money if you frequently visit national parks or are planning a trip to multiple parks and/or federal lands.
We've even saved money at places we didn't realize had day-use fees but were covered by this annual pass. Always a nice surprise!
Keep in mind, the interagency pass isn't just for the 63 national parks. It also includes access to national monuments, forests, historical parks, battlefields/military parks, seashores, lakeshores, and recreational areas.
Where you buy your pass matters; it's where the money stays.
If you want to support your local park, buy your annual pass at your local park's office. You get the card and hangtag instantly and don't have to wait for it to show up in the mail.
Good to Know: Not every National Park Service site is a National Park, but it's common to refer to any property owned by the NPS as a park, even if it's a monument or something else.

When we say park, we mean it in the latter, general sense. We refer to any federal recreation site maintained by one of the six federal lands agencies as a park.
What Does the America the Beautiful Pass Cover/Include?
The America the Beautiful annual pass covers entry fees/day-use fees to all national parks, monuments, recreation areas, seashores, lakeshores, historical parks, military parks, and forests.
Between the six agencies that participate in the pass, there are over 2,000 sites to explore. Rest assured, it includes all 63 national parks as well as national monuments, forests, and other lands that go less noticed.
We don't have the room to list them all here, but feel free to call a park before you visit to verify if it accepts the America the Beautiful pass.
Places & Fees the America the Beautiful Pass Does NOT Cover
It's just as important to understand what the annual America the Beautiful pass does not include. Here are the most common places and fees people ask about that are NOT COVERED by an annual pass.
Other Park Fees besides Entry/Day-Use Fees
These are called "expanded amenity" fees and include things like camping, parking, special permits for backpacking or hiking, etc.
Not every site has all these fees, so they might not even apply to your trip. Check your destination's website to confirm other fees before you go.
Concessionaire Fees
Some parks use concessionaires (third-party private companies) to help run activities, provide park transportation, etc.
The America the Beautiful pass doesn't cover any concessionaire fees because the concessionaires don't receive any funds from the pass sales.
Channel Islands National Park is a good example. This park doesn't charge an entry fee, but the only way to get to the park's islands is via boat. A concessionaire runs daily ferries for the NPS.
State Parks
This confuses a lot of people, particularly around Indiana Dunes National Park where Indiana Dunes State Park is entirely inside the national park.
State parks are owned and maintained by their respective states. National parks are owned and maintained by the federal government. Completely separate funding systems.
America the Beautiful pass sales fund the federal agencies only. The states don't see any of that money, so your pass doesn't work at state parks.
Places You Might Think are National Parks but Aren't
Don't get confused. Not all popular destinations are national parks! The best example of this is Antelope Canyon in Arizona.
It's not owned or maintained by a federal agency. The Navajo Nation owns that land, and they run the tours you see online. Your pass is no good to them because they don't receive any of that funding.
Is an America the Beautiful Pass Worth It?
Yes! This pass pays for itself fast. Just 3 visits to most fee-collecting parks, and you've recouped your investment.
Don't believe me? Here's some examples (with math!) for the skeptics.
Example 1: Seeing a Lot of Parks in One Trip
Epic national park road trips are a favorite way to explore a lot in a limited amount of time. Out west, there are so many parks that you can do that pretty easily.
Our Southwest USA Road Trip started and ended in Las Vegas, circling through six sites that were covered by the America the Beautiful pass in one week.
For reference, we saw Death Valley, Red Rock Canyon, Zion, Bryce, Walnut Canyon, and the Grand Canyon, among other places.
We saved $205 in entry fees using our annual pass, paying for itself more than twice over on this one-week trip alone.
Example 2: Living near Paid Parks
Are you one of the lucky ones that lives within easy driving distance of a few national parks, monuments, and historical sites? Then I've got even more good news for you!
Say your closest park costs $30 per vehicle to enter. Visit just 3 times in a year, and you've covered your pass.
Now, some individual parks offer an annual pass for their specific park only. These are usually $50 for a park-specific annual pass. Why not just get one of those, save yourself $30, and cover the cost in just 2 trips to the park?
If you never go anywhere except that one park, then by all means, do that. But I bet you can go to 2 other sites in a year, and make the America the Beautiful pass worth your time and money.
We were pleasantly surprised on a trip to Helen, GA when we went waterfall-hunting. Several of the areas most popular waterfall hikes, Anna Ruby Falls, Duke's Creek Falls, and Raven Cliffs Falls to name a few, have day-use fees as they're on federal lands but were all covered by our America the Beautiful pass!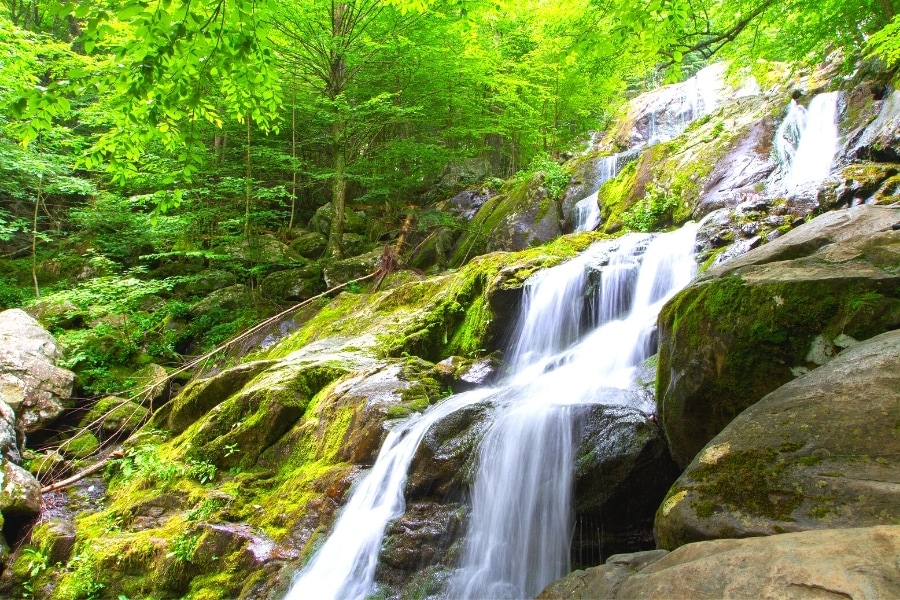 Types of America the Beautiful Passes
Most people seeking a national park pass will fall under the standard America the Beautiful pass, but there are a few options for specific groups.
Here are all the options:
Standard – $80 paid annual
4th graders – free annual
Military – free annual (lifetime passes are coming soon!)
Senior – $20 paid discounted annual or $80 paid discounted lifetime
Access – free lifetime
Volunteer – free annual
Remember: All passes include free entry for everyone in the vehicle or for up to 4 adults!
None of the passes inherently include discounts at bookstores or gift shops, but shops can choose to offer discounts for seniors, military, or disabled individuals. It's a shop perk; not a pass perk. Just ask at the register.
Read through the full descriptions below and see if you qualify for one of the special category passes!
Standard America the Beautiful Pass
Who's Eligible: anyone and everyone, including visitors to the US on holiday
Cost & Validity: $80, valid for one year from purchase
Special Conditions: None!
Really, it's valid for 13 months. If you buy a pass on October 3, 2022, it's valid through October 31, 2023.
This is the most common annual national parks pass, what most people will end up buying.
4th grader Pass
Who's Eligible: US 4th graders, including homeschool equivalents
Cost & Validity: FREE, valid from September to August (one school year + summer)
Special Conditions: 4th grader must be present for the pass to apply, need paper voucher to acquire physical pass from a park
If you have a 4th grader in the family this school year, you can get a FREE annual pass to the national parks.
Note: the 4th grader must be present for the pass to be valid. Parents can't use the pass for entry if they left the 4th grader at home with friends.
To get this pass, first visit the "Every Kid Outdoors" website to print your paper voucher. Then, take that paper voucher to a park that issues passes, and you'll receive your physical card to use on all future visits.
Military Pass
Who's Eligible: Current US military and their dependents, Gold Star families, and US veterans
Cost & Validity: FREE, valid for one year from acquisition
Special Conditions: Must provide documentation for proof of eligibility. The name on the documentation will be printed on your pass.
Members of the US Military and their dependents have been eligible for free interagency annual passes for a while, but at the end of 2021, President Biden created a new free lifetime pass option for them.
The details are still being worked out for these, but in the meantime, the free annual passes are still available.
For a list of documentation needed to provide proof of eligibility, check the USGS website.
New in 2021, military annual park passes only have one name printed on them: the name that matches the documentation submitted. Dependents should get their own passes because they can't use their spouse's/parent's pass if the spouse/parent is deployed/not able to be present.
Senior Pass (previously, Golden Age Passports)
Who's Eligible: US citizens and permanent residents aged 62+
Cost & Validity: $20 for a one year pass from date of purchase, or $80 for a lifetime pass
Special Conditions: Proof of age (a driver's license or state ID card is sufficient)
Finally retired and ready to explore the nation's best landscapes? Get a Senior Lifetime Pass and get moving!
The $20 annual option is meant for those on fixed incomes, to make it more manageable/affordable. Keep your old senior annual pass cards! If you purchase a senior annual pass for four consecutive years, you can exchange the old cards on year 4 for a lifetime pass.
If you have a Golden Age Passport, you can exchange it for a Senior Lifetime Pass the next time you visit a park.
Access Pass (previously, Golden Access Passports)
Who's Eligible: Permanently disabled US citizens or permanent residents, regardless of age
Cost & Validity: FREE, valid for lifetime use
Special Conditions: Must provide documentation of permanent disability. The name on the documentation will be printed on your pass.
Making the outdoors accessible to as many people as possible is an important goal of the federal land management agencies. The Access Pass removes financial barriers so disabled individuals can enjoy the national parks, too.
To qualify for this pass, you must provide either a statement from a licensed physician or a document from a federal or state agency confirming your disability. Example: a Social Security Disability Income statement.
Accepted documentation will vary. The website has some examples to help guide you.
If you already have a valid Golden Access Passport, you can exchange it for an Access Pass the next time you visit a park site.
Volunteer Pass
Who's Eligible: Individuals with 250 volunteer hours at any of the six contributing federal agencies
Cost & Validity: FREE, valid for one year from acquisition
Special Conditions: Documentation of your volunteer hours, Limit one free pass per year
The nice thing about this is there is no time limit to accrue the 250 volunteer hours. You could accrue them all in one year or over several years.
Same applies for which agency you volunteer for: do all 250 hours at one agency or spread it out over several. The choice is yours.
Keep track of your volunteer hours along the way, and when you hit 250 hours your volunteer coordinator will issue you your free annual pass! Your hours then "reset" and when you hit another 250 hours, you can earn another free annual pass.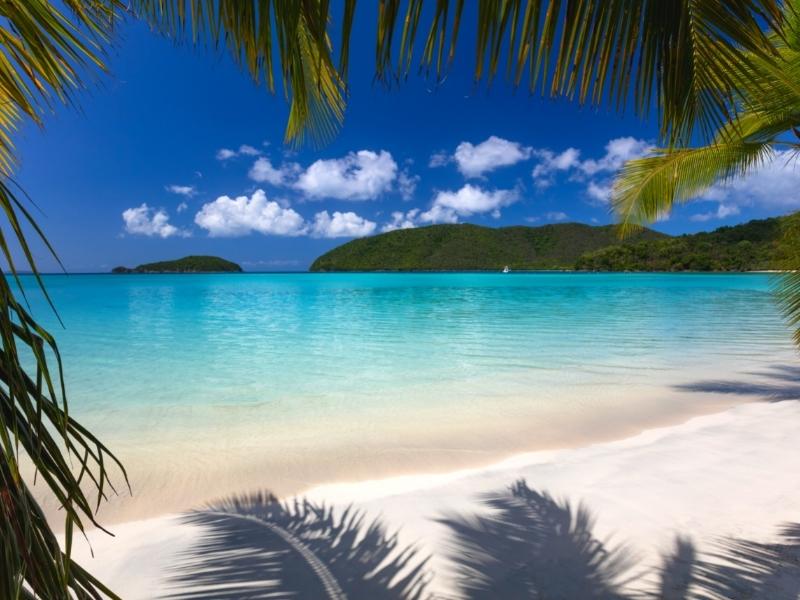 Where to Buy an America the Beautiful Pass – It Matters!
Several places sell national park passes, both online and in person, but we want to discuss something important first.
Where you buy your national park pass matters! Fees collected from annual pass sales generally stay in the park from which they're sold.
So, while you can buy a national park annual pass from a retail store like REI, it's always better to buy from the NPS or other agency directly. Bonus points if you can buy it in person at your local park!
Here's the full list of where you can buy an America the Beautiful pass, in order of our preference to make sure the parks get the maximum amount of funding.
Best Option – Buy In-Person at a Park
The best way to support your local national park, forest, monument, or what-have-you is to buy your annual national park pass directly from your park.
Our local national park (Congaree) happens to be a free entry park, so we're sure the extra pass sales helps keep the hiking trails we use so much in good condition. Being in a floodplain, they need a lot of attention!
Another great way to make your pass funds matter is to purposely go to a smaller site, like a national monument that gets overshadowed by a national park nearby, and buy your annual pass there. Those smaller sites really appreciate that funding.
Check this list ahead of time to determine if your location issues the type of pass you're looking for.
Good Option – Buy Online from USGS Store
Still a good option for supporting parks directly, you can buy an America the Beautiful pass online from the USGS website. The money goes into a fund that is distributed to parks as needed in a yearly budget.
Parks still get the funds, but you have to wait for your physical pass to be mailed to you before you can start visiting parks. Your receipt won't be accepted; you need the physical pass.
Another Option – Buy from an REI Store
This can be a convenient option if:
you don't live near any parks
the site you want to visit charges a fee but doesn't sell passes
you're under a short timeline to get a pass (not enough time for it to arrive via mail before your trip)
We're not knocking REI; they're a business that has to run on profits (and we like their gear!). We've bought our annual pass from an REI before, when our local park was out of passes. (The pandemic was a strange time.)
But we also didn't know at the time that when you buy a national park pass from REI, only 10% of the proceeds are donated back to the parks.
We're still confused why that's the case and why they're allowed to sell passes, but it's a good last resort option if you're in a pickle.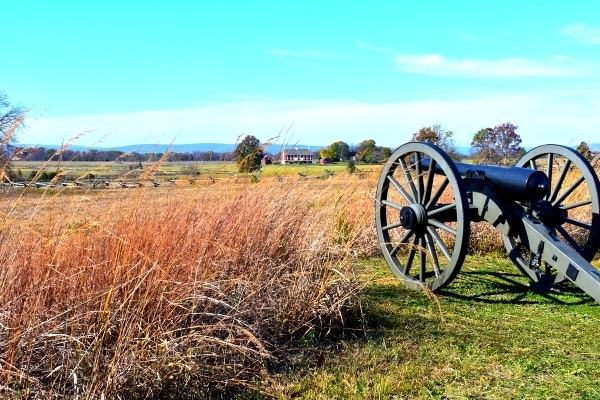 Other America the Beautiful Pass FAQs
>> What If I Forget My Pass? Can They Look Me Up in the System?
Unfortunately, no. If you forget your pass, you'll have to pay for entry. There is no system that associates you personally with a specific pass number. It's a privacy and logistics issue.
When you buy a national park pass, they don't record your contact information. There is a system that recognizes which pass numbers are active, but there is nothing in there that associates you to an active pass.
>> Can I Bring a Copy of My Receipt to Get into a Park if I Haven't Received My Physical Pass Yet?
No, a receipt is not sufficient. You MUST have the physical card with month of purchase punched and signature on the back.
The only exception to this is a 4th grader annual pass. To get your free 4th grader annual pass the first time, you will fill out the form online, print it, and bring it with you to the park. The park will then take your printout and give you a physical pass to be used in the future.
>> What If I Lose my Pass?
You're out of luck, unfortunately. There is no way to get a free replacement as there's nothing that associates you personally with a specific park pass.
You can always buy another one. Our first annual America the Beautiful pass paid for itself more than twice over in the first road trip we used it out west.
>> Can I Share My Pass?
Yes and No. It's a nontransferable pass, and you have to sign the back of the card for it to be valid.
Now, there are two spots for pass owners on the back of the card, and they don't have to be related. So, you could opt to split the cost with a friend and both use the pass if you both sign it.
There are even some people that will buy a pass for use on one trip, and then turn around and resell it on ebay or a similar site for the remaining time left on the pass.
We'd shy away from this unless you can verify the card is still valid before you hand over your money, or the resell website you use has buyer protection in case of fraud.
>> Do I Really Need an Annual Pass? There are Free National Parks.
True, there are many free entry national parks, but you're going to miss some truly spectacular places if you only go to the free ones. Most of the top 10 most visited national parks in the country charge an entry fee.
Verdict: Buying an America the Beautiful Annual National Park Pass is a Smart Investment!
Use your America the Beautiful pass just three times in a year and it'll likely pay for itself. This is a must-have if you're planning a national parks road trip, proven to save hundreds of dollars in just 1 week!
If you are eligible for one of the discounted or free national park passes, we highly recommend you take the time to get one. You won't regret having it, and might even be surprised where an interagency pass can save you money!
What are you waiting for? Get out there and explore!
MORE NATIONAL PARKS INSPIRATION
More Travel Logistics Resources
Happy travels!
Share it!