Getting around Seattle without a car is easier than you think! Traffic in this bustling corner of the Pacific Northwest is terrible. No getting around that.
And with the rise of rental car prices in a post-pandemic world, every day you can avoid paying for a car is a good thing for your budget.
So don't throw away your savings on a rental car just yet! Let's look at how to get around Seattle without a car, including how to get from the airport to downtown and other areas.
---
This post may contain affiliate links. As an Amazon Associate and associate of other programs, I earn from qualifying purchases. This means if you click a link and make a purchase, I may earn a small commission at no extra cost to you.
---
Do You Need a Car in Seattle? What to Expect
Seattle area traffic is just rip-your-hair-out awful a lot of the time. Unfortunate side effect of having so many people in this amazing area.
If you live in other big metro areas around the country, like Atlanta or Los Angeles, you can commiserate because you live in a similar reality.
For the uninitiated, it can be a bit of shock.
Commuter rush hours are obviously the worst, but even during non-peak times the interstates can still be backed up from accidents, construction, or even wildfires.
Pro Tip: There are HOV lanes ("high occupancy vehicle" lanes; for vehicles with 2+ passengers) in many areas, so bring a buddy if you're hittin' the road. You'll still get stuck in traffic, but you will get further faster via the HOV lanes.
The real question though: do you really need a car to get around Seattle?
Answer: No. You can absolutely get around downtown, most of the metro area, and even some of the suburbs without a car.
Public transit downtown and from the airport is easy. Just hop on the light rail train, and you're on your way.
North-south routes throughout downtown and the eastern suburbs are convenient and thorough, providing access for a lot of areas.
The east-west routes, however, are not as comprehensive.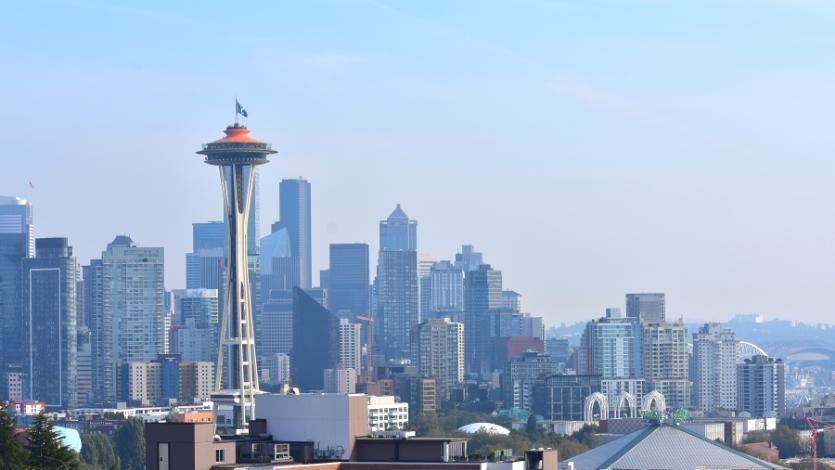 Seattle Area Transit Map
There are so many different city, state, and private transportation vendors that work together to move residents and visitors around the Seattle area.
The routes can get confusing!
The most comprehensive map, but also a bit overwhelming, is this one from King County Metro.
It shows not only King County Metro buses and water taxis, but also Link Light Rail, Sounder trains, the Monorail, the Streetcars, etc.
Once you open the map, look in the top right corner and click the three bullet points icon.
That's the legend and will help you decipher which stop belongs to which transportation company.
This is a great resource for preliminarily planning how to get from one area to the next.
Identify which transit lines run between your desired areas, and then visit the individual websites to finalize exact stations for your route.
There are a few apps that can also help you plan, like these.
Personally, we still prefer to start with a big picture map to get our bearings and then zoom in later.
---

---
9 Ways for Getting Around Seattle Without a Car
If you're interested in how to get around Seattle without a car, we've got several options for you that fit a wide range of budgets and comfort levels.
Options vary depending where you're headed, but often you'll end up combining several modes of transportation to reach your specific destination anyway.
These transportation methods are not ranked in any particular order, as it really depends on your route which option is your best option for getting around Seattle.
1. Walking
The old stand-by for getting around: walking. Save a few bucks and let your own two feet take you places for free.
Exploring the unique neighborhoods of downtown Seattle are best done by walking around and enjoying the ambiance.
A leisurely stroll through a square or pedestrian area reveals another side of the city!
Many of the must-see attractions in downtown are within walking distance of each other.
It's easy to see most of them in one day in downtown Seattle.
Just watch out for those hills!
Walking towards the water is generally downhill, but beware of the unforgiving uphill walk in the other direction!
2. Bicycles & Scooters
Bikeshares and scooter-shares are gaining in popularity in American cities. Seattle is no different!
Micromobility is all about providing short trip transportation for users commuting, running errands, or exploring around town.
The two main forms of micromobility are bicycles and scooters.
The city of Seattle has approved and permitted several private vendors that have set up bike and scooter rental stations around the Seattle metro area.
Check here for their current list of vendors.
Lime and Veo provide ebikes for that electronic assist getting up and down Seattle's hills, and Bird, Lime, and Link provide electric scooters.
To get started, just walk up to any rental kiosk or free bike or scooter you see.
Most services function through an app on your smartphone which stores your personal information for payment.
Once you set up an account the first time, it's a quick and simple scan of a QR code and you're on your way!
They're the perfect option when you need to get somewhere the main transit lines just don't quite reach.
These are easy to find in downtown Seattle and are a much easier way to get up those hills than walking!
3. Streetcars
Speaking of those hills, if you're in the right area and interested in a nostalgic transportation option, let the Seattle Streetcar do the hard work!
The streetcars are modern cars on historic routes, not historic cars like you'd find in San Francisco.
They're cheap and provide connectivity to other transit options. Check here for their current fares.
As of 2022, adult fares are $2.25 for a single trip or $4.50 for a day pass. Kids 18 and under ride for free!
Streetcars run frequently, around every 15 minutes, on two routes: the First Hill Line and the South Lake Union Line.
First Hill connects Lake Union to the Westlake Center hub.
South Lake Union connects Pioneer Square and the International District to Capitol Hill.
The First Hill line overlaps with a few other transit options, but the South Lake Union line serves an area with few other options.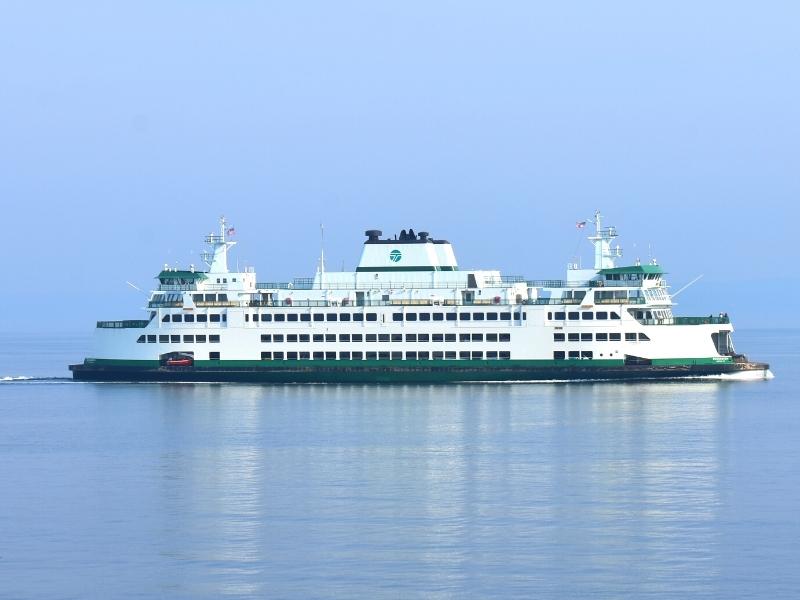 4. Ferries & Water Taxis
If you're trying to get to any of the nearby islands or to the northern end of the Olympic Peninsula, ferries provide punctual and economical service to cruise you around Puget Sound.
The majority of Seattle's ferry system is run by the Washington state DOT.
It's the largest ferry service in the US; no surprise there for this densely populated area on a large body of water!
There are some other ferry routes operated by other entities, like King County Water Taxis or the Kitsap Transit ferries.
If you're staying in downtown Seattle, you don't have to get on a ferry.
But if you're interested in day tripping to Whidbey Island or one of the other nearby islands, the ferry is the best way to get there.
Ferries are also a sneakily quick way to get to the northern end of the Olympic Peninsula, to explore Olympic National Park.
The Bainbridge Island ferry shaves off 50+ miles of driving from Seattle to Port Angeles, and gets there in the same amount of time.
5. Buses
Buses provide the connectivity to areas where the trains haven't quite reached yet.
They're also the only mass transit option for getting to the cities on the eastern side of Lake Washington, like Bellevue.
The HOV lanes on the interstate are also bus lanes, so they'll get around a little faster than private vehicles.
Downtown has dedicated bus only lanes to help the rapid/express buses stay on schedule, but this particular way to get around Seattle is most impacted by traffic because it's not fully separated from it like the trains or ferries.
Sound Transit has a robust regional Express Bus system connecting Seattle to the nearby cities like Tacoma and Bellevue.
King County Metro focuses on the greater Seattle area.
They have several RapidRide lines for major areas, but they also provide bus routes across King County.
6. Link Light Rail Trains
Light rail is just so nice. It's fast and convenient, and I wish the US would embrace it more.
The Seattle area's light rail system is called the LINK.
It connects Seattle-Tacoma (SeaTac) airport with both downtown Seattle and the surrounding suburbs on both sides of Lake Washington.
Remember, north-south routes are great but east-west routes are meh.
The LINK will get you in the right area, but then there's a good chance you'll need to catch a bus or a rideshare to your hotel or final destination.
7. Monorail
Who doesn't love a good monorail? I know Disney fans do, but the Seattle monorail predates Disney World's by a solid decade.
The Seattle Monorail was built for the 1962 Seattle World's Fair, and it's been in operation ever since.
It only has two stations: Seattle Center in Uptown and Westlake Center in downtown.
Don't let that fool you, though; it's a super convenient route, connecting two of the most popular areas in Seattle, for a very cheap rate.
One-way adult tickets are $3.25.
A 5 minute ride connects Pike Place Market and the waterfront to the Seattle Center, all the nearby museums, and the Space Needle.
Seattleites also use the monorail as a commuter route, and it's a popular way to get to Climate Pledge Arena for professional hockey games (Go Kraken!).
The monorail can get busy during these times, but the ride is so short that trains arrive and depart frequently and the line moves quickly.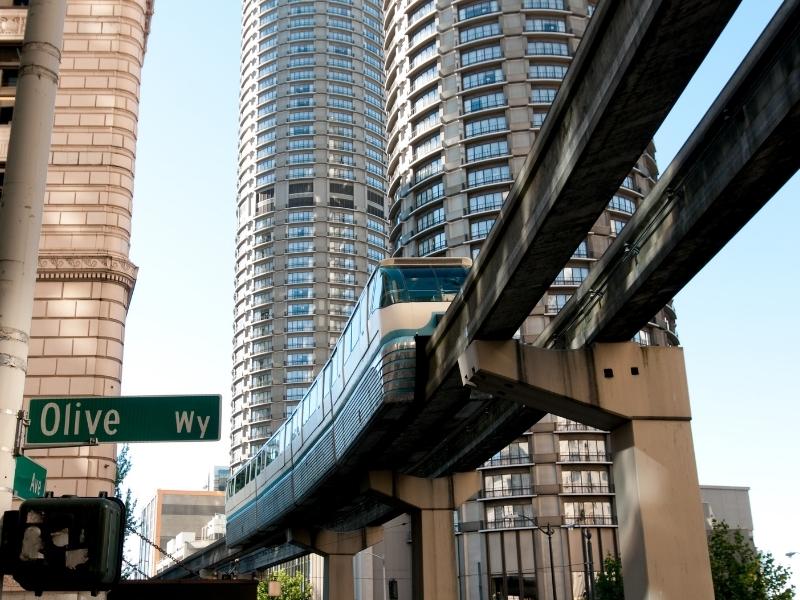 8. Rideshares/Taxis
If you value convenience more than anything, a rideshare is your best option for getting around Seattle without having to pay much attention.
Door to door service is hard to compete with, and you don't have to deal with the horrendous traffic yourself.
We love public transit but it can be a hassle if you have a lot of luggage or a lot of people.
(Have you heard about the time we took our checked bags on the Paris metro?)
Rideshares and taxis can solve that initial problem of getting luggage to your hotel.
It will cost more for the convenience, but it's often worth the reduced stress and frustration.
Particularly if you just traveled across the country, it's 2AM in your home time zone, and you're tired…Don't make your life hard when you're tired. Just get to your hotel.
Then you can use the more environmentally and budget-friendly public transit options for getting around Seattle as you explore over the next few days.
9. Sounder Train
The Sounder train is more of a commuter train for the suburbs and cities further away from the immediate Seattle metro area.
Fewer stops on these trains, but they travel longer distances.
The Sounder N Line connects Everett to downtown Seattle. The Sounder S Line connects Lakewood and Tacoma to downtown Seattle.
How to Get from the Seattle Airport to Downtown without a Car
Link light rail makes getting from SeaTac airport to downtown Seattle super easy without a car, and certainly faster than a rideshare during rush hour.
If you have a lot of luggage, though, we'd recommend a taxi or rideshare.
It's more expensive and possibly time-consuming, but not having to drag big luggage onto a train might be worth it for you.
How to Get around Washington state without a Car
Getting around a densely populated urban area without a car is one thing. Getting around the state without a car is another matter.
Visiting popular nearby attractions, like the national parks, can be arranged with a tour that departs from Seattle.
However, some national parks are easier to see in a single day than others.
If you really want to explore Washington state properly, you'll need a car.
---

---
Enjoy Getting Around Seattle with Ease!
Ditch your car and navigate around the Seattle area with public transit. It's often faster, cheaper, and easier than fighting through traffic and finding a place to park your car.
More Seattle Area Resources
More Travel Logistics Resources
Happy travels!
Share it!