Visiting Whidbey Island is an easy and fun day trip from Seattle, even better as a long weekend! But how do you get to Whidbey Island in the first place?
It's pretty straightforward when you know all of your options. Whether you're looking for the cheapest, the most flexible, or the most convenient option, we've got everything you need to know in one place.
Let's find the best option for you to get to Whidbey Island and start your adventure!
---
This post may contain affiliate links. As an Amazon Associate and associate of other programs, I earn from qualifying purchases. This means if you click a link and make a purchase, I may earn a small commission at no extra cost to you.
---
Cheat Sheet: How to Get to Whidbey Island
Short on time? Here are the quick answers for how to get to Whidbey Island.
Cheapest: Driving or Biking
Most Flexible: Ferry your Car over
Door-to-Door: Shuttle
Most Convenient: Group Tour
For more information on each of these ways to get to Whidbey Island, keep reading below or choose your preferred method from the Table of Contents above to jump to that section.
---
---
Where is Whidbey Island?
The first step in getting somewhere is to know where it is. (Wow, how profound.)
Located where Puget Sound meets the Salish Sea, and thus the Pacific Ocean, Whidbey Island was once the first line of defense against any would-be invaders to Puget Sound.
You can still see the (now obsolete) coastal forts along the western coast of the island.
Whidbey Island is the largest of Washington state's coastal islands. Washington's San Juan Islands are nearby, just north of Whidbey Island, but Whidbey is not one of them.
Just how long is Whidbey Island? Its north end is near Anacortes and its south end is level with Everett. It's the fourth longest island in the lower 48.
How to Get to Whidbey Island: The Most Flexible Option
Now that we have a better idea of where Whidbey Island is, we need to know how to get there. You generally have two options to get to Whidbey Island: by ferry or by car.
We recommend both options in the same trip. Yes, you read that right.
Ferry your car to Whidbey Island via Mukilteo/Clinton Ferry
Explore the island south to north
Drive back to Seattle via Deception Pass and I-5
Or, do that in reverse: drive to Deception Pass first, explore north to south on Whidbey, and take the Clinton ferry back at the end of the day.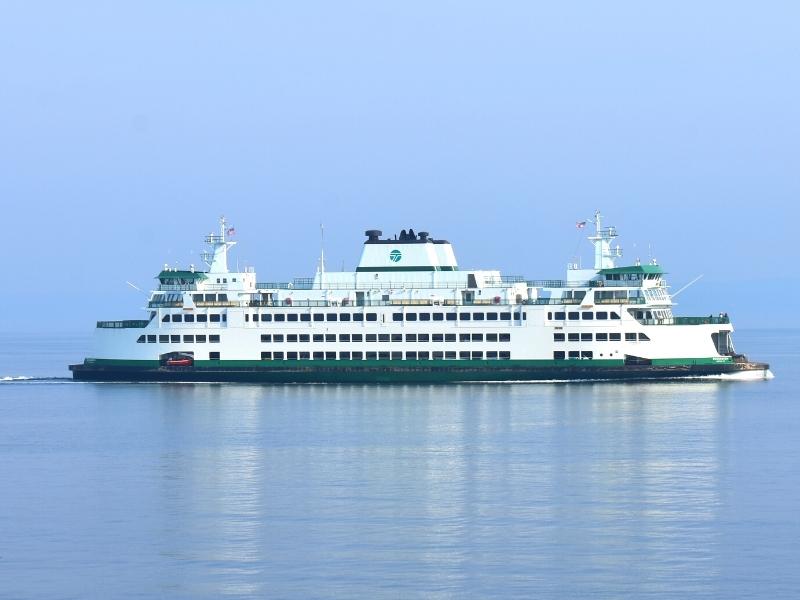 Having your own car at your disposal while exploring the island offers the most flexibility for your day trip or weekend away to Whidbey Island. You won't be reliant on rideshares or buses and can explore more than one town per trip.
The downside is having to find parking during peak season, but we'd make that trade for flexibility any day of the week.
If you've decided to bring your own car and do the loop as suggested above, there are two entry points to Whidbey Island from Seattle.
Seattle to Whidbey Island via Mukilteo/Clinton Ferry
The closest option to Seattle is the Mukilteo/Clinton Ferry, near Everett. It's easy to find via GPS, and there are tons of signs for the ferry once you get in the area.
Notice the "ferry traffic" lanes as you get closer to the port. They look a bit like a striped shoulder or possibly a parking lane.
If you're passing a line of cars with their engines off in this lane, you'll end up having to turn around at the port gate and go join the end of the line.
Fares are inexpensive and the trip across to Whidbey Island is quick. Ferries run frequently almost all day, depending on the season. Check current schedules and fares here.
Pro Tip: The ferries get busy during peak season, weekends in summer, but especially Fridays and Sundays as weekenders arrive and leave.
If you've never taken a car onto a ferry before, it's really very simple.
Ticket booth agents direct you where to go and which lane to queue in while you wait for the ferry to arrive.
Turn off your engine while you wait!
When it's time to load up, workers direct you where to drive and where to park on the ferry.
Once parked, turn off your engine. Ferry workers will tell you when it's time to restart your engine to disembark.
Either chill in your car for the 10 minute crossing, or get out and go up to the pedestrian deck.
Ferries have real restrooms, vending machines, tons of seating, and open-air decks on the bow and stern of the ship. Watch for dolphins in the ferry's wake!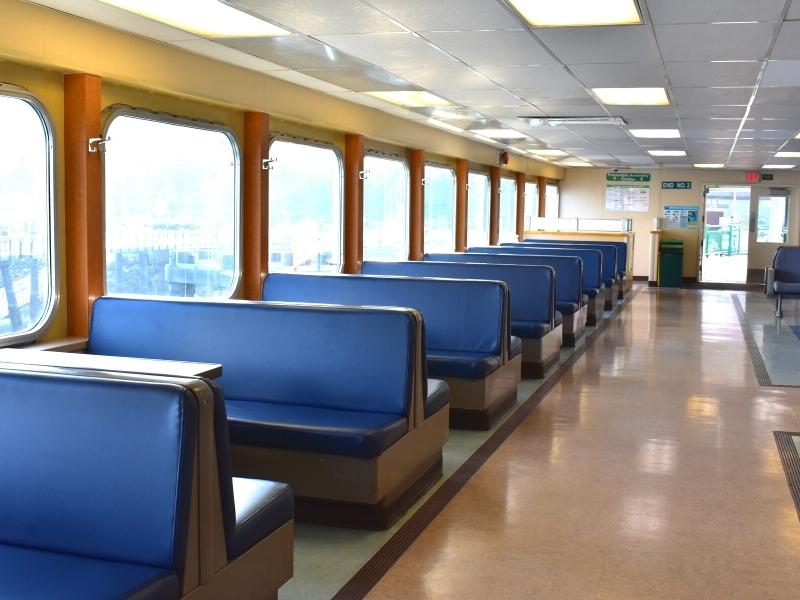 When you arrive in Clinton, workers will direct you off the ferry. Follow signs, or the people in front of you, to the port exit. Don't worry; it's easy to find.
Drive on your way to your first adventure of the day!
Driving to Whidbey Island: Seattle to Deception Pass
Alternatively, if you don't like boats or you want to do the reverse loop itinerary, you can drive to Whidbey Island first via Deception Pass. Depending on traffic, it's a 1.5-2 hour drive from downtown.
To get here:
Drive north on I-5, away from Seattle.
Exit in Mt Vernon and catch Highway 536 West to Highway 20 West. You'll stay on Highway 20 all the way to Deception Pass.
Highway 20 eventually splits into Highway 20 West to Oak Harbor and Highway 20 Spur to Anacortes. You'll keep left and follow 20W to Oak Harbor.
The Deception Pass Bridge is a beauty, and it's in a beautiful area, too.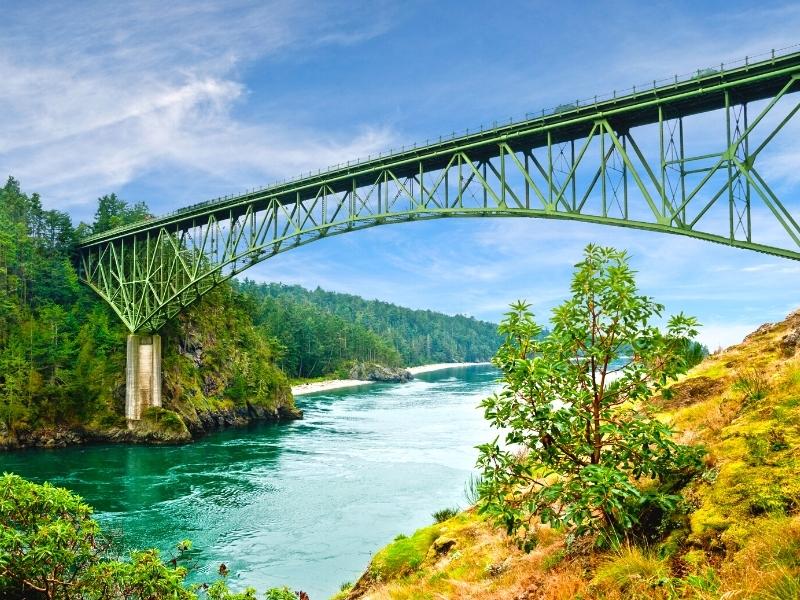 Deception Pass State Park is Washington state's most visited state park for good reason! This whole area is gorgeous blue-green waters surrounded by evergreen forests.
As you approach the bridge to Whidbey Island, paved pull-offs are available in several spots for you to park and walk out onto the bridge and to scenic vistas for epic views.
>> If you don't plan to stop at Deception Pass state park, then go ahead and safely use one of these pull-offs.
>> If you are planning to stop at the park, wait to pull over until you've crossed both spans of the bridge, and a parking lot will appear on your right at the end of the second span.
You have to pay the state park fee to park here, but if you're already going to do that then this is a much safer option than the pull-offs you passed on the other side.
Once you've made it across the Deception Pass bridge, you're on Whidbey Island. Enjoy exploring!
Biking Whidbey Island: Take the Ferry
If you want to save some money and the environment in one trip, choose to bike around Whidbey Island! It will take longer to explore, but it's a great way to see the island.
We still recommend you take the Mukilteo/Clinton ferry across. Yes, the ferry will let you bring your bike on board. There are bike racks for storing them while you cross.
Once on the island, bike away! The main north-south highway on Whidbey Island has dedicated bike lanes in the shoulders, and residents are used to seeing bikes around town.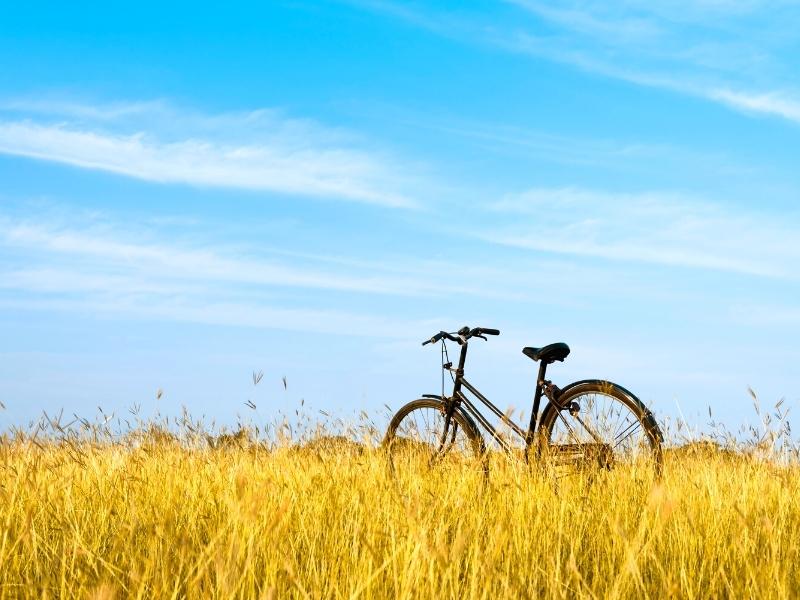 Alternative #1: SeaTac to Whidbey Island Shuttle
If you're flying into the Seattle airport and heading straight for Whidbey Island, there is a dedicated shuttle. The Whidbey SeaTac Shuttle & Charter runs all year round with a good variety of pickup times.
It's not the cheapest way to get to Whidbey Island, but it's probably cheaper than paying the extra fees to rent a car from the airport instead of the island.
And letting a professional driver battle through Seattle traffic while you chill on your phone is priceless.
It's also a great way for families to get to and from the Naval Air Station on Whidbey Island to visit their loved ones stationed there.
Fares include 1 personal item, 1 carry-on, and 1 checked bag per person as well as any ferry tickets to get to/from Whidbey Island on the journey. Certain upsells, like additional bags or hotel drop-off, require a small $5 additional fee per ticket.
Check their website for current schedule, stops, and fares. Discounts for military, kids, and seniors.
Alternative #2: Convenient Group Tours to Whidbey Island
If cost is no object or convenience is high on your list, consider taking a group tour to day trip to Whidbey Island. Many only run in the warmer months because that's when most touristy things on the island are open.
Tours have several advantages:
You don't have to watch your time. Your guide will keep you on schedule.
You don't have to drive. Chill in your seat while drivers do the driving and guides regale you with interesting facts along the way.
You don't have to pick an itinerary. You'll go where the tour tells you to go.
The downside to tours is most are rigid and impersonal. You can't decide to take more time at a place you like or leave early from a place you don't like because you're not the only one on the tour.
The tour often decides when and where you eat, and even schedules restroom stops.
We highly prefer the flexibility of planning our own day trip to Whidbey Island, but if you're looking for the most convenient way to get to Whidbey Island, a group tour is as easy as it gets.
Getting to Whidbey Island: FAQs
>> Can You Take Public Transit to Whidbey Island?
Technically, yes, getting to Whidbey Island via public transit from downtown Seattle is possible with a few transfers to get to the ferry. But, you're pretty limited in getting around the island after you arrive.
Whidbey Island has its own shuttle bus, but it's best for slow-paced explorers. If you don't have a car, consider a group tour.
>> Can You Drive to Whidbey Island without Taking a Ferry?
You betcha! Drive up to Deception Pass and explore the island from north to south without ever getting on a ferry.
But if you really don't want to get on the ferry with your car, remember, you'll have to drive back up north to Deception Pass to leave the island, and then retrace your steps back down I-5 to return to Seattle.
It's a lot of backtracking and unnecessary time spent in the car, but maybe that's preferable to those that just don't like boats.
---
---
Enjoy your Visit to Whidbey Island!
Leave early and spend a wonderful day exploring Whidbey Island, the perfect escape from the traffic and hustle and bustle of Seattle!
More Seattle Area Resources
More Travel Logistics Resources
Happy travels!
Share it!