Visiting Seattle, Washington for the first time is overwhelming with all the magnificent landscapes to explore and the bustling urban areas to discover. Deciding where to start is tricky.
Outdoor enthusiasts will be tempted to skip Seattle completely and head straight for the islands or mountains or national parks. But if it's your first time here, you've got to reserve at least one day in Seattle!
There's so much here that 24 hours isn't enough to see everything, but one day in Seattle is plenty of time to hit the highlights and get a feel for the downtown area. Here's what to see and what to skip with one day in Seattle!
---
This post may contain affiliate links. As an Amazon Associate and associate of other programs, I earn from qualifying purchases. This means if you click a link and make a purchase, I may earn a small commission at no extra cost to you.
---
Is One Day in Seattle Worth It?
If all you've got time for in your busy vacation schedule is one day in Seattle, it's still worth your time to explore downtown.
Your first visit to the Seattle area can be seriously overwhelming. There's SO MUCH to do in this area.
It's hard to decide where to explore first: downtown, the metro area, the islands, the mountains, the national parks. It's exciting and paralyzing!
It's also incredibly easy to get distracted by the nearby national parks and forget about downtown Seattle entirely.
Pro Tip: The national parks are all much further away from Seattle than you realize, especially after factoring in Seattle area traffic. You won't have time to do anything in Seattle, except perhaps nightlife, if you instead opt for a day trip to a national park.
But one day in downtown Seattle is enough time to get a good grounding in the culture and history of the Pacific Northwest.
See amazing views of the city skyline, learn some of Seattle's history, eat its delicious foods and treats, or wander a famous marketplace and watch them throw fish around.
Museums abound, as do outdoor squares and parks.
The city is worthy of 24 hours of your time!
---
---
1 Day Seattle Itinerary
There's a lot you can do and see in downtown Seattle, but these are our top must-see places for your first visit.
You can absolutely do all of these in one day and still have time to add other sights per your preference.
It doesn't matter too much what order you visit these; although, we do recommend seeing everything in one neighborhood/area before moving on to the next neighborhood/area. We'll get into more detail about that in a minute.
Pike Place Market
Eat at Ivar's (quick eat or restaurant)
Ride the Monorail
Space Needle
Chihuly Garden & Glass
Pioneer Square
Cruise the Harbor
Seattle Great Wheel
Kerry Park
Attend a Sports Game
How to Spend One Day in Seattle
Now that we have a list of things to do with one day in Seattle, let's look at what to actually do at those locations.
Sights are clustered by area. It's easy to walk or take public transport between neighborhoods.
If you have a car, we recommend you park it and leave it in a garage as long as possible. Parking gets expensive if you're constantly moving the car.
Some sights are one-offs, not really near anything else of note. Plan for these ahead of time. Fit them into your itinerary as you go, if you can, so you don't end up zig zagging across the city in the afternoon.
Feel free to rearrange the itinerary as needed to start in a section of the city that makes more sense for you.
Just be sure to see everything you want to see in one area before moving on to the next so you don't have any time consuming and unnecessary backtracking later.
Seattle Center area
Space Needle
Built as a technological marvel for the 1962 World's Fair, the Space Needle is an iconic member of the Seattle skyline. Today, it serves entirely as a tourist attraction.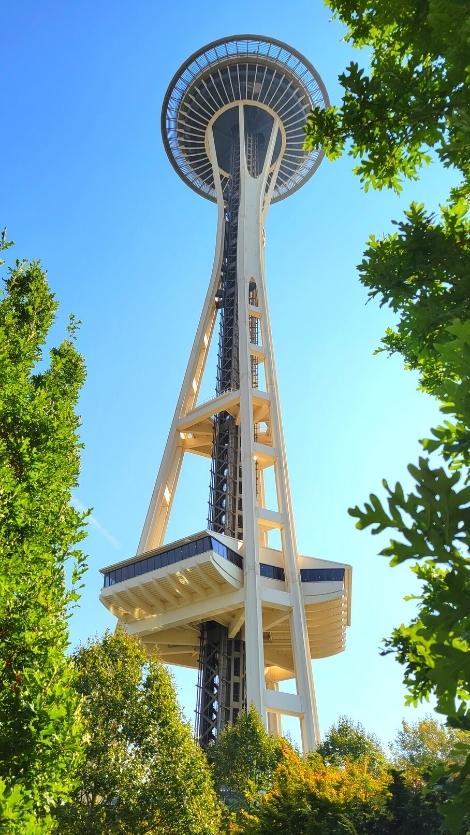 Take a ride up to the top in one of two original elevators with glass walls so you can enjoy the views as you rise 520ft above the surrounding buildings.
The top observation deck has both an open and closed portion. Stay inside on cool days, or walk outside on warm days. It will always be windy!
The open-air section has large, clear plates to allow amazing views of the city but nothing to be blown off or thrown over the edge (which is very dangerous for those on the ground below).
It also has several plexiglass benches that tilt out for daredevils that want an epic photo!
One floor down from the top deck, this level has a rotating floor, including a unique glass floor section so you can watch the city pass by beneath your feet!
There are opaque floor sections, too, for the less adventurous, but the floor still rotates.
Note that fall through spring, the rotating level is home to The Loupe cocktail lounge and is 21+ only. Sip a cocktail and snack on small eats as you rotate past the skyline every 30 minutes.
In the summer, however, visitors of all ages are free to walk around the level unhindered by tables and chairs. Step on the rotating floor and enjoy the views as the Space Needle rotates you around!
Chihuly Garden & Glass Museum
If you've never seen a Dale Chihuly glass sculpture masterpiece, then don't miss the Chihuly Garden & Glass Museum, right next to the Space Needle in the Seattle Center area.
Dale Chihuly is a world-renowned glass blower and artist, creating enormous, colorful glass sculptures that have been bought and displayed across the country and around the world.
The museum displays some of his smaller creations as well as his bigger series which really put Chihuly on the map, like his chandeliers and floating boats. The audio tour explains how many of the pieces in the museum came to be.
You can also read the audio tour manuscript online, and every exhibit has a plaque with more information.
After the museum area, you're free to explore the Glasshouse and Gardens. The glasshouse was built to Mr. Chihuly's specifications, after decades of him admiring glasshouses around the world.
He designed and created an enormous glass sculpture for this space that hangs from the rafters and catches light beautifully.
Grab a snack at the café and sit for a minute at one of the tables in the Glasshouse or outside on the terrace.
Then, stroll through the outdoor garden with Chihuly glass pieces mixed in with the plants. Fun Fact: the glass pieces were chosen first and the plants were chosen after to complement the glass colors.
Don't miss a glassblowing demonstration at the portable glass forge in the garden courtyard. It's included in your admission!
Ride the Monorail
A bit of Disney in Seattle? Not exactly.
Seattle's Monorail was built a full 10 years before the one at Disney World. It's another fun remnant from the 1962 Seattle World's Fair, and today it connects two bustling tourist centers.
The monorail is an efficient and cheap way to get from the Seattle Center area to Westlake Center and the Seattle Waterfront. A round trip ticket is $6.50 for adults.
The ride is short, about 5 minutes max, but it's clean, quick, and often not crowded. However, it does get busy during commuter hours and for special events at the Seattle Center, like games or festivals.
Westlake Center (a shopping mall but also a transportation hub) is a 5-10 minute walk from Pike Place Market. Ride the monorail from its station at the Seattle Center to Westlake Center, or vice versa.
On our first trip, we got to Pike Place Market early to catch early bird pricing at the market parking garage, explored the market in the morning, and then walked to Westlake Center to catch a monorail ride to the Seattle Center area for some afternoon sightseeing.
When we were done in that neighborhood, we rode the monorail back to Westlake Center, and walked back to the market garage to retrieve the car.
Much cheaper than ubering from neighborhood to neighborhood and much faster than walking.
The monorail station is on the 3rd floor of the Westlake Center mall. Hard-to-miss signs direct you where to go from the ground floor.
At the Seattle Center, the monorail passes through the Museum of Pop Culture and ends at a station just steps from the Space Needle and other area attractions.
Waterfront
Pike Place Market
This is usually the first place that comes to mind when you ask someone what to see in downtown Seattle. Pike Place Market is a Seattle institution.
You can spend hours here walking around all the stalls, shopping and eating your way through the market. Flowers, crafts, fresh seafood, books, art, delicious desserts, and more await!
The famous Gum Wall is here as well as the contentious "first" Starbucks location. Personally, I think the gum wall is gross and I don't like coffee, so we didn't stop at either of these!
But some people would consider that blasphemy, so here's your reminder that these spots are located at Pike Place Market.
Pro Tip: Unless you're a diehard Starbucks fan that wants the merch sold only at the Pike Place location (why is that a thing?), don't wait in that outrageously long line for a coffee.

There are numerous other places around to get a coffee that don't have the ridiculous wait, including another (newer) Starbucks just a few blocks away.
Pike Place Fish in the Main Arcade is another popular stop for tourists visiting Pike Place Market. These are the guys that throw the fish. Do you know how slippery fish are? They never drop them. It's impressive.
I'm sure you've seen the videos. If not, you should see it for yourself. They throw fish anytime someone buys a fish, and occasionally they throw fish just for the tourists. It's a fun 2 minute stop!
You can spend as little time or as long as you want browsing the market. Just stopping for the touristy pictures (Gum Wall, Starbucks, throwing fish, Pike Place Market signs) will take 30 minutes or so.
Eat at Ivar's
While Pike Place has a ton of places to eat, we recommend leaving the market and walking down to Ivar's for a fun lunch! There are two Ivar's eateries in one spot on Pier 54: the Fish Bar and Acres of Clams.
Ivar's Fish Bar is a quick-eats, counter-serve spot with outdoor seating where you're encouraged to feed fries to the seagulls! Kids LOVE this lunch spot, as well as wildlife-loving adults.
If you prefer to not have to guard your fish and chips and clam chowder from entitled birds, opt for the enclosed patio for eating. Then, take your fries basket outside and sit for a bit while you feed the gulls.
If you prefer a more traditional sit-down environment, Ivar's Acres of Clams is for you. The flagship restaurant has the full menu and indoor and outdoor seating, perfect for whiling away a delicious meal with friends or family.
Seattle Great Wheel
Another way to see the city from up high, the Seattle Great Wheel is similar to the London Eye.
Enclosed capsules are heated/cooled and can hold up to 8 people (or 1300lbs).
If they're not busy, they generally load groups in their own cabin. But as lines get long in peak season, they'll load small groups together to fill and balance the wheel.
Enjoy three full revolutions around the wheel, a 10-20 minute ride depending on the season, while you take tons of pictures of the city and the sound.
Tickets are general admission with no specific date or time reservation. They're actually valid for a year from purchase. Super helpful when you consider Seattle's finicky weather!
If the morning fog hasn't burned off yet, you can always try again later. If the line is too long for your liking, come back another day or time.
Other Sights By Themselves
Kerry Park
This tiny park in the hilly Queen Anne neighborhood has amazing views of the downtown Seattle skyline. On a good, clear day, you can see Mt Rainier in the distance, too!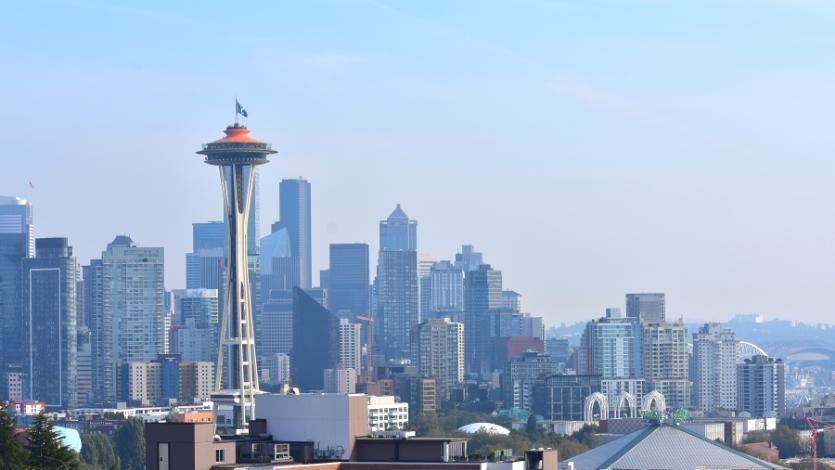 Shutterbugs should include a brief stop here. Spend as little as 5 minutes to get the iconic photo, or wait out sunset to get all the colors and then evening views as the city lights come on.
It's a great view for a photo, but there's not much else to do here.
Benches line the upper park so you can sit while you watch the sunset, if you're lucky enough to snag one. Down the hill is a small playground for little kids.
Keep in mind, this is a small neighborhood park. There's no parking lot, just on-street parking, and it gets busy at sunset. Be patient and obey all signs when finding a place to park.
The Fremont Troll
From Kerry Park, keep heading north away from downtown Seattle and you'll find the Fremont Troll lurking under the Aurora Avenue Bridge near Lake Union.
This reinforced concrete sculpture has become quite the popular tourist spot since its creation in the late 1990s by three local artists.
The troll appears to be coming out of the ground beneath the bridge with just a head, arms, and upper torso. It's 18ft tall, has a metal eye, and is holding a VW Beetle in its left hand like a plaything.
It's another small neighborhood park-type area. It's all on-street parking, and you are literally underneath the freeway bridge. Expect to hear traffic noise above you.
It's a quick, 5-10 minute stop for a picture. We'd recommend fitting it into your schedule on your way to somewhere else, or at the beginning or end of your day. Several local restaurants nearby may help persuade you to visit.
More Things to Do in Seattle with More Time
If you have a full 24 hours in Seattle, maybe you have more time to explore downtown. All of these additional areas and attractions can be swapped in to your 1 day itinerary as you wish.
Pioneer Square
The historic heart of Seattle, Pioneer Square was Seattle's first neighborhood and today the area tells the city's history.
At Pioneer Square Park, see the tall Tlingit totem pole and bust of Chief Seattle. Admire the old light posts and maybe join an Underground Seattle tour.
For more Seattle history, visit the free Klondike Gold Rush National Historical Park. The visitor center museum showcases artifacts and information from the 1890s influx of settlers.
Occidental Square is a bigger, tree-lined square in the district. The Smith Tower is worth a minute to gawk at, and there's always an event going on in this neighborhood. Try an art walk, small business shopping, or attend a festival.
Seattle Center
The Seattle Center area has a ton of museums, too many to visit them all in one day, but know that you have options!
The Museum of Pop Culture (MoPOP), Seattle Children's Museum, Pacific Science Center, and Climate Pledge Arena are all also in this area near the Space Needle and Chihuly museum.
Perhaps you're more interested in science than art. Or maybe heights aren't in your wheelhouse and you'd rather explore pop culture. Cool; go for it! Do what makes you happy on vacation!
Downtown & Waterfront
The Seattle Art Museum isn't far from Pike Place Market. A less than 5 minute walk will have you at the door and enjoying art exhibits in no time.
On the waterfront, the Seattle Aquarium is a solid way to spend a few hours in this naturally rich ecosystem or a harbor boat tour is fun when the weather cooperates.
Both of these areas are full of shopping and dining as well.
Attend a Sporting Event: Mariners, Sounders, Seahawks, Kraken
Seattle has more than its fair share of professional sports teams. The NFL, MLB, MLS, and NHL all have teams here. By far, though, our favorite sports team's name is the Kraken! That's just too awesome!
Spending an evening at Lumen Field or T-Mobile Park or Climate Pledge Arena is not a bad way to end a day. All the museums and tourist sites have closed for the day. Go relax at a game!
Even if you're not typically a sports fan, attending a sports game and cheering for the home team is a fun way to experience a new city.
It doesn't matter if you don't know all the rules. Cheer when the home team scores, and you'll fit right in!
How to Get Around Seattle
A car is helpful for those out of the way spots, but you can walk or take public transit to most of the big sights in downtown Seattle.
We recommend having a plan: park the car in a garage and leave it there all day while you walk or use public transit to get around downtown, the waterfront, the Seattle Center, and Pioneer Square. Then come back for the car and do all the one-off spots in the afternoon.
Rideshares are good for short distances downtown, but it's almost always cheaper to take public transit especially if you need a rideshare more than once.
Tours can also be a good way to get around town. Let a local guide you or use a hop on, hop off bus tour to easily access the must-see spots around Seattle.
---
---
Will You Take a Day in Seattle to Explore?
Whether you've got just a few hours or a full day, we definitely recommend you take a day to explore Seattle.
This vibrant city packs a punch, and it's easy to experience a lot in a little amount of time!
More Seattle Area Resources
Happy travels!
Share it!