The United States is huge, but it can still be difficult to avoid other people when planning a vacation.
For instance, how do you plan a road trip in the eastern US without running into huge crowds? Go during shoulder season and pick outdoor activities.
Try this one-week road trip itinerary that loops through six states: North Carolina, Virginia, West Virginia, Maryland, Pennsylvania, and Ohio!
---
This post may contain affiliate links. As an Amazon Associate and associate of other programs, I earn from qualifying purchases. This means if you click a link and make a purchase, I may earn a small commission at no extra cost to you.
---
Why Road Trips are Awesome
Number one reason: they're cheap! Long loved by budget travelers, road trips are good low-cost vacation options.
The 3 biggest costs for vacation are transportation, lodging, and food.
Paying for gas for your car is cheaper than paying to fly somewhere.
Car camping is on the rise and can eliminate the need to find a hotel.
Buy groceries and snacks ahead of time and bring it all with you on the road trip so you don't have to order out every night.
Now of course, if your goal is New York and you live in California, it is cheaper to fly there than to road trip across the country.
But that would be an epic bucket list road trip if you did!
Generally, if I'm within an 8-hour driving distance, I'm not paying to fly. That's my convenience cut off.
This point varies from person to person, and sometimes with circumstances, but it's a good rule of thumb.
Another bonus to road trips is the scenery. This again can vary due to location but more often than not you will see something else cool from the road that you had no idea was there.
Discover many beautiful rivers and waterfalls while driving through the mountains of Virginia, West Virginia, and North Carolina.
And soon, taking a road trip will be a zero-emission activity!
Electric vehicles and charging stations are on the rise. It takes a bit more planning to take an electric vehicle road trip right now, but it's going to get easier over the next decade.
---
---
Epic Eastern US Road Trip Itinerary: 6 States in 8 Days
Planning is super stressful for some people, so steal this itinerary and take the guess work out of trip planning! Find dates that work for you and just go!
Join this itinerary at any point and make a loop that suits your needs. In our case, we were starting and ending in South Carolina.
This itinerary purposefully chose outdoor sightseeing, with a couple exceptions, and usually a National Park Service (NPS) site.
It also has a strong emphasis on mountains and Civil War history, due to the part of the country it explores.
Steal this One Week Eastern US Road Trip Itinerary
Pre-travel (explained in details below)
Virginia
Virginia
West Virginia & Maryland
Pennsylvania
Ohio
West Virginia
North Carolina
North Carolina
Road Trip Style: Go Go Go or Leisurely Stroll?
Everyone travels a little differently. I'm a go-go-go person that likes to see A LOT on my trips.
Many people are the opposite, preferring to relax in one place. On a road trip, the difference is how many sights are on the to-see list.
This road trip itinerary is a compromise of these two styles. It includes a lot to see, but never requires a drive longer than 4 hours between destinations.
Top 5 Road Trip Survival Tips
Plan longer drives for evenings. It's dark outside, nothing is open, and if you were in a hotel, you'd just be watching TV. Take advantage of those lost hours for breaking up long drive times.
Book what you can ahead of time, but stay flexible. Places with timed entries should be booked about a month before your trip so you don't miss out. But be realistic when planning other sightseeing activities around a timed entry.
Pro Tip: This itinerary already takes into account realistic travel times for timed entry locations. Follow the guidelines in the details below and don't worry about missing a timed entry.
Bring all the snacks, and don't forget drinks! Avoid rearranging your schedule around meal times by bringing the food with you in the car. Eat lunch in your car or at a park picnic table.
Bring several hours' worth of music or several audio books. Whichever one doesn't lull you to sleep is the one to bring. For reference, the entire Hamilton soundtrack is a good 2.5 hours of listening time and a typical audio book is 3-4 hours.
Take turns driving. A good system is 2 hours or so per driver before switching. Remember, most destinations shouldn't be much more than 2 hours apart. And don't take half an hour to switch drivers. Pull into the first parking lot you see, and don't even turn off the car. You'll be back on the road in 5 minutes or less.
What to See: Detailed Eastern US Road Trip Itinerary
Day 0: Getting to the Start
I call this Day 0 because it's not supposed to come out of your PTO/vacation time. This is an often-overlooked travel hack for extending your vacation time.
Day 0 is the day before you want to start seeing stuff. Leave home right after you finish work for the day, and then drive part or all of the way to your first sightseeing opportunity.
In our case, we drove 4 hours from home to Greensboro, NC which gave us a reasonable 2 hour drive the next morning to our first stop at Appomattox Court House. We saved a half day of vacation time that would otherwise have been wasted in the car, not seeing anything.
Day 1: Virginia
Today is the official start of the trip! Let's divide it into two halves: morning at Appomattox Court House and afternoon at Monticello.
Start at Appomattox Court House National Historic Park, opening as early as 9AM. Explore the main park area with all the buildings, hike some trails, and take lots of pictures.
Suggested Sights
McLean House, surrender site ending the American Civil War
Chamberlain-Gordon Salute point, near the Peers House
Confederate Cemetery, small cemetery and battery cannon
Ask a Park Ranger for their favorite trail and go on that one. Most trails here are 1 mile or less and easy terrain.
Leave around noon or 1PM so you have time to drive 1.25 hours to Monticello.
Important: Schedule your Monticello house timed entry for 3PM or later.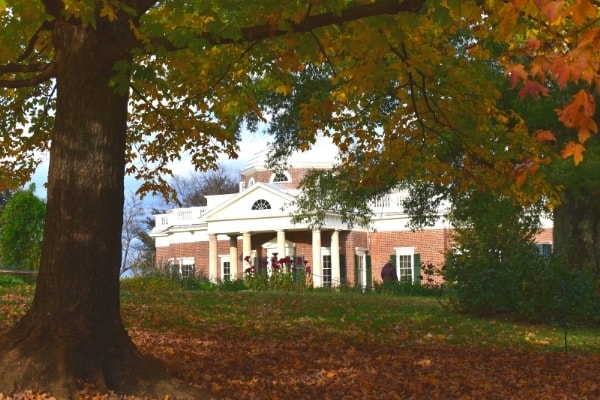 Suggested Sights
Tour the House. Filled to the brim with historical artifacts collected by Jefferson himself.
Take a private tour to see the iconic Dome Room or catch one of the other guided tours.
Stroll the grounds. Jefferson loved plants and experimented with crops.
Walk down the Mountain and see Thomas Jefferson's grave. The family plot is still in use by his descendants
Important: Prices for the Private House Tour to see the Dome Room jumped due to COVID restrictions on number of people allowed in the house.

If you can bring the maximum number of people allowed per group, then it's a fair price per person. If you can only bring 2 people on a tour meant for 5 people, you are overpaying. This will likely go back to normal in the future.
Overnight: Waynesboro or Charlottesville
Try the Holiday Inn Express & Suites – Waynesboro – Route 340. Breakfast included!
Day 2: Virginia
Explore Shenandoah National Park today. Drive south to north along Skyline Drive, beginning at the Rockfish Gap entrance station and ending at the Front Royal entrance station.
Note: this park has an entrance fee per vehicle.
We highly recommend getting an America the Beautiful Annual National Park Pass. They'll save you lots of money if you're a fan of parks!
Suggested Sights
Drive the entirety of Skyline Drive. This will take you all day, and it is glorious.
Explore overlooks. Some of my favorites were Moormans River, Old Rag, and Hazel Mountain.
Hike. The main reason to visit Shenandoah. Some short and easy hikes to consider: Blackrock Summit, Bearfence Viewpoint, Dark Hollow Falls (always busy), or Little Stony Man.
If you did today correctly, you won't reach the north end of the park until sunset. Enjoy the last views of beautiful Shenandoah!
Overnight: Front Royal, VA or Charles Town, WV
We stayed in Charles Town at the Hampton Inn & Suites Charles Town.
Day 3: West Virginia AM & Maryland PM
Depending which town you chose to overnight in, you may need to drive an hour or just 15 minutes to Harpers Ferry National Historical Park.
Note: this park has an entrance fee (or is covered by an annual pass)
Pro Tip: In peak season, you won't be able to park in the town area near the river and all the attractions. Navigate to the park's Visitor Center instead, where you can park and have a free shuttle bus transport you downtown.

Alternatively, you can walk from the visitor center!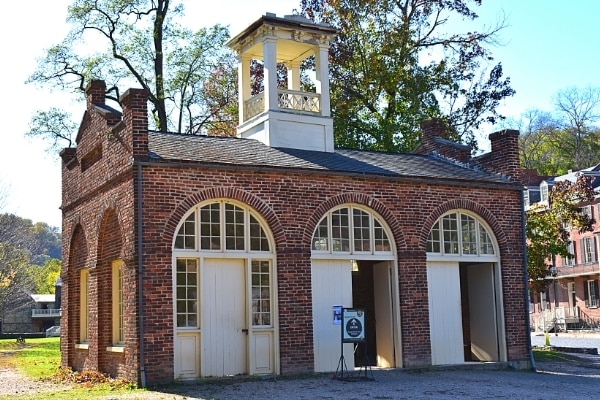 Suggested Sights
See downtown: the Visitor Center, John Brown's Fort, Storer College, & Meriwether Lewis' place (of Lewis and Clark fame) were all cool to see.
Hike up to Jefferson's Rock, passing St. Peter's Church on the way. Trust me. It is steep but there are stairs, and the views are worth it. (This is also part of the Appalachian Trail!)
See the confluence of the Potomac and Shenandoah Rivers at the Point.
Cross the bridge and continue along the C&O Canal Towpath.
Hike the Maryland Heights for some stunning views of Harpers Ferry from above.
Finish up exploring around noon or 1PM, and then head 30 minutes north to Antietam National Battlefield.
Don't get this confused with the town of Antietam. The battlefield is actually located just outside of the town of Sharpsburg, MD.
Suggested Sights
Start at the visitor center to get a map.
Follow the Antietam Battlefield auto tour.
Climb the Observation Tower at Bloody Lane.
Take all the pictures!
Overnight: drive an hour north to Gettysburg, PA
We stayed at the Hampton Inn Gettysburg on the northeast side of town. There's also a Holiday Inn Express & Suites Gettysburg on the southeast side by the outlet mall.
Day 4: Pennsylvania
First you must understand: Gettysburg National Military Park is HUGE.
Second thing to understand: the battlefield is not the only thing to see in Gettysburg, PA.
The town is absolutely stuffed with museums and history centered on this pivotal Civil War battle. Also, President Eisenhower happened to have a farm nearby, so there's yet another NPS site that's right next to the battlefield.
If you want to see and do everything here, you need more than one day.
For purposes of this road trip, we're taking a long half day here. Yes, that's rushed but it's also in keeping with this road trip's goal of staying away from other people.
This leaves enough time to see the Visitor Center Museum and the Battlefield Auto Tour if you start as soon as they open and don't linger too long in either the museum or any of the stops on the tour.
Suggested Sights
Start at the Visitor Center.
See the Museum.
Follow the Auto Tour and watch the videos on the NPS site.
Take enough pictures to fill up an entire SD card.
Finish the tour at the Gettysburg National Cemetery.
When you need to leave Gettysburg will depend on what season you are visiting. Summer has more daylight but winter sunset can sneak up on you. In the winter, leave by 2PM at the very latest.
Drive 2.5 hours west to the Flight 93 National Memorial in rural Pennsylvania.
You'll just barely catch sunset at the memorial if you arrive at 4:30PM in the winter. There's not a lot to see at the Memorial, but if you want to see the exhibits I recommend you leave Gettysburg a little earlier.
Overnight: To save drive time in the morning, I recommend you drive to Youngstown, OH to overnight, about a 2.5 hour drive from the Flight 93 Memorial. The farther you drive tonight, the more time you can spend in the national park tomorrow.
We stayed at the Hampton Inn & Suites Youngstown/Canfield because it was so close to food and to I-76.
Day 5: Ohio
I forced this day into the road trip itinerary because I needed to check off Cuyahoga Valley National Park from my bucket list, and I'm unlikely to be very near here in the future.
I'm so glad I kept this in the itinerary! This is a beautiful park with lots of easy hikes, waterfalls, and nature to photograph.
Check out this detailed account of what to do in Cuyahoga Valley National Park on your first visit. The short version for this road trip itinerary is listed below.
Suggested Sights
Start at the Boston Mill Visitor Center.
Visit Brandywine Falls.
Hike The Ledges.
See the Everett Covered Bridge.
Walk the Towpath Trail. Park at the Ira Trailhead and walk north (left) to the Beaver Marsh.
Overnight: Drive south 3.5 hours to Charleston, WV.
We stayed in the middle of downtown at the Holiday Inn Express Charleston – Civic Center. We didn't have any time to look around here, though, so you could stay further out, if that's your preference.
Day 6: West Virginia
We skipped exploring Charleston (just for now; we'll be back sometime!) and drove an hour to the New River Gorge Bridge on US 19 near Lansing, WV.
New River Gorge was just upgraded to a National Park in December 2020! The bridge is the world's fourth longest single span arch bridge, but the park is all about the New River and amazing hikes along the bluffs.
Did you know? This bridge is so popular it has its own Bridge Day Festival every October. Extreme sports enthusiasts (and bridge enthusiasts!) won't want to miss it.
Suggested Sights
Start at the Canyon Rim Visitor Center.
Walk down the wooden stairs to the bridge overlook.
Drive the Fayette Station Road route. The original route to cross the river prior to the New River Gorge Bridge being built in the 1970s. Some really cool views as you take this winding route down and back up the gorge.
Leave around noon and drive 1.5 hours southeast, through winding mountain roads, to The Greenbrier Resort in White Sulphur Springs, WV.
Shoot for a timed entry for The Greenbrier Bunker Tour at 2:00PM or later. When you call to schedule your bunker tour, the concierge will give you all the details for how to get there.
If you're not a guest at the resort, they ask you to park at the Train Depot across the street from the resort entrance, and then call the shuttle which will then come retrieve you.
This is a jaw-dropping luxury resort. Doormen, valets, luggage attendants, the whole nine yards.
You may want to dress a little nicer, but it's not required. Totally up to you and your comfort level. I visited in jeans and a plain t-shirt under a zip-up jacket.
Suggested Sights
The Bunker Tour. 90 minutes and very cool. Those blast doors though! No photography allowed inside the bunker, but you do receive complimentary postcards at the end of the tour.
Wander around the hotel common spaces and take lots of pictures. The décor here is something else!
Overnight: Drive 4 hours southwest to overnight in Boone, NC.
We stayed at the Holiday Inn Express Boone on the southeast side of town, away from the college campus.
Day 7: North Carolina
Boone, NC is a destination in its own right. Home to Appalachian State University, there's a distinct college vibe here.
However, at the risk of sounding like a broken record, this road trip is meant for staying away from people.
Suggested Sights
Check out the Hickory Ridge History Museum. Tours of 5 original mountain log cabins with insight into how colonials settled the area.
Order cookies from the Appalachian Cookie Company. Your taste buds will thank me.
Drive down King Street in Boone. Stop if you dare. It will always be busy.
Drive 15 minutes to Blowing Rock, NC, home of The Blowing Rock attraction.
>> Unpopular Opinion Time <<
Honestly, the Blowing Rock was pretty underwhelming. Unless you visit on a day when you can see the funny physics, this isn't worth much of your time.
The story is cute, but we did not stay long. Since it wasn't a good day for floating leaves, we were essentially just paying to see mountain views we could see for free from nearby Blue Ridge Parkway.
The town of Blowing Rock has plenty of other things to see and do, but we weren't comfortable with the crowds during the pandemic and didn't stop here.
From town, catch the Blue Ridge Parkway and go for a drive. There are many stunning overlooks and places to take a quick hike right off of the Parkway. Here are some recommendations:
Moses Cone Memorial Park. Fancy home with tours and lots of hiking trails to mountain lakes.
Rough Ridge Overlook & Hike. See the Linn Cove Viaduct from above. Great Views!
Beacon Heights Overlook & Hike. More amazing mountain views after a short hike.
Linville Falls. Small Visitor Center with restrooms! Take a short hike to see the waterfall. Recommend hiking Erwin's Trail to the Upper Falls Overlook as your first stop.
We also recommend these useful tips to know before driving Blue Ridge Parkway. It answers important questions like "Where are the gas stations?" and "Where the heck can I find a restaurant?"
Spoilers: no gas and very few places to eat on the parkway.
Overnight: Lodging is scarce in the mountains so book ahead if you'd like to stay in one of the small towns like Little Switzerland. Alternatively, drive an hour (you'll leave the parkway) to overnight in Asheville which has many lodging options.
Our favorite place to stay in Asheville, just minutes from Blue Ridge Parkway, the Biltmore Estate, and downtown Asheville, is the Holiday Inn & Suites Asheville – Biltmore Village Area.
No, it does not have complimentary breakfast, which is usually mandatory for us, but there is a restaurant in the hotel and tons of restaurants nearby, including a Starbucks and the fanciest McDonald's you've ever seen in your life.
Day 8: North Carolina
If you overnight in Asheville, start at the Biltmore Estate in the morning and see Mt Mitchell in the afternoon. If you stayed in the mountains, then do these in reverse.
Suggested Sights
See the Biltmore House at your ticketed time. If it's your first visit, get the audio tour. The House will take about 2 hours.
Explore the Biltmore Gardens. 100% at least go as far as the Conservatory in the walled garden. The Bass Pond and waterfall are cool to see if it's nice weather for a stroll. Here is a more detailed guide for what to see in the Biltmore gardens depending on the time of year.
Stop at the Lagoon, right next to the French Broad River, for a reflection of the House in the water.
Visit the winery at Antler Hill Village for your complimentary wine tasting.
Drive an hour east into the mountains to Mt Mitchell State Park.
Drive to the summit parking lot and hike a short summit trail to the highest peak east of the Mississippi River!
---
Wrapping Up
From here, we returned home to South Carolina, completing our road trip loop of 6 states in 8 days and one incredible adventure to boot!
Exploring the outdoors, away from others, was such a peaceful experience, and we enjoyed seeing all the historical sites associated with the Civil War. All in all, a successful road trip!
If you have more time, add on a day to explore Asheville, NC. There are plenty of cheap and free things to do in Asheville for families, couples, or solo travelers.
---
---
Enjoy this Eastern US road trip itinerary, exploring Civil War history and stunning national parks with mountain vistas!
Happy Travels!
Share it!