Asheville, North Carolina is a must-see mountain escape in the southeast USA. The cool mountain air, eclectic art scene, and the just-right sized city combine for some spectacular scenery and a fun vibe. Asheville is perfect for a long weekend getaway!
---
This post may contain affiliate links. As an Amazon Associate and associate of other programs, I earn from qualifying purchases. This means if you click a link and make a purchase, I may earn a small commission at no extra cost to you.
---
Free, Cheap, & Luxury Things to Do in Asheville, NC
Exploring Asheville, NC is a popular long weekend activity for pretty much anyone that lives within a 4 hour radius of the city. (Hello, that's us!)
While there are plenty of things to do in Charleston, we also enjoy escaping to the mountains every now and then.
Temperatures are always cooler in Asheville than on the coast, so it's the perfect excuse.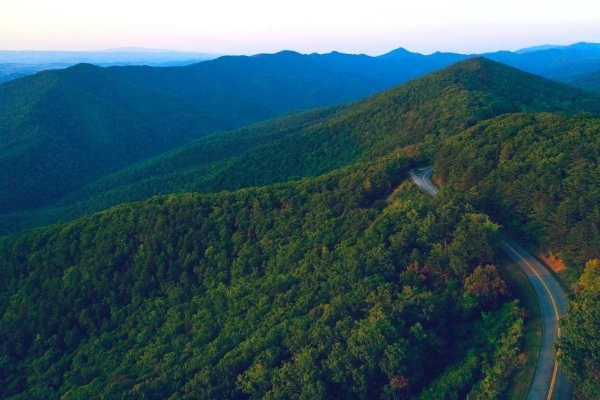 We've collected 16 of our favorite things to do in Asheville, a first timer's guide to Asheville, if you will.
Half of these must-do activities in Asheville are FREE! The rest are ranked as follows:
$= $10 or less per person
$$ = between $10 and $39 per person
$$$ = $40 or more per person
---

---
1. Float down a river.
$$
Nothing like drifting down a chill river on a hot summer day and enjoying some drinks and laughs!
Gather your group or just your favorite person and go for a lazy float.
Zen Tubing or French Broad Outfitters or Sky Tubing can all hook you up.
Don't forget to reserve a tube for the cooler! And bring plenty of sun protection.
Zen Tubing has two locations, one more urban and one more nature. Pick your favorite.
Sky Tubing has a 16 passenger van that can pick up your group at no extra charge. That's good service for big groups!
Looking for something more active than just a float?
French Broad Outfitters has tubes but also kayaks, canoes, and standup paddleboards (SUP) for rent, as well as general camping needs and disc golf equipment.
Asheville Outdoor Center has kayaks, canoes, SUP, rafts, and tubes.
Important: AOC shuttles all the boats, but does not shuttle the tubes. You walk your tube a mile up river and then get in for a float back to the beginning.
The bonus though: you can float as many times as you want if you get the full day ticket.
2. Drink a brew or two or three…
$$, because you have to try them all
Asheville frequently tops the list for most breweries per capita in the US.
(It's been going back and forth between Asheville and Portland, Maine for a few years now.)
If craft brews are your thing, Asheville has got you covered, my friend. Try a different brewery every night, or go on a crawl for maximum exposure.
Asheville Brewery Tours will set it up for you, or try a self-guided brewery tour.
3. See gorgeous architecture downtown.
~FREE~
Asheville was really coming into its own in the 1920s and the amazing architectural details took over the downtown cityscape.
When the Great Depression hit in the 1930s, the city was thrown into massive debt but determined to pay it back.
This consumed the city's budget for the next 40 years.
Asheville never had the money to demolish and build new as styles changed through the decades. Buildings had to be refurbished and repurposed.
The result is a fantastically preserved city dominated by 1920s architecture.
Check out this free Architecture Trail map and spend an afternoon photographing these jewels of the twenties!
4. Shop at a local bookstore.
$-$$, depends how many you buy
Book nerds rejoice! Support local and independent stores!
There are some cool shops to choose from, all within walking distance of each other in downtown Asheville.
I spent an afternoon wandering from bookstore to bookstore. It was a most glorious afternoon!
Malaprop's Bookstore & Café was the first place I encountered a "blind date with a book" section.
Books are wrapped in brown paper with a list of adjectives on the cover. Make a selection and buy it, title unseen!
Trust me: take a chance on a new book! Titles are staff picks or popular novels.
And yes, the title will be on your receipt. Exchange it for another blind date if you already own or have read the one you just bought.
Another great local bookstore is the Battery Park Book Exchange and Champagne Bar. Sip wine or champagne while you peruse the shelves.
Thousands of used books await and all in good condition. Don't miss the upstairs for the travel section!
Still in the mood for more books? Check out The Captain's Bookshelf if you like to dig for buried treasure or Downtown Books and News for another blind date section or custom grab bag.
5. Visit the Thomas Wolfe Memorial.
$
One of Asheville's most famous residents, author Thomas Wolfe was born and raised in Asheville.
His popular novel Look Homeward, Angel was based on his life and put his hometown on the map for many.
See his mother's boarding house Old Kentucky Home, where he spent part of his childhood and became the basis for Dixieland in his novels.
This is an affordable and short tour with amusing anecdotes the whole way.
It's also funny to see this Victorian home surrounded by multi-story concrete hotels and office buildings.
It's truly a historical gem in the heart of the city.
6. Attend a minor league baseball game.
$-$$
Give your feet a break after hiking or walking around Asheville. Go to a Tourists game!
Minor league is more laid back and cheaper to attend than the majors, so it's a win-win.
McCormick Field has some covered seating, so don't let a light rain stop you!
Section KK is the family-friendly section with a strict no alcohol policy so everyone can have a good time.
Don't forget to snap a pic with mascots Mr. Moon and Ted E. Tourist!
7. See some art.
~FREE~
The River Arts District is an eclectic and fun area along the French Broad River that houses hundreds of artists of every medium.
Grab their free map and go see it all. If you get hungry, there are some top-notch eateries in the district.
Visit on any Second Saturday or Studio Stroll Weekend in the fall for open workshops and free exhibitions.
There's even a free trolley service to help you get around the district!
8. Drive the Blue Ridge Parkway.
~FREE~
The scenic Blue Ridge Parkway passes through the Asheville area, and extends from Great Smoky Mountains National Park on the border of Tennessee and North Carolina all the way up to Shenandoah National Park in Virginia.
Phenomenal mountain scenery the entire way!
While you're staying in Asheville, get a taste for the Parkway and drive a section.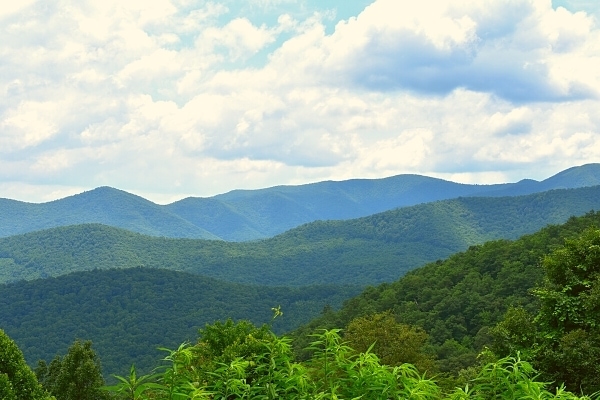 Meant for you to slow down and enjoy the views, Blue Ridge Parkway is not a quick way to get anywhere.
Max speed limit is 45 mph, and these are curvy mountain roads and tunnels.
If you get tired of being in the car, pull over and take a walk at one of the roadside stops, trails, or visitor's centers.
This route is particularly popular during the fall and leaf-peeping season. (Isn't that a fantastic term?)
Be patient during this time of year when more vehicles are on the road.
9. Climb Mt Mitchell.
~FREE~
Not strictly in Asheville, Mt Mitchell is only an hour's drive east and is the tallest peak east of the Mississippi River.
Check out North Carolina's Mount Mitchell State Park for hiking trails in the area.
Alternatively, Blue Ridge Parkway has an overlook for stunning views before your ascent.
Drive to the top of Mt Mitchell, stroll through the museum, and eat lunch while taking in amazing mountain views.
There are several hikes in the area, most of moderate difficulty.
The Mountains-to-Sea Trail passes through the park, for anyone wanting to hike from the Smoky Mountains out to North Carolina's Outer Banks.
10. Stay at (or just visit) the Grove Park Inn.
$$$ Significantly not free (or ~FREE~ to visit)
Fancy and full of history, this hotel has some seriously great views of the Blue Ridge Mountains!
Grove Park Inn has been around for more than a century and continues to delight guests with its mountain lodge feel.
The author F. Scott Fitzgerald made this hotel his home for a while, not to mention several presidents, actors, and other notable guests.
You can stay in Fitzgerald's rooms (441 and 443) but be warned: they face the hotel drive, not the mountains.
There's a yearly Fitzgerald celebration around his birthday, September 24.
If literature isn't your style, the National Gingerbread House Competition is held here in November.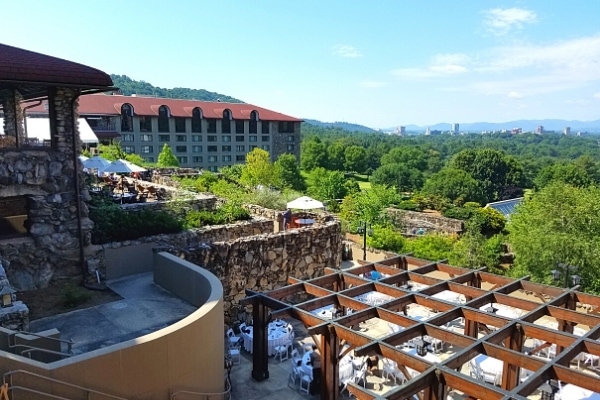 Real talk: The hotel is not downtown (but not far away) and has a price tag to match all the fancy.

Lots of amenities though: four restaurants, two separate shopping areas, an 18-hole golf course, indoor and outdoor tennis courts and pools, and a subterranean spa. Save up for a splurge weekend getaway!
If a stay isn't in your budget, walking through the hotel is free and you still enjoy the grandeur and the views.
The lobby is impeccably furnished and features two enormous fireplaces on either end of the room. The views of the mountains from the terrace are spectacular, especially at sunset.
11. Visit Grovewood Village.
~FREE~
While you're at the Grove Park Inn, don't miss historic Grovewood Village right next door!
These buildings originally housed the Biltmore Industries weaving and woodworking businesses.
Today they house private workshops for artists and the Grovewood Gallery where you can purchase unique items.
Two free museums are on the far end away from the road, closest to the parking lot: the Biltmore Industries Homespun Museum and the Antique Car Museum.
A free guided tour of the area and the normally closed to the public Dye House is available April – November at 1 PM on a first-come, first-served basis.
You can't beat free, but bring a tip for your good-natured guide!
12. Visit Great Smoky Mountains National Park.
~FREE~
If you also have a bucket list to visit all the US National Parks, here's a free one!
While I don't mind supporting these important natural sites with a small entrance fee, it is nice when the free ones come along.
Get your National Parks passport stamped at the visitor's center!
As a person who loves lists, I really need to get one of these National Parks passports. The stamps at every park are free!
Gatlinburg, TN usually gets all the credit for this park, but Great Smoky Mountains National Park resides in both Tennessee and North Carolina.
The national park's southern entrance at the Oconaluftee Visitor Center is only an hour from Asheville.
Clingman's Dome is the highest point in the park (3rd highest peak east of the Mississippi River) and a 1.5 hour drive from Asheville.
Clear days yield expansive views from this popular hike, but often you'll see firsthand why these mountains are called the Great Smoky Mountains.
Waterfall hikes are another great activity to try in the Smoky Mountains.
There are a lot of waterfalls to see in this scenic part of the world: some by hiking, some by an easy walk, and even some from your car!
13. Explore the North Carolina Arboretum.
$ (price per car)
Wander through the Arboretum's beautiful botanical gardens and enjoy the blooms of the season.
If you're not interested in flowers, the bonsai garden alone is worth a visit!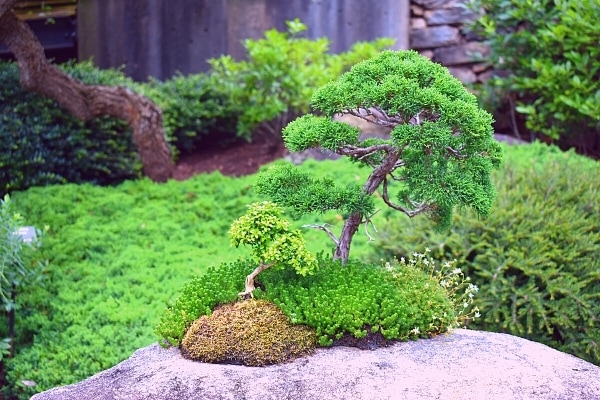 There is a parking fee, but otherwise free admission to all gardens, trails, and buildings.
Some garden shops and a little café are available if you need a break.
Hiking and biking trails cover the property as well, from easy to moderate to difficult.
14. Spend some down time at an arcade.
$-$$$, depending which activities you choose
Arcades are making a comeback country-wide, and Asheville is no exception.
Located downtown, the Asheville Pinball Museum is more arcade than museum, but does have informational displays for each of its machines.
A $15 admission gets you unlimited plays on all 80 machines.
Asheville Retrocade is on the west side of town and has a full bar and hundreds of games to choose from.
Arcade games, skeeball, DDR, new consoles, even billiards, foosball, and pinball! Your $10 admission is good all day for unlimited games! Family friendly until 9PM; 21+ until 2AM!
Try Asheville's Fun Depot for mini golf, go-karts, or laser tag in a family-friendly atmosphere.
Packages vary based on what activities you want to do, but they have it all, including a rock climbing wall and an arcade.
15. Watch fireworks from Pack Square Park.
~FREE~
Visit over Fourth of July and watch the fireworks from Pack Square Park. Bring a chair or blanket, but get there early.
It's the fireworks watching spot in downtown Asheville. This is a nice space no matter what time of year you visit.
Pro tip: Eat lunch at Pack's Tavern. Your taste buds will thank me.
16. Chase waterfalls.
~FREE~
When in the mountains, always look for waterfalls! Asheville is prime waterfall-chasing territory, tucked into the Blue Ridge Mountains and surrounded by national forests and state parks.
These typically aren't signed well, so you'll want to know where you're going before heading out.
Plan out your route ahead of time. Here and here can help you pick your favorites and gauge how long you'll be adventuring.
Some waterfalls are easier to get to than others. Some are viewable without getting out of the car; others are a short walk down from the road.
The elusive ones require a bit of a hike to reach, but you rarely have crowds to compete with at these falls.
---

---
What This Asheville List Ignores: The Elephant in the Room
While the Biltmore Estate is also in Asheville, touring an amazing fancy mansion and gorgeous gardens is not on everyone's to do list.
And it's certainly not cheap. (But can be done on a budget!)
Here's more information if you are interested in visiting the Biltmore:
More Biltmore Travel Resources
More Western North Carolina Travel Ideas
Happy Travels!
Save it!