Great Smoky Mountains National Park is the most visited national park in the United States, and the Laurel Falls Trail is the most popular waterfall hike in the park.
This beautiful, tiered, 80ft tall waterfall is everything you want in a waterfall, but you gotta hike to see it! Don't worry. You can sit and rest for a bit at the top (we did) while you get some great pictures.
Here's everything you need to know about the Laurel Falls Trail near Gatlinburg.
---
This post may contain affiliate links. As an Amazon Associate and associate of other programs, I earn from qualifying purchases. This means if you click a link and make a purchase, I may earn a small commission at no extra cost to you.
---
Where is the Laurel Falls Trail?
Laurel Falls is on the north side of Great Smoky Mountains National Park, just 20 minutes from downtown Gatlinburg, TN.
If you're coming from Knoxville or the Cades Cove section of the park, it's only 30 minutes down Little River Gorge Road from the Townsend Wye intersection. About a mile west of the Laurel Falls Trailhead, Little River Gorge Road turns into Fighting Creek Gap Road.
The closest National Park Service (NPS) visitor center is Sugarlands, 4 miles or 10 minutes west from the Laurel Falls Trailhead.
>> Don't get this Laurel Falls confused with Laurel Falls in Hampton, TN. Two very different waterfalls. We're discussing the one near Gatlinburg in Great Smoky Mountains National Park. <<
Brief History of Laurel Falls
Laurel Falls gets its name from the mountain laurel bushes that surround the falls. Visit in late spring, around May, and the mountain laurel blooms will be a stunning addition to your waterfall photographs!
The Laurel Falls trail was originally a fire access route for Cove Mountain in the 1930's. The Civilian Conservation Corps (CCC) built the path, but it suffered from erosion issues. Locals started using the path to see the waterfall and to admire views of the Cove Mountain area.
To reduce maintenance and stabilize the trail, it was paved in the 1960's. The fire tower was eventually abandoned, since it turns out it's not a very good location for spotting fires. The trail remained and became one of Great Smoky Mountains National Park's four paved trails.
---
---
Quick Tips for Hiking the Laurel Falls Trail
Go early for the best chance of avoiding crowds.
Bring water and a pack for carrying it.
Leave the stroller behind. You can't take it across the bridge to the top of the waterfall anyway.
Bring a small towel if you want to wade in the waterfall. Note that it's discouraged to play on slippery rocks or near the edge.
Bring your camera!
Wear real shoes. Sneakers are fine. The hike is not flat and even, and flip flops don't have arch support or any tread.
Be bear aware. Give them plenty of space, and don't feed them.
---
Parking at Laurel Falls
A notorious problem for well-loved trails in national parks: parking.
The Laurel Falls hike actually has two parking lots wedged into the forested space between mountainsides at the trailhead, but parking lots are often full by 9 or 10AM in the summer.
Good to Know: The new parking fee & tag requirement does not reserve you a parking spot. It merely gives you the right to park without getting fined and/or towed. Popular trailheads will still be busy and hard to find parking.
Our recommendation: drive to the parking lots at the trailhead first and check for a spot. If there aren't any, take the first roadside spot you find. There are a lot of roadside parking spots in both directions from the trailhead.
If you're lucky enough to pull up as someone else is leaving one of the parking lot spots, give them space and time and smile and wave as they leave, and realize that you've just used up all of your good luck for the day.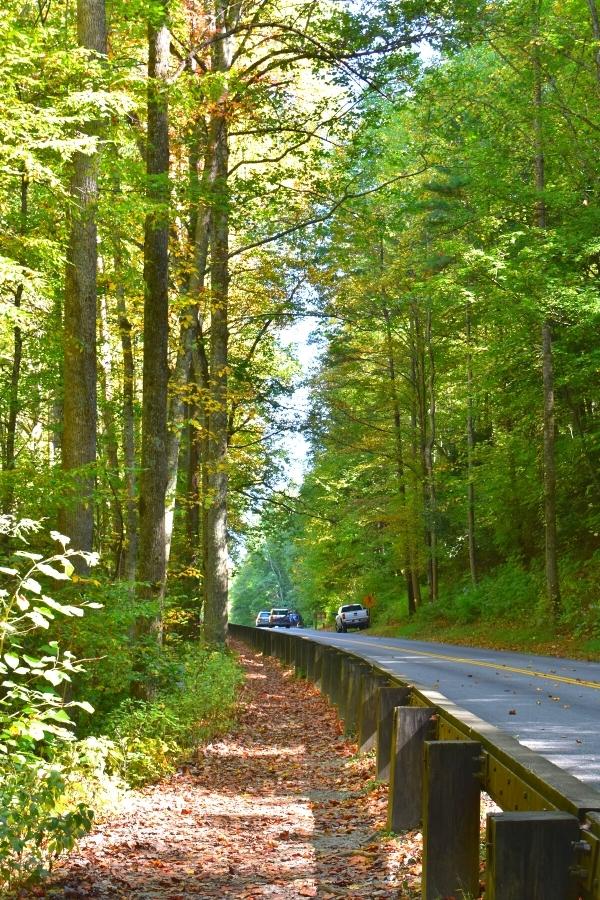 For the rest of us parking on the side of the road:
Make sure all 4 tires are off the road and side mirrors aren't sticking out into the driving lane.
Use your parking brake, just as a precaution.
Double check for oncoming cars before getting out of your car.
If you think the walk to the trailhead is too far from where you parked, then you're not going to like the hike to Laurel Falls. Go do something else and try back later.
Hiking Laurel Falls: What to Expect on the Trail
The good news is the Laurel Falls Hike is fairly easy. That's one important reason why it's so popular. There will always be fellow hikers on this trail.
It is a "paved" trail. That's in parentheses because, while a hard surface remains, the trail is by no means a smooth, unbroken strip of asphalt.
It's cracked, chunks are missing here and there, and some sections are so narrow that a secondary dirt path is next to it for others to pass.
Laurel Falls is an 80ft tall waterfall on the side of a mountain, not at the bottom. The Laurel Falls trail climbs, slowly but steadily, for 1.3 miles up to the base of the upper falls.
Pro Tip: Don't let the sign at the trailhead confuse you. It's 1.3 miles to Laurel Falls one way. Hiking there and back is a total of 2.6 miles.
Luckily, this is a forested trail and there is plenty of shade! But that also means there's usually not much of a breeze here, either.
It's steep in some sections, although nothing as unrelenting as the Clingman's Dome trail. Be aware that there are only a few benches or places to stop and sit on the side of the trail. Take your time going up; it's not a race.
And remember, it's ALL downhill on the hike back to the car!
Great Smoky Mountains National Park is black bear country, and there's a chance you'll see some while hiking to Laurel Falls.
Before your hike, review the NPS information for what to do if you see a bear. Give them lots of space, and don't feed them. They'll usually move along.
National park rangers are often at the start of this trail and hanging out at the waterfall. They'll let you know if they've had any reports of bears in the area. They are also equipped to deter bears, if needed.
Viewing Laurel Falls
When the trail starts to level off at the top, you know you've made it! The trail leads to the base of the Upper Falls. Walk across the small bridge and Laurel Falls is on the right.
What a view! Sit on a rock and take it in for a minute.
If your feet are hot from hiking uphill, take off your shoes and dip your toes in the pools at the base. Note that you're not supposed to swim in the water (not that you could; the water isn't deep enough), but this also means don't stand under the water as it's falling.
Park rangers are pretty lax about it, or the ones we've seen were. So long as you're not roughhousing, disturbing others, or dangerously close to an edge, they tend to let it go.
Take the caution signs seriously: keep hold of little kids and stay away from slippery edges. There are no fences or barriers, just natural stone drop offs.
To reach the Lower Falls, there is a rocky spot a few yards before the bridge at the upper falls. You'll see others down there, or a ranger can point it out to you. Sit down and scoot off the edge to the landing below.
Accessing the lower section requires some low-key rock scrambling. There isn't a defined path, and no ladders or steps. Just a few rocks to climb down.
Plenty of toddlers and a few elders were doing it when we were there. Just take your time, know your limits, and be courteous of others.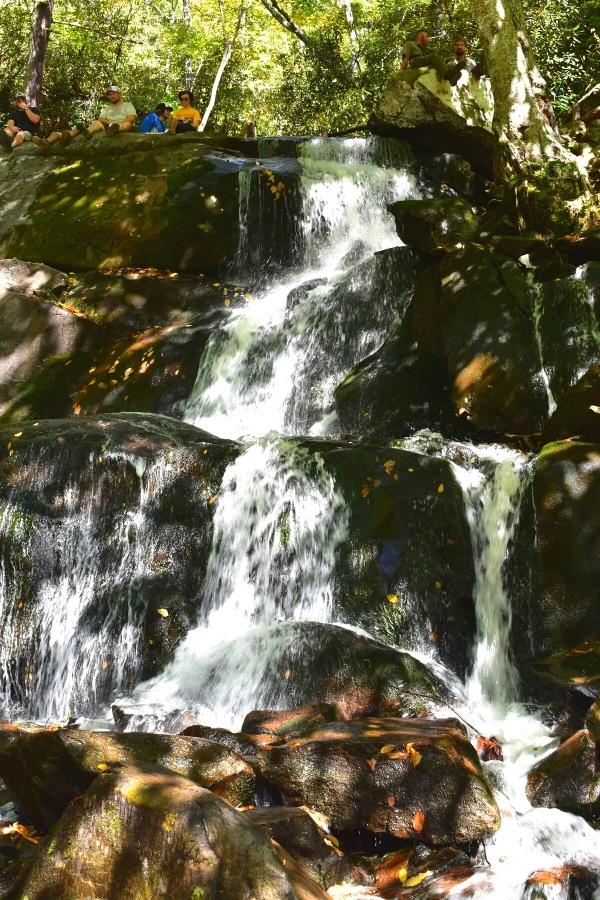 ---
Laurel Falls FAQs
Is there a fee to park or hike at Laurel Falls?
Yes, Great Smoky Mountains National Park now charges a parking fee for anyone that wishes to park longer than 15 minutes. Daily, weekly, and annual parking tags are available for purchase. Read more from the park here.
Are there bathrooms at Laurel Falls or the Laurel Falls Trailhead?
No. Use the facilities at the Sugarlands Visitor Center, just 4 miles east of the trailhead, before beginning your hike.
And before you get any ideas, there's nowhere to go on the side of the trail, either. Go before you hike.
How long does it take to hike Laurel Falls?
The average visit to Laurel Falls is 1.5-2 hours, to account for stops along the hike and for time at both the upper and lower falls. The hike can be done faster or slower, depending on your group.
At a steady walking pace with no stops, except maybe 15 minutes at the falls, a couple of moderately fit hikers can manage this in an hour.
---
---
Laurel Falls Trail in Great Smoky Mountains National Park: A Trail for the Whole Family!
A beautiful spot for everyone, enjoy this waterfall hike in Great Smoky Mountains National Park!
Looking for more waterfall hikes in the area? Don't miss the Best Waterfall Hikes near Gatlinburg.
Looking for more national parks to hike?
Happy travels!
Share it!