Great Smoky Mountains National Park is America's most popular national park, several times over. It sees as many visitors as the next 3 most visited national parks combined.
It's hard to beat free entry, frequent elk and black bear sightings, amazing fall color, hiking and waterfalls galore, and the third highest peak east of the Mississippi River.
So how do you get to this magical wonderland?
You'll have to drive, even if you fly into the region first.
We're lucky in that we now live just 4 hours from the park's southern entrance, but we haven't always been that close!
Here's everything you need to know: which airports are closest, which nearby towns to stay in, and where to find every Great Smoky Mountains National Park entrance and visitor center.
---
This post may contain affiliate links. As an Amazon Associate and associate of other programs, I earn from qualifying purchases. This means if you click a link and make a purchase, I may earn a small commission at no extra cost to you.
---
How to Get to Great Smoky Mountains National Park
There is one way to get to Great Smoky Mountains National Park: drive.
The Tennessee-North Carolina state line bisects the park, as does the famous Appalachian Trail hiking trail, so we suppose you could also hike into the park if you prefer.
You can't fly directly to the park or even to its front door.
The park is surrounded by bigger cities, but none that are close enough to stay in while visiting.
Here's the quick answers to how to get to Great Smoky Mountains National Park.
We'll look at these in more detail below.
>> Quick Facts
Closest airport: Knoxville, TN – 45 minute drive from park's north side
Closest town to stay: Gatlinburg, TN (north side) or Cherokee, NC (south side)
Main entrances: Sugarlands (north side) or Oconaluftee (south side)
Entry fee: FREE to drive around the park
Parking fee: NEW – a parking tag is required to park anywhere in the park for longer than 15 minutes. See below for more info.
---

---
Great Smoky Mountains National Park Entrances
There are two main entrances to Great Smoky Mountains National Park: Sugarlands and Oconaluftee.
Both have their own visitor center, so you can pick up a park map, ask a park ranger for hiking recommendations, and use a real restroom before venturing off into the mountains.
This national park also has several secondary park entrances.
These additional entry points are usually small, one-lane-in-each-direction roads, sometimes paved, sometimes not, providing access to an isolated section of the park.
Let's quickly look at each entrance and its pros and cons.
Sugarlands Main Entrance (Gatlinburg)
This is the main entrance on the northern boundary of Great Smoky Mountains National Park.
It's sometimes called the Gatlinburg entrance because of its location near the town, but the visitor center is about 2 miles inside the park.
Sugarlands is located at an important crossroads in the park, where Newfound Gap Road/US 441/TN 71 (the park's main north-south road) meets Fighting Creek Gap Road/Little River Gorge Road (the main east-west road for the western part of the park).
This intersection backs up often.
There isn't a traffic signal, just a stop sign for Fighting Creek Gap Road to wait for the coast to be clear on Newfound Gap Road.
They've created a protected left turn so visitors going back to Gatlinburg only have to wait for one lane to be clear to turn, but then they still have to merge with traffic going into Gatlinburg.
Good to Know: If you're exploring the western part of the park, finish up at Cades Cove, and want to return to Gatlinburg, be prepared for a long wait, especially in summer and fall.

You could exit via the Townsend park entrance and use US 321 and back roads to backtrack into Gatlinburg, but that route is often just as backed up.

Traffic in Gatlinburg is always terrible.
Oconaluftee Main Entrance (Cherokee)
The main Great Smoky Mountains National Park entrance on the southern border, Oconaluftee is right outside of Cherokee, NC.
The Mountain Farm Museum is also here and includes a large cleared field that elk love to graze in.
Oconaluftee is one of the best places in the park to experience the elk rut.
The area right outside of the park is recognized Cherokee Reservation Tribal Lands. The town of Cherokee is on tribal lands; Bryson City, further west, is not.
Blue Ridge Parkway, another NPS site, begins a half mile south of the Oconaluftee entrance.
It runs 469 miles northeast to the southern entrance of Shenandoah National Park in Virginia.
We recommend exploring Blue Ridge Parkway on another trip, or limiting yourself to just a few of the overlooks within easy driving distance of the national park.
Townsend Entrance
This is the helpful, local's backdoor into the western part of Great Smoky Mountains National Park.
If you're coming from Nashville or Knoxville, this is a convenient way to enter the park without backtracking and avoids the crowds in Gatlinburg or Sugarlands.
That is, until you try to join the queue waiting to drive around the Cades Cove Loop.
Wears Valley/Little Greenbrier School
Not far from Townsend is Wears Valley with another, even smaller Great Smoky Mountains National Park entrance.
This route is narrow but paved, and it provides access to the Little Greenbrier School, a historic building on the National Register of Historic Places.
Good to Know: Don't confuse this with the Greenbrier entrance in the northeastern part of the park.
There are gates on this road that could close access, but the National Park map doesn't label this as a road that will close every winter.
The road pops out onto Little River Gorge Road inside the park between The Sinks and the Elkmont Campground.
Honestly, this route doesn't provide a lot of advantages that the Townsend entrance doesn't already offer. Maybe easier access to Laurel Falls trailhead, but it's debatable if it's faster.
Isolated Areas with Developed Campgrounds
The following are all in isolated sections of the park that don't connect to the rest of the park's main roads.
However, each has a seasonally available, developed campground for homebase while you explore the area.
Deep Creek, south side near Bryson City
Balsam Mountain, accessed from Blue Ridge Parkway
Cataloochee, east side of the park
Big Creek, northeast corner of the park
Cosby, northeast corner of the park
Look Rock, west side on the parkway
Abrams Creek, west side of the park
Isolated Areas with Ranger's Stations
These areas have a ranger station to check in at before venturing into the park's backcountry for hiking or camping.
Twentymile, southwest corner of the park
Greenbrier, north central part of the park, near Gatlinburg
Closest Towns to the Park: Where to Stay
Deciding where to stay near Great Smoky Mountains depends not only on what you want to do in the park but also on how much patience you have for traffic.
No matter where you stay around the park, there's a good chance you'll get stuck in traffic both getting to the park and inside the park in popular areas like Cades Cove and Clingmans Dome.
We have a few tips for avoiding crowds in Great Smoky Mountains National Park, but it's impossible to miss 100% of the traffic.
Gatlinburg
A destination in itself, Gatlinburg is a supremely popular place to stay in the Smoky Mountains.
There are plenty of fun things to do here, but the crowds and traffic are awful for pretty much every holiday and every season but winter.
Pigeon Forge
The next town north of Gatlinburg is Pigeon Forge, made famous as the home of Dolly Parton and her Dollywood amusement park.
It's similar to Gatlinburg, but further from Great Smoky Mountains National Park, so it'll take longer to battle through traffic to get into the park from here.
Cherokee
On the south side, the town of Cherokee is right outside of the Oconaluftee entrance to Great Smoky Mountains National Park.
Cherokee is on Native American tribal land.
All the businesses and hotels are run by tribe members and include some interesting tourist stops of their own, like the Museum of the Cherokee Indian.
Bryson City
A bit west of Cherokee is Bryson City, just outside of the Deep Creek area of Great Smoky Mountains National Park.
Bryson City is less busy and not as touristy as Gatlinburg but still has all its small mountain town charm.
You'll find several local restaurants to choose from as well as some comfortable places to stay, if you're not camping in Deep Creek in the park.
Asheville
Asheville is a beautiful mountain city, home to breweries, Art Deco, and tons of turn of the century history, including our favorite stop, The Biltmore Estate.
It's an hour away from the Oconaluftee entrance to Great Smoky Mountains National Park.
Asheville isn't the ideal place to stay if you want to explore the park thoroughly, but it's an option if you're interested in sampling the best of the NC mountains.
Other awesome sights near Asheville:
Chimney Rock State Park
Mt Mitchell State Park, tallest peak east of the Mississippi River
Knoxville
Knoxville is 45 minutes from the small town of Townsend on the north side of Great Smoky Mountains National Park.
The Townsend entrance is convenient to Cades Cove, which can back up Little River Gorge Road for miles inside the park.
Closest Airports to Great Smoky Mountains National Park
The closest airport to Great Smoky Mountains National Park is Knoxville, TN's McGhee Tyson Airport (TYS).
It's not a huge airport but it's bigger than Asheville, NC's airport (AVL), which is the next closest airport to the park.
If you're willing to save some money and drive further to the park, then both Charlotte, NC (CLT) and Atlanta, GA (ATL) are about a 3 hour drive from the southern entrance to Great Smoky Mountains National Park.
You might be tempted to fly into Nashville, TN (BNA), but that's a 4 hour drive to the Sugarlands entrance to the park.
---

---
Visitor Centers in Great Smoky Mountains National Park
Smoky Mountains National Park has two main visitor centers and two area visitor centers.
>> The Sugarlands Visitor Center is on the Tennessee side, just south of Gatlinburg, inside the park boundaries.
This spot gets incredibly busy in the summer.
It's the first place to get a park map for those entering from Gatlinburg, and it's the only real restrooms at the crossroads of the park.
>> The Oconaluftee Visitor Center serves the North Carolina entrance on the southern park border.
This is the place to be for the elk rut in the early fall.
A large, open field is a favorite grazing spot for the elk herds, as is the river that runs right next to the Oconaluftee Visitor Center.
>> Cades Cove Visitor Center is located about halfway around the full loop. If you take the cut through, you'll miss the visitor center.
It's a convenient stop to get out and stretch your legs, explore the historic mill, and use the restroom after slowly crawling your way through traffic around the scenic Cades Cove loop.
>> The Clingmans Dome Visitor Center is a small shop built into the side of the mountain next to the parking lot.
Clingmans Dome is the 3rd tallest peak east of the Mississippi River and has stunning panoramic views on a clear day, if you can make the daunting trek up the hillside.
New GSMNP Parking Tag Requirements
The ever-increasing number of visitors at Great Smoky Mountains National Park (GSMNP) has caused a significant increase in the wear-and-tear on the park's infrastructure.
With no park entry fee to help offset costs, GSMNP has been forced to consider alternate methods of addressing the upkeep issue.
Park It Forward: Purpose
In 2021, a parking tag fee was trialed in the park.
While other parks like Yellowstone used timed-entry systems and turned away visitors without a pass, Great Smoky Mountains can't do that because of the free-flow traffic rule.
They have to let anyone and everyone pass through the park on the highway.
So instead GSMNP implemented a parking tag fee.
If you want to park your vehicle anywhere in the park, say to go for a hike or stop for a picnic longer than 15 minutes, you need a parking tag.
The parking tag doesn't reserve a specific parking spot for you.
You'll still have to strategically plan your visit to miss the worst of the crowds at the most popular spots, like the Laurel Falls Trailhead.
Parking Tag Types: Daily, Weekly, Annual
Great Smoky Mountains sees, generally, three types of visitors:
day trippers
campers
locals
The Daily parking tag ($5) is for those that only allowed a single day to explore the vast amazingness that is the Great Smoky Mountains.
You can't see it all in one day, but you can hit some of the best highlights if you start early.
The Weekly parking tag ($15) is perfect for campers and those staying in nearby Gatlinburg, Cherokee, or Bryson City.
You'll be in and out of the park, most likely, as you explore the area during your one week vacation.
Lastly, the locals that live nearby and want to make spontaneous trips to their local national park can get Annual parking passes ($40).
Where to Buy Tags
Parking tags can be purchased online ahead of your visit, but you must print it out and have the physical copy on your dash while parked.
Tags are also available for purchase at the visitor centers and at kiosks in major parking lots.
>> Can I Use My Interagency Pass/National Park Annual Pass Instead of a Parking Tag?
No, annual park passes cannot be used in lieu of paying for a parking tag.
National park annual passes cover entry fees, not additional/extra fees, and GSMNP doesn't have an entry fee.
>> Does My Parking Tag Guarantee Me a Parking Spot?
No, the Great Smoky Mountains National Park parking tags do not guarantee you a parking spot in the park.
It simply gives you the right to park anywhere in the park without getting towed or ticketed.
>> Are Parking Tag Sales Limited Per Day?
No, parking tag sales are not limited to a certain number per day, and they don't guarantee you a parking spot.
Their sole purpose is to defray the cost of your wear-and-tear on the park's roads, trails, and other infrastructure.
>> Are Parking Tags Transferable or Refundable?
No, GSMNP parking tags are neither transferable nor refundable. What does that mean?
Parking tags are required to be associated with a specific license plate number.
If you buy a day pass in the morning, you can't give it to someone else to use in their car in the afternoon. The pass is nontransferable.
Likewise, you can't share one annual parking tag between your two cars. It can only be used with the car that matches the license plate number on the tag.
(This rule doesn't make sense to us, and we hope they get enough feedback that they'll change the rules for annual tags.)
Parking tags are also nonrefundable, so if you buy a weekly tag and then leave after 5 days, the park will not refund you for the 2 days you didn't use.
Practical Info & FAQs for Visiting GSMNP
>> Does Great Smoky Mountains National Park have an Entrance Fee?
No, Great Smoky Mountains National Park is free to enter and drive around. You only have to pay a fee to park.
>> Can You Just Drive through Great Smoky Mountains National Park?
Yes, you can drive through Great Smoky Mountains without paying anything.
The park is free to enter and drive around. You'll only have to pay a fee for a parking tag if you want to get out of the car for more than 15 minutes.
>> How Long Does It Take to Drive Through GSMNP?
The following drive times do not consider traffic.
If you visit during a peak time or season or just get stuck behind a semi truck on Newfound Gap Road/US 441, it will slow you down.
Oconaluftee entrance to Sugarlands entrance: 50 minutes
Roaring Fork Auto Tour Loop: 40 minutes
Sugarlands to Cades Cove (beginning of loop): 50 minutes
Cades Cove Loop: 45 minutes**
Cades Cove is ALWAYS busy.
**You really should reserve at least 4 hours (or more in summer or fall) just for Cades Cove.
>> Does GSMNP Have Timed Entry?
No, Great Smoky Mountains National Park doesn't use timed entry tickets. The park is always open and free to drive through or around.
Also, the parking tags are not tied to a specific time or parking spot or area of the park. They're valid at any parking lot/spot within the park for the date listed on the tag.
>> Do You Need a Reservation to Enter GSMNP?
No, there are no reservations for entering Great Smoky Mountains National Park.
Entrances get crowded and roadways back up during peak times and seasons, but there aren't any fast pass or reservation systems to avoid this.
You'll just have to be patient or visit at an off-peak time or day.
---

---
Enjoy Your Visit to Great Smoky Mountains National Park!
We hope this was a helpful introduction to Great Smoky Mountains National Park. You'll be driving around like a pro in no time!
Happy travels!
---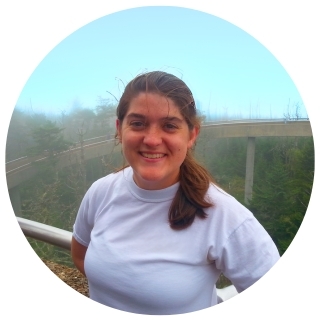 About the Author: Rachel Means
With six-figure student loan debt and only 10 PTO days per year, Rachel started traveling the world. A decade later, she's paid off her loans, changed careers, and been to 36 US states and 14 countries. She's an expert at planning and budgeting for travel and loves to help others do it, too! Read her full story here.
---
Share it!