Visiting the Biltmore Estate in Asheville is a unique experience you can't find anywhere else in the United States.
But it can be expensive to visit, something that holds back a lot of people from this bucket list destination.
While visiting will never be cheap, it is possible to visit Biltmore on a budget!
Let's discuss all the best tricks and tips for visiting The Biltmore, so you can afford it, too!
---
This post may contain affiliate links. As an Amazon Associate and associate of other programs, I earn from qualifying purchases. This means if you click a link and make a purchase, I may earn a small commission at no extra cost to you.
---
Tips for Visiting the Biltmore on a Budget
As an annual passholder, I've been to the Biltmore dozens of times, and I have made all the rookie mistakes in my first few trips.
Not leaving enough time for entry
Not enough time to eat between tours
Missing out on everything else besides the House and Gardens
We were not yet passholders and were still paying off our student loan debt when we made our first trip to the Biltmore Estate, so I completely understand the hesitation to spend that much money for Biltmore tickets.
But let me tell you, it's worth it!
You won't find another place like this in the United States.
It's a one-of-a-kind experience that both me and my husband enjoyed, and I bet you will, too, when you visit.
So, to that end, I'm sharing my top hacks and tips for visiting the Biltmore Estate and how to save some money in the process!
---
Short on time? Here are our top 5 tips for visiting the Biltmore on a budget that pack the biggest punch!
---
What Everyone Really Wants to Know: Can You Visit the Biltmore for Free?
Let's get this out of the way now. We know this is really the question you wanted to ask in the first place.
No, you can't visit the Biltmore House or the estate grounds for free.
All adults must have a ticket to enter the estate, even if you don't want to tour the house or the gardens.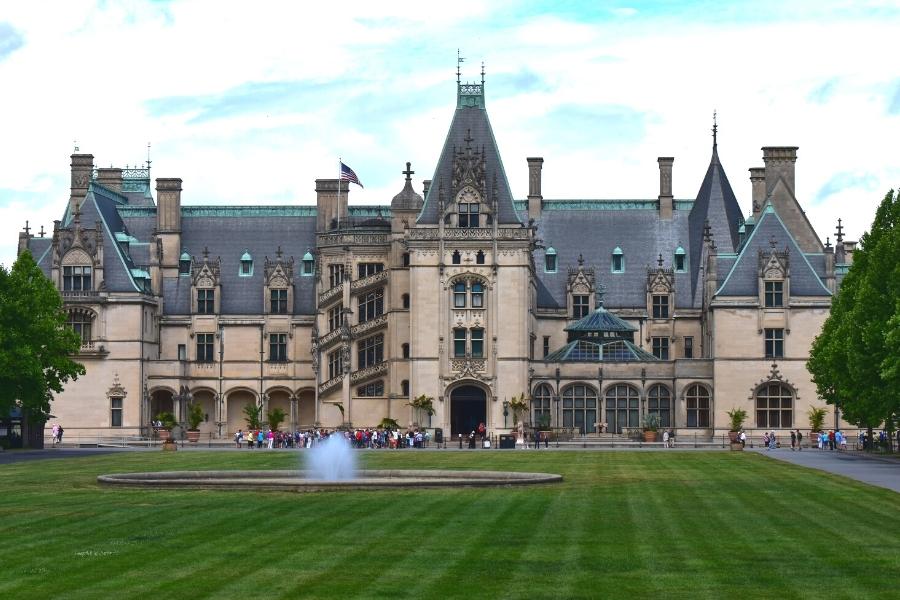 One possible exception is if you know a Biltmore Annual Passholder. See Tip #7 below!
Every January through March passholders get two free family and friends tickets. That could be your in.
Also, throughout the rest of the year, passholders can bring guests with them to Antler Hill Village after 5PM without paying estate admission.
Those are the only two options for adults to visit the Biltmore for free.
But we have a lot of tips coming up that will help you make a Biltmore trip more affordable. Keep reading!
---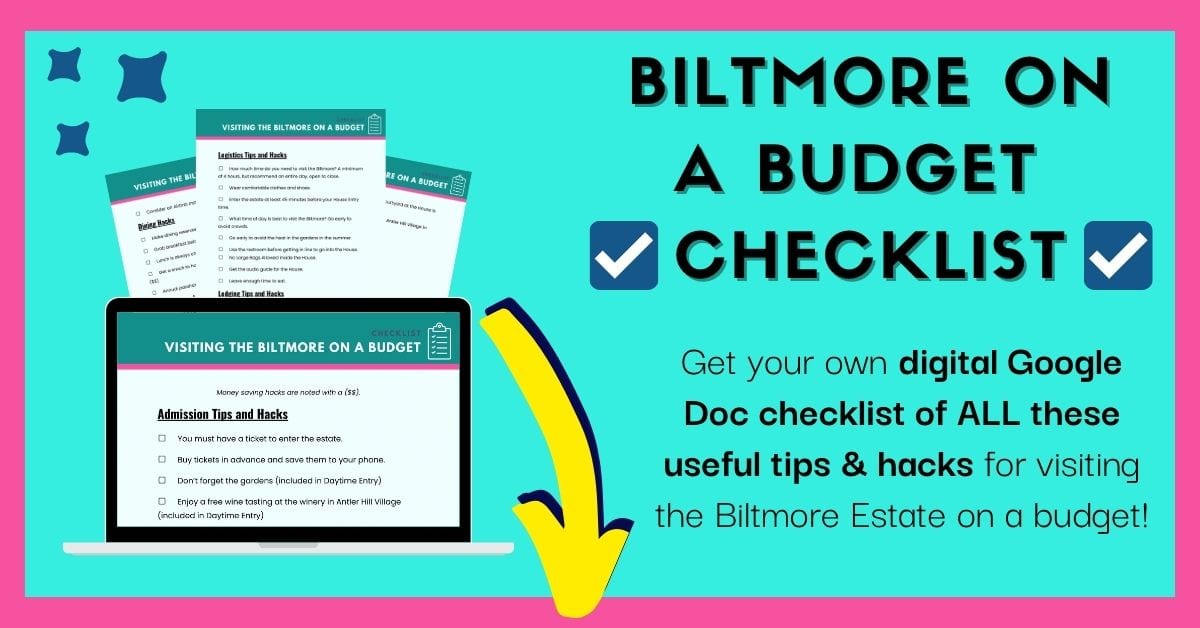 ---
First, Where is The Biltmore?
This exquisite 250-room mansion is tucked away on a wooded estate right outside of Asheville, NC.
I-40 actually cuts through the estate, but you'd never know that because of all the tree cover.
George Vanderbilt chose this area because, at the time, it was a rural retreat far from New York City.
He wanted a country estate bachelor pad, and he figured the healing mountain air was a good choice.
That's right: this enormous mansion was designed and built for one man (and his guests).
In large part, Vanderbilt put Asheville on the map for the rest of the country.
It was a backwoods mountain town known only as a place for tuberculosis patients to come and "take the cure" until he decided to build his massive estate here.
In the process, had to build an entire village just for the workers needed to build his new home.
Quick History of the Biltmore in 150 Words
George W. Vanderbilt was the youngest son in the third generation of Vanderbilt heirs. He inherited at the perfect time, too.
The family fortune was established by his grandfather, and then doubled by his father.
However, as the youngest son, George wasn't a main heir to the vast family fortune, receiving considerably less than his older brothers who actually worked in the family businesses.
He didn't have much to complain about though, as he still had the means to funnel $6 million into construction of his Biltmore Estate.
That's just over $200 million in today's dollars!
And all the while, he continued to travel the world for the 5 years it took to build the estate.
He used that time to buy precious tapestries, books, prints, and even the mural ceiling that now graces the Biltmore Library.
The Biltmore House is still today considered America's largest privately owned home. George Vanderbilt's great-grandchildren own and manage the property.
>> Learn more about the Vanderbilt family and Biltmore! <<
Is visiting Biltmore worth the cost?
Definitely. A little piece of European finery in America!
If you've ever wondered why you should visit the Biltmore Estate, please consider the following.
This luxurious estate revolves around its European-styled chateau/mansion and includes:
manicured gardens and landscapes,
acres of wooded estate,
a bass pond, waterfall, and lagoon,
French Broad River access,
miles of walking/hiking trails,
an event center,
an equestrian stable,
its own working farm,
2 on-site hotels,
its own winery,
15 restaurants of varying styles and prices, and
13 shops of various types.
There's so much to do at Biltmore; a day spent on the estate is a day well-spent.
Follow these tips and spend a FULL day on the estate, experiencing a little bit of everything they offer, and the price of admission is worth it.
If you're scraping together all your pennies for this experience, here are a few places to look for discount Biltmore tickets.
The discount is never huge, but every bit helps when you're visiting Biltmore on a budget.
Be sure to also check out our guides to the Biltmore Gardens and Biltmore's Candlelight Christmas Evenings.
Tips and Hacks for Visiting the Biltmore Estate
Our best tips and tricks are divided into categories to help you plan your trip.
Money saving hacks are noted with a ($$).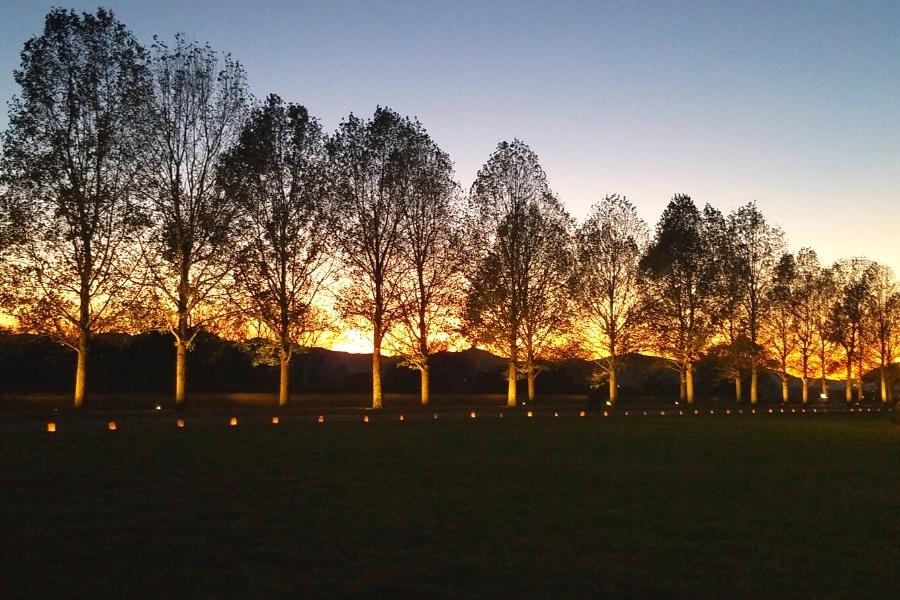 >> Admission Tips and Hacks
1. You must have a ticket to enter the estate.
This doesn't seem like a helpful tip, but there used to be a free option to just explore the gardens and grounds, with no access to the House.
That is no longer an option (unless you know a passholder during passholder appreciation at the beginning of the year, discussed more below).
To get on the estate, you have to have a ticket.
New in 2022, or back by popular demand, a Gardens & Grounds Only ticket is now available!

It's not free, but it's a good option for those that don't want to tour the House, can't due to mobility reasons, or maybe have already toured it once before.
2. Buy tickets in advance and save them to your phone.
This gets you through the entry line faster, since you won't have to stop at the ticketing center first.
3. Don't forget the gardens (included in Daytime Entry)
Don't skip the Biltmore's Gardens! There is always something to see, even in the winter.
The Walled Garden is replanted every season, and the Conservatory houses tropical plants that thrive all year round.
The Azalea Garden bursts into bloom every spring, and the Japanese maples in the Shrub Garden are a gorgeous yellow in fall.
There's always something to see!
4. Enjoy a free wine tasting at the winery in Antler Hill Village (included in Daytime Entry)
Did someone say free wine?
Biltmore's winery has produced award-winning wines every year since it opened.
Enjoy a complimentary wine tasting, and then pick up a bottle of your favorite in the adjacent shop.
The Carriage Shop near the House also sells wine, if you leave Antler Hill Village and regret not buying a bottle.
5. Schedule your wine tasting time first thing when you arrive.
Reservations for wine tastings are done day-of only.
If you are on a schedule, request your tasting time early in the day, so there are still spots available at your preferred time.
To clarify, I'm not saying you have to do your tasting in the morning.
I'm saying you want to schedule your 2PM tasting when you first arrive on the estate at 9AM so there are still spots available at 2PM.
At the House, visit the guest services booth, on the right before entering the stables courtyard, and they can help you with this.
Alternatively, Biltmore introduced QR codes during the pandemic that can be scanned and let you schedule your tasting time from your phone.
6. Specialty tours are cool, but they come at a price. ($$)
This Biltmore tip is all about priorities.
Perhaps a specialty tour is more important to you than eating on the estate.
Depending on the tour and the restaurant, it could be cheaper per person to do a tour than to eat.
Or, perhaps you don't need a souvenir budget. You can get lots of photos of other cool things instead from your specialty tour.
It's a give and take, depending on your priorities.
Don't automatically rule out the specialty tours because of the additional cost. There are ways to make up the cost in other areas, like dining or shopping.
(Note that not all specialty tours allow photography, but some do in certain areas, like the Rooftop Tour from the roof.)
7. Find a passholder friend with a pair of free tickets. ($$)
Passholder Appreciation is held in January through mid-March every year, and every annual passholder gets two vouchers for guests to access the estate grounds for free.
If you know a passholder, this just might be your chance for a free trip!
Admission to the House will still require a fee and separate ticket in addition to the free passholder voucher, but it's a reduced price compared to standard tickets.
Note, too, that lines can get backed up in March, with everyone waiting for warmer weather and trying to squeeze in time to use the free passes for friends/family before they expire in mid-March.
8. Going more than once a year? Get an annual pass. ($$)
If you live within 4 hours or so of Asheville and want to experience Biltmore in all four seasons, we highly recommend purchasing an annual pass.
It pays for itself in estate entrance fees after two visits (we did the math), and you enjoy free entry to the House for a year.
Passholders also get a small discount on specialty tours, Christmas tours, dining, and shopping, plus early access to special events and other special offers throughout the year.
Note that if you intend to come with your spouse, you both need an annual pass.
9. Another passholder perk: bring a mother for free entry in May and a father for free entry in June. ($$)
This isn't restricted to just Mother's Day or Father's Day weekend either.
It's the whole month, and it doesn't have to be your mother or father.
This won't necessarily save you money, but it will save your mom or dad some money and give them a chance to experience Biltmore, too.
10. Next day tickets cost $25. ($$)
This saves you money by not requiring a return trip immediately because you ran out of time.
If you spent the day at Biltmore, but ran out of time to see the gardens or explore Antler Hill Village, you can purchase a next day ticket from guest services for just $25 per person.
This is a great way to add on some of the outdoor activities available from the Outdoor Center in Antler Hill Village.
Note that these tickets won't allow you another House Tour, so make sure you get that in on your first day.
11. Biltmore Village is free to wander. ($$)
This is not on the estate but is right next door to the Estate's entrance gate.
Biltmore Village was created to house the many artisans and workers that relocated to Asheville to help construct the Biltmore Estate.
It was a self-sufficient village with homes, shops, grocery stores, and a beautiful church.
Today, there are shopping and dining options aplenty over here, and it doesn't cost a penny to walk around and window shop.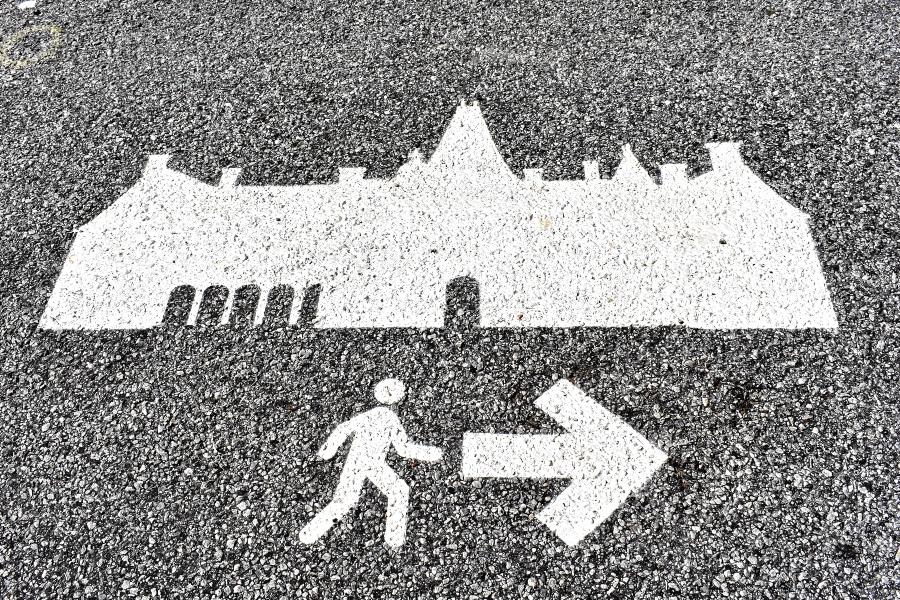 >> Logistics Tips and Hacks
12. How much time do you need to visit the Biltmore? A minimum of 4 hours, but recommend an entire day, open to close.
The House tour with the audio guide is about 1.5-2 hours, and even a quick run through of the gardens is another hour at least.
The part that everyone forgets is the drive in and out of the estate.
It can take up to 45 minutes to get from the front gate to the House parking lots, and then another 15 minutes or so to walk to the house, depending how fast you walk and how far away you parked.
However, we strongly recommend spending the entire day at Biltmore to maximize the cost efficiency of your ticket price.
With only 4 hours, you won't have time to see everything, and you'll have to decide which sites to pass on. The winery? Shopping? Dining? The gardens?
No matter when your House Entry time is, you can enter the estate as soon as it opens.
---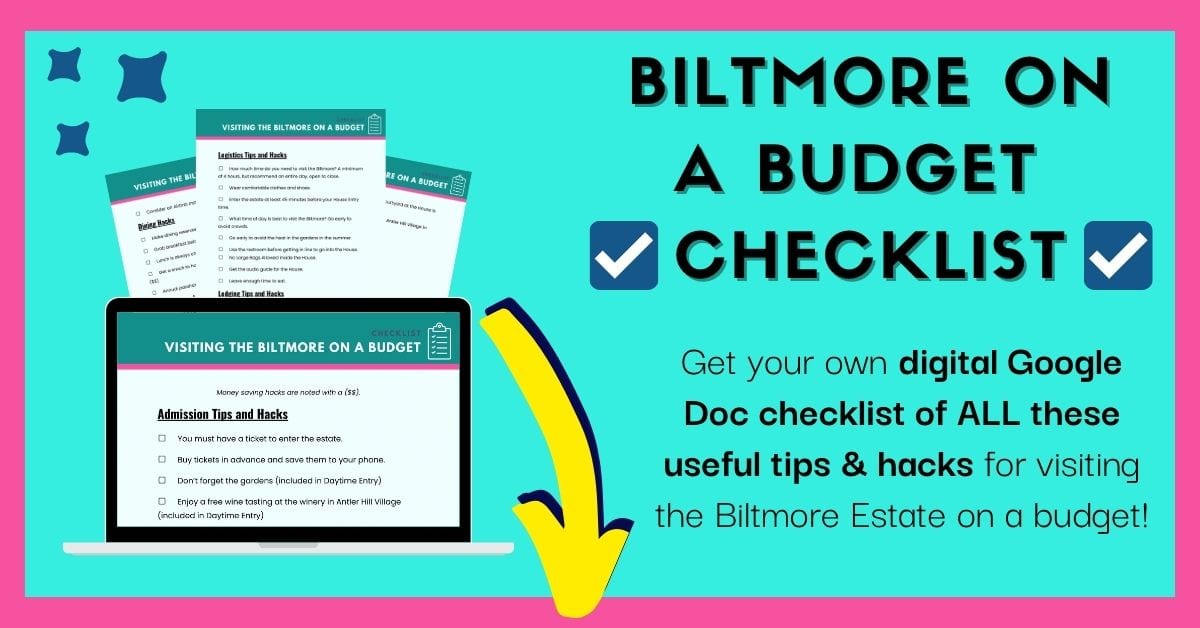 ---
13. Wear comfortable clothes and shoes.
It's actually quite a bit of walking to tour the House and wander the Gardens.
The Biltmore House Tour covers three floors, and this is not a small place.
There is an elevator for those that need it, but the upper floors are still not completely level.
And while the House has many modern conveniences, it does not have air conditioning.
It can get hot inside the house in the summers because they won't open all of the windows because they're trying to shield the historic pieces inside from the humidity.
Walking the gardens is subject to the weather, but I still recommend it, even in a light rain.
Depending on which garden you're exploring, there may not be any shade.
Bring sun protection on clear, hot days or an umbrella if it looks like rain.
14. Enter the estate at least 45 minutes before your House Entry time.
Your House entry time on your ticket is NOT the time you should show up at the entrance to the estate.
I know this sounds like a bit too much buffer, but, believe me, it's necessary.
You will have to wait in line in your car for a few minutes when you first arrive, before they can scan your tickets and let you onto the estate.
Then, the entrance drive is a beautifully landscaped, winding, one-way roadway with a speed limit varying between 15-25mph.
This road was designed by Frederick Law Olmsted in a time when horse drawn carriages were still the main source of transportation.
You can't go fast on this road, and there will inevitably be someone in front of you going much slower than you want to go, especially if you're in a rush.
Trust me, I know. I've done it.
15. What time of day is best to visit the Biltmore? Go early to avoid crowds.
Book your House Tour either early morning or late afternoon.
Timed entry tickets help reduce congestion, but the tours are self-guided so people can explore however fast, or slow, that they want.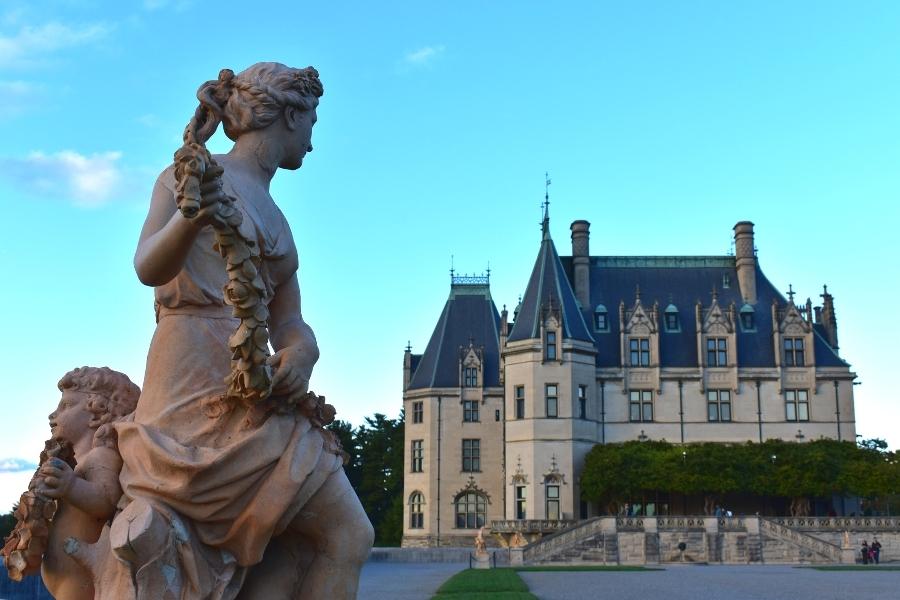 16. Go early to avoid the heat in the gardens in the summer.
Piggybacking off of the previous tip: If you're visiting in the summer and want to beat the heat, arrive at the estate as soon as it opens, explore the gardens first, and then come back for the House when the sun is at its peak.
17. Use the restroom before getting in line to go into the House.
There are no public restrooms inside the Biltmore House, and the tour is anywhere from 1.5-2 hours.
If you rush through because you have to get to a restroom, they won't let you back in.
18. No Large Bags Allowed inside the House.
New in 2020 came a no bag policy.
The outcry must have been loud enough, though, because they fairly quickly revised it to a clear bag only policy.
Now, it's settled on very small opaque bags (no bigger than a clutch purse) and medium sized clear bags are allowed.
Check their website for the latest policies, as it seems they're testing their limits and tweaking policies often.
If you don't want to bother with a bag, leave it in your car.
Alternatively, lockers are available for a fee, located by the restrooms near the Stable Courtyard.
19. Get the audio guide for the House.
The House tour is self-guided, but there are no plaques or exhibits inside.
It's all very impressive to look at, but without the audio guide, you're oblivious to just how impressive it really is.
You'd have no idea that those tapestries are from the 14th century, and they found them rolled up in the basement one day.
Or, that the music room was never completed during George's lifetime, but it hid precious works of art from the Smithsonian during World War II.
The audio guide provides all the history and funny anecdotes about life in a giant mansion, as well as points out all the unique features of each room.
Ask for the kid's version if you want it narrated by Cedric, the Vanderbilt's St Bernard dog.
20. Leave enough time to eat.
Lines get long in the stable courtyard for the quick bites, and the restaurants all require reservations, which you should make before your trip (see below).
Also keep in mind that eating at Antler Hill Village and coming back to the house for a tour requires 30 minutes of driving minimum, each way.
Picnicking isn't allowed anywhere near the House, and tailgating in the parking lots is also not allowed.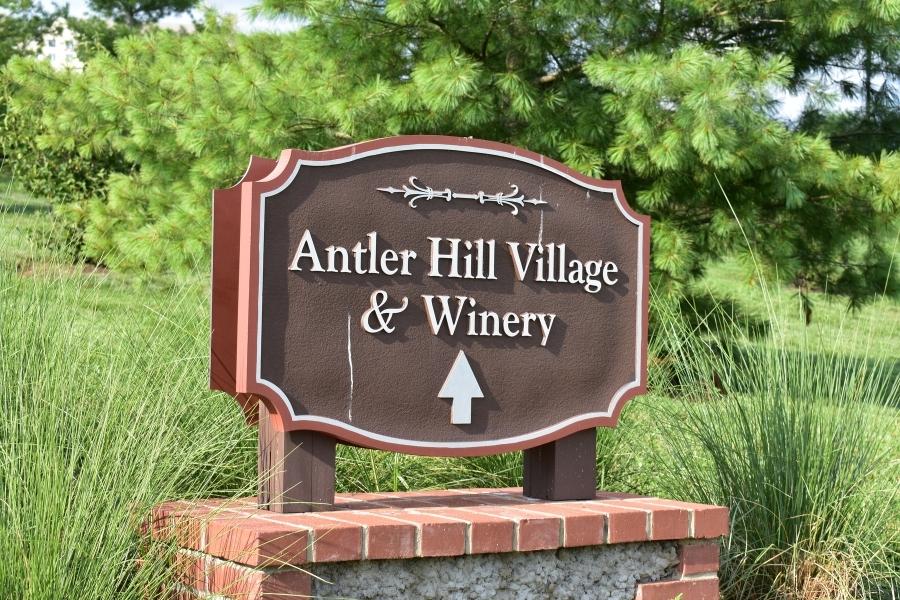 >> Lodging Tips and Hacks
21. Stay on the estate if you want to splurge and feel like a Vanderbilt guest.
You can't stay in the Biltmore Mansion itself, but you can stay on the estate, for a price.
There are two hotels to choose from, both in Antler Hill Village.
The Village Hotel is the less expensive of the two, but notice I didn't say cheap. Standard hotel experience, except it's on the Biltmore property.
The Inn is a five-star hotel, complete with doormen, valets, turn down service, butler suites, and a price tag to match.
We stayed at The Inn during one January Passholder Appreciation, in the lowest tier room for the absolute cheapest rate they ever offer, and it was still over $200 per night.
22. Don't stay on the estate. ($$)
(Stay on the estate; don't stay on the estate. Make up your mind! I know, but hear me out.
The first tip was for those that want to budget for a splurge. The second is for those that want to splurge on another tour or a restaurant instead.)
The Holiday Inn & Suites-Asheville/Biltmore Village Area is our go-to when we visit Biltmore.
It's affordable, clean, comfortable, and a 3-minute drive down the street from the Biltmore Estate entrance.
And, I've never paid $200 per night to stay there.
The following hotels are also near the Biltmore Village area within 5 minutes from the estate entrance, but their affordability varies based on your rewards status:
>> Use those hotel points to keep your out-of-pocket cost down! <<
There are more options at the outlet mall exit off of I-26, and they're usually cheaper in exchange for a 10 minute drive to the estate's entrance.
Note that the Asheville area hotels all get more expensive around holidays and during fall leaf peeping season in the Blue Ridge Mountains, but they will always be cheaper than staying on the estate.
Downtown Asheville is not far from the Biltmore Estate entrance, but hotels are always more expensive downtown.
The Biltmore Park area and the Tunnel Road area are other hot-spots for hotels, but these are further out with drive time often delayed by traffic and not necessarily cheaper, either.
>> Check out our full guide for Where to Stay in Asheville. <<
23. Consider an Airbnb instead. ($$)
Asheville has some pretty cool rental options, and it's pretty easy to get around town, so long as you avoid I-26 at rush hour.
Fun Fact: Did you know that the Blue Ridge Parkway passes through the Biltmore Estate?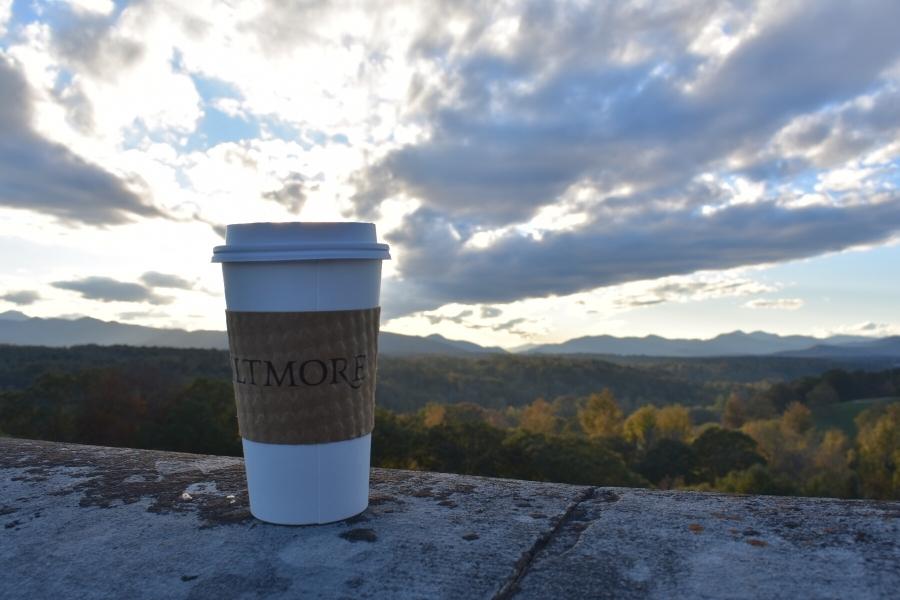 >> Dining Tips and Hacks
24. Make dining reservations well-ahead of your trip.
None of the eateries on the estate are cheap, but some are more affordable than others.
The cheaper sit down restaurants always book up before the expensive ones.
For help deciding where to eat on the Biltmore Estate, refer to our complete Biltmore dining guide for the best Biltmore restaurants.
25. Grab breakfast before going to the Biltmore. ($$)
The swankiest McDonald's you've ever seen is across the street from the Biltmore Estate entrance. 😂
The Biltmore Village area is a historic district on the National Register of Historic Places, so anything new built in the area has to blend in with the historic district.
The McDonald's builders did just that: same gray stucco exterior, red tiled roof, wooden sign, and even a piano in the inside dining area.
But they've still got their dollar menu. Hallelujah for affordable breakfast!
If you need something more filling than a quick McDonald's breakfast, there are plenty of breakfast establishments in Asheville.
26. Lunch is always cheaper than dinner. ($$)
Absolutely recommend trying one or two of the Biltmore restaurants!
Most use ingredients grown on the estate's farms or sourced locally, and I haven't had anything I didn't like.
To make it easier on your wallet and your waistline, go for lunch.
The menus are often similar, if not exactly the same, just with more reasonable portion sizes for lunch.
Win-win!
27. Get a snack to hold you over until a late dinner off-estate. ($$)
If the Biltmore restaurants are just not in your budget, then hold off on dinner.
But don't leave early! Antler Hill Village and the House lit up at night are awesome to see.
Grab a Biltmore ice cream cone or a pastry and coffee to tide you over while you stroll around at twilight.
Then, go enjoy some downtown Asheville cuisine for a late dinner.
28. Annual passholders get a 10% discount on dining. ($$)
>> Retail Tips and Hacks
29. Check the clearance section first. ($$)
Looking for that Pumpkin Spice White Chocolate Hot Cocoa Mix? Go the first week of November to find all the fall merchandise in the clearance section, and stock up on half a dozen boxes of sweet hot chocolate goodness at 60% off.
This applies to every season and holiday.
No matter what time of year, it's always a good idea to check the clearance section first to find some steals.
The food, dip mixes, and hot chocolate mixes tend to get discounted the most since they expire, but there's always other merch.
Mugs, journals, and knickknacks are commonly switched out by season and event.
30. If you see something you want, buy it.
This is not the time for delayed gratification. You can't find everything in the Biltmore online shop, and popular items sell out well in advance and don't come back in stock.
The official Biltmore yearly Christmas ornament is one example.
That cool mug that is microwave and dishwasher safe is another.
(Why do they even make mugs that aren't microwave and dishwasher safe? Honestly…)
31. Annual passholders get a 10% discount on shopping. ($$)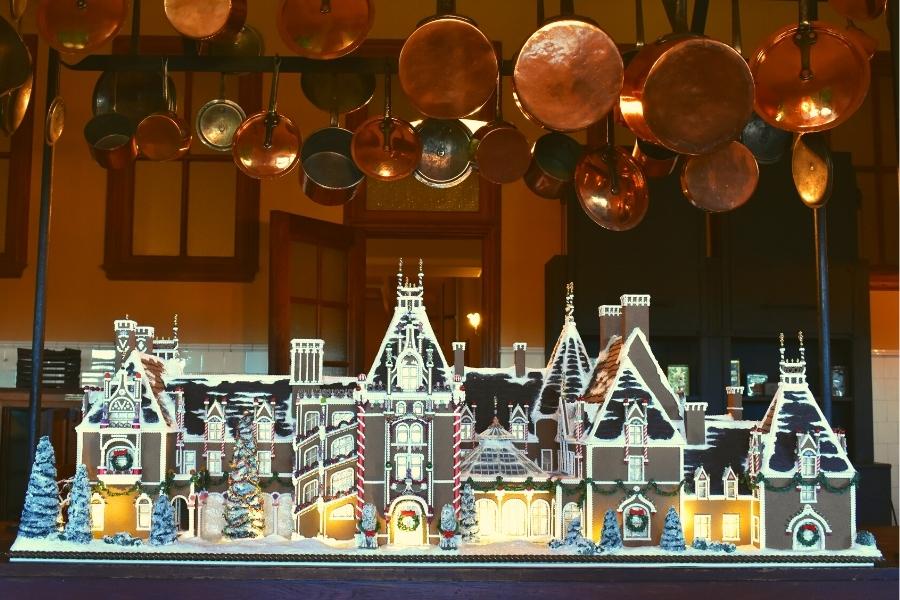 >> Christmas at Biltmore Tips and Hacks
32. Visit in October. ($$)
That's a weird tip for Christmas. Yes, I know Christmas is in December.
The thing is, though, they have to start decorating the house and estate for Christmas in October, so they can run Christmas at Biltmore in November and December.
Visit at the end of October for most of the Christmas daytime feel without the Christmas prices.
33. Weekdays are always cheaper than weekends. ($$)
This is applicable year-round but is especially helpful at Christmas when prices are highest.
Day time tickets on a weekday are least expensive, and Candlelight Evening tickets on Fridays and Saturdays are the most expensive.
If you're willing to take a day off of work, go on Sunday and Monday, rather than Friday and Saturday, and save some money.
34. The Christmas Shop in the Stable Courtyard at the House is open year-round.
You don't have to visit in December to get Biltmore Christmas décor.
The Christmas Shop at the House has got you covered, even when it's the middle of summer and you're guzzling water to stay hydrated.
This shop is mostly ornaments and décor items, but it will always have the current year's official Biltmore Christmas ornament.
35. Check the Christmas Pop-up Shop in Antler Hill Village in November and December.
Every year during Christmas at Biltmore (November-December), the Christmas pop-up shops arrive at Antler Hill Village.
There is some overlap with the stable courtyard Christmas shop at the Biltmore House, but both stores have unique-to-them items.
The pop-up shops have additional decorations and vintage-type toys.
If Christmas is your thing, then it's worth it to stop in both shops and look around.
---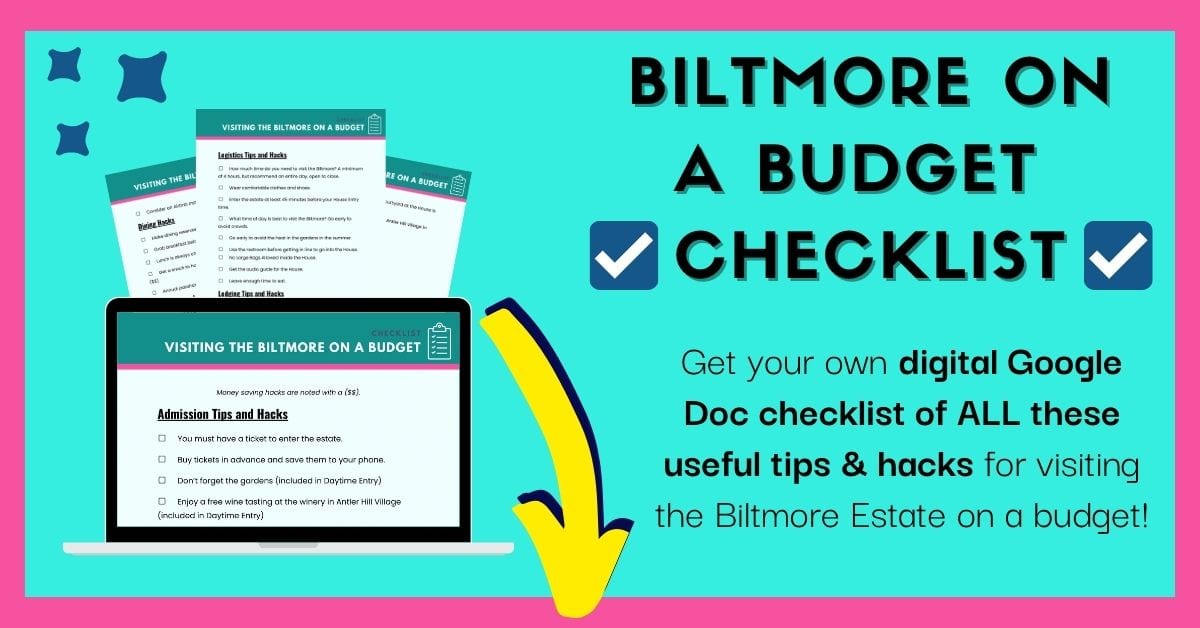 ---
Visiting the Biltmore on a budget is possible! Use these tips and hacks to plan your perfect Biltmore vacation.
I hope these tips for visiting the Biltmore helped you find a way to make a visit possible for your budget.
The Biltmore Estate is worthy of your bucket list!
More Biltmore Travel Resources
More Western North Carolina Travel Ideas
Happy Travels!
---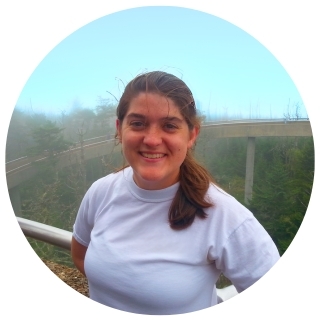 About the Author: Rachel Means
With six-figure student loan debt and only 10 PTO days per year, Rachel started traveling the world. A decade later, she's paid off her loans, changed careers, and been to 36 US states and 14 countries. She's an expert at planning and budgeting for travel and loves to help others do it, too! Read her full story here.
---
Share it!