Hidden beneath a luxury resort in the mountains of West Virginia lies one of the best kept government secrets of the Cold War: a nuclear fallout shelter for Congress! This top secret facility remained updated and ready, and completely hidden from the public, for decades until a Washington Post journalist exposed it in the 1990s. Today, you can visit The Greenbrier resort in White Sulphur Springs, WV and take the Bunker Tour to learn all about this crazy-but-true story! Here's everything you need to know before you go on The Greenbrier Bunker Tour.
---
This post may contain affiliate links. As an Amazon Associate and associate of other programs, I earn from qualifying purchases. This means if you click a link and make a purchase, I may earn a small commission at no extra cost to you.
---
A Secret Bunker Hidden Beneath a Luxury Resort…
The Cold War was dominated by uncertainty, and the US government decided it needed a backup plan to ensure the smooth continuation of running the country in the event of a nuclear attack.
So, they built a secret bunker for Congress under a popular luxury resort in West Virginia.
The Greenbrier has been around since 1788, tucked away in the Allegheny Mountains. It's been a favorite luxury resort for the rich and famous for centuries.
When President Eisenhower approached the resort about disguising the development of a secret bunker under the construction for the resort's new West Virginia wing in 1958, the owners were only too happy to oblige.
Construction and maintenance was done in such a way to limit the number of people that knew of the bunker's existence. Most of The Greenbrier staff had no idea it was there.
The Greenbrier Bunker was maintained and updated in secret for more than 30 years until an enterprising Washington Post journalist uncovered the secret in the 1990s and exposed it to the world.
With the location revealed, the bunker had to be decommissioned.
Today, it's a unique historical landmark, a rare physical reminder of the unseen dread that permeated society and dictated serious decisions during the Cold War.
Getting to The Greenbrier
The Greenbrier Resort is located in White Sulphur Springs, WV, just off of I-64, very close to the West Virginia/Virginia state line.
There's no way around it: you have to drive to get to here. You won't find any urban centers with convenient airports close by.
It's a 4 hour drive from Washington, DC or Charlotte, NC. The closest cities of any size are Roanoke, VA or Charleston, WV, a 1.5 hour or 2 hour drive, respectively.
Most visitors come to The Greenbrier to escape cities for a relaxed, outdoor setting. One thing this area is great at is outdoor recreation.
The resort is about 2 hours from the southern entrance of Shenandoah National Park or an hour and a half from the New River Gorge Bridge and the northern end of that national park and preserve.
We highly recommend adding The Greenbrier Bunker Tour as a stop on a broader road trip through the region. Try our 7 Day Eastern USA Road Trip or make your own!
What to Expect on The Greenbrier Bunker Tour
The Bunker Tour at The Greenbrier is a 90 minute, guided group tour through the once top secret area built to shelter both houses of Congress in the event of an emergency.
The tour begins in one of the front lobbies at the hotel, reveals one of the hidden entrances inside the resort, and then continues through the secret bunker's spaces, like the blast door, decontamination chambers, living spaces, and working spaces.
They even purposely made some of the resort décor a bit nauseating near the secret entrance to the bunker, so resort guests would feel uncomfortable and leave the area.
History fanatic or not, this is a fascinating tour straight out of a dystopian novel, except it was a real emergency measure implemented during the Cold War.
Many alive today can still remember the hint of doom lingering over everyday life, but the younger generations that didn't live it can better appreciate the preparedness that went into assuming you could be hit by a nuclear weapon at any moment.
Rather than spoil the tour with a room-by-room account of what you'll see, we've instead included some important things to know before you go on The Bunker Tour.
The Greenbrier Resort is fancy!
Prepare to be blown away by the resort itself before you even get to your tour. This is a luxury, upscale resort with all the fancy trimmings.
The entire resort is walled off and private. The front entrance is gated. They're all about privacy, which comes in handy when you're also concealing a bunker that can house the entirety of Congress.
The drive up to the lobby is immaculately landscaped. Depending on the time of year you visit, you'll be greeted by either an impressive blooming flower display or a giant, decked out Christmas tree.
You're greeted by valets and doormen when the shuttle drops you off at the front door. Inside, every square inch has been thought out and decorated.
The bright colors of Dorothy Draper's designs are a bit much for some people, but take a moment to appreciate the marble floors and plush carpet you're walking on, the paintings you're casually walking past, and the little touches like writing tables.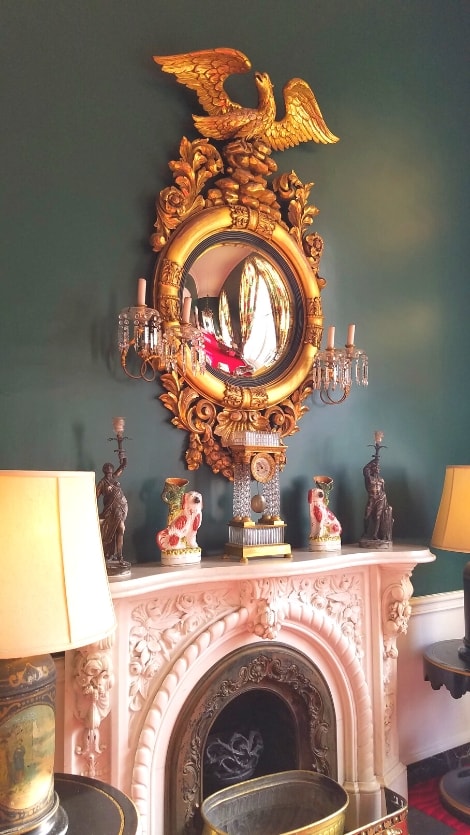 Is There a Dress Code for the Greenbrier Bunker Tour?
You don't have to wear anything super fancy for the tour. In fact, comfortable walking shoes are encouraged for the Bunker Tour.
The Greenbrier does have a dress code, but it's not as ominous as it sounds. It's mostly for dining and evenings, and so guests don't walk around in nothing but swimsuits.
Resort casual usually means a collared polo shirt for men, blouses for women, and bermuda shorts or pants for all. No ripped, torn, or cut-off clothes. Steer clear of political or offensive apparel. No ballcaps.
We visited in November and wore dark jeans (no holes or rips), tennis shoes, and t-shirts under lightweight jackets.
We don't normally stay in places this luxurious, so we were impressed by the attention to detail. We also felt a bit underdressed at first.
But once we met the other guests on the tour, that feeling went away. At least half of our group were dressed in similar, relaxed clothing like us. There were some in impeccable resort casual, too, so either way is fine.
---
---
No electronics, bags, or photos allowed.
The Bunker has been decommissioned and declassified, but that doesn't mean it's giving away all its secrets just yet.
There's a very strict no bags, no electronics, and no photos policy.
They have lockers at the beginning of the tour where you store your cell phone, purses, etc. If you don't feel comfortable leaving these items in a locker, then don't bring them with you to the tour.
Some of the space in the former bunker is now rented by private companies for server storage, among other things, I'm sure.
This is the primary reason for the security measures. It's not just another government cover up!
Lots of walking but not a lot of stairs
The Bunker Tour information page specifically calls out the dress code as "comfortable shoes" because you're on your feet and walking for the majority of the 90 minute tour.
The good news is there aren't many stairs! A few spots throughout the tour provide a chance to sit down while your guide explains more about the room you're visiting.
Greenbrier Bunker Tour: Practical Info & FAQs
Cost: $40 per adult, $20 per kid ages 10-18
Duration: about 1.5 hours
Reservations required: Call ahead to reserve your spot. Tour times vary by day and guide availability. No online tour reservations.
>> Can I Do the Bunker Tour If I'm Not Staying at The Greenbrier Resort?
Yes, absolutely! Call ahead to reserve your spot. (No online reservations unfortunately.) Then, the resort will send you directions for where to park, how to get to the resort, and where to meet up.
When we day tripped here as part of our bigger eastern US road trip, we parked at the train depot, a resort shuttle bus took us to the front entrance, and we rendezvoused with the tour group in one of the front lobbies.
>> Are Private Bunker Tours Available?
Yes, at a price. You're essentially buying out a timeslot to book a private tour.
Therefore, the cheapest private tour option is $900 for a tour time before 5PM. After 5PM, the price and mandatory gratuity increase.
You're still allowed up to 25 people on a private tour, so costs could be split amongst yourselves if you're trying to guarantee your whole group is on one tour time.
>> Can Kids Come on the Greenbrier Bunker Tour?
Yes, ages 10+ are welcome.
>> Will Kids Get Bored on the Bunker Tour?
Depends on age and interests. I haven't met a kid yet that thought moving an enormous blast door by themselves was boring.
The history might go over younger kids' heads, but the guides try to make it interesting for them nonetheless. Tweens and teens will get a kick out of the "latest technology" displayed in the bunker.
The Greenbrier Bunker Tour: A Fun Road Trip Stop Worth Your While
If you're in the area of White Sulphur Springs, West Virginia or you're passing within detour distance on a road trip, we highly recommend this unique stop!
The Greenbrier's Bunker Tour reveals a fascinating piece of American history, perfect for breaking up a long drive as a stepping stone to your next destination.
Here are some more resources for an epic Eastern USA Road Trip that can easily accommodate a stop at The Greenbrier.
Happy travels!
Share it!