Explore Whitefish Point in Michigan's Upper Peninsula with a day or half day relaxing on Whitefish Point Beach, admiring historic Whitefish Point Light Station, and learning about the dangerous nature of Lake Superior at the Great Lakes Shipwreck Museum. Don't skip visiting Whitefish Point on your next road trip to UP Michigan!
---
This post may contain affiliate links. As an Amazon Associate and associate of other programs, I earn from qualifying purchases. This means if you click a link and make a purchase, I may earn a small commission at no extra cost to you.
---
Visiting Whitefish Point
Whitefish Point is a beautiful natural area today with lots of history. The beauty of the Great Lakes can't be overstated. The color of the water will blow your mind if you've never been to this area of the world.
This area is also unfortunately known to mariners as the Graveyard of the Great Lakes because this shoreline of Lake Superior is so treacherous for ships. Hidden shoals and dangerous storms are a deadly combination.
It's no coincidence that the Great Lakes Shipwreck Museum is here at Whitefish Point. The infamous Wreck of the Edmund Fitzgerald isn't far from here.
The Edmund Fitzgerald was a large lake freighter carrying a load of ore across the Lakes in 1975. It lost its radar during a storm and contacted another ship nearby on the same route.

They continued through a vicious November storm, keeping in radio contact with no problems, until the Edmund Fitzgerald just mysteriously disappeared.

It was so close to the relative safety of Whitefish Bay when it quickly sank with all hands. None of the other ships in the area saw it go down.
We'll never know for sure what caused this tragedy. All we have is conjecture from the sparse information available at the time of the investigation.
I recommend The Trial of the Edmund Fitzgerald for a quick read with minimal fluff.
---
Where is Whitefish Point + How to Get There
Whitefish Point is a headland that sticks out into Lake Superior on the eastern end of Michigan's Upper Peninsula. It creates a protected bay that connects to the St Mary's River and the Soo Locks in Sault Ste Marie.
Whitefish Point is closest to Paradise, Michigan, a very small town about 1.5 hours' drive from Sault Ste Marie or Mackinaw City or 2 hours from Munising.
We stayed in Sault Ste Marie as our home base for a 3 day Michigan UP summer mini-trip, and it was pretty convenient.
If you do the same, we highly recommend taking the Whitefish Bay Scenic Byway along Lake Superior's shoreline rather than the (faster) route Google will suggest using M-28 and M-123.
Important Note: Tahquamenon Falls is not at Whitefish Point, but it is nearby. The Tahquamenon Falls State Park Lower Falls parking lot is about 30 minutes from Whitefish Point.
We did both Whitefish Point and Tahquamenon Falls in one day with no problem.
---
---
Fun Things to Do at Whitefish Point, Michigan
Visiting Whitefish Point is on every Michigan Upper Peninsula bucket list, but what is there to actually do at Whitefish Point?
It depends on the time of year you visit.
This area experiences really cold winters, so the tourist sites all close. The museum at Whitefish Point is only open May 1 through October 31, but the outdoor sights are technically accessible all year round.
There are several attractions that are all encompassed by "Whitefish Point" so let's look at everything there is to do in this unique corner of the UP.
Great Lakes Shipwreck Museum
A must-see at Whitefish Point is the Great Lakes Shipwreck Museum. This stretch of Lake Superior has a macabre nickname, the Graveyard of the Great Lakes, and this museum details the history of the many shipwrecks.
Most of the wrecks are old wooden ships, but large freighters have had a hard time navigating the shoals, too.
Each wreck has its own exhibit with several artifacts from each. One of the most significant artifacts in the museum is the bell recovered from the pilothouse of the Edmund Fitzgerald.
Exhibits also cover how divers discover and document shipwrecks. Many wrecks are within reach of scuba divers, and that's a very popular thing to do on Lake Superior even today.
But the Edmund Fitzgerald sank in one of the deepest parts of Lake Superior in Canadian waters. A deep sea submersible was required to dive that deep, confirm the wreckage, and used again to recover the bell for a memorial for the families of the lost crewmembers.
The museum is very informative, but kids may get bored with reading all the exhibit plaques in the museum gallery. There are several other buildings at Whitefish Point that your museum admission covers as well that the kids may find more entertaining.
A quick, 20 minute film is held in a building by the gift shop, but you can also tour the 1861 Lightkeeper's Quarters (discussed with the light station) and the 1923 Surfboat House.
The Surfboat House will leave your jaw on the floor after you read some of these stories. This exhibit area focuses on the early rescue crews that would go out to help boats in distress on the lake.
The old rowboats and simple tools that these men used to go out in the middle of serious storms to save distressed mariners is humbling. I'm amazed they were able to save anyone, but they did it that way for decades.
You can easily spend 2+ hours here, exploring all the exhibits and buildings on the Shipwreck Museum & Light Station campus.
Whitefish Point Light Station
Every dangerous shoreline needs a good lighthouse to warn nearby ships, and Whitefish Point Light Station has been here since 1849. It's the oldest operating lighthouse on Lake Superior.
You can't climb the light station, as it's still an operating light station for the lake, but you can walk all around it and get lots of pictures.
Walk through the old lightkeeper's house (admission covered by the museum ticket) and see how the lightkeeper's and their families lived.
Once a remote and lonely post, the lighthouse has some fascinating stories as more men were stationed in the area. There was even a confirmed German spy discovered here during the 1940's!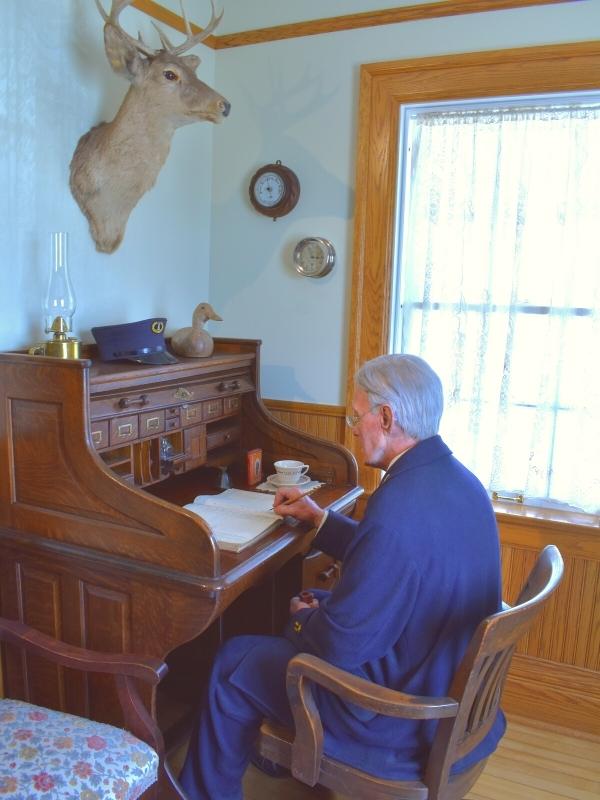 The light station was converted to an automatic station in the 1960's, so it's no longer a manned post with a lightkeeper but it still serves as a beacon for passing Great Lakes freighters.
Whitefish Point Beach
Relax on the shores of Lake Superior with a visit to Whitefish Point Beach. It'll be windy, so bring a light jacket even in summer, but it's always worth a stroll.
From the parking lot, walk to the right of the light station. You'll see a wooden observation deck that leads out to the beach. This is also where you'll find a memorial to the lost crew of the Edmund Fitzgerald.
Whitefish Point Beach has both sandy sections and colorful pebbles, but remember, don't take the rocks!
Take lots of pictures but leave no trace that you were there. Seabirds nest here, and some of them nest directly on the beach in between the small rocks. If you take the rocks, you're depleting their nesting areas.
A word of warning for anyone that's not familiar with the Great Lakes: Lake Superior is cold all year round. Water temperatures at the height of summer don't get much higher than 60°F.
My southern self wasn't about to get in that water, but there were some crazy kids having the time of their lives on a warm July day.
Swimming is allowed at Whitefish Point Beach, but we'd call it wading, rather than swimming. You don't want to go too far from shore.
Whitefish Point Bird Observatory
Whitefish Point is in the perfect location to make it a hot spot for migrating birds.
The Whitefish Point Bird Observatory supports research and bird counts for this important area, as well as holds guided bird walks for the public during the warmer months. Bring your binoculars!
Bird watchers will love this area, especially if you visit at the right time of year. Spring and fall migrations see over 300 species of birds at the point!
There aren't a lot of facilities associated with the bird observatory, but check their website ahead of your trip to see if you can time it right for a meet up.
There is a boardwalk next to the Shipwreck Museum's gift shop that leads off into the dunes and out to the hawk viewing platform. There is also a viewing shack for waterbirds on the opposite side of the point.
---
---
Whitefish Point Practical Info & FAQs
Parking at Whitefish Point is FREE. The lot fills up on summer weekends, but you'll notice plenty of people parking along the side of the entry road. If you do need to do this, check for no parking zones first and then get all four wheels off the pavement.
The Great Lakes Shipwreck Museum charges an entry fee: $14 adults, $10 children, kids 5 and under free.
If you're not interested in the history portion in the buildings, walking around the area is free.
>> Can You Swim at Whitefish Point?
Technically yes, but keep in mind the water will always be cold and don't swim out too far. Staying near the beach is usually fine, but there aren't any lifeguards. Swim at your own risk.
>> Can You Take Rocks from Whitefish Point?
No, please leave the rocks! The rocks are beautiful and colorful, but also an important part of the beach ecosystem.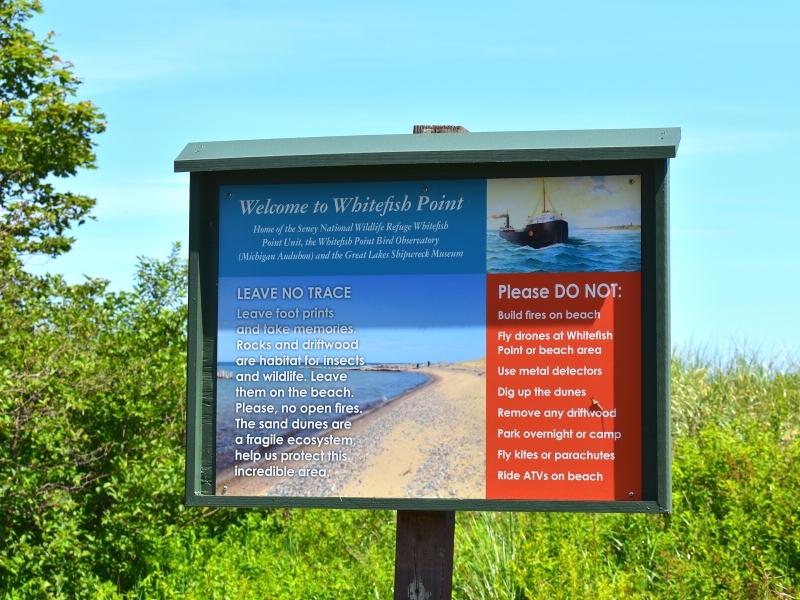 Visiting Whitefish Point is a Perfect Half Day Stop on a Michigan UP Road Trip
We definitely recommend a stop at Whitefish Point when you visit the eastern end of the Michigan Upper Peninsula! The museum and light station are a fascinating look into the history of the area, and there's plenty of beach and bird sanctuary to explore. Whitefish Point is worth a visit!
Other Upper Peninsula Michigan Resources
Happy travels!
Share it!