The mountains of North Carolina are dotted with picturesque little towns, but every now and then one shines brighter than its neighbors. Little Switzerland, North Carolina is one of those shining stars.
Originally founded as a mountain resort town by a North Carolina senator, the Switzerland Inn was the first piece of real estate and continues to be the anchor for the little town.
It's one of very few small towns in North Carolina with direct access to the Blue Ridge Parkway, and it's a popular stop for daredevils wanting to drive the curvy NC-226A Diamondback route.
Whatever the reason for visiting, there are more things to do in Little Switzerland than first meets the eye!
---
This post may contain affiliate links. As an Amazon Associate and associate of other programs, I earn from qualifying purchases. This means if you click a link and make a purchase, I may earn a small commission at no extra cost to you.
---
Visiting Little Switzerland, NC: A Blue Ridge Parkway Town
You've probably never heard of Little Switzerland, NC. Is that like a neighborhood in a big city, like Little Italy? Nope!
It's a tiny town in the Blue Ridge Mountains of North Carolina, a convenient stop on the Blue Ridge Parkway between Mount Mitchell State Park and Linville Falls.
Most people haven't heard of this small town so they don't know what to do here. For how small the town is, there are a surprising number of things to do in Little Switzerland. Stay a little longer for the perfect mountain weekend getaway!
Where is Little Switzerland, NC?
Little Switzerland, NC is midway between Asheville, NC and Boone, NC. Blue Ridge Parkway connects all three towns, but it is not the fastest route between them.
The parkway was built specifically for leisurely drives with stops at beautiful overlooks, not for getting places quickly.
If time is limited on your trip, follow Google's most efficient route from your origin. Just beware if it directs you onto NC-226A before you get to Blue Ridge Parkway. More on that below.
---

---
Getting to Little Switzerland
Typical Route
Using a combination of I-40 and state routes, Little Switzerland is 1 hour from Asheville and 1 hour from Boone and Blowing Rock.
Coming from further afield? Little Switzerland is about 2 hours from Charlotte, NC or Greenville, SC and about 2.75 hours from Knoxville, TN.
Blue Ridge Parkway
Blue Ridge Parkway is the most scenic route to Little Switzerland and worth the extra drive time if you can spare it.
The parkway uses a mile marker (MM) system for navigation, small concrete posts with blue numbers along the side of the road. Numbers increase as you drive south or decrease as you drive north.
Little Switzerland is at MM 334 on the Blue Ridge Parkway.
SR 226A Diamondback
Another popular route with thrill seekers is the SR 226A Diamondback route. This is an incredibly steep, curvy route to climb the mountainside.
Motorcyclists and car enthusiasts typically love it. Not recommended for those that get car sick.
---
Little Switzerland is a Seasonal Town
An important thing to remember when planning your trip: the town closes for the winter from December through April.
It's a seasonal town that shuts down for the winter, when access is made difficult by snow and ice in the mountains. Exact dates can vary based on the severity of the weather.
Check hotel and business websites before venturing up that way in November, December, or April to confirm they're open.
---
Things to Do in Little Switzerland
1. Stay at the Switzerland Inn
The foundation of the entire town, this resort was the first building built. A Swiss escape in the Blue Ridge Mountains!
This is a fantastic home base for your stay, with on-site restaurants, amenities, and views. Also, a popular wedding venue. Be sure to reserve one of the mountain view suites for the best views from bed!
The priciest place to stay in Little Switzerland, but hard to beat the amenities and convenience factor here.
2. The Switzerland Cafe and General Store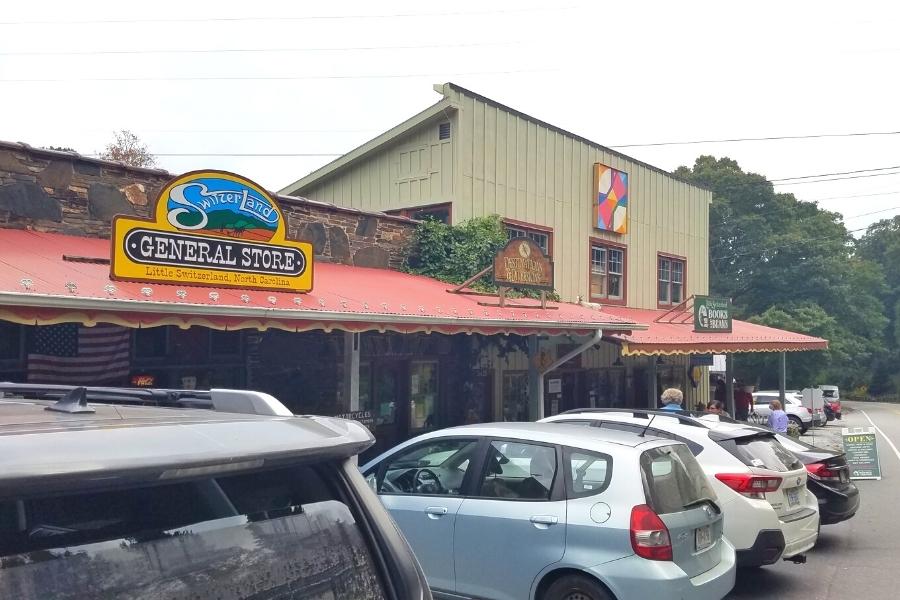 The town's center is the café and general store. It's positively packed with people on a nice day, and the food is worth the line. A convenient stop for Blue Ridge Parkway visitors that need lunch.
Get your Little Switzerland souvenirs at the attached General Store, including "I Drove the Diamondback" shirts. It resembles a convenience store or camp store, with everything from t-shirts and ponchos to water bottles and cigarettes for sale.
3. Books and Beans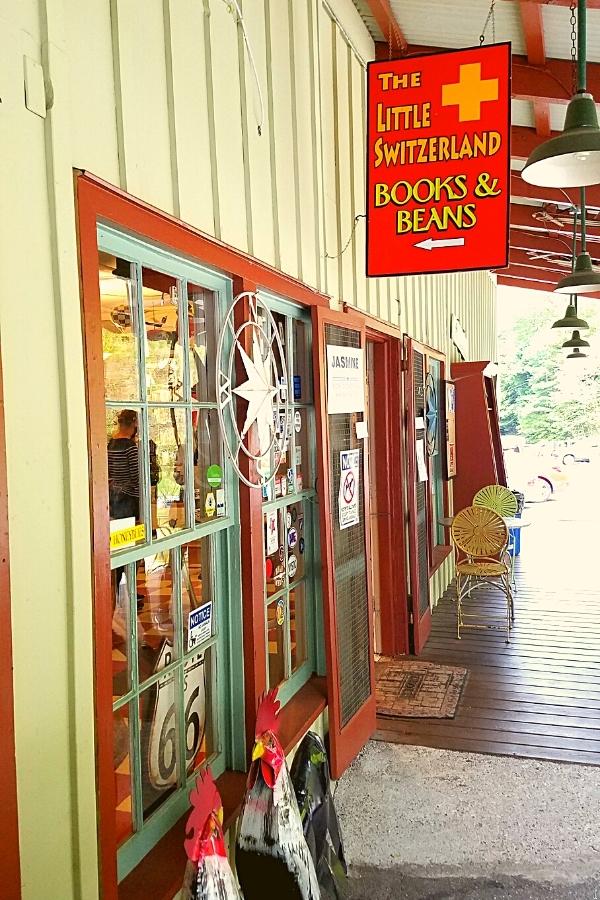 Grab a pick-me-up coffee or sweet pastry and peruse this amazing bookstore attached to the Café and General Store.
The store just keeps going, with every room packed from floor to ceiling with shelves of books, both used and new.
They even had entire year bundles of National Geographic magazines. A wonderfully eclectic store, perfect for passing some time exploring while you stretch your legs or wait for a table at the café.
4. The Swiss Shoppe
Need a sweet treat? Stop in The Swiss Shoppe for ice cream, chocolates, and fudge. Located across from The Switzerland Inn's entrance in the shops on the left.
5. Grassy Creek Falls
Why most people on Blue Ridge Parkway stop in Little Switzerland in the first place: the Grassy Creek Waterfall.
Grassy Creek Falls is on private property, but the park service and local officials have an agreement in place with the owners to allow public access. Always follow posted signs and do not trespass off the trail.
Parking is available on the gravel road "Grassy Creek Falls Rd", immediately on the right after passing under Blue Ridge Parkway.
About half of the trail is following the gravel road down the hillside until moving into the woods and to the Grassy Creek Falls. Easy to moderate difficulty and many kids have made the hike without a problem.
6. Drive NC-226A, "The Diamondback"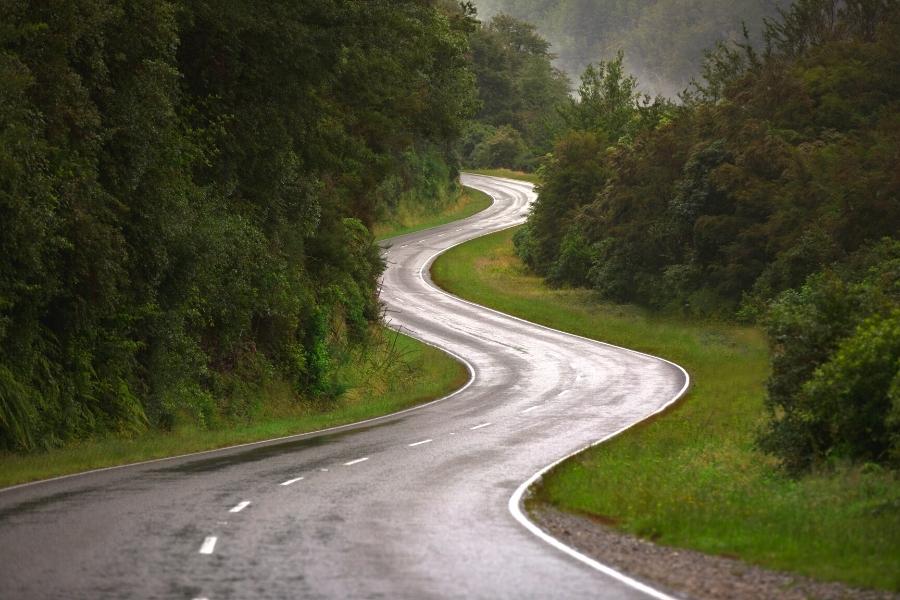 The Diamondback route is a nightmare for some and an exhilarating drive for others. Twisting its way through the mountains, this route is frequented by motorcycle and car enthusiasts. We saw a troop of Porsches come through on one of our visits.
While this attraction isn't necessarily something to do in Little Switzerland, it is a good stopping point before or after your curvy mountain driving adventure.
The General Store sells Diamondback t-shirts, but continue up towards the Switzerland Inn, to the shopping on the left just past the hotel entrance. The Little Switzerland Trading Company has plenty more Diamondback paraphernalia for purchase.
7. Emerald Village
Drive 10 minutes west of Little Switzerland to find the popular Emerald Village, the most popular thing to do in Little Switzerland. This complex showcases 12 mines, a museum, and plenty of opportunities to pan for gold or uncover minerals yourself!
Take an evening Black Light Mine Tour to see the walls glow under ultraviolet light. Dig through the dumps to find emeralds at the Crabtree Emerald Mine, or take the easier route at The Gemstone Mine with a bucket to wash in the flumes with guaranteed gem finds.
A big hit with kids and rock hounds alike!
8. Museum of North Carolina Minerals
Learn about the history and importance of mining in the North Carolina mountains at this quick stop in Gillespie Gap. This spot is about 5 minutes east of town, whether you take Blue Ridge Parkway or NC-226A.
Western North Carolina is one of the country's richest areas for minerals and gems, and the mineral mining in the Spruce Pine Mining District has had a significant impact on the area's economy.
Gillespie Gap was also a key stop for the Overmountain Men on their way to fight the British at the Battle of Kings Mountain in South Carolina during the Revolutionary War. Stop by the Mineral Museum in September for a chance to see the reenactors.
9. Explore Blue Ridge Parkway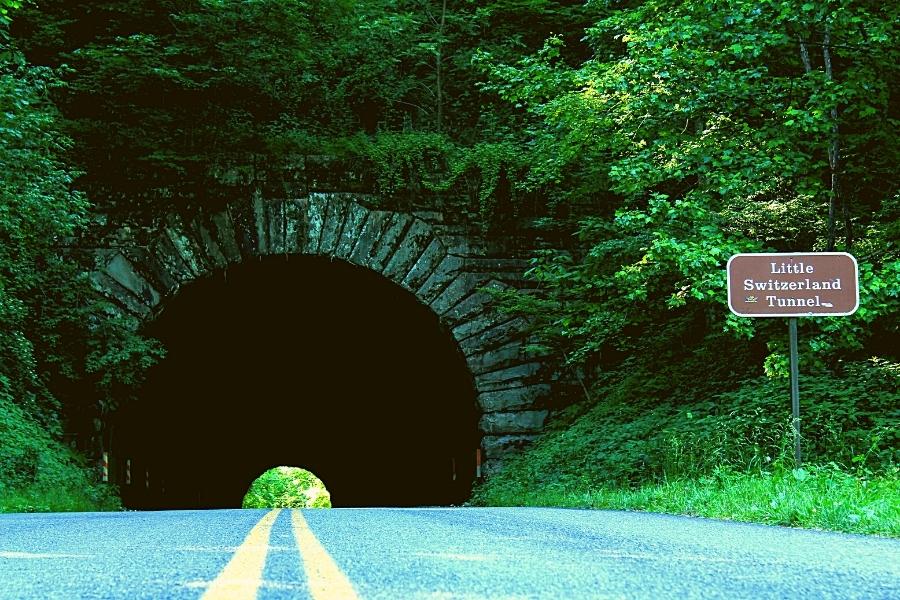 Little Switzerland has easy access to Blue Ridge Parkway, thanks to the negotiation skills of the town's founder. Staying in Little Switzerland provides the opportunity to dive further into this area.
Take your time at Grandfather Mountain or Mount Mitchell, and explore some of Blue Ridge Parkway's hiking trails, like Crabtree Falls or Linville Falls.
Enjoy a sunset view from a parkway overlook without the hour or more drive back to a city. Staying in Little Switzerland has its perks!
Restaurants in Little Switzerland
While there aren't a lot of options in Little Switzerland, it does have some incredibly tasty food. A good place to stop for a meal while on a Blue Ridge Parkway drive!
The Switzerland Café
An affordable and incredibly popular spot in Little Switzerland. Other than the Switzerland Inn, this is the largest building in town. You can't miss it. You'll smell the barbecue as you walk up.
Barbecue is a best seller, but the café also has scrumptious sandwiches, and even a whole mountain trout if you're up for it. Don't forget dessert! You won't regret a slice of cake or pie.
The Chalet
The Switzerland Inn's fine dining establishment. The Chalet restaurant is Swiss-inspired, from the food to the ambience to the views. Enjoy gorgeous mountain views while you eat in a Swiss chalet-styled dining room.
Lunch options are lighter: a variety of salads, gourmet burgers, and sandwiches. Dinner takes it up a notch with prime rib, lobster salad, and roasted duck, to name just a few of the delectable offerings.
And they haven't forgotten the kids. Grilled cheese, PBJ, and chicken nuggets are available if the little ones aren't quite ready for Swiss dining.
The Terrace
Eat outdoors on a fine day at The Terrace, another Switzerland Inn eatery with mountain views. Menu offerings are similar to The Chalet while being slightly more budget-friendly.
The Fowl Play Pub & Tap Room
Enjoy a casual atmosphere at the pub. Try out a local craft brew or a selection from the Inn's wine cellar. Pub food includes everything from soups, dips, and wings to substantial burgers and steak entrees.
Other Things to Do Nearby Little Switzerland on Blue Ridge Parkway
Grandfather Mountain State Park, MM305 – 55 minutes northeast
Linville Falls, MM316 – 30 minutes northeast
Chestoa View Overlook, MM320 – 20 minutes northeast
Historic Orchard at Altapass, MM328 – 15 minutes northeast
Little Switzerland Tunnel, MM333 – 1 minute east
Crabtree Falls Hike, MM339 – 10 minutes southwest
Mt Mitchell State Park, MM355 – 45 minutes southwest
---

---
Enjoy these 9 Things to Do in Little Switzerland on your next weekend getaway to the Blue Ridge Mountains!
Whether you stay for a day or a weekend, there's plenty to do in Little Switzerland, NC.
Hike to a waterfall, explore the area's mining past, or relax and enjoy the view from a cozy mountainside resort.
This underrated Blue Ridge Parkway town is perfect for a quiet Carolina mountain getaway!
More Western North Carolina Travel Ideas
More Biltmore Travel Resources
Happy travels!
Share it!