Cruising down Blue Ridge Parkway through the mountains of Virginia and North Carolina is one of the most scenic road trips you will ever take in your life.
This beautiful national scenic byway connects Great Smoky Mountains National Park in North Carolina with Shenandoah National Park in Virginia.
Whether you drive all 469 miles in one epic road trip or break it up into smaller sections, don't miss these 18 best overlooks on Blue Ridge Parkway.
---
This post may contain affiliate links. As an Amazon Associate and associate of other programs, I earn from qualifying purchases. This means if you click a link and make a purchase, I may earn a small commission at no extra cost to you.
---
Real Quick: Why Take a Trip Down Blue Ridge Parkway?
Never heard of Blue Ridge Parkway? It's the southeast United States' best road trip for beautiful mountain views!
Blue Ridge Parkway passes through national forests and protected mountain ranges. Slow down and take a few hours or days to appreciate the beauty that can be found in undeveloped natural landscapes.
Stand in awe as you watch the sun set behind the Blue Ridge Mountains from a Blue Ridge Parkway overlook.
Take all the fall color photos as you drive through a national forest bursting with reds, oranges, and yellows.
Park the car and take a short hike to a gushing waterfall surrounded by vibrant greenery.
Spend some time eating delicious Appalachia comfort food in one of the many adorable mountain towns.
Blue Ridge Parkway features over 200 scenic overlooks and more than 350 miles of hiking trails, enticing you to pull over, get out of the car, and enjoy a fantastic view.
This parkway isn't just a means of transportation; it's a destination. Treat it the same as taking a day to drive all of Skyline Drive in Shenandoah National Park or Park Loop Road in Acadia National Park.
Driving the entirety of Blue Ridge Parkway will take several days, but even visiting the Blue Ridge Parkway as a day trip from Asheville or elsewhere is worth your while. Hit the highlights and see as many of the best Blue Ridge Parkway overlooks as you can with the time you have available.
---
---
Creating the Blue Ridge Parkway: A Brief History in 250 Words
The "America's Favorite Drive" slogan pretty much hits the nail on the head for this outstanding mountain byway. This was a planned linear park, unlike any of the other national parks at the time.
In the 1930's it was suggested that a roadway should be built to connect Virginia's Shenandoah National Park to the new Great Smoky Mountains National Park on the North Carolina/Tennessee border.
The route for the parkway was hotly contested, with cities struggling to make it through the Great Depression all vying to be included to get some of that tourism money.
Construction began in 1935, but it was slow going, what with the Depression and then World War II.
By the early 1950's, only about half of the parkway was complete. The National Park Service pushed to get the remaining miles completed before its 50th anniversary in 1966, and they were mostly successful.
The missing link in the Blue Ridge Parkway was a few miles around Grandfather Mountain. The owner of Grandfather Mountain didn't want the new parkway to destroy the fragile mountain ecosystem.
So, after years of negotiations, engineers came up with the remarkable Linn Cove Viaduct design.
The viaduct wraps around the mountain, rather than blasting through it or dumping earth on top of it. Years of negotiations finally concluded! Congress got around to approving funds and all 469 miles of continuous Blue Ridge Parkway were finally finished.
The official ribbon cutting opened the final portion of parkway in 1987.
When Is the Best Time to Visit the Blue Ridge Parkway?
A Blue Ridge Parkway road trip is always a good idea. That being said, there is no better place in the southeast United States to view fall foliage than on a drive along Blue Ridge Parkway!
Pro Tip: The higher elevation trees in the park will peak in color before the lower elevation trees have even started to change. Shoot for mid-October for maximum color, but be aware that it varies plus or minus a few weeks from year to year.
Check conditions before planning a trip in the winter. Portions of the parkway close in the winter after the first significant snow or ice covers the road, and they don't reopen until it thaws in the spring.
18 Best Overlooks on Blue Ridge Parkway
Driving continuously along the 469-mile Blue Ridge Parkway, it's roughly 12 hours of drive time. If you stopped at all 200+ overlooks, which is pretty tempting, it could take more than a week!
What a way to spend a week though: road tripping the entire length of the Blue Ridge Parkway!
But we're realists here and understand that not everybody has that kind of time. (Or, perhaps, the patience to drive just 45mph all day for days on end. 😂)
For those who need to hit the highlights, we've collected the 18 best overlooks along Blue Ridge Parkway in both Virginia and North Carolina. Pick a few that sound good to you, or fall on the portion of the parkway you're visiting this time around, and get out there!
Map of Blue Ridge Parkway's Best Overlooks
But Also, Grab a Blue Ridge Parkway Official NPS Map
For ease of use, this list is split into Virginia and North Carolina overlooks, and all overlooks are listed in order by mile marker post.
Mile post (MP) 0 for Blue Ridge Parkway is on the north end in Virginia near Shenandoah's southern end. MP 469 is the parkway's southern end in North Carolina, just outside the Oconaluftee entrance to Great Smoky Mountains National Park.
Pick up a map at any NPS visitor center along the parkway. Most towns in the mountains also have maps available at their tourist information centers, or even in hotel lobbies.
The NPS map also breaks up the parkway by state, with Virginia on the front and North Carolina on the back. Note that not every overlook is listed on the maps, just the most popular ones. Use the mile posts provided here to help locate overlooks not found on the NPS map.
The "Close To" section for each overlook lists cities or attractions that are roughly within an hour of the overlook, to help you plan day trips to the parkway or simply to locate it faster on your map.
Best Blue Ridge Parkway Overlooks in Virginia
The Blue Ridge Parkway begins literally across a bridge from where Skyline Drive ends at the southern end of Shenandoah National Park.
The parkway winds its way through Jefferson and George Washington National Forests, bypasses south around Roanoke, and continues to the Blue Ridge Music Center in Galax, VA before crossing into North Carolina.
Here are the best overlooks on Blue Ridge Parkway in Virginia.
Rockfish Valley Overlook | MP 1.5
The first open overlook from the northern entrance, Rockfish Valley is a beautiful taste of what's to come on your jaunt along Blue Ridge Parkway.
This overlook is conveniently close to the beginning of the parkway so you can watch the sunrise from this viewpoint without getting up too absurdly early.
Close to: Shenandoah National Park; Charlottesville, VA
Ravens Roost Overlook | MP 11
One of the most popular viewpoints along Blue Ridge Parkway, Ravens Roost Overlook is a must-see! Views of the Shenandoah Valley go on for days!
Especially magical at sunset, if you are doing an out-and-back adventure and basing yourself in nearby Staunton or Charlottesville. Catch Rockfish Valley for sunrise, and Ravens Roost for sunset.
Close to: Shenandoah National Park; Charlottesville, VA
Yankee Horse Ridge Overlook | MP 34.5
This stop is included for the ease of access to a small waterfall. The hike is only 0.5 miles total. Can't pass that up if it has rained recently.
Wigwam Falls is pretty small, but this is a short and easy hike to stretch your legs after being in the car for a while.
Close to: Lynchburg, VA; Buena Vista, VA
James River Visitor Center | MP 64
The lowest spot on the Blue Ridge Parkway, the roadway dips down out of the mountains to cross the James River. This is an opportunity to "rest" from the expansive mountain valley vistas and enjoy a different type of view: a river in the foothills.
Park at the visitor center and walk across the pedestrian bridge, built under the vehicle bridge, for views up and down the river with the mountains in the background.
Also, a good spot to pull up a picnic table and eat lunch.
Close to: Lynchburg, VA; Roanoke, VA
Thunder Ridge Parking Area | MP 75
Get out of the car to appreciate this view. Find the small trail at the edge of the parking lot, and come to a low rock wall with that awesome valley view you were expecting.
Thunder Ridge is very close to the highest point on the parkway in Virginia.
Close to: Lynchburg, VA; Roanoke, VA
Peaks of Otter Visitor Center | MP 86
One of the most popular spots on the Blue Ridge Parkway in Virginia, Peaks of Otter is a complete recreation area built around the beautiful lake.
Both Sharp Top and Flat Top Mountains have hiking trails, or stroll the path around the lake. Either way, you'll get great photos of this peaceful area.
The NPS visitor center relates the history of the area and has a park store. Stay at the lodge on the lake, or save some money and choose the campground instead.
Close to: Lynchburg, VA; Bedford, VA; Roanoke, VA
Mabry Mill | MP 176
Another popular cultural spot on the Blue Ridge Parkway, Mabry Mill is the perfect subject for photography. The area seasonally holds cultural demonstrations of life when the mill was new.
Walk the loop trail of the area to see all the historic buildings. Grab lunch at the Mill Restaurant.
Close to: Roanoke, VA; Winston-Salem, NC; (both more than an hour away)
Groundhog Mountain Picnic Area | MP 189
Climb the wooden observation tower for an aerial view of this mountain meadow!
This spot can confuse visitors. Sometimes called Groundhog Hill Picnic Area or Groundhog Meadow Overlook, the observation tower is at the picnic area accessed directly from the parkway.
Don't turn off onto Buck Hollar Road. That is not what you're looking for. The picnic area on the parkway is about ½ mile to the east. The entrance is marked with a sign and lined by a wooden three-line fence.
Close to: Winston-Salem, NC; (Roanoke, VA is 1.5-1.75hrs away.)
Best Blue Ridge Parkway Overlooks in North Carolina
The North Carolina portion of the parkway features more mountains and higher elevation than the Virginia stretch.
Blue Ridge Parkway continues through Nantahala and Pisgah National Forests, as well as several mountain towns like Blowing Rock and Little Switzerland.
It then crosses right over the Biltmore Estate on the south side of Asheville before continuing to its southern terminus at Great Smoky Mountains National Park.
Here are the best overlooks on Blue Ridge Parkway in North Carolina.
Air Bellow Overlook | MP 237
This mountain vista shows how real residents of the Blue Ridge Mountains live. The valley below features farm fields, homes, and people just living their lives.
Watch out for the strong winds. It can get chilly here in a hurry in the colder months.
Close to: Stone Mountain State Park, NC; Wilkesboro, NC; (Winston-Salem, NC is 1.5hrs away.)
Price Lake Overlook | MP 297
A favorite local spot for nearby Boone and Blowing Rock residents, Price Lake is North Carolina's beautiful mountain lake on the parkway.
Hike around the lake, or rent a canoe or kayak for a paddle across. No swimming allowed in the lake though. There are restrooms here, but no visitor center.
Close to: Boone, NC; Blowing Rock, NC; Grandfather Mountain State Park, NC
Rough Ridge Parking Area | MP 303
We're cheating a bit with this overlook. The really great view requires a short but fairly steep hike along a portion of the Tanawha Trail until you break out of the forest and onto boardwalks along a rocky outcropping.
Stunning views of the Linn Cove Viaduct and Grandfather Mountain from up here! (Make sure you bring a good zoom lens.)
Close to: Boone, NC; Blowing Rock, NC; Grandfather Mountain State Park, NC
Pro Tip: if you're looking for that view of the Linn Cove Viaduct, park at the Linn Cove Visitor Center and hop on the Tanawha Trail from there. It will pass under the viaduct and come out on the hillside above in the perfect spot to capture that famous view.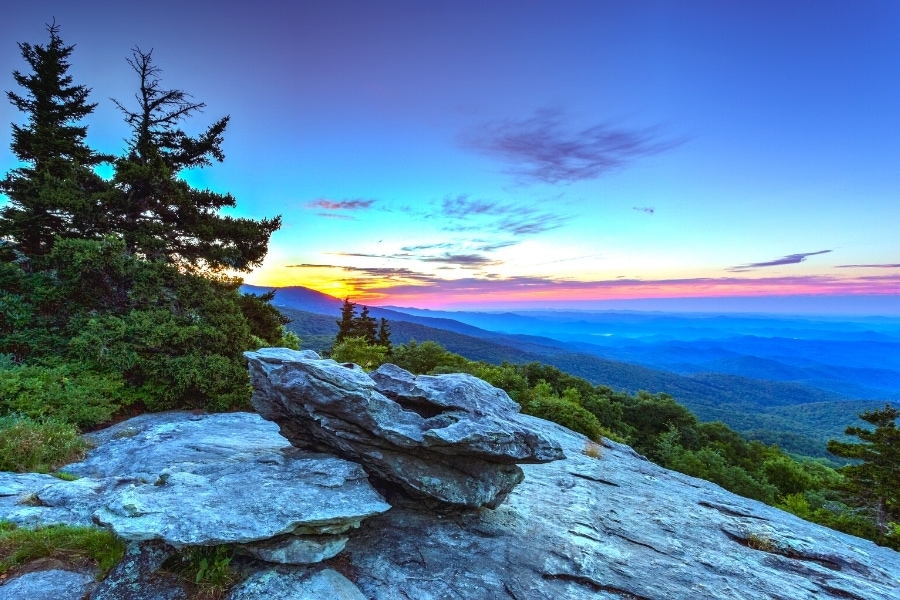 Beacon Heights Overlook | MP 305
A short hike up natural rock stairs from the parking lot reveals stunning views across the mountains. Fantastic spot to watch the sunset! (Or sunrise, if you're into waking up early.) Bring a picnic blanket and a thermos and enjoy!
The overlook is pretty loosely defined here. You'll see the view through the trees and come out onto a wide stone cliffside. There is a small clump of trees that extends out to edge of the stone, but walk around them (on the non-cliff side) and you'll come out onto another wider view.
Close to: Boone, NC; Blowing Rock, NC; Grandfather Mountain State Park, NC
Chestoa View Overlook | MP 321
A photographer's delight! The small overlook is down a short path from the parking area, but it's perfectly framed by trees and has one of those low stone walls that just makes the scene perfectly symmetrical.
And the views of the valley below are great, too, of course! Linville River Gorge spreads out in a 180° panorama. Highly suggest this view in fall.
Close to: Blowing Rock, NC; Mount Mitchell State Park, NC; Linville Falls
Craggy Dome Overlook | MP 364
Multiple ways to experience this pit stop. The parking lot has pretty good views of the area, but the truly spectacular views are earned after a hike.
The Craggy Pinnacle Trail is the best view, a 1.5 mile round trip climb through beautiful flowers up to the summit. Amazing and unobstructed mountain views!
Note: this is not at the Craggy Gardens Visitor Center. There are more good views from there, but to access the Craggy Pinnacle Trail it's easier to start at the Craggy Dome Overlook parking area.
Close to: Mount Mitchell State Park, NC; Asheville, NC
Looking Glass Rock Overlook | MP 417
One of the instantly recognizable views from Blue Ridge Parkway, the Looking Glass Rock juts up out of the forest for a unique geological feature in your photo.
Very close to Skinny Dip Falls if you want to cool off in the summer! Or, you can climb Looking Glass Rock, but the trailhead is off of US 276.
Close to: Asheville, NC; Hendersonville, NC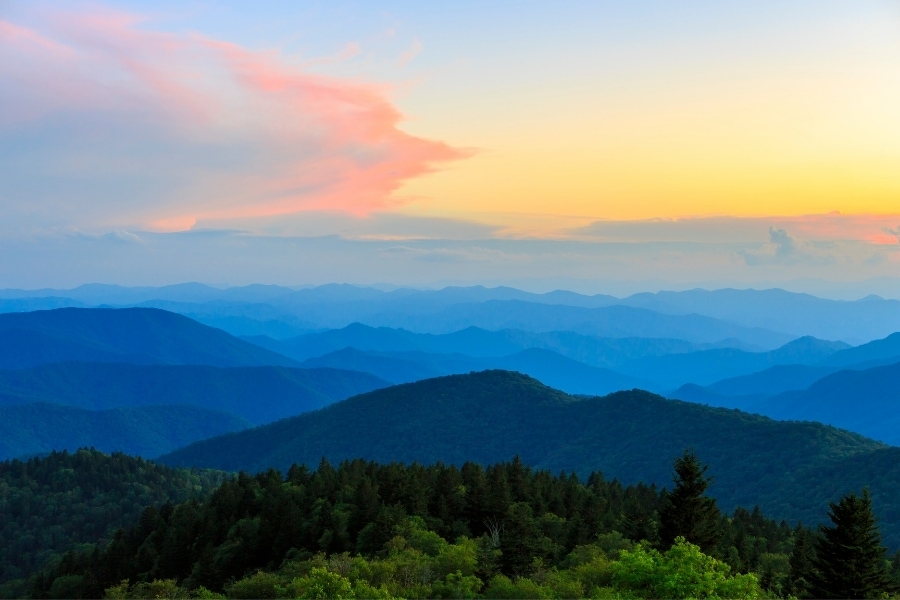 Cowee Mountains Overlook | MP 430
The most spectacular view on the Blue Ridge Parkway! Come for sunrise or sunset, or in the middle of the day, and you'll be treated to a phenomenal view no matter what.
Views are mountains layered on mountains layered on mountains; you can't take a bad picture here!
Close to: Bryson City, NC; Great Smoky Mountains National Park; Asheville, NC
Richland Balsam Overlook | MP 431.5
Special because it's the highest point on Blue Ridge Parkway, this overlook is unusual in that people usually stop for a picture with that highest point sign rather than for the view from the overlook.
This viewpoint isn't far from Cowee Mountains Overlook, and the views from Cowee are better.
Close to: Bryson City, NC; Great Smoky Mountains National Park; Asheville, NC
Waterrock Knob Visitor Center | MP 451
The highest visitor center on the Blue Ridge Parkway has some pretty great views, too!
A 1.25 mile round trip hike brings you to the top of the knob for unobstructed views, and the highest spot you can hike to from Blue Ridge Parkway.
Several mountain ranges converge on this spot for stunning 360° views from atop the knob.
Close to: Bryson City, NC; Great Smoky Mountains National Park; Asheville, NC
---
---
Don't miss these 20 best overlooks on Blue Ridge Parkway for an unforgettable trip!
Whether you've got a few hours or a whole week, driving the Blue Ridge Parkway is a rewarding experience.
Need more things to do in the area to round out your Blue Ridge Parkway road trip itinerary? Here's some great ideas.
More Western North Carolina Travel Ideas
More Biltmore Travel Resources
Happy Travels!
Share it!