Asheville, North Carolina is one of the southeast USA's favorite mountain cities. The Blue Ridge Mountains are a wonderful year-round adventure: cozy cabins in the winter, gorgeous fall foliage, waterfalls and hiking in the summer, and fields of wildflowers in the spring.
Deciding where to stay in Asheville depends on several factors, like what you're here to see, your personal tastes, and your budget.
The best area to stay in Asheville may be more affordable than you think and a quick drive to your favorite Asheville attraction.
Let's discover all the best areas to stay in Asheville, NC!
---
This post may contain affiliate links. As an Amazon Associate and associate of other programs, I earn from qualifying purchases. This means if you click a link and make a purchase, I may earn a small commission at no extra cost to you.
---
Where to Stay in Asheville, NC
The most important question when you arrive in a new place: where to stay.
You don't know this city so you don't want to end up in the wrong spot: far from anything you want to see, near a train track that runs day and night, or spending an arm and a leg and not even getting breakfast included.
Fortunately, Asheville has plenty of affordable options in several different areas around town. Which spot is right for you? That depends on what you're here to see and how much you want to spend.
Is Asheville Walkable? – How to Get Around Town
Downtown Asheville is walkable in its small downtown city center. However, to get to Asheville in the first place, you're likely arriving via personal vehicle or rental car.
Asheville has a small but fast-growing airport: Asheville Regional Airport (AVL). But once you arrive at the airport, you need a rental car to get around town and the western North Carolina area.
What are You Here to See?
Here are some of the most popular things to do in Asheville and the best area to stay in Asheville that corresponds to them.
However, with a car, it's easy to stay in a more affordable area and still get to what you want to see with a short drive.
Don't let a 10 minute drive to downtown be what stops you from getting a $100 cheaper per night hotel room out of the city center.
Best Areas to Stay in Asheville
The best place to stay is dependent on your tastes and budget.
We'll look at all the most popular areas to stay in Asheville, identify who is most likely to be comfortable there, and then offer a few of our favorite options for each area.
Our affordability scale is cheapest $, mid-range $$, and luxury $$$. Most areas can accommodate all three, but we've listed the average affordability.
Also note that seasonality will increase prices across the board.
Fall is a particularly expensive time to visit Asheville because everyone's in town to see the fall foliage in the mountains.
Downtown Asheville, $$-$$$
Urban adventurers and foodies will enjoy staying in the heart of downtown Asheville. Walk to restaurants, shops, and museums.
Downtown Asheville has stunning architecture. It's biggest buildings all went up in the 1910s and 1920s in Art Deco and similar styles.
When the Great Depression hit, the city vowed to not take on any more debt which basically meant a building freeze for decades.
They had to repurpose the buildings they had rather than tear down and build new. So today we have stunning Art Deco buildings and skyscrapers that make up the majority of downtown Asheville.
There are some modern buildings downtown, most of them hotels with office space.
Finding an affordable hotel downtown is pretty difficult, but the cool aesthetic is high at most of these hotels and the walkability is unmatched.
Biltmore Village, $-$$$
As close as you can get to the Biltmore Estate, without staying on the estate itself, but also a good spot for easy access to downtown and to Blue Ridge Parkway.
This is our most-frequented place to stay in Asheville because of its connectivity to everything.
Fair Warning: Prices here skyrocket in March/April and November/December, corresponding to Biltmore Blooms and Christmas at Biltmore.
The Biltmore Village area is a historic district just outside the front entrance to the Biltmore Estate. Back when the enormous estate was being built, this is where the workers and their families lived.
Today, the historic district remains, although it's entirely commercialized now by shops and restaurants, and is immediately obvious by the uniform gray stucco siding and red tiled roofs of the buildings.
The Grand Bohemian Hotel is literally across the street from the Biltmore Estate entrance.
On either side of the historic district is every hotel chain you can think of, and probably more.
We frequently stay at this Holiday Inn because it's consistently cheaper than the other hotels in this area, we can use loyalty points, and it's so close to Biltmore and Blue Ridge Parkway.
If you want an included breakfast, try the Hampton Inn & Suites Asheville Biltmore Village.
If you prefer warm cookies whenever you want, choose the DoubleTree Asheville-Biltmore.
Pro Tip: Don't confuse Biltmore Village for Biltmore Park. The Biltmore Park area is nice but way further south of town than you'll want to be.

Asheville's commuter traffic is never great, and whether you take the interstate or the city roads, it'll take at least 30 minutes to get downtown, longer if it's peak rush hour. (Biltmore Park is ok if your main goal is visiting Lake Julian.)
Asheville Outlet Mall, $-$$
Another favorite of ours, the Asheville Outlet Mall area has the hotel chains we trust and is a 10 minute drive to Biltmore, downtown, the North Carolina Arboretum, or Blue Ridge Parkway.
And, of course, the outlet mall is right here for all your shopping needs.
The hotels in this area are always a little cheaper than the Biltmore Village Area and quite a bit cheaper than anything downtown.
Pro Tip: We frequently choose one of these hotels and then eat dinner at the Stone Ridge Tavern right down the road.
All of these have clean, comfortable rooms and included breakfast.
Montford Historic District, $$-$$$
If you are a bed and breakfast fanatic, then the Montford District is for you. Just a few minutes northwest of downtown, this area is full of historic homes that have been converted into B&Bs.
Colonial Revival and Queen Anne homes line the streets. Even if you don't stay here, it's a nice area to drive through and gawk, which is what we did because we don't generally stay in B&Bs.
We don't have personal experience with these, but they come highly rated:
River Arts District, $-$$
What used to be an industrial area southwest of downtown has turned into a thriving arts district along the French Broad River.
This is hipster central: local breweries and artists' studios revitalizing once empty commercial buildings.
Because of its up-and-coming vibe in a once industrial area, you won't find any hotels here and no historic homes-turned-B&B.
There are a few hotels adjacent to the River Arts District, but none close enough that you could walk.
There's no advantage to staying at these adjacent hotels over staying in a downtown hotel, so we're not recommending any here. The budget range listed in the title is for a rental, not a hotel.
If you really want to stay in this area, find your perfect vacation rental.
Tunnel Road, $$
East of downtown, easy access to the interstates, and all of the restaurants and amenities around the Asheville Mall, the Tunnel Road area is best for families or couples who want to see a lot in the area.
The Asheville Mall is still thriving and well-maintained and has plenty of parking for those visiting to shop or just visiting for the restaurants. It's a busy area around meal times and on weekends, though.
It's an easy drive downtown to explore or to visit the River Arts District. Easy access to I-40 opens up the whole of western North Carolina's Blue Ridge Mountains.
If you prefer, hop on Blue Ridge Parkway for a slower paced drive with spectacular mountain views.
Hotels We've Stayed at in This Area:
The Best Luxury Hotel in Asheville
The crème de la crème of hotels in the Asheville area is the Omni Grove Park Inn.
It's got it all: comfy rooms, convenient shops, good restaurants, beautiful views, interesting history, its own golf course, tennis courts, and an underground spa.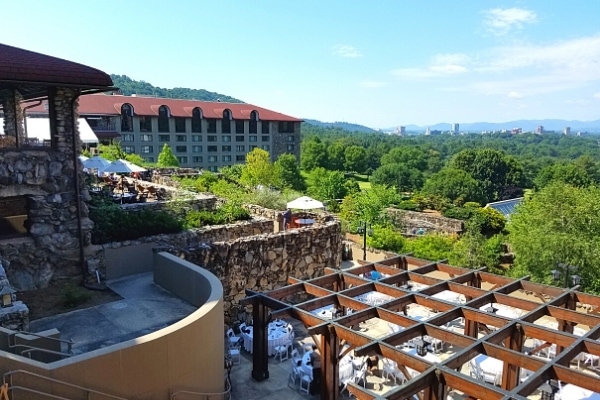 Many a rich and famous celebrity and politician have stayed here over the years but our favorite is the author F. Scott Fitzgerald.
He lived here for a while in the 1920s. They still celebrate his birthday in late September, and you can tour his rooms.
The spa looks amazing, and although we haven't been ourselves yet, it's high on our Asheville must-see list. A calming oasis in a cave-like lagoon sounds like the perfect way to unwind after a day of hiking.
Pro Tip: If you're interested in 4 star luxury and want to explore the Biltmore Estate, try The Inn at the Biltmore Estate.

It doesn't have quite as many amenities as the Grove Park Inn, but it's hard to beat staying on the estate if you want to explore Biltmore for more than one day.
Other Places to Stay near Asheville
If prices in Asheville itself are still too high, consider staying in a town a little further down the interstate from Asheville.
Black Mountain is a popular spot in its own right, east of Asheville on I-40.
Lots of Smoky Mountain crafts and boutique shops can be found here, but it's also a decent place to spend the night while exploring Asheville and the mountains by day.
Hendersonville is south of Asheville on I-26. It's a big community with easier access to Chimney Rock and Lake Lure than from Asheville itself.
Find Your New Favorite Place to Stay in Asheville!
We hope this guide was helpful in explaining the best areas to stay in Asheville as well as gave you a few tried and true options to consider in each area.
No matter which area you choose, you're sure to have a good time visiting Asheville!
More Western North Carolina Travel Ideas
More Biltmore Travel Resources
Happy travels!
Share it!