The otherworldly orange hoodoos of Bryce Canyon National Park are sure to leave an impression the first time you see them. The bold orange of the rock contrasts against the evergreen pine forests to create some spectacular views. The only problem: this beautiful park is in a hard-to-reach part of southern Utah.
So, where do you stay near Bryce Canyon National Park? The good news is there are some options. You probably won't be able to use your hotel rewards points, though, as most major hotels aren't anywhere near Bryce. Let's look at the nearby towns and find the best places to stay near Bryce Canyon.
---
This post may contain affiliate links. As an Amazon Associate and associate of other programs, I earn from qualifying purchases. This means if you click a link and make a purchase, I may earn a small commission at no extra cost to you.
---
Where is Bryce Canyon National Park?
Like all of Utah's national parks, Bryce Canyon is in the southern end of the state. It's pretty remote: Las Vegas, NV is just shy of 5 hours away to the southwest, while Salt Lake City, UT is a little over 4 hours away to the north.
Because of this, most visitors come to Bryce via a road trip of one sort or another.
The most common route, and one we've done ourselves, is a road trip loop from Las Vegas. We stopped at Zion National Park first, and then came to Bryce the next day.
Other routes include Utah's Mighty 5, visiting all 5 Utah national parks in a week, and the Grand Circle Tour, which loops through northern Arizona, clips the corner of Colorado, and loops back across southern Utah.
Quick Recommendations: Best Places to Stay near Bryce Canyon
The quick answer: stay in Bryce right outside of the park at the Best Western Plus Grand Hotel. It has comfortable rooms, amenities, and free breakfast.
Campers will be most comfortable at Ruby's Inn RV Park and Campground, also in Bryce right outside the park entrance. This campground has all the amenities you could need while camping, like full hookups, showers, and wifi, unlike the campgrounds inside the park.
>> Are you planning to spend a few days at both Bryce Canyon and Zion National Parks? Perhaps staying between Zion and Bryce makes more sense. <<

Staying in Bryce Canyon National Park
Sometimes you just want to stay in the park to be in nature and closer to the trailheads. Good news! Bryce has a park lodge and two campgrounds.
However, none of these properties have all the amenities we would expect them to have. This surprised us as much as anyone when we were researching before our trip.
We don't actually recommend staying in the park unless you like a rustic and/or unplugged adventure. Keep reading for more details on why that is.
The Lodge at Bryce Canyon
The Lodge at Bryce Canyon is at the heart of the Bryce Amphitheater, in between Sunrise and Sunset Points. You won't find a better location to stay in the park. Some of the rooms even have views of the canyon!
The Lodge is actually a group of different types of accommodations: the main lodge with 3 guest suites and 1 guest studio, the Sunrise and Sunset Lodge Motel Rooms, and the Western Cabins.
Some important things to know about these lodgings before we go any further: no TVs, no wifi, and no AC in any of the rooms.
I know. For us, that was a hard pass right there. I can't sleep in a hot room, which is probably why I don't often go camping, either.
In the hotel's defense, the high elevation means highs in the summer don't get much above 80°F with lows typically in the 50's.
They will provide fans if requested, and all rooms have thermostat-controlled heating for the winter. Free wifi is available in the main lodge lobby.
For those that want to unplug, this is an opportunity to do it with indoor plumbing and all other hotel amenities, including microwaves, mini fridges, and coffeemakers.
It comes at a price though. The Lodge charges just under $200 per night for the Studio, around $230-$250 per night for Lodge motels and the cabins, and almost $300 per night for the suites.
The Properties
The Main Lodge houses the three guest suites and the one guest studio. Suites are able to accommodate up to 5 people between the king bed, a sleeper sofa, and a rollaway bed. The studio can sleep 3 via a queen bed and a rollaway.
Note that these rooms are on the second floor of the lodge, and there is no elevator. You must be able to climb two flights of stairs to get to these rooms.
We were surprised to find out that these rooms have no view, but they're some of the most popular. They often sell out a year or more in advance. For example, reservations for the 2023 season went on sale on April 1, 2022.
Sunrise and Sunset Lodges are two-story motel buildings with views of the canyon. Rooms are decorated in the lodge style with heavy wooden furniture and Native American-inspired décor.
These rooms are in high demand for their views of the Bryce Amphitheater. Book far ahead, up to a year ahead of your trip.
Rooms have either one king or two queen beds, and rollaway beds are available for a fee. King rooms can accommodate up to 3 people while queen rooms can hold up to 5 people.
The Western Cabins open later in the year than the main lodge and the motels, even though they're in the same basic area.
These are positioned to accommodate groups, with two or four cabins in a group, sometimes connected via a lockable door.
Each cabin has two queen beds, a full bathroom, and a gas fireplace for a cozy cabin feel. Note that rollaway beds are not available for the cabins due to fire code restrictions.
Camping in Bryce Canyon National Park
Bryce has two campgrounds inside the park: North and Sunset. Both have similar features and amenities, that is to say, not many amenities.
Note that hammocks may not be hung between any of the trees or vegetation in the park. Hammocks are only allowed between free-standing supports.
The campgrounds themselves do not have shower buildings, just restrooms. Portable showers/solar showers, portable toilets, and even portable dressing rooms are prohibited.
Showers are available at the General Store at the lodge, near the North Campground. The showers are only available during their working hours of 9AM to 6PM.
North Campground
This campground is open all year (Loop A), requiring reservations in the busy season, generally from Memorial Day weekend through the end of September. The rest of the year it functions on a first come, first served basis.
Right across from the park visitor center, this campground has 100 spots in total, with 50 for RVs and 50 for tents, although tents are welcome at any campsite.
RVers beware: there are neither electric hookups nor sewer/water hookups at the campsites. A dump station is available in the summer.
Generators are allowed for two hours each morning and evening, but only at campsites in Loops A & B.
Note that cell service is pretty much non-existent out here, and there is no wifi at the campground.
Sunset Campground
Sunset Campground always operates on a first come, first served basis. It's open from mid-April through the end of October.
The park shuttle even has a stop at its entrance, making it easier for hikers to get to the Bryce Amphitheater without having to move their cars from their campsites.
This campground also has 100 spots with an even split for RVs and tents.
Like the North campground, it has no electric, water, or sewer hookups at the campsites, no cell service or wifi, and no showers.
The dump station near the North Campground is the only one in the park. The same rules for generators apply here: only at sites in Loops A & B and between the two hours permitted in the morning and the evening.
Where to Stay near Bryce Canyon National Park
If the in-park options didn't excite you, like us, there are other options with more creature comforts.
Before you get too excited, realize that Bryce is in a pretty remote area. There aren't any big towns nearby, but there are plenty of places that offer wifi, AC, or hot showers at campgrounds.
Here are a few options for where to stay near Bryce.
Bryce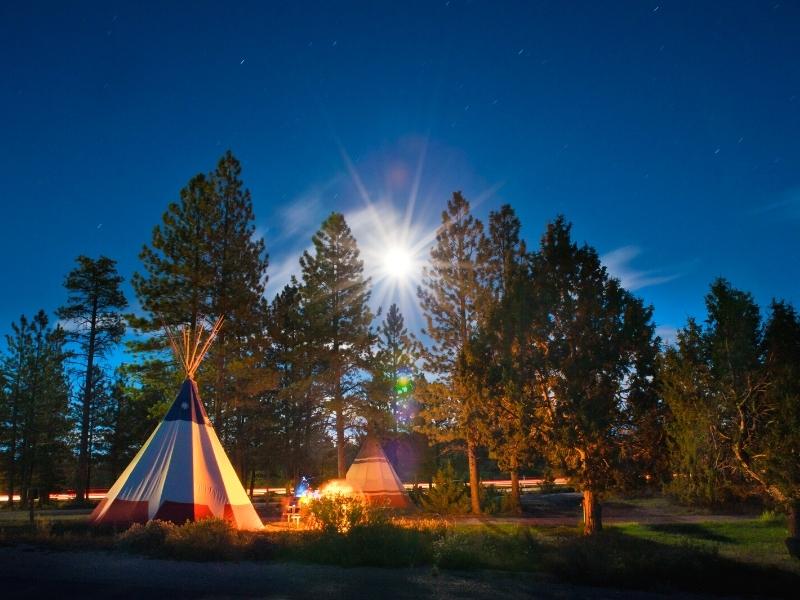 The tiny town of Bryce exists to serve the national park. As Utah's second most visited national park, millions of visitors pass through this gateway town every year, despite its petite size.
The town consists of 3 hotels, 3 restaurants, a gas station, and a handful of shops. That's about it. Ruby's used to dominate this town, and it still does for the most part, but Best Western is moving in and making its mark.
Our recommendation for lodging near Bryce Canyon is the Best Western Plus Bryce Canyon Grand Hotel. It has all the amenities you'd expect out of a hotel, including comfortable rooms, AC/heat, a pool, and free breakfast.
Ruby's Inn, now also a Best Western Plus hotel, is another good option and home to two of the town's three restaurants and the general store, if you need groceries.
Ruby's also has a campground and RV park adjacent to the hotel/motel sections, just outside the park entrance. This giant campground has RVs, tents, cabins, and even tipis in the summer. This is our recommendation for where to camp near Bryce.
The downside to staying in Bryce is the crowds in the summer. These lodging options fill up fast and well ahead of time.
More and more vacation rentals are opening up every year, but sometimes it's hard to find an affordable place to stay this close to the park.
Pro Tip: Bryce and Bryce Canyon City are not the same place, although they are sometimes used interchangeably, which just confuses everyone. Officially, Bryce is the name of the town outside of the national park. Bryce Canyon City is the developed area inside the national park for the Lodge and campgrounds.
Panguitch
Another small town, 30 minutes west of Bryce, Panguitch offers mostly bed and breakfasts in historic homes with a few one-off motels mixed in as well. This is the county seat and even has a hospital.
This historic town dates back to the mid-1800s and still celebrates its history every year at its famous Quilt Walk festival.
In the town's early years, they hadn't yet mastered growing crops at this high elevation where the snow came so early. They ran out of food, and a group of men braved the snow to walk to a town on the other side of the mountain pass.
The deep snow almost made them turn back until they discovered they could spread out quilts and walk across them without sinking waist-deep into the snow.
They were able to reach the neighboring town and bring back enough flour to get the starving town through the winter.
History aside, this is the place for you if you like small towns without crowds and are flexible on amenities.
Just double check you're not booking for a festival weekend in the summer, or you will run into some crowds!
Tropic
East of Bryce on scenic State Route 12, the small town of Tropic has several rental cabin and motel options with a handful of restaurants. Don't forget the bed and breakfasts!
This is a secluded oasis away from the crowds in Bryce, but only a 15 minute drive to the park.
It also provides access to other areas in Bryce Canyon National Park, like the Mossy Cave hike, which you'll pass on the way in and out of Bryce.
Along US 89 and State Route 12
While not in town's specifically, or at least in a town that's larger than a couple of houses, there are actually a lot of one-off motels, inns, bed and breakfasts, campgrounds, and rental cabins along both US 89 and State Route 12 near Bryce.
One example is Bryce Canyon Pines Hotel & Campground. This site is off of State Route 12, just 5 minutes from Bryce Canyon. It has hotel rooms, tent sites, and full hookup RV sites.
If you crave solitude and are flexible on amenities, you can find some good deals in these locations. The best way to find these is to look around on Google maps and use sites like Booking.com to search areas.

Bryce is the best place to stay near Bryce Canyon National Park.
Unsurprisingly, the town built right outside the entrance to the national park is the best place to stay near the national park. Fortunately, the price point is usually reasonable, if you can find a spot.
Enjoy your trip to the magical land of the orange hoodoos at the top of the Grand Staircase!
Looking for other things to do near Bryce? Here's some inspiration.
Happy travels!
Share it!