Explore one of South Carolina's oceanfront state parks with a visit to Edisto Beach State Park. Spend the day at the beach, hike all the trails, learn the history of the area, and watch the sun set over the marsh!
There's no better way to spend a day in South Carolina. If you're lucky, you just might catch a sea turtle hatchling in action!
---
This post may contain affiliate links. As an Amazon Associate and associate of other programs, I earn from qualifying purchases. This means if you click a link and make a purchase, I may earn a small commission at no extra cost to you.
---
Top 5 Know Before you Go Tips for Edisto Beach State Park
Entry fee: $8 per adult, discounts for children and seniors, age 5 and under free (as of Jan. 2022)
Loggerhead sea turtles nest here! Turtle season is May to October, with hatchlings appearing in July.
Stay at the beach for a weekend away. Rent a cabin or reserve a campsite for your tent or RV.
Four miles of hiking/biking trails
Two historical sites
How to Get to Edisto Beach State Park
Driving
This park is an hour's drive from downtown Charleston or 2.25 hours from Columbia, SC.
If you're coming from upstate, we recommend staying for a beach weekend getaway. See the Cabins & Camping section below.
Between the beach and the saltmarsh trails, Edisto Beach State Park will keep you busy all day. But if you're looking for a shorter visit, bike the trails and be in and out in a couple hours.
Other South Carolina state parks for your bucket list, within an hour's drive of Edisto Beach State Park:
"Well, isn't this place a geographical oddity! One hour from everywhere!"
(O, Brother Where Art Thou, for those of you struggling to follow that movie reference. 😉)
Flying
Charleston has an international airport accommodating flights from just about anywhere. Direct domestic flights aren't unheard of, but more often you'll connect through Charlotte or Atlanta first.
Edisto Beach State Park is only an hour from the Charleston airport. (see previous movie quote, lol)
Pro Tip: Consider starting your Charleston adventure with a stay at Edisto Beach State Park for the first few days and then moving on to the city during the week, when hotel prices are cheaper.
How much does it cost to visit Edisto Beach State Park?
A modest $8 entrance fee per adult helps maintain park buildings, boardwalks, and trails, as well as helps protect loggerhead sea turtles' nests in late summer and early fall.
Cabins and camping sites vary in cost. Cabins range from $130 to $198 per night, depending on the season. Camp sites vary from $25 to $65 per night, again depending on season but also depending on which campground you choose.
See the Cabins and Camping sections below for more specific information.
What to Do at Edisto Beach State Park
Relax on a beach, fish on Big Bay Creek, or bike the trails. Whether you spend a day or a week here, there's plenty to do.
Go to the Beach
It's right there in the name. Less crowded and less touristy than the other beaches closer to Charleston, this is a great option for a low-key beach getaway.
You can even camp just steps away from the beach at the Beach Campground.
See a Baby Sea Turtle (If You're Very Lucky!)
Loggerhead sea turtles nest on Edisto Island every year between May and October. Mom turtles lay their eggs May through August and then the turtle hatchlings begin emerging July through October.
If you're very lucky, you may witness a loggerhead sea turtle hatchling making its way into the ocean for the very first time!
Sea turtles are protected, and it's illegal for you touch or disturb them in any way!
Specific guidelines must be followed during sea turtle nesting season to ensure visitors don't inadvertently hurt the turtles. Park rangers will let you know all about it when you arrive.
The biggest thing to remember: NO LIGHTS on the beach at night. It confuses the turtles.
Ask a ranger about a guided night walk on the beach if you want to see the turtles safely.
Camping
Speaking of camping, Edisto Beach State Park has two campgrounds: the Beach Campground and the Live Oak Campground, located in the salt marsh.
Both have great views; you can't go wrong here.
Camping reservations usually require a two-night minimum stay. This may be flexible in non-peak season. Prices are always slightly higher on weekends than weekdays.
Camp sites can be reserved online up to 13 months ahead of time. Sea turtle nesting season is popular and will sell out quickly.
✳️ THE BEACH CAMPGROUND
Pro: Direct beach access from the campground!
Con: Reservation fees are a tad higher here than the other campground and these sites tend to sell out further ahead of time.
All 67 camp sites in this campground have access to water and electric hookup, and some sites can accommodate RV's up to 40ft. Prices range from $45 to $65 per night, depending on season.
Tent campers are welcome to reserve these beach sites as well, but don't expect a discount. You're paying for that beach access!
✳️ THE LIVE OAK CAMPGROUND
Pro: Amazing sunsets on the marsh! Reservation fees are slightly cheaper than at the Beach Campground.
Con: Not on the beach
This campground has 5 primitive, tent-only campsites and 50 water/electric hook up sites for tents or RV camping. The primitive sites are almost always $25 per night, but the rest vary a bit more depending on season, from $35 to $50 per night.
If you like to fish, this is the better campground as it's easy access to Scott Creek.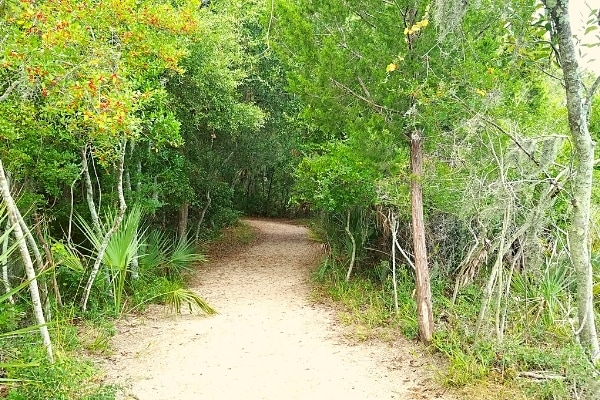 Cabins
For those that like the outdoors but also prefer an indoor space with modern conveniences, Edisto Beach State Park offers cabin rentals.
Cabins are fully furnished and include everything, such as bed linens and cookware. A hotel experience but in the state park, closer to the action.
Cabins are all located in the marsh/Scott Creek area in the west part of the park, near but not in the Live Oak Campground. Turn right onto the gravel road at the state park sign and stop at the office to check in. Once checked in, continue straight back on that same entrance road to reach the cabins.
Bring your own food, or buy groceries at the grocery store across from the park's beach entrance, and you're good to go for the week!
There are 7 cabins available: 5 one-bedroom cabins and 2 three-bedroom cabins.
The one-bedroom cabins can sleep up to 4 adults with one queen bed in the bedroom and another queen murphy/wall bed in the main area. The three-bedroom cabins accommodate up to 6 adults with a queen bed in each room.
Cabins sometimes require a minimum 7-day stay. Visit the state parks' reservation system online or call the park office for details.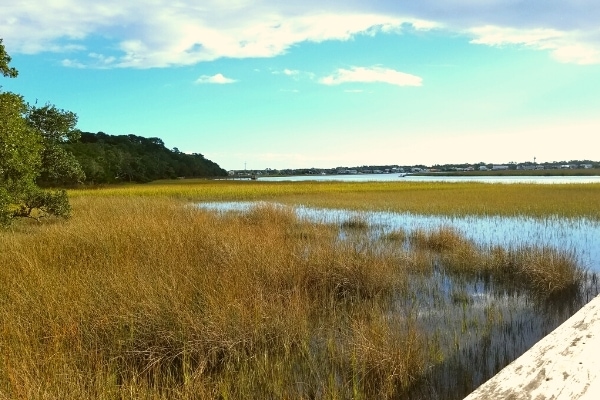 Boating & Fishing
Big Bay Creek and the marsh area can be accessed via the park's convenient boat ramp off of Oyster Row Lane in the westernmost part of the park.
To get here, you'll turn right before you see any other signs for the state park. The educational center is also located back here.
Photography
So many great spots for photography in this park!
The beach is equally beautiful on a bright sunny day or watching storm clouds roll in. Sunsets over the marsh and Big Bay Creek are not to be missed!
The Spanish Mount and Scott Creek Trails both offer hidden views of the marsh and Scott Creek, with plenty of wildlife-spotting opportunities.
Trails: Biking & Hiking
The park's trails are all in the western portion of the park, away from the beach. In total, it's about 4 miles of trails. If you're planning to hike: bring bug spray! Not a bad idea for the bikers, either.
All trails are bike accessible and fairly level, but some are bumpier than others.
The Forest Loop trail is rough on a bike, with all the tree roots. Unlike the other trails in the park, this one is not a cleared, sandy path. Walking this trail is easier on your joints and let's you admire the trees more.
The Spanish Mount Trail and Scott Creek Trail have the best marsh views. Big Bay Trail is really just a connector trail between the Education Center and the Spanish Mount.
The Bache (Monument) Trail is short and includes several informational signs to explain land surveying before you reach the survey monument.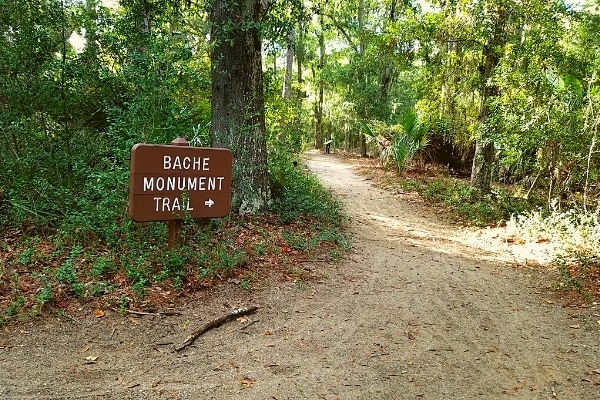 Historical Sights
Edisto Beach State Park protects and preserves two historical sights: the Spanish Mount and the Bache Monument.
The Spanish Mount is an ancient mound of oyster shells created by the Native American Edisto tribe in 2000 BC. It's basically an ancient trash heap that has been reclaimed by the marsh, but ancient trash heaps can tell you a lot about a civilization, so this area is protected.
The Bache Monument is one of the original survey monuments used to accurately measure and map the east coast of the United States for the first time in the mid-1800's. The trail to the monument has several info plaques to help explain this.
Alexander Bache was Benjamin Franklin's great-grandson and he created a reliable tool to accurately measure distances for surveying.
They didn't have GPS to pinpoint their locations, so they used concrete monuments to mark baselines from which more lines could be measured until you have an accurate map.
---
---
Enjoy a Weekend Away at Edisto Beach State Park!
I hope this guide helped you plan your visit to this amazing state park! Interested in other coastal state parks in South Carolina?
More SC State Parks We've Visited
Battle of Rivers Bridge
Croft
Goodale
Hunting Island
Kings Mountain
Lake Greenwood
Lee
Poinsett
Is an Annual South Carolina State Park Pass Worth It? In most cases, yes, but check out the full cost breakdown to find out if it's right for you!
Happy Travels!
Share it!