Visiting Hawaii for the first time can be overwhelming. There's so much to do and you don't want to miss out on anything! So we're breaking it down to the neighborhood level to help narrow down your itinerary. Shopping, history, culture, nature, and beaches can all be found in this most popular tourist area. There's something for everyone in Waikiki!
---
This post may contain affiliate links. As an Amazon Associate and associate of other programs, I earn from qualifying purchases. This means if you click a link and make a purchase, I may earn a small commission at no extra cost to you.
---
Getting to Waikiki
First, let's clarify location. Where exactly is Waikiki? Most people know it's in Hawaii, but not everybody knows where in Hawaii, or even which island.
The state of Hawaii is made up of 8 main islands and dozens of smaller islets and atolls. The island of Oahu is where the state capital city of Honolulu is located.
Like any other major city, Honolulu has neighborhoods and suburbs. Waikiki is a neighborhood of Honolulu, within the city limits but very much its own area.
The majority of Oahu visitors end up staying in this area because there are so many things to do in Waikiki within easy reach.
It's a short ride from the airport, jam packed with amenities and shopping, and right next to gorgeous turquoise beaches and Diamond Head Crater.
Touristy Things to Do in Waikiki
1. Go to the beach
Good chance you chose Hawaii for vacation so you could spend some A LOT of time on a beach. Good choice!
Hawaii's beaches rank among the best beaches in the world. Soft sand, turquoise waters, and world-class snorkeling around every rock.
In Waikiki, there are several beaches which all run together, making it look almost like one big beach. In reality it's 7 beaches, all with soft white sand and beautiful blue waters.
Kahanamoku Beach. Western-most beach for Waikiki with access to the Hilton Hawaiian Village Resort. Due to its orientation and a seawall, it's a bit more protected with calmer waters. Don't miss Friday Night Fireworks!
Fort DeRussy Beach. Very wide beach with absolutely phenomenal sunset views! The boardwalk is great for evening strolls, too. Amenities nearby make it a great option for spending the whole day here.
Waikiki Beach. The beach that started it all. The first hotels were built hereat the turn of the 20th century, and the Moana Surfrider, the Royal Hawaiian, and the Outrigger Waikiki all share this beautiful beach today. Note: it's still a public beach! All beaches in Hawaii are public. You don't have to stay at one of those hotels to enjoy this piece of paradise.
Kuhio Beach. The most popular beach with families. Kuhio is completely enclosed by a wave break seawall. It makes floating and wading in calm, shallow waters possible, no matter what the tide is doing.
Queen's Beach. Wide sandy spot south of the Waikiki Wall. This spot was once the location of Queen Liliuokalani's beach house and pier. Today, it's good for snorkeling and bodyboarding.
Kapiolani Park Beach. An extension of Queen's Beach, this is the beach at Sans Souci State Recreational Park. It decreases in width as you walk south, down to nothing between the waves and a raised flat stone seawall walkway to the Aquarium.
Kaimana Beach. Furthest east from Waikiki hotels, but only about a 10-15 minute walk from the Waikiki Wall for a less crowded beach option. Past the Waikiki Aquarium on the south side of the War Memorial Natatorium.
And who could forget surfing? The north shore of Oahu is a well-known surfing mecca for the professionals, but Waikiki is a great place for beginners.
2. Learn to surf at Waikiki Beach
Join the Waikiki Beach Boys and learn how to surf where modern surfing was invented. Waikiki's waves are gentle and perfect for beginners. You'll start with a lesson on land and then have a chance out in the water.
The Waikiki Beach Boys were founded by Duke Kahanamoku, the father of modern surfing. The Duke was a world-class swimmer and surfer, winning several gold medals in the 1912, 1920, and 1924 Olympics.
The Duke started the first group of beach boys to carry on his love for being on the water, teaching them to make a living by teaching others surfing and water sports in Waikiki. Men and women carry on this tradition today.
Learning to surf in Waikiki is a one of a kind experience!
3. Take a picture with "The Duke"
Speaking of The Duke…
Hawaii was once ruled by a native Hawaiian monarchy, and you'll see bronze statues of royal family members all over the downtown area.
One of the most popular statues is a bronze cast of Duke Paoa Kahanamoku, the father of modern surfing. It is often draped in floral leis and is a popular photo spot for tourists.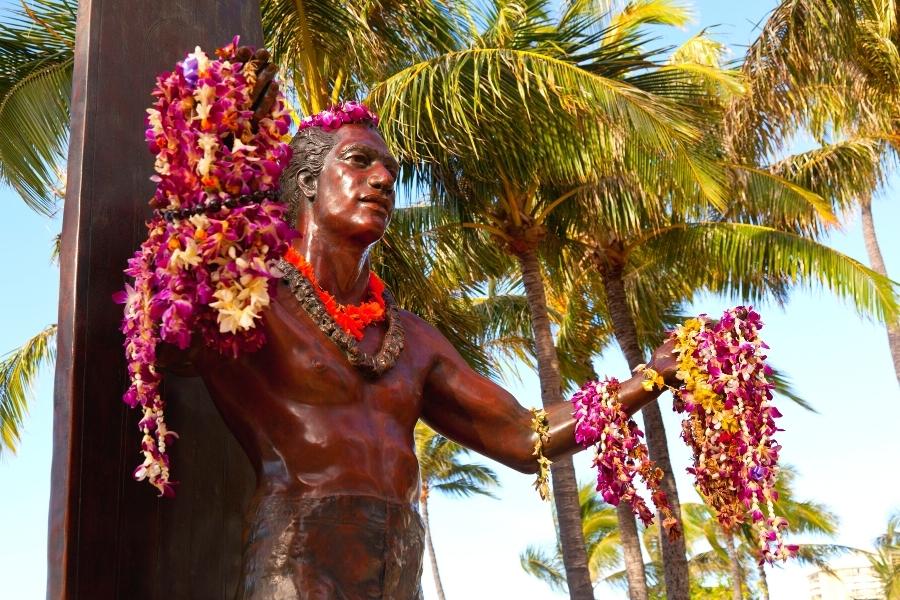 Pro Tip: Please note that the acidity in real flowers is actually bad for the statue, so don't add real flower leis.
The Duke Kahanamoku statue commemorates his contribution to Hawaiian culture. It's nearly impossible to think of Hawaii today without also thinking about surfing, or to think of Waikiki without its Beach Boys to teach surfing and canoeing.
Don't miss Duke's Waikiki restaurant at the Outrigger Waikiki for more photos of The Duke and his legacy. One of the best dinner views in Waikiki! But make a reservation months before your trip, or you'll never get in for dinner.
4. See the Kuhio Beach Hula Show
One of the best things to do in Waikiki is attend a luau. It doesn't get more Hawaiian than that! The epic dinner-and-a-show luaus at the Polynesian Cultural Center are the most popular, but they can get expensive.
Instead, check out a FREE hula show at Kuhio Beach! Shows start around 6:00 or 6:30PM in the summer and last an hour. See hula dancers perform traditional Hawaiian dances on a tiki torch-lit stage with a beautiful background of the sun setting over the beach.
Go early to get good seats (aka, your beach chair or towel). It quickly becomes standing room only as visitors line the beach and sidewalk to watch the show.
5. Stroll down Kalakaua Avenue
Street performers, luxury brands, and a Honolulu Cookie Company store practically every block just about sums up Kalakaua Avenue.
Tiffany, Cartier, Louis Vuitton, and Hermes are just a few of the luxury brands that make Kalakaua Avenue their home.
Strolling along this roadway at night also provides entertainment from many a local street performer. Be sure to tip those you enjoyed!
If high-end isn't your thing, don't worry. Kalakaua Avenue is also home to Waikiki's McDonald's restaurant. 😂
Many other affordable chain and local restaurants are just a block or two off of the main drag.
6. Explore the oldest hotels in Waikiki
The Moana Surfrider is the oldest hotel in Waikiki, dating back to 1901.
The Royal Hawaiian followed a few years later in 1927, and the era of opulent resort tourism officially started in Waikiki.
Both historic hotels offer history tours. It's fascinating to see old photographs of the area, before Waikiki was covered with high-rise hotels and office buildings. The grounds of the Royal Hawaiian were once King Kamehameha I's royal residence.
While the resorts have expanded and modernized over the decades, they've kept the original atmosphere and resort opulence, continuing to impress visitors year after year.
Check at the front desk for dates and times for the history tours.
Pro Tip: Make a dining reservation or stop in for drinks to get a taste of luxury without the whole package price tag of staying at these wonderful, but pricey, resorts.
7. Shop 'til you drop
If Kalakaua Avenue wasn't enough, or wasn't in the right price range, try the Ala Moana Center. A stone's throw across the canal that officially marks the edge of Waikiki, the Ala Moana is basically in Waikiki.
The United States' 9th largest shopping mall, and possibly the world's largest open-air shopping mall, the Ala Moana has something for all tastes and budgets. It's 4 floors of shopping and dining, with luxury and chain stores all mixed together.
Department stores like Macy's, Old Navy, Neiman Marcus, and Bloomingdale's anchor the mall.
Luxury brands dominate the second floor, most with second and third store fronts in addition to the ones on Kalakaua Avenue.
And don't forget everything else in between, from Barnes & Noble to Target and Anthropologie to dozens of local boutique shops.
A good option for escaping the sun and the heat of the day!
8. Hike Diamond Head Crater
See the iconic and jaw-dropping view of Waikiki from above. The hike is worth the views! And the pineapple dole whip at the end is worth the heat! Hiking Diamond Head is a must-do in Waikiki!
This is technically Waikiki-adjacent, like Ala Moana but in the opposite direction. The crater itself is not in Waikiki, but it is by far one of the most popular Waikiki attractions.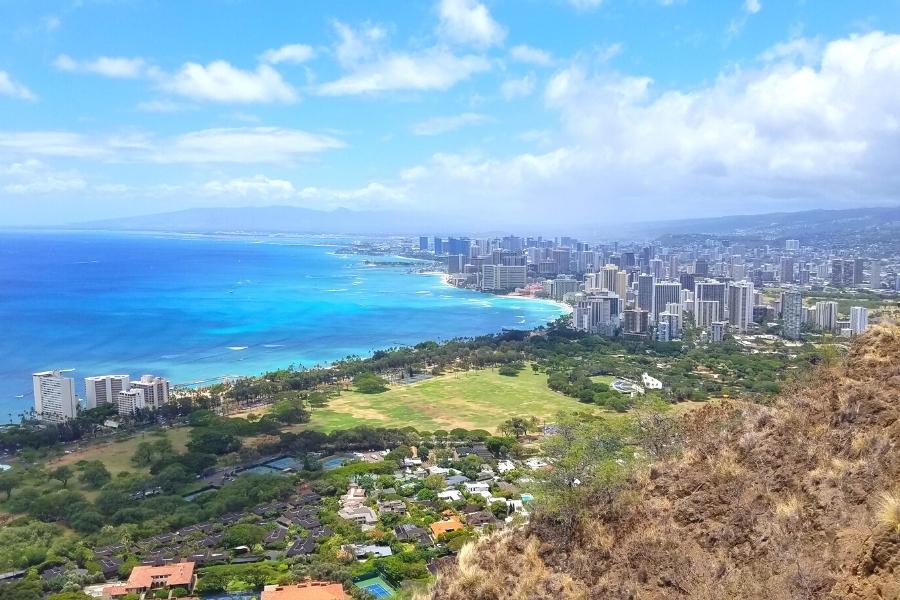 Both The Bus and the Waikiki Trolley have stops at Diamond Head, or you could even walk from Waikiki if you really want the exercise.
However you get there, don't miss this chance to learn a bit about Hawaii's history and hike through an abandoned bunker to some epic views of Waikiki.
Things to Do in Waikiki to Escape the Crowds
9. Watch sunset at Fort DeRussy Beach Park. Stay for the moon over Diamond Head.
Sunsets at Fort DeRussy Beach are simply breathtaking. Undeniably one of the top places in all of Honolulu for sunset!
Walk out onto the rock pier for awesome views, or sit and relax under a pergola or umbrella on the boardwalk. Have your camera ready!
Once the sun has set, turn around and watch the moon rise over Diamond Head Crater! Waikiki is just as beautiful at night, all lit up and reflected off the ocean.
10. Kapiolani Regional Park
Queen Kapiolani Regional Park is the largest public park in Hawaii, a refreshing green space on the east end of Waikiki. Find Queen Kapiolani's statue at the west end of the park, near Kalakaua Avenue.
The park is home to tennis courts, volleyball courts, an amphitheater, and lots of green grass and trees with great views of Diamond Head Crater.
The Honolulu Zoo covers the northern half of the park, and the Waikiki Aquarium is across the street on the beachfront.
11. Honolulu Zoo
A small but neat zoo in close proximity to the Waikiki hotels, the Honolulu Zoo began with a bear, a monkey, and an elephant. Today it houses over 900 animals from three diverse tropical climates.
See flamingoes, giraffes, alligators, elephants, Komodo dragons, and parrots, among plenty of others, in a fun morning away from the beach.
It's easy to walk here! A popular Waikiki attraction, especially for those traveling with kids.
12. Waikiki Aquarium
On the waterfront near Kapiolani Park, the Waikiki Aquarium showcases the wonders of the ocean without having to get on a boat.
With exhibits both inside and outside, you'll get a better appreciation for the beautiful sea life that is such an important part of Hawaiian culture.
A good rainy day activity and a favorite with little kids.
13. Visit the East End Beaches
We already discussed the 7 different beaches that cover the Waikiki area in Honolulu. To beat the crowds, head for Queen's Beach and Kaimana Beach.
Queen's Beach is right next to the Waikiki Wall, and Kaimana is only a 10-15 minute walk down the road or beachfront. Both will have far fewer people than Kuhio Beach or Waikiki Beach.
Things to Do in Honolulu (not technically in Waikiki, but very close by)
14. Pearl Harbor National Memorial
Visiting Pearl Harbor National Monument is one of the most important things to do in Hawaii. The sudden attack devastated the US Pacific Fleet and was the catalyst that brought the US into World War II.
The site is a solemn place of remembrance and several World War II museums all wrapped into one. Both the National Park Service and a private company, Pearl Harbor Historic Sites, preserve a portion of the still-active military base.
The National Monument area serviced by the National Park Service is free entry and provides exhibits on World War II and ferries out to the USS Arizona memorial.
The USS Bowfin Submarine Museum, the USS Missouri, and the Pearl Harbor Aviation Museum are all run by the Pearl Harbor Historic Sites company. Access to these sights requires a separate ticket and a fee.
Visiting Pearl Harbor takes some planning if you want to do it efficiently. However, it is possible to make it happen last minute, if you're willing to get up early and wait in a standby line.
Reserve tickets online months ahead of your trip for the USS Arizona memorial. No, I'm not joking about the months ahead part. This is one of the most popular attractions in all of Oahu. The online reservation fee is $1 per ticket but will save you a lot of stress waiting in the standby line.
15. The Punchbowl
Officially known as the National Memorial Cemetery of the Pacific, this military cemetery north of downtown Honolulu is more commonly known for the crater in which it lies: The Punchbowl.
The Punchbowl volcanic crater was used by native Hawaiians for centuries before King Kamehameha I installed the first set of cannons in the 1700's.
The crater edge was then used for Honolulu defenses until it was eventually accepted as the location for a much-needed military cemetery after World War II. Burials started in 1949.
This cemetery is a beautiful final resting place for many of the American fallen from the Pacific Theater. A visit here is similar to a visit to Arlington Cemetery in Washington, DC.
16. Iolani Palace & King Kamehameha statue
Did you know Hawaii had its own monarchy, once upon a time? Sure did!
King Kamehameha the Great (the first) unified the Hawaiian Islands into a single nation.
They got a few monarchs in before King Kamehameha V finally decided to build a palace in Honolulu, but he died before it was completed.
His successor, King Kalakaua, then built his own palace right next to the first one, demolishing the executive office on the site used by the first five monarchs, because why not? The original palace building instead became a government building.
Iolani Palace was (briefly) the seat of the Hawaiian monarchy until its downfall in 1893. It's now the only royal palace on US soil and open for guided public tours only.
A golden statue of King Kamehameha the Great is across the street to the south outside of the Aliiolani Hale, the original palace which today houses the Hawaii Supreme Court.
17. Bishop Museum
The Bishop Museum is an underrated hidden gem just outside of Honolulu, bursting with Hawaiian history and culture. This isn't just one building; it's a campus of buildings, each delving into a different aspect of Hawaiian life.
The Hawaiian Hall is a comprehensive view of native Hawaiian life, while the Pacific Hall examines greater Oceania and the effect of the Polynesians once they found Hawaii.
Can you imagine crossing the Pacific Ocean in a canoe? I'm still dumbfounded.
The Kahili Room showcases the Hawaiian monarchy and the feather standards of the alii
If you have time, don't miss the Planetarium show at 11:30AM. A 30 minute program lets you experience ocean wayfinding via the stars! Or at least, as close as we're ever going to get to it nowadays.
18. Honolulu Museum of Art + Shangri La Tour
Explore fine art at the Honolulu Museum of Art (HoMA), but only on the weekends. Unfortunately, this museum is only open Thursday through Sunday, but it stays open late on Fridays and Saturdays. A fun evening after an early dinner!
The main galleries here are Asian art and European/American art, with collections from every area around the world, including a Hawaiian art section.
HoMA is home to one of the largest Asian art collections in the United States, with prints, paintings, artifacts, sketches, and textiles.
Don't miss the Shangri La, the Waikiki home of American heiress Doris Duke, decorated in stunning Islamic style. Tours begin and end at HoMA, with a complimentary shuttle to and from the home.
Easy Day Trips from Waikiki
19. Polynesian Cultural Center
Oahu's most epic experience is at the Polynesian Cultural Center. Come visit 6 unique island cultures from around Polynesia, enjoy dinner at a luau, and stay for evening entertainment at the HA: Breath of Life show.
This is not a budget-friendly activity but it is a phenomenal immersive experience. The cheapest option is a self-guided exploration of the 6 island villages. Tickets increase in price as you add food (the luaus) and seating for the evening entertainment (HA: Breath of Life).
The luaus and evening show are wildly popular, especially with families, and sell out several months ahead. Book tickets online well ahead of your trip!
20. Dole Plantation
Straight up a tourist trap, but it's still worth a visit if you're passing nearby. You can find a pineapple soft serve dessert pretty much everywhere in Oahu. The Dole Plantation just slaps their branding on it.
Seeing a pineapple plantation is a unique experience. Fields and fields of pineapples in the red soil of Oahu is not a sight you'll see anywhere else in the world.
21. Circle Tour
Get a thorough introduction to the rest of Oahu on a Circle Tour guided bus tour. Several companies offer their own version of this tour but all will pick you up from your hotel in Waikiki.
The Polynesian Cultural Center runs a Circle Tour in the morning (be aware: it starts EARLY) and drops you off at the PCC in the afternoon with enough time to explore, eat, and catch the evening show, and then returns to Waikiki.
It's a LONG day but jam-packed with sightseeing.
How to Get Around Waikiki
Airport Shuttle
Getting to Waikiki in the first place can be its own challenge. The taxi line is usually very long. An easier and quicker option is to reserve an airport shuttle seat ahead of time.
Some hotels also have complimentary airport shuttles. If you have a large group, the complimentary shuttle at the slightly higher priced hotel may be worth not having to pay for an airport transfer. Do the math to find out.
Walking
Walking is easy and free, and often faster (certainly cheaper) than trying to find a place to park in Waikiki.
From the east end at the Waikiki Wall to the west end of the high-end shopping on Kalakaua Avenue is only about a 20 minute walk. Waikiki actually isn't a big place; it's easy to walk the length of the neighborhood.
All of the hotels in Waikiki are within 3 blocks of Kalakaua Avenue, so it's not hard to get around by walking.
Walk to the beaches, to restaurants, to shopping, and even to the Honolulu Zoo or Waikiki Aquarium.
The Bus
Believe it or not, Honolulu has one of the United States' most reliable public transport systems. The Bus is a cheap and efficient way to get around town, including Waikiki.
A day pass costs just $5.50 per adult or a single ride is $2.75. Bring exact change as the drivers don't carry cash and can't make change.
Smaller items like backpack coolers, beach bags, strollers, and boogie boards are OK to bring on the bus, but large luggage is prohibited. Buses also have bike carriers on the front.
Waikiki Trolley
The Waikiki Trolley isn't as cheap as The Bus but still an affordable and convenient way to see all the main spots in and around Waikiki. It exists solely for tourists.
Three trolley routes hit all the major attractions in Waikiki.
The Pink Line is solely for picking up visitors from Waikiki hotels and delivering them to the Ala Moana Shopping Center. A round trip ride is about an hour.
The Red Line services the Honolulu City Arts District, stopping at many of the top cultural sites in Waikiki and the greater Honolulu area.
The Blue Line runs to the east, stopping at Diamond Head and attractions on the east end of Oahu like the Sea Life Park and the Halona Blow Hole.
Uber/Lyft/Taxi
Rideshares and taxis are the most expensive way to get around town, but are super handy in a pinch and can generally be found everywhere in the greater Honolulu area.
They're good for attractions further away, like Pearl Harbor National Monument, or for picking you up at a random spot after a full day of wandering around town.
Be conscious of the timing when ordering a rideshare. They are subject to surge pricing when demand skyrockets at certain times of day.
It will always be more expensive to get to a restaurant across town during evening dining hours than it would be in the middle of the afternoon.
Rental Car
Don't get a rental car while you're staying in Waikiki. Wait to get the car until you venture further out to explore the rest of the island (which we highly recommend!).
It doesn't make sense to rent a car and then pay to park it in a garage for a few days until you leave the city. Just a waste of money!
Parking in Waikiki is a pain. It's difficult to find spots, and if you move the car throughout the day, the parking fees really start to add up.
Guided Tours
Many guided tours will provide transportation, usually buses, to other parts of the island. For example, the Polynesian Cultural Center, and its incredibly popular luaus, are on the opposite corner of the island from Waikiki.
Hundreds of people attend those PCC luaus, and most of them are trying to get back to Honolulu at the end of the night.
Let a tour driver worry about the stop-and-go traffic while you and your family or friends discuss the amazing performance you just experienced.
---
---
Enjoy the best things to do in Waikiki on your next adventure to Oahu!
Use these 21 best things to do in Waikiki to plan your trip, and while you're at it, check out these other helpful resources for your next Hawaii trip!
More Hawaii Travel Resources
Happy travels!
---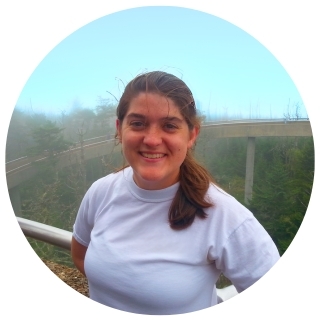 About the Author: Rachel Means
With six-figure student loan debt and only 10 PTO days per year, Rachel started traveling the world. A decade later, she's paid off her loans, changed careers, and been to 36 US states and 14 countries. She's an expert at planning and budgeting for travel and loves to help others do it, too! Read her full story here.
---
Share it!