Hawaii is unlike any other place on Earth. The isolated volcanic islands have been building up and breaking down for millennia, creating some of the planet's most unusual landscapes.
Where else can you hike volcanoes, drink pineapple wine, and enjoy a pristine beach all in one day?
Perhaps you want something more out of your Maui vacation than spending seven days on the beach.
How about diving with sharks, taking a submarine ride, or exploring a lava tube?
There are plenty of interesting and unique things to do in Maui, something for every adventure type! Let's find the perfect experience for you!
---
This post may contain affiliate links. As an Amazon Associate and associate of other programs, I earn from qualifying purchases. This means if you click a link and make a purchase, I may earn a small commission at no extra cost to you.
---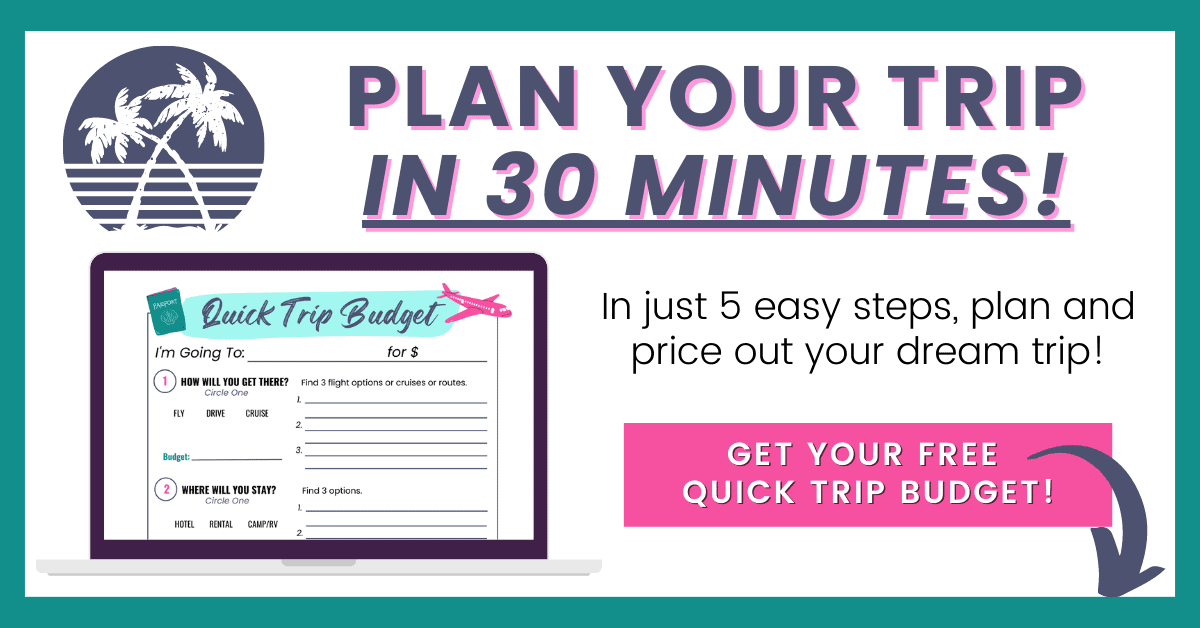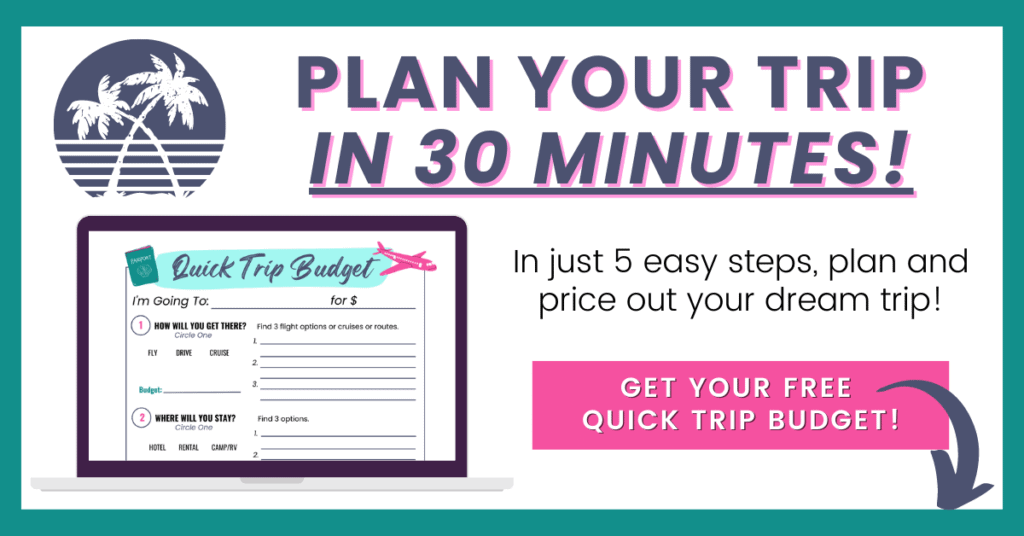 21 Unique and Unusual Things to Do in Maui
1. Hike into a Volcano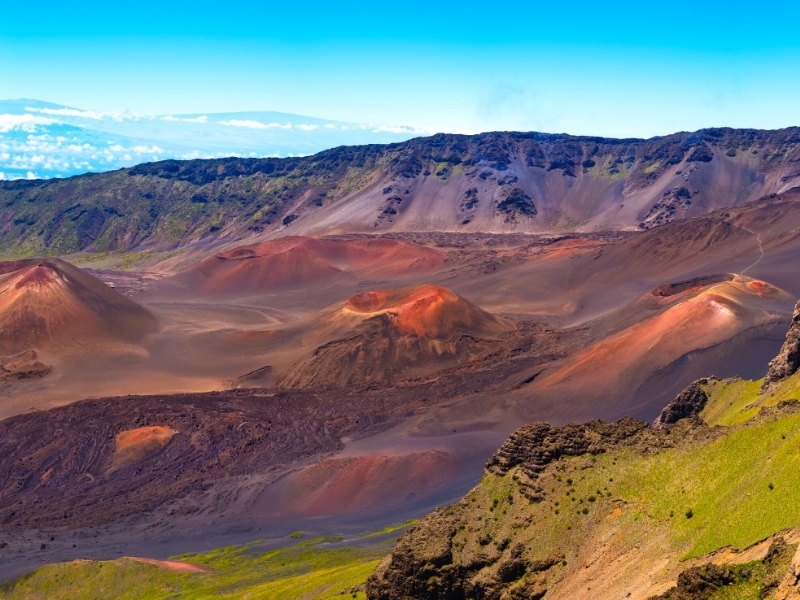 Awe-inspiring Haleakala may be (almost) dormant, but it's still an otherworldly experience to hike into a volcano.
Start at the crater rim on the Sliding Sands Trail and descend into the enormous caldera, passing cinder cones as you go.
You have options once you get to the crater floor.
Go up the other side for an unforgettable night at a backcountry campsite.
Make a loop around cinder cones and leave the way you came.
Follow the crater floor out to the eastern gap and down to Halemau'u or Hosmer Grove.
Make this hike as long or as short as you'd like. Just remember, to bring plenty of water and sun protection!
While you can also hike into a volcano on the Big Island in Hawaii Volcanoes National Park, the terrain is very different between the two.
Maui's Haleakala crater is very sandy; the Kilauea-Iki crater on the Big Island is hard crusted lava lake.
2. Bike Down the Side of a Volcano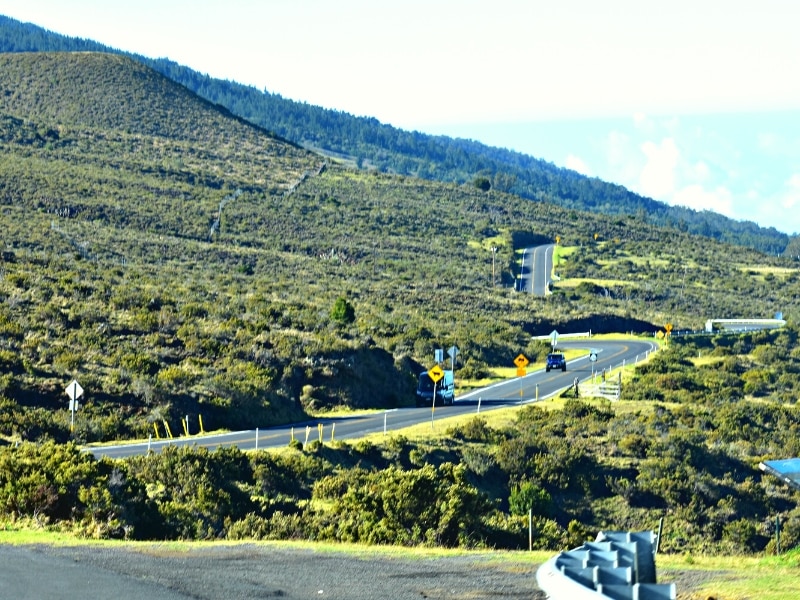 Unique to Maui, you can bike down the side of Haleakala volcano, too!
Tours will bus you up the mountainside to a point just below the entrance to the national park, give a quick safety presentation, and let you go.
You're sharing the road with cars and tour buses as they chug up and down the mountain, but the road is well-maintained with good shoulder width.
But, unlike the vehicles, you can stop and take photos from pretty much anywhere as often as you want on your descent.
This is one of the most unique things to do on Maui, and it's incredibly popular!
Book your tour ahead to ensure your preferred dates/times.
**New in February 2023: The Maui County Council passed a local ordinance that went into effect on February 1, 2023 limiting the area, ages, and times allowed for bike tours down Haleakala. (See this news article for more info.)

The bike tour companies now have to stop you at the city limits and shuttle you through town. They're not happy about it, either.

I suspect we'll see a lot of change as everyone figures out how to comply with the new ordinance.
3. Stargaze from Atop a Volcano
Haleakala's summit is world-famous for its incredibly clear stargazing. It's considered the best place on the planet to observe the stars!
The observatory with its magnificent telescope isn't open to the public because it's got a line of researchers around the world waiting to use it.
But visitors to Maui can enter the park any time and enjoy the same night sky!
Maui has very little light pollution, and Haleakala's summit is so high, that atmospheric interference is minimal.
If you have the right equipment, even amateur photographers can take stunning photographs of starry night skies and timelapse videos of the galaxy zooming by.
Your cell phone probably isn't powerful enough (although they're getting better and better every year!).
Get a DSLR and know how to use it properly in manual mode to get clear, starry pictures.
We prefer our GoPro camera for timelapse videos. Easy to set it and forget it while you snap away on your DSLR for photos.
You can also pull frames from the video as photos later.
4. Experience a Hawaiian Luau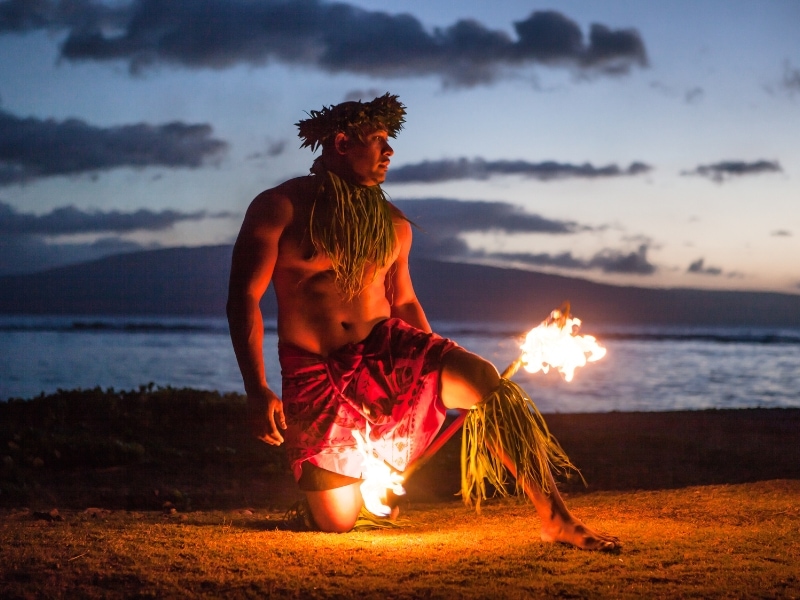 While there is historical context for luaus, the ones you'll attend in Hawaii are for tourists, but it's still a fun and unique thing to do in Maui.
There will be hula dancing, Hawaiian chants, and lots of fire and acrobatics while you consume obscene amounts of kalua pork and mai tais.
It's certainly something worth trying once or twice.
Each luau has its own theme for its show, so you can attend more than one, if you've got deep pockets, and not worry about repeats.
5. Take a Submarine Tour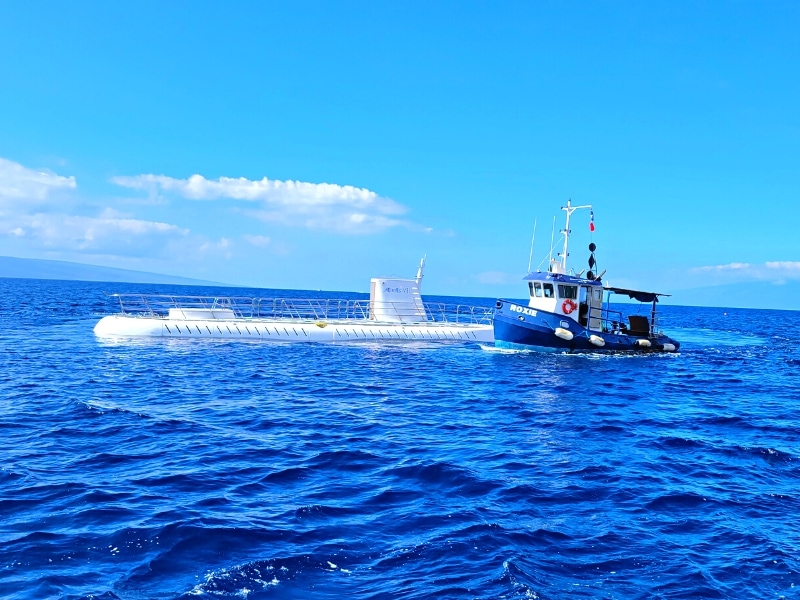 Get the full 20,000 leagues beneath the sea experience with a ride in an honest-to-goodness submarine!
Maui's Atlantis Submarine Adventure is one of the coolest things to do in Maui.
You'll ride out to the reef on a normal boat, watch the sub surface, board, descend, and marvel at all the fish, creatures, and coral from your large porthole view.
The company even moved government paperwork mountains for permission to buy an old whaling ship and purposely sink it off the coast to become an artificial reef.
It is SO COOL to see the sunken ship come out of the hazy deep and show up right in front of you!
If you're worried about claustrophobia, you survived the flight to Hawaii, and the ride in the submarine isn't much different but is significantly shorter.
You'll have plenty of head room, but there is no getting up once you've sat down. You're in that spot for the next hour.
Still, we'd understand if you're very claustrophobic and this just isn't for you. Check out our next idea though!
Address: Leaves from Lahaina Marina. Check in at the office in the Pioneer Inn Retail Suites on Front Street.
6. Take a Semi-Submarine Tour
If claustrophobia or mobility issues prevent you from taking the submarine, get a similar experience from the Reef Dancer semi sub!
It's a boat whose lower deck is below water with portholes, just like the submarine, for excellent underwater viewing.
The difference is you can get up at any time and go take a breather on the upper deck of Reef Dancer.
This adventure is kid- and senior-friendly, with no ladders to climb but a few stairs with handrails.
Address: Leaves from Lahaina Harbor.
7. Milk a Goat at Surfing Goat Dairy
Come for the cheese and stay for one of the most unique things to do in Maui: the chance to milk a goat!
If you're a farmer back home, this might not appeal to you on vacation.
But for the rest of us, we want to see cute little goats!
Agritourism, as it's called, is really coming into its own, providing opportunities to see how our food is grown and products created on farms.
Don't worry. The goats are well cared for and love hopping all over their surf boards in their enclosure at the farm.
They also have plenty of pasture to frolic on the slopes of Haleakala.
Stop in to buy some cheese at the shop and take a quick tour of the farm.
If you want to participate in the evening chores, ie milk a goat and tuck them into bed for the night, you must sign up for the tour.
Address: 3651 Omaopio Road, Kula, HI 96790
8. Tour a Maui Gold Pineapple Farm
The sweetest pineapples in the world are grown on Maui, or so claims the Maui Gold Pineapple Farm. But we believe them!
You'll find pineapple everywhere in Hawaii: drinks, pastries, candies, entrees, everywhere.
Come see how a pineapple farm works and where the famous Maui Gold pineapples are grown.
Board a tour bus that will take you around the pineapple plantation and into the packing plant with a guide to explain it all.
Did you know pineapples don't grow on trees? Or that it takes 2 years for pineapples to grow?
The best part? Everyone receives a free pineapple for taking the tour, wrapped and ready so it'll make it through agricultural inspection at the airport.
Address: 883 Haliimaile Road, Makawao, HI 96768
9. Visit the Honey Bee Sanctuary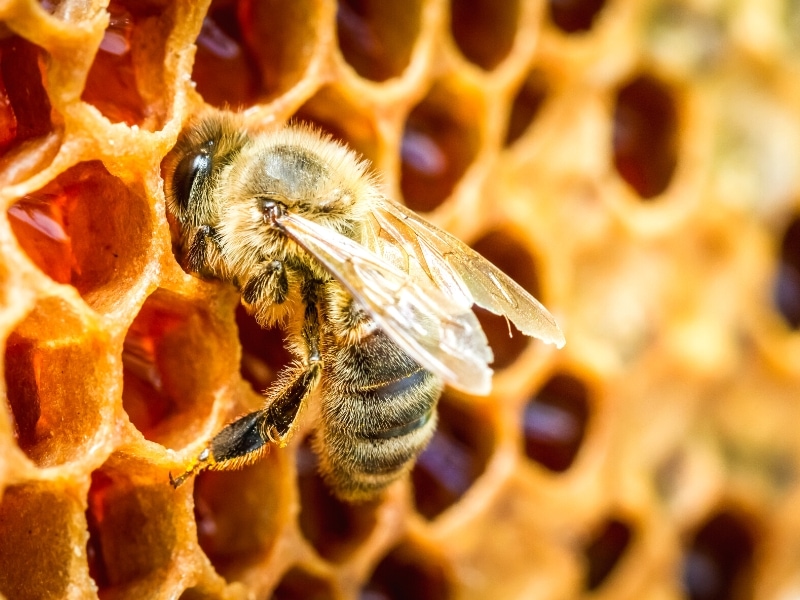 Free to visit and explore, the Honey Bee Sanctuary is the perfect addition to your day exploring Maui's Upcountry.
The views from up here are fantastic!
Gaze down the side of Haleakala to La Perouse Bay and the island of Kaho'olawe not far offshore.
Explore the gardens of the Honey Bee Sanctuary at your own pace, including all the time you want to sit and enjoy the view.
Be sure to stop in the shop for free honey tastings and all the Made in Maui by Bees souvenirs you can carry.
Address: 16655 Piilani Highway, Kula, HI 96790
10. Dive with Sharks
Have you ever wanted to dive with sharks but been too nervous to do it in the open ocean?
Well, how about trying it in an aquarium with sharks that are used to divers?
At the Maui Ocean Center, you can do just that!
You must already be dive certified, but they provide the rest.
Dive (cage-free!) in their open ocean tank with 20 different sharks as well as fish and rays.
This is the most controlled environment you'll ever have for shark diving, respecting the fact that they are still wild animals.
Address: 192 Maalaea Road, Wailuku, HI 96793
---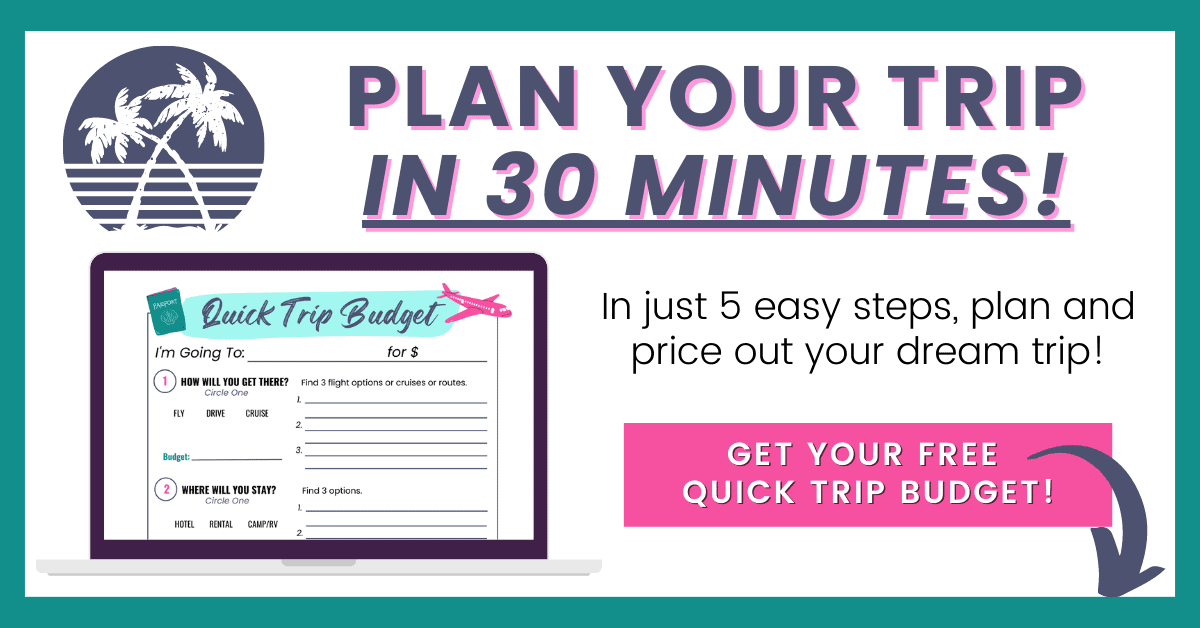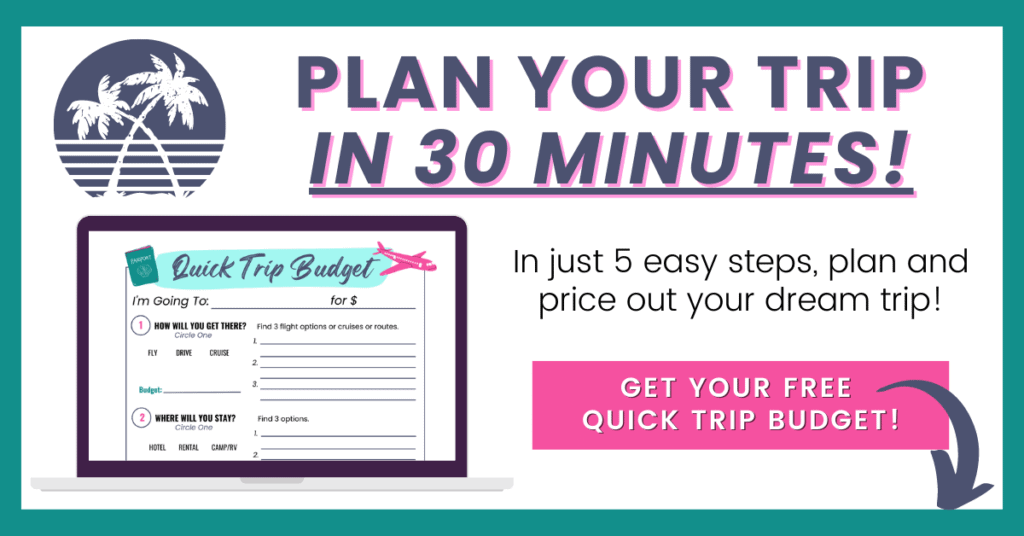 ---
11. Try Pineapple Wine at Maui Wine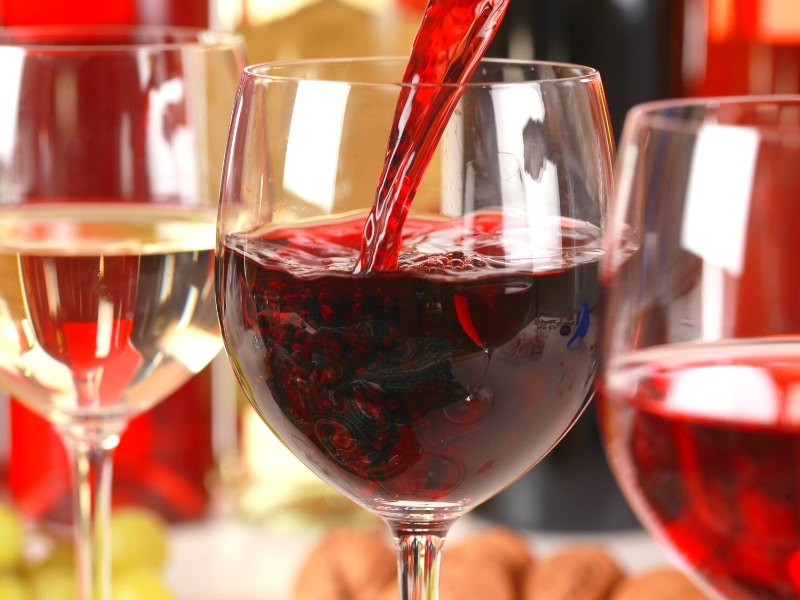 Maui Wine is the Upcountry at its finest. The views in this area are amazing, and the history of this site is unique!
Make a reservation for your wine tasting at the King's Cottage Tasting Room, or settle in for a flight and appetizers.
We haven't done this experience ourselves because we don't drink alcohol, but it comes highly recommended from many sources.
Address: 14815 Piilani Highway, Kula, HI 96790
12. Visit Charles Lindbergh's Grave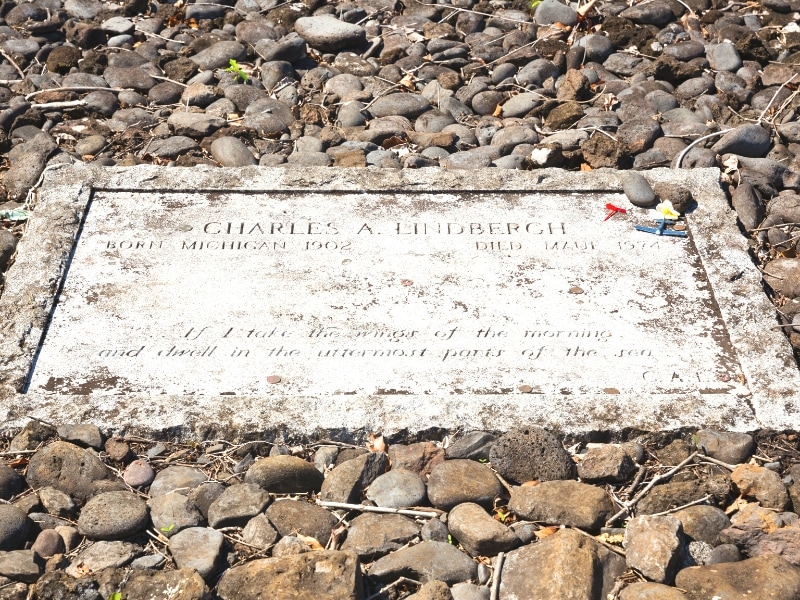 If you're willing to brave some seriously bumpy roads on the Back Road to Hana, you'll find a unique historical site in Kipahulu: Charles Lindbergh's gravesite.
Charles Lindbergh was a complex and controversial man known for some great and not great things.
He was the first person to fly solo nonstop across the Atlantic Ocean in 1927.
His family made headlines when his young son was tragically kidnapped and killed.
He took a staunchly isolationist view in the lead up to World War II, which didn't win him many friends.
After Pearl Harbor, he threw his support behind the war, but FDR refused to reinstate his military commission.
Post-WWII, Lindbergh was reinstated to the Air Force by Eisenhower, held various positions, and witnessed great leaps forward like the first moon landing.
He also somehow found the time to have affairs with three women in Germany and father 7 secret children while still married to his wife.
All while becoming a huge conservationist, promoting the creation of national parks, and protecting endangered species around the world.
When he found out he had cancer and chemo wasn't going to cure him, he and his wife flew to Maui where he died nine days later.
He's buried at the church he helped restore in a peaceful and remote corner of the world, an unassuming gravesite with an incredible view.
Address: Palapala Ho'omau Congregational Church, just past Mile Marker 41 on Hana Highway, coming from Hana. Look for signs for turn off onto dirt road.
13. Take a Humpback Whale Watching Tour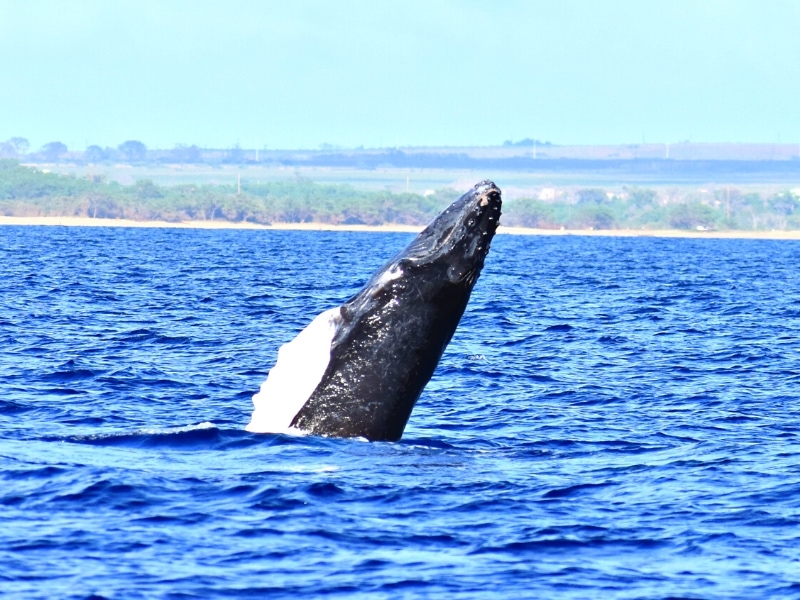 Maui's western coast is known as the "Cradle of the Humpbacks", seeing tens of thousands of humpback whales every winter.
There's no better place in the US to see humpback whales breaching in winter!
We took and highly recommend this whale watching tour from Maalaea Harbor.
It's insane how close you feel to these enormous creatures, even while your captain keeps a safe distance.
See males slapping their tales and fins, and get your camera ready to catch a breach!
We had a baby humpback that could not stop breaching. Just one after the other!
Your crew will also turn off the boat motor and lower a hydrophone into the water so you can hear all the whale calls going on underwater!
It's a cacophony of noise as there are thousands of whales in the area and the hydrophone picks up everything within a couple of miles.
Very cool and unique experience!
If motion sickness prevents you from getting on a boat, you can still whale watch from the shore.
We suggest Papawai Point for elevated views (and stunning sunsets). Bring binoculars for a better view.
If you want to hear the whales in the water yourself, go snorkeling!
We heard them clear as day in the water while snorkeling at Molokini Crater, even though we couldn't see them.
14. Take a Ride in an Outrigger Canoe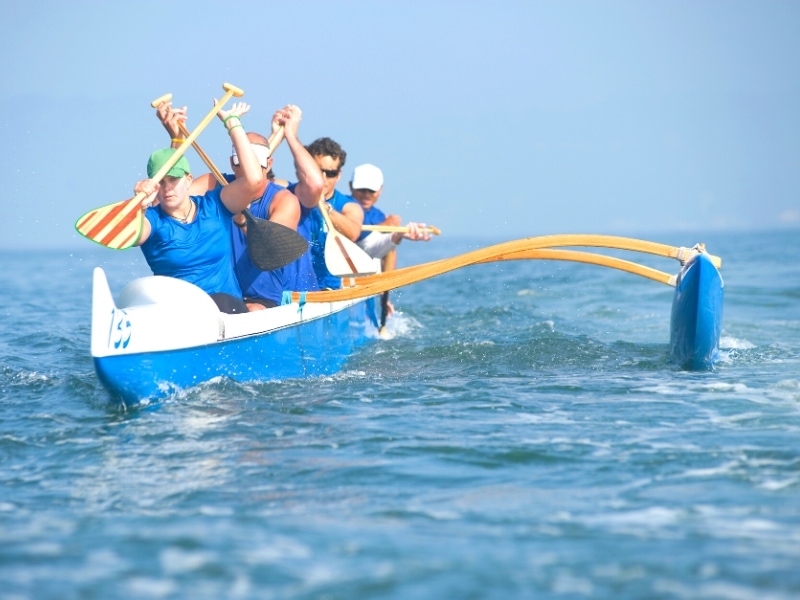 Paddle around Wailea in Hawaii's original mode of transportation: an outrigger canoe.
These long, thin canoes have an ama (the outrigger/float) on them to make them more stable on the ocean.
These same types of boats are how the Polynesians discovered the Hawaiian Islands and what native Hawaiians used to get around their home and in between islands.
Here's a couple of great outrigger canoe tours in Wailea.
Tours can last anywhere from an hour to 3+ hours, depending on the experience.
Don't worry: you won't be paddling the entire time.
Choose from cultural experiences, snorkeling tours, and even whale watching tours in season.
15. Rappel Down a Waterfall
If you want to take your Road to Hana adventure up a notch, add rappelling down a waterfall to your list of unique things to do in Maui.
These tours happen rain or shine, and you WILL get wet!
Professional guides will take you to two different waterfalls along the Road to Hana for you to rappel down.
Don't have any idea how to rappel? No worries. They teach you.
Group sizes are small, so these tours can sell out. We recommend you book in advance.
Good to Know: This tour isn't a substitute for a day trip to explore the Road to Hana. You'll meet up at the Garden of Eden Arboretum, about an hour's drive from Paia down Hana Highway.

Know what to expect on the Road to Hana drive! It's not everyone's cup of tea.

The rappelling tour is about 3 hours, and then you'll be on your own for the rest of the day.
16. Explore a Lava Tube
Haleakala is technically not dormant because it's erupted within the last 10,000 years, but you can still explore ancient lava tubes, if you know where to look.
Down a small, local road just outside of Hana, you'll find the Hana Lava Tubes.
A lava tube is basically a cave where lava once flowed during an eruption and left behind a hollowed-out tunnel with unique formations.
There's nothing quite like molten hot lava to leave an impression! Photo opportunities are plentiful!
Bring a headlamp or flashlight and sturdy shoes for the cave.
Address: Ulaino Road, Hana, HI; Follow the signs from Hana Highway, just past Mile Marker 31.
17. Visit a Black Sand Beach
You can't visit a volcanic island and not see a black sand beach!
It's one of the most unique things to do in Maui, and these beaches draw serious crowds every day.
Oddly enough, most beaches on Maui are NOT black sand. You have to go to the right area of Maui to find them.
The most famous black sand beach on Maui is at Waianapanapa State Park in Hana.
Crowds got so out of hand that the park now requires advanced reservations for timed entry tickets to better manage the influx of visitors each day.
Here are several good things to know before you go to Waianapanapa:
Daytime Entry Tickets go on sale 30 days ahead of time and will sell out fast! Book as soon as you can.
You need both a parking voucher for your car and an entry ticket for every non-Hawaiian resident in your car.
If you have an entry ticket but not a parking voucher, you better find a legal place to park in town and walk to the park. The road leading up to the state park is privately owned and will tow illegally parked cars.
You can enter the park at any time during your timed-entry ticket slot, but you must leave the park by the end of your time slot.
By the way, there's also a blow hole, lava tube, and sea arch at this awesome state park. It's 100% worth a stop on your Road to Hana road trip.
Address: Waianapanapa Road, Hana, HI 96713
18. Discover an Ancient Hawaiian Heiau (Temple)
Tucked away on Maui's eastern shoreline are the remains of an ancient Hawaiian temple: Pi'ilanihale Heiau.
This ancient site took over 300 years to build!
Together with the Kahanu Gardens, this area was once owned by Chief Kahanu and donated to the National Tropical Botanical Gardens trust in the 1970s by his descendants.
The gardens are fascinating to explore, displaying the many plants the ancient Polynesian settlers brought with them to Hawaii.
There are over 300 types of taro and 120 types of breadfruit; definitely the winner for most unusual thing to do in Maui!
Address: Ulaino Road, Hana, HI; At the end of the road, it becomes private and you'll turn right to follow signs for Kahanu Gardens.
19. Tour the Sugar Museum
The Alexander & Baldwin Sugar Museum is not about candy. It's about sugar; specifically, the business of sugar cane farms.
Sugar cane production dominated Maui's economy for over 100 years, and its effects, for better or worse, can still be seen today.
The complex irrigation system that sometimes still today controls a few waterfalls on the Road to Hana is a result of the sugar cane industry needing to get water to its fields.
Thousands of Asian immigrants were seduced into moving to Hawaii to provide manual labor on the sugar cane plantations.
It left an indelible mark on the fabric of Maui, forever changing its landscape, its people, and everyday life on Maui.
This unique museum sits on the outskirts of Kahului, very near the fields that are still worked today, just with different crops.
Kids will love the machines you can see outside, but the museum is very history-oriented and won't hold their interest. History buffs will love it, though!
Address: 3957 Hansen Rd, Puunene, HI 96784
20. Take a Helicopter Tour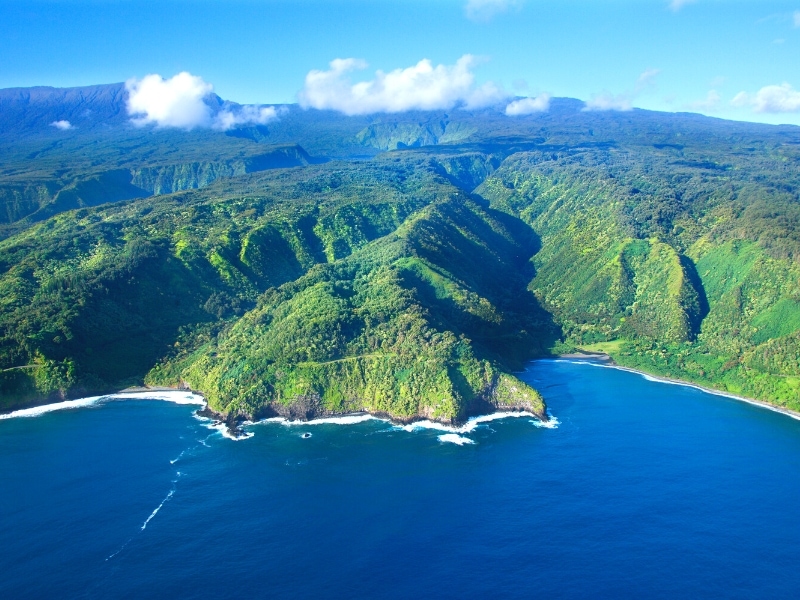 If stunning views are what you're after, then you need to take a helicopter tour around Maui.
The Hawaiian Islands are breathtaking, especially as seen from the air!
Bring your best zoom lens for your camera, and discover views only accessible from the air.
You'll spend the entire flight taking pictures and pointing out secret waterfalls, hidden coves, and undisturbed mountain valleys to your travel partners.
This is a must-do for shutterbugs! It's also a great way to get out of the sun for a bit, for anyone that got a little crispy on their first few days in Maui.
Helicopter tours leave from the heliport at Kahului Airport.
21. Hop an Interisland Flight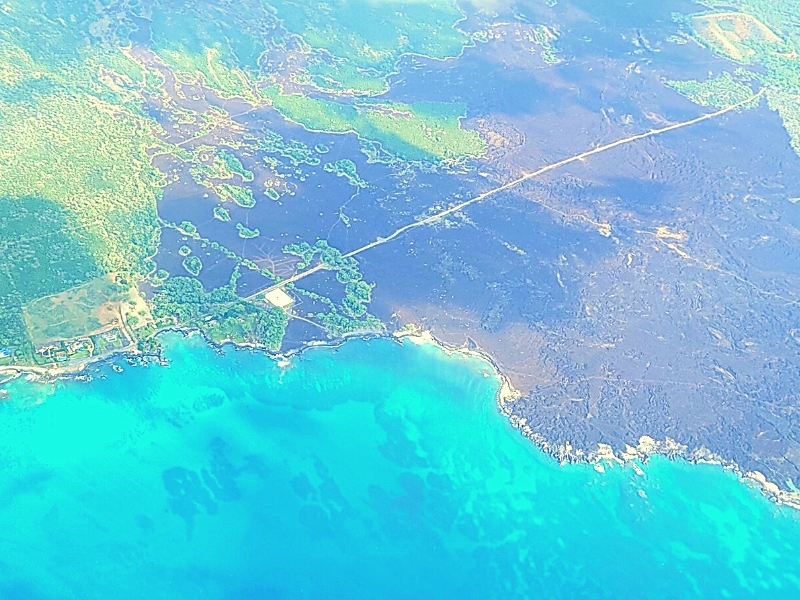 Helicopter tours are great but they can get expensive. Luckily, we have an alternative: take an interisland commuter flight!
We flew local Mokulele Airlines between Maui and the Big Island, and it was the best decision ever.
You get all the views you'd get on a helicopter tour for a fraction of the cost.
Plus, because it's a commuter flight, you don't have to go through typical TSA airport security!
No taking off your shoes, no throwing away that water you hadn't finished yet, no hassle for having jam in your carry-on that's 2 ounces over the allowable liquid limit.
The views are stunning, and the convenience is awesome.
You could do this as an actual commute. Take an early flight, see the sights on another island, and then fly back to Maui that evening.
We think it's easier, though, if you use it to island hop.
Stay a few days on Maui, then take the interisland flight (and all your luggage) to the Big Island or Oahu to stay and explore for a few days.
---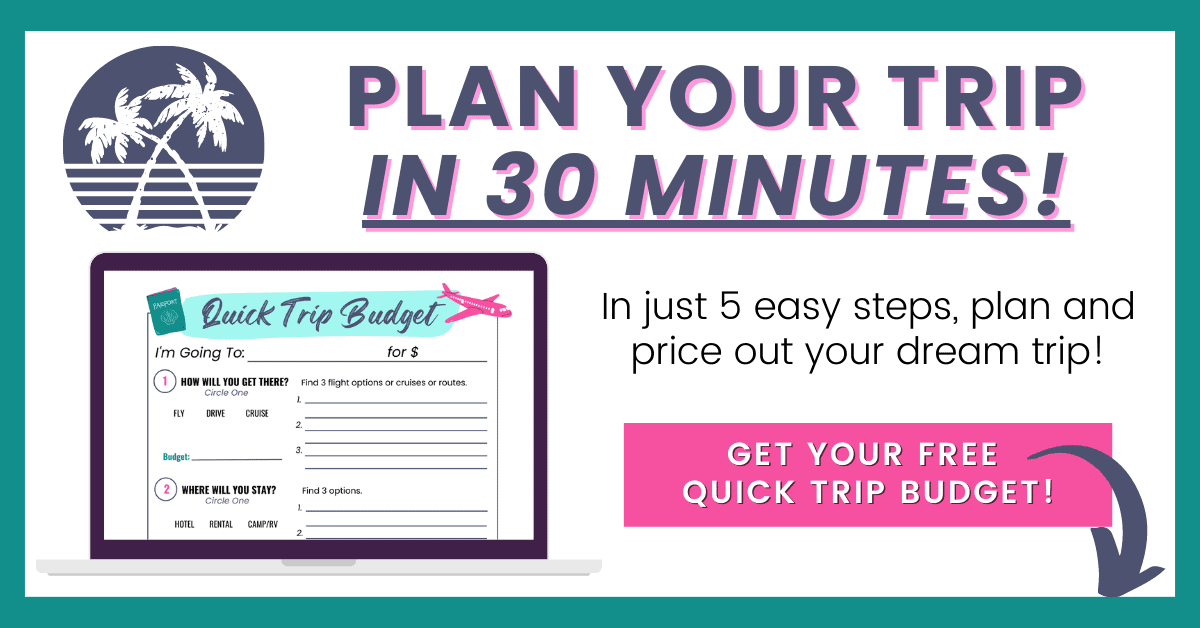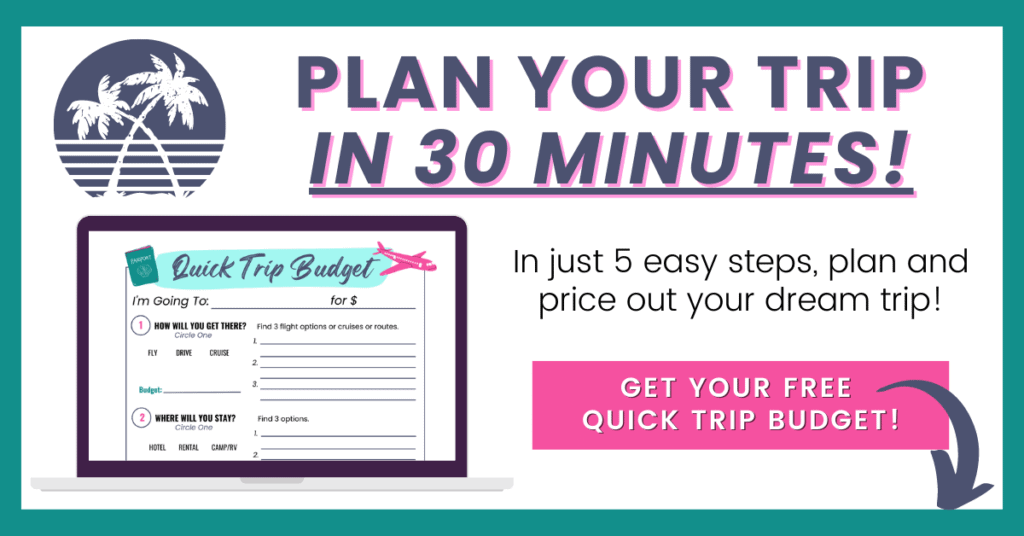 Enjoy Exploring These Unique Things to Do in Maui!
Maui is a unique and breathtaking destination that offers tons of activities for you to enjoy.
From hiking a volcano to watching humpback whales breach to indulging in a Hawaiian luau or a pineapple wine tasting, there is truly something for everyone on this beautiful island.
Whether you're seeking adventure or relaxation, Maui has got you covered!
Looking for more inspiration for your Hawaii trip?
More Hawaii Travel Resources
Happy travels!
Share it!