Driving the Road to Hana is an unforgettable experience with stunning views and majestic waterfalls, but it can be challenging if you're not prepared.
We've gathered the best Road to Hana tips and tricks to help you make the most of your drive and avoid any unpleasant surprises along the way.
We'll cover all the logistics, from the best time to start and what to bring to Road to Hana driving etiquette and must-know information for popular stops.
Let's get you ready for your Road to Hana road trip!
---
This post may contain affiliate links. As an Amazon Associate and associate of other programs, I earn from qualifying purchases. This means if you click a link and make a purchase, I may earn a small commission at no extra cost to you.
---
17 Tips for Driving the Road to Hana
The legendary Road to Hana is filled with beautiful waterfalls, lush rainforest, and stunning coastal views. Not to mention delicious banana bread!
To make the most of your journey, we've compiled our most useful Road to Hana tips that reveal everything you need to know before you go.
With a little preparation and the right attitude, you'll have a fun and relaxed day of exploring and make unforgettable memories on the Road to Hana!
1. This Isn't for You If You Get Bad Motion Sickness
Not to start on a downer, but this is very important. The Road to Hana is 60+ miles of curvy, narrow roads with dozens and dozens of blind corners and one-lane bridges.
If you get sick on curvy car rides, then this probably isn't for you.
We've successfully managed driving the Road to Hana with others who used Dramamine and copious amounts of ginger chews to keep their motion sickness in check.
But it wasn't their favorite way to spend a day on Maui, even if we had had better luck with waterfalls.
It's really a case-by-case situation. Only you know your tolerance level and can make that call.
Don't let someone selling the official green Road to Hana Tonic talk you into it either.
If you get part of the way down the road and can't handle it, just turn around. No harm; no foul.
2. You Can't See It All in One Day
There're so many stops on the Road to Hana that it's impossible to do it all in one day.
That's not to say you shouldn't do a Road to Hana day trip; you should!
It just means that you need to go into this adventure with realistic expectations. You won't see it all, and that's ok.
Pick your favorites, and a few backups, and go have a blast exploring.
If you like it enough, you can always return for another round the next day.
3. Get Gas in Paia First
There are exactly zero gas stations between Paia and Hana, and the gas station in Hana sometimes runs out of gas during peak season weekends.
Fill up your tank in Paia before you even start driving the Road to Hana.
You're unlikely to run out of gas, but there's no reason to stress yourself out when you could fill up before you get on the road.
4. Reservations Required for the Famous Black Sand Beach
The black sand beach on the Road to Hana that you see all over Instagram is at Waianapanapa State Park in Hana. Its popularity is why reservations are now required.
The park was getting overwhelmed with visitors, and all their vehicles, so they implemented a reservation system in 2021.
Reserve your preferred date and time as soon as you can, up to 30 days in advance; don't wait until you get to Maui.
Entry tickets sell out nearly every day, sometimes weeks in advance.
5. Plan Your Road to Hana Stops Ahead of Time
Pick your stops, have backups, and don't try to see it all in one day.
You're almost guaranteed to miss at least one of your preferred stops because the parking is full. Having a backup helps alleviate your disappointment.
We highly recommend a guide, whether an app or a book, to help you find the stops when driving the Road to Hana.
Highway mile markers are the only way to find stops, and they're not always easy to follow.
Mile marker numbering restarts when you get off of Highway 36 from Paia and onto Highway 360, just before Twin Falls.
They'll change again when you get past Hana town. Have a reliable map and guide with you at all times.
Many stops don't have signs, and the ones that do, you won't notice until it's too late and you've already passed all the (limited) parking spots.
The mile marker signs can be difficult to see, too, because vegetation often grows over signs. This is the rainforest side of the island, after all.
We used this Maui guide book for day-of backups but recommend checking out a detailed guide for all the stops on the Road to Hana.
Alternatively, this app and this app are very popular options for paid audio tours with voice directions that are not dependent on cell signal.
6. Dress For the Fun You Want to Have
Whether you're interested in hiking or wading in waterfalls, or both, dress for the occasion.
The easiest way to dress for both is to put a swimsuit on under comfortable, breathable hiking clothes.
Bring a rain jacket, even if the forecast doesn't say anything about rain. The Road to Hana is on the windward side of Maui. Weather can change quickly as storms sweep in.
Water shoes are a must-have on Maui beaches and work great for climbing up to and wading near waterfalls.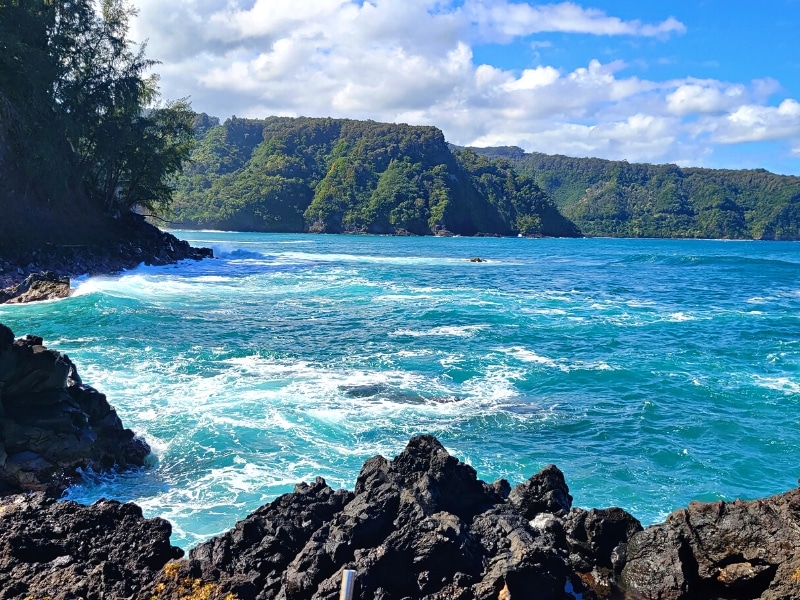 Most of the hiking trails to waterfalls are fairly short and don't require hiking boots, but you'll be glad you have boots on the few real hiking trails.
Hiking back to the car in a wet swimsuit sounds awful to us, but we've seen plenty of people do it.
Depending where you're at on the Road to Hana, it's also a long drive back to your hotel before you can change.
Bring extra towels and clothes, and when you're done swimming for the day, you can change out of your wet swimsuit in your car and be comfortable for the ride home.
7. No Cell Service
Cell service is spotty at best along the Road to Hana. Download offline maps ahead of time, but honestly, it's mostly just one road out and back.
The only time you'll get off the Hana Highway is for food at the Keanae Peninsula or to visit one of the beaches between Hana and the Kipahulu District of Haleakala National Park.
No cell signal is only an issue if your car breaks down.
There are emergency phones in a few locations, but there's also enough traffic passing by that you can likely stop a police car or hitch a ride to the closest business to call a tow truck.
8. Start Early
Our top Road to Hana tip is to start early and make a bee line to your must-see attractions. Leave Paia by 7AM.
Driving the Road to Hana is so incredibly popular and there is so little parking that it's a recipe for disappointment for any late-comers.
It can truly make or break your trip if you start too late and all the parking fills up.
Our first trip on Road to Hana, we didn't arrive in Paia until 10AM.
We had been getting up early every day and wanted a lie-in, and then we had to drive from Wailea to Paia before we could even start the famous drive.
We quickly discovered that EVERY stop along the Road to Hana had no parking.
We didn't get out of the car until we were almost Halfway to Hana. It was very discouraging.
Don't be like us. Start early and find parking more easily.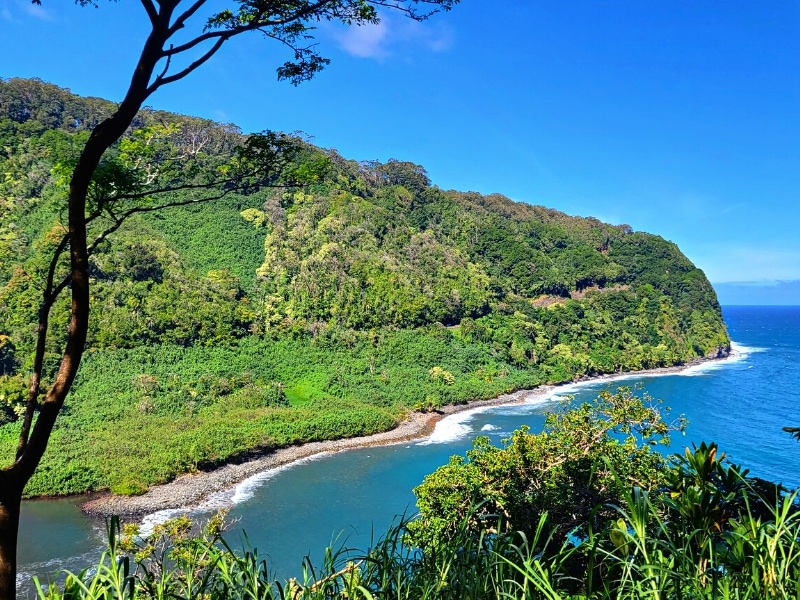 9. Stay the Night in Hana
Alternatively, if you want to take your time and see as much as you can, we recommend you stay overnight in Hana for a day or two.
There is only one hotel, and it's expensive, but it could be the getaway splurge that you appreciate most.
There are a few rental houses on Airbnb or VRBO as well, if that's more in line with your budget.
Staying the night in Hana gives you an entire blissful morning without the crowds.
Enjoy places like the black sand beach at Waianapanapa State Park, Oheo Gulch and the Pipiwai Trail at Haleakala National Park, or the red sand beach at Kaihalulu Beach.
Most day trippers won't arrive at these sights until 11AM or later.
10. Aunt Sandy's is closed on Sundays!
The banana bread on the Road to Hana is legendary. People dare curvy, narrow roads and one-lane bridges just for this bread.
But if you come on Sundays, you'll miss Aunt Sandy's! She's closed!
Always check their website ahead of your drive. Google tends to say they're open on Sundays when they're not.
Now, Aunt Sandy's isn't the only banana bread on the Road to Hana.
You can also find some at Halfway to Hana market and the Hana Farm Stand, and probably many one-off stands along the way.
They're all delicious, supposedly because of the excellent growing conditions for bananas on this side of Maui, but you'll never know for sure unless you try them all!
11. Park Legally & Carefully
Parking is the number one problem on the Road to Hana.
There're usually three or four spots per waterfall, bridge, etc. and there's often 20+ cars that all want to stop at that sight.
Parking dangerously, blocking the road, and parking on private property became such a huge problem in 2021 that Maui had to place hundreds of no parking signs along the Road to Hana.
If you're lucky, you'll get to see the police writing tickets for cars parked right in front of the no parking sign.
While it might seem ok to park "just for a second" in an illegal parking spot so you can dash onto a bridge to get a picture of a waterfall, it's not.
Blind corners make it impossible to see and narrow roads make it impossible to keep traffic moving in both directions if your car is in an illegal spot and not all the way off the road.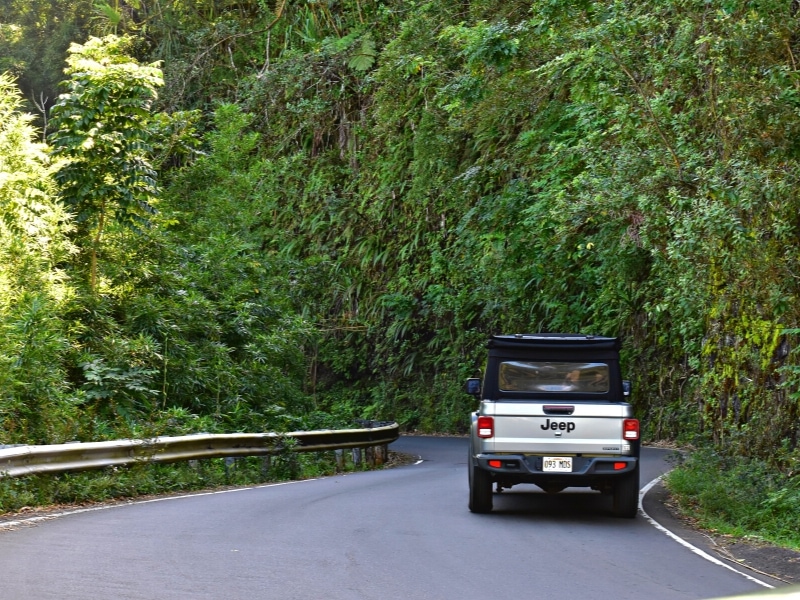 12. Let Locals Pass
Locals have to share their highway with tourists that are unfamiliar and possibly uncomfortable with driving on the Road to Hana, but the locals know this road like the back of their hand.
They drive it every day, to work, to school, and to the stores in Paia, Kahului, and beyond.
They need to get to work, and you (the tourist on vacation time) need to get out of their way.
Use the pull-offs and let locals pass. Really, anyone that's tailgating you, let them pass.
13. Bathrooms are Scarce
There aren't a lot of bathrooms along the Road to Hana, and even fewer are likely to meet your cleanliness expectations.
Most of the waterfall stops along the Road to Hana are at or near bridges with no facilities.
Kaumahina State Wayside has real bathrooms with toilets and sinks; it also has picnic tables and a great view of the coastline.
Many of the roadside food stops only have port-a-potties because they don't have water lines this far out of town.
Bring your own hand sanitizer, and use a facility whenever you see one.
14. Food is Hard to Find
Number two top Road to Hana tip: bring your own food and drinks in the car.
Restaurants along the Road to Hana don't really exist.
There are collections of food trucks and fruit stands in a few areas, but you won't find an honest-to-goodness restaurant until you get to Hana.
We recommend you try the food trucks and fruit stands and restaurants in Hana, for sure, but we also know how quickly being hungry can ruin your day.
Have snacks and drinks in the car, including something substantial enough that could be a backup lunch if you needed it.
15. Respect Kapu Signs
Kapu is Hawaiian for Forbidden. It's their Keep Out signs. Respect them!
You wouldn't like dozens of tourists traipsing through your backyard every day, either, so respect their property and their kapu signs.
You might run into a situation where a guidebook or app told you to stop for a cool waterfall view or hike, but there's a kapu sign exactly where you want to park.
Respect the sign and move on.
The guides aren't always reliable and don't all distinguish between private and public property.
16. Bring Cash, Preferably Smaller Bills
Most food trucks and fruit stands along the Road to Hana operate as cash-only businesses.
This is partially because they're small businesses that can't justify the cost of credit card processing fees but mostly because there's no signal to process them.
You need the internet for that, and most fruit stands don't come with wifi.
You'll find credit card readers in Keanae Peninsula and in Hana, and that's about it.
Also be mindful that they're not going to have change for your $100 bill when your check is $8. Be considerate and bring smaller bills so they can more easily make change.
17. BONUS TIP: The Back Road to Hana Conundrum
This route goes by a few different names: the Back Road to Hana, the Reverse Road to Hana, or the Road to Hana Full Loop.
They all refer to driving Piilani Highway/Route 31 between Ulupalakua in upcountry Maui and the Kipahulu District of Haleakala National Park at Oheo Gulch.
The internet loves to debate this route.
Half will tell you it's an unfinished, pothole-filled, mess of a road with rock slides that might sweep you into the ocean.
The other half will say it's not as bad as all that. It's just remote with a short stretch of unpaved road on an otherwise lovely drive.
The truth is somewhere in the middle.
In the meantime, here are some facts to help you decide if it's the right adventure for you.
>> The Back Road to Hana is very remote between Ulupalakua and Kipahulu. Sections are unpaved and rough, and others are extremely narrow cliffside with no guardrail.
>> Some rental car agreements explicitly state that you cannot take their cars onto unpaved roads. Every last one of them will tell you not to take the Back Road to Hana.
>> If you break down out there, you're on your own for hours. Tow trucks, if you even have signal to call one, will take all day to reach you and tow you back to town.
>> Upcountry Maui is gorgeous and worth a drive. Nothing wrong with starting at Makawao and turning around at Ulupalakua, though.
>> Piilani Highway is significantly straighter than Hana Highway, until it reaches the coast around Kaupo. Then, it turns into an unpaved, very narrow section until coming out the other side at Kipahulu.
---
---
FAQs: Driving the Road to Hana
>> Where is the Road to Hana?
The Road to Hana is a highway along the eastern side of Maui island in Hawaii. It refers to the Hana Highway/Route 360 that connects the towns of Paia and Hana and the Kipahulu (coastal) District of Haleakala National Park.
>> Is Driving the Road to Hana Dangerous?
Driving the Road to Hana is not dangerous if you follow basic driving laws. The ones that run into trouble are distracted, driving too fast, or parking illegally in an unsafe location. Inclement weather can complicate things, so better to avoid this route on a rainy day. Nervous drivers may struggle with the narrow, cliffside roads and one-lane bridges, but hundreds of people safely navigate this road every day.
>> Is Driving the Road to Hana in the Dark Really that Bad?
Yes and no. It's easier to see road conditions during the day. It's easier to see other drivers at night because you'll see their headlights first, even around some blind corners. It's ideal to be done with the Road to Hana by nightfall, but you're not totally screwed if you don't make it all the way back before sunset.
>> Can You Drive the Road to Hana Yourself?
Yes, you can drive the Road to Hana yourself without a tour. Rental car companies generally have no problem with you driving out as far as the Kipahulu District of Haleakala National Park, a short way past the town of Hana. However, if you're a nervous driver or you suffer from motion sickness, take a tour or skip this altogether.
>> What's the Best Way to Drive the Road to Hana?
The recommended route is from Paia to Hana and as far as the Kipahulu District of Haleakala National Park at Oheo Gulch. Then turn around and drive back to Paia. The Back Road to Hana has much fewer cars and straighter roads but a much more dangerous and unpaved section between Kaupo and Kipahulu.
>> When's the Best Time to Drive the Road to Hana?
Winter is the wettest time of year on Maui, so the waterfalls will, in theory, be at full force. Weekdays are slightly less busy than weekends. Always get an early start; leave Paia by 7AM.
---
We Hope These Road to Hana Tips were Helpful!
We wish we had known some of these before we went on our first drive down Road to Hana. It would have saved us a few headaches!
We hope these tips were helpful for you and that you have a wonderful experience driving the Road to Hana!
More Hawaii Travel Resources
Happy travels!
Share it!