Snorkeling is a fun and easy way to experience the beautiful underwater world of the ocean. Colorful fish darting in and out of coral and waving sea grass. Crustaceans scuttling along the sandy sea floor. Maybe a surprise visit from a sea turtle or dolphin! Snorkeling opens up a whole new world to explore.
But it can suck if you don't have the right gear! Using the correct mask can be the difference between a magical experience you'll remember long after your vacation and a frustrating afternoon of leaky masks and missing all the fun.
If you struggle with traditional snorkel masks that don't fit, a full-face snorkel mask could be the answer for you!
---
This post may contain affiliate links. As an Amazon Associate and associate of other programs, I earn from qualifying purchases. This means if you click a link and make a purchase, I may earn a small commission at no extra cost to you.
---
Cheap brands with their "one-size-fits-all" masks pinch your face giving you a headache or are so loose that your mask constantly leaks.
Or, you accidentally breathe in right as a wave hits and your sinuses are flooded with sea water. It's tough to get that nasty saltwater taste out of your mouth!
And don't forget every tip and trick under the sun for how to keep your snorkel mask from fogging up.
AVOID ALL THAT.
THIS AMAZING FULL-FACE SNORKEL MASK IS THE SOLUTION TO ALL THOSE PROBLEMS!
---
Why Should You Buy Your Own Snorkel Mask?
If you plan to snorkel more than once in your life, I absolutely recommend buying your own snorkel mask.
The one-size-fits-all masks provided by boat tours are a lie. They don't fit everyone, but they sure are cheap for tours to buy and replace.
Also, and this is the part that gets me the most, others using the snorkel mouth piece.
I know they sanitize them in between trips, much like silverware is sanitized at restaurants in between diners, but I still get creeped out when thinking about where those boat tour snorkel mouthpieces have been.
At least you can see dirty silverware before using it and send it back.
I used my first mask for almost 10 years and went snorkeling everywhere from Florida to St Croix to Jamaica with it. This full face snorkel mask is going to last me at least that long as well, and I've already rocked it in Hawaii and St John. Well worth it!
Why Should I Buy an Ocean Reef Aria QR+ Snorkel Mask?
The ARIA QR+ Ocean Reef full-face snorkel mask was a game changer for me.
With boat tour masks, I always had either a leaky mask or a fogged-up mask. I tried hair up, hair down, and even "easy" swimming only, so I didn't fog up my mask.
And I tried all the tricks, too, like spitting on the mask, defogging spray, and the dish soap provided by the boat tour.
Nothing helped.
My ARIA snorkel mask has never fogged up on me in the water! I even purposely fogged it up before getting off the boat once, and it was de-fogged within 30 seconds of hitting the water. And don't forget: both your nose and mouth are covered so you can breathe comfortably through either.
The adjustable straps provide just the right amount of non-headache inducing snug so no water makes it past the full-face seal.
The straps are also quick release (QR) buckles for fast and easy removal of the mask. No more fighting to get that compression strap out of your hair to get your mask off!
Additional perks for the ARIA mask include a wider field of vision, a detachable GoPro camera mount, and the ability to add walkie talkies (never tried but cool idea) or prescription lenses (note this is the frame to snap it to the mask; must buy prescription lenses separately).
Benefits of a Full-Face Snorkel Mask
The beauty of a full-face snorkel mask is it solves all the following problems:
breathing through your nose
saltwater taste in your mouth
limited field of view
fogged up view
ill-fitting/leaky
wearing glasses underwater
The ARIA QR+ Ocean Reef snorkel mask is designed to allow you to breathe through your nose or your mouth, whichever is more comfortable for you, without fogging up. I can personally attest that this works!
This mask is also larger, allowing you to see more of your surroundings while in the water. You can even purchase an optical lens kit separately and fill with prescription lenses. A snorkel mask that accommodates glasses and won't fog up!
Downsides of a Full-Face Snorkel Mask
While full-face snorkel masks are a game-changer for many snorkelers, there are some downsides to consider before making a purchase.
Full-face masks are not good for diving. If you like to dive below the surface frequently, this mask is not for you.
It's not impossible to dive with a full-face mask on. It's just more difficult with pressure on your entire face as opposed to a more traditional partial mask over just your eyes and nose. You can't dive down very far, and you won't stay down very long.
Full-face masks are not good for vigorous swimming. These masks work great when you breathe normally. When exerting a lot of energy, like swimming quickly, it becomes harder to breathe in these masks. I can also personally attest to this, and we'll discuss this more below.
Why is it so expensive?
The ARIA QR+ mask is an investment. It solves a lot of common snorkeling issues and is worth the money if you snorkel often.
Consider that it can be the difference between enjoying the expensive boat tour or regretting the expensive boat tour because you were messing with the one-size-fits-all mask.
However, if you only snorkel once or twice a year then perhaps this mask isn't right for you.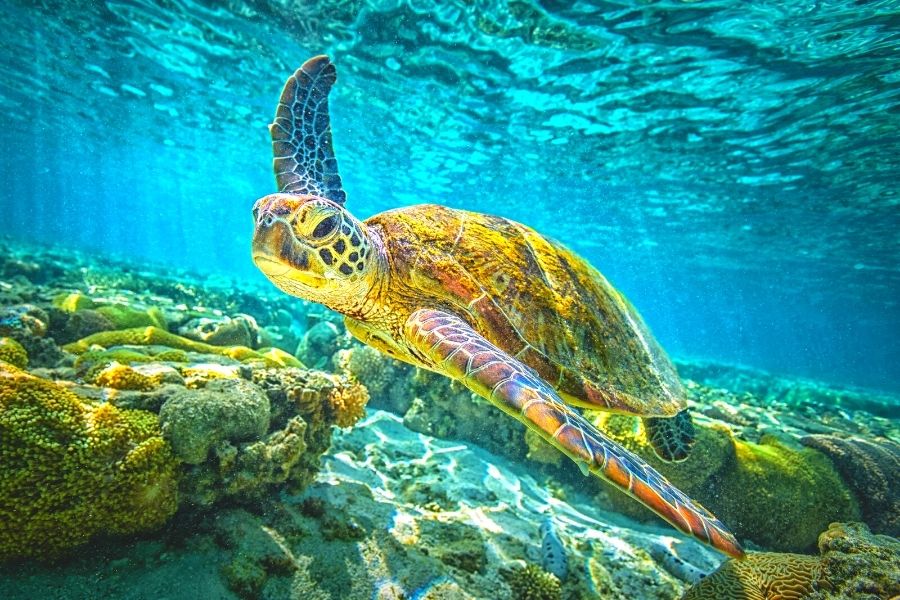 Are Full-Face Snorkel Masks Safe?
There is significant debate in the snorkeling community about whether or not full-face snorkel masks are dangerous or not. Some locations and tours have gone so far as to ban use of full-face masks. This means they won't rent them to beachgoers or provide them on boat tours, for liability reasons.
As with any new concept, it's best to do your own research and to make your own decision based on your own abilities. What works for me is not guaranteed to work for you. Only you can decide what is safe and best-suited to your needs.
The most common concerns are:
Can I get the mask off quickly if it fills with water?
Is there CO2 build up in the mask?
Can I get the mask off quickly if needed?
The full-face masks are true snorkel masks, meant for leisurely paddling around at the surface and looking down on the ocean world below. The Aria's quick release (QR) straps make it easier to take your mask off before vigorously swimming back to the boat or shore if needed.
The quick release straps are buckles next to both ears. Easy enough to take off when you are calm; less so if you are in a blind panic. Traditional eye and nose masks are easy to rip off even for the most distraught swimmer, but the full-face masks could be difficult for someone not thinking clearly.
Is there a CO2 buildup issue?
The CO2 buildup is definitely something to consider but not a problem if you are aware of the issue and use the item properly. This is why heavy breathing/heavy exercise is not recommended with this mask.
I used this Aria full-face mask for over an hour while snorkeling in Hawaii and did not have CO2 buildup problems.
I used the same mask at a crowded boat tour anchorage, jockeying for views of sea turtles with a hundred other snorkelers, and had headache issues, but can't say for certain that CO2 buildup was the cause. My husband did both of the same activities and had no problems with either.
---
The Full-Face Snorkel Mask is Worth It
I still think this Aria full-face mask is the best thing to happen to me for snorkeling. I had ZERO issues with fogging up or leaking masks, and I don't dive while snorkeling. Aware of the CO2 issue, I keep my breathing even and steady and don't swim all-out with the mask on.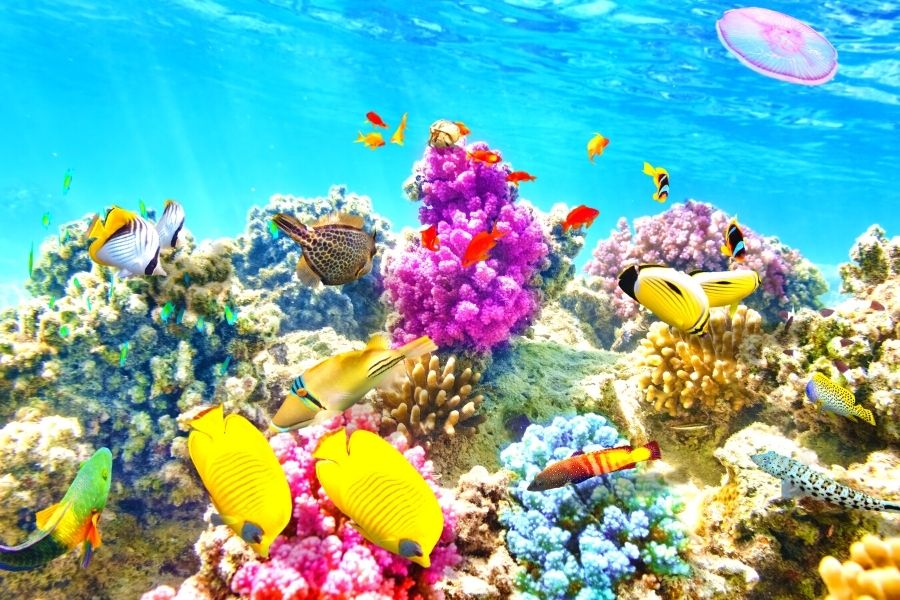 Other Snorkel Gear Essentials
Reef-safe sunscreen. Many countries and states are passing laws to protect the world's reefs, and the most prominent change is requiring reef-safe sunscreen. This can be confusing to figure out. I used this sunscreen in Hawaii for good SPF, longevity, and because I highly prefer aerosol spray to lotion.
Snorkel fins (flippers) are never a bad idea. It's one of those items that you don't really think you need until you try it, and then you wonder what you were doing with your life before you discovered it. Most boat tours provide these, but you'll have a better chance of avoiding blisters with fins you know that fit. I have these full-foot fins so I don't lose them in the water, but adjustable heel fins are very popular for a more customized fit.
A GoPro camera. The ARIA masks come with an action camera attachment on the end of the snorkel, ready to hook up your GoPro and get all the fish pictures! Deals can be hard to find, but sometimes even the GoPro website has a good deal. This bundle has everything you need for snorkeling, but also consider a protective housing and snorkel filter if you're serious about your underwater photography.
---
Happy travels!
Share it!