Visiting a slot canyon is one of Arizona's top must-do activities, and top of the list is visiting Antelope Canyon near Page. This beautiful, and popular, canyon is on Navajo Nation land and can only be visited with a Navajo guide. Choose between Upper and Lower Antelope Canyon tours, but what's the difference? Let's compare Upper vs Lower Antelope Canyon, what each offers and how they differ, and settle the question is Lower Antelope Canyon worth it?
---
This post may contain affiliate links. As an Amazon Associate, I earn from qualifying purchases. This means if you click a link and make a purchase, I may earn a small commission at no extra cost to you.
---
Why is Antelope Canyon Special?
As far as slot canyons in Arizona go, Antelope Canyon is by far the most popular and most well-known. And that's really saying something in a state that has hundreds of slot canyons!
So, what's so special about this particular slot canyon?
The amazing light beams of Upper Antelope Canyon.
Visit Upper Antelope Canyon at the right time of day at the right time of year and witness these amazing light beams for yourself. You'll feel like you've stumbled into a movie.
What probably did the most to help put this spot on the map was
Instagram, but also
The most expensive photograph ever sold in the world, Peter Liek's The Ghost, a photo of a light beam in Antelope Canyon.
That photo sold for $6.5 million. That's crazy!
So now the cat's out of the bag and everyone wants to see this amazing canyon for themselves. And we absolutely don't blame them! We did the same thing.
Experiencing these slot canyons in person is amazing. Photographs get close, but it's still not the same as seeing these stunning orange swirls and blinding white light beams for yourself.
Beyond the awesome scenery, Antelope Canyon is a sacred place to the Navajo Tribe.
Learning about the canyon and its place in Navajo oral tradition is another very special part of exploring Antelope Canyon.
While there are several canyons that comprise Antelope Canyon, each portion is equally stunning and important to the Navajo Nation.
Upper vs Lower Antelope Canyon: How Do you Decide?
Choosing which portion of Antelope Canyon to tour is really dependent on three things:
budget
availability
what you want to see
Most visitors come for the light beams. If that's a deal breaker for you, then Upper Antelope Canyon is your winner.
But understand that it costs twice as much and will sell out much faster than Lower Antelope Canyon tours, especially the midday prime time tours when chances are best for photographing the light beams.
If Upper Antelope Canyon tours are sold out and you have to choose between not going at all or going to Lower Antelope Canyon, absolutely go to Lower Antelope! The tour and slot canyon are just as amazing and well-worth your time.
Are you visiting in winter? Then the light beams aren't even a factor anymore.
The position of the earth during Arizona's winter means the light beams won't appear regardless of what time of day you visit.
Let's look at upper and lower antelope canyons individually and break down the essential pros and cons for each.
Visiting Upper Antelope Canyon
Upper Antelope is the most famous portion and what most people think of when considering a visit to Antelope Canyon.
Five tour companies operate Upper Antelope Canyon tours, all with very similar names.
Each tour has its own spin, but all tours follow the same route and offer similar experiences.
What to Expect on the Upper Antelope Canyon Tour
Tours to Upper Antelope Canyon last about 90 minutes and are a combination of riding in an open-air truck and walking through the canyon.
Start at the tour company buildings and load into the trucks. Be ready for the wind and the dust. That red sand gets everywhere!
Pro Tip: Guides recommend you protect your nice DSLR cameras with a "raincoat" to keep the dust and sand out. They also highly discourage changing your lens in the canyon because it's difficult to ensure no sand gets in while you're switching out your lenses.
A 20 minute drive later, arrive at the upper canyon entrance, and walk through the red sand and into the canyon.
Your guide will tell stories and point out formations as you mosey through the canyon. This is not a long walk, only 0.25 miles into the canyon and about 0.75 miles total from start to finish.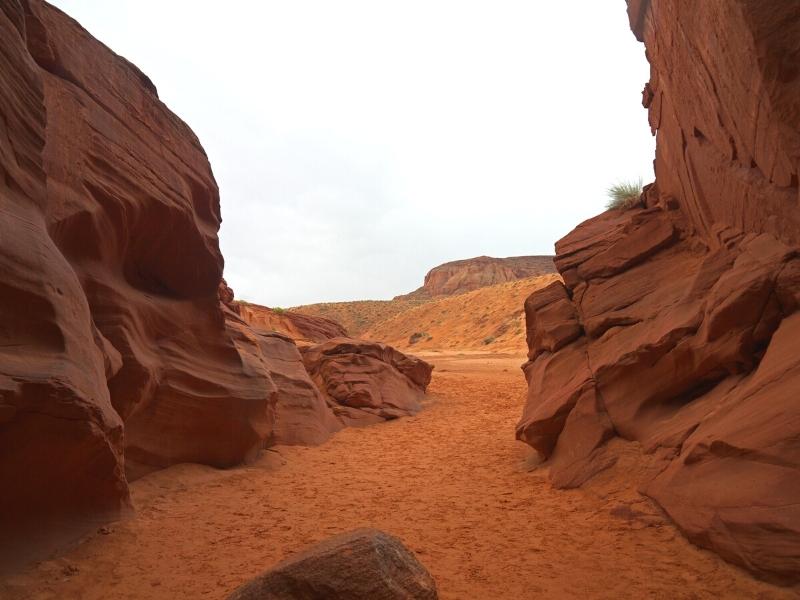 There will be plenty of time to photograph those light beams, but don't wait too long. You're unlikely to get a shot without other people in it.
New since 2020: the Upper Antelope Canyon tour is no longer an out-and-back tour on level ground.
Visitors now exit the back of the canyon, climb the hill behind the canyon, and walk on a series of steel ramps and stairs over and across the canyon, back to the entrance to meet the truck that dropped you off.
The truck zips back to the tour company building where the tour ends.
Pros to Upper Antelope
Light beams
Shorter walk
Wider walkways
Cons to Upper Antelope
More crowds
More expensive
Sells out super far out
Visiting Lower Antelope Canyon
Lower Antelope Canyon is lesser-known but equally as stunning as Upper Antelope Canyon.
Most visitors don't even know there are two different tours unless they research it themselves. (That's you, if you're reading this.)
Commercial tours running day trips from other cities are almost always taking you to Upper Antelope.
Only 2 tour companies operate in Lower Antelope Canyon: Dixie's and Ken's.
As we mentioned before, Antelope Canyon is on Navajo Nation tribal lands and tours are all Navajo-owned and operated.
These two competing tour companies happen to be owned by a brother and sister, and tours are nearly identical.
What to Expect on the Lower Antelope Canyon Tour
Tours to Lower Antelope Canyon are 100% walking tours.
Begin at the tour company building for a short introduction with the rules. Walk about 0.25 miles to the lower canyon entrance, through red sand with some rocky areas.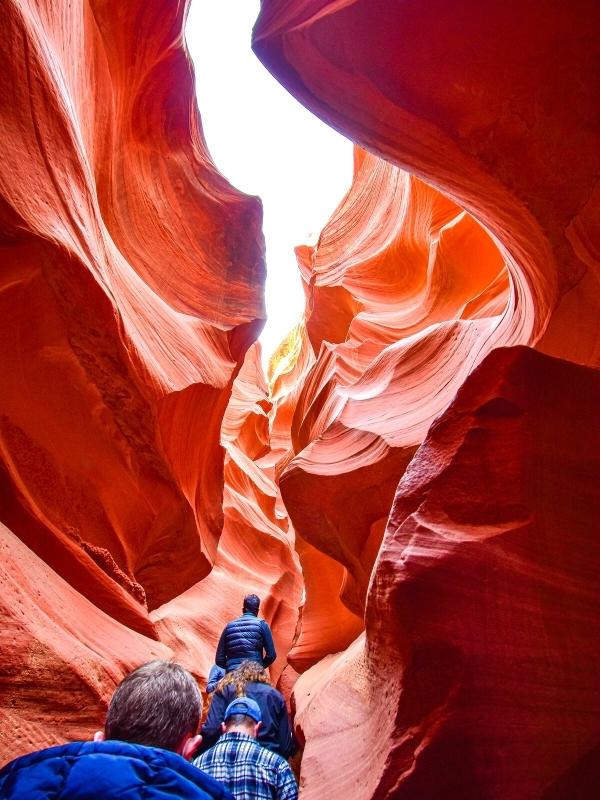 Descend a steep steel ladder into the canyon. Your tour guide will lead your group through Lower Antelope Canyon, pointing out unique formations and telling stories as you go.
The tour lasts about an hour, passes through some narrow spots, and climbs several steel ladders of varying lengths.
Arrive at the end of the canyon, climb out, and walk back to the tour company building a few steps from the canyon exit.
Pros to Lower Antelope
Cheaper
More time in the canyon
Better availability
Cons to Lower Antelope
No light beams
Narrower walkways
Several ladders
Upper vs Lower Antelope Canyon: Which is Better?
There is no clear overall winner between the two Antelope Canyons. The biggest difference is the presence or absence of the light beams in the summer.
If that doesn't matter to you, or you're visiting in the winter and it's not an option anyway, then use the following qualifiers to help you decide which canyon is better for you and your group.
>> For accessibility
The answer used to be Upper Antelope Canyon. The wide canyon bottom is easier to navigate than the narrow canyon bottom in Lower Antelope Canyon.
However, now both tours require navigating steel stairs and walking through sandy terrain.
Upper Antelope used to be an out-and-back tour with groups passing each other inside the canyon and no stairs involved. That was pre-2020.
Now, Upper Antelope is a one-way loop.
They've installed a series of steel walkway ramps and stairs so you exit the back of Upper Antelope Canyon and walk up and around the canyon, back to the truck at the entrance.
Neither is more accessible than the other now. If you're claustrophobic, choose Upper Antelope Canyon.
>> For budget
Lower Antelope Canyon.
It's funny that this is the cheaper tour, because it's longer. But those famous light beams will always mean that Upper Antelope is more expensive to visit.
>> For photos of light beams
Upper Antelope Canyon.
Those narrow beams of light are exclusive to the upper canyon. Be sure to book a prime midday time slot to see the best and brightest beams.
>> For photos of orange swirls
Lower Antelope Canyon.
With the narrow bottom and wide top, more sunlight gets in the lower canyon and allows for those gorgeous shots of orange swirling canyon walls.
If you're visiting in the winter, choose Lower Antelope Canyon.
>> For time (length of tour)
Lower Antelope Canyon*.
Lower Antelope is about 30 minutes shorter duration because you don't have to truck out to the canyon site. But take note of the asterisk!
Both upper and lower canyon tours can vary in length if there are crowds slowing down progress through the canyons.
>> For crowds
Lower Antelope Canyon.
Being the underdog means fewer visitors, although that doesn't mean Lower Antelope never gets crowded. It just sees fewer overall visitors than Upper Antelope.
Another factor here is the canyon shape and its impact on tour group size. Lower Antelope is narrow at the bottom while Upper Antelope is wide at the bottom.
Bigger groups are able to get through Upper Antelope. Small group sizes are a necessity at Lower Antelope because of its narrow bottom.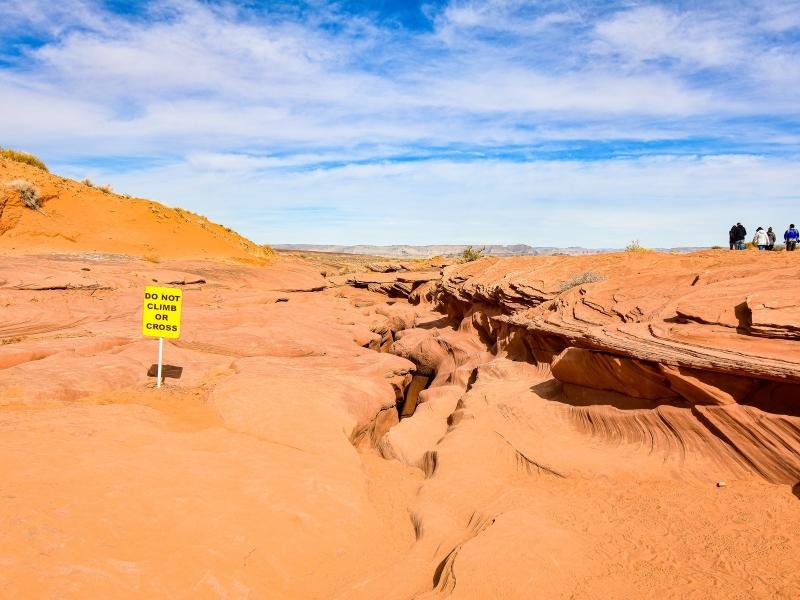 Antelope Canyon Useful FAQs
>> Where is Antelope Canyon?
Antelope Canyon is about 10 minutes southeast of the town of Page, AZ. Upper and Lower Antelope Canyon are in two different locations, but both are accessed off of AZ Highway 98.
The exact location of your tour's parking lot and building headquarters off of AZ-98 varies by tour company.
Generally, Lower Antelope tours are north of AZ-98 and Upper Antelope tours are all on the south side of AZ-98.
>> Can you take a self-guided tour?
No. Antelope Canyon is on Navajo Nation land, and the canyon is considered sacred ground to the Navajo People. All tours are operated and guided by Navajo guides.
If you book a day trip tour from another city, they drive you to Antelope Canyon but you will still take one of the Navajo-led tours.
>> Is there a bag policy in Antelope Canyon?
Yes, clear bags only! Some tours didn't allow bags at all, but that made it difficult to carry water, so clear bags are the compromise.
If you're unsure, ask when you check-in for your tour, usually 30 minutes before your tour actually starts.
Familiarize yourself with all your tour company's rules and restrictions. Tripods, selfie sticks, strollers, and pets are prohibited on all tours, but policies vary slightly by company.
For example, some tours allow 1 clear bag per person while others only allow 1 clear bag per family/group.
>> When is best time of year to go to Antelope Canyon?
Spring is a good balance for reasonable temperatures but still having light beams to see.
Spring and summer are the most popular times of year to visit Antelope Canyon, for the light beams in Upper Antelope Canyon.
However, summer temperatures can climb so high that they will close the canyons for safety reasons, and your tour would be cancelled.
Winter has the most comfortable temperatures for the hike through the canyons, but there are no light beams in the Upper Canyon.
For this reason, we recommend you save some money and visit Lower Antelope Canyon if visiting in the winter.
>> When is the best time of day to go to Antelope Canyon?
Visit around midday to see the famous light beams of Upper Antelope Canyon at their best. Tour companies usually call these prime time or premium time slots, and they usually cost more, too.
Visit Lower Antelope Canyon either early or late in the day. Avoid the midday heat as there are no light beams to miss here and the wider canyon top lets in more sunlight.
>> Can you see Upper and Lower Antelope Canyon in the same day?
Sure, just be prepared for the cost. There isn't a combo ticket for Upper and Lower Antelope Canyons.
However, there are several combo tours for Upper Antelope and a couple of other canyons in that same area, like Canyon X, Owl Canyon, and Rattlesnake Canyon.
When we first visited, we went to Antelope Canyon in the morning, stopped at Horseshoe Bend before lunch, and then drove to Grand Canyon National Park and did the scenic drive in the afternoon.
>> Who owns Antelope Canyon?
Antelope Canyon is on Navajo Nation land and only accessible via Navajo-guided tours. The Navajo Nation's Parks Department maintains a list of all authorized tour operators for Antelope Canyon.
>> Are pets allowed on the Antelope Canyon tour?
No. This is sacred ground to the Navajo, and no place for pets.
Caution: You cannot leave your pet in your hot car during your tour, either. Temperatures get ridiculously high here. It's animal abuse, even if they have a bowl of water. The authorities will be called, will break your car window to save your pet, and you'll have a hefty fine and a broken window when you get back.
If the canyons are ever desecrated, the Navajo Nation closes the canyons to tourists and performs a cleansing ceremony. Be respectful.
This means no pets, no graffiti, and no spreading of loved one's ashes in the canyon. (I can't believe they had to specify that last one, but apparently, it's been a problem before.)
Upper vs. Lower Antelope Canyon: Which is Right for You?
This will be an eternal debate, but, honestly, there's no right or wrong answer. There's only the option that's best for you based on your budget, availability, and what you want to see.
See the light beams in Upper Antelope, or see the orange swirls of Lower Antelope. You won't be disappointed with either option!
Lower Antelope Canyon is absolutely worth it, just as much as Upper Antelope Canyon.
Looking for more things to do near Antelope Canyon?
Happy travels!
Share it!