What the heck is a hoodoo? Come spend a day in Bryce Canyon National Park and see them for yourself! These vibrantly orange spiky rock pillars contrast perfectly against the dark green pine forests, making for spectacular views in every direction. Take a hike into Bryce Canyon and see the orange hoodoos up close, or drive the scenic route and see all the canyon overlooks. One day in Bryce Canyon is all you need to really get to know this remote area in southern Utah. Add this one day Bryce Canyon itinerary to your next Southwest USA road trip!
---
This post may contain affiliate links. As an Amazon Associate and associate of other programs, I earn from qualifying purchases. This means if you click a link and make a purchase, I may earn a small commission at no extra cost to you.
---
What Makes Bryce Canyon Special?
Bryce Canyon National Park is home to the world's densest collection of hoodoos.
These otherworldly rock formations are products of years of erosion. Water, ice, and the freeze-thaw cycle at this 8,000-9,000 ft elevation are constantly reshaping them.
What started out as a plateau wall thrust up by tectonic plates will slowly erode into these unique rock pillars, called hoodoos.
Calcium carbonate in the sedimentary rock will dissolve under slightly acidic rain water. Then, the water will freeze into ice at night, expanding as it freezes and wedging the rocks apart, bit by bit.
The hoodoos you see today are not the same as they were 20 years ago, and they'll be different 20 years from now, too.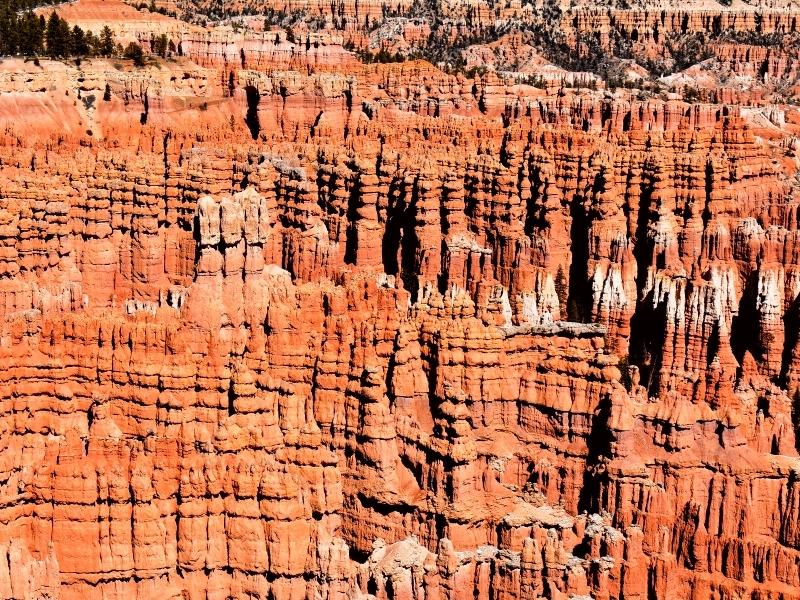 Bryce Canyon is situated near the top of the Grand Staircase, a series of sedimentary rock layers that stretches from Zion and Bryce Canyon National Parks down to Grand Canyon National Park in Arizona.
The Grand Staircase showcases millions of years of history as rock layers are exposed as you drop in elevation. It's a remarkably intact historical record, found nowhere else in the world.
Start at the top of the staircase here in Utah and continue south into Arizona where the bottom of the staircase peeks through at the bottom of the Grand Canyon.
Grand Staircase-Escalante National Monument is a huge preserve that showcases this geological feature, but you can see the stair steps from overlooks in Bryce. It's really cool once you know what you're looking at!
Where is Bryce Canyon National Park
Like all of Utah's Mighty 5 national parks, Bryce Canyon is at the bottom of the state, closer to Arizona than northern Utah. Salt Lake City, UT is just over 4 hours away from this remote park, and Las Vegas, NV is almost 5 hours away.
Most visitors will road trip out to Bryce from one of these two cities, spending a day in Bryce Canyon, maybe two, before moving on to another park.
The Las Vegas airport usually has more flight options than Salt Lake City's airport.
Pro Tip: Keep in mind that Las Vegas is in the Pacific Time Zone but Utah is on Mountain Time. You'll lose an hour when you cross the state line into Utah but gain it back when you return to Nevada.
We recommend road tripping from Las Vegas because it's so easy to create a customized loop through parks, cities, and historical sites that suit your preferences.
We combined Bryce Canyon with 9 other national parks and famous landmarks to make a loop back to Las Vegas.
Other road trip routes include Utah's Mighty 5, visiting all 5 Utah national parks in a week, or the Grand Circle Tour, which loops through northern Arizona, clips the corner of Colorado, and loops back across southern Utah.
Top 5 Best Things to Do in Bryce Canyon National Park
As Utah's second most-visited national park, this small but mighty park has quite a lot to offer and you can see a lot of it with just one day.
Its remoteness is an asset. There are no big city lights to ruin stargazing and the high elevation keeps temperatures comfortable for hiking for most of the year.
In winter, the landscape changes with a nice coating of snow for a different type of adventure.
If you're exploring Bryce Canyon in one day, here are the top 5 attractions you don't want to miss.
1. Bryce Canyon Visitor Center
I know that the visitor center doesn't sound impressive to most of you, but the one at Bryce Canyon has a lot of neat stuff.
There's a free museum that will answer the question, "What is a hoodoo?" with many visual exhibits and a 20 minute movie that airs every half hour for a wonderful overview of everything in the park.
Stopping at the visitor center is a good idea at any national park, but at Bryce it's an opportunity to check in with rangers on trail conditions. This is especially crucial if you visit in the winter!
Because most of the trails start at the rim and descend into the canyon via steep sections of trail, snow and ice can make it dangerous. Sometimes the park will close the trails, or portions of the trails.
Pick up a park map, enjoy the museum to get a better understanding of the park you're about to see, and buy a souvenir from the gift shop. Then go enjoy your park!
2. The View at Bryce Amphitheater
One of the best things about Bryce Canyon National Park is how accessible it is. Anyone can experience the amazing views from the rim of the Bryce Amphitheater, thanks to the paved path running between Sunset and Sunrise Points.
The iconic view that you've probably seen on Instagram or in a travel book is here at the Amphitheater, a semi-circular canyon filled with hoodoos that resembles an amphitheater.
Get your own version of this photo for your travel wall at home!
This is the busiest part of the park, and parking can be difficult to find in peak season.
Consider taking the free park shuttle instead. It drops off at several stops in the area and will return you to your car when you're done.
3. Hike the Hoodoos
Get up close to these strange rock formations! Take a hike into the canyon and admire the hoodoos from every angle.
Hiking is always our preferred way to see a park, to get out into these natural landscapes and see them up close. See Thor's Hammer, Queen Victoria, Wall Street, and the Wall of Windows, to name just a few specific spots.
The trails at Bryce are easy to connect to make longer and unique loops through different parts of the park. Ask a ranger for recommendations if you want to do this! Some loops, like Peekaboo Loop, are one way only to avoid some seriously steep climbs.
For Bryce we highly recommend hiking boots and trekking poles, to save yourself from sliding off the edge in the winter but also to save your ankles and knees in summer.
See the packing list below for more information.
4. Rainbow Point Scenic Drive
Take a peaceful drive south through the park until the road ends at Rainbow Point. Get out and see Rainbow and Yovimpa Points (a great place to see the Grand Staircase!).
Then, turnaround and drive back the way you came, stopping at ALL the other viewpoints along the way.
Some overlooks are just a few steps from the parking spots; others are a short walk down a paved path. Young and old of all abilities will be able to access these overlooks and enjoy Bryce Canyon's stunning views.
Yovimpa Point, Agua Canyon, and Natural Arch were our favorite viewpoints.
This road climbs in elevation as you drive south, so be prepared for cooler temps and thinner air but phenomenal views!
5. Stargazing
"Half the park is after dark" is an appropriate tagline for parks that qualify as Dark Sky parks.
Being so far from city light pollution and being 9,000ft up in elevation provides perfect conditions for seeing the Milky Way at night.
If you can stay the night at Bryce, we highly recommend going back into the park after dark for some truly epic views of the night sky!
The park hosts an Astronomy Festival every June. Ranger-led hikes and programs are popular, and stargazing every night is fantastic, assuming the weather cooperates.
Getting Around Bryce Canyon National Park
One thing to address before we go further: how to get around Bryce Canyon. There are a few options.
Personal vehicle
Free shuttle bus
Walking/Hiking/Biking
For maximum flexibility, bring your own vehicle. Unless you're with a commercial tour, driving yourself is the only way to get to the park in the first place, so we're reasonably confident you'll have a car.
During summer peak season, consider using the free shuttle whenever possible. It reduces noise and pollution in the park and eliminates the need for you to drive around until you finally find a parking spot.
The Bryce Amphitheater shuttle loop has stops at Inspiration, Bryce, Sunset, and Sunrise Points, the national park campgrounds and the Lodge, the visitor center, and even stops outside the park in town at the big hotels. Leave your car outside the park and let the shuttle take you in.
The shuttle is a great option until you want to see the Rainbow Point Scenic Drive. Then you need your car.
Of course, you're always welcome to walk from place to place within the park. Once you get to the visitor center, trails and paved paths connect most of the park.
Biking is allowed on paved surfaces, including park roads and the multi-use shared path that runs from Inspiration Point in the park all the way out of the park and out of town to Red Canyon.
Most people choose to bike just the 5 miles between Inspiration Point and the shuttle stop in town, rather than the entire 18 miles (one way) out to Red Canyon.
One Day in Bryce Canyon Itinerary: Hit the Highlights!
This park is the perfect size to see a lot of it in one day. You won't feel like you've missed anything if you can spend a full day in the park.
If you have more time, by all means, stay and take your time exploring this corner of Utah!
Here's how we'd spend one day in Bryce Canyon.
Arriving in Bryce Canyon
We recommend driving to Bryce the night before you intend to spend the day in the park. We also recommend staying in Bryce, the town right outside of the park.
If you're traveling here in low season (November through March), be sure to arrive prior to 7PM local time if you expect to eat dinner in town. Restaurants are all closed by 8PM in winter, something we found out the hard way on our trip.
If you prefer waking up early rather than driving late, then get to the park as early as you can, at least by 8AM in peak season.
Otherwise, you'll find yourself waiting in line at the entrance and fighting for a parking spot at the Amphitheater once you do get in.
Stop in at the Visitor Center first to tour the museum, pick up a park map, check on trail conditions with the park rangers, and to buy a souvenir.
Next: Continue on to Sunset Point, either by car or free shuttle.
Sunset Point
The first stop for most visitors, Sunset Point is where you get that iconic view of the Bryce Canyon Amphitheater.
Enjoy the view and take lots of pictures! Read the exhibit plaques for more information on the views and early settlers.
Note that the Navajo Loop trailhead is right next to the Sunset Point overlook.
We recommend a combined Queen's Garden/Navajo Loop hike, but the park recommends hiking it in a clockwise direction for slightly easier elevation changes. You'll start this hike at Sunrise Point and end it right here.
Next: Leaving Sunset Point, take a walk along the Rim Trail to Sunrise Point. This walk is only 0.5 miles on a paved trail and, as its name suggests, it follows the canyon rim the whole way for views while you walk.
Sunrise Point
Another view of the Amphitheater, but the change in angle can make all the difference.
This viewpoint is slightly higher, and I especially liked the lone pine clinging to the rim at the overlook. Such resilience!
The Queen's Garden trailhead is right next to the Sunrise Point overlook, and is our next stop.
Next: When you've had your fill of the view, head back down the overlook ramp to the Queen's Garden trailhead.
>>TIME CHECK<<
At this point, you have stopped at the visitor center, watched the park movie, and spent 30-45 minutes admiring Sunset Point, walking over to Sunrise Point, and admiring Sunrise Point views.
If you got to the park and the visitor center right as it opened at 8AM, then it should be around 9-9:30AM now.
Hike Queen's Garden/Navajo Loop Trail
The Queen's Garden trail is an out-and-back hike, but becomes a loop when combined with the Navajo Loop Trail. This combined hike is just shy of 3 miles roundtrip.
Get a thorough exploration of the Bryce Amphitheater and its hoodoos up close! See Queen Victoria, Wall Street, and Thor's Hammer rock formations as you hike this loop.
This is a great introductory hike and the perfect hike for only one day in Bryce Canyon. It's not too long and not too strenuous, but you still get to see a lot.
Pro Tip: In winter, the Wall Street section of the Navajo Loop closes, and you'll need to take the Two Bridges portion of the Navajo Loop instead. Looking at the park map, this is easy to follow, but ask a ranger if you have questions.
This is the most popular hike in the park, so go early if you wish to avoid crowds.
The park recommends hiking this loop in a clockwise direction, which is why we recommend you start at the Queen's Garden trailhead at Sunrise Point and finish at the Navajo Loop trailhead at Sunset Point.
Both trails are listed as moderate difficulty, and that is due to steep portions as you hike down into the canyon from the rim, and vice versa on the way out. Don't let it put you off, though!
Plenty of hikers of varying abilities have successfully done this hike. Plan for 2 to 3 hours, depending on fitness level and accounting for adjusting to the elevation.
Next: Once you've finished your hike, drive (or take the shuttle) to Inspiration Point.
You may choose to eat your pack lunch or grab a bite at one of the nearby restaurants before continuing, and that's fine. You just finished a hike. Refuel now if you need it!
Inspiration Point
This view rivals the Sunset Point view, in my opinion. The rippling waves of bright orange rock are just so unique, and there's so many of them in this view!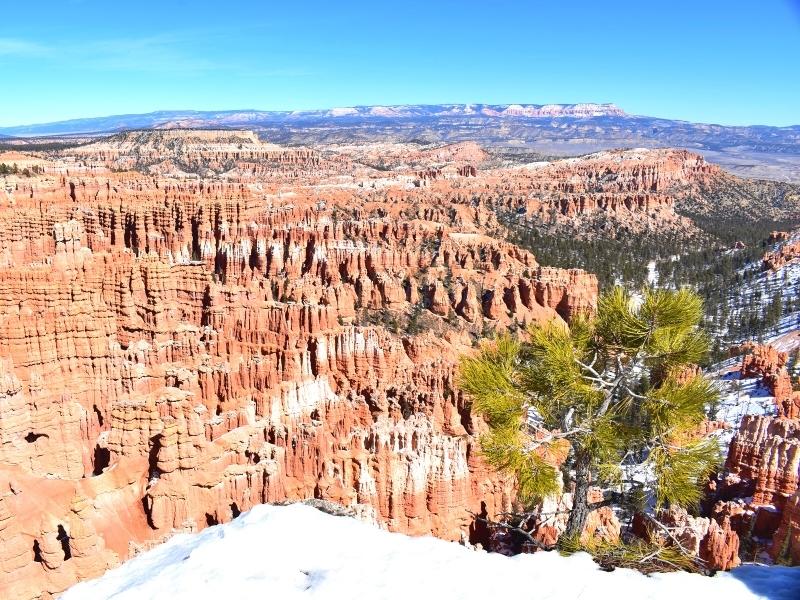 It's like you're watching a hoodoo being formed. You can see how the spires are starting to show through from a wall of rock and will eventually break down completely into individual columns.
There are two viewpoints here. Take the paved path up the hill to the upper viewpoint for another perspective of this view.
Next: When you're ready, get back in your car or hop another shuttle to Bryce Point, the last view of the Bryce Amphitheater.
Bryce Point
So many views, so little time here! Walk all the way out to the end for a nearly full-circle view of this canyon.
On the west side (left side as walking out to the overlook), admire the many arches in the canyon wall. (This is not the Wall of Windows, common mistake for newbies, but the arches are still very cool.)
Then turn your view to the right (to the east), and enjoy more orange spiky hoodoos and the plateaus in the distance. Yovimpa Point shows it better, but you can start to visualize the Grand Staircase from here.
Pro Tip: Bryce Point has fantastic sunrise views! If you're a sunrise person, start your day at Bryce Canyon National Park here and reverse the first half of this itinerary.
Next: To continue exploring Bryce Canyon National Park, you need your own car. Grab a shuttle back to wherever your car is and then head south on the main road for Rainbow Point.
If you drove to Bryce Point yourself, great! Hop in the car, drive back out to the main road, and turn left to drive south along the scenic drive.
>>TIME CHECK<<
If you haven't bought lunch yet, do it now before you start the Rainbow Point Scenic Drive! There's nowhere to buy food once you leave the Bryce Amphitheater area.
At this point, it should be either 1PM or 2PM, depending how long you hiked and took for lunch.
Drive the Rainbow Point Scenic Drive
Explore the southern half of the park via the Rainbow Point Scenic Drive. Any park ranger will tell you to drive all the way to the end at Rainbow Point, and then stop at the overlooks on your way back.
This is because all the overlooks are on the left side of the road as you drive south to Rainbow Point. It's just easier, and better for traffic flow, if you wait to stop on the way back when they'll be on your right.
The drive from the Amphitheater all the way down to Rainbow Point takes at least 30 minutes, maybe longer if you factor in summer traffic. On the way back, you'll be stopping at all the overlooks, so it will take longer.
Rangers typically say to assume at least 2 hours to complete the entire scenic drive.
Some viewpoints are easy pops out of the car for a photo and then right back in and off again. Others require a short walk down a paved path.
Rainbow Point and Yovimpa Point probably take the longest to see of all the overlooks because of the paths to get to them, and we were only up there for about 20 minutes total.
Next: You can spend as much or as little time as you like at each overlook, but just keep an eye on the time if you're wanting to add another hike to your itinerary.
Pro Tip: In the winter, flip this itinerary. Do the Rainbow Point Scenic Drive in the morning and the Bryce Amphitheater hiking in the afternoon.
Time for another hike? Extend Your Bryce Canyon Itinerary.
Depending on your time management skills, it's around 3PM for some of you and 4PM for the rest.
In the summer, there's still time to fit in another hike as sunset isn't until almost 9PM. We're not suggesting you stay out that late, but you could take another 3 hour hike, or less, and still have plenty of light.
Here are a few more fan-favorite hikes in Bryce, which you can fit into your Bryce itinerary whenever you like.
Peekaboo Loop Trail
Find the Peekaboo Loop trailhead at Bryce Point. Roundtrip is 5.5 miles with a lot of steep elevation change on this strenuous hike. All that steep hiking is worth it though once you see the Wall of Windows.
This is a combined horse trail/hiking trail, so watch your feet!
You can also connect Peekaboo to the Navajo Loop Trail. Create a Queen's Garden, Peekaboo, & Navajo Loop hike for one very thorough exploration of the Bryce Amphitheater.
Fairyland Loop Trail
The longest trail with the most elevation change in the park, this uncrowded trail promises unique views that most visitors never see.
Admire Tower Bridge and the Chinese Wall formations as you make your way through the canyon towards Sunrise Point. Return to the trailhead at Fairyland Point via (the unpaved portion of) the Rim Trail.
Clocking in at 8 miles roundtrip, it takes most visitors 4-5 hours to complete. A great option for avid hikers with an additional half day to burn.
Pro Tip: Fairyland Point and the road to it is closed in winter. However, you could still do this hike with a little extra effort, so long as the park hasn't closed the trail for unsafe conditions. Ask a ranger at the visitor center for current conditions before attempting this in winter.
Mossy Cave
The Mossy Cave trail is not in the main portion of the park, but it's become quite the popular trail in recent years. Just 5 minutes east of the park and the town of Bryce, you'll find the trailhead.
Only a mile long, out and back, it'll take less than an hour to see. In winter, the cave fills with icicles! In summer, it's covered in moss.
Its recent popularity has made parking a problem. Please be a responsible visitor. If there are no parking spots free, come back another time.
The park warns that this hike is excessively crowded between 10AM and 6PM in peak season. Because of this, and because it's not near the rest of the park's sights, we recommend you do this hike first.
Useful FAQs and Tips for Visiting Bryce Canyon
>> Does Bryce have an Entry Fee?
Yes. It's $35 per vehicle to enter Bryce, valid for 7 consecutive days thereafter.
We highly recommend getting an America the Beautiful National Park Annual pass, particularly when visiting southern Utah. Visit Zion, Bryce Canyon, and one more park and the $80 annual pass will pay for itself.
It's the best way to save money on a national park road trip, getting you in to most federal lands for free for a year.
If you have a 4th grader you are eligible for a free annual park pass! Passes cover the 4th grader and any other kids under 16 as well as up to 3 adults and are valid for one school year, September through the next August. Check the Every Kid Outdoors website for more information.
Pro Tip: If you want to use the free shuttle bus system and board outside of the park, you must show the driver proof of park admission first. Buy your entry ticket online and show them on your phone when your group boards the shuttle.
>> Get to Bryce Canyon as early as possible.
If you prefer having the hiking trails to yourself, or better yet, you want a parking spot at the Sunset Point parking lot, then get started early.
Bryce is Utah's second most visited national park, and the crowds in summer clog up parking spots, the scenic drive, and the trails.
>> Best time for photos at Bryce
Bryce Canyon opens to the east, so the best time for photos is generally in the morning.
Afternoon and sunset photos are still beautiful, but there will be more shadows due to the orientation of the canyon. Paria View is a popular sunset photo spot.
>> Best time of year to visit Bryce
Shoulder season is your friend at Bryce Canyon. However, the higher elevation means it starts snowing earlier than in other parts of the state or surrounding region.
Visit in April, May, September, or October to avoid most of the crowds but still have warmer weather and less chance of snow.
To be clear, less chance of snow still means it can snow, so check the forecast before you leave and come prepared.
Visiting Bryce Canyon in winter is a cool experience, and how we first saw the park, but understand that it's a much quieter time to visit Bryce.
Trails are more likely to be closed due to snow/ice, and amenities in the park and the surrounding towns will be significantly reduced.
>> How many days do you need in Bryce?
One full day is enough, but three days would be ideal to completely explore Bryce.
You can see the majority of the park in just one day if you get an early start and follow the 1 day Bryce itinerary above.
If you want to do all of the popular, longer hikes (Queen's Garden/Navajo Loop, Peekaboo, and Fairyland) and perhaps get in some stargazing and/or astrophotography, then three days is perfect for spacing those out.
Where to Stay near Bryce Canyon National Park
Our recommendation is to stay in Bryce right outside of the park at the Best Western Plus Grand Hotel. It has comfortable rooms, amenities like a gym and outdoor pool, and free breakfast.
However, in peak summer season prices will rise and rooms will sell out, so book in advance.
For campers and RVers, we suggest Ruby's Inn RV Park and Campground, also in Bryce right outside the park entrance. This campground has all the amenities you could need while camping, like full hookups, showers, and wifi, unlike the campgrounds inside the park.
Honestly, there are plenty of campgrounds to choose from in the area, as well as a few other small towns for hotels, bed and breakfasts, or rentals. Check out our detailed guide for where to stay near Bryce for more options.
>> Are you planning to spend a few days at both Bryce Canyon and Zion National Parks? Perhaps staying between Zion and Bryce makes more sense. <<
Where to Eat near Bryce
Packing in a lunch is the easiest, fastest, and cheapest option for where to eat in Bryce. Ruby's Inn has a General Store that sells groceries so you can pack a lunch.
Note that vegetarian and gluten-free options are usually available, but it's unlikely to be top-notch cuisine. You'll end up eating a lot of salads.
Eating in the Park
The Lodge at Bryce Canyon has a few restaurants to choose from: a pizzeria, a General Store with take away foods, and a dining room in the lodge.
Valhalla Pizzeria & Coffee Shop has basic pizza, salads, pastries, and a wide variety of drinks. A solid option for lunch or dinner. Closed in off season, usually October through May.
The General Store is the campground camp store, but also serves hot and cold takeaway meals. Slices of pizza, homemade sandwiches, snacks, and beverages are available and can be eaten at a nearby picnic table or at tables on the front porch.
The Lodge at Bryce Canyon opens its dining room to all park visitors. It's open for breakfast, lunch, and dinner and doesn't require reservations. Meals are simple but healthy.
Breakfast is mostly cold options like cereal, fruit, and pastries with a few hot options like oatmeal or toasted bagels.
Lunch is burgers, sandwiches and salads, and dinner is steak, fish, or salads.
Eating outside of the Park
In Bryce, outside the park entrance, there are just three restaurants, and one of them isn't open for lunch.
The Cowboy's Buffet & Steak Room at Ruby's Inn is the best restaurant in town. It has a good buffet and hearty food for breakfast, lunch, and dinner. Steaks, ribs, and seafood, or get the buffet.
The Canyon Diner is right next door, also open for lunch and dinner. Quick eats like chicken baskets, burgers, hot dogs, salads, and various sandwiches.
Ebenezer's Barn & Grill is a live country music dinner show. Dinner is served 30 minutes before show time. Options are steak, fish, BBQ, fried chicken, or a veggie plate.
There was a Subway near the roundabout last time we were in town. The town of Tropic is a short drive east of the park and has a few dining options as well.
---
We recommend packing a lunch to eat in the park, and then eating dinner at one of the restaurants in Bryce before leaving town for your next road trip stop.
7 Essentials for your Bryce Canyon Packing List
1. Hiking boots
This is especially important in the winter, but applies to fair weather hiking, too. Bryce was the first place we've ever regretted not having hiking boots.
We've never bothered to get hiking boots before, because we're not "serious hikers", tending to stick to easy hikes usually under 5 miles total.
If we had had hiking boots, we could have trudged through the muddy/icy slush leftover after an early March snowfall. Without boots, though, it was just too dangerous.
We didn't have any traction going down into the canyon and weren't keen on sliding off the side of the trail. We tried to hike it taking it slow, because I'm stubborn, but we abandoned the idea and turned around after it took us 20-30 minutes to go just over 0.25 miles.
In good weather, we'd still argue for the hiking boots. The steeper grade combined with the loose dirt trail makes it easy to slide if you're in worn shoes.
Rangers will warn you against hiking without boots as well. Apparently, ankle injuries are second only to elevation-related ailments for Bryce visitors.
2. Trekking poles
Hiking down into a canyon and then back up to the rim, even with switchbacks, your knees will be glad for the trekking poles. They help stabilize and take some of the pressure off.
They're also good for making noise if you ever encounter a bear (unlikely in Bryce), or can distract a coiled snake away from your leg (possible in Bryce). Just a thought.
These trekking poles are collapsible, light, have versatile attachments, and come in several colors.
3. Spikes (for winter)
Crampons are metal spikes you can attach to your hiking boots and help navigate ice and snow better. We definitely recommend these if you plan to hike in Bryce in the winter.
The Bryce visitor center sells some, but they often sell out of popular shoe sizes (and they're usually cheaper on Amazon).
It's better to get some before you leave so you know they're the right size and how to attach them to your shoes before you get to the park.
4. Layers
With the exception of the height of summer, it can get cool in the evenings in Bryce.
At this elevation there's also a noticeable difference in temperature between the rim and down in the canyons.
Bring layers in wicking material so you can be comfortable no matter where you are in the park. In summer you might consider long sleeves in a wicking material as sun protection.
5. Sun protection
Sunscreen, sunglasses, and a wide-brimmed hat are all a good idea when visiting Bryce. The midday sun bouncing off those orange rocks is no joke.
6. Water
Never hike without water. Bring a bottle per person at a minimum. More if you plan to be out for more than an hour.
You may not notice the effect of the elevation change on your body just walking around, but once you start exerting yourself on a hike into the canyon, you'll feel it.
Elevation-related ailments, like dizziness and shortness of breath, are the most common problems for Bryce visitors. Stay hydrated and take plenty of breaks.
7. Day Pack
Get a sturdy backpack with comfortable straps so you can store your water, layers, map, and other essentials while you hike. You'll have your hands full with your trekking poles, remember?
It's good practice to always carry the 10 essentials when you hike. You may not think a short 3 mile hike warrants all that, but the whole point is to be prepared for the unexpected.
If a storm pops up and floods the trails, you may have to hunker down for a few hours or longer. If it's cold and windy and you get wet from rain or snow, that's a recipe for hypothermia.
It's always better to be cautious, especially when it doesn't cost you anything besides a minor inconvenience to keep the 10 essentials with you.
Enjoy your day in Bryce Canyon National Park!
We hope you enjoy your one day in Bryce Canyon to the fullest! Or, maybe this Bryce itinerary gave you a place to start for your multi-day adventure?
Here are some more resources for planning your trip to Bryce Canyon National Park and the surrounding area.
Happy travels!
---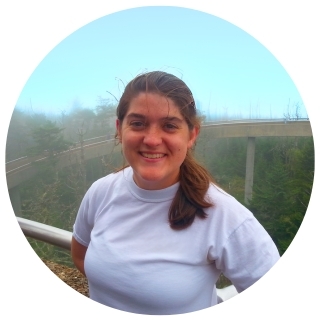 About the Author: Rachel Means
With six-figure student loan debt and only 10 PTO days per year, Rachel started traveling the world. A decade later, she's paid off her loans, changed careers, and been to 36 US states and 14 countries. She's an expert at planning and budgeting for travel and loves to help others do it, too! Read her full story here.
---
Share it!