The first National Parks Free Entry Day is always MLK Day! What better way to celebrate Dr. Martin Luther King, Jr.'s birthday in January or Black History Month in February than visiting a key site from the Civil Rights Movement?
The National Park Service (NPS) doesn't just preserve amazing natural landscapes; it also helps preserve our history.
Learn about the landmark court case in Kansas that ended segregation in schools, tour Martin Luther King, Jr.'s Atlanta neighborhood, and marvel at the tenacity of the first Black fighter pilots trained in Alabama.
---
This post may contain affiliate links. As an Amazon Associate, I earn from qualifying purchases. This means if you click a link and make a purchase, I may earn a small commission at no extra cost to you.
---
Do you get Martin Luther King, Jr. Day off work?
Martin Luther King, Jr.'s Birthday is a federal holiday in the United States, observed every year on the third Monday of January, but not every company in the US observes all federal holidays.
If you are one of the many that do not get this holiday off of work, you can still celebrate the weekend before!
Also, several of these sites have virtual tour options on their websites if you want to "visit" after work.
Black History is part of American History
It's important to recognize and understand the need for learning about Black History. This gets glossed over quite a bit in history textbooks in the US, but it's a part of America's history.
It gets ugly, absolutely. But all the more reason to learn and grow from it.
There are many options and places to visit for Black History Month in the US, not just the NPS-owned and preserved sites.
The South was the epicenter of the Civil Rights Movement in America (because it had the most oppressive laws against Blacks). Here are a few more Black History Sites in the South you should consider visiting in addition to the National Park Service sites we discuss below.
Black History and Civil Rights Sites of the National Park Service
A word of caution: some of the content at these historic sites can be disturbing. Racism is ugly. Men, women, and children gave their lives in the struggle for equality and justice. That doesn't mean you shouldn't go see it and learn from it. It just means be mindful of younger visitors.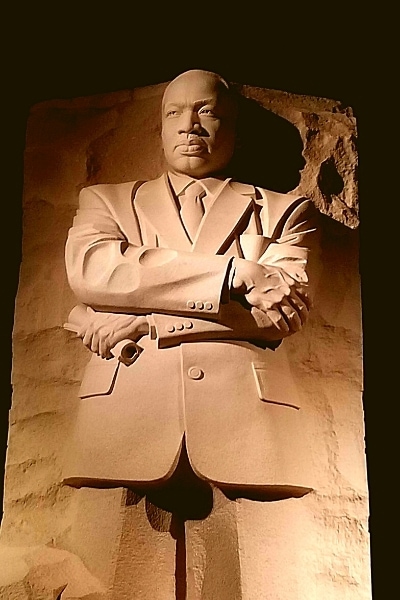 1. Martin Luther King, Jr. Memorial
Standing tall at 1964 Independence Avenue SW, the Martin Luther King, Jr. Memorial stone statue of Dr. King stares across Washington, DC's Tidal Basin. The address is an homage to the Civil Rights Act of 1964 for which Dr. King was a key advocate.
Visitors enter through a gap in two large stone outcroppings, part of the memorial representing the Mountain of Despair from which sprang the Stone of Hope into which MLK's statue is carved, echoing words from King's "I Have a Dream" speech.
A wall surrounds the site with 14 inspirational inscriptions from Dr. King's speeches and writings. A gift shop is across the street from the memorial entrance. Highly recommend visiting the DC monuments at night for awesome photos!
2. Frederick Douglass National Historic Site
Born a slave, Frederick Douglass escaped slavery as a young man and became one of the most vocal abolitionists of his day. Tour Douglass's historic home, Cedar Hill, just across the Anacostia River from downtown Washington, DC.
See where Douglass spent the last 17 years of his life, preparing speeches and fighting for equality. Guided tours are the only way to get inside the house. Reservations are highly recommended.
3. Lincoln Memorial
Abraham Lincoln is known as the President who abolished slavery with the Emancipation Proclamation in 1863. It's a little more complicated than that, but he was instrumental in bringing down the institution of slavery in America.
Inside the Lincoln Memorial on the west end of the National Mall in Washington, DC, a giant statue of a seated Lincoln gazes out across the Reflection Pool to the Washington Monument. On the walls are inscriptions of Lincoln's Gettysburg Address and his second inaugural speech.
A century later in 1963, Dr. Martin Luther King, Jr. stood on the steps of the Lincoln Memorial and delivered his famous "I Have a Dream" speech. Find the Lincoln Memorial step inscribed "I HAVE A DREAM" and stand where Dr. King stood.
4. Nicodemus National Historic Site
Nicodemus, Kansas is the oldest and only remaining African American frontier community west of the Mississippi River. Newly freed African Americans left Kentucky behind after the Civil War and moved to Kansas to start their own town and settle the Great Plains in the process.
This is a blip on the map off of US 24 in the middle of northern Kansas; you'll miss it if you blink! Set your GPS and pick up a map at the visitor center for a self-guided tour of the town. If you need a virtual option, Google street view is available to see all the buildings. Note that you can only enter the visitor center and the foyer of the AME Church. The other 3 buildings are not open to the public.
5. Brown v. Board of Education National Historic Site
The landmark court case that struck down "separate but equal" and ended segregation in schools started in Topeka, Kansas. Stop by the visitor center in the old Monroe School Building in Topeka and learn more about the people behind the court case: the average people that just wanted an equal chance.
Two exhibit halls and an auditorium show several films that detail the struggles of African Americans in education prior to the 1954 Supreme Court decision. In the Monroe School former Kindergarten room, see how the classroom was set up in 1954 when the school was still segregated and learn how the court ruling impacted teachers.
6. Little Rock Central High School National Historic Site
School desegregation garnered national attention here in Arkansas when the Little Rock Nine, nine black students, bravely enrolled and attended Little Rock Central High School.
The 101st Airborne was sent in by President Eisenhower to ensure the students were allowed entry after their first two attempts had been barred by the Arkansas governor and Arkansas National Guard.
Can you imagine needing the military to step in just so you can go to a better school?
Little Rock Central High is still an operating high school today, so visits inside the building are very limited to ranger-led tours during the week only.
However, the front entrance steps, reflection pond with benches, and portions of the grounds are accessible to the public.
Start at the Visitors Center and watch a short movie. Take a ranger-led tour if available, or walk the grounds and wonder if you would have been so brave.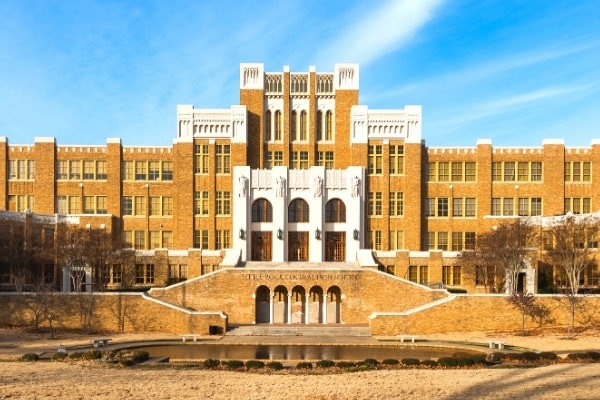 7. Martin Luther King, Jr. National Historical Park
Reverend Dr. Martin Luther King, Jr. was born and raised in Atlanta, Georgia in the "Sweet Auburn" neighborhood. After his death, his widow, Mrs. Coretta Scott King, created the Martin Luther King, Jr. Center for Nonviolent Social Change, known today as simply the King Center.
The National Historical Park was established later, around the King Center, and encompasses several city blocks in the area. Several historical buildings from Dr King's life and his struggle for equality are preserved in this park.
Tour Dr. King's Birth Home, visit the original Ebenezer Baptist Church where Dr. King grew up and eventually pastored, and see Dr. King and Mrs. King's tombs at the King Center.
Tours of the Birth Home are first come, first serve and fill up fast, particularly on weekends. Stop in at the Visitor Center when you first arrive early in the day for the best chance of reserving a tour spot.
8. Selma to Montgomery National Historic Trail
Follow the path of the 1965 Voting Rights March from Selma to Montgomery, Alabama. The trail has three interpretive centers: one in Selma near the infamous Edmund Pettus Bridge, one approximately halfway on the trail in Lowndes, and the last in Montgomery on the campus of Alabama State University.
All three centers have exhibits and oral histories from those that experienced the march firsthand. This is another site where we urge caution for younger visitors. Bloody Sunday in Selma was a violent encounter as its name suggests, and photographs from the event may not be suitable for children.
9. Birmingham Civil Rights National Monument
This is a park in progress! Designated as a national monument in 2017, this area in Birmingham, Alabama is currently being developed and restored. In the meantime, the Birmingham Civil Rights Institute, which predates the national monument, is open to visitors and has rotating exhibits.
The national monument boundary encompasses Kelly Ingram Park, 16th Street Baptist Church, A.G. Gaston Motel, Bethel Baptist Church, and the 4th Avenue Historic District, all pivotal sites from the civil rights movement in Birmingham.
There may not be many NPS-polished exhibits to see yet, but several of the newly protected sites already have memorial statues and markers.
The 16th Street Baptist Church, where 4 girls were killed when a bomb went off one Sunday morning, is still a functioning house of worship. The church can arrange a historic tour if contacted.
10. Charles Young Buffalo Soldiers National Monument
Another recently created park, the Charles Young Buffalo Soldiers National Monument looks like any other private residence off a state route in Ohio but it has many amazing stories to tell.
Just outside of Xenia, OH, a suburb of Dayton, Colonel Charles Young purchased a large home for his family while he was teaching at Wilberforce University.
Charles Young was one of the first African American soldiers able to have a distinguished military career, becoming a role model and leader for future black officers with military career aspirations.
He was born a slave at the end of the Civil War, raised during Reconstruction in Ohio, attended and graduated from West Point despite segregation because of his race, and served honorably all over the US and the world for the US Army until medically retired at the age of 54, despite proving his continued physical fitness.
Take a tour of Young's home which doubles as the national monument visitor center as the park continues to be developed.
11. Tuskegee Institute National Historic Site
Founded by Booker T. Washington, the Tuskegee Institute in Tuskegee, Alabama was America's first university for African Americans. George Washington Carver eventually joined the teaching staff, and much of Carver's agricultural work was completed here.
Start your visit at the George Washington Carver Museum. From there, join a free tour of The Oaks, the home of Booker T. Washington. Much of the Tuskegee University campus is a registered Historic District, and maps and tours are available from the Carver Museum.
12. Tuskegee Airmen National Historic Site
Just down the road from the Tuskegee Institute, learn about the first black fighter pilots, trained for combat in World War II.
Two Hangar Museums have short movies and exhibits to get to know the Tuskegee Airmen and their triumphs. Outside, wayside markers give more information as you complete your tour of the site.
---
How do you celebrate Martin Luther King, Jr. Day? Does your workplace observe MLK Day?
Happy Travels!
Share it!