Washington, DC monuments are grand and impressive and should be at the top of your DC must-see list.
Washington, DC monuments at night are even more amazing to behold and warrant a second visit! Stunning photo opportunities await!
Whether you take a guided tour one evening or create your own free adventure several nights in a row (we've done both), don't miss seeing the DC monuments at night!
---
This post may contain affiliate links. As an Amazon Associate and associate of other programs, I earn from qualifying purchases. This means if you click a link and make a purchase, I may earn a small commission at no extra cost to you.
---
Why Go See the DC Monuments at Night? That Can't Be Safe…
Your first visit to DC can be overwhelming. There's a lot to see in the US capital city. The National Mall will seem like it's nothing but museums and monuments. (That's basically true and sort of the purpose of the National Mall.)
Everywhere you turn, there's another monument.
Washington, Lincoln, Jefferson.
Vietnam, Korea, World War II.
And every tourist has to see them all. (Me included! No shame.)
What this means is large groups of people all competing for the perfect picture of all of these amazing monuments and memorials. It can be extremely difficult to get a good shot without other people in it. For some of us, that's super frustrating.
Minimize the Crowds in Your Photos
What many people miss out on is visiting at night! The museums close early and most of the tourist hordes disappear, to their hotels or restaurants or perhaps a ball game. This leaves the monuments with less people to contend with (compared to daylight hours) to get your perfect photo.
The secret to perfect travel photos without other people in them: go obscenely early or late in the day.
In this case, catch the lull between day trippers and night tours and get some sneaky and beautiful blue hour photographs. If you just can't handle a late dinner, then eat around 5PM or 6PM and go to the monuments later.
Most night tours are between 6PM and 9PM, give or take an hour depending on time of year. Generally, if you show up at 8PM and stick around for a few hours, you'll have the monuments relatively to yourself by the end of the evening.
The night tour buses will bring in waves of crowds that will all snap their pictures and be gone in 15 minutes and on to their next stop. Wait out these crowds.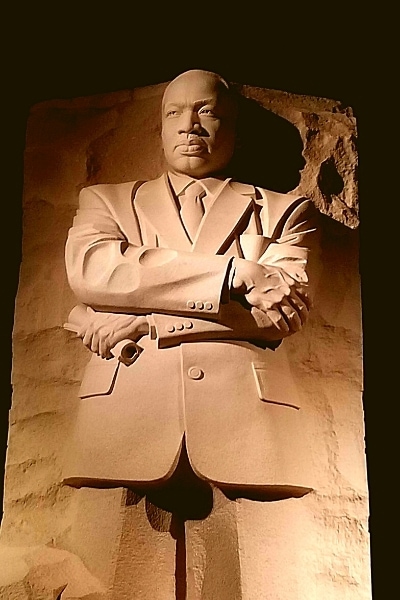 Be Smart. Be Safe.
Note that while there will be less people out you will by no means be alone (unless it's cold or very, very late/early). The National Mall area is well-patrolled and there's always at least one or two security officers per monument.
When visiting the Tidal Basin area, lighting along the waterfront is ok but not great. The memorials are all well-lit but the paths between are not as heavily travelled as the National Mall paths.
Use caution and common sense when walking in the dark. Bring a flashlight and walk with purpose, not like you're lost. Explore with a group (the more people, the better). Stay sober and alert. Be smart, and you'll be fine.
If at any time you feel uncomfortable, just leave.
---
---
Which DC Monuments are Lit Up at Night?
Not every tour goes to all of these monuments, but these are the most popular. Starting at the east end of the National Mall and then rotating counterclockwise:
The US Capitol
The White House
Washington Monument
World War II Memorial
Vietnam Veterans Memorial (Vietnam Wall)
Lincoln Memorial
Korean War Veterans Memorial
Martin Luther King Jr Memorial
Franklin Delano Roosevelt Memorial
Thomas Jefferson Memorial
US Marine Corps War Memorial (Iwo Jima Memorial)
US Capitol Building
A working monument, if you will, and instantly recognizable. Not all tours actually get out here, but many buses drive by slow enough you could snap a quick pic.
The White House
Can't get too close, but views from both sides of America's Executive Mansion are pretty awesome. Know that you are being carefully watched by the Secret Service, even if you can't see them, so don't try to sneak closer for a better view.
I got called out by an officer for walking on the grass (still behind all barriers, mind you) rather than the sidewalk a few feet further away. Guess that makes me a rebel.
Washington Monument
Obelisks are cool. This one is so tall that it can be seen from both ends of the Mall and from the Tidal Basin. Capture some sweet reflections in either the Tidal Basin or the Reflecting Pool.
World War II Memorial
Beautiful fountain during the day and gorgeously lit up at night, this is one of my favorite monuments at night.
Vietnam Veterans Memorial Wall
The Vietnam Wall is not brightly lit, but it's worth a stop if you have the time. This is a good location for blue hour photography, right after the sun sets or right before the sun rises.
Lincoln Memorial
A stunning monument, day or night. Lincoln caps off the western end of the National Mall, so you also get great views of the rest of the Mall from his front steps.
Korean War Veterans Memorial
This memorial seems like it was made for viewing at night! The solider statues are spaced out and among the trees and really brings out the constant, unsettling vigilance you see in each statue's face.
Martin Luther King Jr Memorial
Chiseled out of the rock, peering out over the tidal basin, Dr. King has even more gravitas at night. This memorial also has its own gift shop across the road, so it's worth a visit both day and night.
Franklin Delano Roosevelt Memorial
There are several statues to see here, but these are not all lit up as much as the other memorials. Go early in the evening, sunset or shortly after, to see everything. The fountain is still worth a visit in the dark.
Thomas Jefferson Memorial
There are so many great locations to get phenomenal photos of this memorial! Visit the memorial itself to see Mr. Jefferson in person, but then walk along the waterfront for unique views from every angle.
Snap a shot with the Washington Monument photobombing in the background. Get a reflection in the water. Get a shot of both TJ and MLK Memorials. The possibilities are endless.
US Marine Corps War Memorial (Iwo Jima Memorial)
Brilliantly lit and surrounded by inky black evening, this memorial makes a statement at night. Off by itself, across the river from the rest of the National Mall, this monument is by Arlington Cemetery. I honestly preferred it at night rather than during the day.
Is a DC Monuments at Night Tour Worth It?
Absolutely, especially if your goal is to see it all in one evening.
Even if you've got more time, a tour is a great way to scope out all the monuments and pick ones you want to return to the following evening when you have more time or when the weather is more cooperative.
What's the Downside of a Tour?
Tours can get expensive for big groups, and they frequently sell out well in advance of popular holidays or peak tourist season. With proper planning, you'll get a ticket but not much you can do about the price.
Tours also put you on a clock. For example, you'll get 30 minutes or so to see the Lincoln and Korean War and Vietnam Veterans Memorials in all their nighttime awesomeness before you have to be back on the bus and heading for the next monument. That's only 10 minutes per monument; you better walk fast.
How Much Does a Tour Cost? How Long Do Tours Last?
Prices vary by company. In general, bus tours are 2-3 hours long and run $45 per adult. Here are some popular night tour options:
Old Town Trolley Monuments by Moonlight Tour: rolled down windows for exploring in the rain or rolled up for clear nights
Big Bus Night Tour: open top buses, great on clear nights
USA Guided Tours DC at Dusk Tour: a bit pricier but nicer buses and a longer tour
Bike tours, Segway tours, and guided walking tours are all options as well.
Is there a Free Monuments at Night Tour?
Sure! Create your own free DC monuments at night tour!
Remember, you're paying for the transportation and the guide on the tours. All the monuments are public access and free to enter. No lines to wait in, either.
The biggest downside to the DIY free option is transportation. Many, but not all, monuments are within reasonable walking distance of each other. But even seasoned pros can get tired of walking circles around the National Mall all day.
Some memorials, like the Iwo Jima/Marine Corps War Memorial, are off by themselves. You have to drive and find a place to park, or hire a taxi and ask them to wait while you take photos.
Suggested Routes for DIY Free DC Monuments at Night Tour
Route #1: West End of the National Mall
Start at the Washington Monument.
Walk towards the Lincoln Memorial to find the World War II Memorial at the base of the Reflecting Pool.
Next, it's a little tricky to get to the Vietnam Veterans Memorial in the dark if you don't know where you're going but we can do this! Google Maps can bail you out if you get lost.
Walk counterclockwise (to the right as you're looking at the Lincoln Memorial) around the Reflecting Pool. Choose the path further to the right in the trees rather than the path right next to the Reflecting Pool.
About halfway to the Lincoln Memorial, there will be a path on the right with a marker pointing you to the Vietnam Veterans Memorial. (You'll also pass public restrooms if you need them.) Follow the marker and turn left at the end of this path.
Stay to the right and continue to follow signs. You will finally end up at the Vietnam Veterans Memorial.
Continue to the Lincoln Memorial.
Exiting the Lincoln Memorial, turn right (opposite direction you came from the Vietnam Memorial) towards the Korean War Veterans Memorial.
Optional Add-On: MLK Memorial
The Martin Luther King Jr Memorial is on the tidal basin but within a reasonable walking distance from the Korean War Memorial, if your legs are feeling good and you're up for extending your tour.
Leaving the Korean War Memorial, walk south (away from Lincoln) towards Independence Avenue.
Stay on the sidewalk on this side of the street and turn left to continue along the road until you come to the pedestrian signal to cross Independence Ave. (Note: this walk is equal to about half the length of the Reflecting Pool and is not short.)
There is a marker to guide you at the intersection, and you'll see the lights across the street from the Martin Luther King Jr Memorial.
---
If you'd rather do the Tidal Basin another night on its own, here is one recommended route. You can really start at any of the three monuments; just depends where you park or ask Uber/Lyft to drop you off.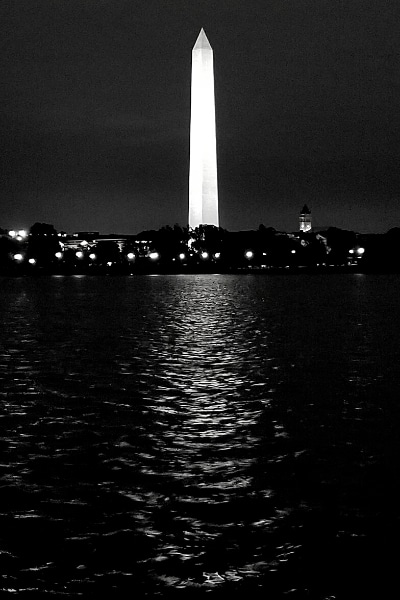 Route #2: The Tidal Basin
The Martin Luther King Jr Memorial is on the northwest corner of the tidal basin and has its own gift shop. Several hop on/hop off day bus tours drop off here, so make it your last stop of the day bus tour and start your DIY night tour here.
The Franklin Delano Roosevelt Memorial is a short distance south (along the tidal basin waterfront or the road, whichever you prefer) from the MLK Memorial. Arrive around sunset to see all the statues here, or make a beeline for the fountain if it's already dark.
Continue around the tidal basin waterfront path to the Thomas Jefferson Memorial. Fair warning: this is not a short walk. I'm sure your Uber driver won't judge if you get picked up at the FDR Memorial and dropped off at the TJ Memorial.
Add-on: Monuments on Their Own
The Marine Corps War Memorial (Iwo Jima Memorial) is across the Potomac River and by Arlington National Cemetery. Driving is really the only way to get here.
The US Capitol Building is beautiful at night. This is the far east end of the National Mall, so you could walk here from the Washington Monument. The Mall is deceiving in its size, so you might find your feet are unhappy by the time you finish your trek.
The White House is also beautiful at night. Harder to get pictures of because they won't let you close to the fence. Forget about finding a place to park near here. Walk or taxi.
---
---
Last Minute Advice for Visiting DC's Monuments at Night
Camera tripods are allowed everywhere on the National Mall except inside the Lincoln or Jefferson Memorials or on US Capitol grounds.
You need a permit to use a tripod on Capitol grounds. Yes, a security officer will show up and ask to see your permit.
Bring some snacks and water if walking, especially if travelling from end to end. The National Mall is a 4-mile loop, round trip.
If you're not tired after your bus tour, walk or drive back to your favorite monument and get better pictures with less people.
---
Visiting Monuments Across the USA
Whether you go by day or night, on a paid tour or a free DIY tour, make time to see the monuments of Washington, DC! These free attractions all tell an important story from US history, and they are there so we never forget them!
Looking for more monuments to visit in the US? Check these out!
Happy Travels!
---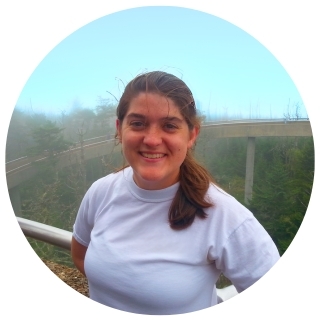 About the Author: Rachel Means
With six-figure student loan debt and only 10 PTO days per year, Rachel started traveling the world. A decade later, she's paid off her loans, changed careers, and been to 36 US states and 14 countries. She's an expert at planning and budgeting for travel and loves to help others do it, too! Read her full story here.
---
Share it!