Salem, Massachusetts is one of America's most well-known historically haunted cities, thanks to movies and books like Hocus Pocus and The Crucible, and to its real-life history with the 1692 Salem Witch Trials.
Salem has embraced its history and the town has equal parts amazing history tours and museums and cheesy witch museums and shops.
Salem is an easy day trip from Boston or a convenient first stop on a road trip into Maine. There are plenty of things to do in Salem, but what if you only have one day?
Use this itinerary to hit the highlights and explore Salem in one day.
---
This post may contain affiliate links. As an Amazon Associate, I earn from qualifying purchases. This means if you click a link and make a purchase, I may earn a small commission at no extra cost to you.
---
Is Salem, Massachusetts Worth Visiting?
Salem, Massachusetts is one of those cities that you visit with expectations. If you're in the area or have the opportunity to be, you have to try it at least once.
Niche cities that are done well, famous for one particular thing, can be enormously fun and amusing to visit!
Drumheller, Alberta, Canada: dinosaur capital of the world
Roswell, New Mexico: aliens capital of the world
Salem, Massachusetts: witching capital of the world
Salem has fully embraced its reputation, for better or worse, and October is always the busiest time of year to visit.
The town goes all out, and everyone has a good time!
Salem is bursting at the seams with witchy tourism, some true historical tours and museums and some extremely kitschy museums and shops.
The town does a good job of catering to both types of tourists.
If you are really into the lore surrounding witches, or just loved the movie Hocus Pocus growing up, then this town will not disappoint!
If you enjoy history and culture, then visiting Salem is a perfect day trip from Boston.
The town is one of the oldest in North America, with Plymouth Rock just a few miles down the coast and Mayflower passengers buried in the Salem cemetery.
Whether you're here for the history or the mystery, Salem is worth visiting!
What Happened in Salem, Massachusetts?
It all started with a couple of young girls acting strangely and when pressured by adults for a reason, they made accusations.
It spiraled into neighbors accusing neighbors, over a hundred accusations, people being "struck by witchcraft", arrests, torture, bogus trials, and a total of 25 people (and oddly, two dogs) dying for connections to witchcraft.
It makes for a thrilling story today, but, unfortunately, it's all true. That all happened to real people.
Nineteen people were hanged, five died in prison, and one poor soul, who refused to say anything after being arrested, was pressed to death (slowly crushed by piling rocks on him in an attempt to make him talk).
The dogs were put down when the girls accused the animals of giving them the "evil eye" and they were assumed to be agents of Satan. 🤨
The number of he-said-she-said accusations, citing dreams as evidence of guilt, and the general pathetic excuse for "justice" dealt out at the trials eventually led to public outcry.
Judges publicly admitted to error in judgement, and the colonial government eventually admitted the trials were a mistake and compensated the families of the accused and the executed.
It's history's great warning of what can happen when lies and accusations mix with fear of the unknown and multiply through a community.
Not the only time in the history of the world that it's happened, but it left a significant impression on America's psyche.
The play The Crucible by Arthur Miller and its movie adaptations strive to capture the terror of that time in Salem.
Miller had ulterior motives, however, as he wrote his play in the early 1950's right as McCarthyism was gripping the country, another witch hunt fed by mass paranoia and fear.
If you're interested in the actual history behind the Salem Witch Trials, I recommend the book The Witches: Salem, 1692 by Stacy Schiff.
It reads like a true crime drama because it is one. It reviews the timeline of events, the court records and transcripts, and the private journals of the judges and citizens involved.
We've come a long way as a society since then, but it is still shocking the parallels you can see today.
Words have consequences, and the power of suggestion is not to be taken lightly.
That's all I have to say about that, as Forrest Gump would say.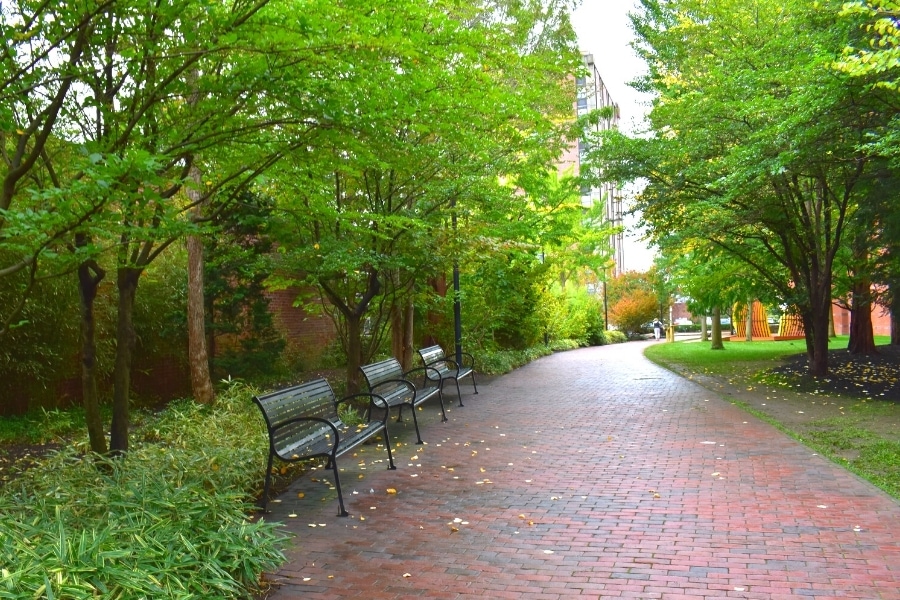 How to Get to Salem, Massachusetts
Boston is the gateway to Salem.
Of course, you can drive to Salem if you're already in the area, but visitors from out of town will likely fly into Boston Logan International Airport and stay in the Boston area.
If you plan to rent a car, then Salem is only a 30-45 minute drive northeast of downtown and the airport.
But Boston also has good public transportation, by American standards, and you can hop a train (or ferry!) from downtown out to Salem.
Take the Train to Salem
Take the commuter rail Newburyport/Rockport line.
This commuter rail line connects to the subway at North Station on the green and orange lines, or to the SL3 bus line at the Bellingham Square Station.
Salem is in Commuter Rail Fare Zone 3, so a round trip ticket from downtown's North Station will cost $16 per person ($8 one way). Travel time is about 30 minutes.
Take the Ferry to Salem
The ferry is available seasonally, April 1 through October 1, and takes the longest but has the best views.
Trust us, you wouldn't want to be on the cold and windy Atlantic during the winter anyway.
Boston Harbor Cruises operates the ferry from Boston to Salem. Board the ferry at Long Wharf, right next to the New England Aquarium. Enjoy a sunny cruise up the coast and arrive at the Salem Ferry Terminal on Blaney Street.
Adult tickets are $56 roundtrip, or $31 one way.
Pro Tip: Save some time and money and combine a one way train ride with a one way ferry trip. If you time it right, you'll arrive in Salem earlier than a ferry can you get there and then later catch a sunset ferry back to Boston.
Boston Harbor Cruises also offers a combo ticket with the Salem Trolley Tour company for $76.
Considering the Trolley Tour costs $20 per adult, you aren't receiving any savings but you are saving the hassle of two transactions, if that matters to you.
Where to Park in Salem
It's no secret that finding a place to park in Salem is no easy feat on a crowded weekend. Thankfully, Salem is small and walkable, so park the car and forget about it while you explore Salem for the day.
The easiest place to park, without fighting through traffic in town, is at the train station garage.
Garage rates are surprisingly affordable in Salem. The train station garage is $5 per day.
The Peabody Essex Museum garage is more central in town and costs $1.25 per hour, or $10 for an 8-hour day. Not bad.
Most on-street parking is metered and will accept either coins or electronic payment through the app listed on the meter.
Visiting Salem, Massachusetts with Only One Day
To be less rushed, I recommend spending a weekend rather than just one day in Salem.
But if one day is all you have available, then here are the top recommendations for what to see and what to skip.
What to See in Salem in One Day
Salem Trolley Tour
Hop on Hop off trolley tour with 14 stops around Salem. This is a fantastic highlights tour of Salem. Stops are as follows:
Salem Visitor Center and The Witch History Museum
Old Burying Point Cemetery and The Witch Trial Memorial
South Harbor Garage and New England Pirate Museum
Pickering Wharf and Sea Level Restaurant
Salem Maritime National Historic Site
The House of Seven Gables
The Salem Ferry
Winter Island
Salem Willows
Salem Witch Museum
Peabody Essex Museum and Salem Visitor Center
Witch Dungeon Museum
Salem Witch House and The Salem Inn
Historic District: Phillips House, Hamilton Hall, & Chestnut Street
Recommend starting with this as early as you can to get a good overview of the town's history and sights.
Ride a full loop to get all the information, and then go back to the sights you want to hop off and see.
In October when they're slammed with visitors, there's no guarantee of a free seat for you to re-board the trolley.
Good to Know: You can't visit and appreciate all 14 places in one day. You won't have enough time.

For a day trip to Salem we recommend that you ride a full loop and then decide on 2 to 4 stops to explore in more depth.
Salem Witch Museum
Pretty cheesy, but incredibly popular.
To be honest, all the witch museums in town are cheesy, have a live action portion, and use the same vintage mannequins in their exhibits that will make you giggle.
Tickets sell out well ahead of time for October dates, particularly the weekends. Buy tickets online as soon as possible for any October adventuring. Adult tickets cost $15.
If you can't score tickets, never fear. Sub this out for the Witch History Museum or the Witch Dungeon Museum, discussed more below.
The Old Burying Point Cemetery & The Salem Witch Trials Memorial
Covered by most guided historical tours and the Salem Trolley Tour, but there are some informational plaques if you want to quick pop in and out.
Several noteworthy people are buried in this cemetery, including colonists that arrived on the Mayflower, the Massachusetts Bay Colony's last governor, and the 1692 Witch Trials judge John Hathorne, author Nathaniel Hawthorne's ancestor.
Note that none of the accused "witches" are buried here, as they were denied burial in consecrated ground.
However, in 1992 a memorial wall that borders the side of the graveyard was constructed in memory of the wrongly accused.
Elie Wiesel, the famed Holocaust survivor, author, and Nobel Laureate, dedicated the Salem Witch Trials Memorial, which appropriately features the phrase Lest Terror Be Forgotten.
Peabody Essex Museum
The largest collection of Asian art in the United States, the Peabody Essex Museum deserves an hour or two of your time.
This museum is a refreshing break for those that may tire of all the witch history and kitsch elsewhere in town.
An entire Qing Dynasty Chinese home was shipped to and reconstructed within the walls of the museum; the only home of its kind found outside of China.
Adult entry is $20. Note this museum is only open Thursday-Sunday and on holiday Mondays.
Stroll along the Essex Street Pedestrian Pathway
Enjoy the unique shops that line the street and pick up some sweet treats to take home.
The Witch History Museum is located here if you weren't able to secure a ticket to the Salem Witch Museum.
Walk along Chestnut Street in the McIntire Historic District.
Beautiful colonial period residential architecture is on display here!
Touted as one of America's Most Beautiful Streets, the district is named for Samuel McIntire, the architect that built most of these homes and buildings in the late 1700's through early 1800's.
Still mostly private homes, the Phillips House is the only home on beautiful Chestnut Street that is open to the public. Admission is $15 per adult if you have time.
If not, just walk down the street and take pictures to your heart's (and Instagram followers') content.
What Else to See in Salem with More Time
It's not that these sights aren't worth your time. It's the fact that you can only see so much in one day in Salem.
If you have a weekend free, add these sights to the ones listed above and keep enjoying this fun New England town!
The Witch Dungeon Museum
Historical reenactment of the trial of Sarah Good, following the actual transcript from her trial. Buy online or $13 per adult at the gate.
A combo ticket also provides entry to the New England Pirate Museum and the Witch History Museum for an $8 savings.
The Witch History Museum
Another live action performance followed by a tour of the events of the 1692 Salem Witch Trials.
Not usually as busy as the Salem Witch Museum, but this museum shares similar information in a similar manner.
Entry is $13 per adult. Remember that combo ticket option if you also plan to visit the Witch Dungeon Museum and the New England Pirate Museum.
New England Pirate Museum
There's more to Salem than witches!
The New England Pirate Museum features the town's history as a port city and its experience with pirates. Kids especially will like this one.
And last time: $13 entry for adults, but don't forget the combo ticket if you want to see pirates and witches.
Bewitched Statue in Lappin Park
Watch Samantha's nose on the Bewitched statue in Lappin Park, and see if it twitches!
Not the witch that drew you to Salem, but Samantha from Bewitched has fans of her own.
The 1960's tv show filmed a few episodes in Salem, and the statue was donated to the city by TV Land.
Samantha is riding her broom through a crescent shaped moon. Nice photo op for fans of the show.
Take a Hocus Pocus Tour
Raise your hand if you watched this wonderous film every October, several times over, leading up to Halloween. 🙋‍♀️
Take a tour of several filming sites from the movie and get your picture at all of them!
The Witch House (James Corwin's House)
The only original structure still standing connected to the 1692 Salem Witch Trials. This was the home of James Corwin, a judge for the trials.
Take a self-guided tour of the house and learn how its colonial inhabitants would have lived and worked. Adult tickets are $9.
The House of the Seven Gables
The real-life namesake for Nathaniel Hawthorne's book The House of the Seven Gables.
To answer your burning question: YES. The tour includes the secret stairway in the wall! 😉
The site also includes the relocated birthplace home of Nathaniel Hawthorne as well as beautiful gardens and views of Salem Harbor. Guided tours are $20 for adults.
Salem Maritime National Historic Site
A National Park Service site that has nothing to do with witches! Explore the colonial-era shipping life that dominated early Salem. (And do it all for free! Thanks NPS!)
The Salem Visitor Center, near the Peabody Essex Museum, is actually for the Maritime Historic Site, but the bulk of the buildings to see for this are on the waterfront.
Explore the Friendship of Salem, a replica large sailing ship on the water of Salem Harbor. See the many buildings near and along Derby Wharf, or even walk out to the Derby Light Station at the end of the wharf.
Proctor's Ledge
This site was only recently identified as the actual spot where the accused were hanged during the 1692 Witch Trials, not Gallows Hill as was previously thought. A small memorial was built and dedicated in 2017.
There's not much here as this was just another residential neighborhood in Salem until a few years ago.
The memorial is a small curved wall bump out from the sidewalk featuring each victim's name with an oak tree planted in the center.
The residents that live adjacent to this site would appreciate your respect if you do visit. This memorial is meant to be that, a memorial to victims that lost their lives as a failure of justice.
---
Visiting Salem, Massachusetts in one day is possible and worth your time!
Hit the highlights, take lots of pictures, and enjoy a day away to this possibly haunted but definitely historical town!
Happy Travels!
Share it!