Visiting Newport, RI should absolutely be on your USA bucket list if you love Gilded-Age history, extravagant palaces, and/or detailed architectural work.
But you probably have a vague idea about seeing fancy mansions, and that's all you've got. What else is there to do in Newport?
There are tons of fun, romantic, and unique things to do in Newport besides the mansions! Don't let that hold you back from planning a trip here!
I brought my husband and we both enjoyed it quite a bit, exploring over-the-top fancy mansions, eating tasty food, learning the area's history, and just enjoying the atmosphere from a park or from a boat.
Here's my list of the best things to do in Newport, RI, whether it's your first visit or your tenth!
---
This post may contain affiliate links. As an Amazon Associate and associate of other programs, I earn from qualifying purchases. This means if you click a link and make a purchase, I may earn a small commission at no extra cost to you.
---
Quick Picks: My Top 5 Favorite Things to Do in Newport
If you've only got one day in Newport and need a quick list of recommendations, here it is. These are my top 5 must-see, can't miss, favorite attractions for any first-timer in Newport.
The Breakers or Marble House
Fort Adams State Park
Bowen & Bannister's Wharves
Brenton Point State Park
The Cliff Walk
What's Newport, RI Known For?
More than just fancy mansions!
Newport, Rhode Island has been around since the 1600s and has reinvented itself many times. Today, it's most commonly known for its Gilded Age mansions.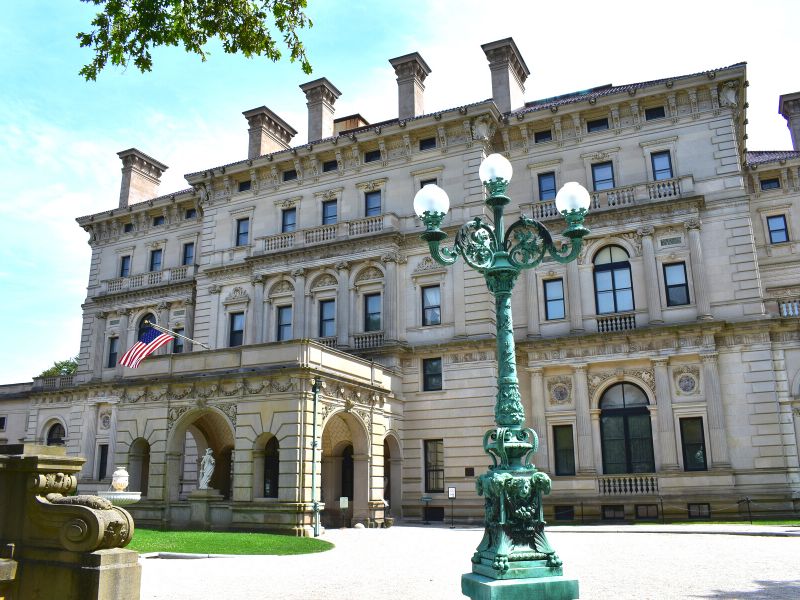 The Newport "summer cottages" as they were called, were fancy summer homes built by wealthy families like the Vanderbilts at the turn of the 20th century.
Today, many of these over-the-top mansions are open to the public for tours, and they attract thousands of visitors every year.
Newport is more than just the fancy mansions, though.
It was an important colonial port city, and far more religiously tolerant than its neighbors, so it attracted a lot of unique people, like pirates.
The colonial era history is pretty interesting and sometimes entertaining when you get into it, and there are plenty of tours and museums to tell you all about it.
After the War of 1812, the US Navy came to Newport, built an enormous fort by enticing Irish immigrants to move to America, and eventually became a major torpedo manufacturing center during World War II.
Besides the history and the who's who of wealthy mansion owners, Newport is in a beautiful spot on the New England coast.
It's known as the sailing capital of the world, and the America's Cup regatta has left an indelible mark on the city.
Relax on beaches, sail the bay, enjoy a wine tasting at a vineyard, or go for a lobster roll at a waterfront restaurant on the wharf.
There are plenty of fun, unique, and romantic things to do in Newport, RI.
Let's get to the specifics!
25 Best Things to Do in Newport
1. Tour the Historic Newport Mansions
Our favorite thing to do in Newport by far is tour the fancy historic mansions. It's equivalent to visiting a European royal palace without having to leave the US.
These beautiful mansions are outrageous and ostentatious, and maybe they deserved the "white elephant" monikers at one time, but now they're a peek into a bygone era.
A snapshot in time that'll blow you away.
It's difficult to understand just how wealthy these families were until you see them showing off for their friends, which is what building these "cottages" became all about.
And these fabulous mansions were used only a few months out of the year. Mind-boggling wealth is the only way to describe it.
Mansions are open all year and each has free parking on site.
Check the Preservation Society of Newport County's website for which mansions are open and operating hours during your visit.
2. Eat all the Seafood
New England is a seafood lover's paradise, and Newport is no exception.
Lobster, clams, oysters, and mussels are all staples on local restaurants' menus.
Check lobster fresh from the wharf or chowder fresh from the food truck!
Don't worry if you're not a seafood fan, or just like a more varied diet. There are plenty of non-seafood options in Newport, too, including Brick Alley Pub and Wharf Southern Kitchen & Whiskey Bar.
3. Shop the Wharves and Thames Street
Shopping is a popular thing to do in Newport, and the wharves on the waterfront are no exception.
Bowen's Wharf and Bannister's Wharf are the center of the food scene in downtown Newport, but cute and unique boutiques fill in the areas between tasty restaurants.
Cross the main north-south street in downtown, America's Cup Avenue, and find even more options along Thames Street. Looking for name brands? Try the Long Wharf Mall area.
4. Stroll the Cliff Walk
The Cliff Walk has been around since the turn of the century, neglected at points, but revived again and now one of the most popular walks in Newport.
This path is a beautiful way to enjoy the views from atop the cliffs but it also passes by some of the most impressive mansions, like The Breakers, Marble House, and Rough Point.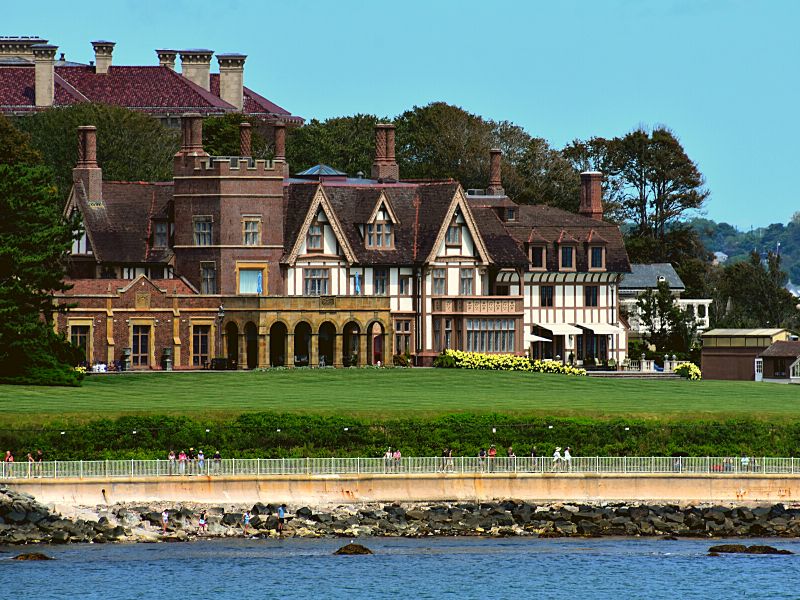 The Forty Steps have been restored and are safe for visitors to take down to the rocky shoreline. Historically, this is where the servants from all the mansions would hang out on their day off each week.
Today, it's a great photo spot and one of the few easy access points to the rocky shoreline. Bring a towel and water shoes if you want to get in the water on a calm day.
The Cliff Walk begins at Easton Beach on Memorial Boulevard and follows the coastline all the way around the peninsula to Bailey Beach.
It's paved in places but not the entire route, so bring sturdy shoes if you plan to tackle the southern end of the walk.
Parking for the Cliff Walk is tricky. There aren't any parking lots, only on-street parking, and you're in the fancy mansion district so on-street parking can be hard to find.
We used and recommend the street parking at Narragansett Avenue and Ochre Point Avenue.
It's affordable, $2 for an hour, and there are always tons of people around so you don't have to worry about break-ins during the day.
5. Cruise Ocean Avenue
Take in the beauty of the Aquidneck Island that Newport calls home with a leisurely drive down Ocean Avenue.
The Ocean Avenue Scenic Drive follows the coastline, passing by old and new mansions, beaches, and parks.
It's a gorgeous drive, one that you might be interested in taking several times. (We did!)
Bike it, drive it, run it, or even cruise around in one of the mini-scooters for rent in town. Don't forget to bring your camera!
6. Drive or Walk Bellevue Avenue
Bellevue Avenue between Ocean Avenue and Memorial Boulevard is worth a stroll if you have the time, or worth a drive up and down if you're short on time.
You can still get some good pictures if you time it right and have someone else to do the driving for you.
This is a beautiful, shaded drive through the heart of the historic Newport mansions district.
If you don't have the time or money to tour all the mansions, then at least take a walk down this street with your camera and admire the mansion exteriors from the sidewalk.
You can see, at least partially, most of the mansions on this street through their entry gates.
7. Go to the Beach
New England beaches are different from southern Atlantic beaches. They're much rockier, but you can find some sandy spots if you know where to go.
The water will always be quite cold though!
Head to Easton's Beach (also called First Beach), Second Beach, or Third Beach.
Gooseberry Beach and Hazard Beach are another more local option, tucked in between all the mansions on Ocean Avenue.
First Beach is one of the most popular beaches to visit in Newport because it's one of the biggest, but all Newport beaches are busy in the summer. Expect crowds and to pay for parking.
Second and Third Beaches are technically in Middletown, but they're Newport beaches as far as everyone is concerned.
If you're well-connected, score an invite to the ultra-exclusive Bailey Beach Country Club, a remnant of the exclusivity the wealthy sought when they took over Newport in the late 1800s.
8. Sail around Narragansett Bay
Hop on a tour boat or learn to sail and get out on Narragansett Bay. The bay is beautiful, always full of sailboats when the weather is good.
Seeing Newport from the water is always a treat.
It's one of the best ways to see (from a distance) the many mansions that are not open for tours, like Hammersmith Farm, or that've been turned into condos, like Bonniecrest.
9. Join a Historic Walking Tour
Newport is chock full of history from nearly every era of American history. There's a walking tour for all of it!
One of the best things to do in Newport is a historic walking tour. They'll cover everything from colonial years, post-War of 1812, and World War II to pirates, sailing, and the Gilded Age.
There are family-friendly versions, too, if you've got young and impressionable minds with you.
10. Take a Trolley Tour
One of our favorite ways to explore a new city, we highly recommend a Viking Trolley Tour for getting to know the basics about Newport.
Viking Trolley Tours start in town, follow the famous Ocean Drive out to Brenton Point and back to Bellevue Avenue, past many of the historic Newport mansions, before returning to town.
It's a fantastic overview, whether you're looking for the history or the celebrities.
We recommend you make this one of the first things you do in Newport, so you've already got a good idea of what you're looking at and where you are when you go to explore Newport on your own later.
11. Enjoy a Ghost Tour
Don't make the mistake of thinking there's nothing to do in Newport at night! Take a ghost tour and get to know the paranormal history of this old city.
Not all ghost tours take themselves too seriously.
These are like history tours in disguise, with a tad more gossip in them than usual. (The gossip being the "so and so saw a ghost here" part.)
It's a great way to get good nighttime pictures around town without having to plan it out yourself, even if you don't care for the ghost stories along the way.
12. Visit Museums Galore!
Newport is one of America's oldest settlements and one that kept reinventing itself. There's so much history here, and there's a museum for all of it!
You'll find art museums, history museums, sailing museums, and religious museums.
Naval War College Museum
The Sailing Museum
National Museum of American Illustration
Newport Art Museum
Audrain Automobiles Museum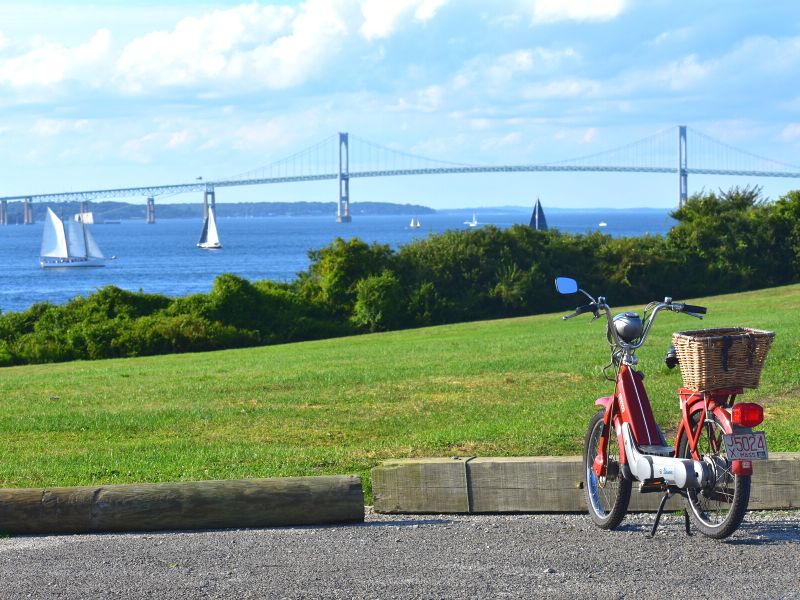 13. Appreciate the Touro Synagogue
Visit the oldest synagogue in the United States!
Rhode Island colony was founded on religious freedom, and they meant it, welcoming any and all to their shores, not just Puritans fleeing England.
A Jewish congregation has been present in Newport since the mid-1600s. While they weren't persecuted for their beliefs, they weren't afforded full citizen rights, either, until much later.
By 1758, they needed a synagogue, and Peter Harrison was hired to build it.
The building was dedicated in 1763 and is now considered one of the most architecturally significant buildings of the 1700s.
Enter at the Touro Visitor Center where you'll meet your guide and then enter the synagogue for a 45min tour.
Tours are held 6 days a week. Closed Saturdays for religious services.
14. Fort Adams State Park
One of my personal favorite spots in Newport, gorgeous views of the harbor and bridge await at Fort Adams State Park.
Fort Adams is enormous, big enough to fit Forts Sumter, Ticonderoga, and McHenry inside its walls.
However, it wasn't built until after the War of 1812 so it never saw any action despite it's incredible wall of artillery.
Thousands of troops trained here before shipping out to other continents, but the fort never fired a shot.
I thought the fort entry fee a bit steep until I saw a) how big it is and b) how much conservation work is left to do (because it's so big).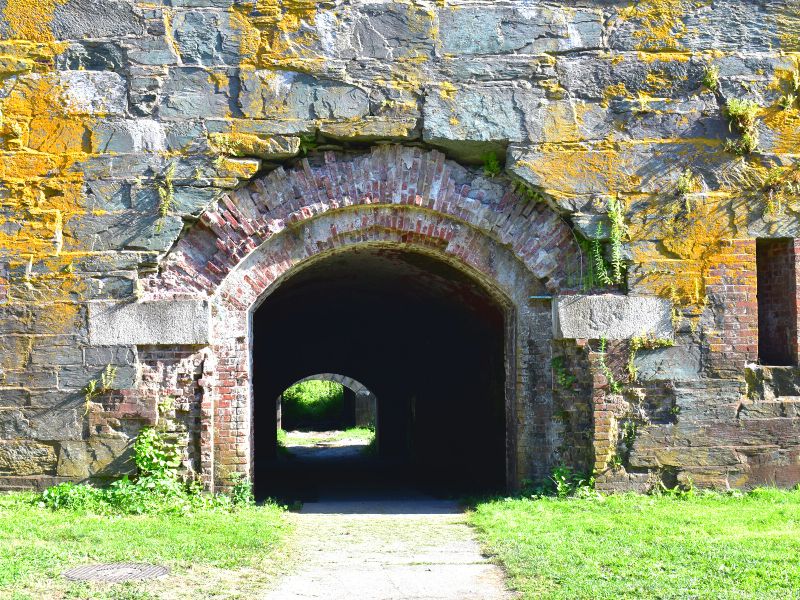 I recommend the guided fort tour, though, because you get to walk atop the fort walls and see the tunnels underneath the earthworks. You can't tour these parts of the fort on your own.
If you're here for the views and not the history, stroll the paved 3-mile-long path that circles the fort instead of going inside. You'll walk along the waterfront for some beautiful views of the water.
Sit on a bench and watch the sail boats coming in and out of the marina while you enjoy a Del's Lemonade or other tasty treat!
The state park includes more than just the fort, too. President Eisenhower's Summer White House was an officer's house on the military base (now state park) where he'd stay while playing golf in Newport.
The photogenic yellow house is still standing but used mainly as an event space. If it's not rented out, you can drive right up to it and walk around and take photos.
15. Brenton Point State Park & Portuguese Discovery Monument
Brenton Point is the most popular sunset watching spot in Newport, RI.
It's got plenty of wide-open grassy fields, the perfect place for flying a kite. Its rocky shoreline is a great place for photos, fishing, or just sitting and enjoying the day or sunset.
I took a lot of pictures of the rocky shore while we sat on a bench and people watched for a bit.
The park area is donated land from a once-grand mansion that burned down. The ruins can still be seen with a little effort, and the park restrooms are in a building that used to be the estate's laundry.
Also at Brenton Point is the Portuguese Discovery Monument, built in 1988 and reconstructed and restored in 2014.
A local resident was proud of both his Portuguese heritage and his adopted home of Newport, so he designed and made a monument to honor both.
It's a fun, if random, homage to the Portuguese explorers of the 1400s-1500s. Exhibits explain the significance of the different pieces of the monument.
Romantic Things to Do in Newport for Couples
16. Watch the Sunset Together
You can't go wrong with the aforementioned fan-favorite Brenton Point State Park to watch a lovely Newport sunset.
Grab a picnic blanket, some camp chairs, or simply open the back of your truck or SUV, and get cozy while you watch the sky change colors.
But we actually love a smaller park, not hidden but also not as hugely popular as Brenton Point. Our favorite spot for watching the sunset in Newport is Storer Park.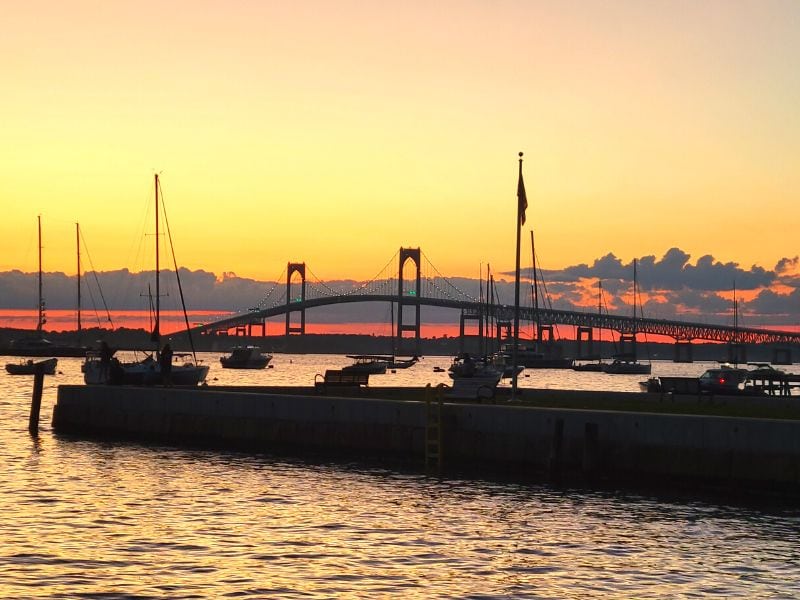 It's just a short walk behind the transportation center's parking garage/lot, but it's right on the water, next to the causeway to Goat Island.
Settle down on a bench and watch the sun set behind Rose Island and Newport Bridge before walking into town for dinner or drinks.
17. Take a Sunset Sail
There's something about a sunset viewed from a boat. It makes the whole experience just a little more romantic.
Amazing Grace offers sunset sails that include their regular narrated tour of the harbor. See all the fancy yachts, mega yachts, and rich people's mansions from the water, all while enjoying a beautiful sunset.
18. Eat a Nice Dinner Together
Splurge on a night out together at a fancy restaurant. It doesn't even have to be fancy. It could just be a nicer-than-usual place or one of your favorites but you order dessert this time.
Whatever your vibe is for you and your other half, get out and enjoy a meal together.
We recommend the Clarke Cooke House for 'The Snowball in Hell,' probably the most popular dessert in Newport.
It's a chocolate Swiss roll with vanilla ice cream, all stuffed into a chocolate-coated goblet. Ok, it's more like a wine glass.
Multiple people recommended this dessert to us on our first trip to Newport, and with all that chocolate, how could they be wrong?
19. Enjoy a Spa
Get comfy and relax together at a spa. Book a couple's massage or enjoy a steam and plunge.
Spas not your thing? How about a dip in the hotel hot tub instead?
You might have to share that experience with others, though. If you're not social, rent a room with a hot tub!
20. Visit a Winery or Brewery
Spend the day wandering around a Newport vineyard and enjoying a wine tasting at your leisure.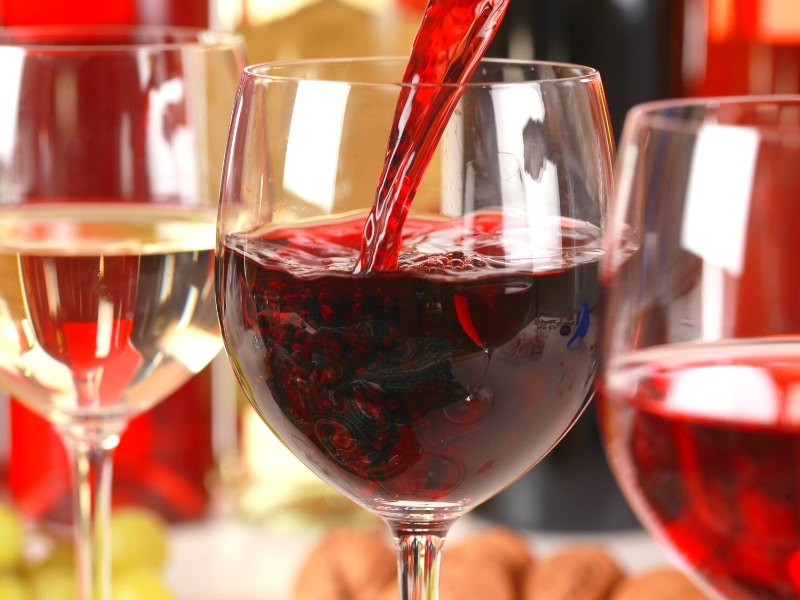 Or visit a craft brewery and order a flight of flavors, sure to delight!
There are 4x as many breweries as vineyards in Newport, but either one is a good choice for a romantic, low-key day or evening out with your sweetheart.
Fun & Unique Things to Do in Newport
21. Visit Rose Island
Take the ferry out to Rose Island for the day and explore this small island in the middle of Narragansett Bay, nestled against the Newport Bridge.
Tour the Rose Island Lighthouse. Sit down for a picnic. Watch sailboats cruise in and out of Newport Harbor.
This is a truly unique spot to watch the comings and goings of the bay!
22. Ride the Rails with Rail Explorers
The most unique way to see an area that we've ever encountered!
Hop on a Rail Explorers pedal-powered open rail car for a fun time with great views!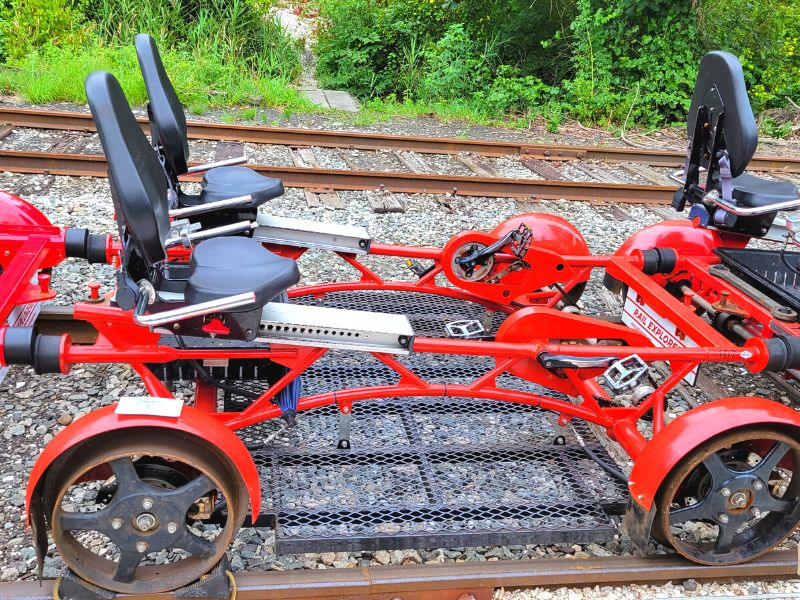 Take off along one of Newport's old rail lines and enjoy the scenery along Weaver Cove and the East Passage while you pedal as fast or as slow as you'd like.
And don't worry about safety. Trains don't run on or near these tracks anymore, and staff are located at every road crossing.
These aren't major road crossings, either. Think driveways to out-of-the-way parking lots for fishermen.
Rail Explorers offers two different routes: a northern route and a southern route. Both start at the Rail Explorers station 15min north of Newport, technically in Portsmouth.
23. Tour the International Tennis Hall of Fame
Built for the turn of the century mega-rich that made Newport their summer home, the Newport Casino was a social club.
It had nothing to do with gambling but did include a lawn tennis court, among other amenities.
The first tennis tournament held here in 1881 eventually evolved into what is the US Open today.
Newport gradually lost favor as the preferred summer destination for the rich, and many of its grand homes and buildings fell into disrepair, including the Newport Casino.
The International Tennis Hall of Fame was founded in the 1980s and saved the Newport Casino building from demolition.
Now a National Historic Landmark, the building houses a museum, shops, and tennis courts and hosts the Hall of Fame Open every year in July.
The Grounds are always open to the public, free of charge, except during the Hall of Fame Open tournament week in July. The Museum requires paid entry, but is closed during tournament week.
---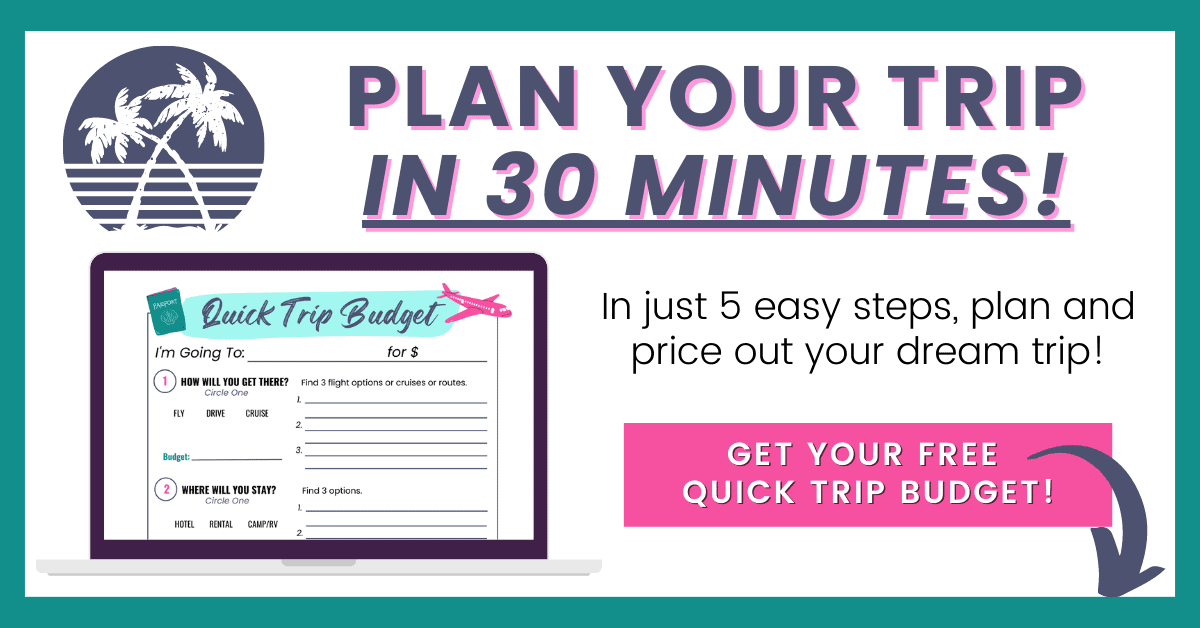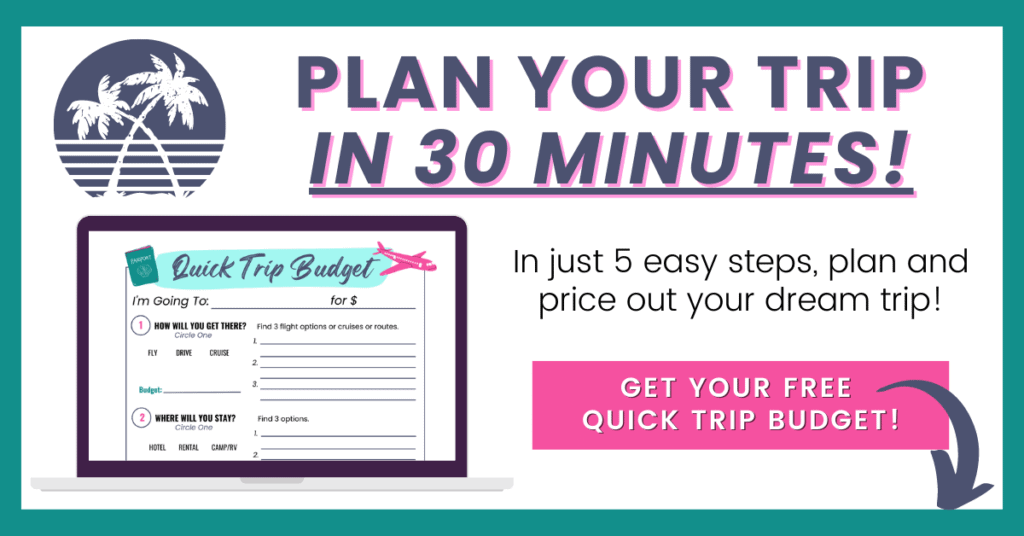 ---
24. Jamestown-Newport Hop On, Hop Off Ferry
Who says you need a car to get around Newport? Take the hop on, hop off ferry instead!
Making stops at Jamestown, Rose Island, Fort Adams, Perotti Park, and the Ann Street Pier, this is a fun and unique way to explore Newport and the surrounding area by water.
There is a separate entrance fee if you get off at Rose Island, but this ferry still offers a lot of transportation for the day for a reasonable price.
25. Watch Wooden Shipbuilding & Restoration
One of the coolest things to do in Newport is at the IYRS School of Technology and Trades where you can watch wooden ship repairs!
They're working to revive interest in this dying craft by allowing the public to see it in action.
It's fascinating to see the skill and effort that went into building a ship almost entirely from wood without modern technology.
---
Newport Travel Basic FAQs
How Much Time Do You Need in Newport?
You can easily day trip to Newport from Boston or other nearby cities, but we'd recommend at least a (long) weekend in Newport to take it all in.
It's also an excellent option for a longer stay if you enjoy touring fancy mansions, eating seafood, and soaking in rocky shoreline views.
How to Get to Newport
Flying into Providence is the most direct option and just a 20 minute drive (across a toll bridge) from the airport, but you could also fly into Boston and make the 1.5hr drive down to Newport.
You don't need a car if you plan to stay in Newport proper.
Providence is a hub for Breeze Airways, so many regional airports up and down the East Coast enjoy direct flights. We've flown Breeze several times now and have a full review for what to expect.
Where to Stay in Newport
Accommodations in Newport are expensive. They're catering to high-end tastes, and they get away with charging higher rates.
There aren't any major chain hotels in town, either, except for the Marriott at Long's Wharf.
They've banished all the chains to the perimeter, just far enough out to be slightly inconvenient to get to all the Newport attractions.
Boutique hotels and Bed and Breakfasts, though, are Newport's bread and butter.
They're in convenient, downtown locations, often in historic buildings, which is great for the cool factor.
But that usually means either small rooms with thin walls or updated rooms for a higher price.
We've stayed as far out as Fall River, MA (just a 30min drive away), but the closer you can stay to town the better so you don't have to rent a car.
Where to Eat in Newport
There's a restaurant for nearly every taste in Newport. You'll find plenty of options at various price points at Bowen and Bannister's Wharf.
I have a few favorites, though, from my time spent in Newport. I can personally recommend these!
Eat Lunch or Dinner at Brick Alley Pub
Not on the wharf but still in the popular Thames Street area, this restaurant has fair prices and a good variety of foods. It also has a great lunch buffet, if that's more your speed.
Pizzas, pasta, seafood, and chicken entrees are all good options here.
Get Dinner and Dessert at Clark Cooke House
The Snowball in Hell was recommended to us by several different people, so we had to try it. Worth the calories!
Clark Cooke House is always busy, so I recommend you get a reservation, even if you're just popping in for dessert.
Stop at Del's for a Cool, Sweet Treat
Del's Lemonade is a Newport staple in the summer. Lemonade slushies are the perfect cold, sweet treat to enjoy on a hot summer day.
The original is good, but watermelon is my favorite!
They have a brick and mortar location in town and a seasonal spot between Bowen's and Bannister's Wharves, but they also have a mobile truck that sets up around town.
We caught them at Fort Adams State Park once and had a lovely time eating Del's and watching sailboats from a park bench.
---
Enjoy These Fun Things to Do in Newport, RI!
Need more trip inspiration? Here are some of our favorites from around the United States!
Happy travels!
---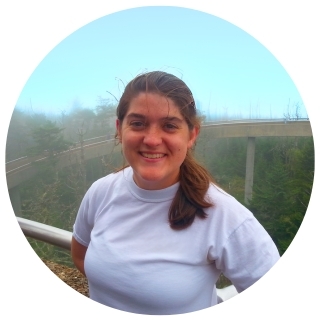 About the Author: Rachel Means
With six-figure student loan debt and only 10 PTO days per year, Rachel started traveling the world. A decade later, she's paid off her loans, changed careers, and been to 36 US states and 14 countries. She's an expert at planning and budgeting for travel and loves to help others do it, too! Read her full story here.
---
Share it!