There are so many amazing things to do in St Croix! Gorgeous beaches are just the beginning. Whether you're looking to relax on a beach, hike to tide pools, learn some history, or a combo of all three, St Croix has plenty to offer.
From visiting its beautiful beaches to taking in its vibrant culture and history, St Croix is just waiting to be discovered. Let's check out the best activities and attractions that the island has to offer!
---
This post may contain affiliate links. As an Amazon Associate and associate of other programs, I earn from qualifying purchases. This means if you click a link and make a purchase, I may earn a small commission at no extra cost to you.
---
16 Can't-Miss Things to Do in St Croix
St Croix has a lot to offer as the US Virgin Islands' southernmost and largest island. It's separated from the other two main islands but has all the same charm and gorgeous Caribbean waters.
Often described as the happy medium of the three, St Croix is the relaxed sibling to the more cosmopolitan St Thomas and more down-to-earth St John.
St Croix has two cities: Christiansted and Frederiksted.
Deciding which St Croix activities you want to do can help you decide which city is better as your home base for your vacation.
So, without further ado, here are the most unforgettable things to do in St Croix!
---
---
1. Snorkel Buck Island Reef National Monument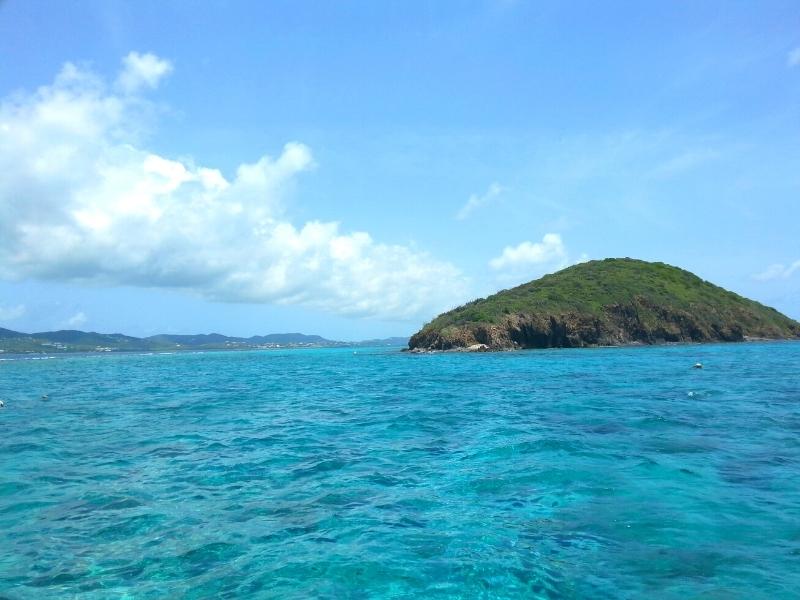 One of St Croix's top snorkeling spots that you can't miss, Buck Island is our favorite Caribbean snorkeling experience so far!
Perfect weather and protected habitats combine for an unforgettable experience at Buck Island Reef National Monument, which includes both tiny Buck Island and the waters and reef surrounding the island.
Access is by boat only, and only if you have a permit from the National Park Service (NPS). Tours to Buck Island are some of the most popular things to do on St Croix.
The underwater trail inside the protected lagoon provides a feast for the eyes as fish of every color dart in and out of the coral and plant life of the reef.
Shallow waters and minimal waves provide great visibility.
Struggle with ill-fitting, rented, traditional snorkel masks leaking or fogging up? >>> I use this full-face snorkel mask instead! <<<
Don't forget to stop and relax for a bit on Buck Island itself.
The small island has sandy Turtle Beach on one end and a short hiking trail through dense thickets of trees to the island's tallest point on the other end.
The NPS removed invasive and foreign predator species introduced throughout St Croix's colonial history and is closely monitoring the reef's recovery.
Turtles return every year to lay their eggs, dolphins play around the island, and reef life is flourishing!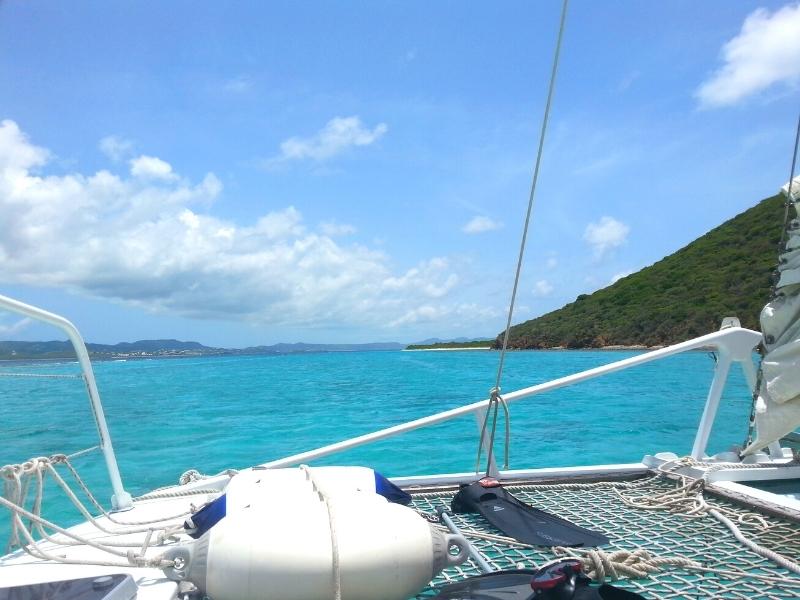 2. Enjoy Sunrise at Point Udall
I'm not a morning person, but watching the sunrise is a rewarding and peaceful experience. Plus, you can always go back to bed after!
In St Croix, you can watch the sun rise from Point Udall, the easternmost point of the United States.
That's right, bragging rights for being the first to see the sun on American soil for the day.
We stayed on the west coast of the island but still woke up early enough to drive an hour east to Point Udall to witness the sunrise for ourselves.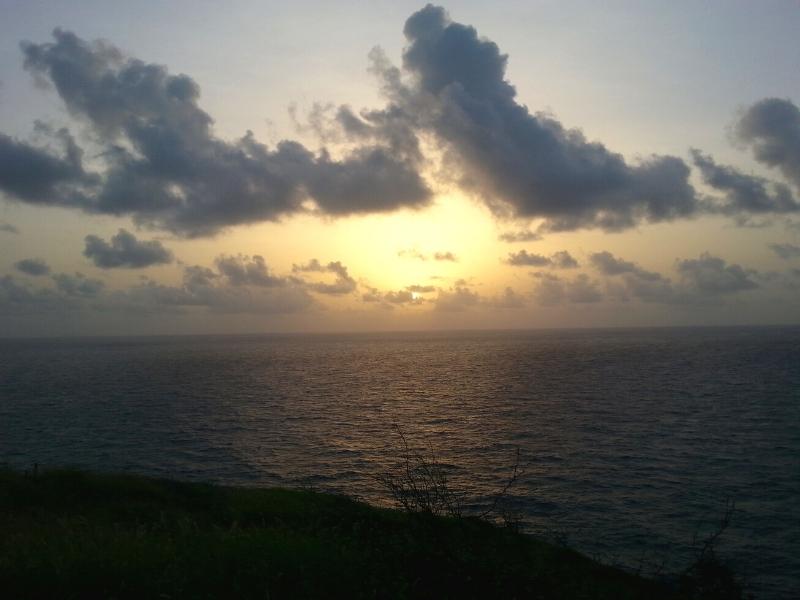 There was a crowd, but not overwhelming, and we were able to park without a long hike. Everyone chatted quietly, waiting to capture the magical moment from this spectacular oceanside cliff.
We had some clouds hanging around, but it's still amazing to watch the sun magically appear from nowhere to start the day.
There's a large sundial monument here with a plaque declaring this spot Point Udall, but it's not in great shape and not worth driving out here on its own.
Luckily, this is also where you park to access the trail to Jack and Isaac Bays.
3. Visit Jack and Isaac Bay
A short hike from Point Udall, around the southern corner of the island, leads to beautiful and secluded Isaac Bay.
Keep going to the far end of Isaac Beach and over the hill at the end, you'll find a smaller but just as beautiful Jack Bay.
If you want a beach to yourself, these are the beaches to visit on St Croix.
We wouldn't call this a hidden gem, exactly, because you'll find Isaac Bay on pretty much every list of the best things to do in St Croix.
But there's often no more than a handful of visitors here. Other beaches are just easier to get to, so most don't bother with these.
Waves are stronger on this side of the island, but you can usually still snorkel in the shallow bay area. Just don't expect to go too far out into the ocean.
Jack Bay also has an alternative route to hike up to Goat Hill.
Just remember, you'll have to hike back down to Jack Bay and then back out to Point Udall for your car.
4. Explore Christiansted
Take a stroll down the Christiansted Boardwalk, stopping for food, drinks, and shaved ice along the way!
Strolling the boardwalk is a must-do in St Croix to get a feel for the city.
St Croix has endured 7 different rulers over the centuries, and nowhere is that more evident than in the cities.
The boardwalk begins at the marina and ends at Fort Christiansvaern at the Christiansted National Historic Site.
It's not long, but it's worth a couple of trips to try all the food and see all the interesting shops and historic sites.
5. Dive the Cane Bay Wall
One of the most adventurous things to do in St Croix: rent dive gear right by the beach and swim out to dive the Cane Bay Wall.
Cane Bay is a narrow, sandy beach with a shallow, rocky bay whose floor suddenly drops away at the edge of the bay, forming The Wall.
Even just snorkeling to the top of the drop-off will yield some great views of brightly colored coral and fish, and maybe something bigger like a sea turtle or small shark.
6. Enjoy Sunset on the West Coast
Sunsets and sunrises are not the same, so we firmly count this as its own St Croix must-see activity.
Our Airbnb was just north of Rainbow Beach on the west coast of St Croix, and the sunsets are phenomenal!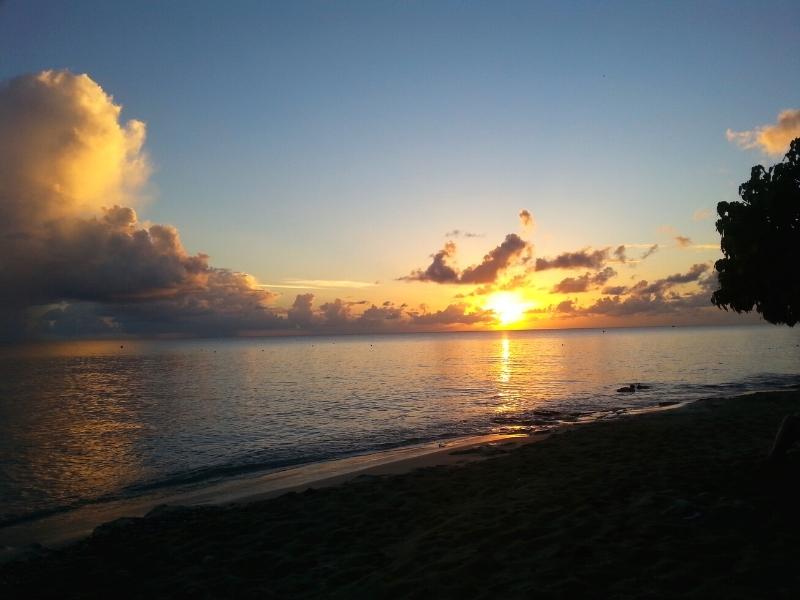 We stayed out past sunset the first few days we were in town and missed this epic view.
Needless to say, once we finally experienced it, we made a point to be back in time to see this every evening, whether from the water or the deck.
If you're staying in Christiansted, make a point of being at one of the west coast beaches for sunset at least once during your stay.
You can grab dinner in Frederiksted and head back to your hotel after.
7. Visit a Rum Distillery, Even If You're Not a Drinker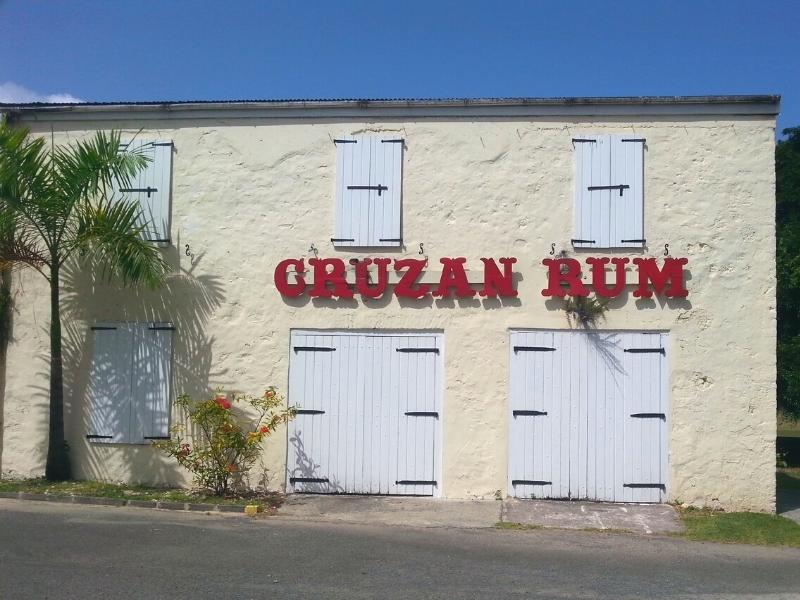 Both Cruzan and Captain Morgan have distilleries on St Croix, and both offer tours of their processing plants.
These fascinating tours take you through the process of making rum and end with a complimentary tasting session and the chance to stock up at their shop.
As you can imagine, this is an incredibly popular thing to do on St Croix. Book your spot as soon as you arrive on the island.
Even if you're not a drinker, the tour is interesting.
Fun Fact: Airlines here allow up to 6 bottles (per ticket) to fly home as its own piece of checked luggage, free of charge.
The Cruzan distillery produces all the Cruzan rum for the entire world. All of it!
Even more impressive when you consider that after a 55 gallon barrel is allowed to age for 12 years, only 5 gallons are left. The other 50 gallons evaporate (as the angels' share).
The tasting session at the end, even if you don't partake, is a laid back, open-air bar area with tables, where you can hang out with friends and discover some new flavors before heading back to your hotel.
Can't decide which tour to try? Do both!
Cruzan's tasting room is an open-air bar. Captain Morgan's is indoors and air-conditioned.
We personally liked the Cruzan tour better because you walk through the different areas, see the different vats, and get the whole picture. It felt more personal.
The Captain Morgan tour, though, is great for those with low mobility. They drive you around on a golf cart and just talk you through the process of rum making.
---
---
8. Kayak Bioluminescent Salt River Bay at Night
Another amazing natural wonder in St Croix is the bioluminescent water in Salt River Bay. Go kayaking at night, with a guide of course, and watch the water glow blue as you paddle.
This phenomenon occurs in only a handful of locations around the world, so seize the opportunity!
Availability is dependent on the lunar cycle, so make sure you time your trip accordingly.
You can't see the bioluminescent glow of the water very well when the moon is full, so they don't bother running tours.
We had already booked our accommodations and missed it by a few days. One of our many know-before-you-go tips for St Croix that we learned the hard way.
9. Discover the Carambola (Annaly Bay) Tide Pools
The Carambola resort on St Croix's northwest end is the starting point for a moderately strenuous but rewarding hike to a rocky beach and nearby tide pools.
(Yes, you can still do this hike and see the tide pools if you're not a resort guest.)
The sound of waves crashing on a pebbly shore is an experience you won't want to miss.
Trust me. Record it and play it for your mom when you get home. She'll love it.
Look up the tide times for the day before starting this hike.
You want to arrive around low tide, for maximum viewing in the tide pools and for safety reasons so you don't get swept out onto the rocky shore.
Once you get to the bay, continue west (left) along the shore until you round the bend that looks like the end of the beach and find the tide pools.
Bring water shoes! It's too sharp and rocky for flip flops, and you won't want your tennis shoes or hiking boots to be soaked when you have to hike back to your car.
10. Explore Frederiksted
Frederiksted anchors St Croix's lush west end.
Nearly the entire west coast is one long, beautiful beach beckoning you to come enjoy the calm waters and gorgeous sunsets.
Fort Frederik protects Frederiksted's pier from long-gone adversaries, and a short walkway follows along the waterfront, although this one isn't as busy as Christiansted's boardwalk.
Enjoy a quick stroll around town, visiting boutiques and grabbing a bite to eat as you go.
11. Party with the Locals at Rainbow Beach
Rainbow Beach in Frederiksted is a hugely popular local spot on Friday and Saturday nights.
Parking fills up, the streets clog with pedestrians, and the music is throbbing for all to enjoy.
Rhythms at Rainbow Beach is one of the most well-known restaurants/bars on the island and the ones responsible for the excellent music.
If you don't like crowds or noise, then come during the week. It's a completely different place.
12. Hike to Hams Bluff Lighthouse or Goat Hill
St Croix is mountainous. Formed indirectly from volcanic ash and some colliding tectonic plates, the island has some amazing views.
For north shore views, hike to the Old Hams Bluff Lighthouse. The lighthouse is rusting away, but the views from the clearing are stunning.
On a clear day you can see St Thomas and St John in the distance, not to mention the beautiful rocky cliffs of the north shore.
For east end views along the ridgeline, hike Goat Hill.
You can reach Goat Hill from Jack Bay on the south side, via a steep but rewarding hike, or you can park at Cramer Park on the north side and hike from there.
Most visitors choose to hike from Cramer Beach because it's less total hiking distance.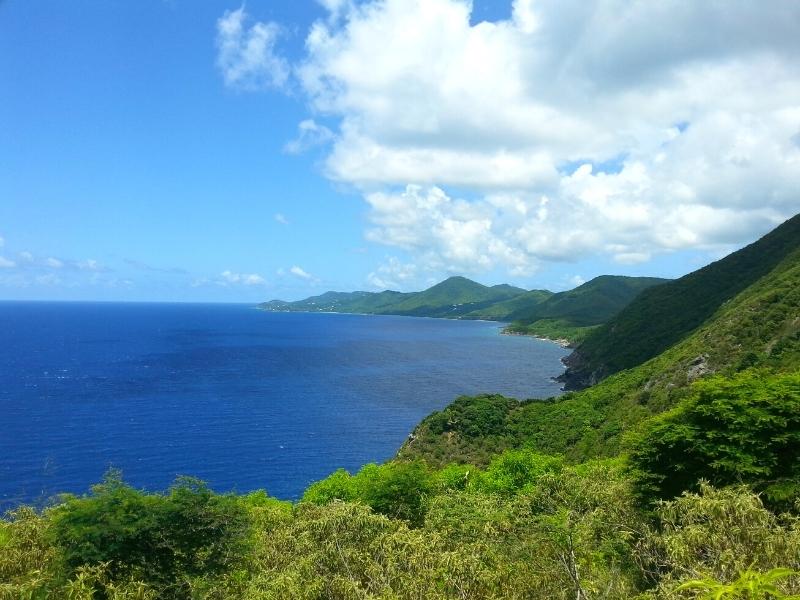 13. Visit Sandy Point National Wildlife Refuge
St Croix has some of the world's best beaches, and Sandy Point is no exception with its calm turquoise waters and wide sandy beach.
This beautiful, 2 mile long beach is a national wildlife refuge, protecting sea birds and valuable sea turtle nesting grounds.
It's open on weekends only for beachgoers and closed entirely between April and August to allow endangered leatherback and hawsbill sea turtles to safely nest.
There are no facilities and no shade on this beach, so it tends to not be as crowded as other west end beaches.
If you're here during the summer nesting season, stop by for a sea turtle walk with a park ranger!
14. Visit the St George Village Botanical Gardens
Come see a former sugar cane estate turned into a beautiful garden featuring all of St Croix's incredible horticultural history, certainly one of the most unique things to do in St Croix..
Vibrant flowers and plants native to St Croix flourish here. There's always something in bloom!
The St George Village Botanical Gardens is more than just a place to admire flowers, though.
A small museum tells the history of the Estate St George, from the natives that arrived in the 100s AD through the sugar cane era and on to today.
Important preservation work is also underway with the Virgin Islands Rare Plant Initiative.
They're saving and propagating rare and endangered plants native to the Virgin Islands, ensuring their survival and an understanding of their importance for future generations.
We tend to forget that many medicines and clothing come from plants, too.
15. Go Horseback Riding in the Surf
A fun and adventurous thing to do in St Croix is to go horseback riding on the beach and through the surf with Cruzan Cowgirls.
Head to the west side of St Croix and enjoy a ride along the beach. If you can time it for sunset, even better!
This company also supports horse rescues, which is just the most heart-wrenching before and after photos you've ever seen.
Enjoy an unforgettable experience and support an amazing cause at the same time!
16. Explore St Croix's History
Whether you visit forts or former sugar cane plantations, be sure to include a historical site on your St Croix itinerary.
European colonialism had a profound and irrevocable effect on the Caribbean, and St Croix is no exception.
This island has weathered 7 different sovereign powers, not to mention the natives that were here before Christopher Columbus showed up in 1493.
Yep, that's a preserved site here, too.
Visit the Estate Whim Museum or the Estate Mount Washington ruins to learn more about how sugar cane production dominated St Croix for a couple of centuries.
Both Frederiksted and Christiansted have forts protecting their docks. What was once a necessary protection essential to maintaining trade routes is now a curiosity to cruise ship visitors.
---
Enjoy these Unforgettable St Croix Experiences on your next trip to the US Virgin Islands!
Now that you've seen the amazing experiences St Croix has to offer, you need to know these crucial tips before you book a trip!
Having trouble deciding which US Virgin Island to visit?
Here's some more info to help you decide:
Happy Travels!
Share it!