St John is the most laid-back and peaceful island of the US Virgin Islands, a quick ferry ride away from St Thomas. Two-thirds of the island is pristine Virgin Islands National Park, and the rest is split between two towns that house a handful of restaurants, shops, and boutique hotels. It's the perfect escape from the hustle and bustle of St Thomas or your life back home. But what do you do once you get here? Here are the 17 best things to do in St John, USVI.
---
This post may contain affiliate links. As an Amazon Associate and associate of other programs, I earn from qualifying purchases. This means if you click a link and make a purchase, I may earn a small commission at no extra cost to you.
---
17 Best Things to Do in St John
The primary thing to do in St John is relax.
St John is the most laid back of all the US Virgin Islands, so while there's not a lot of nightlife entertainment on this island, there are plenty of beautiful places to see and fun things to do.
The majority of this list consists of water activities and beaches. That is the amazing thing about St John: its stunning beaches.
If you're looking for booming nightlife, this is not the place for you.
If you're looking for peaceful bliss, here are the best things to do on St John.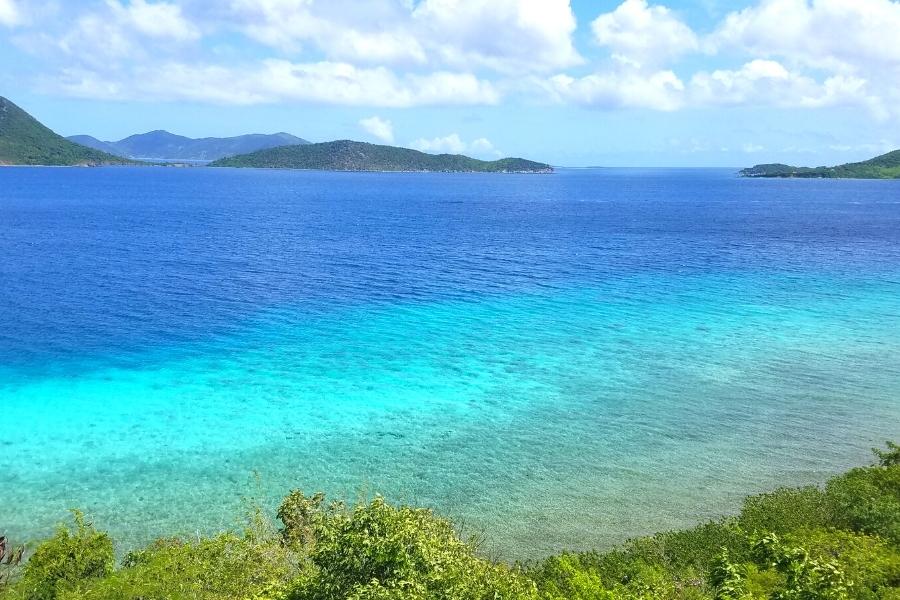 1. Stop in Cruz Bay
Cruz Bay is the gateway to St John, the island's largest town on the west side of the island.
Most visitors arrive via the St Thomas passenger ferry to Cruz Bay. From the ferry dock, you're within easy walking distance of most of St John's restaurants, shopping, and hotels.
Get your souvenirs here, grab a bite to eat, stop in a grocery store, or check in to your boutique hotel.
If you're here on a guided day trip from St Thomas, your tour guide will arrange to meet you right outside of the ferry dock.
Cruz Bay is also the starting point for most boating excursions on St John.
Some tours will pick you up right from the narrow beach on the bay (to the right as you exit the ferry dock).
Others embark from the Lagoon (to the left as you exit the ferry dock), the more sheltered area near the National Park Visitor Center.
Lastly, Cruz Bay is home to Virgin Islands National Park's Visitor Center and the entrance to this beautiful park.
To do St John the right way, you'll spend most of your time exploring and relaxing on her stunning beaches in the national park.
>> Not sure how to get to St John? Here's our step-by-step guide for getting you, your luggage, and even your St Thomas rental car to St John. <<
2. Explore Virgin Islands National Park
Two-thirds of the island of St John is protected as Virgin Islands National Park. It's pristine Caribbean island at its finest.
If you want to hike through forests and exposed peaks, the national park is your best bet.
If you want to lay on a world-class sandy beach all day, the national park is your best bet.
And, you guessed it, if you want to experience top-notch snorkeling with sea turtles, the national park is the best bet.
The park really is the jewel of St John, preserving its gorgeous environment and helping it thrive.
It also preserves historic remnants across the island, many sugar cane plantation ruins but also ancient petroglyphs from the island's first residents, the Taino people.
The curved symbol you see in souvenirs and businesses all over the island is from a petroglyph you can see for yourself off of the Reef Bay Trail.
3. Spend an afternoon at Trunk Bay
Iconic St John right here! Beautiful Trunk Bay is likely the first photo you saw when you googled St John.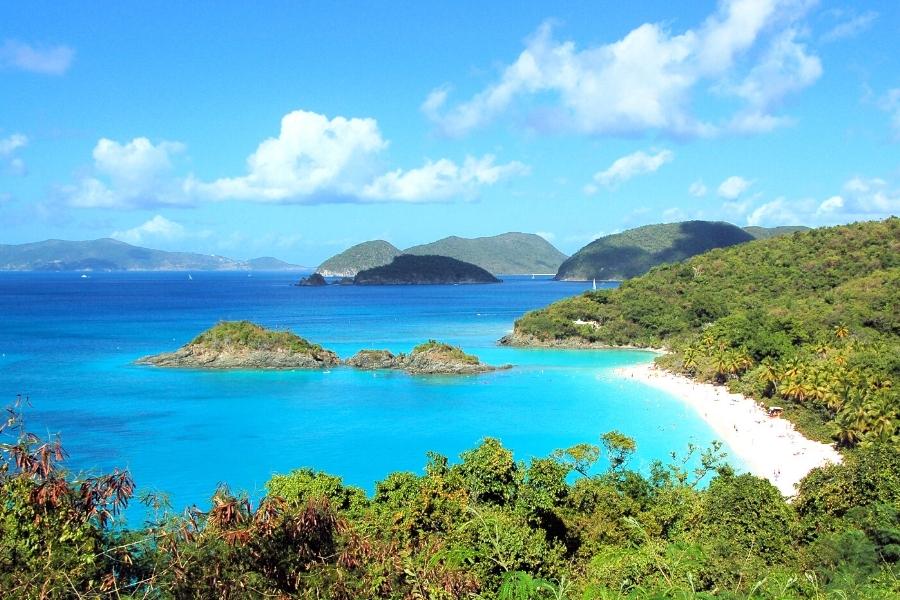 A gorgeous, wide, white sand beach coupled with Caribbean blue water; this is a popular beach.
The small cay right off the beach is a protected bird nesting area, so you can't climb on the rocks, but it's also the perfect habitat for plenty of fish, crustaceans, and even an eel or two.
We were pumped for the snorkel trail at this beach. However, the underwater snorkel trail was hard to follow, but if you ignore the signs and just snorkel, you'll love it.
Important note: This beach has a daily admission fee but provides good amenities.
There are large bathrooms, changing stalls with showers (and doors that lock), a small retail shop (if you run out of sunscreen), and good food options. You can also rent gear for water sports.
4. Snorkel with Sea Turtles at Maho Bay
The best beach on St John to snorkel with sea turtles! Another popular beach, but it's the furthest away from Cruz Bay.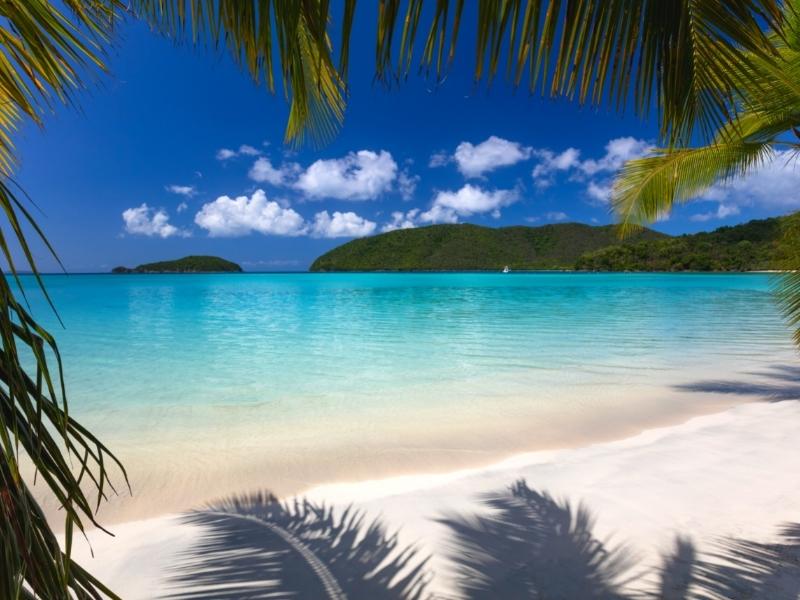 Come here first to beat the crowds! Maho Beach is narrow but has some shade, so you can snag a good spot if you come early.
Green sea turtles love sea grass, and you can usually find a few chowing down in the sea grass beds in the shallow bay. Sightings are fewer, but not unheard of, in the middle of the day.
Amenities at Maho include restrooms, a couple dining options, picnic tables, shaded lounge-type area, and a retail shop.
>>Need more beach options? Here are the Best Beaches on St John!<<
5. Discover Ancient Petroglyphs along the Reef Bay Trail
Europeans were not the first ones to live on St John. Prior to Columbus and the European invasion, native Taino peoples lived here and on several of the nearby islands.
They left behind petroglyphs, kind of like ancient graffiti. Anthropologists are still uncertain of the purpose or message, but you'll find petroglyphs all over the world.
On St John, the famous swirly symbol found on souvenirs, jewelry, and shirts is actually taken from a petroglyph you can see for yourself on the Reef Bay Trail.
Hiking the Reef Bay Trail is not for the faint of heart. It starts in the middle of the island and descends 900ft over 3 miles to the ocean. The return trip is all uphill…
Along the way, stop at historic ruins, read helpful exhibit plaques explaining the landscape and history, and take a short side trail to see the petroglyphs.
As long as you come prepared, this can be a delightful way to spend a day away from people. This trail will never be crowded.
Pack lots of sun protection, a lunch and snacks, plenty of water, and maybe your swimsuit for a quick dip once you reach the beach. You need real, closed-toed shoes for this hike; flip flops will not work.
6. Camp at Cinnamon Bay
Another gorgeous, white-sand beach, Cinnamon Bay feels less crowded because it's so long, the longest on St John. It's a great place to sunbathe on the beach all day!
Budget travelers love Cinnamon Bay Beach because it's one of the only ones that offers camping practically on the beach.
Campsites sell out well ahead of season, though, so book as far in advance as you can.
If you don't want to lug your own tent through the airport, the Cinnamon Bay Beach & Campground also offers furnished eco-tents and cabins.
Because of that campground, there are a lot of good amenities here: an honest-to-goodness restaurant, restrooms, showers & changing stations, water sport rentals, etc.
7. Tour the Annaberg Sugar Cane Plantation Ruins
Nestled along St John's north shore, the Annaberg Plantation Ruins are a preserved historic site, part of Virgin Islands National Park.
Like all Caribbean islands, St John was once colonized by Europeans and sugar plantations worked by slaves was the main economic driver.
Remnants of sugar cane mills are found all over the islands, but Annaberg was the largest.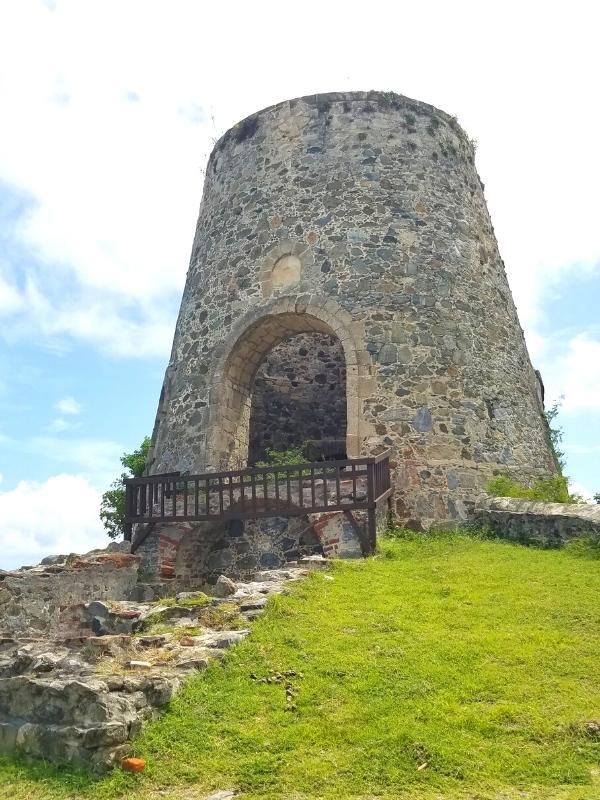 A self-guided tour explains how these plantations worked, the uses of the various buildings, and what the area would have looked like.
The hillside behind the plantation was once terraced sugar cane fields, a far cry from its natural fauna state today.
Check out the buildings and notice that many of the "bricks" are actually large blocks of coral. It was an abundant and convenient building material for settlers who weren't worried about conservation.
8. Discover the Reef Bay Sugar Factory Ruins
Looking for more ruins? Hike the Reef Bay Trail through the center of the island and reach the Reef Bay Sugar Factory ruins on the island's southern edge.
The Reef Bay factory was in operation the longest, even after slavery ended. It has steam-engine technology that you can still see today, rusting away.
Hiking this trail is one of St John's more adventurous things to do as it requires your own transportation and hiking a longer distance in mostly exposed territory. It can get hot, so bring lots of water!
Alternatively, charter a boat, anchor in the bay, and skip the all-day hike.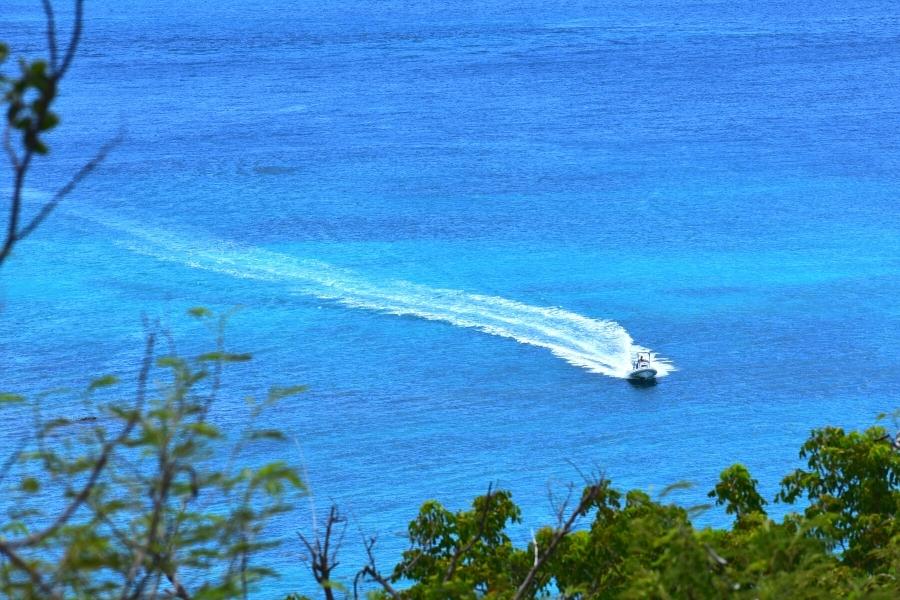 9. Take a Boat Tour
The Caribbean is all about the water. St John includes a protected marine reserve national monument in addition to the national park, ensuring pristine environments for a variety of sea life to thrive.
Cruise around the island on a boat tour of your choice and sustainably and responsibly enjoy this amazing resource!
Whether you opt for a half-day snorkel tour or a full day epic adventure around the island, we highly recommend a guided boat tour.
You get to relax and chat up your friends and family while the boat crew worries about schedules and rules for anchoring in a national park.
10. Hike the Lind Point Trail to Solomon Beach
Hike to a secluded beach and enjoy some awesome snorkeling! The Lind Point Trail starts at the Virgin Islands National Park Visitor Center in Cruz Bay.
The hike starts out pretty steep to get up that hillside, but it evens out at the top. We'd recommend sturdier shoes for the hike, like water shoes or hiking sandals, to navigate the rocks.
The views of Cruz Bay from up here are excellent, and we recommend taking the side trail to the overlook. It's awesome!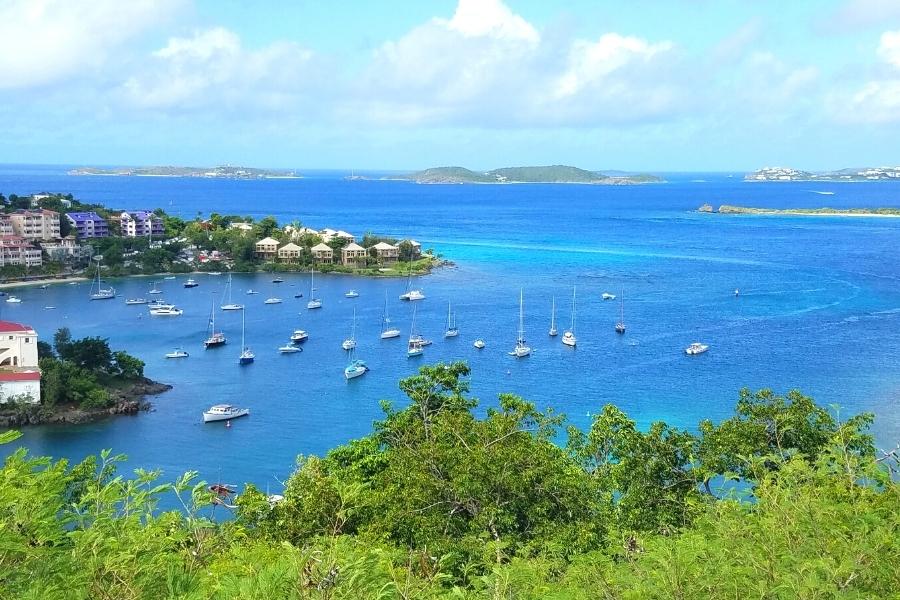 Whether you take the upper or lower path of the Lind Point Trail (both are pretty shaded except at midday), you'll see signs for Solomon (sometimes Salomon) Beach. Follow them.
What goes up must come down, so you'll walk down a lot of rock steps to get to the beach on St John's east side.
Solomon Beach is small but usually not crowded at all. It enjoys the same beautiful water as Honeymoon Beach without the people and the parking cost.
Most people are lazy and don't want to hike here. The secret? You don't have to hike the entirety of Lind Point Trail to get here.
Drive to Caneel Bay Beach Resort, park outside the resort and pay for the shuttle to Honeymoon Beach.
Next, walk in the trees behind the beach, past the food and rentals and cabanas, and then take the easy path into the woods at the end of the beach, following signs for Solomon Beach.
The downside is you still have to pay to park at Honeymoon Beach and you miss the views from the Lind Point Trail.
That may be worth the trade-off, though, especially if you have kids or a lot of beach gear you don't want to drag quite as far as you would if you had taken the Lind Point Trail.
Pro Tip: Keep your gear to a minimum. Regardless of whether you hike in from Lind Point Trail or from Honeymoon Beach, you have the same set of natural rock stairs to climb down and back up to get to the beach.
11. Eat Tacos at Lime Out Taco Boat & Bar
Grab lunch at St John's only floating taco bar! The Lime Out VI serves up tasty tacos and cocktails from its permanently-moored location in Coral Harbor.
The catch: it's only accessible by boat!
A private company runs a shuttle from Coral Harbor, many companies operate guided boat tours that include a lunch stop at Lime Out, or come via your own boat.
The restaurant tries to be as environmentally conscious as possible while doing business on the water. Drinks are served in real glasses, and food is served in biodegradable packaging only.
Watch where you anchor your boat, if you bring your own boat!
12. Hike to Ram Head
This out-of-the-way spot requires a car of your own to reach, but that also means you won't have to fight nearly as many crowds.
You might be tempted to take a taxi out here, which isn't unheard of, but you won't have cell signal to call one when you're done to get back to town. Hence, we're pro-driving yourself for this one.
>>You've got questions about how best to get around St John. Uber? Taxi? Rental car? We've got answers, and spoilers: there are no Ubers on St John. <<
First, drive to the Salt Pond Bay trailhead, about 35 minutes from Cruz Bay. Next, take an easy walk to the Salt Pond Bay beach, and then keep going.
Find the Ram Head Trail at the end of the beach, and hike out to the Ram Head for wonderful views of the Caribbean from an elevated vantage point.
On your way back to the beach and/or car, take the side trip to Drunk Bay for views of one of St John's rocky beaches. The currents are too strong for swimming, but the views are pretty great!
Round trip for both the Ram Head Trail and the spur to Drunk Bay and back to the car will take about an hour to an hour and a half, or longer depending how much time you spend soaking in views.
13. Kayaking Hurricane Hole
Hurricane Hole is on the east side of St John, and appropriately named. When a hurricane is coming, this is where the islanders bring their boats to ride out the storm.
But note that this is a protected environment, part of Virgin Islands Coral Reef National Monument, and mooring a private vessel here is prohibited. The locals have special permits for emergencies only.
One of the best things to do in St John is kayak around this beautiful bay lined by mangrove trees. Rent a kayak from a local shop and get on the water just a few steps away.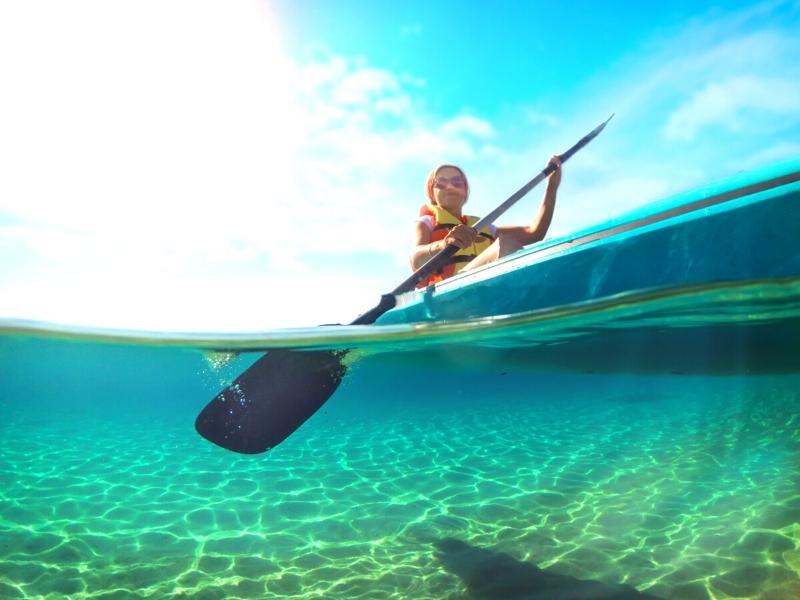 Snorkeling this area is amazing: so many colors of coral and fish! Sea turtles hang out here occasionally, too!
It's easier to drive here yourself than to count on a boat tour. This is the complete opposite side of the island from Cruz Bay, and boats have to sail the perimeter which adds time.
14. Snorkel at Watermelon Cay
St John's best snorkeling spot is most easily reached via boat. Book an excursion and let them drive the boat!
This beautiful small cay just off the north shore, very near Tortola of the British Virgin Islands, has spectacular marine life.
Corals, fish, turtles, and more provide one of the most epic snorkeling experiences in the islands.
Alternatively, you could reach Watermelon Cay by hiking along a narrow, rocky beach on the Leinster Bay Trail (starting at Annaberg) and swimming across the channel to Watermelon Cay. Don't try this unless you're a strong, confident swimmer!
Have a way for boats to know you're in the water, like a dive flag that moves with you as you swim. Stay on the southwest side of the cay, as the currents on the northern side (the BVIs side) are strong.
15. Shop at Mongoose Junction
St John's most popular shopping area, Mongoose Junction is the island's only "shopping mall" and where most tourists get their souvenirs.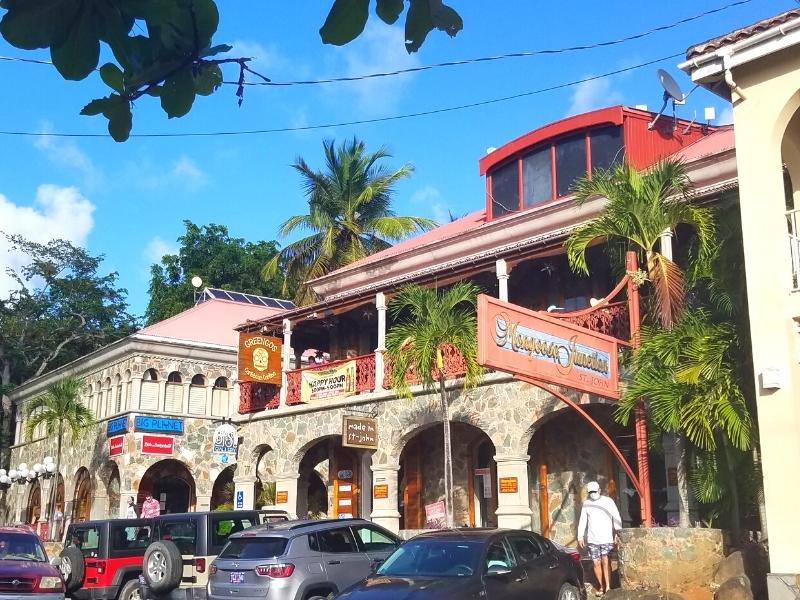 Shops include clothing, home décor, art galleries, jewelry, and many others.
The Friends of Virgin Islands National Park store is here as well, a better stocked alternative to the gift shop inside the National Park Visitor Center across the street.
There are some good local shops at Mongoose Junction, but you'll also find touristy t-shirts and overpriced knickknacks.
Several dining options fill out the space, too. Everything from quick sandwiches and a laid-back brewery to fancier sit-down restaurants.
16. Visit Coral Bay
St John's second biggest town, Coral Bay, is on the east side of the island, only a 25 minute drive from Cruz Bay. (It's second biggest because it's the only other town on St John.)
Honestly, most visitors don't make it out this far. They stick to their resorts near Cruz Bay and the national park beaches on the north and west shores.
But visiting Coral Bay is worth the time and effort if you're on St John for more than a few days!
Your choice of restaurants nearly doubles if you include Coral Bay in your search, and the beaches on this end of the island are much less crowded.
Lime Out, the popular floating taco bar, hosts its current reincarnation in Coral Bay Harbor. It's only accessible by boat, and a common addition to full day boat tours that come to this side of the island.
Pro Tip: Drive yourself to Coral Bay via a rental jeep. Taxis might take you out there, but can be difficult to find for a return trip to Cruz Bay.

Local buses also run between the two towns, but they're almost never on time. Drive yourself, especially if you're on a strict schedule.
17. Day Trip to the British Virgin Islands or St Thomas
If you're spending the bulk of your vacation on St John, take a day trip over to St Thomas or a day cruise through the nearby British Virgin Islands.
To get to St John, you arrived via the St Thomas airport and ferried over to St John. But you probably didn't spend much time on St Thomas in the process.
Consider a day trip to St Thomas to hit the highlights while you're staying so close by. St Thomas has its fair share of beautiful island views, just like St John.
Americans can arrive in the US Virgin Islands without a passport, but we recommend you bring your passport with you anyway if you want to visit the BVIs.
You can't take even a day cruise through the BVIs without a passport (unless, of course, you're a UK citizen).
---
---
Whether You're Here for a Day or a Week, There are Plenty of Things to Do on St John, US Virgin Islands!
Visiting St John is the perfect relaxing getaway you've been dreaming of, but don't worry: you won't get bored. There are plenty of beautiful places to see, hikes to explore, and ways to relax!
If you're looking for some more inspiration for St John, we've got you covered.
If you're still browsing what's available in the US Virgin Islands, these will help.
Happy travels!
Share it!