Visiting St John and not sure how best to get around the island?
The popular fallback in mainland USA, a rideshare, isn't available here. Nope! Your Uber or Lyft app is useless. St John taxis operate differently, too.
Let's look at all your St John transportation options and when to use each.
---
This post may contain affiliate links. As an Amazon Associate and associate of other programs, I earn from qualifying purchases. This means if you click a link and make a purchase, I may earn a small commission at no extra cost to you.
---
Transportation Options on St John, US Virgin Islands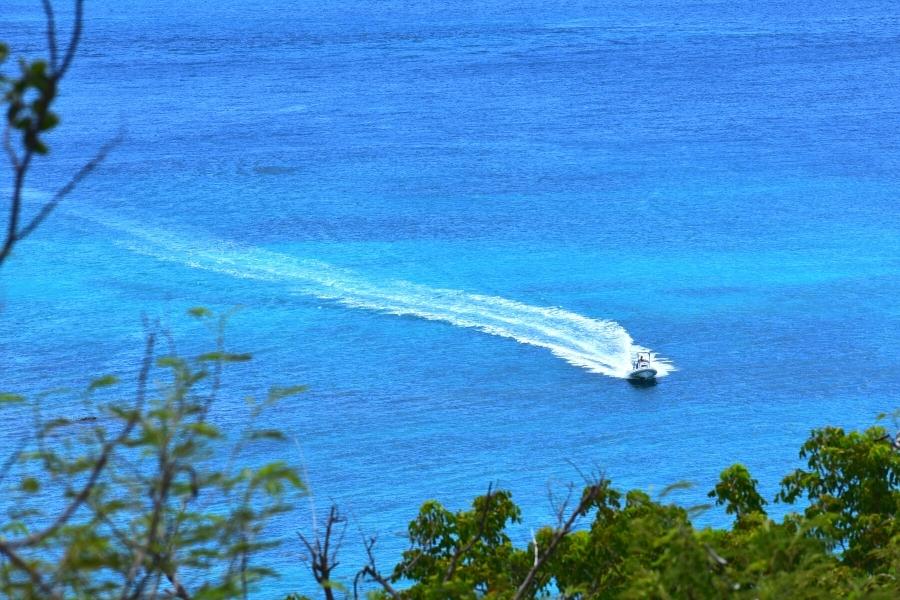 The origin may vary but everyone arrives on St John via ferry. Cruz Bay is the gateway town to St John.
>> Unsure how to get to St John in the first place? Everything you need to know about GETTING TO St John is here. <<
Once you arrive, how do you get to your hotel on St John? Even as the smallest and least developed of the three US Virgin Islands, St John has a surprising number of ways to get around.
Shared Taxis
Rental Cars
Hotel Shuttles
Walking
Bus
Guided Tour – by land or sea
If you're staying at a hotel or resort, check if they have a shuttle service. Many of them do.
Call your hotel's front desk when you board the ferry in Red Hook, and the shuttle will be waiting just outside the dock when you arrive in Cruz Bay.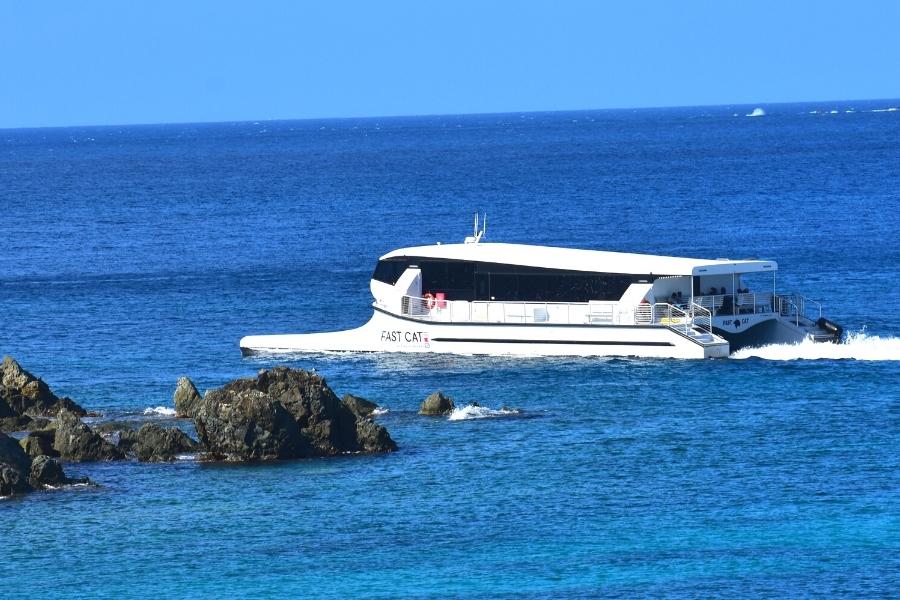 Shared Taxis: The Easiest Way to Get Around St John
Taxis are a little different in the US Virgin Islands. You won't find the typical American yellow cabs here.
In fact, taxis aren't metered here. Taxi rates are predetermined by destination and are charged per person. Additional fees will apply for things like luggage, waiting, or after hours pickups.
Shared "safari-style" taxis are the most common way to get around St John. These are pickup trucks with the beds converted to three rows of bench seating with a shade overhead, and they look similar to African safari trucks (hence, the name).
Safari taxis are not air conditioned, but the breeze while driving is usually enough to keep you cool.
Some taxis are in better condition than others, but all of them will make it up and down St John's hilly terrain better than you on foot.
Stick to the popular beaches along St John's north shore and there will always be a taxi to whisk you back to Cruz Bay.
If you need a ride in town and see a taxi coming on the road, raise your hand and lean into the street to signal the driver. Be ready to hop out of the way though. If the taxi is full, they'll just keep on driving and ignore you.
Because they are shared taxis, the time to your destination will vary. You may catch a taxi at the dock and head for your destination, but the driver may pick up more people further in town and drop them off first if their destination is closer or on the way to your destination.
This isn't considered rude or incorrect. It's just how the islands work. Island time is a real thing. Schedules are always flexible.
Since the rates are per person, this can get a bit pricey for large groups. You may be better off hiring a private "guided tour" for the day. See the Guided Tours section below for more details.
---

---
Rental Cars: The Most Flexible Way to Get Around St John
Depending on your length of stay, this is the most expensive but most flexible way to get around St John.
If you rent a car on St John, it should be a Jeep.
Do You Need a Rental Car? Reasons to Rent a Vehicle on St John
Staying in Coral Bay or a rental villa/AirBnb
Visiting beaches beyond Maho Bay on the north shore
Hiking any trails in Virgin Islands National Park besides the Lind Point Trail
If any of these apply to you, then you can justify renting a car to get around St John throughout your stay.
Renting a Jeep on St John
The first question you need to ask before renting a vehicle on St John is whether or not you need four-wheel drive (4WD). Many rental villa's driveways are so steep, you need the 4×4 to climb it.
Want to go see the hidden gem beaches on St John's southeast corner? You're gonna need clearance on your vehicle to make it down some of those roads. Ask the rental company, before you accept the car, if it will make it.
Pro Tip: Don't forget to drive on the left in the USVI!
Here is a list of the rental car companies on St John. Many rental car companies were hit hard by the pandemic, so this list may be slightly out of date but it includes phone numbers for companies that don't have great websites.
None of the big corporate companies like Hertz, Enterprise, and Avis operate on St John. Support the local businesses instead!
This is another great reason to not rent a car on St Thomas and ferry it over to St John. By renting on St John, you're supporting their local economy which sees far less people than busy St Thomas.
Walking: Only in Town or Hiking a Trail
The cheapest and easiest way to get around in town is on foot. There aren't many sidewalks to speak of on St John, but there are a few in the major pedestrian areas near the dining and shopping in Cruz Bay and Coral Bay.
Otherwise, St John is not a walkable place.
With the exception of the Lind Point Trail, do not try to walk to the beaches along the north shore in Virgin Islands National Park. St John is a very hilly island with narrow, winding roads that don't have shoulders.
There is no safe way for you to walk to the beaches. Take a taxi or shuttle or boat.
There are plenty of hiking trails on St John, if you really want to get out and walk for a bit. But you'll need reliable transportation to get you to the trailhead first. We recommend a rental car if you want to do a lot of hiking in St John.
Bus: Super Cheap Public Transportation
VITRAN public transportation buses run between Cruz Bay and Coral Bay. These blue and white buses are easily recognizable and offer $1 fares, which is dirt cheap to get across the island.
However, they RARELY are on schedule.
This can be a cheap and easy way to go explore Coral Bay for the day, so long as you are extremely flexible with your schedule.
If you are day tripping from St Thomas and have a ferry to catch at the end of the day, don't rely on the bus to get you back to the dock in time.
Guided Tour: Taxi or Boat
Sometimes it's just easier to let someone else worry about the driving. On St John, that could mean driving a vehicle or driving a boat.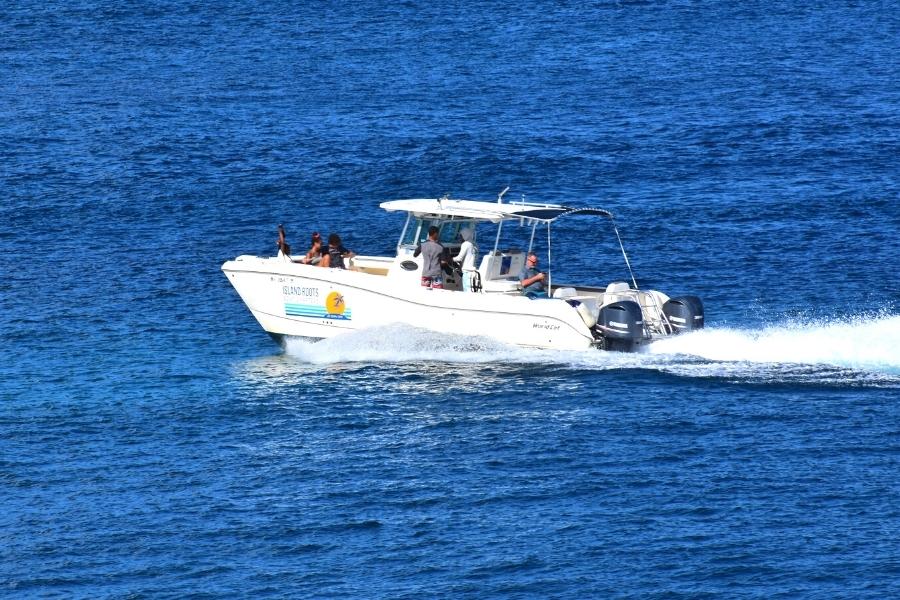 By Land
We recommend Max's tour on St John. His taxi can accommodate up to 12 people, or he'll combine a few small groups but still tailor the itinerary to each group's preference.
We were a group of two and had the taxi to ourselves (probably because we visited in August right before a tropical storm…)
A wonderful day out and great way to see a lot in one day without breaking the bank paying for multiple taxi rides or trying to find and pay for parking yourself. Letting someone else drive eliminates all that stress!
By Sea
Catamaran tours are another popular option for exploring St John. This one includes Pizza Pi lunch!
Be careful when reserving boat tours:
Make sure you know where they depart. "Cruz Bay" could mean the creek at the National Park Visitor Center or even just the beach by the ferry dock. Many depart at The Westin resort, a 10 minute drive from Cruz Bay. Some on Viator come up for St John but actually depart from Red Hook on St Thomas. Call and ask if you're unsure.
If it goes to the BVI's, you need to bring your passport. Your tour operator will explain the procedures and make sure your documents are in order before you leave. Otherwise, they won't let you on the boat.
Bring cash for lunch and to tip the crew. Most boat tours don't include lunch. Many will include a stop at Lime Out, the incredibly popular floating taco bar, but they don't pay for your lunch. You need cash to buy your own lunch. You also need cash to tip the crew at the end of the journey.
---

---
Getting Around St John is a Breeze!
St John transportation is easy to figure out once you know all the options. Enjoy your time exploring St John, no matter how you do it!
If you haven't already, check out these amazingly helpful tips for visiting the US Virgin Islands. It covers everything from required travel documents to driving tips and local customs.
Some more relevant resources for planning your St John vacation:
More Travel Logistics Resources
Happy travels!
Share it!