So, you've seen stunning photos of the US Virgin Islands, a fairytale Caribbean destination, and decided you MUST see it for yourself.
Congratulations on the decision! That's the hardest part: deciding to go!
But now you've got some questions and are at a loss where to start. Don't worry! You've got this!
We've rounded up all the important need-to-know information and travel tips to know before you go to the US Virgin Islands.
Get answers to all your pressing questions and be ready to rock your first trip to the USVI!
This is a comprehensive guide to visiting the US Virgin Islands. It is packed with valuable information for first time visitors to the USVI.
We realize you may not need to read all of it. Skim the table of contents below and jump straight to each question you have!
---
No time now to read it all now? Save it for later!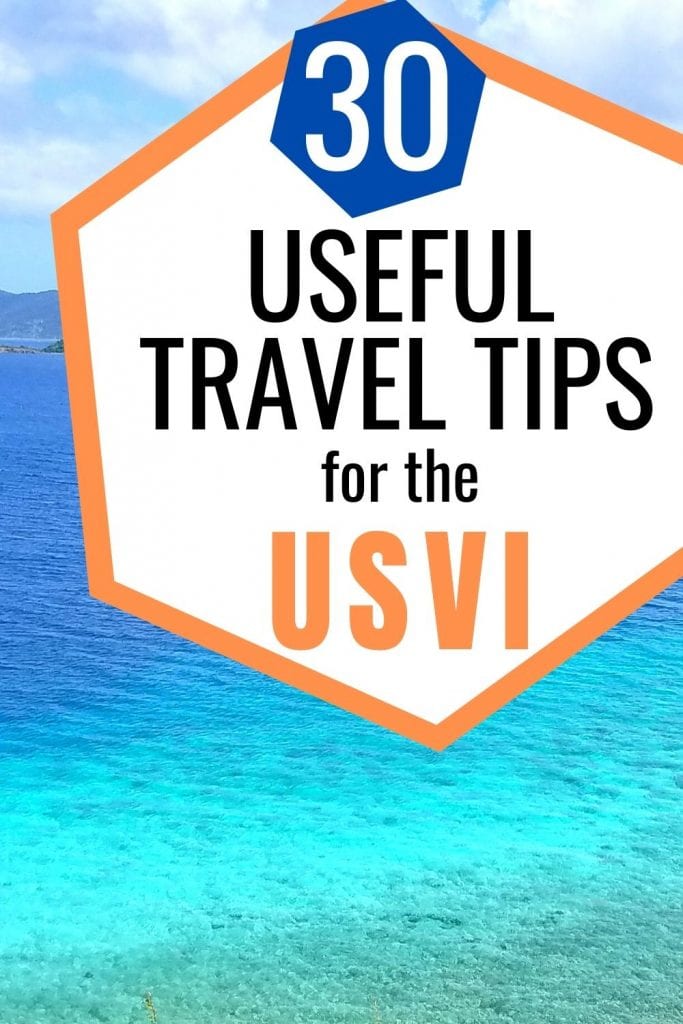 ---
This post may contain affiliate links. As an Amazon Associate and associate of other programs, I earn from qualifying purchases. This means if you click a link and make a purchase, I may earn a small commission at no extra cost to you.
---
The Basics
Where are the Virgin Islands?
The Virgin Islands are a grouping of Caribbean islands between Puerto Rico and Anguilla, on the eastern, Atlantic Ocean side of the Caribbean Sea.
A brief geography lesson: the Caribbean is split into two "island chains" or archipelagos: the Greater Antilles and the Lesser Antilles.
As the names suggest, the Greater Antilles are larger islands and the Lesser Antilles are smaller islands.
The Virgin Islands are right at that spot where the Greater Antilles transition into the Lesser Antilles.
Geologically, the Virgin Islands belong with the Lesser Antilles.
How did the Virgin Islands become a US territory?
The US Virgin Islands are today three main islands, St Thomas, St John, and St Croix, and several small surrounding islands.
Their story is typical of the Caribbean.
The islands were originally inhabited by native Caribbean tribes. St John has ancient petroglyphs that date back to these peoples.
Christopher Columbus stumbled upon the islands in 1793, putting the islands on Europe's map.
Columbus' Landing Site is part of the Salt River Bay National Historical Park and Ecological Preserve on St Croix.
European empires fought over and traded the islands until they eventually landed in Danish hands in the late 1600's.
Sugar cane plantations tended by hundreds of African slaves powered the economy for nearly two centuries.
Slavery was abolished in the mid-1800's, followed shortly by devastation from several natural disasters, and the economy collapsed.
Denmark was never able to resuscitate the islands' economy.
The United States became interested in purchasing the islands in the mid-late 1800's. Treaties were negotiated but never approved.
Finally, in 1917 at the beginning of World War I, the US convinced Denmark to sell the islands.
The official name of the US territory became the Virgin Islands of the United States.
What language is spoken in the US Virgin Islands?
American English is the official language of the US Virgin Islands and is widely spoken.
Locals can also speak Haitian Creole and usually a bit of Spanish, if the occasion calls for it.
What nationality are people born in the US Virgin Islands?
As a territory of the United States, people born in the US Virgin Islands are considered United States citizens.
However, since the USVI are a territory and not a state, only certain portions of the US Constitution apply.
What's the capital of the US Virgin Islands?
The capital city of the US Virgin Islands is Charlotte Amalie, located on the island of St Thomas.
Do I need a passport to visit the USVI?
United States citizens do not require a passport to visit the US Virgin Islands. A government issued photo ID is sufficient, such as your US driver's license.
All other nationalities will require a passport.
However, if you plan to take a day trip over to the neighboring British Virgin Islands during your stay, Americans will need a passport to enter.
---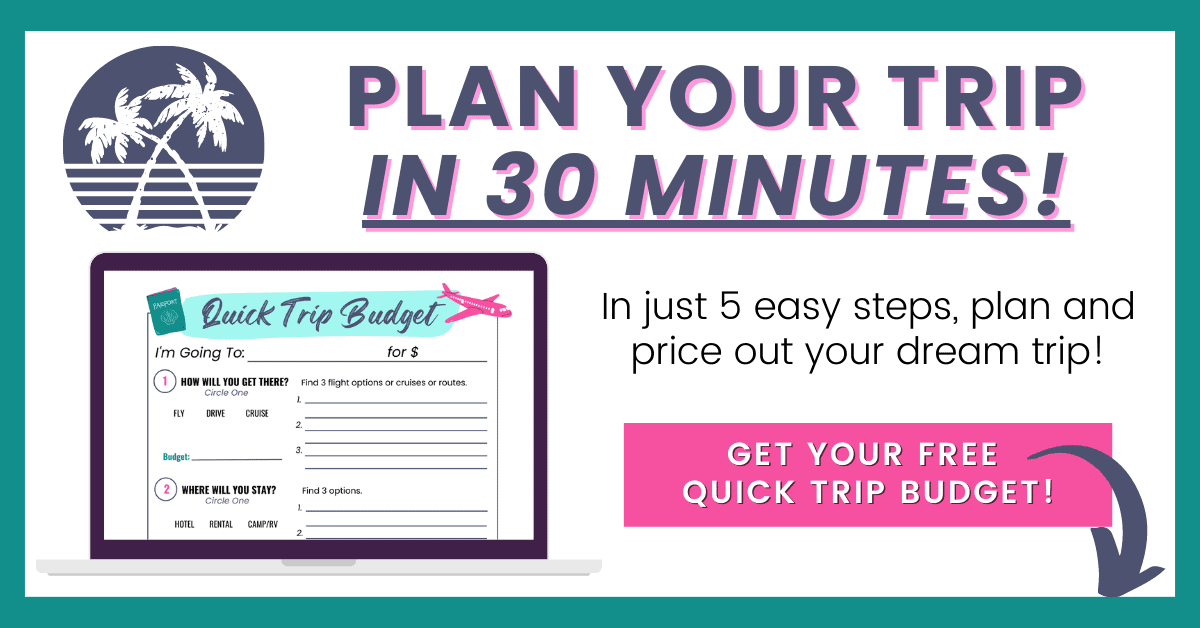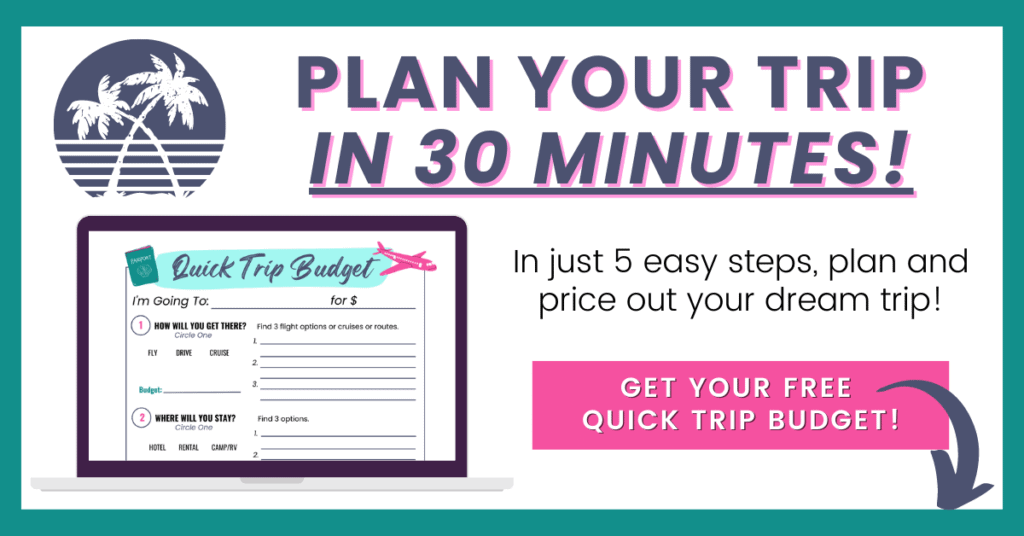 ---
What currency does the US Virgin Islands use?
The US Dollar is standard in the USVI, and most places will not accept anything else.
ATMs are few and far between if you're out walking about, but most resorts usually have a few on their premises.
What time zone is the US Virgin Islands in? Do they follow Daylight Savings Time?
All three US Virgin Islands are on Atlantic Standard Time (AST). That corresponds to UTC/GMT-4.
They are an hour ahead of Eastern Standard Time used on the mainland United States' east coast.
Daylight Savings Time is not observed in the USVI.
Do they take credit cards in the USVI?
Credit cards are accepted at the bigger resorts and restaurants, but some will charge a fee to take the credit card.
Many smaller vendors or local establishments accept cash only.
One workaround for this is to book tours/excursions online ahead of time. It's still best to have some cash on hand.
Pro Tip: Taxis from the airport take cash only.
Safety and Cultural Norms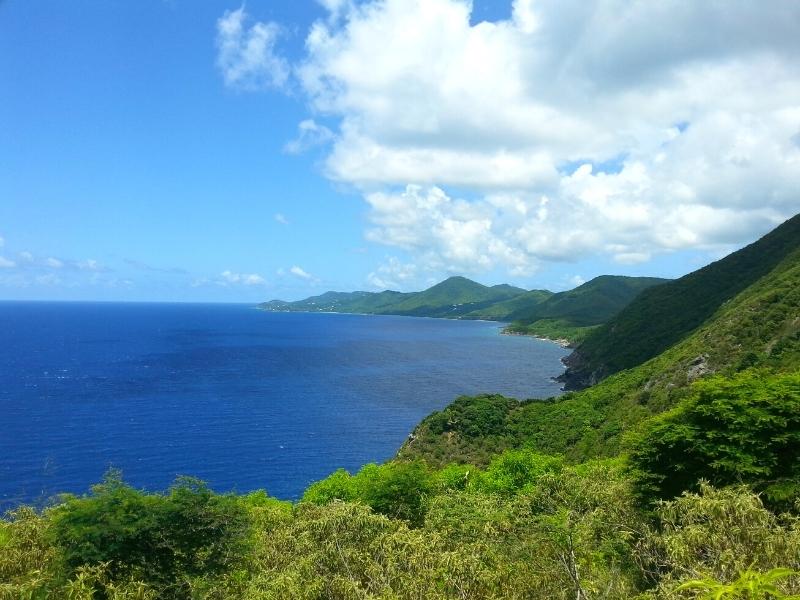 Are the US Virgin Islands Safe to Visit?
Yes, the US Virgin Islands are safe for tourists.
Common sense safety practices should be observed as you would at any other vacation destination, but we've never felt unsafe when galivanting around the islands.
Of course, there is always some amount of crime, no matter where you go in the world.
The most common incidents that impact tourists are breaking into cars to steal valuables or pickpockets in crowded settings like shopping areas or bars.
Watch your drinks at bars and resorts, and never walk alone at night. All common sense safety precautions.
Is it safe to drink the water in the USVI?
Yes, the tap water at resorts and hotels is safe for consumption. You can always ask the front desk, but if there's an issue, they will let you know.
Fresh water can be scarce so most rental villas/homes collect rainwater into cisterns. Some have rigorous filtration systems; others don't.
Your host may ask you to take shorter showers and drink bottled water instead to conserve the freshwater.
If you're renting a home, be sure to ask.
Is it safe to take a taxi in the USVI?
Yes, taxis are generally safe to use in the USVI. Taxis are usually shared taxis in the Virgin Islands.
The St Thomas airport uses large, red, multi-passenger vans. St John taxis are exclusively safari-style trucks.
You likely will not be the only passenger in the vehicle, and it will likely make multiple stops before reaching your destination.
Agree to a fare with the driver before getting in the taxi.
Taxi stands are often available at popular beaches, in cities, and near ferries.
Alternatively, flag down a taxi you see coming by stepping to the road's edge and holding your arm in the air.
Don't step into the road, though; sometimes they're full and will not stop.
Is it safe to drive in USVI? How are the roads?
Driving in the US Virgin Islands is mostly safe.
That's not exactly reassuring, I know, but it's better than saying "Driving in the US Virgin Islands is safe*."
Let me explain the reasoning behind that asterisk/mediocre endorsement of driving in the USVI.
Driving in the USVI's is very similar to driving in the US, and far better than the free-for-all traffic typical of Southeast Asia.
Pro Tip: Drive on the LEFT in the US Virgin Islands.
However, the quality of roads in the US Virgin Islands is just ok.
Each island has paved main streets in cities, residential areas, and to popular destinations.
St Croix even has a stretch of freeway to speed up travel between its two major cities.
These roads are usually in decent condition, with some potholes here and there.
The majority of roads outside of town, and sometimes even in town, are narrow, steep, and unmarked.
The mountainous terrain makes steep roads unavoidable, but the narrow width, often with no guardrail, is a bit unsettling the first few turns.
Pavement markings like shoulder lines and centerlines don't exist outside of the cities.
You'll find yourself sucking it in when you pass your first delivery truck on one of these roads, but you will get used to it.
Locals often get impatient and will pass slower drivers; never mind if it's in a curve or not.
Some curves have mirrors to help see driveways or oncoming traffic, but those are less and less frequent as you get away from the cities.
Further out of town, paved roads disappear altogether.
The bigger tourist spots have paved roads, but some hikes and lesser-known hidden gems require a 4WD vehicle, or even an ATV.
Do we recommend driving in the USVI? Yes. Just take it slow and be careful.
Do Islanders expect a polite greeting?
Yes. It's polite to begin any conversation with good morning, good afternoon, or good evening.
Even just walking up to a register at the store, this makes a world of difference.
Acknowledge the human being behind the counter with a smile and polite word. Small shop owners especially appreciate it!
Never fear, haters of small talk! Most locals will reciprocate with a good morning, etc. and leave you alone to browse.
This local custom may seem like just plain politeness to some of us, but it's important enough to the Virgin Islanders that they put this reminder on every island's tourist information map.
Be a polite citizen of the world. It'll only take 2 seconds.
Is there a cultural dress code in the USVI?
Informally, yes. We hesitate to call it a dress code, which sounds strict.
There is no law against it that we're aware of, but you will never see a local wearing just their swimsuit in town or at a restaurant.
This goes for men and women.
Throw on a dress or shirt and shorts before browsing the local shops or sitting down for lunch or dinner, even at a beachside restaurant.
Ladies, those see-through coverups that look so cute don't count. Put on something opaque.
I haven't seen anyone denied service because of this cultural faux pas, but I have seen a seating host or two mention it kindly.
You don't have to agree with it, but please be respectful of local customs. Remember, you're a visitor.
And it's again important enough that this tidbit also shows up on island tourist maps and free publications.
Planning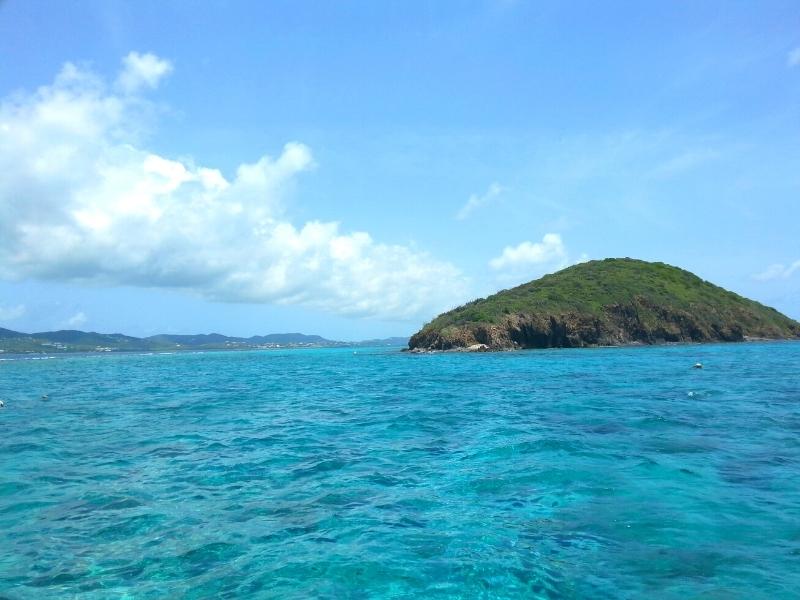 How many days do I need in the US Virgin Islands?
This depends if you're trying to see all three in one trip, or taking it one island at a time. It comes down to what you want to get out of your trip.
Do you just want to step foot on each island, lay on a beach, and maybe see a museum or go for a hike, if you have time in between drinks?
Then sure, you can see all three islands in 4-5 days.
St Thomas and St John are only 30 minutes apart by ferry and could be "done" over a long weekend.
St Croix is further south and requires a short flight to reach the other two islands.
Keep that in mind if planning travel to all three islands in one trip; you'll have to pay for a puddle jumper flight.
We recommend, and prefer, the slower approach: take a week per island.
This likely requires more than one trip, since most Americans don't get more than 2 weeks of vacation per year, but it's worth it.
Rushing around and between islands is not relaxing.
Staying in one place reduces time lost in transit between destinations and increases time spent sightseeing.
Which US Virgin Island is the best to visit?
All three of the US Virgin Islands can provide an amazing beach vacation with sunny days spent next to beautiful blue waters.
The real question here is what atmosphere are you looking for on your vacation?
Which island you choose can depend on several quantitative factors, like flight availability and cost, lodging preference, and shopping preference, to name a few.
But the biggest deciding factor between the three main islands is atmosphere, or vibe.
That intangible, qualitative measure can be the difference between having the time of your life or never wanting to return.
A lot of people ask is St Thomas or St Croix better, or is St John better than St Thomas. Those questions are useless unless you know what you want from vacation.
St Thomas is home to the capital city of Charlotte Amalie and has the most resorts and nightlife, very much a party vibe here or for those that live and breathe all-inclusives.
St John is the smallest island and two-thirds national park, with few resorts and no airport but spectacular beaches and a laid-back vibe.
St Croix is the middle child, further south than the other two but also the largest of the three, with its own airport and a mix of history, rum, and cruise ports.
Weather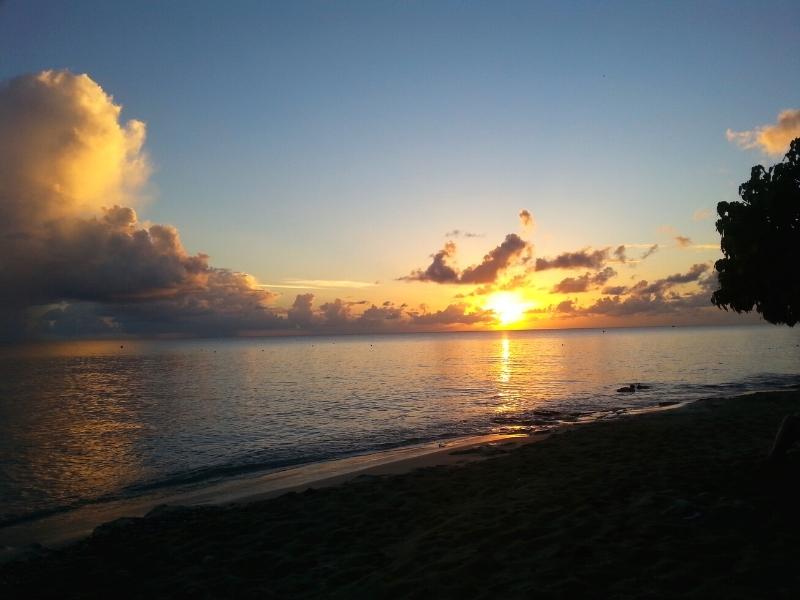 What's the weather like in the Virgin Islands?
These islands are still a few latitudes above the equator and west of the Prime Meridian, firmly located in the northern and western hemispheres in the tropical zone.
Their latitude is close enough to the equator to ensure year-round warm temperatures while unbearable summer temperatures are tempered by ocean breezes.
Temperatures don't change much unless there's a storm.
Average summer temperatures are 89°F (32°C) highs and 80°F (27°C) lows. Average winter temperatures are 83°F (28°C) highs and 74°F (23°C) lows.
Not much difference!
The US Virgin Islands are subject to hurricane season, which is officially June through November every year, with the most active period for storms being in August/September.
It's purely luck of the draw how easy or bad of a hurricane season they'll experience.
Some years they get nothing while in 2017 they were hit by two back-to-back category 5 hurricanes (the worst level).
We have been in the USVI's when a tropical storm passed through and can testify to the islanders' sense of community and safety.
All the locals you meet will ask if you have food and water set aside in your room, just in case.
If your vacation falls within hurricane season, most importantly in late summer/early fall, we recommend travel insurance in case a hurricane forces you to reschedule.
What's the best time of year to visit the US Virgin Islands?
Late spring to early summer is an ideal time to visit the US Virgin Islands.
Temperatures are warm, it's the driest time of year, and hurricane season doesn't start until June.
Peak season is winter and typically more expensive.
Late summer/early fall is the middle of hurricane season; still an enjoyable island experience but get travel insurance in case a hurricane changes your plans.
Transportation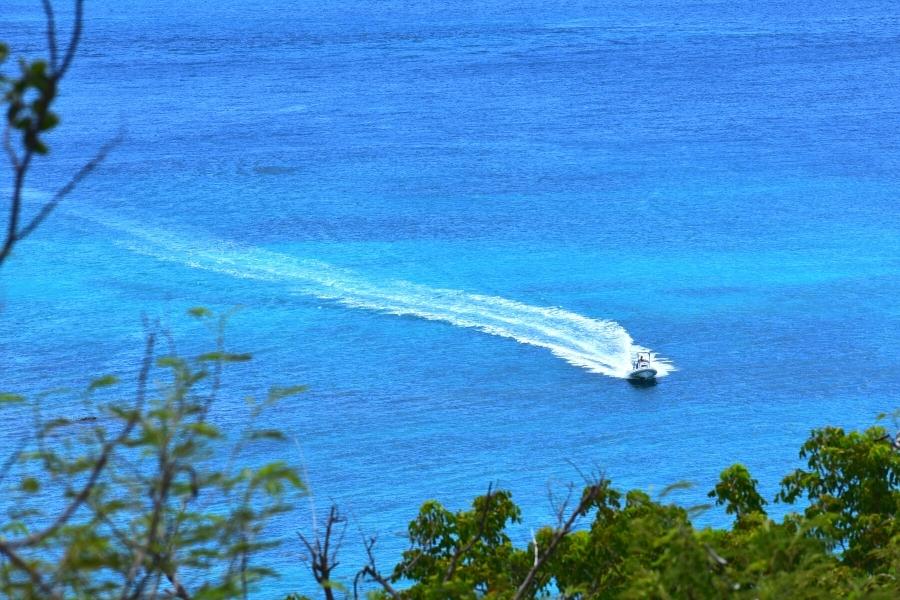 Do the USVI have public transportation, like buses or trains? Is it reliable?
Public transportation is available but often unreliable. There are no trains, but each city has a bus system.
The buses are often not on schedule, so leave early or have a good back up plan if you need to catch a ferry or flight.
Conversely, the ferries are always on time with the exception of inclement weather when it would be unsafe to run.
Many locals use the ferries as well to commute to and from work.
Are the US Virgin Islands walkable?
Not really. There are no dedicated pedestrian paths, no sidewalks outside of the centers of town, and not even shoulders along the roadway.
In cities like Charlotte Amalie on St Thomas, Cruz Bay on St John, or Christiansted and Frederiksted on St Croix, it's reasonable to get from a city hotel/resort to a restaurant on foot.
But if your resort is on the outskirts of town or further afield, you need a shuttle, taxi, or rental car to get around.
Do the US Virgin Islands have Uber or Lyft?
No. There are no Uber or Lyft programs currently operating in the US Virgin Islands.
The closest you'll find to a rideshare program are the shared taxis.
Which side of the road do they drive on in the US Virgin Islands?
All three US Virgin Islands drive on the left side of the road.
If you come across a roundabout, that means they work clockwise instead of counterclockwise.
Many American tourists don't expect this, since the USVI are now an American territory, but it makes sense.
Like much of the Caribbean, the Virgin Islands still retain traces of British Empire influence.
What baffles British tourists is the cars.
While the US Virgin Islands drive on the left, the cars are all American imports with drivers on the left side of the car.
That's backwards for UK drivers, who are used to driving on the left but having the driver on the right side of the car!
So, everyone has something to get used to when visiting and driving in the US Virgin Islands! 😆
Do you need a car in the USVI?
If you want to see the hidden gems, the beaches further away from the tourist centers, or any of the hikes or historical sites, you need a car.
We recommend getting a rental car to properly explore the USVI.
Driving may be awkward or scary at first, but you'll soon get the hang of driving on the left.
The narrow and steep roads are just like driving in the mountains back home. Take your time, and you'll be fine.
Don't let impatient locals rush you. Let them go around.
It's possible to visit the USVI without a car, but only if you're content staying at your resort except for tours that pick up directly from your resort.
Do you need an international driver's license to drive in the USVI?
American drivers' licenses are accepted, but all non-US tourists will need to get a temporary USVI driving permit upon arrival.
There is no mention on the USVI DMV website that an international driver's license is required to rent a car.
The rental car companies have these temporary permits, but some are more lax than others about officially enforcing it.
Driving rules in the USVI are generally the same as in the United States, of course, with the exception that driving is flipped to the left side.
Note that talking on the phone while driving is illegal unless using a hands-free device.
Can I take my rental car from St Thomas to St John?
Yes, but this usually only makes sense if you're staying on St Thomas but want to day trip to St John.
Getting to St John from St Thomas is simple.
Catch the vehicle ferry from Red Hook, St Thomas to Enighed Pond, St John, just south of Cruz Bay.
Roundtrip vehicle ferry tickets cost about $50, and they stay on schedule.
If you're staying on St John, rent a car on St John instead of from the St Thomas airport, and save yourself the hassle and logistics.
Miscellaneous Facts
Do you have to go through customs when returning to the US from the US Virgin Islands?
Yes. You are allowed a $1,600 duty-free exemption if you were away for more than 48 hours.
Pro Tip: Airlines on St Croix allow up to 6 bottles of alcohol to fly home for FREE as its own piece of checked luggage.

Both Cruzan and Captain Morgan have rum distilleries on St Croix, and many people stock up on hard-to-find flavors while visiting.
Do you tip in the US Virgin Islands?
Yes, tipping culture in the USVI is the same as the United States. Generally, tip 15-20% in restaurants and taxis.
Resort employees may or may not accept tips, depending on resort policy.
Can I use my cell phone in the USVI?
Sure. Whether or not you get hit with a roaming fee depends on your carrier.
Signal is typically fine in the cities and spotty or non-existent the further away you get.
Also, beware of using your cell on the north side of St John and your phone accidentally connects to a cell tower on nearby Tortola instead.
Tortola is part of the British Virgin Islands and will certainly incur a roaming fee!
What's the drinking age in the US Virgin Islands?
The legal drinking age in the USVI is 18 years old.
---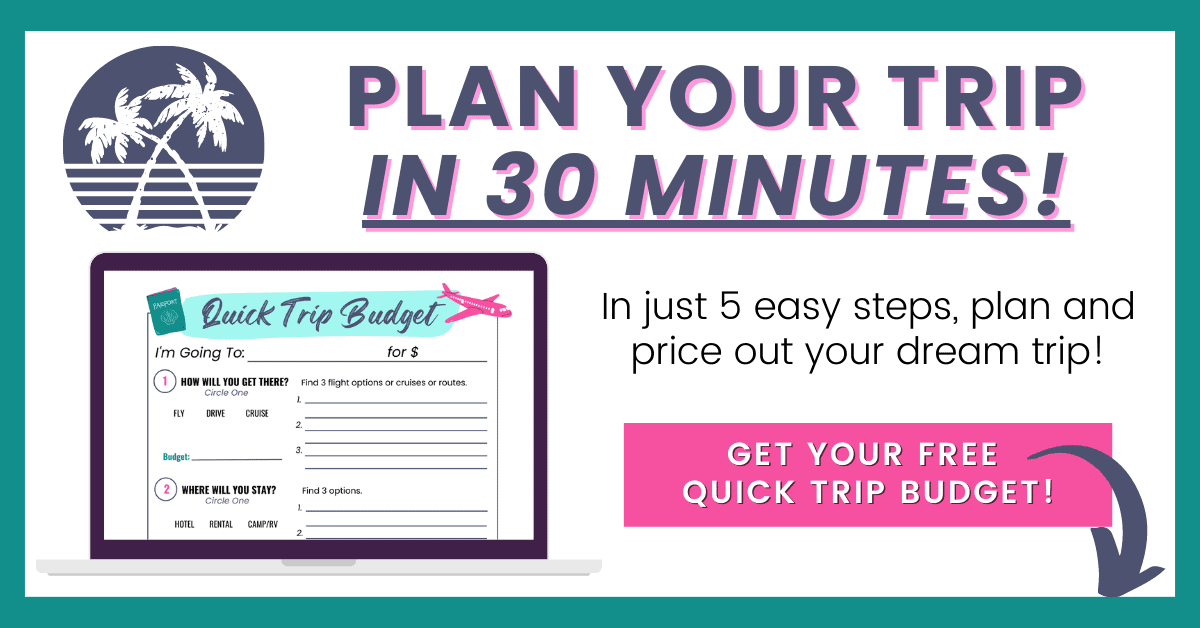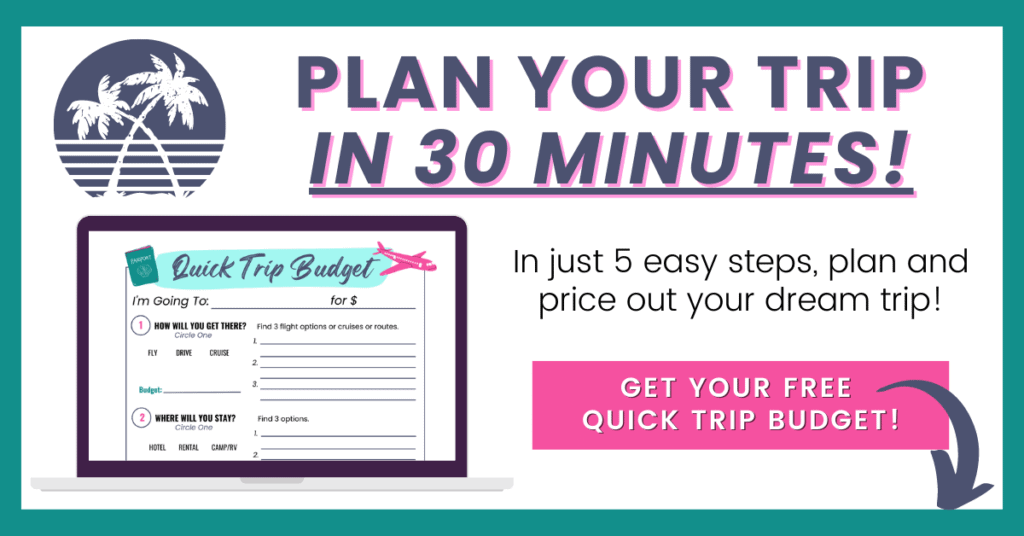 ---
Now you're prepared for your first trip visiting the US Virgin Islands!
More USVI Resources
Happy travels!
Share it!