St Croix vacations were made for relaxing on the beach. And, as the largest of the three US Virgin Islands, St Croix has a lot of beaches to choose from! So how do you decide which beaches to visit on your next St Croix trip? You can't see them all in one trip, unless you stay for a month. Not such a bad idea…
But for the rest of us with time and money constraints, we've got you covered. Here are the 17 best St Croix beaches with details on location, access, and amenities at each. Get the free checklist to help you choose which ones you want to see!
---
This post may contain affiliate links. As an Amazon Associate and associate of other programs, I earn from qualifying purchases. This means if you click a link and make a purchase, I may earn a small commission at no extra cost to you.
---
St Croix Beaches are Some of the Best in the World
Beloved "Twin City", the locals' name for St Croix because of its two cities, Christiansted and Frederiksted, is the largest island in the US Virgin Islands, and its shoreline is almost entirely beautiful beaches.
St Croix's beaches are soft and sandy, with just enough rocky outcroppings thrown in here and there to keep the snorkeling amazing. Turtles frequent St Croix, especially in the early summer months when several species use the island as nesting grounds.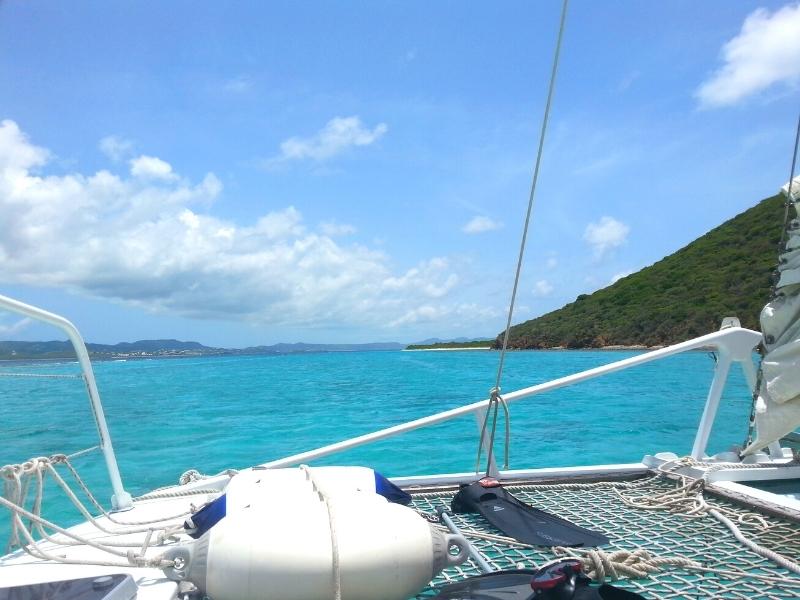 Just off the north shore of St Croix is Buck Island Reef National Monument, a haven for marine life of every kind and the island's best snorkeling.
The best things about St Croix's beaches? All beaches are public access!
While some of the bougier resorts may claim to have private beaches, that's stretching the truth. The resorts that claim private beaches are secluded enough that most locals don't bother and most tourists don't know better.
If you want to visit a beach that's by a resort, even if the resort is gated, just pull up to the gate and tell them you're going to the beach. They'll let you through and instruct you where to park so you can walk to the beach.
---
---
Getting to the Best Beaches in St Croix
If you want to visit all four "sides" of St Croix, reserve a rental car. No exceptions.
It's a long drive from Christiansted to Frederiksted, or Frederiksted to the East End beaches.
It's possible to find a taxi that'll drive you from Christiansted to Frederiksted, especially if a cruise ship is in port at either city.
It's even possible to find a taxi that will drop you off at an East End location.
But it'll be much harder to find one to take you back at the end of the day. Even if you get the taxi driver's phone number, there's a good chance you won't have cell service.
Driving yourself is the best way to ensure you have a way to get home at the end of the day.
If you don't feel comfortable driving on the left (It's easier than you think, I promise), then choose a hotel close to your favorite St Croix beaches from this list, and walk or take taxis as needed.
>> Get all the Tips to Know Before You Go to St Croix here! <<
The 17 Best Beaches in St Croix
We've divided the best beaches in St Croix by location and noted access and amenities for each. Don't forget that all beaches are public!
West Side St Croix Beaches – Beautiful Sunsets!
Every Caribbean island has phenomenal sunsets on the west end. Once you see a west side sunset, you'll be back every day of your trip!
Rainbow Beach
Access: parking, walking from Frederiksted
Amenities: restroom (at Rhythms)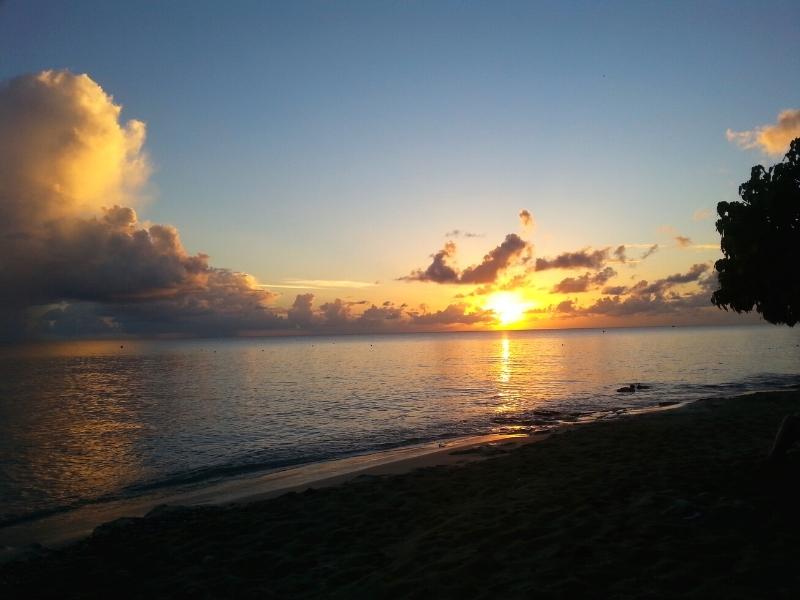 This is a wildly popular beach with locals on weekends, especially Friday night. Rhythms at Rainbow Beach is a restaurant/bar that pumps up the music to keep everyone having a good time.
For more room and a slightly quieter experience, visit during the day during the week. Rhythms is still open for lunch, but significantly tamer. 😅
Rainbow Beach's sandy shore is mixed with some coral rocky outcroppings, so keep an eye on your feet as you wade out into the water.
Further out there are some sea grass beds and some underwater rocky outcroppings that are starting to encourage reef growth. Snorkeling is ok here, but not fantastic. However, it's not unheard of to see plenty of fish and a sea turtle or two.
Watching the sunset from Rainbow Beach is one of St Croix's unforgettable experiences. Don't miss the sunset on the west end; it's jaw-dropping!
Fort Frederik Beach
Access: parking, walking from Frederiksted
Amenities: umbrellas/chair rentals, restrooms
Frederiksted's busiest beach when a cruise ship docks here. This beach is right next to the Frederiksted Pier, literally on the other side of the large, red fort from which it gets its name.
A large parking lot across the street is perfect for visitors with a car looking to experience the west end beaches for a day.
When there are no cruise ships in town, this beach quiets down a lot during the week. However, it's a favorite with the locals on the weekends!
The beach is a mix of sandy and rocky, typical of the west end beaches. When there's not a ship in port, it's easy to swim over to the pier for some good snorkeling.
Dorsch Beach (Sand Castle Beach)
A wide, sandy beach with a few trees for shade, not too far south of Frederiksted.
Dorsch Beach is adjacent to Sandcastle on the Beach hotel, so it is sometimes referred to as Sandcastle Beach. They're actually two different beaches, but it doesn't really matter.
This spot is perfect for families with calm waters, a shallow bottom, and the nearby hotel has a great restaurant. There are rocky outcroppings which provide some great snorkeling for beginners and those that like a lot of fish.
The only down side here is no public restrooms available. But if you eat at the restaurant, you can use their restroom. Just not for changing, etc.
During the week this beach is pretty quiet but like most of St Croix's beaches, it's pretty packed with locals on the weekends.
Sandy Point Beach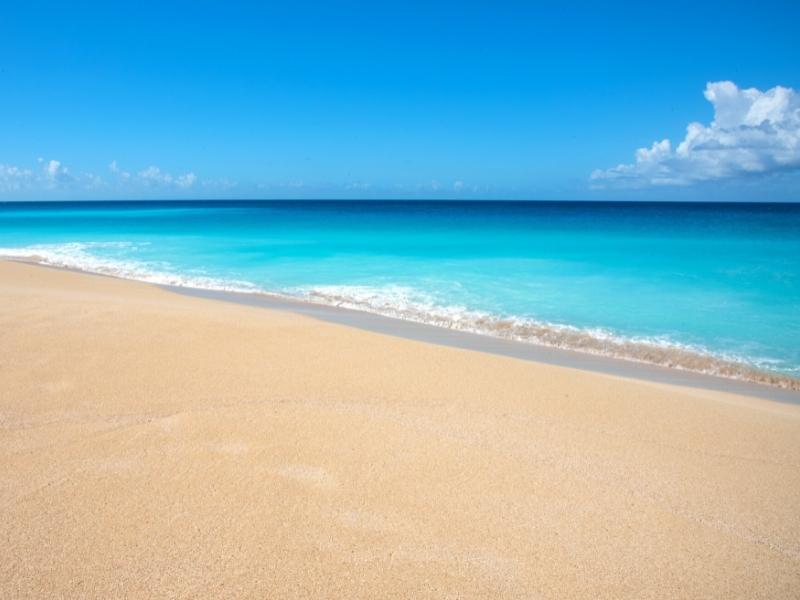 The Sandy Point National Wildlife Refuge is on the southwest corner of St Croix and serves a very important purpose: protecting nesting leatherback sea turtles.
Because of this, the beaches within the refuge are only open on weekends 10AM-4PM, September through May.
As this is a wildlife refuge, there are ZERO amenities here. Just keep that in mind if you have little ones or little bladders in the group. 😉
The beach is a wide, soft white sand beach with very little shade. But because of its limited availability and otherwise protected status, it's a very clean area with fewer tourist crowds and more locals.
---
Christiansted & the North Shore – Resort Beaches
Christiansted is the most popular place to stay on St Croix, so it's no surprise that many of the best beaches on St Croix are north shore beaches.
Most of the north shore St Croix beaches are resort beaches. Amenities are all dependent upon the hotel and how willing they are to share, but at least they have some amenities!
The wind tends to be stronger on the north side of the island, so these beaches often have more surf as well.
Cane Bay Beach
Amenities: restroom, dive shop rentals
Cane Bay Beach is one of the most popular snorkeling and diving spots on St Croix thanks to its famous feature: The Wall.
Cane Bay is pretty shallow until it suddenly drops off hundreds of feet. This drop off is "The Wall" and one of the best spots for snorkeling and diving in St Croix.
The beach is long and narrow but has plenty of palms and trees for shade. The shallow portions are sandy, but that quickly turns rocky in preparation for the drop off. Watch your feet for urchins!
A handful of popular restaurants are nearby, like across the street from or on the beach. There are also rental shops for scuba and snorkeling gear.
Davis Beach (Carambola Beach)
Wide, sandy beach with some rocky spots and plenty of waves on St Croix's north shore. Davis Beach is often called Carambola Beach because of the Carambola Beach Resort located here.
Carambola prides itself on being a secluded and private destination for its guests, and it helps that it's not particularly close to either Christiansted or Frederiksted. It's on its own on the northwest corner of the island.
All beaches are public, so even if you are not a guest at Carambola you can still visit Davis Beach.
You will be directed to park in a lot off to the side, though, and you'll have to walk down to the beach from there, but you still get to enjoy the beautiful beach.
Amenities are all from the resort, including the restaurant and gear rentals. If you're not a guest, you have to pay for these separately.
>> While you're here, hike out to the Annaly Bay Tide Pools! Also sometimes called the Carambola Tide Pools, the hike is no joke in the heat of a Caribbean summer so bring plenty of water. <<
Buck Island Beach (Turtle Beach)
Amenities: picnic tables, grills, pit toilets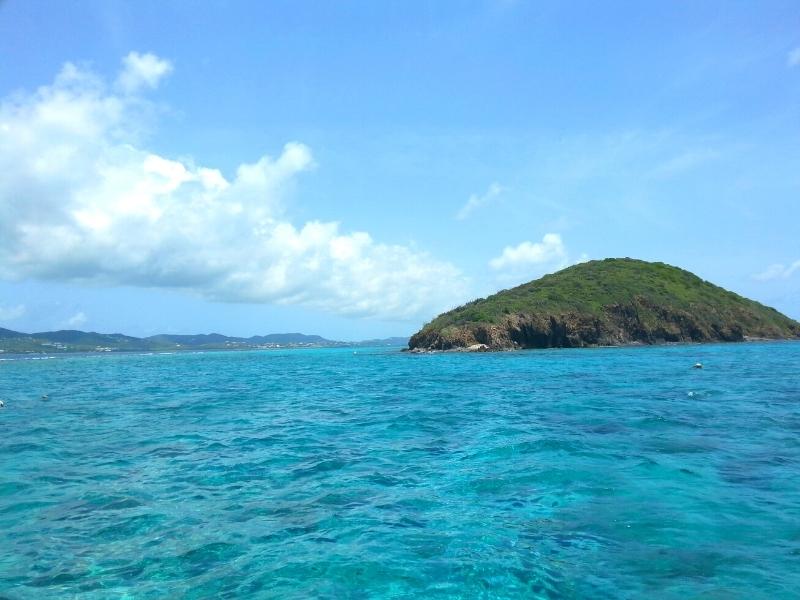 Buck Island Reef National Monument is the best spot to snorkel in St Croix, bar none, and the island is a pretty cool spot to hang out, too.
The beach is sometimes referred to as Turtle Beach, thanks to the many types of sea turtles that nest here. However, several animals call the island home, the most common being sea birds of all shapes and sizes.
Gorgeous white sand beaches are perfect for sunbathing in between hiking the island and snorkeling the reef just offshore. The island is mostly forested, so a shady spot is easy to find next to the beach.
Picnic areas with charcoal grills and pit toilets are available at both the West Beach area and Diedrich's Point. There is no water source, though, so bring plenty of drinking water for the day.
Buck Island is an easy day trip with a concessionaire from Christiansted, or get a permit from the National Park Service and bring your own boat!
Protestant Cay
Amenities: umbrella/chair rentals, restroom
You can see this tiny island from the dock in Christiansted. A $5 ferry ride will put you on the beach, and you can pass the day sunbathing or snorkeling on the wide, sandy beach.
This is a popular beach, but it's somewhat less busy than the other resort beaches because you have to take a ferry.
Protestant Cay is home to Hotel on the Cay, a St Croix resort. The hotel is happy to rent beach chairs and umbrellas to visitors as well as hotel guests.
The hotel bar is always an option for drinks, and Rolling Smoke on the Cay serves up delicious BBQ from 11AM to 6PM daily, or until the food runs out!
---
---
Buccaneer Beaches: Mermaid Beach, Grotto Beach, & Whistle Beach
Access: parking, hotel, walking
Amenities: varies by beach
Just east of Christiansted, The Buccaneer Beach & Golf Resort abuts three beautiful north shore beaches on St Croix: Grotto Beach, Mermaid Beach, & Whistle Beach.
Pull up to the resort's front gate and tell them you're going to the beach. They'll tell you where to park and let you through, no problem.
Because these St Croix beaches are adjacent to the resort and behind a guard gate, most other visitors miss them. These beaches are usually pretty uncrowded.
Mermaid Beach is the resort's most central and most popular beach. Palms provide shade, The Mermaid restaurant provides food, and the resort has a water sports activity center here.
Grotto Beach is another popular and easily accessible beach at Buccaneer's. It also has its own water sports center and a restaurant on the beach: Beauregard's on the Beach.
Pro Tip: Grotto Beach is labeled as Buccaneer Beach on Google Maps, so it's sometimes referred to as such, but it's the same beach.
Whistle Beach is the secluded gem that most people miss. There are no amenities or facilities here, and you have to walk over the hill, around the golf course to get to it, which is why it's so empty most of the time. But those that put in the effort are rewarded with a mostly private beach.
Shoys Beach
A peaceful beach away from the crowds, Shoys Beach is a St Croix hidden gem.
Soft sand and a wide beach with a few shady spots make this a great option for lounging the day away. But bring everything you need, as there aren't any amenities or dining establishments on this secluded beach.
Tourists usually miss this beach because it's hidden by a gated community, right next to The Buccaneer Resort.
Right before entering the gate for The Bucaneer, turn right to the yellow gate that says "Welcome to Shoys." Pull up to the gate, and tell them you're going to the beach. They should wave you through.
This area is full of really nice, gated homes, but the beach parking lot is at the end of the road, a dirt lot away from all the houses. The beach, though, is a peaceful getaway from the crowds!
Tamarind Reef Beach
Access: parking, hotel, walking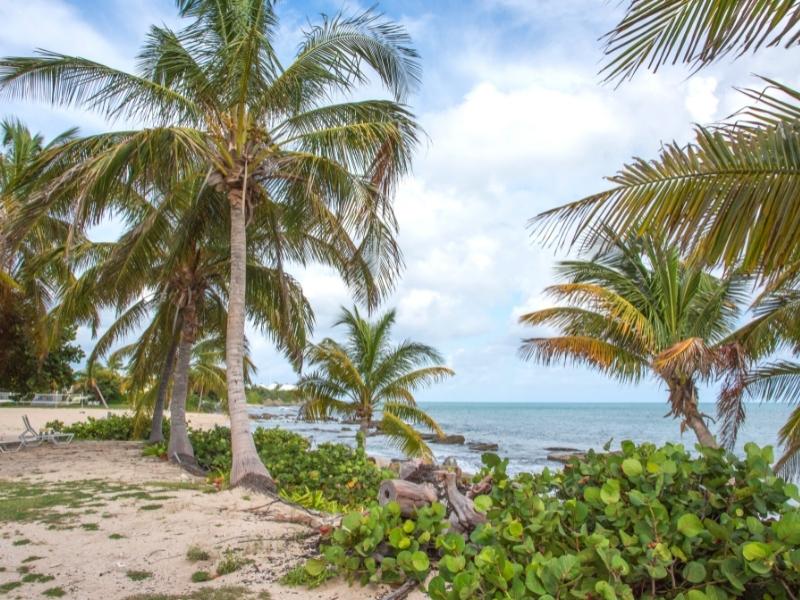 Tamarind Reef Beach is divided in two: one end is home to the Tamarind Reef Resort and the other is secluded at the end of a dirt road on the other side of the Green Cay Marina.
Both ends of the beach have excellent snorkeling, when it's not too windy to go out. The rocky shore and nearby reef provide perfect habitat for a variety of marine animals. Bring your water shoes!
The resort end of the beach has resort amenities: a restaurant, hammocks, beach chairs, etc. Park at the resort and enjoy a relaxed and uncrowded day.
The eastern end, however, has no facilities or amenities but you'll likely have it almost, if not entirely, to yourself. Another St Croix hidden gem!
It's accessed from a dirt side road, a short way past the entrance to the Tamarind Reef Resort. Recommend a higher clearance vehicle for this access road.
---
East End St Croix Beaches – Escape the Crowds
The St Croix East End beaches are all uncrowded and peaceful, and most have no amenities or food. Don't let that bother you though. These are the best beaches in St Croix for escaping the crowds!
Some require a short hike, but having a beach to yourself for the day is worth it!
Others are local favorites that can get crowded on weekends, but are usually wide open during the week.
Isaac Bay & Jack Bay Beaches
The least crowded beaches on St Croix! Isaac Bay and Jack Bay Beaches are on the farthest east end of St Croix.
Point Udall is the easternmost point of the US territories, so most often people come here in the mornings for bragging rights of seeing the first sunrise on US soil. Then they leave.
The secret is to come here during the day, park the car, and walk over to the hidden beaches.
>> Check out our tips for visiting St Croix for leaving your car to go to the beach. <<
Follow the path around the hillside. You're not aiming for the beach you can see from the road. It gets a little too wind battered and the currents are too strong to be much fun.
You're walking around the headland and over to Isaac Bay, a protected bay perfect for snorkeling, just around the corner.
That first view is a beauty, and there's a good chance you'll have this beach to yourself!
Keep walking down the Isaac Bay Beach and follow the path that continues on the far end of the beach. This will take you to Jack's Bay Beach, another secluded beach perfect for a day away from the crowds.
Both spots have sandy white beaches, sandy bays, and sea grass to provide great snorkeling opportunities.
Isaac Bay and Jack's Bay are both shallow and sandy enough that they're a good spot for beginner snorkelers to learn and get comfortable in the water.
Divi Beach
Divi Beach is named for the Divi Carina Bay Resort & Casino on its shores. The resort is one of the best in St Croix, and it provides every amenity you could think of for Divi Beach.
Unlike most hotels on St Croix, Divi has an all-inclusive option so they have multiple restaurants on site. The beach also offers rentals for watersports, chairs, umbrellas, you name it.
This beach isn't wide or narrow; it's somewhere in between. It's mostly sandy and enjoys calm waters and decent snorkeling.
Cramer Park Beach
Amenities: restroom, picnic tables/grills
Beautiful, wide sandy and rocky beach with plenty of shade! Cramer Park Beach is what you'd expect out of a private beach. It's clean, it's well-maintained, and there's hardly anyone here to mess with your zen.
Half of the beach is soft sand and the other half is the rocky coral outcropping typical of many St Croix beaches. Good views of Buck Island on the horizon to the northwest!
The favorite local beach on the east end of St Croix, Cramer Park Beach gets busy on weekends and holidays but is secluded and peaceful during the week.
This beach has a surprising number of amenities for how far it is from Christiansted. Picnic tables and restrooms are both available.
St Croix's Beaches are great, but what else is there to do in St Croix?
Happy travels!
Share it!