Finding restaurants on the Road to Hana is challenging. Places to eat are few and far between, and you could accidentally drive right past your only option for the next 10 miles if you don't know where to look. We've compiled a list of the best places to find food along the Road to Hana, so you can plan ahead for a stress-free trip!
---
This post may contain affiliate links. As an Amazon Associate and associate of other programs, I earn from qualifying purchases. This means if you click a link and make a purchase, I may earn a small commission at no extra cost to you.
---
Where are the Best Restaurants on the Road to Hana?
Fair warning: the restaurants on the Road to Hana are spread out.
There are 3 main places you'll find food options on the Road to Hana. We'll look at all three in-depth.
Halfway to Hana stop
Nahiku Marketplace
Hana
A few notable mentions, like Coconut Glen's, are on their own, not by anything else, and there's always a local or two selling something out of their truck that day.
But, if you're looking for a substantial meal, you'll need to plan your food stops ahead of time.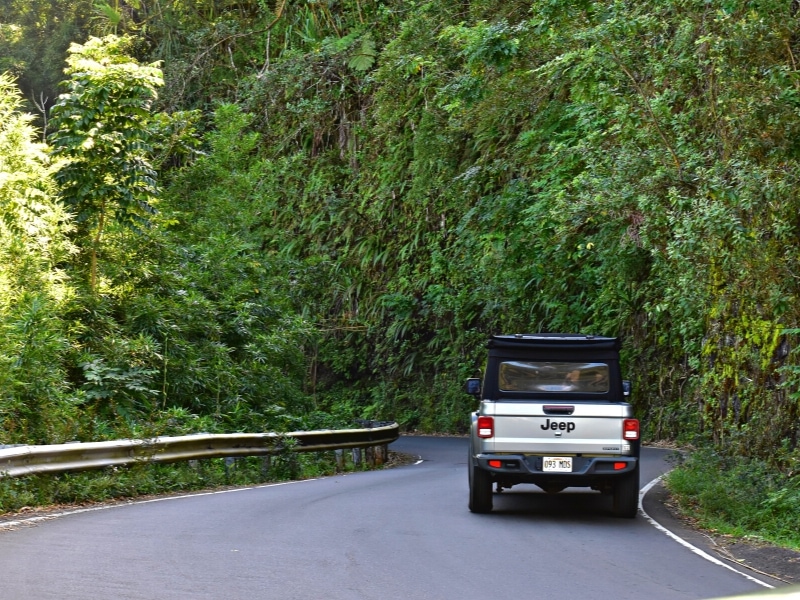 How Long Does It Take to Find Places to Eat on the Road to Hana?
Where you stop for lunch depends on how early you start your drive and how often you stop to take in the sights.
The drive between Paia and Hana is 44 miles and takes about 2 hours, if you don't stop to see anything else along the way, which you should and most likely will.
Once you leave Paia, the typical start to the Road to Hana, you won't find another restaurant until the Keanae Peninsula and the Halfway to Hana shop, about an hour down the road (again, with no stops).
Sure, there are restaurants closer to Paia on the Road to Hana, but they don't do you any good as a lunch option since you'll be well past this area by lunchtime.
Continuing down Hana Highway, your next stop for food is the Nahiku Marketplace, about 30 minutes away.
From there, you're only a 10-minute drive from Hana and its restaurants.
---
---
Where to Stop for Lunch on the Road to Hana
There's a lot to see in that first-half stretch of the Road to Hana, so stopping at Halfway to Hana (a store, not just the midpoint on your drive) is an option for lunch.
We highly recommend a short detour down to the Keanae Peninsula first for a quick stop at Aunt Sandy's Famous Banana Bread.
If this is still too early for lunch, push on to Nahiku Marketplace.
But keep in mind there are several more tempting places to stop on the Road to Hana before you'll reach Nahiku Marketplace.
It's only a 30-minute drive, but you could easily spend another couple of hours at sights along the way.
If most of the Road to Hana stops you have planned are at the far end of the highway, like Waianapanapa State Park and Haleakala National Park, then eating lunch in Hana is reasonable, time-wise.
We have a lot of tips for driving the Road to Hana, but here are a couple that apply directly to eating.
>> Bring snacks and drinks in the car as a backup.
You'll need something to munch on after your third waterfall hike before you can find a roadside fruit stand for a drink and snack.
>> Bring cash. Smaller bills are best.
Most of the places to eat on the Road to Hana are cash-only businesses, like fruit stands, food trucks, or the farmer's market.
They're also some of the most reasonably priced places to eat on Maui, so you won't need big denominations to pay for lunch.
Places to Eat that are Purposefully Missing from This List
There are a few glaring omissions from this list of places to eat on the Road to Hana, but there's a reason for that.
We don't consider eating in Paia or Kula to be eating along the Road to Hana. These are towns at the beginning/end of the drive.
You might grab a coffee in the morning in either town, but you won't be anywhere near there for lunch.
That means places like Paia Fish Market and Mama's Fish House are not realistic options for lunch on your Road to Hana day trip.
We also do not recommend you make dinner reservations for the evening you do the Road to Hana.
You won't be dressed appropriately, you'll be tired by the end of the day, and you'll be rushed on the Road to Hana.
Don't make dinner reservations at Mama's Fish House for the evening of your Road to Hana adventure! Enjoy that another night!
Road to Hana Restaurants Along the Route
We're using the word restaurant here to mean anywhere you can get food. Most of the places to eat along the Road to Hana are food trucks or outdoor stalls.
None of these establishments have indoor seating. You'll have to get to Hana before you'll find a restaurant with indoor seating.
Aunt Sandy's Banana Bread
A short 5-10 minute detour off of the Hana Highway and onto the Keanae Peninsula brings you to Aunt Sandy's.
The banana bread is the main attraction, but you'll see some cool, waves-crashing-on-the-rocks coastal views on the way down there.
Aunt Sandy's also serves small lunch bites depending what they have in stock that day, like kalua pork sandwiches.
This banana bread is gluten-, dairy-, and nut-free, and it's DELICIOUS.
I don't know how they make it so tasty without milk or wheat flour, but they do!
Halfway to Hana Market
Aside from Aunt Sandy's, the Halfway to Hana market is usually your first stop for food on the Road to Hana.
The store is more like a small convenience stop; although, there are no restrooms here.
You can get banana bread here, too, if you didn't take the time to go see Aunt Sandy's or you want to compare (strongly encouraged!).
Shaved ice and banana bread are typical purchases, but they also have simple sandwiches, candy, and drinks.
Hana Harvest Cafe
Another quick stop for drinks or small bites, Hana Harvest has a real parking lot, a small one-room store in addition to its food truck, and a small, covered seating area.
Take a minute to enjoy being out of the car with a refreshing fruit drink or smoothie.
The shop also sells locally-made sauces, souvenirs, and pre-made sandwiches.
Wifi and an information board help you plot out the rest of your day's adventure. Bathrooms are port-a-potties in the back.
Coconut Glen's Ice Cream
A popular stop on the Road to Hana, Coconut Glen's serves up small-batch, vegan ice cream (that means dairy-free) from their awesome yellow ice cream van.
They always have several flavors to choose from, including local flavors like macadamia nut, but stop here earlier than later to make sure your favorite flavor doesn't sell out.
Plenty of parking, seating, and friendly cats to watch while you enjoy your ice cream!
Nahiku Marketplace
Nahiku Marketplace is a grouping of outdoor food stalls, some regular vendors and some for locals.
Vendors rotate in and out, but you can usually find good BBQ, fish tacos, and coffee or coconut drinks at various stalls here, as well as a gift shop.
Good to Know: Nahiku Marketplace is NOT down Nahiku Road and not in the town of Nahiku. Stay on Hana Highway, pass Nahiku Road, and the market will be on the left in a few miles.
We had read up about this spot before coming to Maui and had a few places in mind that we wanted to try, like Up in Smoke BBQ and Jen's Thai Food.
Neither were here or open when we arrived. We were pretty bummed and kept driving to Hana Farms instead.
Also important: no bathrooms here.
Places to Eat in Hana and near Hana Beaches
If you make it all the way to Hana before eating, you'll find the most food options of anywhere else on the Road to Hana, besides the beginning in Paia.
The only honest-to-goodness restaurants on the Road to Hana are in Hana town, but the food trucks in Hana are just as tasty, if less formal.
Hana Farms
About 5 minutes before you get to the town itself, Hana Farms is a popular stop for pizza.
The Hana Farms Store sells all sorts of locally-made products, like Hawaiian hot sauces, ginger chews, art prints, and, of course, banana bread.
There's plenty of parking here, as well as covered outdoor seating at the restaurant and real bathrooms.
Thai Food by Pranee
A block off of the Road to Hana, near Hana Bay Beach Park, you'll find Thai Food by Pranee.
This food stop gets BUSY for lunch, but it's worth the wait.
Authentic Thai food with spice levels that match, so watch out!
Drunken noodles seem to be the favorite dish, but we never turn down curry, either.
Plenty of parking nearby and outdoor seating.
Food Trucks featuring Ae's Thai Kitchen
Ae's is another Thai food truck, but this one is tucked into a small food truck area off of the Road to Hana, just before the Hana gas station.
Ae's dishes are big and a bit on the pricey side but could feed two adults if you were in the mood to share.
Parking can be difficult at busy eating times as Ae's isn't the only food truck here.
Good to Know: The Surfing Burro used to be here, too, but is listed as closed permanently as of January 2023.
Hana Ranch Restaurant
The most well-known restaurant in Hana is the Hana Ranch Restaurant, offering indoor/outdoor seating and ocean views from the terrace.
The wall of ukeleles is cool, too!
This restaurant is actually owned by the Hyatt resort but prioritizes locally-grown ingredients. Most of the food is American cuisine with a slight tropical twist.
Hana Ranch is sometimes the only food option available on a Sunday night or a holiday, as most of the food trucks will shut down early.
More Food Trucks featuring Da Fish Shack and Troy's Plate Lunch
A little further down Hana Highway is yet another group of food trucks. This one is home to both Da Fish Shack and Troy's Plate Lunch.
Da Fish Shack sells, you guessed it, fish in many forms. The most popular entrée is the fish and chips.
Troy's Plate Lunch sells Hawaiian lunch plates: meat, white sticky rice, and macaroni salad. They have other options, too, like shrimp tacos and burgers.
Get here early to avoid your preferred meal being sold out. Troy's is only open on Wednesdays and Thursdays.
Braddah Hutts BBQ Grill
As you drive further south out of Hana town you'll find Braddah Hutts BBQ, in the trees on the left side of the road.
This is the place if you've been craving BBQ ribs! They also have delicious kalua pork, chicken, and shrimp options.
You'll get a lot of food here, so be prepared.
Braddah Hutts is only open for lunch.
Huli Huli Chicken at Koki Beach
No Road to Hana restaurant list would be complete without mentioning Huli Huli Chicken at Koki Beach.
Traditional Hawaiian lunch at its finest: huli huli chicken, white sticky rice, and macaroni salad. If you don't want chicken, they also have ribs and kalua pork.
Gordon Ramsay has stopped by here before and apparently approved, so it's on everyone's radar now.
Lines get long and chicken sells out, so get here early!
Gorgeous setting to enjoy lunch, too.
---
---
Find Your New Favorite Restaurants on the Road to Hana!
Now you know where to find the best restaurants on the Road to Hana, and you don't have to worry about going hungry after all that waterfall chasing!
We still recommend you keep snacks and drinks in the car, just in case of a traffic backup or other unforeseen circumstance.
But you'll find plenty of places to eat on the second half of the Road to Hana.
Don't worry about stopping 3 or 4 times for banana bread; that's normal!
Here are some more resources to help you plan an unforgettable trip to Hawaii!
More Hawaii Travel Resources
Happy travels!
Share it!