Visiting Hawaii for the first time is an unforgettable experience!
A tropical paradise in the middle of the Pacific Ocean, first time visitors to Oahu will fall in love with the unrivaled sunsets, the turquoise blue waters, and the relaxed aloha Hawaiian vibe.
The Hawaii life is amazing, but it can be overwhelming to plan your first trip.
These must-know Oahu travel tips will prepare you before you even leave home, to save you money and help you enjoy a stress-free first visit to Hawaii!
---
This post may contain affiliate links. As an Amazon Associate and associate of other programs, I earn from qualifying purchases. This means if you click a link and make a purchase, I may earn a small commission at no extra cost to you.
---
First Things First: Where is Oahu?
Important note: Oahu is an island, not a city or neighborhood or beach. When planning a trip to Hawaii the first decision is which island to visit.
Spoiler: there's no wrong choice here. All of them are beautiful.
Oahu is the most traveled to island of the Hawaiian Islands, and is home to the city of Honolulu, the capital of the state of Hawaii.
Oahu sees 4.7 MILLION visitors per year. That's twice as many visitors per year as the second most popular Hawaiian island (Maui).
How to Get to Oahu
The answer is: fly into Honolulu International Airport. That's the best option for exploring Oahu in depth.
For those of you with an overwhelming fear of flying and looking for alternative ways to get here, commercial cruises from the mainland to Hawaii do exist. However, they also usually require more than a week away.
Cruises also island hop around the Hawaiian Islands, so you get only one day per island. Choose your excursions carefully! Anything you miss, you'll have to come back via airplane to explore more thoroughly.
To get the full experience of Oahu, we recommend flying.
Yes, it's a semi-long flight, but I can't think of a better way to recuperate from the stress of a long flight than to relax on a beautiful, sunny beach for a week. Just sayin'. 😉
Why Choose Oahu?
Most people default to Oahu for their first Hawaii visit because they recognize the names of several major attractions: Waikiki, Honolulu, Pearl Harbor, the North Shore, and Diamond Head, to name a few.
Oahu is very tourist-centered. Hotels and resorts cater to everything from budget to luxury.
Historic and cultural sites draw just as many visitors from around the world as the beautiful beaches and tropical climate.
You will never be bored when visiting Oahu. There is always something to do, day or night.
10 Important Travel Tips to Know Before You Go to Oahu
So, you've decided to visit Oahu! Good choice! Now, let's go over some crucial tips and advice to know before you go.
These Oahu travel tips will help you plan sightseeing activities and set realistic expectations, taking the stress out of your vacation because you were prepared ahead of time.
Also note that several of these also apply as travel tips for Hawaii in general. Oahu has the most cosmopolitan area of the Hawaiian Islands, but food will always be expensive on islands and the reef-safe sunscreen and turtle laws apply to the entire state.
1. Food is expensive
As expected for any island, food is expensive. But this is also tied to where you are looking for food.
There's an above-average likelihood that your hotel will be in the Waikiki area, just east of downtown Honolulu. Waikiki is tourist-central and EVERYTHING there is more expensive than anywhere else on the island.
Save some money and seek out local restaurants away from the tourist center. Bonus: you're supporting the locals instead of big chain restaurants or resorts.
Out on the North Shore, stop at the food trucks. Ask your hotel concierge or front desk what local restaurants they recommend.
We did that and discovered a small restaurant in Honolulu serving traditional Hawaiian food. You won't find anything like that in Waikiki.
2. Traffic can be Awful
An important but often overlooked concern: Honolulu traffic is heavy and slow during rush hour. This isn't the worst traffic in the entire world, but it's still a case of too many cars with not enough space.
Why does this matter?
Example: Waikiki and Pearl Harbor National Memorial are only 11 miles apart. During off-peak times this drive only takes about 20 minutes. During morning or afternoon rush hours, this drive takes 45 minutes to an hour.
This is an important fact to consider when planning your sightseeing itinerary, particularly if you're wingin' it.
Our Hawaii adventure was booked very last minute, so we had no activities booked. In order for us to stand a chance of getting on a ferry to see the USS Arizona at the Pearl Harbor National Memorial Site, we had to be there as soon as they opened to get in the standby line.
To do that, we had to take a taxi across town in the middle of morning rush hour. Based on our experience, leave 20 minutes earlier than you think you need to leave.
3. Bring cash for taxis
This seems like a generic travel tip, but hear me out.
We hate carrying cash. Of course, we keep some on us for emergencies, but prefer to use our credit cards for everything. (Give me those rewards points!) Usually, $100 is more than enough to cover the rare occasions we can't pay with a credit card.
In Oahu, every taxi we took preferred cash. This isn't a huge surprise by itself. But in Honolulu, the drivers were much more insistent about it than anywhere else we've been in the US.
Typical taxi drivers will ask for cash first and then quickly pull out their card reader, take your credit card payment, and get you out of their car so they can pick up a new fare. In Honolulu, they would borderline argue with you for cash.
Usually if a driver makes a point to ask for cash twice, we try to accommodate that. The problem we ran into in Hawaii was the fares were high, because you sit in traffic while the meter is running (see tip #2), and then you run out of cash quickly.
And of course, they don't have our bank in Hawaii, so we paid ATM fees every time we had to take out cash.
We've done this before on many vacations (it's actually one of our best money-saving travel hacks for Europe), but we always made a point to do it only once per currency needed, to keep those ATM fees to a minimum.
Over 5 days in Oahu we spent about $300 on taxis and ubers. This covered unavoidable (in our case) airport transfers during rush hour, a long-ish ride out and back from Pearl Harbor National Memorial, a pair of short rides to and from the marina, and a few dinner outings that were too far to walk.
Note: we walked everywhere we could and taking taxis/ubers was still MUCH cheaper than trying to rent a car in 2021.
4. But taxis will begrudgingly take a credit card, for a fee
It's important to understand there's a fee associated with accepting credit cards, whether that's a store or a taxi, because they have to use a payment portal.
Some companies will include those fees in their fares. They're usually small fees, a few cents or a dollar at most.
Taxis in Hawaii use meters, and that's what you'll pay in cash. If you have to pay with credit card, the taxis can take credit cards. Most taxi companies just add the payment portal fee on top of the metered fare.
We paid for a taxi with credit card on our last night in Oahu. The driver took the credit card, had to dig around for his card reader for a minute, and then made sure we understood there was an additional $1.25 fee on top of our metered fare before swiping our card. No problem.
5. There's so much more to Oahu than Waikiki
This is a commonly known fact now, but I'm gonna repeat it again for the people in the back.
WAIKIKI IS NOT THE REAL HAWAII.
Don't get me wrong, Waikiki has many attractive qualities: hotels with amazing views, easy access to beautiful beaches, high-end shopping. But that is not the real Hawaii.
You have to get out of the Waikiki neighborhood before you can really say you've been to Hawaii. The rest of Oahu has amazing hikes, beaches, and historical sites.
The Hawaiian Islands were ruled by native Hawaiians and Hawaiian royalty until the very end of the 19th century. Iolani Palace in downtown Honolulu is the only royal palace on US soil. Remember that Hawaii was its own kingdom before the Europeans and Americans showed up.
Hiking trails cover everything from mountaintop ridges to secret waterfalls to extinct volcano craters.
Pro Tip: Diamond Head is a volcano crater and within walking distance from Waikiki.
The North Shore of Oahu is world famous for its surfing. The Polynesian Cultural Center preserves and shares the native Hawaiian culture, and you can experience a piece of it through a luau and evening show.
Get out of Waikiki, whether by yourself or with a tour. You won't be disappointed.
6. The North Shore has no waves in the summer
This tip is going to save some of you some serious heartbreak.
A lot of people know about the North Shore: one of the world's premiere surfing locations with waves so big a train could drive through them. Pipeline Beach is recognizable even to non-surfers.
But that's in the winter.
In the summer, the north shore of Oahu is like any other beach town. Beautiful, but not a surfing mecca.
Don't be the tourist that shows up and gives Pipeline Beach a one star review because you didn't see any waves in the middle of July. The locals will roll their eyes at you.
If you want to see the enormous waves, plan your trip for the winter. Keep in mind the average temperatures in Oahu in the winter are highs of 79°F (26°C) and lows of 64°F (18°C).
You'll still enjoy warm weather for all the other outdoor activities, and you'll get those jaw-dropping photos of enormous waves.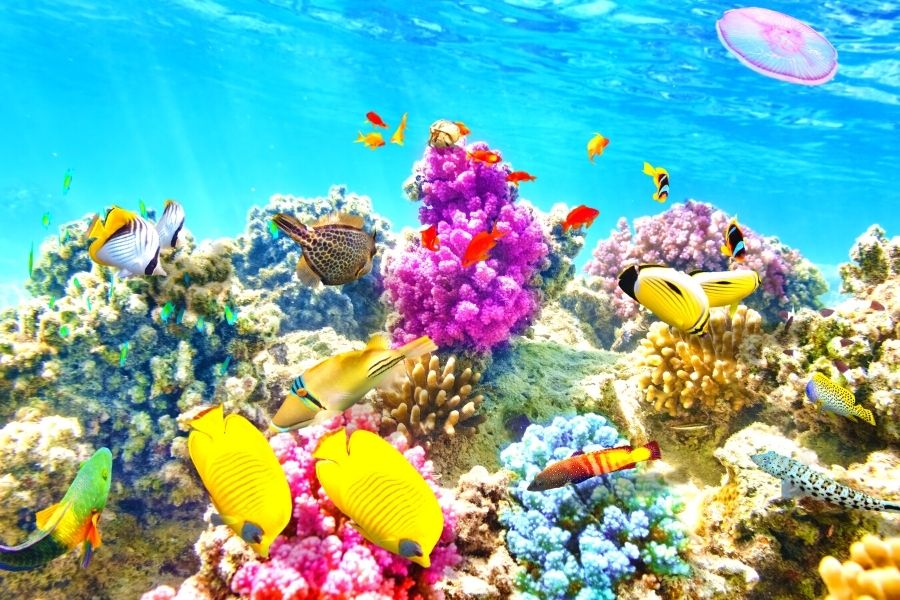 7. Bring (a lot of) reef-safe sunscreen
This travel tip will save you money! Hawaii has laws to protect the ocean life and reefs surrounding all the Hawaiian Islands.
This means it's illegal to use certain types of sunscreens that contain chemicals that harm the reefs. Any product that uses oxybenzone or octinoxate is banned in Hawaii.
All the stores in Oahu sell only reef-safe, Hawaii approved sunscreens. But remember, commercial products are always expensive on an island. Buy reef-safe sunscreen before you leave home.
Bring more than you think you'll need as well. Hawaii is sunny, the heat is intense, and you spend most of your time outside. You'll need to reapply sunscreen several times throughout the day.
Bring more than you need and avoid having to buy a more expensive version from a Hawaiian convenience store when you run out halfway through your week-long vacation.
8. Make reservations for everything as far in advance as you can.
Oahu is busy all year round. The tropical climate means tourists never really stop coming. Popular restaurants, experiences, and excursions will sell out several weeks, or even months, ahead of time.
Pro Tip: It is possible to take a last-minute trip to Hawaii, but just be realistic about what that means for availability of tours and restaurants. Flexibility is key for a last-minute adventure.
Attractions like Duke's Waikiki restaurant on the beach and the luau package at the Polynesian Cultural Center are next to impossible to get reservations last-minute. The most popular PCC Alii Luau package sells out 2-3 months ahead of time.
Turtle snorkeling tours can be booked pretty much anytime, even up to the morning of, because there are so many of them, but it is always easier and less-stressful if you book it ahead.
If you'd rather get a recommendation instead of researching an excursion online, contact your hotel's concierge prior to your trip and they will book for you.
Note, though, the hotel concierge desks get paid to refer to specific companies they have partnered with, not necessarily a better option than what you could find online.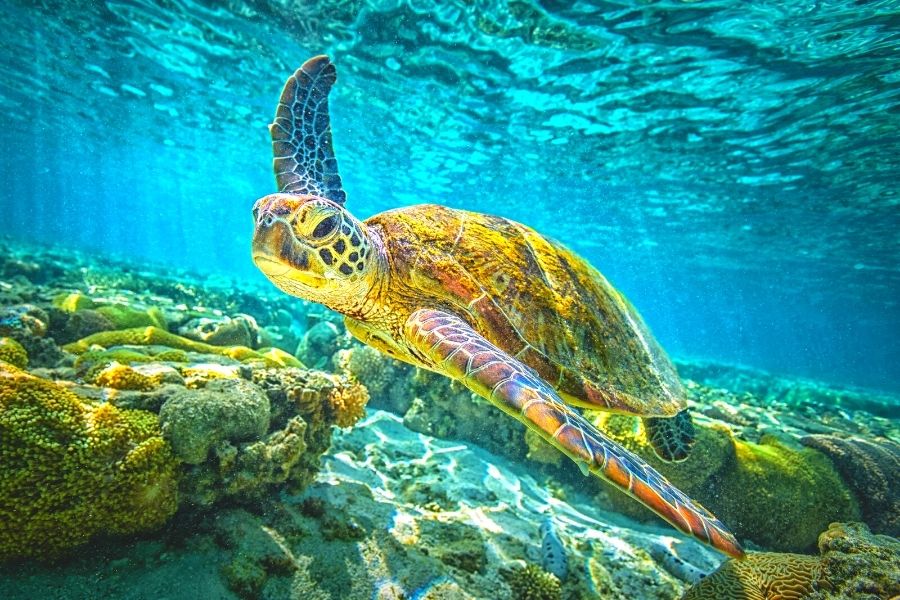 9. Don't touch the sea turtles.
Another Hawaii law to be aware of: it's illegal to touch sea turtles. They are serious about it, too.
Every snorkeling tour that has potential for interaction with turtles will include a safety briefing about not touching the turtles and giving them enough space to surface so they can breathe.
Even if you accidentally touch a turtle, you can still be reported, so don't try to play the "I'm not touching you" game with a sea turtle.
10. Respect "No Trespassing" Signs
Much of the island of Oahu is open and accessible to the public. All beaches are public access; there's no such thing as a private beach here, unless it's a federal government site like the military bases.
Occasionally, however, you will come across a sign that says "Kapu". This means forbidden in the Hawaiian language, equivalent to a "No Trespassing" sign. Please respect these signs.
You'll generally come across a "kapu" sign in an area of significance to traditional Hawaiian culture. Here's one near the Iolani Palace complex.
---
Keep these 10 Oahu travel tips in mind, and you'll be stress-free and relaxed for your first trip to Hawaii!
Don't miss these awesome things to do in Oahu!
More Hawaii Travel Resources
Happy travels!
Share it!