Deciding on the best time to visit Charleston, SC is the crucial first step in planning your amazing Charleston vacation. Lucky for you, there's never a bad time to visit Charleston! But that doesn't help you decide when's the best time for you.
So, let's review all four seasons in Charleston and what to expect in each, so you can make an informed decision for when's the best time to visit Charleston for you!
---
This post may contain affiliate links. As an Amazon Associate and associate of other programs, I earn from qualifying purchases. This means if you click a link and make a purchase, I may earn a small commission at no extra cost to you.
---
Visiting Charleston, SC: When's the Best Time to Go?
Charleston is South Carolina's charming, historical, oceanfront powerhouse. The city was founded in the early 1600's when the Carolina colony was first established, and Charleston quickly grew into the South's most important port city.
Today, it's still an important port city, but it's also become one of the United States' top vacation destinations. Travel + Leisure ranked Charleston the USA's #1 City and travel destination for 9 years in a row!
There's so much to see and do and eat here that it appeals to pretty much everyone. Charleston can accommodate solo travelers, couples, or even the whole family.
So, when's the best time to go to Charleston? Is there a best time of year to visit Charleston?
Answer: when to go depends on what you want to see the most.
There is no bad time to visit Charleston; each season has its own events and attractions.
---
No time to read now? Grab the FREE Cheat Sheet for later!
When is high season, shoulder season, and low season in Charleston?
High Season
There are actually TWO "high seasons" in Charleston: March through May and again in September through November.
The first encompasses Easter, azalea blooms, and spring break.
The second is everyone that wants a warm beach vacation without experiencing the intense Southern summers. Don't be fooled by the time of year; fall is not crisp, cool weather in Charleston.
Shoulder Season
Shoulder season is June through August for Charleston. Not typical shoulder season months. In Charleston's case, it's because of the summer heat.
Southern summers are famously hot and humid. I know many a Midwesterner that claims their summers get just as hot, but that's missing the point.
The temperatures may be similar for a few months, but the duration and accompanying humidity in the South makes everything worse. Trust me, I've lived in both regions for over a decade each: Southern summers are worse.
Luckily for Charleston, the city is situated on the coast and enjoys cooling ocean breezes to help alleviate the heat and humidity.
It still gets obnoxiously hot and humid; just not as bad as inland cities with no breezes.
Least Crowded Season
December through February sees the fewest tourists, but I hesitate to call it a low season.
Several large festivals are held during this time, and snowbirds flock to the monthly rentals on Kiawah and Seabrook Islands.
Hurricane Season in Charleston
Another important season to consider when planning a trip to Charleston: Hurricane Season.
June 1 through November 30 is the official time frame for hurricane season in the Atlantic Ocean, Caribbean Sea, and Gulf of Mexico.
In reality, hurricanes rarely hit in the early or later months of the official hurricane season, and Charleston is geographically less likely to experience hurricanes anyway.
And when they do show up, the city usually gets more warning than a day or two, so you'll have time to reschedule your travel.
While hurricane season is something to consider, I wouldn't avoid it like the plague. It's just not as common a problem here as it is in someplace like Florida or the Gulf Coast states.
Spring in Charleston: March, April, May
Charleston's first high season is spring, and for good reason.
>>Easter
One of Charleston's nicknames is the Holy City, thanks to its overzealousness with building churches over the centuries. Partner that with the warmer weather and possibility of blooming flowers, and Easter week becomes one of the busiest and most expensive times to visit Charleston.
If crowds aren't your thing, then skip this week and come the week before or after.
>>Azalea Season
Azaleas are a big deal in Charleston. Found in every single yard and adorning everything from neighborhood entrances to business parking lots, azaleas are everywhere.
The end of March and beginning of April is mega-bloom time. Dates vary from year to year, but this is always one of the best times to visit Charleston.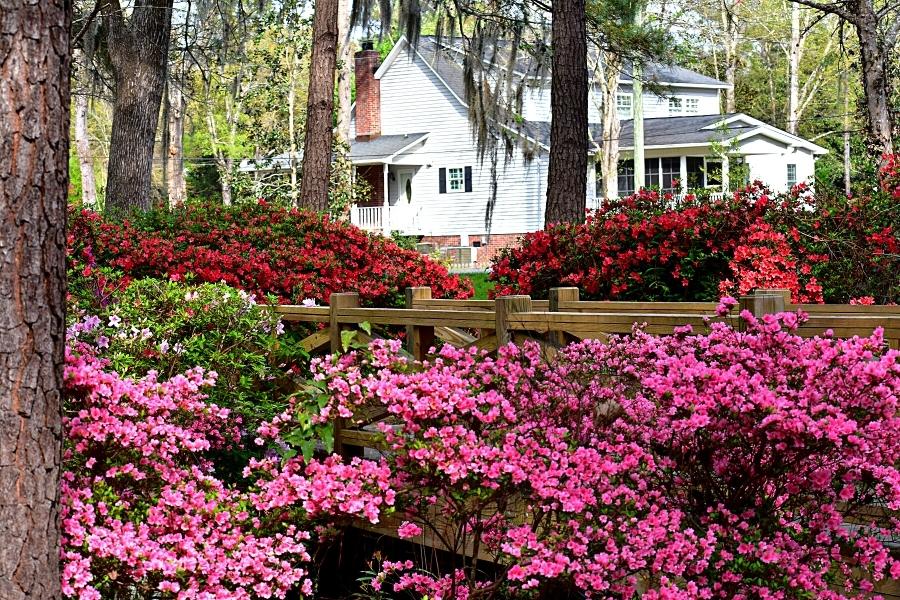 The city and surrounding area bursts into bloom. Landscaping turns pink, white, and purple, and there is no escaping it…for about two weeks.
Then, the azaleas are all gone, and we're left with boring green bushes. But don't worry, the rest of the flowers stay in bloom for much longer!
It's a gorgeous time to visit and a photographer's dream, if you catch peak bloom. The Ashley River Plantations are especially magical to visit during this time.
>>Beaches
Spring also sees the Charleston beaches beginning to wake up. The water is still kind of cold, but warm days make it possible to relax on the beach without a jacket.
Spring breakers (though not as bad as Florida beaches), bachelorette parties, and girls' trips all start to show up regularly.
Fair Warning: May is technically spring, but in Charleston it feels more like summer.
Notable Events

in Spring
Festival of Houses and Gardens in March/April
Cooper River Bridge Run in April
Spoleto Festival in May/June
---
Summer in Charleston: June, July, August
This is the South, and it gets hot and humid in the summer. It's unavoidable. But if you can handle the heat, then your reward is shoulder season prices and somewhat smaller crowds.
>>Summer Temperatures
Expect highs in the low 90's °F and lows never leaving the mid-to-high 70's °F at night.
Avoid going outside in the middle part of the day when it's hottest. Instead, go explore one of the many indoor activities Charleston has to offer.
June 1 is the official beginning of hurricane season, but don't let that get you down. Hurricanes rarely show up in Charleston in June; they are most active in August.
Pro Tip: I wouldn't not go to Charleston because it's hurricane season, but I would get travel insurance in case you need to reschedule.
The days preceding a storm can actually be some of the best days for waves if you're a boogie boarder, and storm clouds are what add that gorgeous deep purple coloring to sunsets.
>>Sea Turtle Nesting & Hatchlings
Loggerhead sea turtles return to Charleston's beaches every summer to lay their eggs. Hatchlings start to poke their little heads out of the sand in July.
Note that it is illegal to touch or disturb a sea turtle or its nest!
Beware when walking on the beaches in the evenings. Flashlights confuse turtles and discourage them from laying eggs.
Visit Edisto Beach State Park and attend a night walk with a ranger to see the sea turtles and learn more about them.
>>Beaches
In summer, the beaches are booming, and beach parking will be at its most expensive and hardest to find, particularly on the weekends.
Charleston has 5 major beaches, none of which are on the downtown peninsula, by the way.
Isle of Palms and Folly Beach are the two most popular beaches, and both have piers as well.
**Note the Folly Beach Pier is being reconstructed. The new pier is scheduled to open in Spring 2023.**
>>Fireworks
Watch fireworks everywhere!
Joe Riley Stadium on the Ashley River side of the downtown peninsula is home to Charleston's minor league baseball team, the RiverDogs. You can count on them for a fun evening out and Friday Night Fireworks, all season long.
Patriot's Point hosts the area's largest fireworks display for the official July 4th celebration.
If you watch from downtown along the waterfront, you get all the Patriot's Point fireworks but no music. It's weird, but free!
Notable Events in Summer
Spoleto Festival in May/June
July 4th at Patriot's Point
Sweetgrass Festival in July
---
Fall in Charleston: September, October, November
Charleston doesn't see a typical fall season. In fact, it rarely sees fall foliage colors until sometime in November.
You'll find pumpkin spice everything, but the weather doesn't match. No crisp, cool evenings until November-ish, and there will still likely be 70°F highs.
The residual warmth is a big reason why this is considered Charleston's second high season.
>>Bye Bye Hurricanes
Fall is the end of hurricane season. September is still very much summer weather, second only to August for hurricanes, but the pesky storms rarely affect Charleston by October and November.
>>Explore Historic Downtown
October and November weather is perfect for exploring downtown Charleston.
The cooler weather means you won't be drenched in sweat for walking a block, but it's warm enough that you won't need a jacket, either.
Stroll the Battery to see Charleston Harbor, or find the Pineapple Fountain in Waterfront Park. See Rainbow Row. Visit a historic home. Peruse the City Market. Enjoy dinner and drinks at a rooftop restaurant or bar.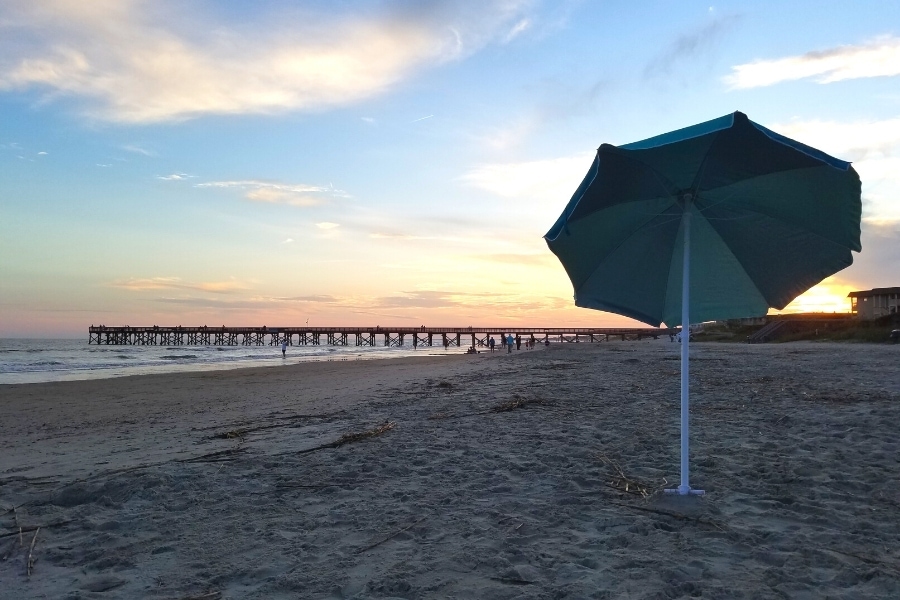 >>Beaches
Ocean temperatures are still pretty good into the beginning of October, when it starts to cool off. This is the perfect time of year to go to the beach in Charleston without the crowds.
Everyone else in the country is out leaf peeping, so the beaches have little to no crowds.
Notable Events
in Fall
Boone Hall Pumpkin Patch and Corn Maze in October
The Preservation Society of Charleston's Fall Tours & Master Series in October
---
Winter in Charleston: December, January, February
It's only fair after the extreme summers that Charleston gets mild winters. Charleston winter temperatures are so mild that a coat heavier than a fleece or hoodie is usually unnecessary.
It doesn't snow or ice here, so understand that this part of the country is ill-equipped to handle it.
If it does snow, even just a few inches, be prepared for businesses to close or modify hours and watch out for inexperienced drivers.
>>Flowers in Bloom
Flowers bloom year-round in Charleston. December and January are camellia season, a specialty at Middleton Place Plantation on the Ashley River.
Camellias are found almost as prolifically as the azaleas in the spring. Thankfully, however, camellia blooms last longer than two weeks.
Roses are also seen throughout the winter in Charleston. Stroll through roses in Hampton Park near The Citadel and downtown.
>>Beaches & Snowbirds
Empty beaches can get chilly on a windy day, and then turn around the next day and be perfect t-shirt weather.
Bonus: beach parking is free almost everywhere this time of year.
Snowbirds flock to Kiawah and Seabrook Islands for monthly rentals to escape colder climates. These private islands are their own worlds, and the beaches are completely private.
>>Holidays without the Hassle
While winter is low season, the winter holidays are by no means slow. Christmas, New Year's, and Valentine's Day are all popular times to visit Charleston.
Sometimes, you just need to escape the hassle of snow and ice and trade it in for a week in the sun with palmetto trees.
Prices will spike at each holiday, but not as bad as, say, New York City for New Year's.
Charleston is frequently rated one of the top romantic destinations in the US, and makes a great Valentine's Day weekend getaway destination. There are plenty of Romantic Things to do in Charleston for every couple.
Notable Events
in Winter
Holiday Festival of Lights at James Island County Park in December
Charleston Restaurant Week in January
Lowcountry Oyster Festival in February
---
Get the easy reference cheat sheet and decide when's the best time to visit Charleston for you!
---
When is the Best Time to Visit Charleston…?
For the Best Weather?
Spring, specifically mid-March to mid-April. Warm, but not yet hot, temperatures and fewer rainy days make this the sweet spot for weather.
December and January enjoy similar warm temperatures but experience more rainy days. Also, sometimes cold snaps come through, pulling the highs down into the upper 40's °F and low 50's °F.
For the Beaches?
If you want to get in the water, summer and early fall are good options for the beaches. Expect crowds.
If you prefer to stay on land and just need warm, sunny weather to sit and read on the beach, spring and late fall/early winter are ideal. Less people and plenty of sunshine!
For Festivals & Events?
Spring is a busy time in Charleston for festivals and events.
For the Best Prices?
Winter, excluding holidays, is considered Charleston's low season and typically has the best prices for lodging.
Staying in the downtown historic district becomes an option for those with smaller budgets, who would otherwise need to stay in nearby Mount Pleasant or possibly further out in the high seasons.
Most tours do not have seasonal pricing. If they do, it's often only a $5-$10 reduction. The only exception to this is some of the boat tours and most of the water activities, like SUP or kayaking, do not run in the winter.
Charleston businesses and restaurants are also not seasonal. A steady stream of visitors year-round means most businesses don't have to close in the low season.
---
So, When's the Best Time to Visit Charleston For You?
Now that you have an idea of what to expect in Charleston in every season, you're ready to plan your Charleston vacation!
Whether you're looking for a romantic weekend away or a fun summer adventure for the family, Charleston has something for everyone!
More Charleston area Travel Resources
Happy travels!
Share it!