Santee State Park is all about Lake Marion and enjoying the lake life! South Carolina's largest lake is home to some of the state's biggest fish.
Whether you bring your own boat or rent from the on-site concessionaire, get out on the lake and see what you can find! Swimming areas, playgrounds, and easy nature trails are great options for families. Santee State Park has something for everyone.
---
This post may contain affiliate links. As an Amazon Associate and associate of other programs, I earn from qualifying purchases. This means if you click a link and make a purchase, I may earn a small commission at no extra cost to you.
---
Top 5 Know Before you Go Tips for Santee State Park
Entry fee: $3 per adult, discounts for children and seniors, age 5 and under free (as of Jan. 2022)
Rent a cabin over the lake for a fun-filled week!
All about that lake life: boating, fishing, swimming, SUP, canoeing, or kayaking
Ten miles of hiking and biking trails
Lake Marion has catfish galore and the SC largemouth bass record holder!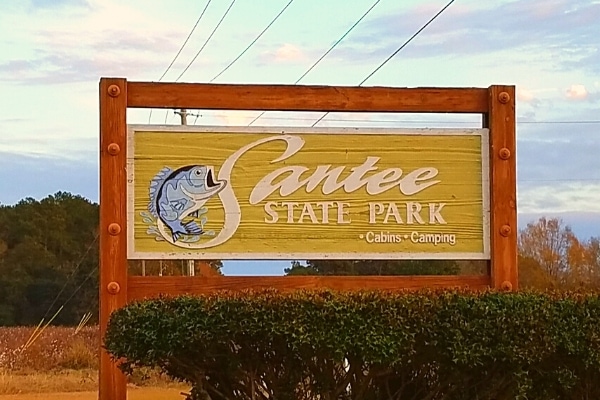 How to Get to Santee State Park
Located on the west side of Lake Marion, just north of the I-95 bridge, Santee State Park is in South Carolina's Midlands and is easily accessible from most corners of the state.
Driving
Santee State Park is equidistant between Charleston and Columbia, just over an hour's drive away from either city. The park is very close to I-95, so it's pretty easy to get here from almost any other part of the state.
Flying
Most of you reading this probably live in South Carolina and won't be interested in a flight.
But there are a few adventurers out there flying in from out of state and looking for day trips from Charleston or looking for ways to reduce the cost of a Charleston vacation. South Carolina State Parks are a great option for both of those goals.
Charleston and Columbia airports receive flights from just about anywhere in the US and some international destinations. Direct flights aren't unheard of, but more often connect through Charlotte or Atlanta first.
Renting a car and driving from either Columbia or Charleston is an hour's drive to Santee State Park. There is neither public transportation nor shuttle service that will deliver you to the park. You have to rent a car.
If you prefer flying direct and don't mind a little more drive time, the Charlotte, NC airport is a 2.5hr drive to Santee State Park.
Honestly, this works out to be about the same in total time spent traveling as opposed to flying on to Charleston/Columbia and driving an hour. You would (hopefully) have a minimum layover of 50+ minutes at whatever airport you fly through to get to Columbia or Charleston.
The only caveat with the Charlotte airport option is your return flight. If you fly in to Charlotte, drive to Santee State Park and camp for a couple days, and then continue on to Charleston for the rest of the week, you will either:
Have to drive 3 hours back to the Charlotte airport, or
Book flights home through Charleston and pay a convenience fee to return your car to the Charleston airport instead of the Charlotte airport
Smart travelers know how to weigh all their options and choose their preferred cost-to-convenience ratio. But, I digress. Back to the Santee State Park deets.
How much does it cost to visit Santee State Park?
A modest $3 entrance fee per adult helps maintain park buildings, facilities, piers, and trails.
Cabins and camping sites vary in cost. As you would expect, cabins over the lake are more expensive than cabins on land. Larger cabins = more beds = more expensive. Conventional campsites are cheaper than cabins.
Cabins range from $90 to $180 per night, depending on the season, size of cabin, and location. Campsites vary from $20 to $45 per night, again depending on season but also depending on which campground you choose.
See the Cabins and Camping sections below for more specific information.
What to Do at Santee State Park
Lake Marion is why you visit Santee State Park. Fishing and all manner of boating are the main activities at this park.
If you don't have your own canoe or kayak, rentals are available. Or better yet, book a pontoon tour of the cypress tree forest in the middle of the lake!
Boating on Lake Marion
There's no shortage of water activities at this lake: boating, canoeing, kayaking, SUP, whatever you can think of!
Take a paid pontoon tour of the cypress tree forest in the middle of the lake. The forest predates the lake.
Lake Marion is a man-made lake created in 1941 when the Santee River was dammed to generate hydroelectric power. When the water came in, the cypress trees just kept right on with their lives, thriving in their saturated environment.
Fishing
The South Carolina largemouth bass state-record holder was caught in Lake Marion. This is South Carolina's biggest lake, and its known for housing big fish!
Conditions also happen to be the perfect home for catfish, as well as several other species of fish.
If fishing is your goal, this park will deliver!
Cabins
Santee State Park features 10 pier cabins, located on a pier over the lake for unrivaled views! An additional 20 more land-based cabins line the shore nearby. Cabins are all located in the west part of the park, just past the public pier and park office.
All cabins, pier and land-based, are fully furnished and include essentials, such as bed linens and cookware.
Each cabin has its own picnic table and dedicated boat slip. Land-based cabins each have their own grill, but for safety reasons the pier cabins have to share several grills located land-side, right next to the pier entrance and fish cleaning station.
Pier cabins require a minimum 7 night stay during peak season, but the land-based cabins usually have no restrictions. Visit the state parks' reservation system online or call the park office for details.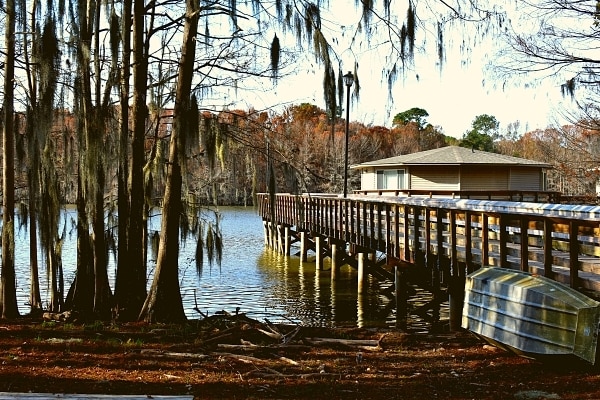 Camping
For those not afraid to rough it in a tent, or those that prefer the comforts of their own RV, Santee State Park has two campgrounds: the Cypress View Campground on the west side of the park and the Lakeshore Campground on the east side of the park.
Both have views of Lake Marion, include bathrooms with hot showers, and have water & electric hookups at each campsite. Cypress View is smaller with 50 sites; Lakeshore Campground as 108 sites.
Of the 158 total sites, only 10 are designated tent-only. Many sites can accommodate RV's up to 40ft in length.
Camping reservations require a two-night minimum stay. This may be flexible in non-peak season. Prices are always slightly higher on weekends than weekdays. Campsites can be reserved online.
Hiking Trails
Three easy nature trails give you a taste of the varied landscape in Santee State Park.
The Oak Pinolly Trail is in the western part of the park, beginning behind the playground near the public pier. This easy 0.75mi trail is level and passes through a lightly forested area, looping at the end to bring you back to where you started.
The Sinkhole Pond Trail has a few gentle hills but is another easy and mostly level 0.75mi trail. You can smell the pine trees here; that's how fresh it is!
A few live oaks are thrown in for good measure as well. The sinkhole is beautiful filled with water and has picture-perfect reflections in the afternoon.
The Limestone Nature Trail is another easy 0.75mi loop trail, but this one has more water features to vary the landscape a bit. Wildlife are almost always hanging around, if you're quiet enough.
Bike Trail
The Biking Trail is a 7.5mi loop connecting the east and west portions of the park. The park website describes this trail difficulty as moderate, because of its length, and lists it as a hiking or mountain biking trail.
Fair warning for biking novices: wear a helmet and bring your safety gear just in case. There are some steep hills on the lake-side of the loop. If you're unused to biking on pine needles, leaves, and sand, this can be a bit dangerous if you're not prepared for it.
Take it slow down those hills so you don't wipe out at the bottom, but also remember to change gears so you can get back up the other side of the hill without having to walk your bike back up.
The northern side of the bike loop is mostly level, as advertised, but it is also much narrower than the southern side. It's not quite single-track bike narrow, but you will need to pull over to let others pass safely.
If you know you're not up for the full 7.5mi blue loop, or you simply run out of daylight like I did, there are two spur trails that link the north and south sides of the loop so you can create a mini 3mi loop instead. Quite convenient!
The White Trail is on the west side (coming from the cabins or Cypress View campground), and the Red Trail is on the east side (coming from the Lakeshore campground or sinkhole area).
Keep your eyes peeled so you don't miss your turn! (Yes, speaking from experience here…)
There are no large or noticeable signs on the main loop trail indicating the spur trail turnoffs. If you miss your turn, your next opportunity is the other spur trail, which leaves you with a 5.5mi loop. Better than 7.5mi I guess….
Photography
Sunset on Lake Marion is gorgeous…when the sky cooperates! Out on the lake is best, but the public pier area and cabin area are also good spots to take it all in.
The forests are beautiful in any season, but I actually loved winter. Most of the fall leaves have dropped but some hang on a little longer and you can capture unique shots.
Both eastern trails have water views, and the reflections in the sinkhole pond are really beautiful in the fall.
Other South Carolina State Parks Near Santee State Park
Working on your Ultimate Outsider list? I try to visit several parks over a single day or weekend, ones that are within easy driving distance of each other but are a long drive from home.
The following South Carolina state parks are within an hour(ish) drive of Santee State Park.
Obviously, you won't make it to all nine of these other parks in one day or one weekend. Pick one or two to fit into your schedule, but don't sabotage your time at Santee!
---
Enjoy time on Lake Marion at Santee State Park!
I hope this guide helped you plan your visit to this peaceful lakeside state park!
More SC State Parks We've Visited
Battle of Rivers Bridge
Croft
Goodale
Hunting Island
Kings Mountain
Lake Greenwood
Lee
Poinsett
Is an Annual South Carolina State Park Pass Worth It? In most cases, yes, but check out the full cost breakdown to find out if it's right for you!
Happy Travels!
Share it!