Escape your everyday in central Indiana and find the best day trips from Indianapolis for a fun or relaxing day away!
Whether you're looking for a good hiking trail, to learn some local history, to get an adrenaline rush from an amusement park, or to discover a new city, there are plenty of options within easy driving distance from Indianapolis.
Let's find the best Indianapolis day trips for you and your group!
---
This post may contain affiliate links. As an Amazon Associate and associate of other programs, I earn from qualifying purchases. This means if you click a link and make a purchase, I may earn a small commission at no extra cost to you.
---
19 Best Day Trips from Indianapolis
There are so many different types of day trips from Indianapolis that we're sure you'll find something that works for you, whether you're traveling solo or with family or seeking adventure or relaxation.
We've purposefully only included destinations that are a minimum of an hour away and no more than 5 hours away from Indianapolis.
Some sites, like Conner Prairie or Eagle Creek Reservoir, are on the outskirts of Indy and could take a full day, but we consider those things to do in Indianapolis, and not full day trips from Indy.
~ Important Note on Time Zones ~
Most of Indiana, including Indianapolis, follows the Eastern Time Zone and daylight savings time.
However, there are a few counties that adhere to Central Time for convenience. This is mostly northwest Indiana because of its proximity to Chicago, which is on Central Time, but also some southern Indiana counties as well.
We've noted the driving time from Indianapolis for each location as well as which sites operate on Central Time.
---
---
Here are our favorite day trips from Indianapolis: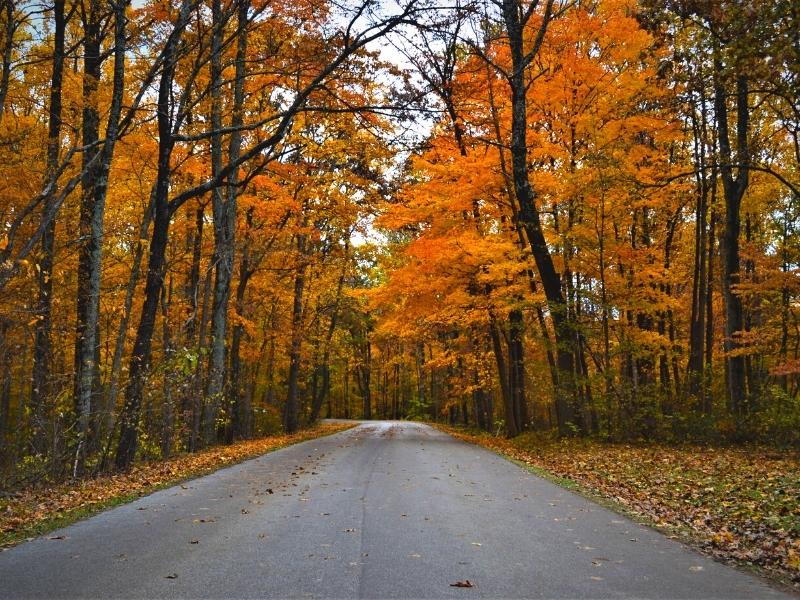 Brown County State Park
1 hour drive
The most popular place in Indiana to go for fall foliage and fun country-style shops, Brown County and Brown County State Park deliver!
Go hiking, horseback riding, or mountain biking on miles of trails. Camp out with the family. Fish or boat on the lakes. It's a forested rural escape, just an hour from the city.
Shades State Park
1 hour 15 minutes' drive
Come for the tubing, stay for the camping!
Reserve your tube time ahead because this place gets packed in the summers.
Floating down a river with a group of friends, plus the tube specifically for the cooler, is a fun way to relax and unwind.
Turkey Run State Park
1 hour 20 minutes' drive
One of Indiana's favorite state parks for hiking. Sandstone gorges surrounded by beautiful forests is not what you'd expect to find in Indiana, but it's what you get when you visit Turkey Run!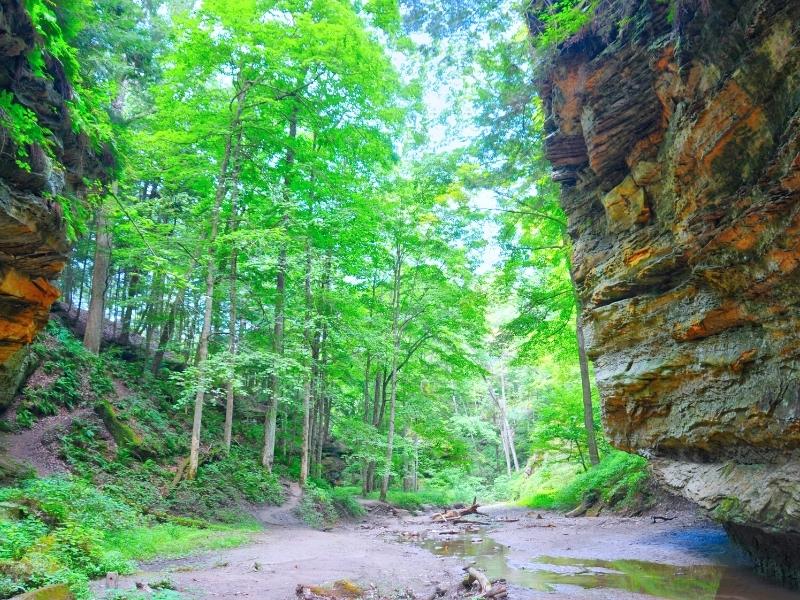 Parke County also happens to be the Covered Bridge Capital of the World, or so they say. There certainly are a lot of covered bridges to discover here.
Try stopping by in October for the Covered Bridge Festival!
Lake Monroe
1 hour 30 minutes' drive
Just outside of Bloomington, Lake Monroe is Indiana's largest lake completely within the state boundaries. This 11,000 acre beauty is perfect for a weekend escape from Indianapolis!
Boating, fishing, camping, and hiking are all available at Lake Monroe. The best part is there's so much shoreline here that it's easy to find a little spot just for you and your group.
Indiana Beach Amusement & Water Park Resort
1 hour 35 minutes' drive
Indiana's own amusement park on Lake Shafer, Indiana Beach is still operating as of 2022 and is advertising for their 2023 season. A change in ownership saved the park from permanent closure.
Indiana Beach has a lot of variety, but it is a smaller park. It's not as large as say, a Six Flags Park, but it's also more affordable than one of the national amusement park chains.
Smaller crowds make this a good option for families that don't want to battle crowds at a larger park further from Indy.
French Lick/West Baden Springs
2 hours' drive
French Lick, IN and the neighboring town of West Baden are home to several points of interest: hot springs, the French Lick Scenic Railway, and Larry Bird's Childhood Home.
The area was first famous for its mineral springs where visitors would come "to take the cure."
Both French Lick and West Baden built opulent resorts to entice the wealthy elite to the area, and trains used to run frequently from Chicago.
Today, the French Lick Resort owns both the French Lick Springs Hotel and the West Baden Springs Hotel. Both are National Historic Landmarks and still operate with their Gilded Age splendor mineral springs.
Paoli Peaks
2 hours' drive
Not far to the east of French Lick/West Baden is the Paoli Peaks skiing area. Yes, you can ski in Indiana!
This seasonal resort is a good alternative for beginners to learn and get comfortable with skiing before spending big to go to the Rockies or Europe. It also offers snow tubing, fun for the whole family!
Patoka Lake
2 hours 30 minutes' drive
Head to French Lick, keep going south for another 30 minutes or so, and you'll find Patoka Lake. Indiana's second largest reservoir, Patoka is perfect for fishing, boating, and relaxing on the water.
The lake is almost completely surrounded by Hoosier National Forest in southern Indiana. This is the ultimate way to escape the city and civilization for a bit.
Marengo Cave
2 hours 20 minutes' drive
Two cave tours in one cave system for twice the fun! Marengo Cave is near-ish to Louisville and French Lick. It's like a smaller, closer-to-Indy version of Mammoth Cave National Park.
The town of Marengo itself is tiny, but they have other things to do here besides tour the cave, like pedal karts, mini golf, and a maze.
The cave stays open all year round because it maintains a pretty even 52°F temperature year-round. The pathways are all well-lit with no stairs, but it's not an accessible path. No strollers or wheelchairs.
Indiana Dunes National Park & State Park
2 hours 30 minutes' drive, on Central Time
Up on Lake Michigan, Indiana Dunes was recently upgraded to full national park status!
The state park still remains, and is actually completely surrounded by the national park, but both areas preserve the beautiful lake dune ecosystem in northern Indiana.
The Great Lakes provide gorgeous blue waters you'd expect to see in the Caribbean but with no salt and no sharks. Relaxing on a state or national park beach is a great way to spend a long weekend.
Get out of the sun for a bit and take a hike through the Indiana Dunes on one of the parks' many hiking trails. There's a trail for most skill levels and some great views of Lake Michigan as well as the inner dune forests and wetlands.
While you're here, don't forget to drive past the Century of Progress homes, a quick stop for photos of some cool, futuristic looking houses from the 1933 Chicago World's Fair. Just one of the many other things to do in Indiana Dunes National Park besides the beach.
Holiday World & Splashin' Safari in Santa Claus, IN
2 hours 45 minutes' drive, on Central Time
The tiny town of Santa Claus, IN is tucked away by itself in southern Indiana. It exists mostly for Christmas Lake and as the home of Holiday World & Splashin' Safari Amusement Park.
This is a truly unique amusement park, ideal for families and those that don't like too wild of a time. The park only has 4 roller coasters, five if you count the kiddie coaster. The rest of the park consists of water rides, arcade games, and fair-type rides.
Holiday World is divided into sections by, you guessed it, holiday. Christmas, July 4th, Halloween, and Thanksgiving each have their own part of the park. Splashin' Safari is the water park, as I'm sure you guessed.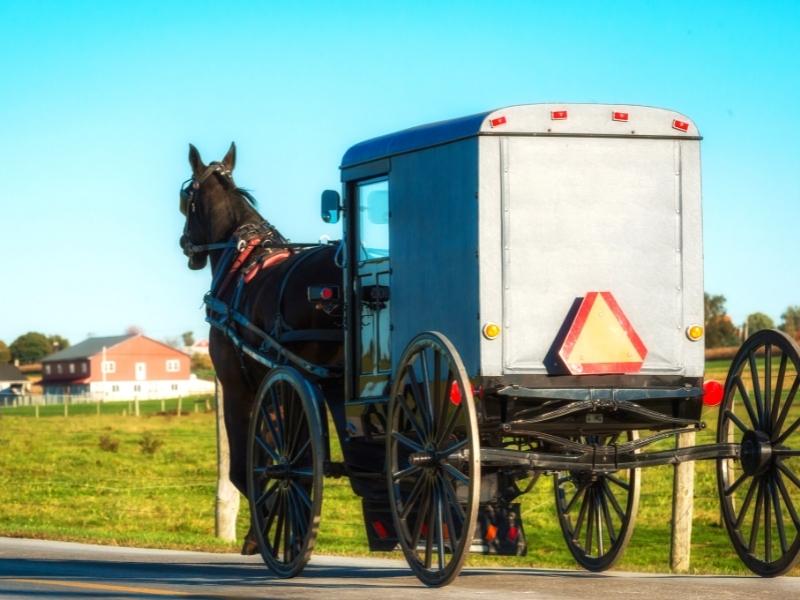 Shipshewana, IN
3 hours' drive
One of America's largest Amish & Mennonite communities resides in Shipshewana, IN, due east of South Bend and very close to the Michigan-Indiana state line.
Visitors flock here for the Shipshewana Auction & Flea Market, supposedly the Midwest's largest flea market. The goal here is shopping for amazing Amish-built or baked goods.
Try Amish cooking at one of the restaurants, pick up some Amish cheese at the store, and learn about the Amish and Mennonite faith at the Menno-Hof Museum.
College Towns in Indiana
Indianapolis is the largest city in and capital of Indiana, but there are a few others cities in the state that might catch your eye.
College towns are perfect for wandering around before or after a sports game or musical or drama performance. Alumni enjoy the nostalgia of being on campus again, and enjoy the opportunity of recruiting the next generation for their alma mater.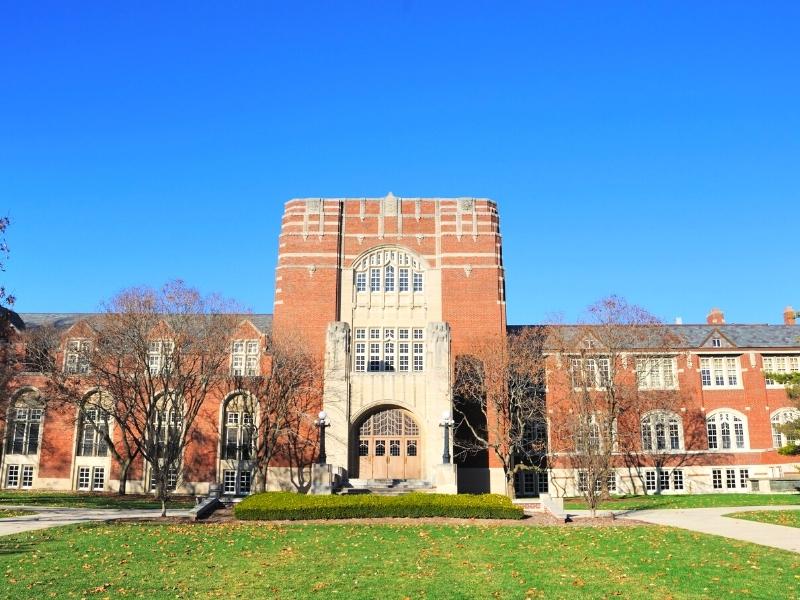 West Lafayette
1 hour 15 minutes' drive
Home to Purdue University, West Lafayette is strictly a college town. There's not much else to do in town itself besides things related to the university. Most visitors come to watch a football or basketball game.
Luckily, the campus is pretty and there are tons of interesting artifacts inside and outside of the buildings, boasting about their famous alumni. The Neil Armstrong statue is pretty popular.
Nearby is Prophetstown State Park, an important site in Indiana and US history. This park certainly won't take all day to explore, but it's a nice add-on when you're already in the area.
Bloomington
1 hour 15 minutes' drive
Bloomington is often cited as one of the prettiest towns in Indiana, which is weird because it's also a Big10 college town, and those don't typically go together.
Indiana University is the largest university in the state, and it's also often overrun with visitors during football and basketball seasons.
But Bloomington is more than just IU. It has a thriving art scene of its own and enjoys easy access to the many beautiful southern Indiana state parks, like Lake Monroe and Brown County State Park.
South Bend
2 hours 40 minutes' drive
Home to the University of Notre Dame, South Bend is northern Indiana's hub.
It's far enough from Chicago that it resists becoming just another commuter suburb, but it's close enough that you can escape to the Windy City for a quick day trip anytime.
The St Joseph River runs through the heart of South Bend and provides opportunities for water sports within the city limits.
Or, tour one of South Bend's historic homes or history museums for a peek into what this area used to be like.
---
---
Cities within 3 Hours of Indianapolis
Sometimes you just want to experience somewhere new, outside of Indiana, and that's understandable.
Indiana is lacking in the big city department, but there are no less than 4 major interstates that connect Indianapolis to the rest of the Midwest, including direct access to some real big cities.
The following city escapes are all within a 3 hour drive and doable as day trips from Indianapolis if you start early.
They also make good weekend getaways if you want to splurge and stay downtown somewhere new!
Chicago, IL
3 hours' drive, on Central Time
The most famous and visited of all Midwest cities, Chicago is perfect for those seeking an urban escape from Indianapolis.
Indianapolis is not a bad alternative to Chicago; Indy is much cheaper with similar things to do. But we still believe that everyone should visit Chicago at least once before they write it off completely.
It's a 3 hour drive from Indianapolis, assuming no traffic, but you gain an hour on the drive up because Chicago is on Central time.
Pro Tip: If Chicago is your final destination, we don't recommend flying from Indy to Chicago. The drive is short enough even if you hit traffic that it's not worth the time spent in the airports, and then getting downtown from the airport, to fly.
Chicago has skyscrapers, parks, museums, theaters, festivals, food, and Lake Michigan. All it's missing is outdoorsy things like hiking, but if you walk all over town, you'll get the same benefits as hiking.
Columbus, OH
2 hours 45 minutes' drive
Columbus, Ohio is one of the US's fastest growing metro areas. Most of you probably only know this city as the home of Ohio State University of Big10 fame. (Yes, I left the "the" off just to make you Ohio State fans mad.)
The capital city of Ohio has plenty of things to see and do. The Columbus Zoo is one of the best in the country and even has its own TV show.
Downtown is full of architecturally interesting buildings and bridges, and museums like the Center of Science & Industry (COSI) and the Columbus Museum of Art add a bit of culture.
Cincinnati, OH
2 hours' drive
Ohio's third largest city is only 2 hours from Indianapolis, and Cincinnati has a lot to offer for a day trip or a weekend getaway. This hilly city on the Ohio River can be a fun place to chill for the day.
We've day tripped to Cincy for concerts and sports games, and even specifically for Ikea in the days before Indy got its own Ikea.
Professional sports are big in Cincinnati, home to the Reds MLB team and the Bengals NFL team. Both teams' stadiums are on the riverfront with awesome views.
You can also walk across a few of the historic bridges that cross the Ohio River to Kentucky. If you like old architecture, you'll enjoy the many bridges and skyscrapers on display here.
Louisville, KY
2 hours' drive
Just a two hours' drive from Indianapolis on I-65 will see you to Louisville. Louisville is about the same size as Indianapolis, maybe a bit smaller population-wise, but it has its own charms.
The Louisville Slugger Museum & Factory is a big hit with tourists and locals alike (no regrets on that pun!), as is the Mohammed Ali Center a few blocks away. (That pun worked twice!)
Louisville is also home to the Kentucky Derby horse race every year. Churchill Downs racecourse floods with visitors all donning their best hats and/or fascinators. If your just curious and not actually a fan, then visit the Churchill Downs Museum instead of attending a race.
This Ohio River city is packed with art and history. There's a museum for almost every taste and style. Pick yours and enjoy!
Weekend Getaways from Indianapolis
Looking to fill a long weekend, away from home?
While you can stretch many of the day trips discussed above into weekend-long trips, fun destinations like St Louis, MO and Nashville, TN are just a smidge too far to work as day trips from Indianapolis but are perfect for a long weekend trip from Indy.
Choose the Perfect Day Trip from Indianapolis!
Enjoy escaping Indy for a day! Whether you choose relaxation or adventure, there's a perfect day trip from Indianapolis waiting for you.
More Indiana Travel Ideas
Happy travels!
Share it!