Not your typical travel destination, Indianapolis, Indiana flies under the radar as a happy hidden gem. This safe, clean, mid-sized state capital city has everything you'd find in a larger city: history, art, a zoo, food, and sports. So many sports!
Most people just don't know anything about Indianapolis, so they skip it. No more excuses! Let's check out things to do and why you need to visit Indianapolis on your next vacation!
---
This post may contain affiliate links. As an Amazon Associate I earn from qualifying purchases. This means if you click a link and make a purchase, I may earn a small commission at no extra cost to you.
---
Getting to Indianapolis
Indianapolis is the self-proclaimed crossroads of America, and while that title is contested by basically every other city in the Midwestern United States (and NYC), it's not far from the mark for Indy. Four major interstates all converge at Indianapolis, creating a web of connected highways in every direction.
This makes it super easy to accommodate a day trip or long weekend from another nearby city.
Chicago and Springfield, Illinois; Cincinnati and Columbus, Ohio; and Louisville and Lexington, Kentucky are all within a 3 hours or less drive from Indy. If you're willing to drive for 4 hours, you can reach Detroit, Milwaukee, and St Louis.
Indianapolis International Airport is significantly easier and faster to navigate than O'Hare in Chicago. I have consistently walked in an hour before my flight, breezed through security in 15 minutes, and still had time to grab a snack and start reading a book before my flight boarded. #noprecheckrequired
Take advantage of the ease of access or cheap flights into Indianapolis for an easy, budget vacation.
Why visit Indianapolis?
I know Indiana isn't at the top of most US travel bucket lists. It's not on the ocean nor in the mountains. The Midwest has some popular cities and sites, think Chicago or the St Louis Arch, and Indianapolis usually gets passed over for those better known destinations.
The thing about better known destinations, though:
They always have crowds.
They are always more expensive.
Opt for Indianapolis for vacation instead and avoid all that hassle.
Recently, I learned a new term: flyover state. Definition: a state that is boring and you fly over on your way to a more interesting destination. Now, I admit, there are a few states that I'm not in love with, but there is always something interesting to see.
I'm over halfway through my bucket list to see all 50 US states, and I haven't hated any of them yet.
I'd never choose to live in Iowa, for example, (I hate winter…) but Effigy Mounds National Monument is definitely worth a visit. Even just driving down the interstate in Iowa on a summer night is a unique experience, as entire corn fields glow with the intermittent light of thousands of fireflies twinkling in unison.
We all need to get out of the "flyover state" mind set, and go explore a new place before deciding to write it off as not worth your time.
Indianapolis is full of history and art museums, every professional sport under the sun, and a wide variety of restaurants and breweries for all palates. Let's delve a little deeper and discover things to do in Indianapolis.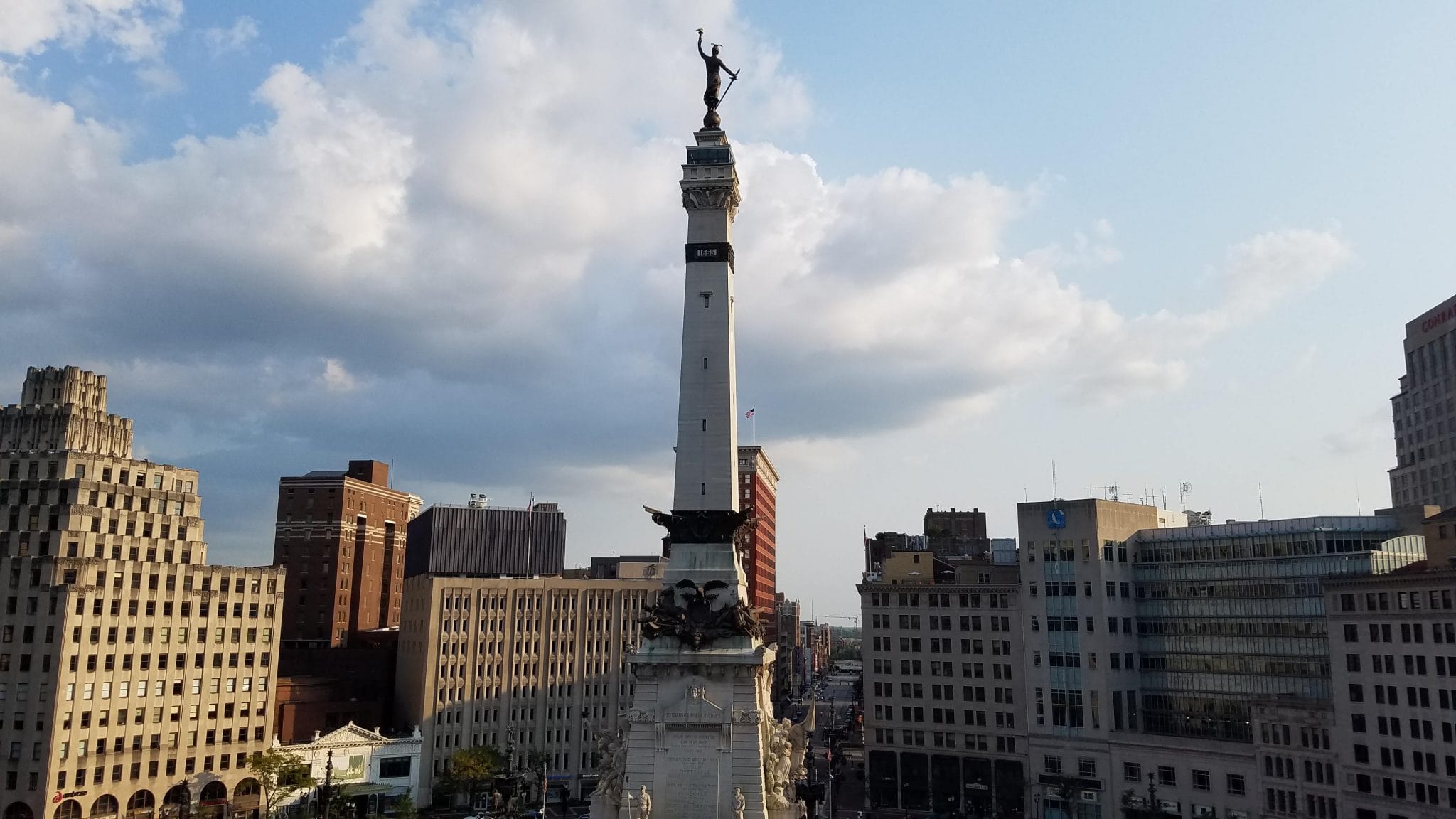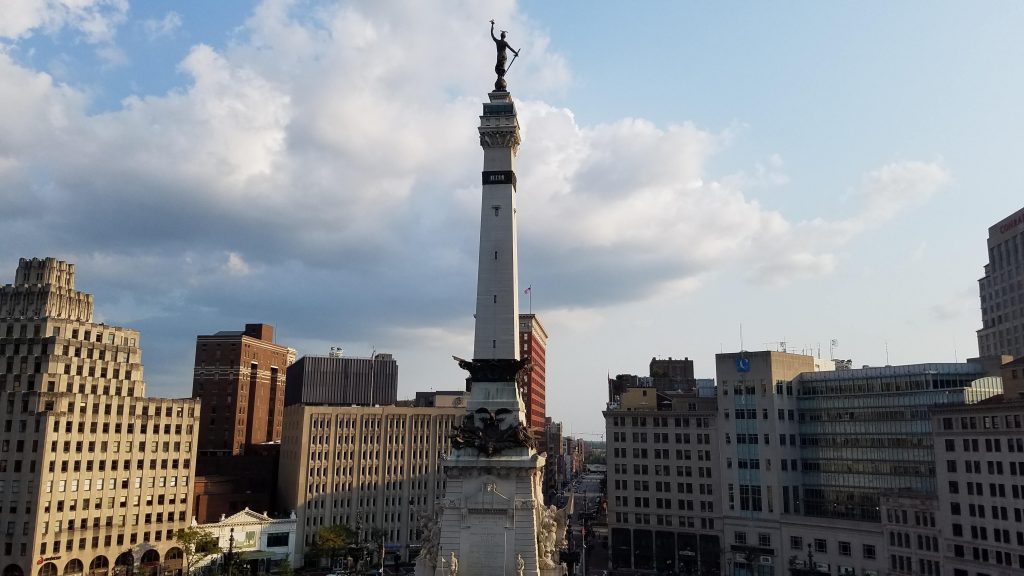 3 Reasons to Visit Indianapolis
1. Culture
Downtown Indianapolis started building up in the 1800's and many buildings feature refurbished exterior details of the time period. Walking around downtown provides a plethora of photo ops for those interested in historic architectural details.
Museums and art galleries display a wealth of historical and cultural exhibits, and the Indianapolis Zoo and the Children's Museum are fan favorites for kids.
Photography
If you wander into the Mass Ave or Fountain Square neighborhoods of downtown Indianapolis, you'll also find building-sized murals to pose with for your Instagram feed.
History
President Benjamin Harrison's home is open for tours and only 5 minutes from the center of downtown Indianapolis.
Museums
The Indiana State Museum features everything from dinosaurs to contemporary exhibits as well as an IMAX theater showing nature documentaries by day and the latest Marvel blockbuster releases by night.
Next door is the Eiteljorg Museum, focusing on Native American and Western US art and history.
Art
Indy has several art galleries and one large art museum. Newfields (formerly Indianapolis Museum of Art) has three floors of exhibits from every continent (ok, not Antarctica). The outdoor gardens also showcase modern art installations, and you can tour the Lilly House and Gardens. You could easily spend a full day wandering the Newfields campus.
2. Sports, Sports, Sports!
Indianapolis is home to every major sport in America. That alone is reason enough for many of you to want to visit Indianapolis. Do some sightseeing during the day and then buckle down for some hard-core cheering at the evening's sporting event.
Don't forget: this is Big Ten country. College sports are just as important as the pros. The NCAA Hall of Champions even calls Indy its home, with exhibits on all 24 NCAA sports and a replica 1920's gym.
Racing (Cars)
You may have heard of a little race called the Indy 500? Every May hundreds of thousands of race fans converge on the city for "the greatest spectacle in racing." Downtown Indianapolis embraces racing season and decorates the city for the occasion.
Racing (Running)
If running was more of what you had in mind when you read that title, Indianapolis also holds several running races throughout the year. The Indy Mini (technically, the One America 500 Festival Mini Marathon) is the country's largest half marathon and includes running a lap around the Indianapolis Motor Speedway track! Kiss those bricks!
Football
The Indianapolis Colts call Lucas Oil Stadium home in downtown Indianapolis. You know it's a good day for professional football when the roof of the stadium is open!
While the city of Indianapolis isn't home to any of the Big Ten college football teams, it's still a big deal here. Bloomington (Indiana University Hoosiers) and West Lafayette (Purdue University Boilermakers) are only an hour's drive from Indy (in opposite directions, lol). University of Notre Dame is 3hrs north of Indy, but they're not really Big Ten anyway…
Basketball
Indy has both a men's and women's professional basketball team: the Indiana Pacers and the Indiana Fever, respectively. Catch a game at Banker's Life Fieldhouse, also in the middle of downtown Indianapolis.
College basketball is probably even bigger than college football in Indiana. Unlike the IU Hoosiers and the Purdue Boilermakers, the Butler University Bulldogs are located in Indianapolis and only 10 minutes north of downtown. Something to consider: the NCAA Men's Final Four is frequently held in Indianapolis.
Baseball
No MLB team in Indy, but the Pittsburgh Pirates' farm team, the Indianapolis Indians, proudly represent the city at Victory Field in downtown Indianapolis. This is an inexpensive night out with friends and family, with great views of the city as the sun sets.
Soccer
The Indy Eleven men's professional soccer team outgrew its original venue, Carroll Stadium on the IUPUI college campus, and now shares Lucas Oil Stadium with the Colts. The team is in the USL league for now, but hoping to be brought up into the MLS in the next few years. Verdict is still out on that one.
The Indy Eleven has done well attendance-wise for a professional soccer team in a country that's only slowly and begrudgingly accepting that soccer is here to stay. Keep it up!
Hockey
Not an NHL team, but the minor league Indy Fuel hockey team is an affiliate for the Chicago Blackhawks and the Rockford IceHogs. I recommend attending a professional hockey game at least once in your life. The smack talking fans are UNREAL.
3. Eat all the Food
Last but not least for tempting reasons to visit Indianapolis: the food!
An eclectic foodie scene is already well-established, so carnivores, herbivores, and omnivores will all find something to their liking. Top-tier steakhouses and vegetarian-only restaurants coincide harmoniously, er, mostly.
Indianapolis also has a diverse choice of restaurants: Chinese, German, Thai, Indian, and authentic Italian for starters. You can't go wrong with a restaurant on MassAve or in Fountain Square, unique neighborhoods of downtown Indy.
I can name a dozen cities that are all competing for the craft brewery title. Breweries are so hot right now. (Tell me you got that movie reference…) Indianapolis is definitely doing its best to be a contender.
Sun King is legendary in Indy and the second largest brewery in the state. Check out their downtown Indianapolis location, or one of the three others in the Indy metro area. If you prefer to see the sights in between drinks, check out The HandleBar Indy for an enormously good time!
---
Enjoy Visiting Indianapolis!
Now that we've scratched the surface on things to do in Indianapolis, do you think it deserves a shot as your next vacation getaway?
If you're on the fence, here are some more resources to help you plan your trip to Indiana or visit Indianapolis.
More Indiana Travel Ideas
Happy Travels!
Share it!