The Road to Hana is a scenic drive located on the Hawaiian island of Maui, offering breathtaking views of lush rainforests, cascading waterfalls, and stunning coastal vistas.
But it's also 60+ miles of winding, narrow road, boasting over 600 hairpin turns and dozens of one-lane bridges, begging the question: is the Road to Hana worth it?
We'll discuss the pros and cons of driving the Road to Hana, to help you make an informed decision about whether this adventure is right for you.
Let's dive in and find out what to expect on the Road to Hana!
---
This post may contain affiliate links. As an Amazon Associate and associate of other programs, I earn from qualifying purchases. This means if you click a link and make a purchase, I may earn a small commission at no extra cost to you.
---
Is The Road to Hana Worth It?
After our first trip down the Road to Hana, it didn't feel like it was worth it.
All the parking spots were full. We didn't eat lunch until about 2PM. We didn't get reservations for the black sand beach.
We even had the unfortunate luck to visit during one of their longest dry spells, even though we came to Maui in the middle of their wet season.
No rain means no waterfalls!
It seemed like an epic waste of a day, at the time and in that moment.
While we can't control the weather, we did everything else wrong and found out real fast how NOT to day trip on the Road to Hana.
But despite our mediocre experience and warnings, our friends did the same trip about 3 weeks after us and had the time of their lives on the Road to Hana.
The waterfalls were roaring. They hiked all the best hikes. They had snacks and didn't drive home in the dark.
Sometimes, it's just the luck of the draw.
So, as you can see, answering "Is the Road to Hana worth it?" is highly subjective, but we think it's worth exploring at least once.
However, note that we don't get motion sickness so that's a non-issue for us, whereas you may be debilitated by it. Like we said, highly subjective.
Here are the advantages and disadvantages of the Road to Hana. We'll look at each in depth in a minute.
Pros to Driving the Road to Hana
Gorgeous Views
So Many Waterfalls
Delicious Banana Bread
Black Sand Beaches
Cool Hiking Trails
All to Yourself if You Spend the Night in Hana
Much Cheaper than a Guided Tour
Cons to Driving the Road to Hana
Motion Sickness on Curvy, Narrow, Bumpy Roads
Wet Clothes
Not Many Restaurants
Not Great Swimming Beaches
Traffic Congestion
Nicknamed "The Divorce Highway"
If you're still unsure after weighing the pros and cons below, then take a test drive.
Drive West Maui up to Nakelele Blowhole. If you don't like those tight corners then you really won't like Road to Hana's curvy roads and one-lane bridges.
---
---
3 Questions to Decide If the Road to Hana is Right for You
Before we move forward, if you can't answer No, Yes, Yes to the following three questions, then the Road to Hana may not be for you.
In our experience, these are the three most crucial make-or-break ingredients for a Road to Hana trip.
Does anyone in your group suffer from intense motion sickness?
Are you a confident driver?
Do you have an entire day minimum to dedicate to the drive?
You can take a guided tour along Road to Hana, so a local is doing all the driving for you, in a multi-passenger van, no less.
You have no control over the itinerary, though, if you go with this option.
If that's not a deal breaker for you, then these tours are well-reviewed and could be the solution for you.
⬆️ If you've got the funds, seriously consider that last one with the helicopter flight return. ⬆️
It cuts your time in half and you'll get stunning views of Haleakala from the air!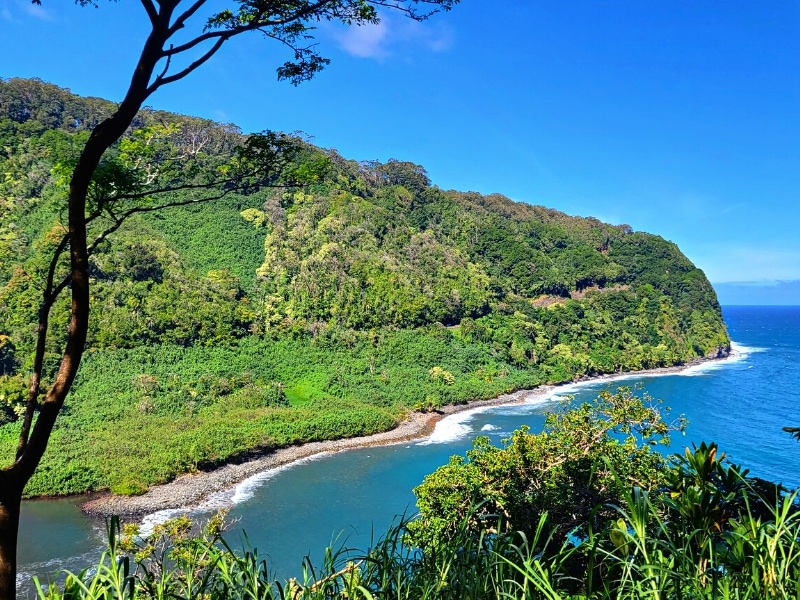 Pros and Cons of Driving the Road to Hana
If you passed the 3 questions above, then let's look closer at the Road to Hana.
There are advantages and disadvantages to this drive, each of which could be the tipping point to decide if the Road to Hana is worth it for you.
Pro: Gorgeous Views
The views from the Road to Hana are fantastic.
This side of the island has rougher waves, so you get the best views of rocky shoreline with deep blue waves crashing into white foam.
It's also the lush rainforest side of the island, with dense forests, colorful plants, and blooms all year round.
The Road to Hana's waterfalls are worthy of a photoshoot, dropping in tiers or straight drops, surrounded by lush, green forest or framed by cliffs.
Shutter bugs will love all the views!
Con: Motion Sickness on Curvy, Narrow, & Bumpy Roads
If you suffer from motion sickness, then the Road to Hana may not be for you.
It's 60+ miles of unending curves and narrow roads that takes most visitors all day to explore.
There's no room for nervous drivers that hug the centerline.
There is no centerline in many places, and you'll block oncoming traffic if you don't stick to your narrow side.
We've done the drive with passengers that suffer from moderate motion sickness but were able to handle the drive with Dramamine ginger chews and sea bands.
You know yourself best. Skip this drive if you'll be sick the whole way.
Good to Know: There is no shoulder to pull over if someone gets sick in the car. There are pull-offs in some spots, but not often enough if a sudden urgency comes up.
Pro: So Many Waterfalls!
The Road to Hana is the best place on Maui for chasing waterfalls.
Its many roadside and easy-access waterfalls are the reason why the Road to Hana is so popular.
There are 52 one-lane bridges on the Road to Hana and nearly every one of them has a waterfall.
Not to mention the other waterfalls accessible via short hikes through bamboo forests.
Just hope that Maui's not in a drought when you visit, like our first trip.
Con: Wet Clothes
Imagine a short walk through the woods, hopping across a stream or two, until you come upon a cascading waterfall in the forest.
It looks so inviting, and it's so hot, that you take a dip in the pool at the base of the waterfall.
Now that you're soaked, you have to hike back to your car and continue driving several hours until you can return to your hotel to change out of your wet clothes.
That's the reality of the Road to Hana if you want to swim at the base of a waterfall.
Sure, you can make this less awful by having a swimsuit on under your clothes and bringing a towel to dry off when you're done.
But if you visit multiple waterfalls throughout the day, which you will on the Road to Hana, then your towel is going to be wet and useless by the end of the day.
Don't forget your anti-chaff stick or gel.
Pro: Delicious Banana Bread
Probably the second most important reason why the Road to Hana is so popular: Aunt Sandy's Banana Bread.
Maui has a thing for banana bread, and Aunt Sandy's deserves its legendary status.
It's gluten-, dairy-, and nut-free, which we thought was impressive but surely that means it'll be dry or cakey.
Nope! It's just the right amount of moist delicious banana bread.
It's said to be extra delicious because the bananas grown locally have such a good environment to thrive in, but that applies to all the food grown on Maui.
Aunt Sandy's isn't the only banana bread along the Road to Hana.
You'll find it at Halfway to Hana, the Hana Farm, and plenty of food stands along the route.
Try them all! Make up your own mind which is the best.
Con: Not Many Restaurants
While there are several roadside fruit stands, finding substantial food along the Road to Hana is difficult.
There's not much until you get to the Keanae Peninsula and the Halfway to Hana Market.
After that, it's another 20-40 minute drive until you reach Nahiku Marketplace.
From there, you're basically in Hana before you find the first restaurants on the Road to Hana.
Bring snacks in the car.
Pro: Black Sand Beaches
Maui has a few black sand beaches, but the most popular is at Waianapanapa State Park in Hana.
It got overwhelmed by its popularity.
Waianapanapa now requires advanced reservations for out-of-state visitors. If your dates/times are sold out, don't despair just yet.
There are other black sand beaches along the Road to Hana, but none of them are as easy or convenient to get to as Waianapanapa.
Our first Road to Hana trip, we didn't get Waianapanapa reservations and we started late, like 10AM from Paia.
(Don't be like us. Read our tips for driving the Road to Hana here.)
Our first stop out of the car was a local black sand beach that we found in a guidebook but didn't sound like much at the time.
It was worth the steep drive down the hillside!
The beach at Oheo Gulch in the Kipahulu District of Haleakala National Park is also a black sand beach, but you can't climb down to it.
Con: No Good Swimming Beaches
Most of the beaches along Maui's windward side, where the Road to Hana is, are not good for swimming.
They're beautiful, and locals may brave the waters to surf, but tourists are encouraged to stay in the bays near shore.
The trade winds and rip currents make the surf too dangerous for swimming.
The constant pounding also makes the shoreline more treacherous, with a lot of submerged, sharp rocks and unexpected ledges.
If you go to the beach to go swimming, then these beaches aren't for you.
Pro: Cool Hiking Trails
The best waterfall hike on Maui is the Pipiwai Trail in Haleakala National Park's coastal unit.
This trail climbs through forests, past one waterfall, to an enormous banyan tree, through a bamboo forest, across a stream, and finally, to another great waterfall.
You'll take so many pictures!
The good news is most of the other waterfall hikes along the Road to Hana are similarly beautiful, winding through lush rainforest.
Con: Traffic Congestion
The Road to Hana is one of the most popular things to do on Maui, and it's often got the traffic to prove it.
Traffic can be bumper-to-bumper and slow moving during peak tourist season. Pack your patience.
It'll be even worse if there's an accident, so slow the heck down, let locals pass, and wait your turn at the one-lane bridges.
Parking is limited, but that doesn't mean you'll get the waterfalls all to yourself, either, if you do manage to score a parking spot.
Unless you show up at nearly sunrise, you'll have company wherever you go on the Road to Hana.
Is the Road to Hana worth it if you have to deal with crowds?
Yes, if you manage your expectations from the start.
Just understand that you may have to visit your 3rd option on your list because there wasn't any parking at the first two stops.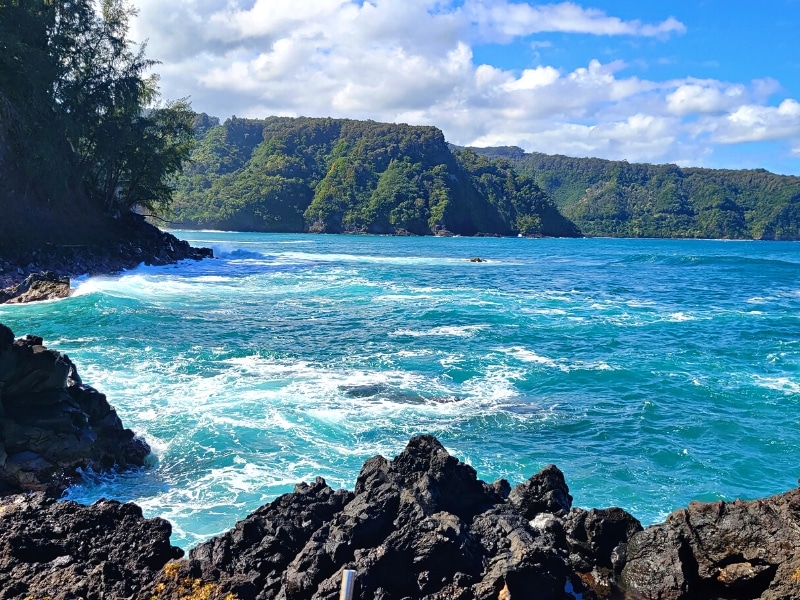 Pro: All to Yourself if You Spend the Night in Hana
Most visitors do the Road to Hana as a day trip.
If you stay overnight in Hana, you'll have the popular sights near Hana all to yourself in the mornings and evenings, when all the day trippers have yet to arrive or are gone for the day.
Day trippers don't usually arrive in Hana until around 10 or 11AM, unless they have a morning pass for Waianapanapa State Park.
They usually head back a few hours before sunset, so they're not driving those curvy roads in the dark.
Hana's beaches all face east, so sunset is ok but sunrise is wonderful!
Imagine experiencing sunrise on a nearly private beach on Maui.
Con: Nicknamed "The Divorce Highway"
Driving the Road to Hana can be quite the stressful experience for the unprepared.
There's a reason it's sometimes called "the Divorce Highway."
White-knuckled driving on curvy roads, no parking spots, few bathrooms, and sparse food options can make anyone a little snippy.
Carefully consider if driving the Road to Hana is really worth it, and then keep the following tips in mind.
If you're not driving, don't offer driving advice.
Bring car snacks and drinks.
Get an early start so you can see some cool stops.
Stop every time you find food or a bathroom.
Pro: Much Cheaper than a Guided Tour
For the budget-conscious travelers, driving the Road to Hana yourself is much cheaper than booking a tour.
You can drive this beautiful highway yourself and have a good time if you're prepared for it.
We drove it in a minivan, mind you, and we survived.
We've heard of others doing it in a campervan, and the group tours all do it in multi-passenger vans.
Hana Highway is tight and narrow, but your vehicle will fit. The issue is how good you are at driving on narrow roads.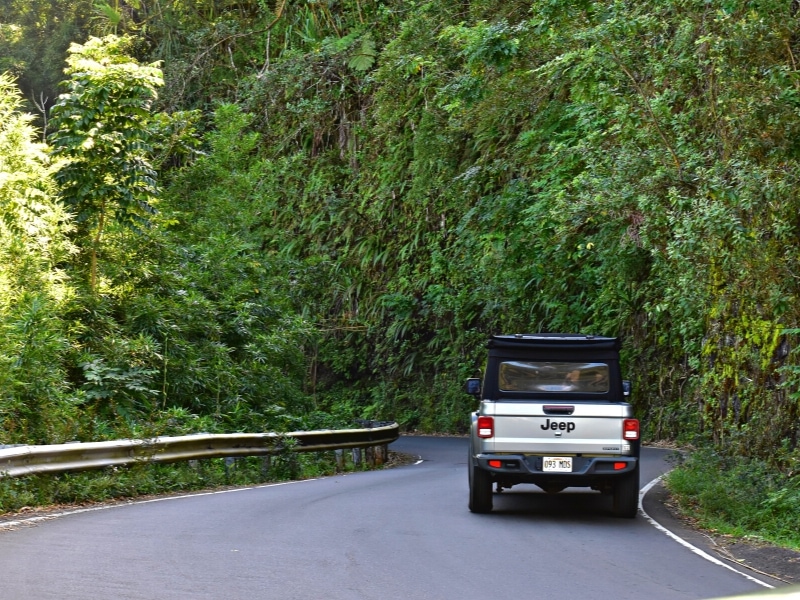 Top 5 Tips for Driving the Road to Hana
Speaking of being prepared, the best way to have the best time on the Road to Hana is to know what you're getting yourself into.
We've compiled an extensive list of useful Road to Hana tips which we highly recommend you read before your trip to Maui.
It'll save you a lot of disappointment and headaches.
Here's a teaser of our top 5 most important tips for driving the Road to Hana.
Start Early, no later than 7AM.
Bring Food & Drinks for the Car.
Plan Ahead (Backups for Your Backups)
Don't Try to Do it All in One Day.
Take a Tour if You're Nervous.
Alternatives to Driving the Road to Hana
If the pros and cons of the Road to Hana did more to dissuade you than persuade you to do this adventure, that's ok.
That's why we make pro/con lists: to see how we really feel about something.
There are a few alternatives to driving the Road to Hana yourself.
If you're sitting on the fence and can't decide one way or the other, try driving to Nakelele Blowhole first, on the west coast of Maui.
If you don't like that drive, then you won't like the Road to Hana.
The curves and blind corners on the Road to Hana are much more frequent than on the road out to Nakelele Blowhole.
If you want to see the Road to Hana but don't want to drive it, book a tour.
Let a local pro do the driving while you sit back and enjoy the views!
Both this tour and this tour have great reviews.
Good to Know: For those that noticed that you can fly to Hana from Kahului airport, we'd caution against it for visitors.

There are neither rental cars nor taxis at the Hana airport. You could walk into town and to a few beaches but otherwise, you're very limited in getting around.

You'll have more flexibility if you rent a car from Kahului and drive yourself.
Know Before You Go on the Road to Hana: FAQs
>> Where is the Road to Hana?
The Road to Hana is a two-lane road along the eastern side of Maui in Hawaii.
It refers to the Hana Highway/Route 360 that connects the towns of Paia and Hana, but it also continues past Hana to the Kipahulu District of Haleakala National Park and on to Kaupo.
>> How Long is the Road to Hana?
Driving from Paia to Hana is 44 miles; from Paia to Kaupo is 61 miles.
Most visitors will drive from Paia to the Kipahulu Visitor Center of Haleakala National Park at Oheo Gulch, and then return the same way.
>> How Long Does It Take to Drive the Road to Hana?
How long it takes to drive the Road to Hana depends on how often you stop. A nonstop drive one-way from Paia to Hana with normal traffic is 2 hours. From Paia to Oheo Gulch is 2.5 hours.
(Google maps might recommend the Back Road to Hana instead because it's "faster".)
Realistically, most visitors spend 10-12 hours on this day trip, with frequent stops for hikes, waterfalls, and banana bread.
>> Is the Road to Hana Dangerous?
The Road to Hana can be dangerous, but it's usually not.
It's narrow with blind corners and no guardrail in some places, but hundreds of tourists and locals make this journey every day without incident.
There's only an issue if a driver becomes impatient or reckless and causes an accident.
Parking completely off the roadway and only in approved areas is so important for that very reason.
Also, use the pull-offs to let locals pass you.
They know this road better than you and aren't sightseeing. They're trying to get to work, most likely.
---
---
So, Is the Road to Hana Worth It? Yes, Worth a Shot!
Despite our terrible first go of it, we'd still say that trying the Road to Hana is worth it.
Read all the important and useful tips for driving the Road to Hana and have a plan in place before you even arrive on Maui.
Preparation is key to having a good time on the Road to Hana.
Even if everything goes wrong like it did on our first trip, you'll still get some delicious banana bread and amazing views out of the deal.
More Hawaii Travel Resources
Happy travels!
Share it!