Visiting Pearl Harbor and the USS Arizona Memorial are on every history-loving Hawaiian visitor's bucket list. Crowds are here every day, rain or shine, to see this pivotal site from American history. But there's a lot more here and people often don't know what to do at Pearl Harbor first.
The USS Missouri is docked nearby at Ford Island, the battleship that hosted the surrender of the Japanese to end World War II for the US. Visit the Pacific Fleet Submarine Museum and walk through the USS Bowfin, a WWII-era submarine. Explore the Pearl Harbor Aviation Museum and its grounds, still bearing the scars of the attack on its hangars and runways.
It's a big place with a lot to see, but we've got you covered. We've got all the details on how to get here, what to see at Pearl Harbor, cost breakdowns, tips and tricks for visiting Pearl Harbor, and a suggested day trip itinerary if you want to visit Pearl Harbor on your own without a tour company. Let's go!
---
This post may contain affiliate links. As an Amazon Associate and associate of other programs, I earn from qualifying purchases. This means if you click a link and make a purchase, I may earn a small commission at no extra cost to you.
---
Why Visit Pearl Harbor?
History buffs, like moi, would never dream of missing a chance to visit this site.
It was such a pivotal moment in US history, and we've already flown halfway across the Pacific Ocean to Oahu. It would be a shame to miss it when we're so close.
Visiting Pearl Harbor is hands-down one of the top experiences in Oahu that you really can't miss. It's one of Hawaii's top 3 most visited sites every year!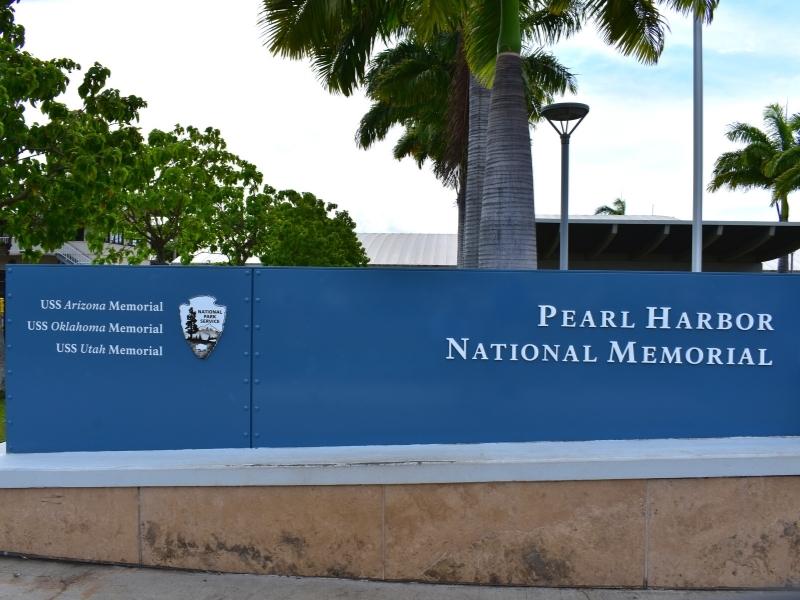 What Happened at Pearl Harbor?
The attack on Pearl Harbor by the Empire of Japan took the US completely by surprise.
The two countries were not at war, and were, in fact, in the middle of peace negotiations to avoid war, when the Japanese attacked early one Sunday morning in December 1941.
The destruction to the US Pacific Fleet docked in Pearl Harbor was overwhelming. Two waves of Japanese fighter pilots dropped bombs and torpedoes and fired on airfields and other facilities.
Twenty-one ships were sunk or damaged, most on Battleship Row, and three-quarters of the 400 US aircraft in the area were damaged or destroyed in just 1.5 hours. Only 8 US pilots made it into the air to fight back.
The US was later able to salvage and repair all but three ships, but the effect on the American psyche was instantaneous and irrevocable.
War was declared the next day, and four years later it would end with the signing of the Japanese surrender on the deck of the USS Missouri in Tokyo Bay.
The USS Arizona is one of the three ships that was so badly damaged it was left where it lies, mostly submerged at its dock where it exploded and sank during the attack.
This site is now a memorial for all those lost that could not be recovered from the wreckage.
---

---
Should I Visit Pearl Harbor with Kids?
Pearl Harbor is still worth visiting, even with kids.
The National Park Service (NPS) visitor center and the USS Arizona Memorial are FREE to visit, and we understand how appealing FREE activities are when you're on a family vacation and budget.
The shuttle to Ford Island is also free, but the USS Bowfin & museum, the USS Missouri, and the Pearl Harbor Aviation Museum are not maintained by the NPS and are not free. (More details about that below.)
The free NPS exhibits do a very good job of explaining the background, the repercussions that led to war, and the healing process that's taken place since the 1940's. The open lawn is a good spot for little ones to run around.
If you've got elementary-age kids or tweens in tow that aren't quite ready to comprehend the complexities of geopolitical history, they'll still find exploring a real-life battleship and/or submarine to be one of the coolest things ever.
Top 5 Tips to Know Before You Go to Pearl Harbor
Strict bag policy: no bags unless clear/transparent or smaller than 1.5"x2.25"x5.5". No purses, camera bags, diaper bags, etc. Read the NPS full policy for the few exceptions. Baggage storage is available at the entrance, including luggage. This is run by the Pacific Fleet Submarine Museum, not the National Park Service. Check here for rates.
Free* Entry: This historic area is made up of several different sites, not all owned by the National Park Service and not all free. The visitor center and grounds are free. The USS Arizona Memorial ferry ride is almost free. You should reserve tickets ahead of time, and there's a $1 reservation fee. The USS Bowfin and Submarine Museum, the USS Missouri, and the Pearl Harbor Aviation Museum are all separate, paid attractions.
Go Early to Avoid Crowds: Pearl Harbor is one of Hawaii's top 3 most popular things to do. It gets busy in a hurry. Go early, even if your USS Arizona ferry ticket isn't until later in the day. You can visit the other sites before they get crowded and come back for your ferry time.
Be Respectful: This area is a battlefield. Thousands of men died in this harbor, many of them still trapped inside the USS Arizona. It's ok to let little ones run across the grass at the visitor center and have a good time while you explore, but just be respectful, particularly when visiting the USS Arizona.
Sun Protection: It is always hot and usually sunny in Hawaii. Bring a wide-brimmed hat to protect your face and neck. Don't forget sunscreen, too!
When does Pearl Harbor Open?
There are several components to the Pearl Harbor historic area, and they, of course, all open at different times.
| Location | Hours | Notes |
| --- | --- | --- |
| National Park Service Visitor Center and grounds | 7AM to 5PM | NPS site |
| USS Arizona Memorial | Ferries run 8AM to 3:30PM | NPS site, requires a ticket, reserve online ahead |
| Pacific Fleet Submarine Museum & USS Bowfin | 7AM to 5PM | Separately owned site, shares space with NPS |
| USS Missouri, The Mighty Mo | 8AM to 4PM | Separately owned site, on Ford Island |
| Pearl Harbor Aviation Museum | 9AM to 5PM | Separately owned site, on Ford Island |
| Shuttle to Ford Island | Runs to the island 8AM to 4PM, approx. every 15 minutes | Last shuttle back from the USS Missouri at 4:45PM, last shuttle back from the Aviation Museum at 5PM |
All sites are open every day of the year except for Thanksgiving (the 4th Thursday in November), December 25th, and January 1st.
What to Do at Pearl Harbor
There are four main museums at Pearl Harbor, all owned and maintained by different parties. One sunken battleship, one submarine, one intact battleship, and a couple of air hangars full of planes from WWII to the present.
History buffs: be prepared to spend a whole day at Pearl Harbor to explore all four sites. For the less enthusiastic, a half day will hit the highlights.
A half day trip usually is just enough time for the National Park Service's Pearl Harbor National Memorial sites (the visitor center and the USS Arizona), and possibly one other site.
Let's look at each site in more detail, starting at the visitor center and working out to Ford Island.
1. Pearl Harbor National Memorial
Pearl Harbor National Memorial is owned by the National Park Service and includes two visitor center exhibit halls, the grounds along the waterfront, a theater for the USS Arizona program, the USS Arizona memorial, a small convenience shop, and a gift shop.
The grounds have plaques set up along the waterfront to briefly explain the events leading up to, during, and after the Japanese attack on Pearl Harbor. The plaques are positioned so you can look out across Pearl Harbor to Ford Island, where Battleship Row once floated.
Two exhibit halls, Road to War and Attack!, provide more detailed information about the preceding events that spurred the Japanese to attack and what happened during and right after the attack.
We recommend you take some time to go through these exhibits before you go on the USS Arizona program. The background information is helpful.
A small gift shop provides souvenirs, everything from magnets and mugs to shirts and model planes and ships.
2. USS Arizona Memorial
This is the primary reason everyone visits Pearl Harbor: to see the sunken battleship that started World War II for the US.
The submerged remnant of the USS Arizona is only accessible via Navy-operated ferry service. Tickets are free, but reservations are strongly recommended.
The entire USS Arizona Memorial Program takes about 75 minutes and includes a short film in an air conditioned theater, ferry service out to the memorial, a short time at the memorial in the harbor, and a ferry ride back to the visitor center grounds.
**Note during the pandemic, they are instead showing the film at the open-air screen by the entrance and not in this theater.**
Sailors will take you across Pearl Harbor to the memorial, spinning the boat for photos either on the way in or the way out.
There's a truly great shot of the memorial from the harbor with the USS Missouri in the background. The beginning and the end of World War II, all in one shot. *goosebumps*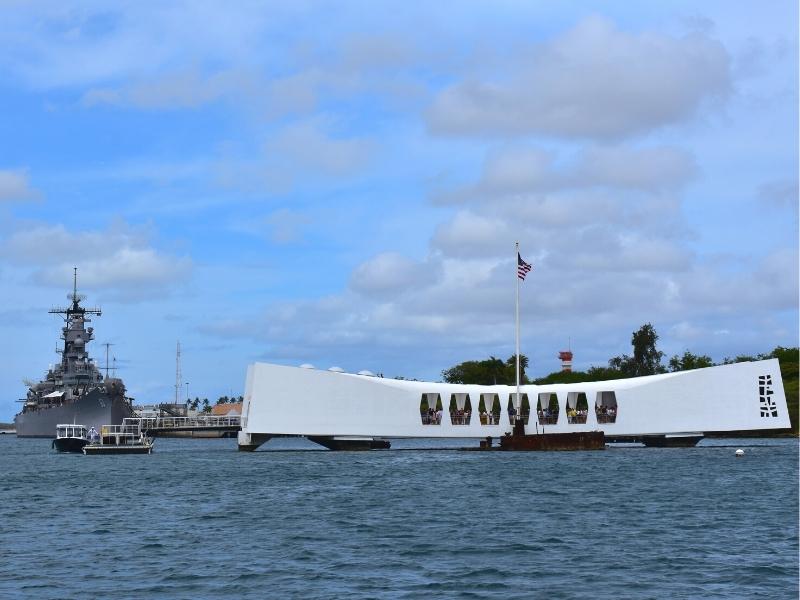 How Long Do Visitors Get at the Arizona Memorial?
Visitors get 15 minutes at the memorial. Yes, that's it.
The USS Arizona is mostly submerged, but there is a bright white memorial platform constructed over it.
Look for oil still seeping from the wreckage, known as the Black Tears of the Arizona, read about the spot where survivor servicemen can choose to be buried at sea with their shipmates, and be humbled by the number of names on the memorial wall at the back.
It's a lot to take in but a truly worthwhile experience.
Pro Tip: First come, first served tickets for the USS Arizona Memorial are no longer available on-site. Either reserve online ahead or get there when they open for the standby line.
How do I get tickets for the USS Arizona?
Online reservations charge a $1 service fee per ticket, but it's absolutely worth it. Everyone, including children, even if they're a lap baby, needs their own ticket. The count is for Coast Guard regulations to ensure everyone has a life vest.
See the Recreation.gov Pearl Harbor website for more information and to reserve tickets.
Tickets are released 8 weeks in advance and usually go quick, but they also hold 70-75 tickets per time slot until the day before. These last chance tickets release at 3PM local time and get snapped up incredibly fast.
Pro Tip: Set up your Recreation.gov account the day before you want to get tickets. You can't add tickets to your cart unless you're signed in to a Recreation.gov account. The time it takes to make an account the day of could cost you your tickets.
Can I still see the USS Arizona if I didn't reserve a ticket online?
Yes. If you missed the tickets 8 weeks ahead and then couldn't get tickets the day before either, not all is lost. It's still possible to see the USS Arizona via the standby line.
It's not great, waiting in that standby line, but you did fly across that big ocean and come all this way.
It's a long wait unless you're one of the first ones in line, no shade, standing with nowhere to sit, and no guarantee you get on a boat. But, it's possible.
Our first trip to Hawaii was incredibly last minute (long story), so we had to use the standby line. We arrived at 8AM and didn't get on a boat until 10:30AM.
We took turns exploring the grounds and exhibits while the other stood in line, so we didn't completely waste our time, but it was still less than ideal.
Don't expect to show up in the afternoon and walk onto a ferry. It won't happen.
3. Pacific Fleet Submarine Museum & the USS Bowfin
This historical site is not owned or operated by the National Park Service. It's a separate, paid attraction on the same grounds as the NPS visitor center.
When entering the park, turn left for the NPS exhibits and turn right for the Submarine Museum.
Adult admission is $22. Kids under the age of 4 are not allowed on the USS Bowfin, but are welcome everywhere else. The included audio guides also have a family mode for younger listeners.
The highlight here, of course, is climbing through the USS Bowfin, a World War II era submarine. Always a big hit with kids!
But don't forget the museum either. Audio guides are included for a self-guided tour through three new exhibit halls.
Learn about submarines and the role they played in World War II, the Cold War, and the modern era. See unique battle flags, learn how ICBMs launched from subs kept the Cold War cold, and how the fleet keeps us safe today.
Once you're done indoors, don't miss the outdoor exhibits. A conning tower, a rescue chamber, and even a Japanese Kaiten, among others.
End your visit with a somber walk around the waterfront memorial to the 52 submarines lost in World War II.
There is A LOT of information in this museum, but even with a tour of the USS Bowfin most visitors will finish in 1-2 hours.
4. USS Oklahoma Memorial
On nearby Ford Island, right outside of the USS Missouri, is the USS Oklahoma Memorial. Tall, white marble pillars remember the men that died on their ship during the Pearl Harbor attack.
The USS Oklahoma was hit by five torpedoes and capsized, tipping upside down and trapping sailors inside.
Rescuers drilled holes into the hull and managed to save 32 men from the wreckage, but it was second only to the Arizona for loss of life during the Pearl Harbor attack.
The Oklahoma was one of the three ships that was unable to be salvaged after the Pearl Harbor attack. It was raised but beyond repair. They stripped it of useful parts and sold it off for scrap, but it sank when they tried to tow it to California.
The ship isn't here, just the memorial on solid ground, maintained by the NPS and free to explore. Take a few minutes to pay your respects and then head over to the USS Missouri.
5. USS Missouri, the Mighty Mo Battleship
Looming behind the USS Arizona Memorial, the Mighty Mo is secured at her final dock.
The juxtaposition of how the war started and how the war ended for the US is sharply noted by history nerds, but it makes a good picture even for those that don't know.
The Japanese signed their unconditional surrender on the deck of the USS Missouri in Tokyo Bay in September 1945, effectively ending World War II.
Explore the many decks of the last American battleship ever made.
Learn all about life onboard, hear stories from the ship's time in service (well past the 1940's), and see the spot where the surrender document was signed that effectively ended World War II.
The USS Missouri is owned by a separate non-profit, not the National Park Service. Adult tickets are $35 and give you free rein to explore the gray behemoth.
Kids will love this as well, but note there are a few steep metal staircases to navigate between decks.
Guided tours are optional but included in your ticket, so be sure to ask when you first arrive on deck.
Exhibit skimmers and quick walkers can explore the ship in 1-2 hours, but if you take your time, plan for 2-2.5 hours.
Don't forget to walk out to the front and get an epic picture of you in front of those deck guns!
6. Pearl Harbor Aviation Museum
Another paid site for a different non-profit, the Pearl Harbor Aviation Museum is an aviation geek's delight. The $26 adult entry fee is worth it when you see the shop in the back where they're still restoring planes.
The self-guided tour starts in the main building, historic Hangar 37, and focuses on the World War II-era planes, with B-25 bombers, P-40 Warhawks, and many others.
See a replica Doolittle Bomber and the model aircraft carrier signed by some of the raiders!
Next, wander out back to historic Hangar 79 and see bullet holes in the glass from the Pearl Harbor attack and the history of American aviation post-WWII.
This is where all the jets and a few really cool other planes are stored, including a Blue Angel Hornet, a Tomcat, a B-17 Flying Fortress, and the cockpit of a B-52 Stratofortress.
Hangar 79 will take more time than Hangar 37. Taking your time and reading most exhibits, you can easily pass 2-3 hours here.
Visit the gift shop for souvenirs, or grab a quick bite in the diner-style restaurant, the only air-conditioned place to eat at the Pearl Harbor sites.
How Much Does it Cost to Visit Pearl Harbor?
Access at Pearl Harbor can be broken into four cost categories:
FREE: The National Park Service visitor center and grounds, which do not require a ticket or fee to enter.
Almost Free: The ferry to the USS Arizona memorial requires a ticket and a $1 nominal fee to reserve online, which you should absolutely do.
Non-NPS sites with their own fees: The USS Bowfin & Submarine Museum, the USS Missouri, and the Pearl Harbor Aviation Museum. Each is a separate entity and requires its own ticket.
Passport to Pearl Harbor ticket: Purchase from the Pearl Harbor Historic Sites ticketing agency, online or just inside the gate at the NPS Visitor Center, and get into all the attractions for one slightly reduced price of $90.

IMPORTANT: You have to get your USS Arizona ferry ticket separately. A Passport ticket doesn't get you on the ferry.
At a minimum, we highly recommend everyone does items 1 and 2 above.
Item 4 is the best option if you want to visit EVERYTHING, and can manage that in one day.
However, the Passport to Pearl Harbor ticket is only cost effective if you visit everything. Remove one of the paid sites, and it's cheaper to buy tickets individually.
We only recommend purchasing tickets separately if there is one site you know you don't want to visit.
Submarines make you claustrophobic just reading about them? Skip the USS Bowfin & Submarine Museum, and buy the other tickets separately.
Pearl Harbor Self-Guided Visit Itinerary
Arrive early to beat the heat and the crowds. The majority of people that arrive at 7AM are there to get in the standby ticket line.
Explore the two exhibit halls, The Road to War and Attack! (1-2 hours). The first hour is pretty empty, and you'll have the exhibits mostly to yourself. By 9AM, the place is full.
Walk the grounds at your leisure and enjoy views across the water to the USS Arizona memorial, Ford Island, and the USS Missouri just beyond.
Take your previously scheduled ferry to the USS Arizona Memorial, the earlier the better (1.5 hours). However, leave time to see the exhibits at the visitor center first, so you understand what you're looking at when you arrive at the memorial and can show proper respect.
Take a peek in the gift shop.
Explore the Pacific Submarine Museum and the USS Bowfin (1-2 hours).
Don't forget to eat lunch. (See below for options.)
Take the shuttle to Ford Island (15 minutes).
See the USS Oklahoma Memorial (10 minutes).
Explore the USS Missouri (1-2 hours).
Explore the Pearl Harbor Aviation Museum (2-3 hours).
Take the return shuttle back to the NPS Visitor Center, pick up any stored bags, and return to your hotel!
In general, your day at Pearl Harbor will revolve around your timed ferry ticket for the USS Arizona. The suggested itinerary above can be rearranged as needed to accommodate different ferry times.
Leave ample time to get back to the visitor center before your timed Arizona ticket! If you miss your time, your only recourse is to go to the back of the standby line and hope you can get in later. There are no refunds.
Pro Tip: If you choose to go out to Ford Island first and come back later for the USS Arizona, shuttle buses from Ford Island can get busy and you may have to wait a few rounds. Remember, shuttles arrive approximately every 15 minutes, so a long queue could mean waiting 30+ minutes.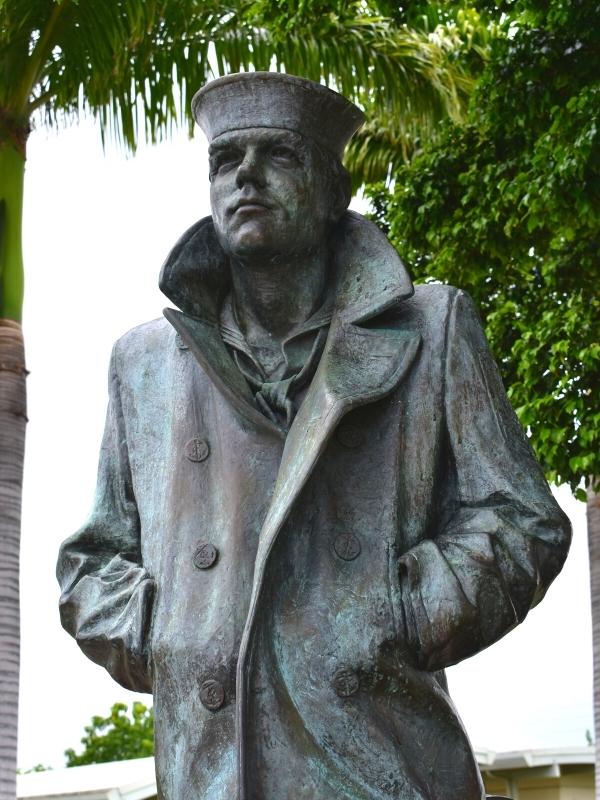 Guided Tours to Pearl Harbor
Oahu's main employer is tourism, and you will find a ton of tour options. If planning a day trip to Pearl Harbor is more effort than you were hoping for, consider a guided tour.
Just read the fine print very carefully so you are crystal clear on what is and is not included in your chosen tour.
Beware that the majority of guided tours to Pearl Harbor don't actually include a separate guide at the Pearl Harbor sites, and they don't usually leave a lot of time at the site, either.
Lunch is often not included, but a few tours will provide pre-packaged lunches.
Caution: A few tours say they include a stop at the USS Arizona but then don't include the USS Arizona ferry ticket from the NPS. You have to reserve your USS Arizona tickets separately. Triple-check this if you are in doubt whether or not it's included on your tour.
Many Pearl Harbor tours include hotel pickup, and the rest have pick up points in Waikiki for convenience.
Most guided tours to Pearl Harbor are on air conditioned buses, start in Waikiki, and drive past but do not stop at a few cultural sites.
Common drive-by's are Iolani Palace and the King Kamehameha gold statue and the National Memorial Cemetery of the Pacific, also known as "the Punchbowl" (from its geological origins, aka Punchbowl Crater).
Getting to Pearl Harbor
More often than not, visitors to Oahu are staying in Waikiki or the greater Honolulu area. Drive time is about 45 minutes via rental car/taxi/uber or slightly longer if taking the bus.
Hawaii has been trying to add an elevated light rail system for the better part of two decades now, but it's still not operational at the time of this writing.
Driving Yourself
The national park visitor center has free parking in multiple parking lots. Be prepared to walk, and remember the bag policy. But don't leave valuables visible in your parked car, either.
If you can't hide your bags in your car, bag storage is available at the entrance for a fee.
These are not self-serve lockers. If you pay to store a diaper bag and then pick it up at lunch for tending to the little one, you will have to pay another fee to store it again for the afternoon.
Besides having to drive in congested Honolulu traffic, this is a good, cheap option for getting to Pearl Harbor if you already have a rental car. Don't rent a car just for this, though.
Take The Bus, Honolulu's public bus system
The Bus Routes #20 and #42 both have stops at the Pearl Harbor Visitor Center on their westbound buses and don't require transfers from Waikiki.
However, the eastbound buses to get back to downtown or Waikiki both require a short walk to a different stop nearby on the main road, rather than turning into the Visitor Center again. Eastbound buses don't come directly to the visitor center like the westbound buses do.
Buses run every 30-40 minutes and will take about 1.5 hours from the far eastern side of Waikiki. Roundtrip cost is $5.50 per adult (ages 17+). Always check the current timetables and be aware they can change without notice on holidays or for special events.
This option is the cheapest but takes the longest, and can feel even longer if you don't have a seat.
Taxi/Uber
Both taxis and ubers will cost around $50 one way from Waikiki. Drive time is the same if you were driving yourself, about 45 minutes.
The advantage here is the driver has to deal with Honolulu's infamous traffic, not you. Meanwhile, you can sleep, read, or share your pictures to make your friends jealous while you wait for traffic to move.
Pro Tip: Rush hour traffic adds time to your drive. Ubers will likely be more expensive than taxis at first glance, but taxis have meters that continue to run while you are stuck in traffic. Use your best judgement for which is best for you.
What to Eat at Pearl Harbor
There's nothing fancy to eat at the Pearl Harbor Historic Sites, but there are some decent options for easy lunches.
Since admission is free, you are free to leave and come back to the site whenever you want. If you need a sit-down lunch, leave for real food and come back after.
A small convenience store-type shop between the NPS gift shop and exhibit halls sells pre-made refrigerated sandwiches, snack foods, cold drinks, and a few ice cream options, but this is basically in-case-of-an-emergency-like-my-toddler's-about-to-have-a-meltdown food.
Remember the bag policy. No diaper bags, unless you transfer all the contents to a clear plastic bag. Tell Dad to wear his most pocket-y cargo shorts so you can stash some emergency snacks.
The Pacific Fleet Submarine Museum has Jake's Food Truck, serving delicious typical Hawaiian food truck fare: nachos, burger, sausage, and garlic shrimp. Their lanai looking out at the harbor is a nice shaded place to sit and eat.
Out on Ford Island, the Mighty Mo has a few, more substantial options for lunch in open-air shops on the pier by the ship. Sliders Grill is real Hawaiian plate lunches or hamburgers from the grill.
Grab snacks and cold drinks at Battleshop (also the gift shop). And last but certainly not least at the Mo, are the sweet treats: Wai Momi Shaved Ice, and it wouldn't be Hawaii without a cliché Dole Whip Stand.
The Laniakea Café at the Pearl Harbor Aviation Museum is indoors and air-conditioned, open for lunch. A neat, World War II-themed cafe, it serves diner food: hot dogs, burgers, fish and chips, deep fried goodness.
---

---
Don't miss visiting Pearl Harbor on your next trip to Oahu!
Here are more resources for your next trip to Oahu.
More Hawaii Travel Resources
Happy travels!
Share it!