Stand in awe of the iconic symbol of the American West: the saguaro cactus. There are plenty of other fun things to do in Saguaro National Park, too, other than stare at cacti!
Explore the Sonoran Desert via a short, easy trail or a long all-day hike. Discover the plants and animals that make Saguaro National Park their home. Enjoy a colorful world as the wildflowers burst into bloom in the late spring and early summer.
Here's our favorite things to do in Saguaro National Park!
---
This post may contain affiliate links. As an Amazon Associate and associate of other programs, I earn from qualifying purchases. This means if you click a link and make a purchase, I may earn a small commission at no extra cost to you.
---
Where is Saguaro National Park?
Saguaro National Park is on the outskirts of Tucson, Arizona.
Visiting Saguaro is an easy day trip from Phoenix. It's a straightforward 2-hour drive down I-10 to Tucson and the park.
Saguaro National Park is split into two districts, one on either side of the city.
They're officially named the Rincon Mountain District and the Tucson Mountain District, but most people refer to them as Saguaro East and Saguaro West, respectively.
We're covering things to do in both districts, but it's best to choose one to start, see everything on that side, and then drive to the other side.
Good to Know: Saguaro is Spanish in origin and pronounced suh-WAAH-ro.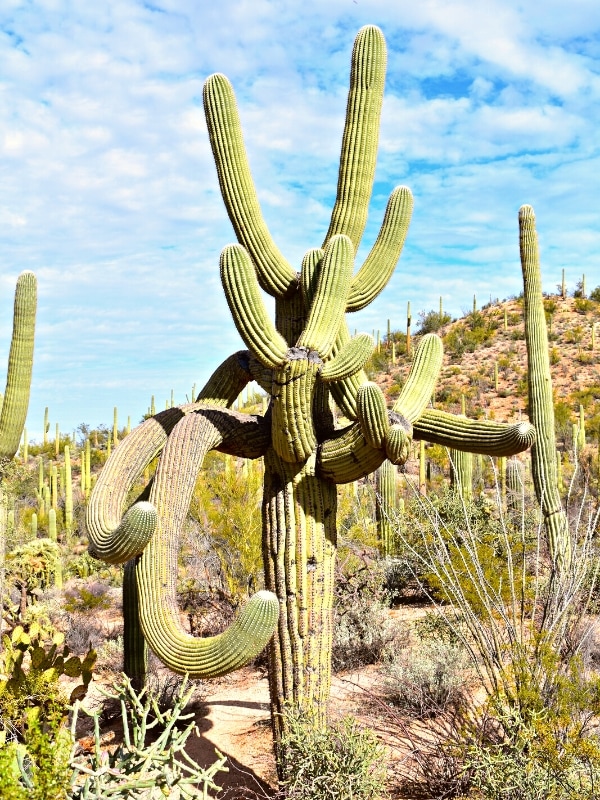 What's So Special About a Saguaro Cactus?
Saguaro cacti are only found in the Sonoran Desert in Arizona and parts of Mexico.
You might find a stray saguaro cactus here or there in the southern tip of California, but that's not its primary habitat.
These special cacti take a long time to grow and are a vital part of their desert ecosystem, providing homes and food to many small animals as well as to native tribes.
In Arizona, it's illegal to intentionally damage, deface, or cut down a saguaro cactus, even if it's on your private property.
California has similar protections in place for their rare Joshua trees, found only in the Mojave Desert and protected in large numbers at Joshua Tree National Park.
Saguaros aren't endangered, but they are heavily protected in Arizona so that never happens.
Think twice before you do something stupid to the cactus; a felony conviction and up to 25 years in prison could be the price you pay.
---
---
Saguaro East vs. Saguaro West: Which is Better?
Before we get into specific things to do in Saguaro, we want to clarify that both districts in Saguaro National Park are worth a visit.
You can even see both districts in one day in Saguaro.
Driving between districts takes about an hour and provides the perfect opportunity to grab lunch in Tucson along the way.
Saguaro East is the Rincon Mountain District. Saguaro cacti are more spaced out here with a wide variety of plants and landscapes. Backcountry camping is allowed.
Saguaro West is the Tucson Mountain District. Here you'll see the densest collection of saguaro cacti, a veritable forest! No camping allowed out here, but it has the better visitor center, in our opinion.
If you're debating which district to start exploring, then this Saguaro East vs West comparison can help you decide.
The 14 Best Things to Do in Saguaro National Park
For simplicity and planning purposes, we've broken down what to do in Saguaro National Park by district. Both are worth your time!
> Start in one district in the morning.
> Spend midday driving to Tucson and eating lunch in the AC to avoid the hottest part of the day.
> Finish out the afternoon in the other district.
Best Things to Do in Saguaro West (Tucson Mountain District)
You'll see plenty of the namesake saguaro cacti in both sections of the park, but Saguaro West has them in a much denser concentration than the east district.
Red Hills Visitor Center
Always a good place to start, the visitor center has maps and rangers that can help you plan your day or warn you about any current closures.
It also has real toilets and water to fill up your water bottles.
This is the bigger of the two visitor centers in the park and has more souvenir options in its gift shop than the east district's visitor center.
Drive the Bajada Loop
The Bajada Loop is Saguaro West's 5-mile scenic drive, providing access to most of the can't-miss things to do in Saguaro West.
You'll drive through the hilly landscape beside the Tucson Mountains and be overwhelmed by the sheer number of saguaro cacti in this area.
The drive is mostly gravel/dirt roads that a regular car will have no trouble driving on, but RVs and trailers should think twice.
The Loop consists of Hohokam Road and portions of Golden Gate Road, Sandario Road, and Kinney Road.
Hohokam Road is one-way only starting at the Hugh Norris trailhead and ending at the intersection with Golden Gate Road.
Good to Know: The dirt roads, Hohokam in particular, kick up A LOT of dust while driving. Keep your windows closed, or dust will cover everything inside your car.
Biking is allowed on this loop, but you'll want a mountain bike capable of navigating rough-ish terrain. This isn't the place for your road bike.
Park at either the Sus or Signal Hill picnic areas to start your biking loop.
Be very aware of your surroundings when biking here as its hilly and cars won't see you right away. Let them pass you.
Desert Discovery Nature Trail
Not far from the visitor center is the Desert Discovery Nature Trail. It's short, a 0.5 mile loop trail, and it's ADA accessible.
This easy trail is a good introduction to the desert ecosystem and the plants and animals that call the Sonoran Desert home.
Helpful exhibit plaques identify several types of cacti and desert shrubs and describe the desert ecosystem that you're exploring.
A good option for those with kids, short on time, or with mobility restrictions.
Valley View Overlook Trail
This short, easy trail is perfect for taking in the vast forest of saguaro cacti in this part of the park.
The trail up to the ridge gets you up close and personal with several saguaros as well as plenty of other cacti, trees, and shrubs.
The trail ends at the top of a ridge and looks down on the valley to the west, saguaros covering the hillside. It's my favorite view in the park, other than sunset.
It's amazing to see so many big saguaros in one place, especially once you realize it takes them at least 50 years to grow their first arm!
It's also a little sad when you realize that the saguaros abruptly stop at the park border.
The valley floor is bare of saguaros today, but I bet they used to cover the entire valley.
Good to Know: It's illegal to disturb or remove any plants from a national park, and it's a felony to cut down a saguaro cactus in the state of Arizona. You'll be hit with both if you disturb a saguaro in Saguaro National Park.
Visit the Signal Hill Petroglyphs
Ancient native tribes once lived in this seemingly desolate area, and they may have used Signal Hill as a landmark for navigation.
Drive to the Signal Hill parking lot and climb a few sets of stairs up the side of the hill to the top. You'll find good views and tons of ancient petroglyphs on the rocks.
We're not sure what the pictures actually mean, but it could be directions, warnings, or just idle scribbles.
This stop only takes about 20 minutes in total, unless you choose to linger.
Hike to Wasson Peak
The best views in Saguaro National Park West are from Wasson Peak, but they're also the hardest to reach.
Getting to Wasson Peak requires strenuous hiking, the easiest of which is 8 miles roundtrip with over 1000ft of elevation change.
Several different hiking trails can get you there but the often recommended route is the Sendero Esperanza trail to the ridgeline and then Hugh Norris Trail to the peak.
Alternatively, take the Sendero Esperanza trail to the ridgeline, and then turn around and retrace your steps to your car.
You'll still get some great views from a higher vantage point, but it's almost 1000ft less elevation change than if you'd gone all the way to the peak.
See the Spring Wildflowers
You might think the desert is a dry and monochromatic place, but that's because you've never been here in the spring.
See the desert burst into bloom and change the hillsides into a kaleidoscope of colors!
This is also the best chance to see wildlife in the park as they come out to feast on the flowers, their nectar, and the fruit they eventually bear.
Best Things to Do in Saguaro East (Rincon Mountain District)
Saguaro East is all about choosing your own hiking adventure.
There are several hiking areas to choose from with trails that interconnect so you can create a hike to match your time limit and effort level.
Rincon Mountain Visitor Center
Check in with a ranger for current conditions and ask them for their favorite hiking trail recommendation.
Rangers can also tell you if the hiking trail you had in mind has a better parking lot that doesn't require driving around the one-way loop that is Cactus Forest Drive.
The Rincon Mountain Visitor Center also has a small gift shop, bathrooms, and water fountains for filling up before a hike.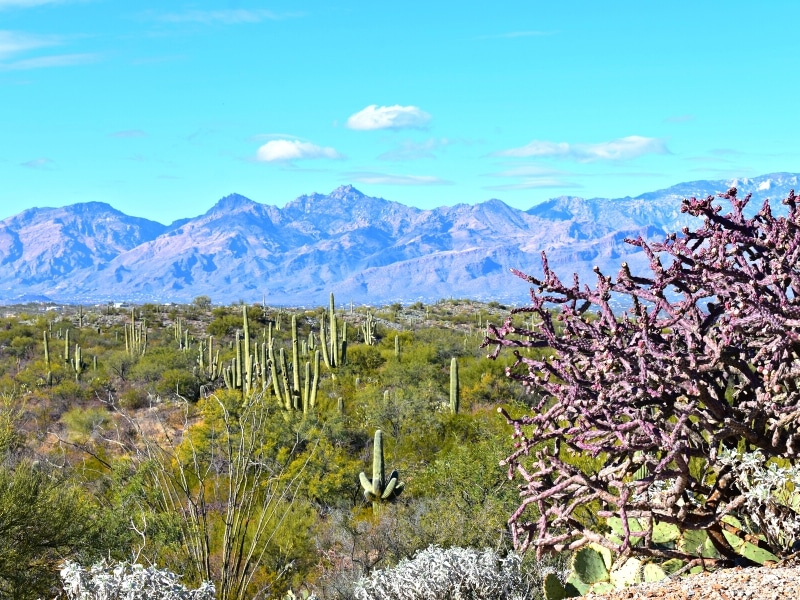 Bike or Drive Cactus Forest Drive
It's the only road in Saguaro East, and, thankfully, it's paved.
Cactus Forest Drive is an 8-mile loop, starting and ending at the Saguaro East Visitor Center, and it's one of the most popular things to do in Saguaro National Park.
It's a beautiful and accessible way to enjoy the scenery and the foothill views of the Rincon Mountains.
We personally prefer this scenic drive over Saguaro West's Bajada Loop. Both are good, but we like this one best.
Driving the loop takes about 45 minutes, assuming you'll get slowed down by traffic and want to stop at a few overlooks along the way.
You also may want to stop for a hike or two or three. All of the following are accessed from Cactus Loop Drive, or a picnic area just off the loop.
Mica View Trail
Desert Ecology Trail
Loma Verde Trail
Freeman Homestead Trail
Cactus Forest Trail
Biking is allowed on this road, a unique way to experience Saguaro East. The route is hilly, but you're rewarded with good views for your effort.
Be mindful of traffic; let cars pass.
Good to Know: Cactus Forest Drive is one-way only if you drive clockwise. Once you turn left from the entrance, you have to drive the entire loop to get back to the visitor center. There isn't any water on the road, and bathrooms are few and far between at picnic shelters.
Hike Mica View Trail
The most popular short hike in Saguaro East! See palo verde nurse trees shelter baby saguaros while they get their start in life.
The Mica View Trail connects the Mica View Picnic Area, off of Cactus Forest Drive inside the park, with the Broadway Boulevard parking area on the park border.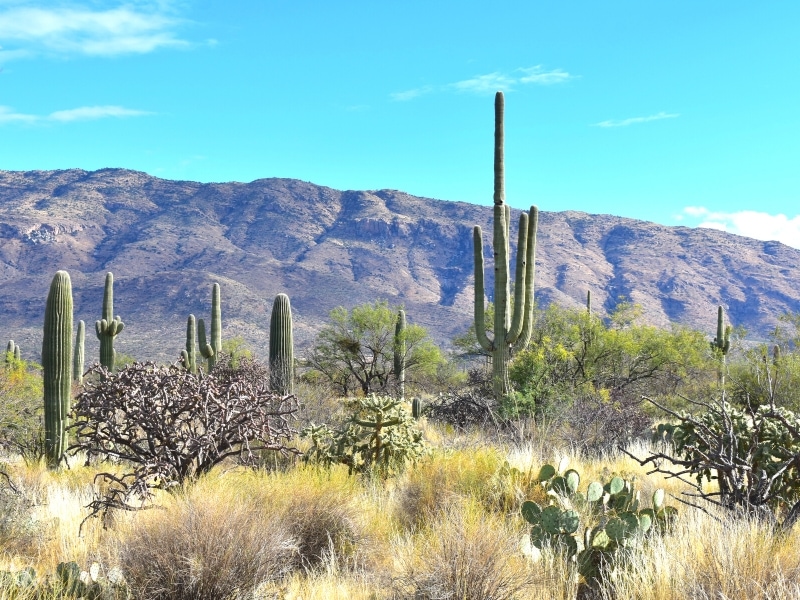 The path isn't paved but it's a hard surface that's considered semi-accessible and certainly a more stable surface for walking than the dirt/sand/gravel mix that's typical of hiking trails in Saguaro.
Take the out-and-back approach or make it a loop by connecting to the Cactus Forest Trail at Broadway and catching the connector back to the Mica View Picnic Area.
Either way, it's an easy 1.5 mile roundtrip hike that'll take about an hour.
Enjoy the Desert Ecology Trail
Saguaro East's ADA accessible trail, the Desert Ecology Trail is off of Cactus Forest Drive, a short way past the turn off for the Mica View Picnic Area.
This paved trail is a 0.3-mile loop with exhibit plaques to learn more about the desert ecosystem you're walking through.
Popular with kids, this is a good introduction to desert life.
Explore the Javelina Rocks
This roadside stop on Cactus Forest Drive is a good opportunity to get out, stretch your legs, and maybe try to spot an elusive javelina.
These rocks are named after the small wild pigs that like to roam nearby, but we've never seen them.
Rangers will warn you not to get your hopes up, either. They're tricky to spot!
Still, Javelina Rocks is a good stop for views, especially at sunset!
Admire Rincon Peak
Saguaro East has some spectacular mountain views, especially if you're willing to drive to areas of the park away from the visitor center.
Enter the Ridge View Trail. This trail was wisely recommended to us by a ranger at the visitor center.
From the Loma Alta trailhead it's a reasonable 2.2 mile roundtrip hike, out-and-back, to the top of the ridge for a fantastic view of Rincon Peak.
This is the best way to view the backcountry of the Rincon Mountains without an exhausting all-day or multi-day hike out to the peaks themselves.
Plan a Multi-Day Backpacking Adventure
Want to get away from it all for a few days? There's no better way to unplug and escape than to take a multi-day hike through the Rincon Mountains.
You'll need a backcountry/wilderness permit from the park office and be familiar with the rules of backcountry hiking and camping in Saguaro.
Saguaro East has 6 high elevation wilderness camping sites which require reservations.
Water is scarce year-round. Pack in as much water as you can safely manage, and treat any water used to fill up in the wilderness.
Your water supplies should dictate whether you continue a hike or turn around. There's no guarantee you'll find water if you continue deeper into the wilderness.
Saguaro National Park Practical Info: Know Before You Go!
Entry Fee: $25 per car, good for 7 days, or free with an America the Beautiful annual pass
Cell Service: Ok in east, meh in west. Have offline or paper maps available.
Prepare for the Heat! Sun protection is a must, as is lots of water. Dehydration and heat stroke are a threat year-round here.
Watch where you step! Rattlesnakes live here, as do gila monsters and even bobcats. You're unlikely to run into these, but keep your eyes peeled just in case.
Flash floods are sudden and dangerous. Check weather conditions before you go out, and keep an eye on the sky when you're hiking.
>> When's the Best Time to Visit Saguaro National Park?
The best time to visit Saguaro for cooler temperatures is in the winter or spring. Spring is an ideal time to visit Saguaro National Park to see wildflowers and the saguaro cactus in bloom.
Basic Packing List for Saguaro National Park
Sun protection. No matter what time of year you visit, you'll need sunscreen, a hat, and sunglasses. Long sleeved wicking shirts and hiking pants are a good idea, too, if you can tolerate it.
Water. Never go into the desert without water! Dehydration is always a risk here, so bring plenty of water, even if you're only planning to hike less than a mile.
Salty food. You'll need to replenish your salt as you sweat, and you will sweat.
Breathable clothes. Cotton is rotten in high-sweat environments. It traps the moisture. You want wicking fabrics.
Hiking boots. Keep sand out of your tennis shoes and give yourself some ankle support with hiking boots. Most of the easy, short hikes are doable with tennis shoes, but boots are always better if you have them.
Hiking poles. Helpful to your knees, hips, and ankles while hiking up and down hills. Also nice to have a stick to distract any snakes interested in your legs.
Where to Stay near Saguaro National Park
The most convenient place to stay near Saguaro National Park is Tucson, AZ. You'll greatly appreciate the air conditioning in your hotel room!
If you prefer to camp, there are no campground facilities in Saguaro National Park.
Saguaro East allows backcountry camping via permit only, but there's no camping at all in Saguaro West.
The Gilbert Ray Campground is close to the southern side of Saguaro West and has great reviews.
Enjoy These Fun Things to Do in Saguaro National Park!
Whether you enjoy hiking, biking, or just want to see a really cool saguaro cactus, there are plenty of fun things to do in Saguaro National Park!
If you're looking for more ideas for your Arizona trip, here are some of our favorites.
More Arizona Ideas
More Southwest USA Ideas
Happy travels!
---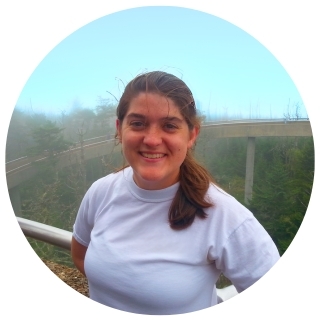 About the Author: Rachel Means
With six-figure student loan debt and only 10 PTO days per year, Rachel started traveling the world. A decade later, she's paid off her loans, changed careers, and been to 36 US states and 14 countries. She's an expert at planning and budgeting for travel and loves to help others do it, too! Read her full story here.
---
Share it!