You don't have to enjoy gambling and drinking to enjoy Las Vegas. It's one of the best kept secrets out there about Sin City.
That line, "What Happens in Vegas, stays in Vegas," has been working for them for so long, it's like they're scared to ruin their reputation as a bad boy by admitting they have other things to do.
Like if a Hell's Angels biker dude admitted that he enjoys a good manicure and spa day every now and then, his bros might not take him seriously as a biker anymore. But that dude is definitely still a Hell's Angel.
There are actually plenty of sober things to do in Las Vegas besides gambling, whether you're pregnant, visiting with the family for a sporting event, or just not into gambling or drinking.
But don't worry, Vegas. We'll still think of you as Sin City, because you still are and always will be America's largest adult playground!
---
This post may contain affiliate links. As an Amazon Associate and associate of other programs, I earn from qualifying purchases. This means if you click a link and make a purchase, I may earn a small commission at no extra cost to you.
---
Is There Really Anything to Do in Las Vegas Besides Drink, Party, And Gamble?
Vegas' image as Sin City is certainly what attracts most people, but it is possible to visit and have a great time even if you're not a drinker, smoker, or gambler.
People bring their families to Vegas for kids' sports tournaments or races. Women come on babymoons here.
Maybe you want to try gambling or drinking one day, but you're still anxiously awaiting the day you turn 21.
(You can vote, sign a contract, take out crippling student debt, or choose to fight and die for your country, but you're incapable of making a decision about drinking or gambling? Come on. #endrant)
Don't get me wrong, the casinos still reign supreme here, followed closely by bars and burlesque.
But there has definitely been a focus on adding more sober activities and marketing to consumers that don't want to deal with hangovers or lose all their money at the blackjack tables.
Why We, Non-Drinkers, Decided to Give Vegas a Try
Las Vegas brings in thousands of people every year for sporting events and conferences, and some of those crowds are not all about drinking.
We visited Vegas for the first time ever thanks to the Rock'n'Roll Running Series. (One of my bucket lists is to run a half marathon in all 50 states.)
I specifically wanted to do this half marathon because you get to run down the Strip at night; no cars, just runners and unrivaled views of the lights at night.
If you're a runner, seriously, consider it!
Don't run this one for the PR. Bring your phone or GoPro and take tons of pictures while you run! It's a very cool experience.
But the thing about runners, and athletes in general, most of them are health-nuts (and I mean that in the best possible way).
They're not here for the excessive drinking, smoking, and gambling, even if they may have a drink or two after the race.
They're here for their sporting event and the cool experience factor.
Events like these bring in thousands of visitors in one weekend, and Vegas wants to capitalize on all that potential revenue that they know they won't see on the casino floor.
So, if you know where to look, you'll find plenty of cool experiences around Las Vegas that don't require any drinking or gambling.
Enjoy a completely sober trip to Las Vegas!
---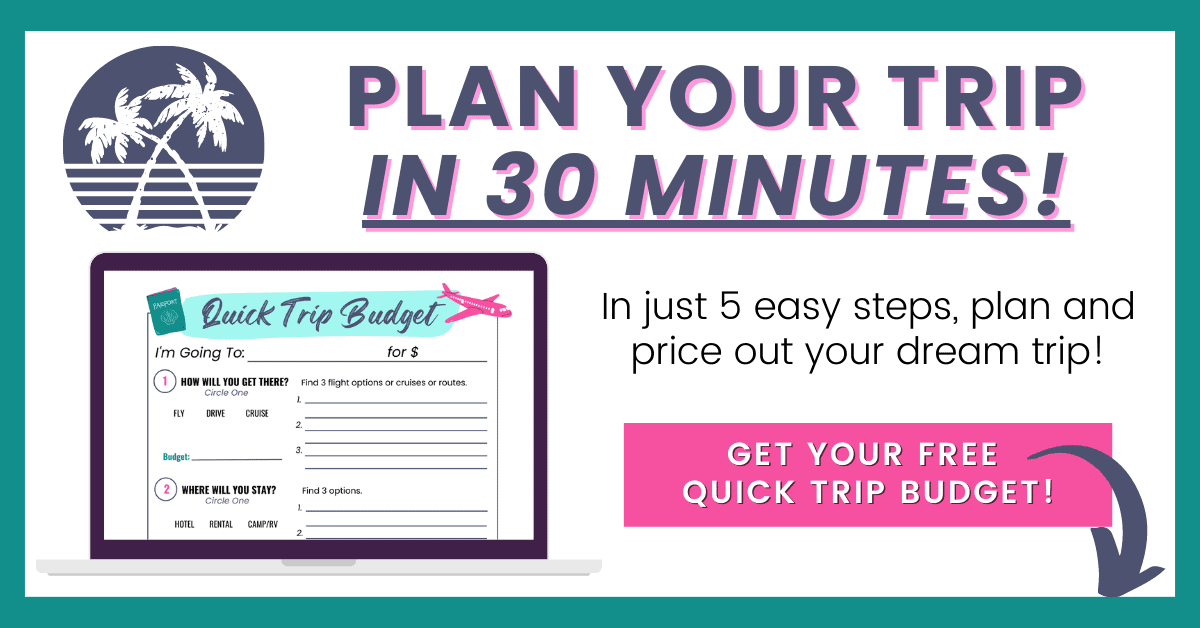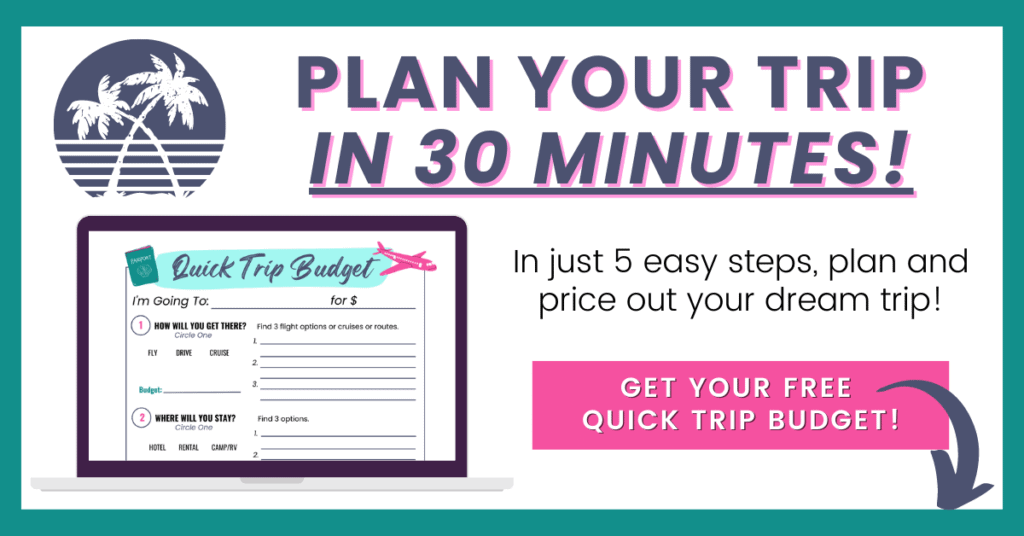 ---
Sober Things to Do in Las Vegas Besides Gambling or Drinking
Listed in no particular order, here are 35 fun things to do in Vegas while you're pregnant or visiting with family or just not into drinking or gambling.
Each activity notes its location and cost to help you budget time and money for your Vegas trip.
1. The Bellagio Conservatory
The Strip / FREE
The Bellagio changes out its conservatory every season, so there's always something new to see.
Hundreds of fresh flowers come together into some spectacular floral arrangements.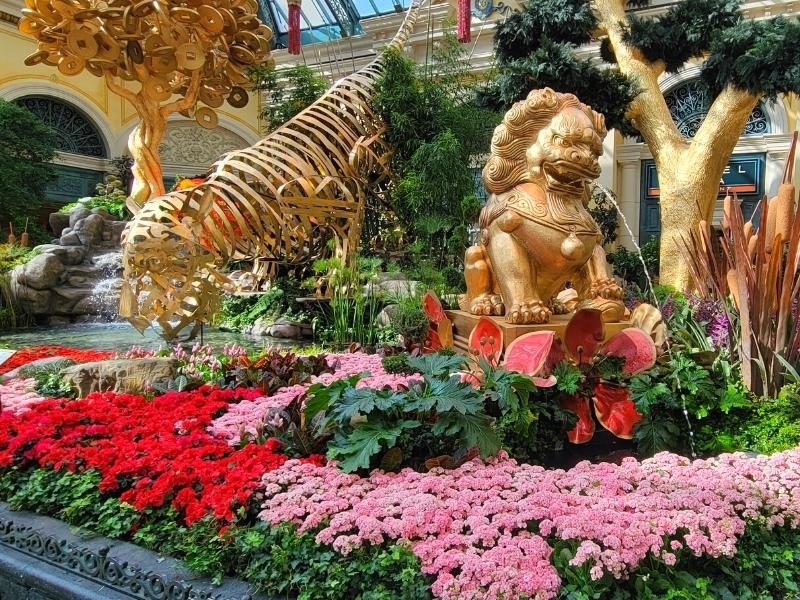 You don't have to be a guest at the Bellagio to walk through the Bellagio.
This is true for all the casinos on the Strip.
The elevators to the guest rooms are secured for guests only, but the casino floors, showrooms, restaurants, etc. are open to the public.
2. The Bellagio Fountain Show
The Strip / FREE
Free for anyone who happens to be walking nearby at the time, the Bellagio fountain show is a Las Vegas must-see.
The show is short, about 5 minutes, and includes water jets and lights timed to a musical score.
During the week, shows are every 30 minutes between 3PM and 7PM and every 15 minutes between 7PM and midnight. On weekends, fountain shows start at noon.
3. The Neon Museum
Downtown Las Vegas / $-$$
Las Vegas is flashy, and they've been advertising with neon signs basically since the beginning of casinos in Las Vegas.
But where do all those beautiful signs go when an old casino is torn down? To the Neon Museum!
Come during the day to see the boneyard, or visit at night to see some restored signs come back to life!
There are several tour options so this can cost as little as $20 per adult for a day-time visit to the Boneyard or as much as $45 per adult for a combo day time & night time return visit ticket.
Buy your tickets online ahead of time. They frequently sell out.
Pro Tip: There is a very strict photo policy here. No videos allowed. No real cameras allowed, only cell phones or tablets.

Familiarize yourself with their rules before you show up.
4. The Mob Museum
Downtown Las Vegas / $-$$
We all know the Corleone family is going to be completely legit in 5 years, but Las Vegas history will always be tied to the Mob.
Officially the National Museum of Organized Crime & Law Enforcement, this three-story building is packed with information and amazing exhibits and artifacts from mobsters you know, like Al Capone and Bugsy Siegel to John Gotti and Whitey Bulger.
Each level focuses on something different: the history and rise of the mob in the US, the rise of the FBI hunting mobsters at the turn of the century, and more recent mob busts and on-going operations.
The gift shop also has a great exhibit on all the mob-related movies and TV shows, from The Godfather to Narcos.
There's also The Underground speakeasy and distillery, if you want to check it out.
Tickets range in price from $30 per adult for basic entry to $50 per adult for additional interactive experiences.
This is a fan-favorite and gets particularly busy during the middle of the day. Buy your tickets online ahead to skip the line inside.
5. Fremont Street
Downtown Las Vegas / FREE
The OG Las Vegas. Fremont Street is in downtown Las Vegas, well north of the current day Strip, and is generally just a bit grungier-feeling.
It's more of an event space than a road these days, pedestrian only, and covered by an ever-changing LED ceiling that alternates between ads and trippy landscapes.
Free concerts are common, and the ceiling puts on a free light show every night starting at 6PM and on the hour after that.
You might get a contact high here, and the entire street is lined with bars, shops, and a few casinos that match its grungy feel.
The fun thing here is the zipline.
A 12-story high zipline that races across the top of Fremont Street, the SlotZilla Zipline is one of the Vegas must-do's for adventure travelers.
6. Visit The Strat's Observation Decks
North end of the Strip / $
The Strat Hotel & Casino is at the furthest end of what's still considered The Las Vegas Strip.
We can't recommend the hotel, as we've never stayed there, but its observation deck views can be pretty awesome.
The SkyPod has both indoor and outdoor observation decks with 360° views of The Strip and the Las Vegas Valley.
Generally, no "professional" photography equipment is allowed without prior approval. That means no tripods, monopods, lighting, etc. but also no "long lenses."
We're unsure if that means all zoom lenses or just telephoto lenses. Call them and ask if you're unsure.
Tickets are required so they can keep track of capacity. For the observation decks only, tickets are $20 per adult.
If you're interested in thrill rides, check out the next item on our list.
7. Brave the Thrill Rides at the Top of The Strat
North end of the Strip / $-$$$
Adrenaline junkies will love these! For as little as an extra $5 on top of your Strat SkyPod admission, you can choose a thrill ride.
Tickets are available for one, two, three, and unlimited thrill rides. What rides, you ask?
Big Shot hurtles you up the tower and then drops you.
Insanity hangs you off the edge of the tower and twirls you at speeds up to 3G's.
X-Scream is a roller coaster that tilts you off the edge of the SkyPod, pulls you back, and does it again.
Those are all pretty reasonably priced for a few minutes of terror, lol.
For the real fanatics, try the SkyJump.
This option is not included in the combo tickets as a thrill ride; it's a separate attraction starting at $130 per adult.
Harness in and jump from the 108th floor of the tower, free-falling to the ground, until the autobrake kicks in to slow you down for a safe landing on the landing pad on the ground.
It's a vertical zipline with guide wires to make sure you land where they want you to land and automatic brakes for a safe landing.
But can you imagine a running leap off the 108th floor of a building?!
8. Shop, Eat, or Play at Container Park
Downtown Las Vegas / FREE to visit
Container Park is a quirky park/mall area, built entirely out of old shipping containers.
Just a few blocks east of the pedestrian-only portion of Fremont Street, the Container Park has a sunset drum circle every evening to waken Mantis, who shoots fire from his antennae.
Oh yeah, did we mention quirky?
That about sums up downtown Las Vegas.
Find unique boutique shops, chill at the playground or do yoga on the lawn, or grab a bite to eat at one of the many on-site restaurants.
The park is family-friendly until 9PM, and then becomes 21+.
9. First Friday in downtown Las Vegas' Arts District
Downtown Las Vegas / FREE
Experience Las Vegas' creative side at a First Friday event in the downtown Arts District, north of the Strip but south of the rest of the downtown Las Vegas attractions.
Art, food, and music are all on display here with a theme that varies from month to month.
It's free to explore, but you'll probably find something to buy along the way, whether it's a piece of original art or a delicious treat from a food truck.
Parking can be difficult to find. One of the city garages offers a shuttle, reserve a parking spot online, or, the easiest option, take an Uber.
10. Catch a Show
The Strip / $$-$$$
Vegas is known for its shows, whether it be a famous musician, magician, or acrobatic troop. Pick your poison.
We saw a Cirque du Soleil show at The Bellagio, and it was amazing! It was water based but with all the acrobatics you'd expect from Cirque.
We sat higher up so we wouldn't get splashed, which also made the tickets a bit cheaper.
If you want to see a popular show, book well ahead of your trip to ensure you get a good seat.
Occasionally, you can get last minute tickets from a hotel concierge or the on-street ticket kiosks, but don't count on these.
Also, stay away from individuals trying to sell tickets. 100% it's a scalper and you won't get through the door at the event.
11. National Atomic Testing Museum
A couple blocks east of the Strip / $
A fascinating piece of history, just a few blocks from the middle of the bustling Las Vegas Strip, it's a unique way to get out of the heat in the middle of the day for an hour or two.
This museum is all about America's nuclear weapons testing program, from inception to modern-day impacts.
The Nevada Test Site performed both above-ground and underground nuclear weapons tests.
We're still unpacking the long term affects of those actions as well as the political and moral implications.
Exhibits include nuclear reactors, replicas of various weapons, TONS of atomic age propaganda, a piece of the Berlin Wall, and pieces of the World Trade Center from New York.
Adult tickets are $24 with discounts for various groups/ages. Self-guided tours. Closed on Wednesdays.
12. Minus 5 Experience
The Strip / $-$$
Don a parka or faux fur coat and enjoy a drink from an ice glass in a bar made entirely out of ice at the Minus 5 Experience!
This isn't just for drinkers! Mocktails are available, and families (kids 7+) are welcome until 9PM.
Parkas and gloves are provided to keep you warm in the -5°C (23°F) room.
You don't even have to get a drink; just come and see a room made entirely from ice!
The decorations, the chairs, the walls, the lighting, and the bar are all made of ice.
They bring in ice sculptors from around the world, so there's some cool pieces to see!
Bonus: they allow cell phones now so you can take your own photos! Stay as long as you want; no time limit on your experience!
Base packages are entry only with upgrade packages including things like 2 drinks, a souvenir gift, or use of faux fur coats and hats instead of the standard blue parkas.
There are currently three Minus 5 Icebars to choose from: one at the LINQ Promenade, one at Mandalay Bay, and one at The Venetian.
Hours vary by location, but all use the same pricing.
Pro Tip: If you're getting mocktails only, or not drinking at all, the upgrade packages aren't worth the money.

Mocktails are $5 whereas alcoholic drinks start at $12. The first upgrade covers the cost of 2 alcoholic drinks, but you're leaving money on the table if you get mocktails.

And the faux fur coats and hats are cute, but are they worth another $50 each?
13. Excalibur's Tournament of Kings
Excalibur Resort & Casino / $$
Basically a Medieval Times, if you're familiar with that dinner and a show experience from around the country, but for King Arthur specifically.
Enjoy a fixed dinner menu (always Cornish game hen and vegetables) in tiered seating while watching horsemen and actors put on a show about King Arthur.
Kids 4+ require their own full-price ticket. Kids 3 and under must sit in an adult's lap and share the adult's meal, if needed.
Showtimes are 6PM and 8:30PM, depending on the day. Closed on Tuesdays.
Tickets are around $60-65 per person, but can be as low as $42 per person if you get a dinnerless ticket at the 8:30PM showtime. You have to call the box office specifically to get that rate though.
---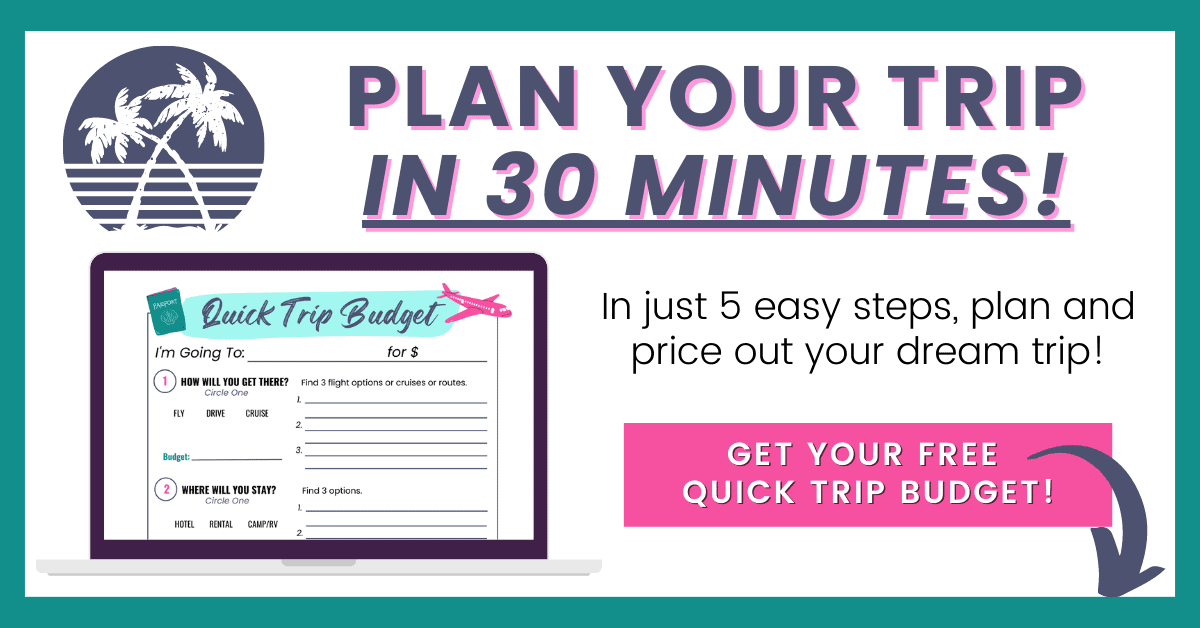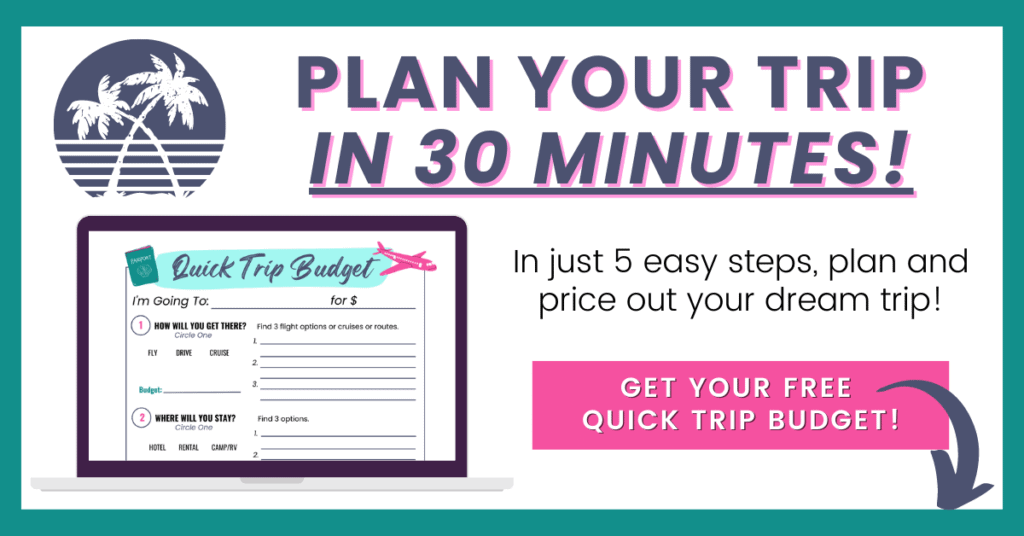 ---
14. Ethel M Chocolate Factory Tour
Henderson, NV / FREE
Chocolate, anyone?
Come see how they make their delicious treats, and take some home when you're done with your free, self-guided tour.
There are several Ethel M shops around Vegas, but the factory tour is at the cactus garden location in Henderson, NV, on the other side of the airport from the Strip.
Call ahead to see when/what they're making so you can time your visit right and see the chocolatiers in action.
15. Ethel M Cactus Garden
Henderson, NV / FREE
Chocolate and cacti?
After you've perused the Ethel M chocolate factory, step outside for a stroll through the free cactus garden!
This is a beautifully designed botanical garden, completely free to the public just like the chocolate factory, and showcases Southwest USA's many cacti and succulents as well as other species from around the world.
Walk off some of the chocolate you just bought with a stroll through the garden!
16. The LINQ High Roller Observation Wheel
The LINQ Hotel & Casino / $
Very à la the London Eye, this observation wheel provides amazing aerial views of the Strip both during the day and at night.
Bring your camera for fantastic views, especially at night with all the lights!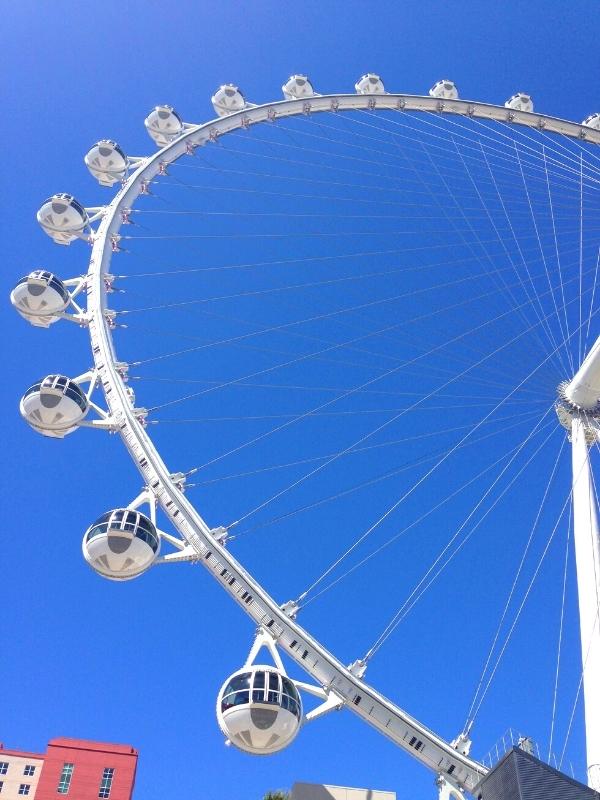 A full rotation takes about 30 minutes in the air conditioned cabins, and you are free to bring your own drinks.
Just no glass bottles, coolers, or six-packs.
The wheel never stops but it's moving slow enough that passengers can embark and disembark with ease.
17. Meow Wolf's Omega Mart
A few blocks west of The Strip / $$
Omega Mart is hard to explain.
It's like a super trippy, immersive art exhibit-meets-carnival fun maze, but not creepy.
You really have to see it for yourself to get it!
There are secret doors and areas, slides, stairs, mirrors, lights, optical illusions; the list goes on.
It's a major sensory overload but in a good way (for most people).
I know I'm doing a mediocre job of explaining this so watch their video instead.
Meow Wolf is an artists' collective that turned into a business, kind of, that started in Santa Fe and has expanded to Las Vegas and Denver, so far.
They build these big, incredibly creative spaces for people to explore while showcasing their artists' works.
Each location is a vastly different experience.
Good to Know: Omega Mart is inside the Area15 entertainment building. Show your Omega Mart ticket, and they'll let you in.
18. Springs Preserve
West of Downtown Las Vegas / $
The Springs Preserve is a large park that includes several different attractions for the bargain price of just $10 per adult.
How many attractions you get to depends how much time you have to spend here.
A general admission ticket covers all of the following:
Origen Museum
Nevada State Museum
Outdoor areas, like the Botanical Garden and Trails
Indoor areas, like Boomtown 1905 and WaterWorks
Rides on the train through the grounds
Playground and splash pad
Guided garden tours
See a mammoth skeleton at the Nevada State Museum, watch how a flash flood works at the Origen Museum, and stroll or ride the train through the gardens.
Not a bad way to spend a day!
Good to Know: Outdoor activities like the trails will close with severe heat advisories in the summer.
19. Fly over the Strip in a Helicopter
Las Vegas Strip Terminal at the airport / $$$
For the absolute best view of the Las Vegas Strip, hop in a helicopter for a quick flight!
Helicopter rides are becoming surprisingly less expensive and accessible to more people.
The fan favorite in Las Vegas is just a 15 minute flight over the Strip at night.
We haven't done this one ourselves yet, but it is high on our list!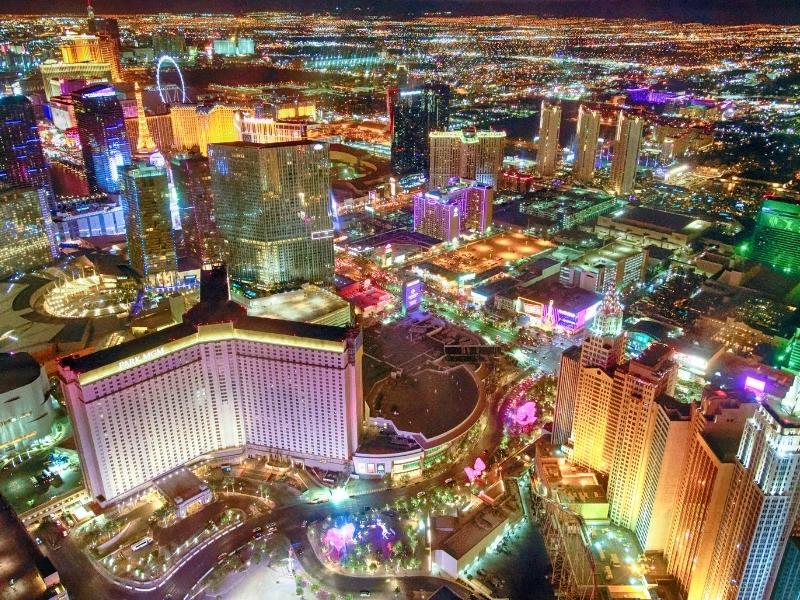 Other options include longer flight times with more to see, like the Las Vegas Valley, Red Rock Canyon, or even the Grand Canyon.
The longer/further your flight, the more expensive this excursion gets, but you're not losing that money gambling in the casinos. You're making unbelievable memories instead!
20. Ride in a gondola at The Venetian
The Venetian / $$
The Venetian, as its name suggests, is a reincarnation of Venice, Italy in the desert that makes up Las Vegas.
It has a Grand Canal, a Bridge of Sighs (with escalators instead of stairs, lol), and tons of shopping and dining options, besides the casino and all its accoutrements.
Pay to ride in a gondola down the canal, indoors or outdoors, complete with singing gondolier!
It's fun to watch, and there's always a line, but the route isn't very long.
We didn't feel the price was worth the length of the excursion, but don't let that stop you if you want to try this experience!
It's one way to find out if you'd like the much longer option in the real Venice.
21. Take All the Photos!
The Strip / FREE
Just walking up and down the Strip will fill your camera roll with plenty of photos. There's so much to see!
Colorful neon signs, outrageous outfits, resorts made to look like you're in another country, fountains, palm trees: the list goes on.
But don't forget to step inside the luxurious resorts and get photos there, too.
The main lobby of The Bellagio has a Chihuly Glass Ceiling, and it's awesome.
The Paris, New York, New York, and The Venetian all reflect their namesake cities.
Caesar's Palace is a miniature ancient Rome, and The Luxor is a miniature ancient Egypt.
Another must-see is the Welcome to Las Vegas sign!
OK, so a lot of people will say this is overrated, but I disagree. It's iconic Las Vegas.
There's usually a line, which is very considerate so everyone can get their picture without others in it.
If you don't want a picture with you in it, snap a quick one between groups from the line. (This is what I did, while I was in the middle of running a half marathon, lol!)
22. Ziplining: Fremont St or at the Rio or at the LINQ
Multiple Locations / $$
We mentioned ziplining when we discussed Fremont Street above, but there are multiple places where you can find this particular type of adventure near the Las Vegas Strip.
SlotZilla Zipline at Fremont Street is super popular, but Fremont Street isn't for everyone.
Maybe you just don't want to bother with an Uber out to downtown. That's fine.
The LINQ and The Rio both have their own zipline adventures, right off the Strip.
Fly LINQ on the LINQ Promenade is 12 stories high and has 10 adjacent lines so you can fly through the air with 9 of your friends.
The Rio Zipline zips between two towers of the Rio Resort, leaving the 51st floor of the Masquerade Tower, traveling to the Ipanema Tower, and back.
The thing about the Rio Zipline, it's actually like a ride in an open-air ski lift. You're not superman-posing your way through this ride like the others.
You're sitting upright next to one of your friends (or a complete stranger, no solo rides) as you dangle 50 stories in the air.
23. Eat at Your Favorite Celebrity Chef's Restaurant
Most are on the Strip / $$-$$$
Taste your way through Vegas and hit up all your favorite celebrity chefs' showcase restaurants!
Gordon Ramsay, Emeril Lagasse, and Giada de Laurentiis all have restaurants in Las Vegas.
And that's just three of the many famous names that call Vegas home to one of their restaurants.
It's a very good idea to make your dining reservation as early as possible before your trip.
These famous establishments can be booked out months ahead.
24. Catch a Sporting Event
Usually T-Mobile Arena or Allegiant Stadium / $$-$$$
There's nothing like a Las Vegas Knights hockey game for getting all your pent up yelling out of your system!
Las Vegas is proud of its hockey team, and you'll see Knights gear all over the place.
UFC and boxing matches are their own adrenaline-pumping adventures, and auto racing of all sorts is a big draw.
Of course, we can't forget American football: the Raiders play out of Allegiant Stadium.
25. Spa day!
Everywhere / $$-$$$
Some of the most relaxing spas are tucked into Las Vegas resorts.
Splurge for a relaxing day away from the noise and chaos that is Las Vegas!
We recommend starting with the one in the hotel you're staying at because they're more likely to give you a discount for being a guest.
Some don't do that though, so look around for the best deal.
26. Shop 'til You Drop
Everywhere / $-$$$
Peruse the high-end shops of The Bellagio or the Grand Canal Shoppes at the Venetian.
Move on to the North Vegas Outlet Mall for things you can actually, possibly afford.
Or honestly, just walk along the Strip and duck into any shop you fancy!
There's everything from an M&M's World to tacky souvenir shops to Tiffany's.
27. Seven Magic Mountains
30 min south of Las Vegas / FREE
This Insta-famous art installation is about 30 minutes south of The Strip, but it's by far one of the most recommended things to see in Vegas.
Originally supposed to be a limited-time attraction, the removal date kept getting pushed back.
Now, we're pretty sure it's here to stay because it's such a huge draw for visitors.
It's always busy, so if you want photos without other people in them, go early or during dinner.
Fair warning: there is nothing else to do here but get a photo with the colorful towers of rock.
Also, this is quite literally in the middle of the desert.
No shade, no restrooms, no food, no gift shop. Just a parking lot and the art installation. Plan accordingly.
Things You Can Do Back Home but are Also Here:
We don't need to get into specifics for most of these, but some of your favorite ways to relax back home are also available here in Vegas.
28. Escape Rooms
Everywhere / $-$$
Solve a fun puzzle by yourself, with a partner, or team up with a group. No, you will not be locked in forever; you can leave at any time.
Price varies based on how elaborate the puzzles are and how long you have to solve them.
There are so many themes, we couldn't begin to list them all. Google it and go for the closest one with the highest rating.
29. Skyzone Trampoline Park
Southwest of The Strip / $
Kids love these, but adults are also welcome! Tickets are available for 60, 90, or 120 minute sessions.
Practice your basketball dunking skills with some serious height, join a game of dodgeball, or jump under blacklights during Glow!
Or, find out just how high you can jump without fear of hurting yourself because there's a huge, soft foam pit waiting to catch you.
30. Top Golf
Behind the MGM Grand / $$-$$$
Happy Gilmore-ing it might get you a talking-to from staff, but this fun driving range is a great way to chill out with friends.
You don't have to be good at or even like golf to enjoy this spot!
Food, drinks, music, and TVs are all available for a good time while you're here.
The weather won't stop you from having a good time, either, with covered bays and fans and heaters depending on the season.
Price varies by day of the week and which deck (1-4) you want to reserve.
Remember, prices are per hour, so this can get pricey if you stay for a while.
Easy Day Trips from Las Vegas
Most Vegas visitors don't think about the many other things to do away from the city.
They're so focused on things to do in Vegas that they forget to look around.
Within just a couple hours' drive of the Vegas Strip are some very cool natural and man-made wonders that are well-worth a day trip from Vegas.
A rental car is best for maximum flexibility, but tours are available for all of these if you'd rather not drive yourself.
31. Red Rock Canyon National Conservation Area
30min west, $ per vehicle or FREE with a National Park Pass
Beautifully colored layered rocks, Red Rock Canyon provides hiking trails and desert landscapes to explore once you get tired of the urban downtown area.
Not a lot of shade in the desert, so bring your sunscreen and a wide-brimmed hat.
The main park road is a one-way scenic loop, and it requires a timed-entry ticket during peak hours (8AM to 5PM) in high season (October through May).
Stop at the visitor center before you start your drive, so the park rangers can help you decide where to stop for any hiking and/or views you don't want to miss.
If you drive past the parking lot, you literally have to drive the entire way around the loop to come back.
32. Hoover Dam
45min east, $-$$ per person or FREE for just a picture
Visiting Hoover Dam is a definite bucket list check for the USA!
This epic engineering marvel provides electricity and irrigation capabilities for much of the Southwest USA, and it was built in the 1930s.
The view alone is pretty amazing and can be seen for free, but we highly recommend the in-depth guided Dam Tour.
The tour includes the self-guided visitor center exhibits, a guided visit to the power plant inside the dam, and a guided visit into the dam's inspection tunnels.
These tours can't be purchased online ahead, unlike the other tours, so get here earlier in the day to claim your spot.
Hoover Dam straddles the state line, and thus the MST & PST time zones, but the visitor center and all the tours run on PST (Vegas time).
33. Valley of Fire State Park
50min northeast, $ per vehicle for non-NV residents
The Fire Wave is the main draw, but there are plenty of things to do in Valley of Fire State Park.
Amazing rock formations and historic petroglyphs are popular stops here.
There are often many Desert Bighorn Sheep running around to see, too!
They have little fear of humans and vehicles, but they're still wild. Keep your distance and drive slow.
It gets incredibly hot here in the summers, and the park closes the Fire Wave trail from June through September.
34. Death Valley National Park
2hr west, $ per vehicle or FREE with National Park Pass
National park enthusiasts: take advantage of the chance to check another park off your bucket list!
It's easier to day trip to Death Valley from Las Vegas than it is from Los Angeles or anywhere else in California.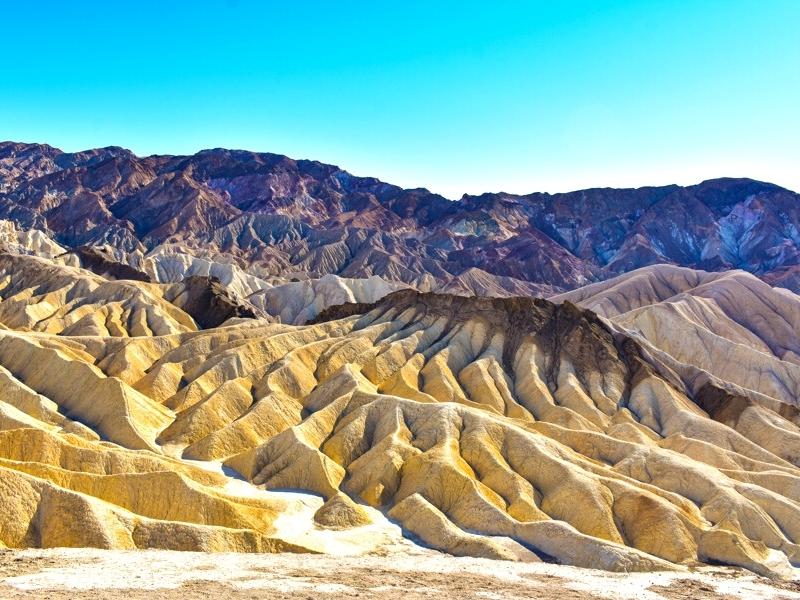 Even if you're not obsessed with national parks, consider this escape into the desert from Vegas.
Death Valley is the hottest, driest, and lowest elevation spot in North America.
Go to Badwater Basin, marvel at the salt flats, and squint up at the sign on the cliff above you marking sea level.
35. Grand Canyon West (The Skywalk)
2.25hr east, $$-$$$
This isn't the national park, but it is the Grand Canyon.
Grand Canyon West is on Native American tribal land on the western end of the Grand Canyon.
The Skywalk is a curved glass walkway that extends 70ft out over the Grand Canyon rim so you can see all 4000ft below you to the canyon floor.
This is not for people afraid of heights because the entire walkway is glass.
Pro Tip: Driving to the actual national park is a 4.5hr drive, one way, and we don't recommend it for a single day trip from Las Vegas.
Lose an hour on the way out for changing time zones at the state line, but gain it back as soon as you return to Vegas.
You can't take anything out on the skywalk with you, like your phone or camera.
Professional photographers take pictures of you and your group and then photos are available for purchase.
Day Trips We Don't Recommend from Las Vegas
To clarify, we absolutely would recommend going to each of these amazing destinations.
We just don't agree that you should try it as a day trip from Vegas.
These are too far out with too much you should see for one day.
They really deserve a few days each or a full day per site at a minimum.
Driving times listed below are one way from Las Vegas, and all except Joshua Tree lose an additional hour once you cross the state line into the MST time zone.
Joshua Tree National Park, CA, 3hr
Zion National Park, UT, 3hr
Bryce Canyon National Park, UT, 4.25hr
Grand Canyon, AZ, 4.5hr
Page, AZ: Horseshoe Bend & Antelope Canyon, 4.5hr
Sedona, AZ, 4.5hr
Where to Stay in Las Vegas
Vegas is expensive but most budgets can find something here.
The swankier hotels on the Strip often run deals on lodging just to get you in the door, assuming you'll visit their casino and lose a fair bit of money there.
Joke's on them if you're not a gambler!
Budget travelers and groups are usually better off renting an Airbnb or VRBO nearby, rather than staying on the Strip.
Typical national chain hotels are also usually a few blocks off the Strip, but note that some of the big names are included in hotel chain portfolios.
For example, the Palazzo at the Venetian is part of IHG (the Holiday Inn brand).
The Tropicana is considered a DoubleTree, part of the Hilton brand.
We used (a lot of) IHG rewards points to book a night at the Palazzo on our last night in Vegas at the end of our epic Las Vegas Road Trip. #worthit
---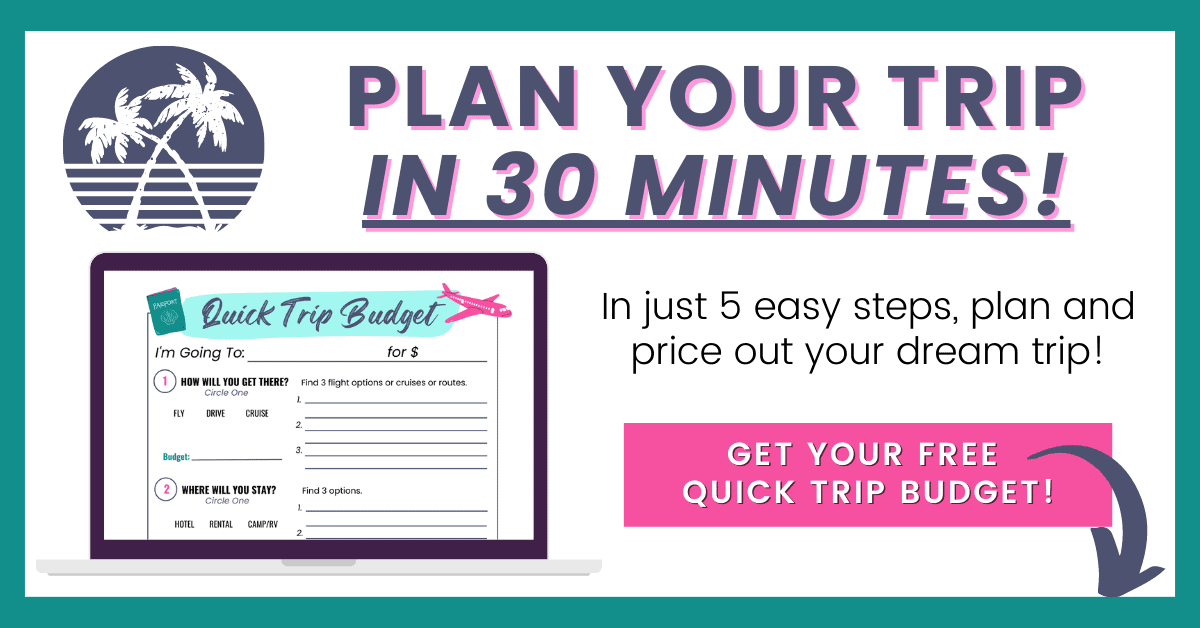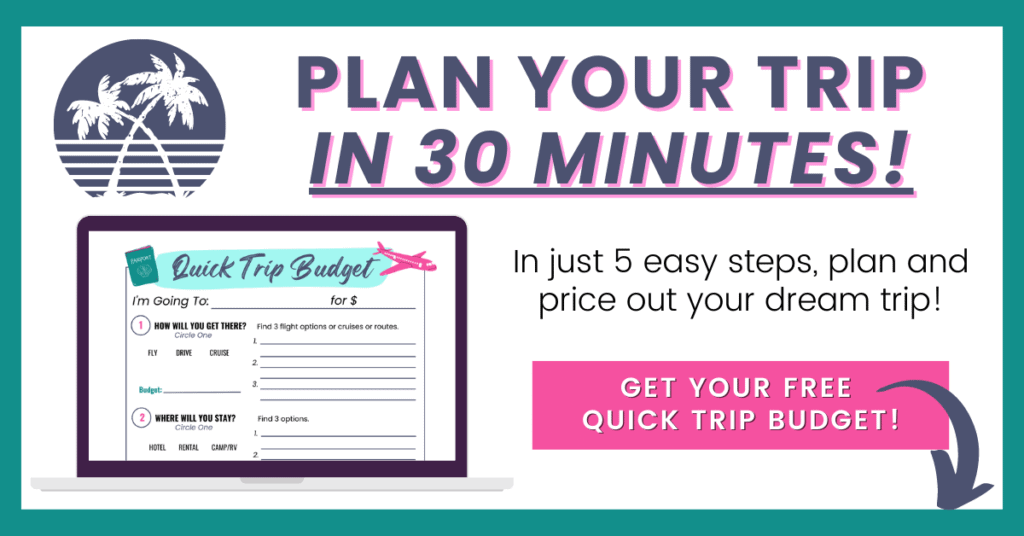 ---
Enjoy Vegas without drinking or gambling with these 35 Fun Sober Things to Do in Las Vegas!
Vegas can be fun for anyone, even non-drinkers or anti-gamblers.
Don't miss this unique city because you think there's nothing for you to do here!
If you're looking for more things to do near Las Vegas, here are some helpful resources:
More Arizona Ideas
More Southwest USA Ideas
Happy travels!
---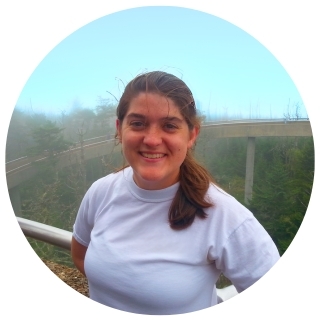 About the Author: Rachel Means
With six-figure student loan debt and only 10 PTO days per year, Rachel started traveling the world. A decade later, she's paid off her loans, changed careers, and been to 36 US states and 14 countries. She's an expert at planning and budgeting for travel and loves to help others do it, too! Read her full story here.
---
Share it!